Infrastructure
Egypt's $23BN Suez Canal on Rails
Youtube Views

651,000

VIDEO VIEWS
Video hosted by Fred Mills.
IF you were to type 'Egyptian railway' into an image search you might expect to find something like a train rolling majestically across a beautiful desert landscape.
Instead you'll find a gallery of wreckages that seem to be from the distant past, judging by the age of the trains.
But these are all from the last few years and show just how bad things have gotten with Egypt's railways. Hundreds of people have lost their lives in just the last decade.
When President El-Sisi vowed to "put an end to this type of disaster" in March 2021 following the latest tragedy, many Egyptians would probably have felt like they'd heard it all before.
Now, things could be finally about to change, as a country known for its ancient history gets a rail system fit for the future.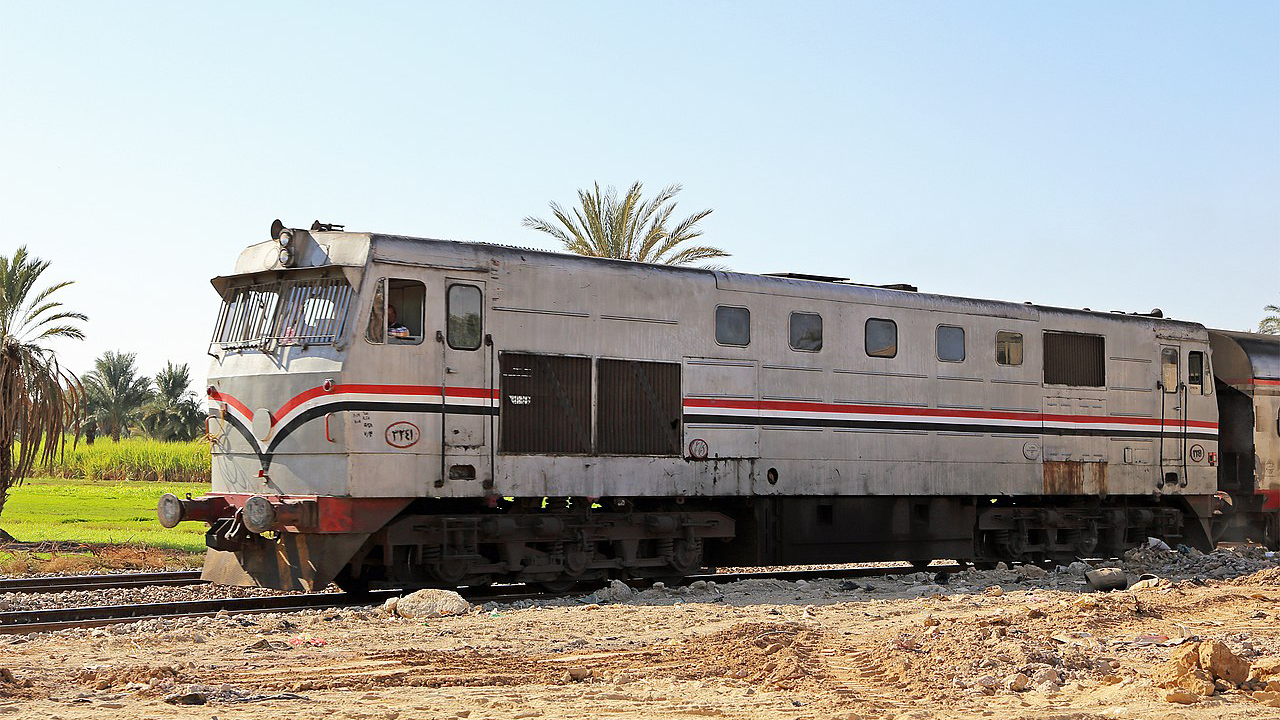 Above: Egypt's trains have long been in need of upgrading. Image courtesy or Marc Ryckaert.
Egypt has one of the largest rail networks in the Middle East and Africa. There's over 5,000 kilometres of track.
It's also the oldest. The first line between Cairo and Alexandria was designed by legendary engineer Robert Stephenson and completed way back in the 1850s.
Today, the railway is used to shift around six million tonnes of freight each year and over 1.4 million people use the trains every day.
Those figures make it sound like a well-run, efficient system but sadly it's not.
Egypt reports thousands of train accidents every year including fires, collisions and derailments.
So far in 2021 there have been at least three separate incidents leading to multiple deaths and hundreds of injuries in total.
Although there are several reasons for this awful track record, bad maintenance, low investment, gross negligence and trains that should have been replaced years ago are kind of the main causes.
There can't be many rail networks that need an overhaul more than this - and that's exactly what it's now getting.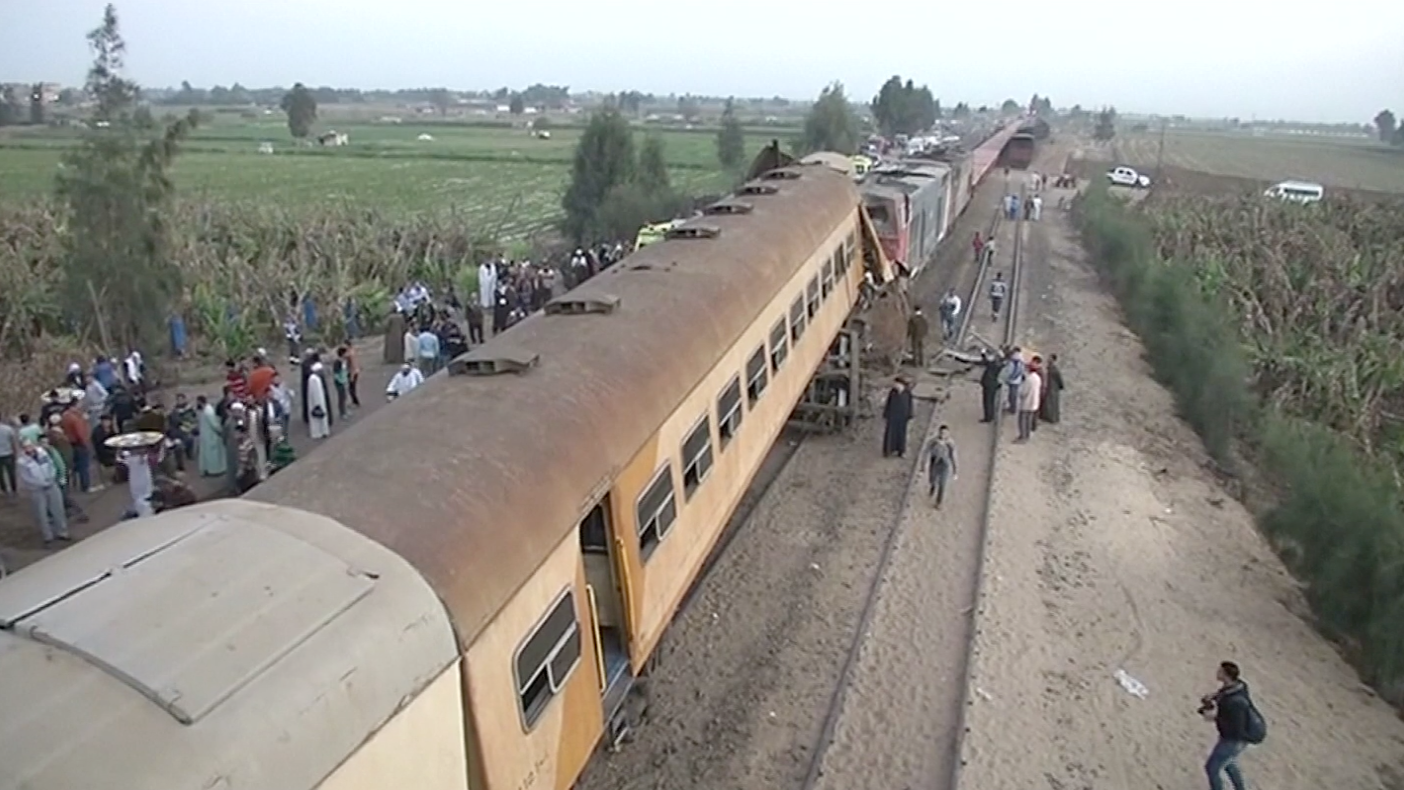 Above: Since 2000 more than 700 people have died in Egypt travelling by rail.
In September 2021, a USD $4.5BN contract was signed to give Egypt its first high-speed, electrified rail line.
Running between the port cities of Marsa Matrouh and Ain Sokhna, the 660-kilometre route is expected to cut journey times by up to 50%, transport as many as 30 million people each year and create around 15,000 jobs.
At the moment Egyptians are reliant on roads that are badly congested and often dangerous, especially in the greater Cairo region where the new line passes through.
The plan is to follow up with a second phase that will take the new network to 1,800-kilometres, heading south along the Nile River and then east to Hurghada and Safaga.
It will also connect to the new Administrative Capital under construction since 2015, as well as El Alamein and Aswan, where new city projects are in the works too.
Delivering this epic scheme is a consortium of Siemens Mobility, Cairo-based Orascom Construction and The Arab Contractors.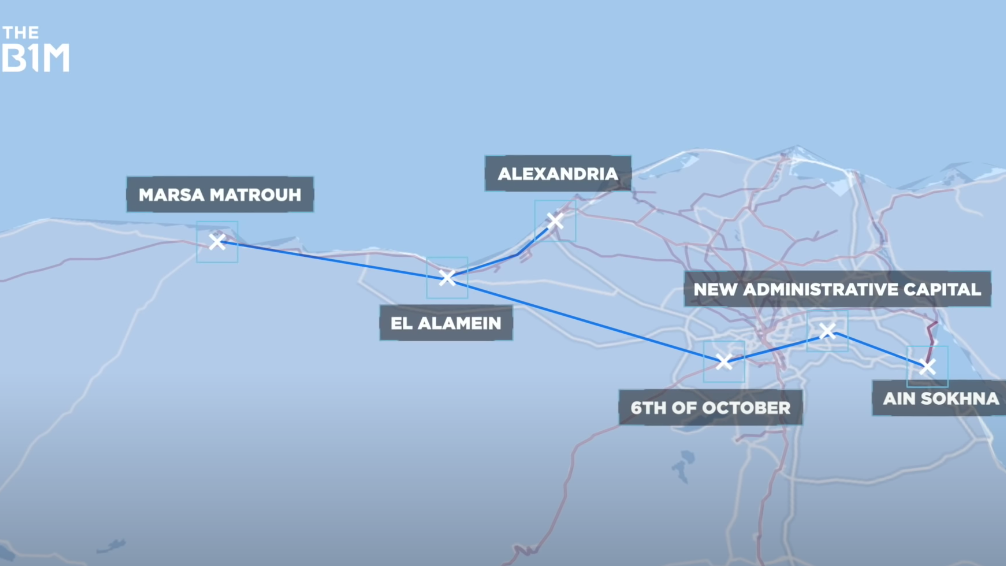 Above: Phase One of the new network will connect the Mediterranean and Red Seas.
"The project is, I would say, a transforming step for the Egypt rail industry," says Ayman Ashour, CEO for the turnkey rail business at Siemens Mobility in the Middle East and Africa.
"The Egyptian government has a vision to modernise the rail network and they started with the most strategic network for the country, which is linking between the Red Sea and the Mediterranean Sea."
The German firm will be providing three types of train for the project, along with signalling, power supply systems and other infrastructure.
It'll handle everything from the design right through to the maintenance of the route for 15 years after the work is done.
The project is being backed by a loan guarantee from the German government.
"We are not only delivering one system or one package; we are delivering a complete fully-integrated rail turnkey solution," explains Ashour. "We are delivering this, building it, managing it and creating the required safety level.
"Here we are talking about the highest standards in the world because what the Egyptian people will get is similar to what the European people are getting at the moment."
Meanwhile, the Egyptian Government's National Authority for Tunnels will handle civil structures like bridges and - you guessed it - tunnels.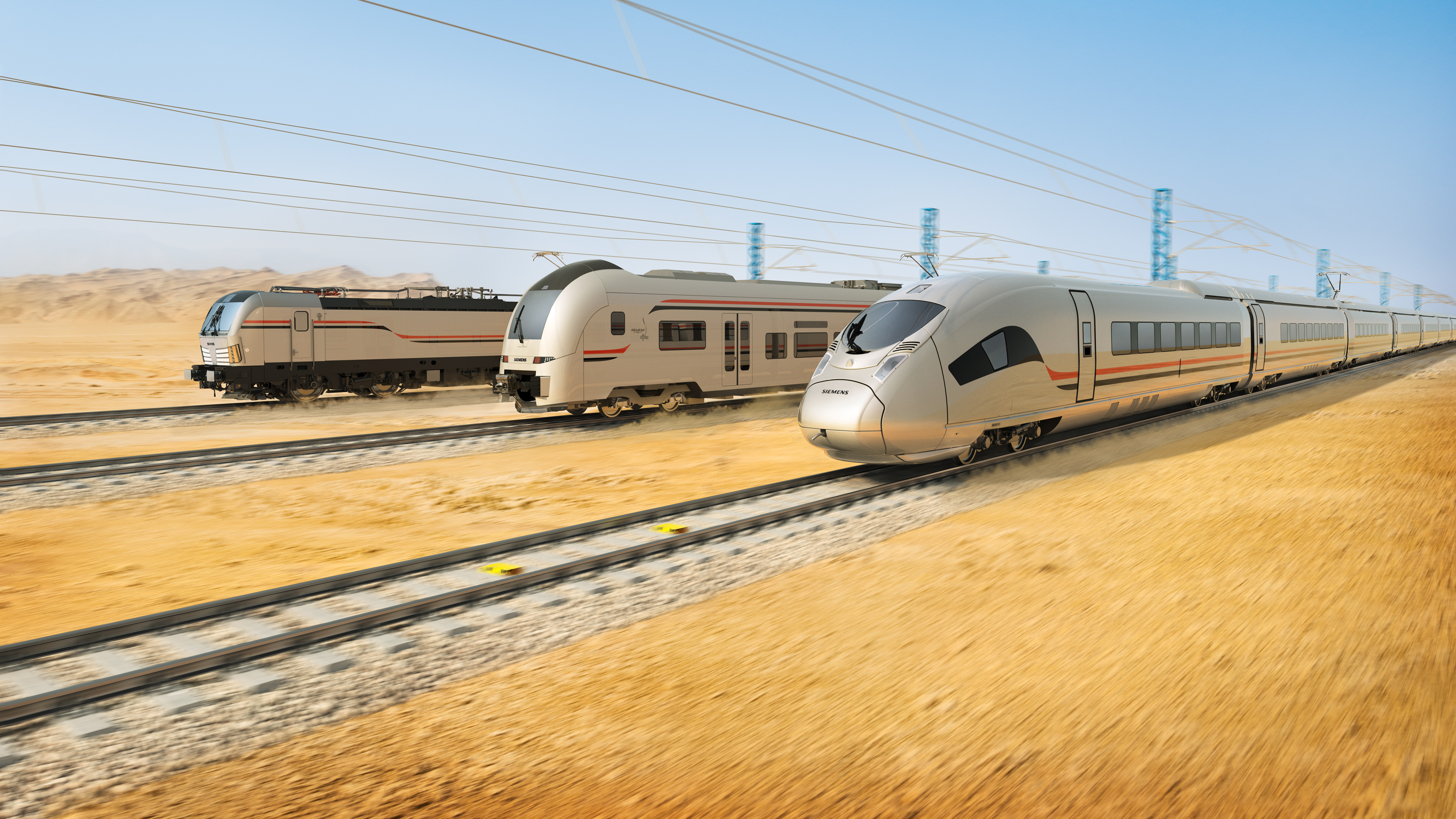 Above: A range of Siemens trains will be provided, including the high-speed Velaro model. Image courtesy of Siemens AG.
As well as the high passenger numbers, freight transport is expected to increase by 15% on the new network, which has been dubbed the 'Suez Canal on Rails'. Hopefully no trains get wedged.
The system will only be moving a fraction of the goods that pass through the nearby sea route, but it'll be a big part of Egypt's plan to strengthen its economy over the next decade.
Completion of stage one is scheduled for 2027, and the cost for the entire network is estimated at $23BN.
That's no small sum, but you have to consider the environments this is being built in, which are more varied than you'd think.
"It's geographically different types of challenges. If you start from the Red Sea we have a high level of humidity in the cities there and then you drive through a sandy area until you reach the River Nile," says Ashour.
"This is an area where you have quite a number of sandstorms during certain times of year. Of course, this is affecting the construction and our biggest enemy is the potential sand accumulation on the track."
Humidity is also high on the Mediterranean coast and there's salt in the air, which can be corrosive to metals.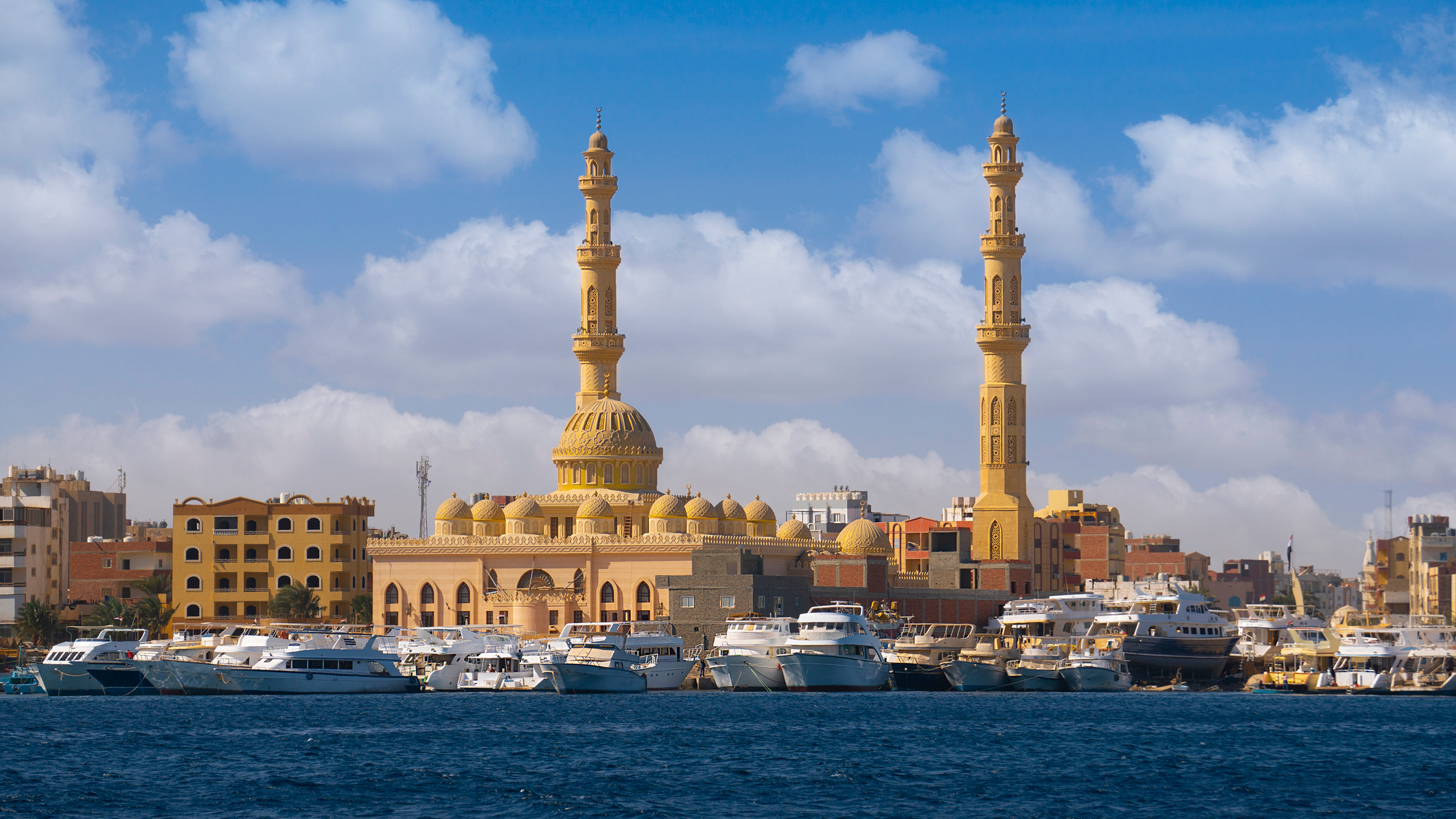 Above: The Red Sea resort of Hurghada will be one of the stops on the new line.
But Siemens has faced challenges like this before, providing not just rail systems for the extreme heat of Saudi Arabia and Qatar, but new trains for the biting cold of Russia.
The company and the other consortium members did have some competition though.
Originally, a group led by the China Civil Engineering Construction Corporation looked like they would be handling the project, only for Siemens and co to come in with their winning bid.
This shows that China doesn't always get its way in these matters, and that Europe can compete with it, despite this being a key territory for the Belt and Road Initiative.
Of course that doesn't mean China isn't involved in other parts of Egypt's infrastructure.
China's CRRC Corporation is supplying trains for a new light rail system connecting outer Cairo to the New Administrative Capital, which required a $1.2BN loan from a Chinese bank.
Now while this might be the first major overhaul to the system for many years, there have been some upgrades and developments.
In 2018, a contract was signed between Egyptian National Railways and a Russian-Hungarian firm to supply 1,300 new train carriages, of which more than 400 have been delivered.
More recently, Egypt's Transport Minister ordered that all old coaches on the country's network must be restored to a good working condition or replaced entirely by the end of 2021.
Then there's the new monorail. At around 100 kilometres, it's set to become one of the longest systems of its kind anywhere in the world.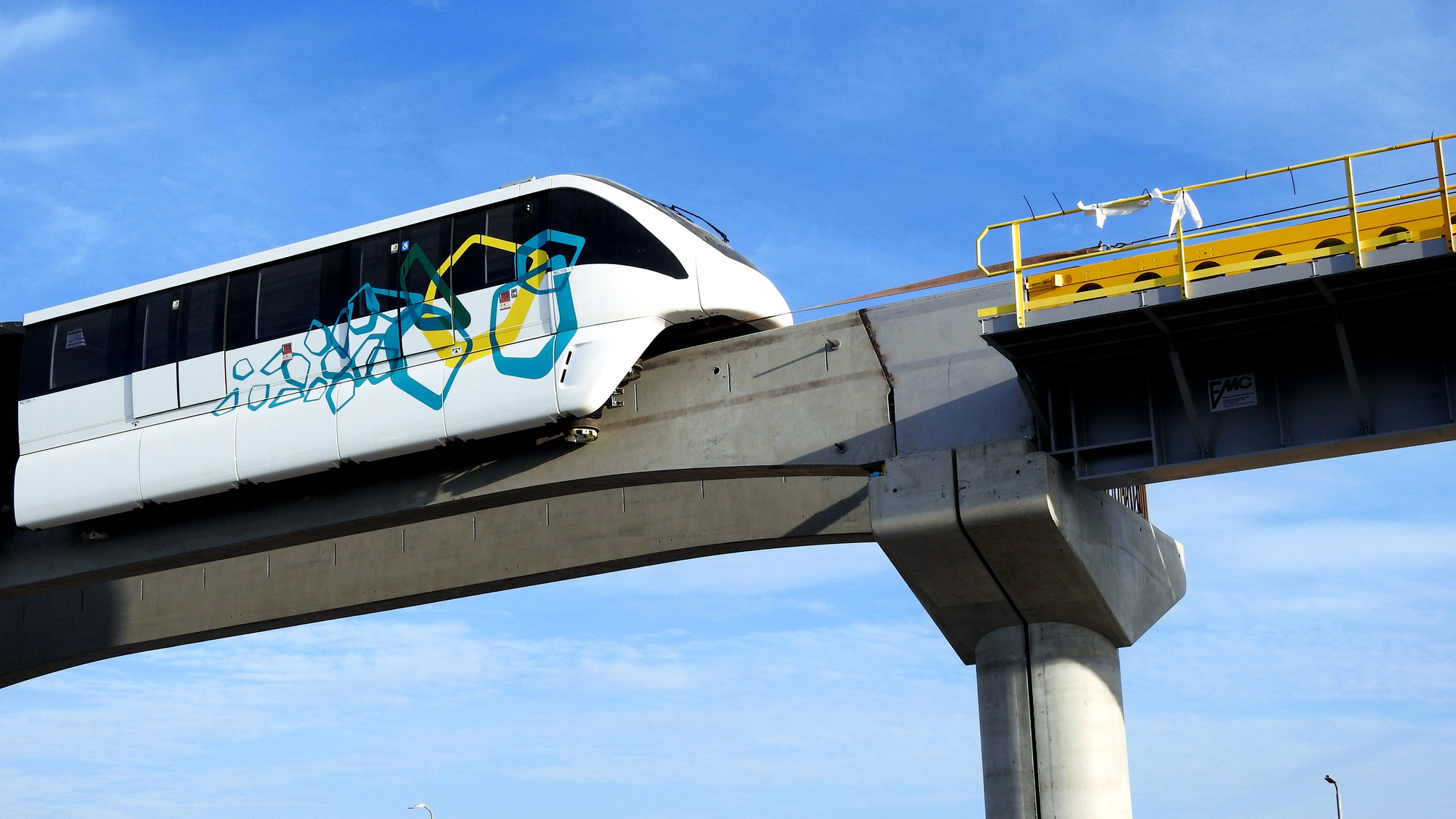 Above: The monorail is one of several infrastructure schemes connecting the old and new capitals.
When you take all of this into account, it becomes clear why the Egyptian authorities are confident that their days of crumbling rail infrastructure may finally be behind them.
And as an Egyptian himself, getting this new system up and running is likely to be a proud moment for Ashour.
"We are talking about a product which is similar to the platform being used for Eurostar and in other European countries," he claims.
"I will see it running in my country and I'm very honoured to see it because I also personally contributed to that achievement."
The new scheme could prove to have more far-reaching implications too. According to Siemens, other countries in the region are watching with interest and may look to follow in the footsteps of Egypt and Morocco, which became the first African country to adopt high-speed rail in 2018.
With several nations here needing to move away from road travel and modernise their public transport infrastructure, this could be just the start of a new rail revolution in a part of the world that needs it more than most.
Video narrated by Fred Mills. Additional footage and images courtesy of Siemens AG, Acrow Formwork Technology, Al Jazeera, Alstom, China State Construction Engineering Corporation, DFID/Graham Carlow/CC BY 2.0, Egyptian Ministry of Transport, Marc Ryckaert/CC BY-SA 4.0, Mohamed Reda, Mona Hassan Abo-Abda/CC BY-SA 4.0, Sergey Korovkin/CC BY-SA 3.0, The Guardian and and OpenStreetMap Contributers (https://www.openstreetmap.org/copyright).
We welcome you sharing our content to inspire others, but please be nice and play by our rules.
Comments
---