Cities
Building Egypt's $58BN New City in the Sand
Youtube Views

1,229,849

VIDEO VIEWS
EGYPT'S capital is one of the fastest-growing cities in Africa.

But despite its population exploding from just 2.5 million people in 1950 to over 20 million people today, development of the city's infrastructure has lagged behind its insatiable growth.
As of September 2019, Cairo has just three metro lines and is frequently cited as one of the world's most congested cities.
Overwhelmed by the deep-rooted challenges affecting this vast urban area, the Egyptian government are now investing USD $58BN in constructing the country's entire capital again, from scratch.
From the great pyramids at Giza, formed in 2500 BC, to the Suez Canal constructed in the 19th Century and the Aswan High Dam built in the 1960s, Egypt is no stranger to mega projects.
In the wake of a 2010 study by The World Bank – which found that economic losses caused by Cairo's congestion amounted to more than 4% of Egypt's GDP – and following a period of political instability that affected the progression of infrastructure projects, the country's government took the decision to construct an entirely new capital in 2015.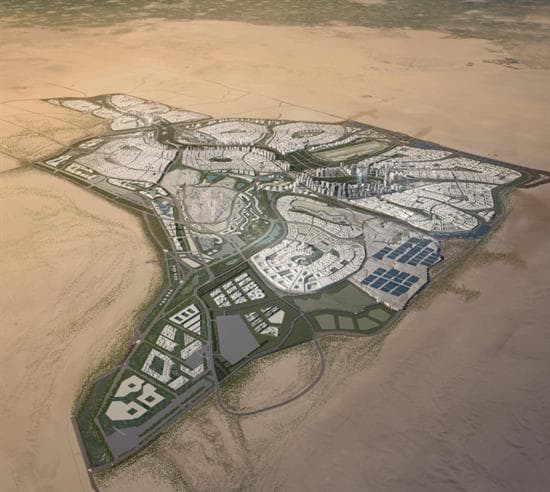 Above: The masterplan of the new city (image courtesy of Urban Design Consortium).
Located 45 kilometres east of the original Cairo, the as-yet-unnamed city has been under construction ever since.

Set to extend over 700 square kilometres, the new city – master-planned American architecture firm Skidmore Owings and Merrill (SOM) – will be home to around 6.5 million inhabitants when it fully completes in 2050.
Simulating major cities that have evolved over thousands of years, Egypt's new capital will, in fact, be made-up from 100 different residential neighbourhoods - each with its own public square, local shops, schools and religious buildings.
In all, the city will boast over 1200 mosques and churches, 553 hospitals and clinics, 40,000 hotel rooms and a vast theme park set to be four times the size of Disneyland in California.
While a high-speed rail link with Cairo is currently under construction and set to complete in late 2020, a fleet of electric buses connect the two settlements in the meantime.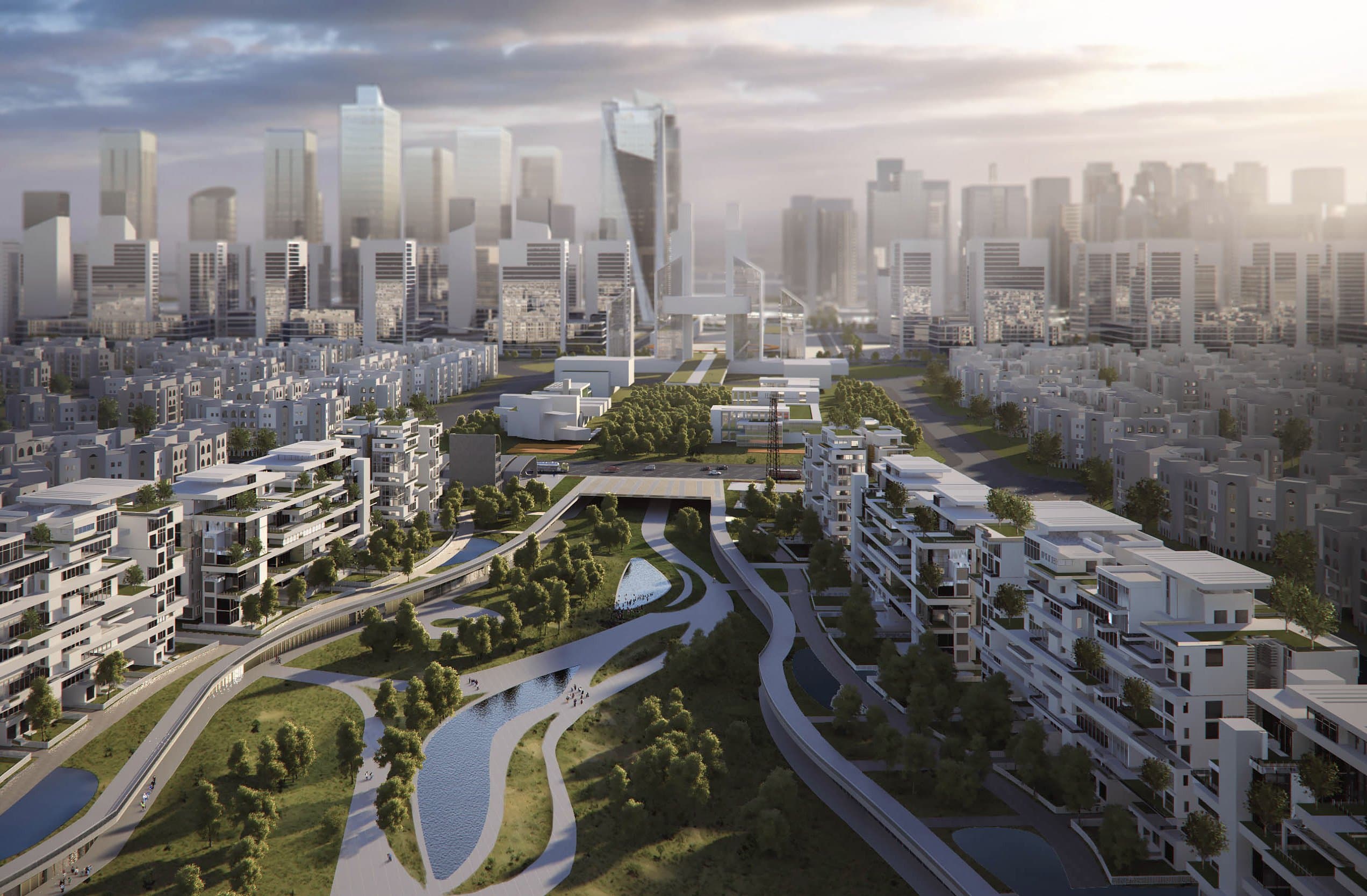 Above: The city will feature a central park that is twice the size of the one in New York City (image courtesy of Urban Design Consortium).
The new city has been designed with the climate in mind. Its landscaping incorporates native plant species and follows the natural contours of the land, while its buildings maximise natural ventilation as far as possible.
A 90 square kilometre solar farm will provide a portion of the electricity demand while a large central park – twice the length of New York's – will form the city's "green spine".
The project's first phase – extending over 168 square kilometres – is set to include a business district with an 85-storey tower that will become Africa's tallest building, 20 further skyscrapers, a government quarter housing the country's 34 ministries and the country's largest mosque and church.
CAPITAL OF CONTROVERSY
Despite its scale and ambition, the project to construct Egypt's new capital has not been running entirely to plan.
While the first phase is now under construction, it remains unclear whether the innovative design intentions outlined in the masterplan will be fully realised.
Furthermore, the second and third phases of the project have been delayed following Chinese investor Fortune Land Development pulling out of phase two, that is worth around USD $20BN.
Beyond funding issues, critics of the project believe it is aimed solely at Egypt's wealthy citizens. In total, the city will feature roughly 100,000 affordable housing units spread across eight districts.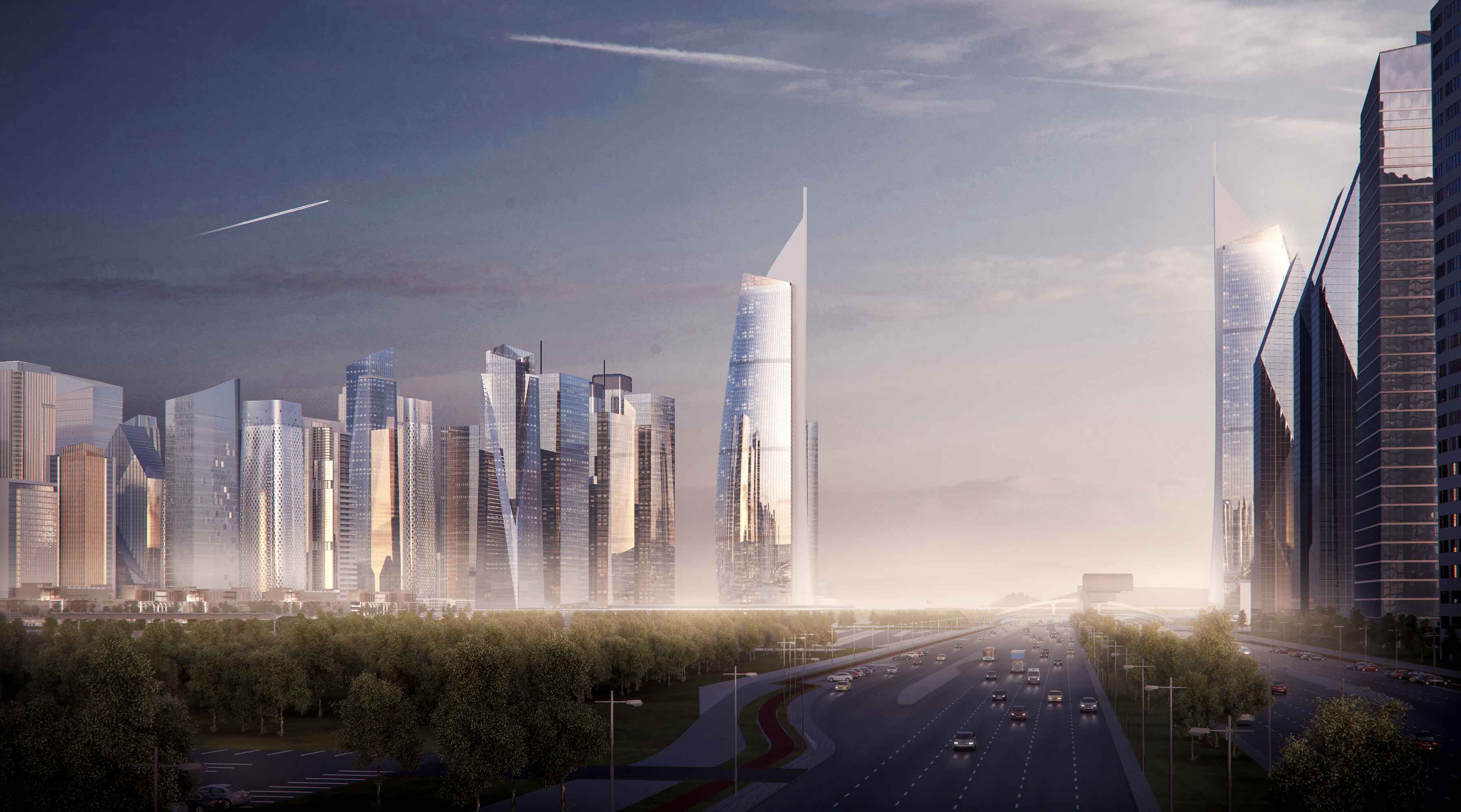 Above: 6.5 million people are expected to live in the new city by 2050 (image courtesy of Cube Consultants).
Another concern is that much needed financial resources are being diverted from addressing Cairo's congestion challenges, despite the original city continuing to expand.
Given these factors, it is likely that Egypt's new capital will prove controversial for years, if not decades to come.
However, with works to the first phase progressing at a rapid pace, it is hoped that the city will become a true business and cultural centre as its people begin to shape its course.

Additional footage and images courtesy of Cube Consultants, Skidmore Owings + Merrill, Dar Al-Handasah, Llofy Cluff, Erica Chang, Google Earth, Urban Design Consortium, China State Construction Overseas Development and Berthold Werner. Narrated by Fred Mills.
We welcome you sharing our content to inspire others, but please be nice and play by our rules.
Comments
---