Documentaries
Abu Dhabi Is Building the World's Largest Aquarium
Youtube Views

395,434

VIDEO VIEWS
Video hosted by Fred Mills. This video contains paid promotion for Masterworks.
ABU DHABI has built some of the world's most striking construction projects. And it's not done yet.
Work is underway to build a record-breaking aquarium, one that will blow all the others out of the water.
The Shedd Aquarium in Chicago holds about 19M litres of water. Chimelong Ocean Kingdom in China holds 49M, and is currently the world's largest – but when Sea World Abu Dhabi completes, it'll likely contain a whopping 58M litres of water. That's the same as 23.2 Olympic pools.
Designing and building a tank this big poses an extreme engineering challenge. It has to withstand immense water pressure, let in the right amount of light for tens of thousands of species to survive and immerse millions of visitors in an underwater world.
This is how Abu Dhabi is building the world's largest aquarium.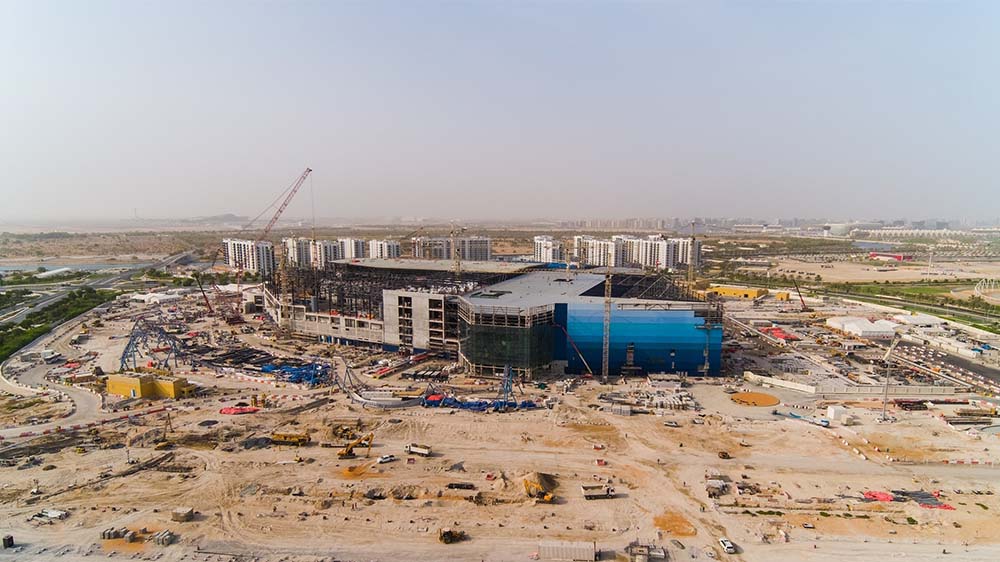 Above: Construction of SeaWorld Abu Dhabi. Image courtesy of PRNewsfoto/SeaWorld Parks & Entertainment/Miral.

Every year, millions of people flock to Abu Dhabi for its white sandy beaches, unique architecture, and world class resorts.
In the middle of it all there's Yas Island, where tourists' wildest dreams come true. It's a 25-kilometre strip of land packed with hotels, restaurants, theme parks, malls, a Formula 1 track … and pretty soon – SeaWorld Abu Dhabi.
When its doors open in 2023, the marine-life theme park will span 183,000 square metres.
Inside there will be five floors of displays with more than 68,000 marine animals including manta rays, sea turtles, reptiles and amphibians. Unlike other SeaWorlds – this one won't have any orcas.
But it will have the Endless Vista, a 20-metre vertical window stretching up across several levels.
Now this isn't just any old design challenge. The team has to construct a structure that millions of people can pass through, and create a liveable habitat for thousands of different animals.

So called "immersive" aquarium design like this aims to replicate a natural environment, and usually includes elements like artificial coral or rocks, and little access to sunlight to prevent algae growth
The aquarium in Abu Dhabi will be a lot bigger than most. So all of these factors, from strength to sunlight are going to be magnified.
Above: Rendering of SeaWorld Abu Dhabi. Image courtesy of PRNewsfoto/SeaWorld Parks & Entertainment/Miral.
You're probably wondering how aquarium glass like this doesn't shatter from the sheer pressure of millions of litres of water.
Well, big aquariums usually aren't actually made of glass. Instead they're built with massive acrylic sheets called plexiglass.
That's because acrylic is up to 17 times stronger than regular glass and half as dense. It's also clearer than glass and easier to bend into shapes like curves, tubes and bubbles. Now acrylic isn't just used in aquariums – you'll also find it at your local hockey rink, inside submarines and in aeroplane windows.
SeaWorld Abu Dhabi wouldn't give us details on how exactly their tanks are being engineered, but the acrylic walls at the Georgia Aquarium, which has about half the capacity of the one in Abu Dhabi, are two feet thick.
And of course, there's the question of exactly how to get millions of litres of water into the tanks.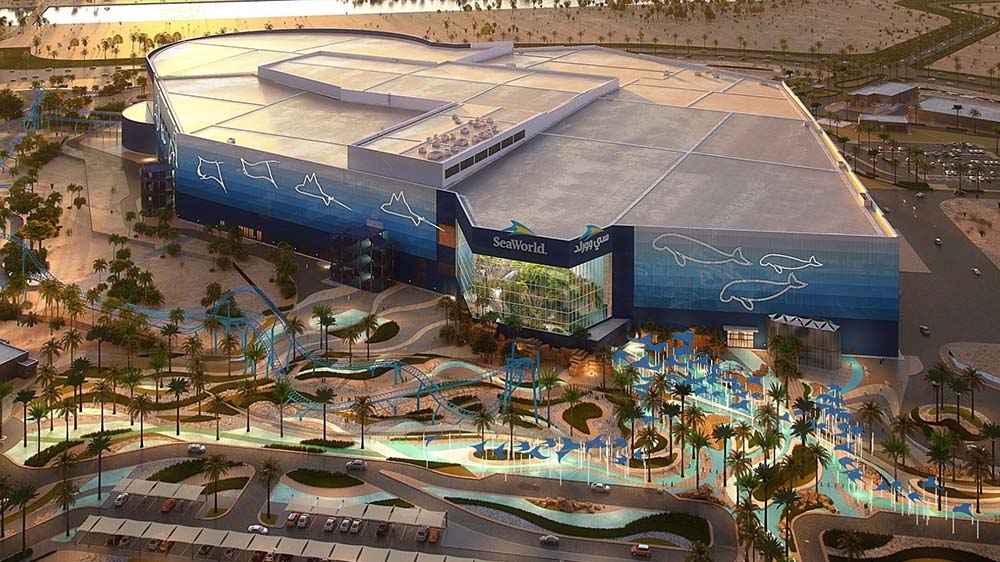 Above: Rendering of SeaWorld Abu Dhabi. Image courtesy of PRNewsfoto/SeaWorld Parks & Entertainment/Miral.
We're not sure exactly how SeaWorld plans to do it in Abu Dhabi, but there are generally two ways this happens.
If an aquarium is landlocked, like the Georgia Aquarium in Atlanta, millions of litres of tap water are pumped into the building and treated to remove chemicals.
In Georgia, the team added 680,000 kilo bags of instant salt to create a saltwater tank. But if an aquarium is by the coast, you have the option of bringing in water straight from the sea.
California's Monterey Bay Aquarium – yes, the one in Finding Dory – is located on the coast. So they built two 16-inch pipes that sit just above the seafloor of the Monterey Bay and pump up to 2,000 gallons per minute into the building. That deep-sea water is full of nutrients like nitrate and phosphate that allow marine plants and animals to grow.
But it also means a lot of barnacles, algae, and invertebrates can clog the intake pipes. So every six weeks the team shoots large foam plugs through the pipes to clear out any growth.
This isn't the first time the UAE has kept new megadevelopments under wraps until they're complete. Over in Dubai, the world's deepest pool was quietly constructed under a building structure so that when it officially opened it dwarfed the previous record.
Just a year ago SeaWorld's press releases said the new site would hold 25 million litres of water. Today, the developer says it's expected to hold 58 million litres.
This will be the first new SeaWorld marine-life park in more than 30 years, and if the UAE's past endeavours are anything to go off of, it's going to be unlike anything we've ever seen before.
Video presented and narrated by Fred Mills.
Additional footage and imagery courtesy of Yas Island Abu Dhabi, Miral/SeaWorld Parks & Entertainment, Georgia Aquarium and Deep Dive Dubai.
We welcome you sharing our content to inspire others, but please be nice and play by our rules.
Comments
---