Infrastructure
Inside Chicago's $8.5BN Airport Rebuild
Youtube Views

1,488,176

VIDEO VIEWS
Video powered by Egnyte and hosted by Fred Mills. This video and article contain paid promotion for Egnyte.
CHICAGO O'HARE was once the world's busiest airport. It held that title for three decades and became one of the great American infrastructure projects of the early Jet Age.
But in recent years it's hit a bit of turbulence. Though it still attracts more than 80 million passengers in a normal year, most of those people probably don't have this down as their favourite place to fly from.
Delays, congestion and a lack of amenities are common complaints and since the late 1990s the place has begun to feel more than a bit … tired.
But that's all about to change as O'Hare embarks on a multi-billion-dollar transformation, a megaproject that'll give this aviation landmark a much-needed lift.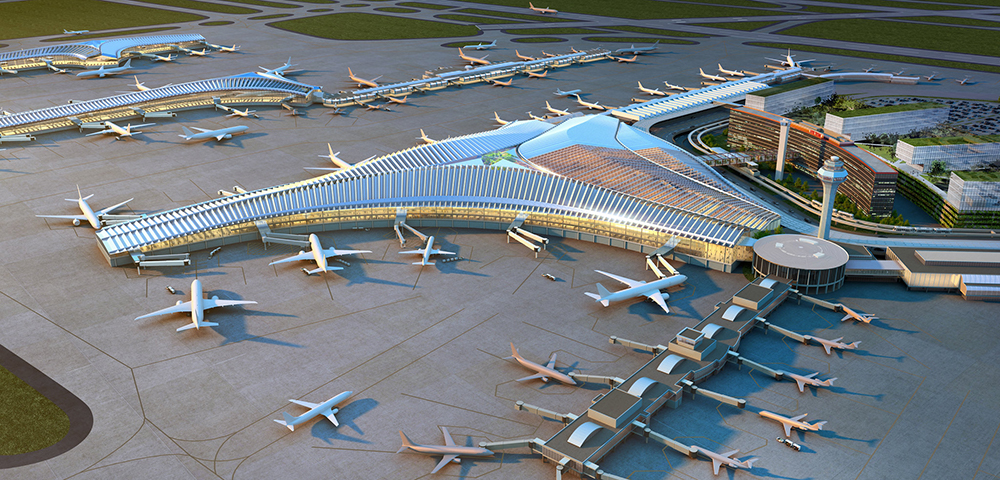 Above: Chicago O'Hare is set for a multi-billion-dollar transformation. Image courtesy of Chicago Department of Aviation/Studio ORD.
O'Hare first started commercial operations in the mid-1950s and has since developed into one of America's leading transport hubs.
Built on a site where military planes were made during World War II, the dawn of peacetime saw it transition into a new role as the city's international airport and start to break new ground in aviation.
It was here that features like concourses, jet bridges and direct highway access — things we now take for granted with airports — appeared for the first time anywhere.
Today, in virtually every category you can think of to rank US airports with, you'll find it somewhere near the top.
Prior to Covid, O'Hare reportedly offered more destinations than any other, it was third by number of airlines, fourth busiest, seventh biggest by overall size … you get the idea.
Above: O'Hare is big, bustling and one of America's most important transport hubs. Image courtesy of InSapphoWeTrust.
It's big, bustling and important, but O'Hare is known for some less desirable reasons too. Terminals are often cramped, the facilities are not the most welcoming and operators struggle to keep flights on schedule.
These issues have been around for quite a while and the planned modernisation of this particular airport couldn't come soon enough.
Fortunately, one major headache of a job that needed doing has just been finished. To help the place operate more efficiently, O'Hare's runway system has been totally restructured.
Before there were six intersecting runways, but now there are eight running in parallel, which means more capacity.
Four new strips had to be constructed, two were extended and old ones had to be removed. There were two more air traffic control towers added as well, all while the airport was kept running in the background.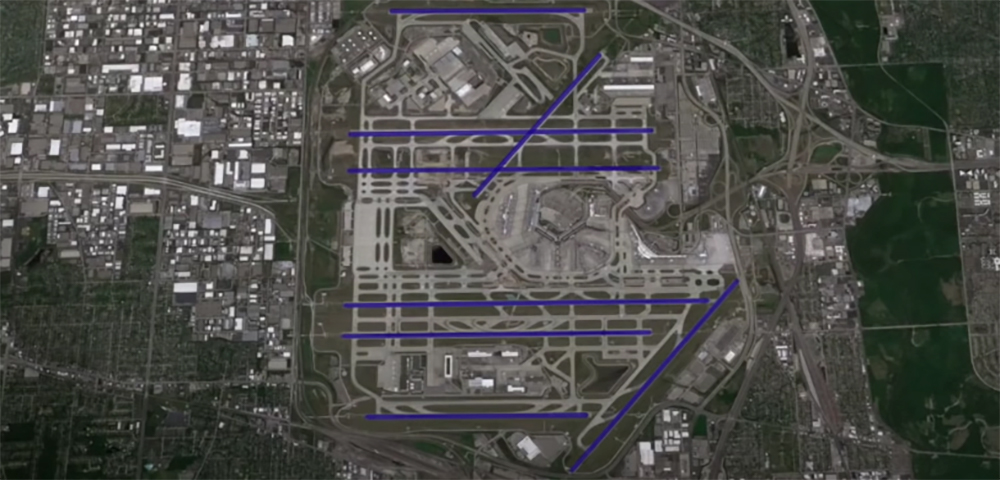 Above: Reorganising the runways took 16 years and USD $6BN to complete. Image courtesy of Google Earth.
With that out of the way, attention is now turning to the project that'll probably make the most noticeable difference for passengers.
The $8.5BN O'Hare 21 scheme involves building an entire new terminal and revamping another, and the construction of two new satellite concourses.
When it's all finished in 2028, the hope is that the airport will be better enabled to become an international hub that meets the needs of the 21st century traveller — hence the name.
One of the main ways it hopes to do that is through the new-look Terminal 2 — and that's where the biggest chunk of money is being spent.
More than twice the size of the existing Terminal 2, the $2.2BN Global Terminal was designed to evoke the city of Chicago in several ways.
Conceived by Studio ORD, a team led by local architect Studio Gang, the building's Y-shaped form was inspired by the Chicago River as it passes through the city, bringing terminal and concourse functions — as well as domestic and international arrivals — all under one roof.

That roof is evidently one of the project's highlights. With steel trusses and wood cladding arranged in a pleated design, it will maximise natural daylight and energy efficiency.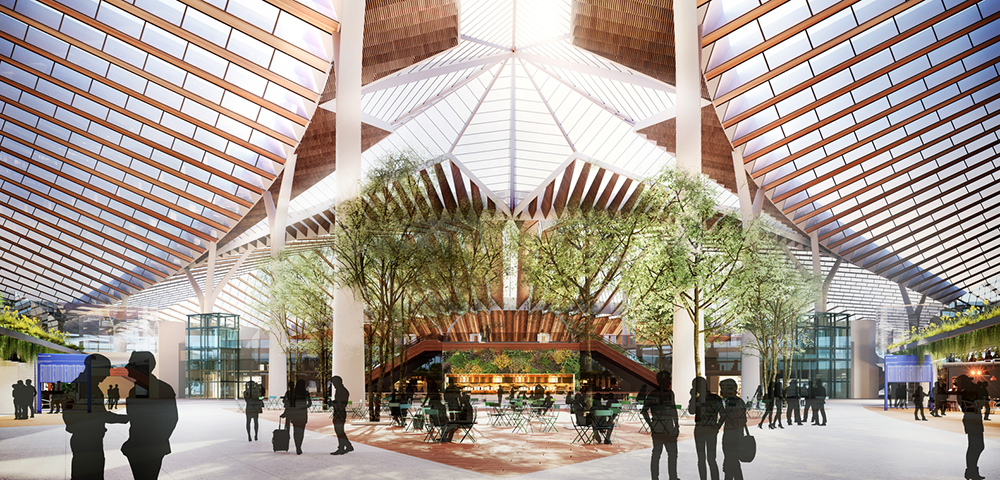 Above: A glass six-pointed star called the Oculus will sit at the centre of the new Global Terminal. Image courtesy of Chicago Department of Aviation/Studio ORD.
Below this, the building's three branches come together to form an area that apparently resembles a typical Chicago street — used for events, live music and informal gatherings in amongst the trees and greenery.
Now, all of this has to happen while ensuring O'Hare operates as normal with absolutely zero reduction in services.
And that's where the new satellite concourses come in. Equipped with flexible gates to suit both wide and narrow-body planes, they're being built before Terminal 2 gets underway, and for good reason.
As work progresses on the main terminal, areas being worked on will divert to here, and because they're permanent they'll give a huge boost to overall capacity once everything's done.
Now, while work on Terminal 2 won't start until 2025, the improvements to Terminal 5 — the one that seems to get the most criticism — have already started.
Modernising this part of the airport involves adding over 30,000 square metres of extra space including ten new gates and making the existing ones bigger so they can accommodate wider-bodied aircraft like Boeing's 787 Dreamliner.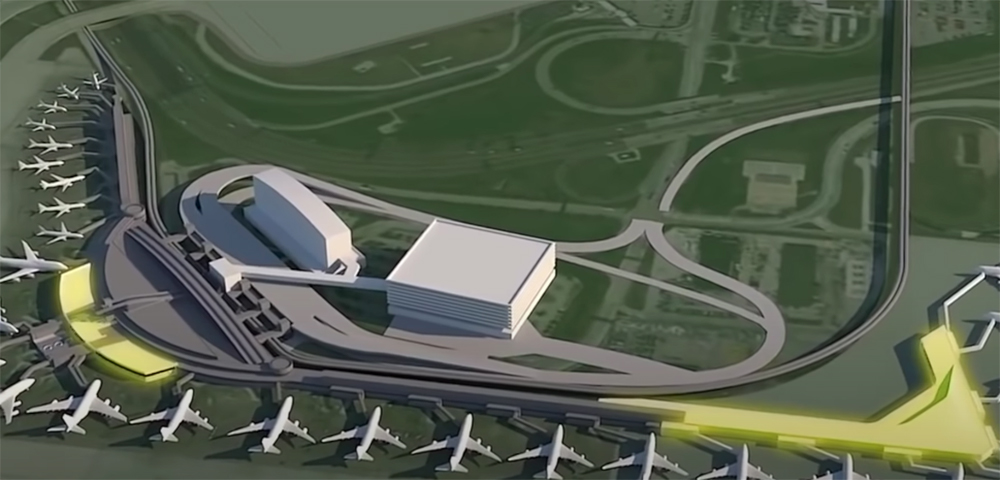 Above: The expansion of Terminal 5 will boost capacity by 25%. Image courtesy of Chicago Department of Aviation.
Areas like airline lounges are getting a makeover too and the 25-year-old baggage handling system is finally being replaced.
There are upgrades outside as well — including expanding the surrounding roadways and the parking infrastructure. It's the first major overhaul of the building since it was unveiled in 1993.
All in all, there's a lot going on. To keep this project and their sanity on track, construction teams are going to have to manage vast amounts of digital information and make sure that the right people can get their hands on it at the right time.
"In an airport project, a design document carries over one million objects, and that's a lot of data," says Müge Sümerol, head consultant at RAMA IS, a company based in Istanbul that helps clients such as airport builders implement new digital technologies.
"And of course, nowadays the airports are much bigger and they have time constraints. So it's important that when people get together and work on that data that they should be able to follow what the other person can do."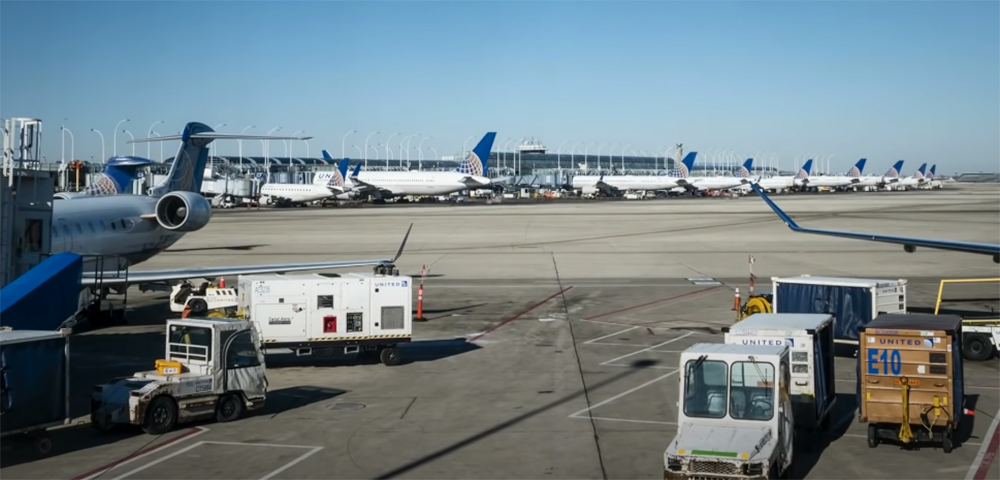 Above: Complex infrastructure projects like airport builds require huge amounts of data to be processed.
On massive infrastructure projects like this, that's where tools like Egnyte come in. It lets teams easily share files of various types and sizes, and collaborate on them in real time.
"It's like a very big orchestra scattered over probably a 300,000 metres square area working in tandem so they can provide the necessary safety, security, comfort and the efficiency that a project like this requires," explains Sümerol.
Bringing all of this information out of its silos and into one place creates a single source of truth that everyone can depend on, regardless of where they are or which device they're using.
Everything from design updates to drone shots and 360-degree images captured across the terminal sites can be transferred instantly to one secure location - even in low-bandwidth areas.
With Egynte's integrations to some of the industry's most popular software, users like the ones RAMA IS work with know their information is synchronised and protected from threats like ransomware.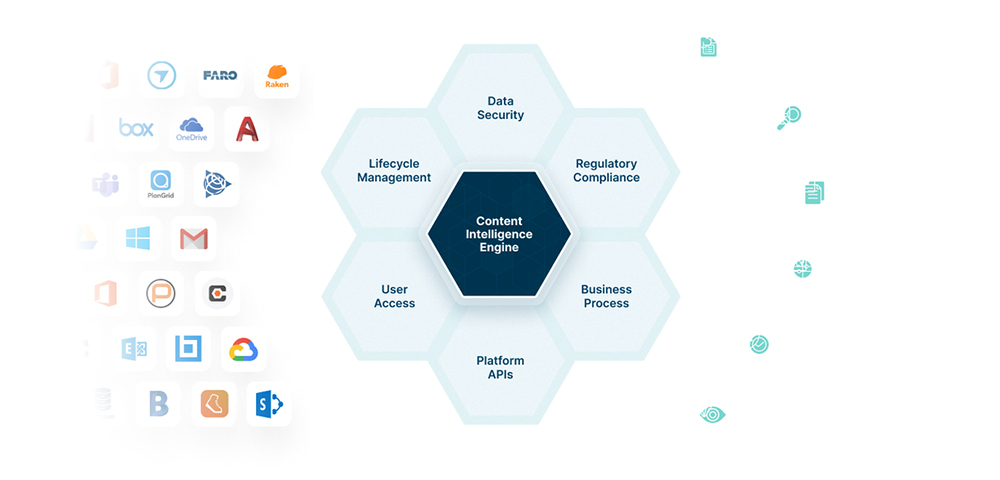 Above: Egnyte's platform offers a common data environment for projects. Image courtesy of Egnyte.
"We were looking for an environment in infrastructure that would be easy to install, can work offline, online and on premise, as well as being easy to maintain so that we don't have a lot of support people. Egnyte satisfies all those points," says Sümerol.
Technology will be critical to O'Hare 21 avoiding the sort of delays that have crept in elsewhere at the airport - like the 'people mover' which is finally back in service more than two years late.
The inevitable challenges aside, the complex work that's about to happen in Chicago is likely to be repeated in towns and cities across America as the country works to upgrade its infrastructure while keeping everything moving.
It's still early days for O'Hare 21 and the biggest part of the scheme is just about to start, but if this megaproject can hold its flightpath then by the end of the decade Chicago should have an airport to be proud of once again.
This video contains paid promotion for Egnyte, which helps architecture, engineering and construction firms worldwide deliver incredibly complex projects like this. Discover how.
Video presented and narrated by Fred Mills. Additional footage and images courtesy of Chicago Department of Aviation, Studio ORD, Egnyte, ABC, CBS, Dave Sizer/CC BY 2.0, David Wilson/CC BY 2.0, Google Earth, InSapphoWeTrust/CC BY-SA 2.0, Jon Proctor, Microsoft Flight Simulator, Nicola/CC BY 2.0, Prayitno Hadinata/CC BY 2.0, Skidmore, Owings & Merrill, TravelingOtter/CC BY-SA 2.0, Turner Paschen Aviation Parners, 20th Century Fox, US National Archives, Warner Bros and WGN News.
We welcome you sharing our content to inspire others, but please be nice and play by our rules.
Comments
---