Cities
Vienna is Building a $6BN "City Within a City"
Youtube Views

781,920

VIDEO VIEWS
Video powered by ALLPLAN and hosted by Fred Mills. This video and article contain paid promotion for ALLPLAN.
RENOWNED for its unique blend of architecture and stunning cultural landmarks, Vienna is among Europe's top travel destinations.
But while it is perhaps best known for its well-preserved heritage buildings, the capital of Austria has been pioneering new approaches to urban living for years.
Now, it's innovating again as it looks to solve its growing population problem - while cementing its status as one of the world's most liveable cities.
Combining the power of technology, sustainable design and modern methods of construction, this is how Vienna is building one of the continent's largest - and most ambitious - urban development projects.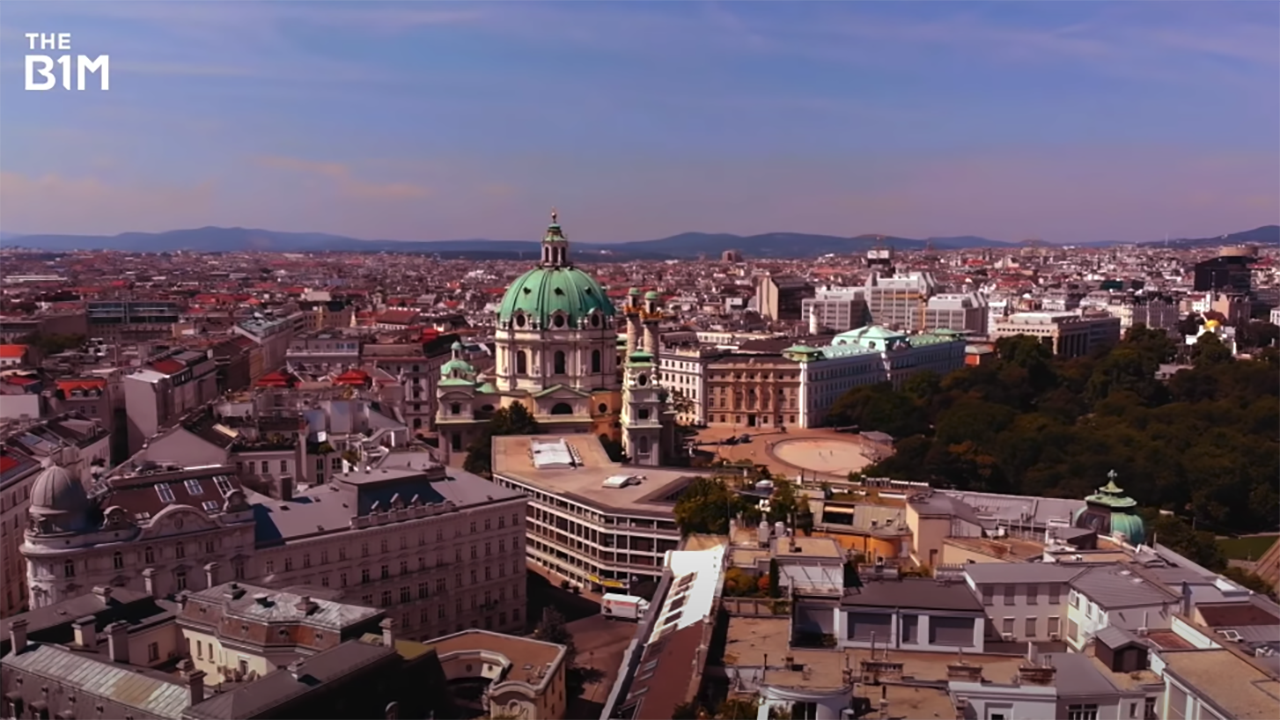 Above: Vienna is one of the fastest-growing major cities in the European Union (EU).
The Austrian capital has been expanding since the late 1980s, with the growth rate rising substantially once the country gained EU membership in 1995.
Positioned between the regions of Central and Eastern Europe, Vienna has consistently adapted to increasing numbers of people, regularly developing new initiatives to urban development.
But when it became clear the city's population was set to pass two million by 2027 - creating demand for housing, jobs, public spaces and transport that it would struggle to meet - the city began embarking on one of the continent's largest urban expansion projects.
Aspern Seestadt is an entire new quarter of the city across 240 hectares, built on the site of a former airfield. Far from being just a way to accommodate new citizens, the scheme is seen as an opportunity to integrate innovative ideas and concepts, improve the city's already high quality of life and lower its carbon footprint.
Encompassing over 11,000 high-quality homes, the potential for 20,000 workplaces and numerous smart city initiatives, total investment in the new quarter is expected to reach around USD $6BN once complete.
Work on the project has been underway since 2009, and by mid-2020 around a third of the site area had been developed.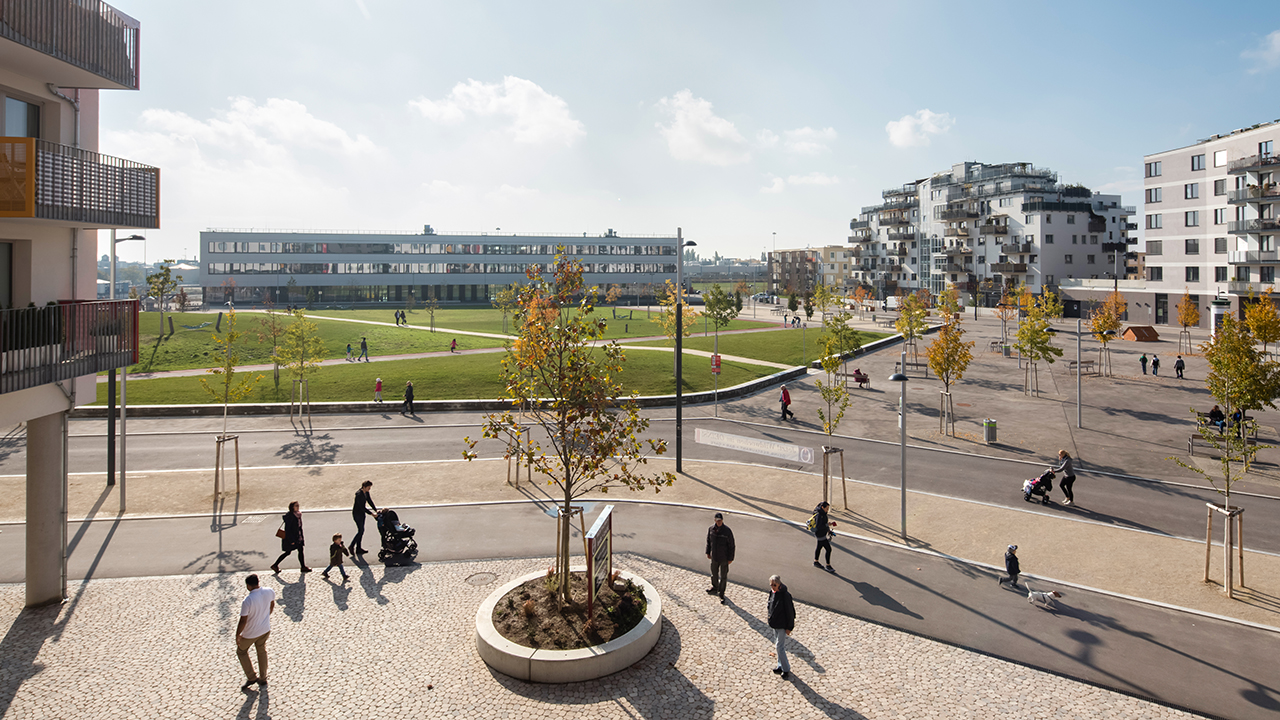 Above: The district is already home to approximately eight and a half thousand residents and 300 businesses. Image courtesy of Daniel Hawelka.
An artificial lake sits at the heart of Aspern Seestadt - which translates as 'Urban Lakeside' - requiring around 650,000 tonnes of earth to be excavated for it.
Once removed, the material was processed at a centre on site, before being recycled to build new structures elsewhere in the district. Concrete from the old runways has also been dug up and reused to create roads and thoroughfares.
Heavy recycling isn't the only way that the intelligent use of materials has been applied at aspern Seestadt. The development is also home to HoHo Wien - the world's second tallest timber building, standing 84 metres high and dominating the skyline of the lakeside business area.
Containing a hotel, apartments, restaurants and offices, over 75% of the structure is made from sustainably-sourced wood native to Austria.
Wooden construction can be seen across other parts of the site, too. In the south-eastern section, a complex of more than 200 homes, called Holzwohnbau, has been built with timber used for the walls and facades, as well as in community areas.
A large number of building elements here, at HoHo Wien and on buildings all over aspern Seestadt were prefabricated under factory conditions.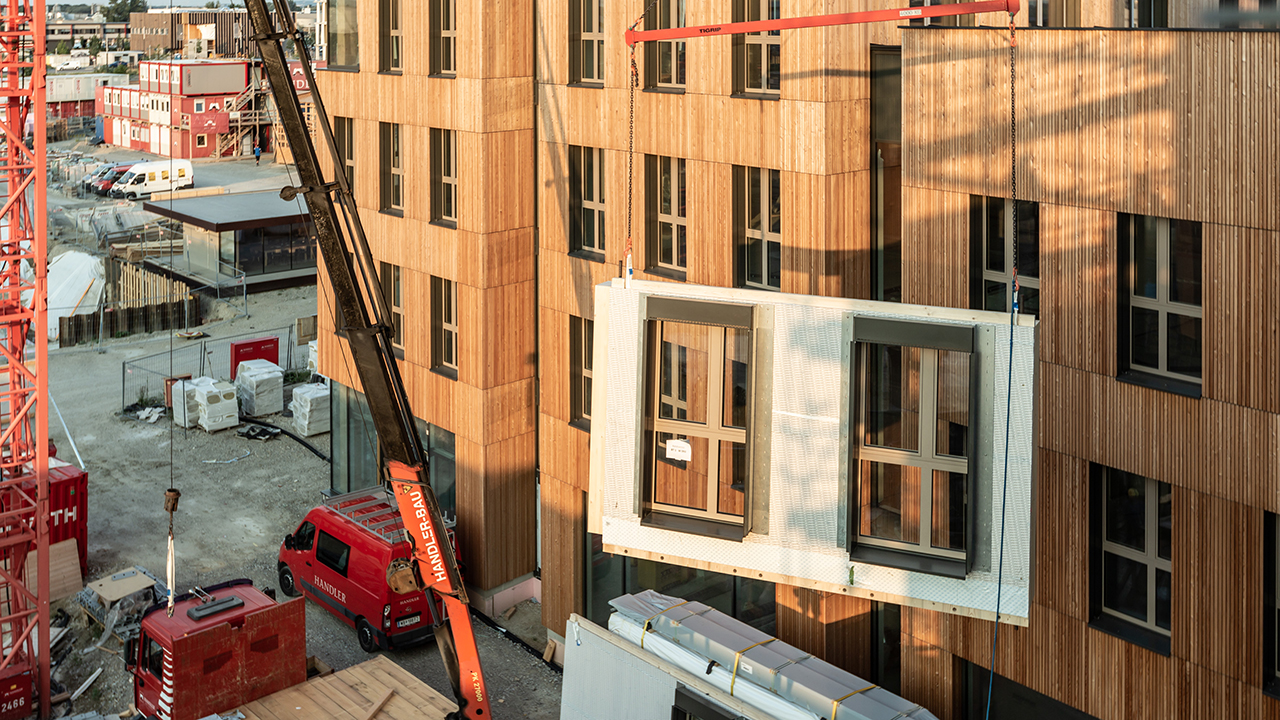 Above: Prefabrication has sped up the build process, reduced waste, improved quality and limited disruption to residents and businesses. Image courtesy of cetus Baudevelopment GmbH / Thomas Lerch
The use of precast concrete - where components such as walls, slabs and beams are made offsite in specialised, automated production facilities before being trucked in and craned into place - is extensive on this project.
Over on the western edge of the new quarter, a cluster of housing blocks designed and built by Mischek Systembau, a subsidiary of STRABAG AG, has been constructed using precast techniques. Being able to build at speed while ensuring errors were prevented was a key requirement for Mischek.
Digital tools from ALLPLAN helped the firm to achieve this goal. With its Precast Competence Center, ALLPLAN provides a range of software solutions dedicated to prefabrication.
The company's Planbar 3D modelling software allowed Mischek to carry out the precast detailing and preparation work with added precision.
Using Planbar, architectural models can be imported and optimised while shop drawings are generated automatically and update themselves whenever the model changes. ALLPLAN's work preparation tool, TIM, is then used for quality control.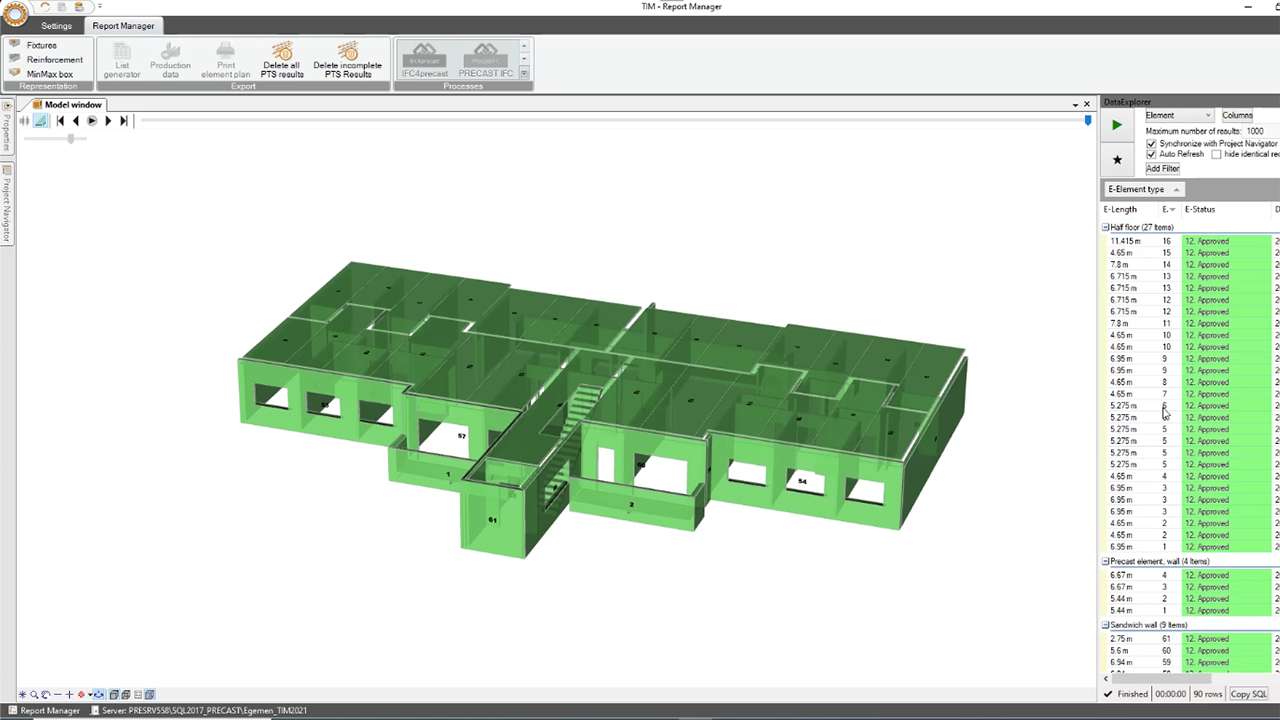 Above: ALLPLAN's TIM ensures all data relating to production, assembly and logistics is error-free before manufacturing begins. Image courtesy of ALLPLAN Precast.
Technology at Aspern Seestadt isn't limited to the way its buildings are designed and constructed. A number of the houses and other buildings have been equipped with smart tech, creating highly energy efficient homes for residents as well as testbeds for new research.
Data from these buildings is fed to an on-site urban lab which has been operating since 2013, with the aim of optimising energy production and consumption, as well as developing smart power grids and other solutions.
Although work on the new quarter isn't expected to fully complete until the 2030s, the development is already a fully-functioning quarter.
As well as several clusters of homes and offices, there are numerous shops, service providers, schools and even high-tech production and R&D facilities on site.
Many key transport links and mobility initiatives are now up and running. New rail links - a combined train-metro station and another metro stop - connect the district to the centre of Vienna and Bratislava in neighbouring Slovakia. Two new tram links are also planned.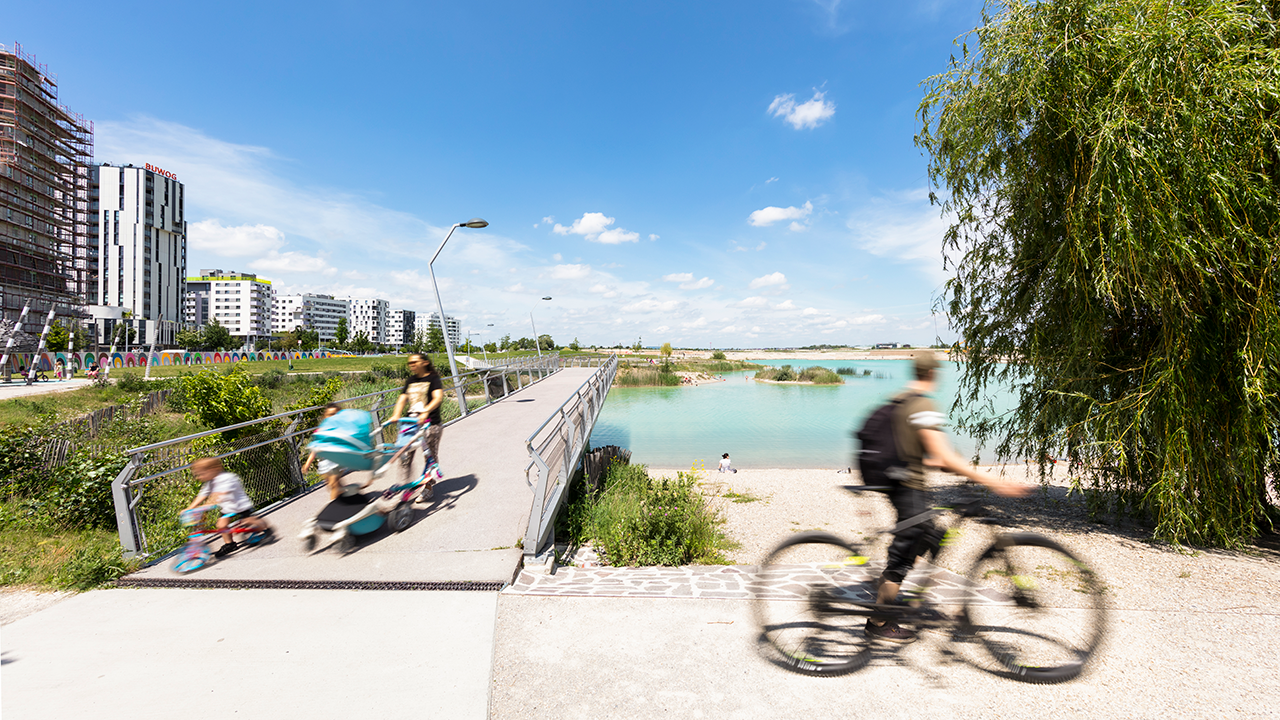 Above: In total, around 80% of travelling will be done via walking, cycling and public transport. Image courtesy of Daniel Hawelka.
For a work in progress, Aspern Seestadt has left many impressed by what has been achieved so far. Winning multiple awards for smart initiatives and property management before it had even reached the halfway point is proof that the project has made a big early impression.
With new solutions to rising populations, tackling climate change and improving wellbeing on the list of challenges for many of our urban centres, Vienna is setting a new standard for expansion that cities across Europe - if not the world - may soon look to follow.
This video was sponsored by ALLPLAN.
See how its software is digitalising the world of precast concrete here.

Video presented and narrated by Fred Mills. Additional footage and images courtesy of ALLPLAN, ASCR/Walter Schaub-Walzer, Cetus Baudevelopment GmbH, Christian Furthner, Christian Jobst, CNES, Daniel Hawelka, Erich Reismann, Johannes Ortner, Maxar, Microsoft Corporation/Earthstar Geographics SIO, MK Timelapse, Peter Lauppert/CC BY-SA 4.0, Thomas Ledl/CC BY-SA 4.0, Thomas Lerch, Vienna Drones, Vogel and Wien 3420 Aspern Development AG.
We welcome you sharing our content to inspire others, but please be nice and play by our rules.

Comments
---