Cities
The Skyscraper Dividing New York
Youtube Views

548,531

VIDEO VIEWS
Video narrated by Fred Mills. This video and article contain paid promotion by Bluebeam.
FOR years, deciding what to rebuild at the World Trade Center site in Lower Manhattan has been a point of contention amongst New Yorkers.
And if you've watched our channel before, you might know that construction isn't exactly finished. In fact, there's a couple buildings missing.
2 World Trade Center was set for completion years ago but it is still searching for a tenant. 5 World Trade Center is a different story. Unlike the other commercial skyscrapers on the site, this is the only residential one. That means it comes with an entirely new set of terms and public debate compared to an office space.
As New York City sits in the middle of a housing crisis with skyrocketing rents, new housing is desperately needed. Only this is no ordinary building site, and all eyes are set on what the latest World Trade Center tower will eventually become.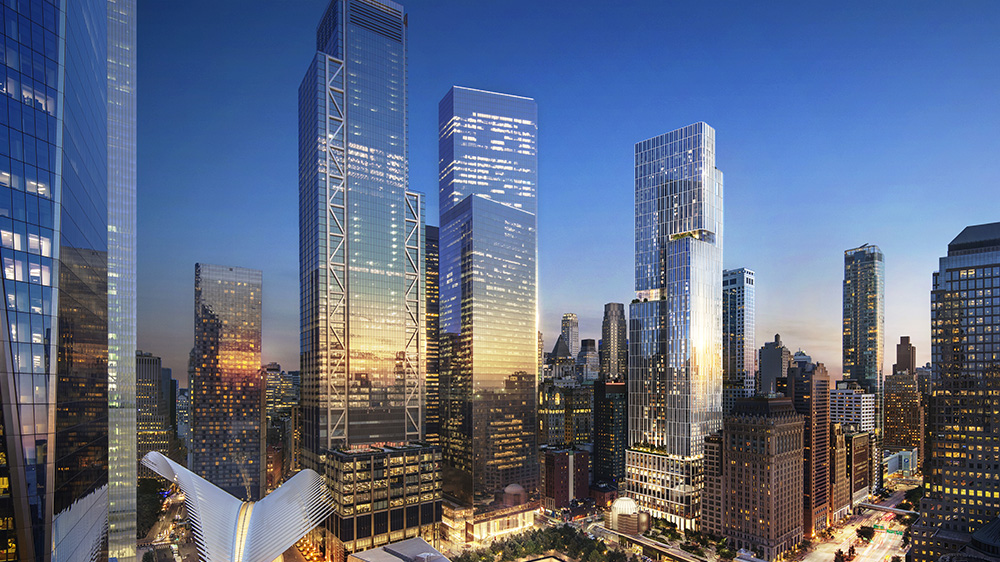 Above: A rendering for 5 World Trade Center stands on the right. Image courtesy of Silverstein Properties and Kohn Pedersen Fox.
Today Lower Manhattan is the centre for government, international trade, and finance. But that wasn't always the case.
Before the Twin Towers opened in the 1970s, there was Radio Row: a commercial hub for hundreds of radio and television storefronts. But when plans for the World Trade Center were finalised right on top of the neighbourhood in the 1960s, all the shops faced destruction.
Concerned for their livelihoods, business owners, along with about 100 local residents, pushed back.
Ultimately it was to no avail. By the following decade sat a new complex of buildings — ones that went on to define the New York City skyline and become an integral symbol of the booming Financial District.
But these buildings didn't stand forever. They were later destroyed or damaged by the terrorist attacks on September 11, 2001 — altering the skyline and city forever.
Despite the tragic events of that day, New Yorkers began to rebuild. But this didn't go without controversy and careful decision making.
Fast forward to today. One World Trade Center, along with three other skyscrapers circle around a memorial. Yet, portions of the site still remain empty.
Let's take a look at 130 Liberty Street, where the previous Deutsche Bank Building stood. While it wasn't destroyed on 9/11, it was heavily contaminated. After years of deterioration, the city demolished it.
Now it remains an empty construction site for the anticipated 5 World Trade Center.
Just like the other structures in the district, the idea for its replacement has faced a myriad of revisions and public scrutiny.
Daniel Libeskind, the mastermind behind the original master plan, pictured 5 World Trade Center as a residential or mixed-use tower that looked something like this.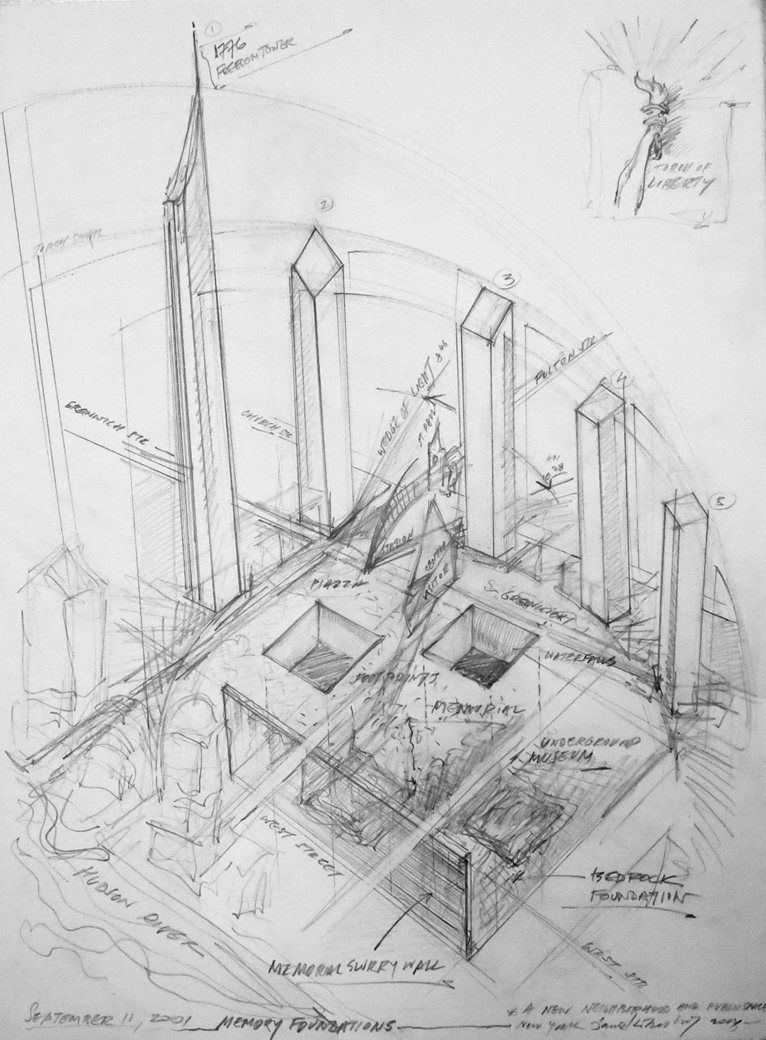 Above: The original sketch of the World Trade Center site with 5 World Trade Center labeled. Image courtesy of Studio Libeskind.
And in 2007, New York City officials outlined a plan for a 42-storey office tower with JP Morgan as the anchor tenant. But none of these ever came to fruition and it continued to sit vacant.
Then in 2019, Governor Cuomo made a new request for proposals, outlining designs could be either residential or commercial.
A couple years later, Silverstein Properties and Brookfield Place unveiled a development for a 274-metre mixed-use building filled with apartments, office and retail space.
Designed by Kohn Pedersen Fox, the skyscraper would have a floor-to-ceiling glass facade with steel framed windows and rounded corners. It was a bit of a visual contrast alongside the neighbouring all-glass buildings on site, like One World Trade.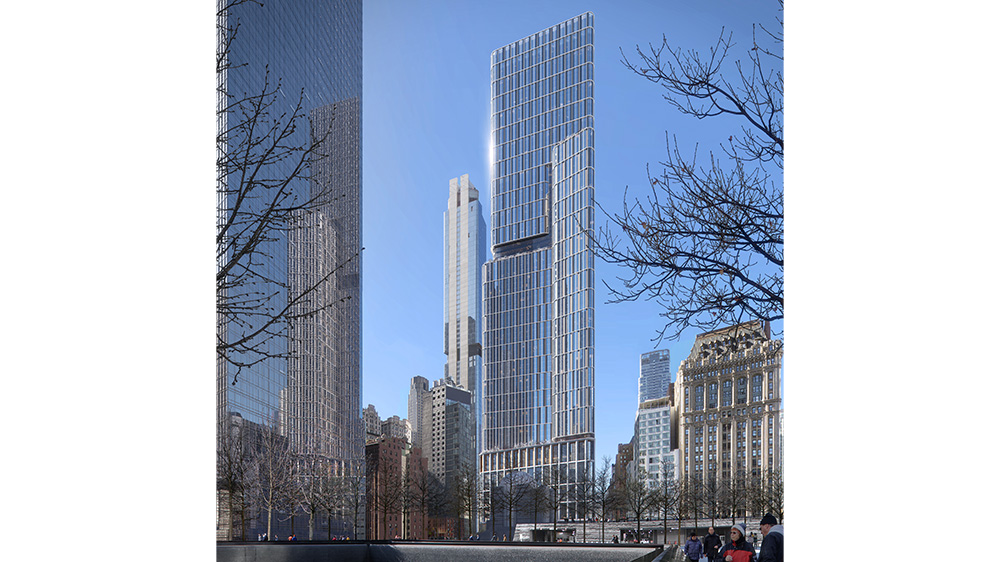 Above: A rendering of 5 WTC. Image courtesy of Silverstein Properties and Kohn Pedersen Fox.
The building also had several terraces filled with greenery, including a wide space towards the middle — most likely an area for residential amenities for the apartments inside.
Now the public debate hasn't revolved so much around the design — instead it's focused on who will actually get to live in the building. Back in 2021, 25% of these units were deemed to be affordable housing.
But New York City's affordable housing policies are complex to say the least. And it's certainly no secret that Manhattan rent is expensive.
On average, a one-bedroom apartment in Manhattan rings up to a staggering $5,588 per month. That's made finding somewhere affordable to live an increasing struggle for many New Yorkers.
The city has a few main ways it addresses the housing issue: it maintains public housing developments, provides federal subsidies to some families, and caps the price of certain units in some buildings … like 5 World Trade Center.
To qualify for those so-called affordable units, residents must meet certain income requirements based on the household's percentage of the area median income. They then must enter into a lottery system for the chance to rent one of the coveted apartments.
Above: A rendering of 5 WTC. Image courtesy of Silverstein Properties and Kohn Pedersen Fox.
But just because the program is called affordable housing, doesn't necessarily mean it's affordable in the way you might expect.
"Those units are reserved for people making between 40 and 120% of the area median income," said Kathryn Brenzel a senior reporter at The Real Deal.
"And those numbers are based on the median income for all of New York City. And I think some of your suburbs are included in those calculations. So what we're talking about there is, you know, for a family of three, it's an income of between $50,000 and $84,000 for a family of three on the low end and then $152,000 on the high end."
Under this system, one of those coveted apartments will roughly go for $1,300 to $3,800 a month.
Ever since the percentage of affordable housing in 5 World Trade Center was announced, New Yorkers have had their fair share of opinions on what it should or shouldn't be.
Although 25% of the 1,200 units were originally dedicated towards low-income residents, activists have been fighting to make it 100% affordable, with a portion for 9/11 survivors and families.
Now, while at first glance this might make sense, it would also run up a hefty bill – a $500M government subsidy to be exact according to the site's developer, who said the money could go towards 3,600 units across the city instead of just 1,200 units inside 5 World Trade.
But hold on a moment, what do we mean by "government subsidy"? Well, with the high price of land and construction in New York, building affordable housing just isn't very attractive to developers. The margins aren't there. And when luxury property is in demand, it's an easier business decision to build that instead.
To make affordable housing work on sites like this, the government has to step in and subsidise its construction, at taxpayer's expense. They effectively have to pay developers to build affordable housing.
Right now the economic conditions for affordable housing to be organically constructed don't really exist in Manhattan. It has to be engineered. Which begs the question — will they ever exist again? And if not, what does this mean for the future of the city?
Despite these dynamics, activists at 5 WTC didn't back down from their demands for more affordable units. And after a couple years of back and forth, New York Governor Kathy Hochul eventually reached a new deal in 2023.
The number of affordable units would increase from 330 to 400 with 80 reserved survivors of 9/11. Overall, this change will cost the state roughly $60M in funding, with additional $5M from local authorities.
As for the remaining 20% of the building space, 12% will go towards offices, with the rest made up of a mix of retail and public amenities for residents.
Over two decades have passed since 9/11. During that time, the World Trade Center site has seen several stops and starts towards rebuilding.
With the latest announcement finalised, construction for 5 World Trade Center is now expected to begin in 2024.
It's the latest step in what the site has been envisioned to become ever since the decision to rebuild was made. Plans for 2 World Trade Center have been in the air for years, but with the future of 5 World Trade Center making progress, perhaps the rest will soon follow.
This video contains paid promotion for Bluebeam. See how its ROI calculator can help reduce project costs here.
Special thanks to Kathryn Brenzel. Additional footage and images courtesy of Kohn Pedersen Fox, Government of New York, Silverstein Properties, Studio Libeskind and World Trade Center.
We welcome you sharing our content to inspire others, but please be nice and play by our rules.

Comments
---