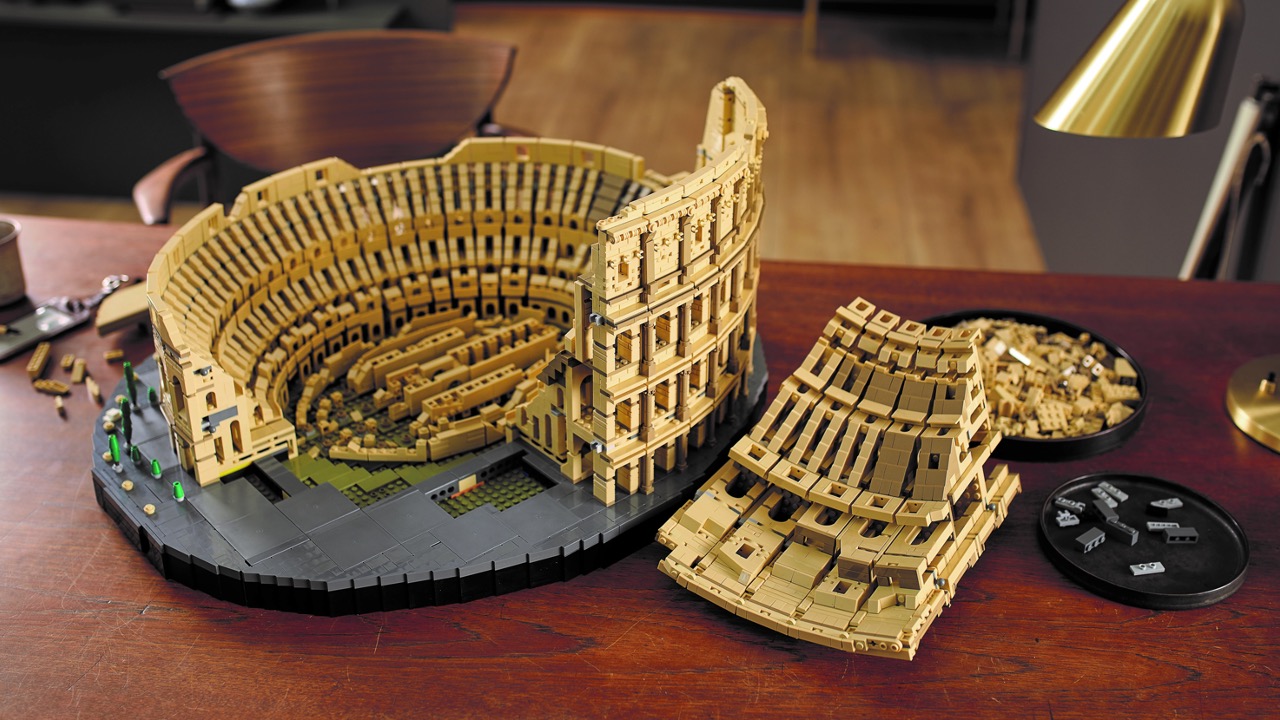 CITIES
The 13 Best Architecture and Construction LEGO Sets Ever Created
LET'S be honest: for most of us the obsession with architecture and construction started with LEGO and we still love playing with the stuff, even though we're now officially "grown-ups".
Nothing gets kids excited about the world of building quite like a LEGO kit. That's why we've invested in UK LEGO subscription service Brick Borrow to help inspire the next generation of young builders. We're supporting the fantastic Brick Borrow team in their mission to get LEGO to even more young people, including those who might have otherwise been prevented from the experience due to cost.
But what are the coolest kits for a true architect, engineer or builder to be familiar with? In no particular order, we've rounded-up what we think are 13 of the best architecture and construction sets ever to see the light of day right here.
There's a range of abilities and prices. Many are available through LEGO directly or form part of Brick Borrow's huge library. Others are rarer fan-favourites. All would be great to build — especially for a parent-kid project team :-)
1. The Eiffel Tower
We're starting big. This model of the famous Paris icon is an absolute beast. With 10,001 pieces the Eiffel Tower is one of the biggest and officially the tallest LEGO set released to date.
It's a mammoth build and certainly not for the faint hearted, but the results will speak for themselves and you'll become widely respected for your LEGO building prowess. What's to lose?
This is an expensive set and aimed at ages 18 and older. It's available directly from LEGO in most countries.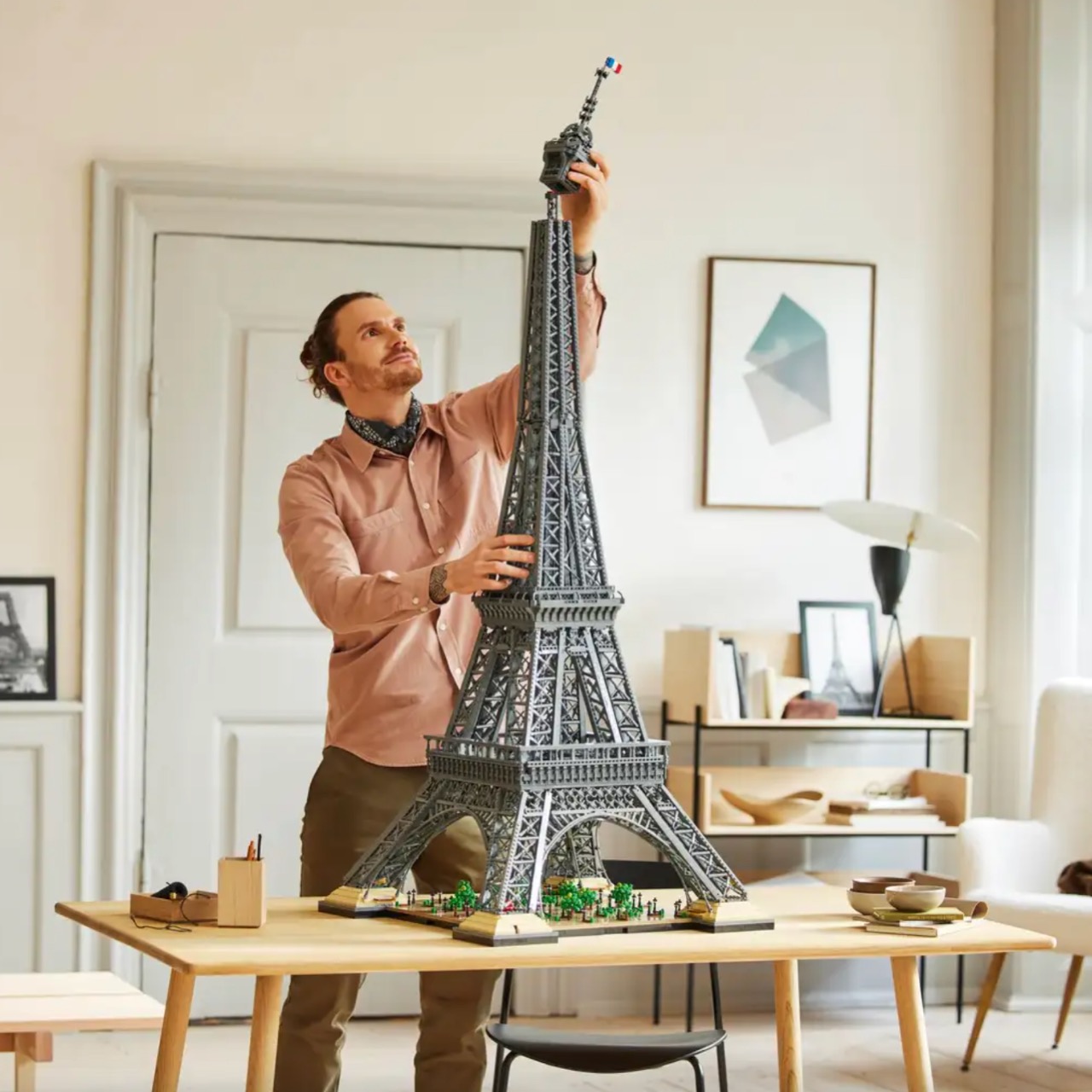 Above: The huge Eiffel Tower set nearing completion. Below: This sets includes some fantastic details. Images courtesy of LEGO.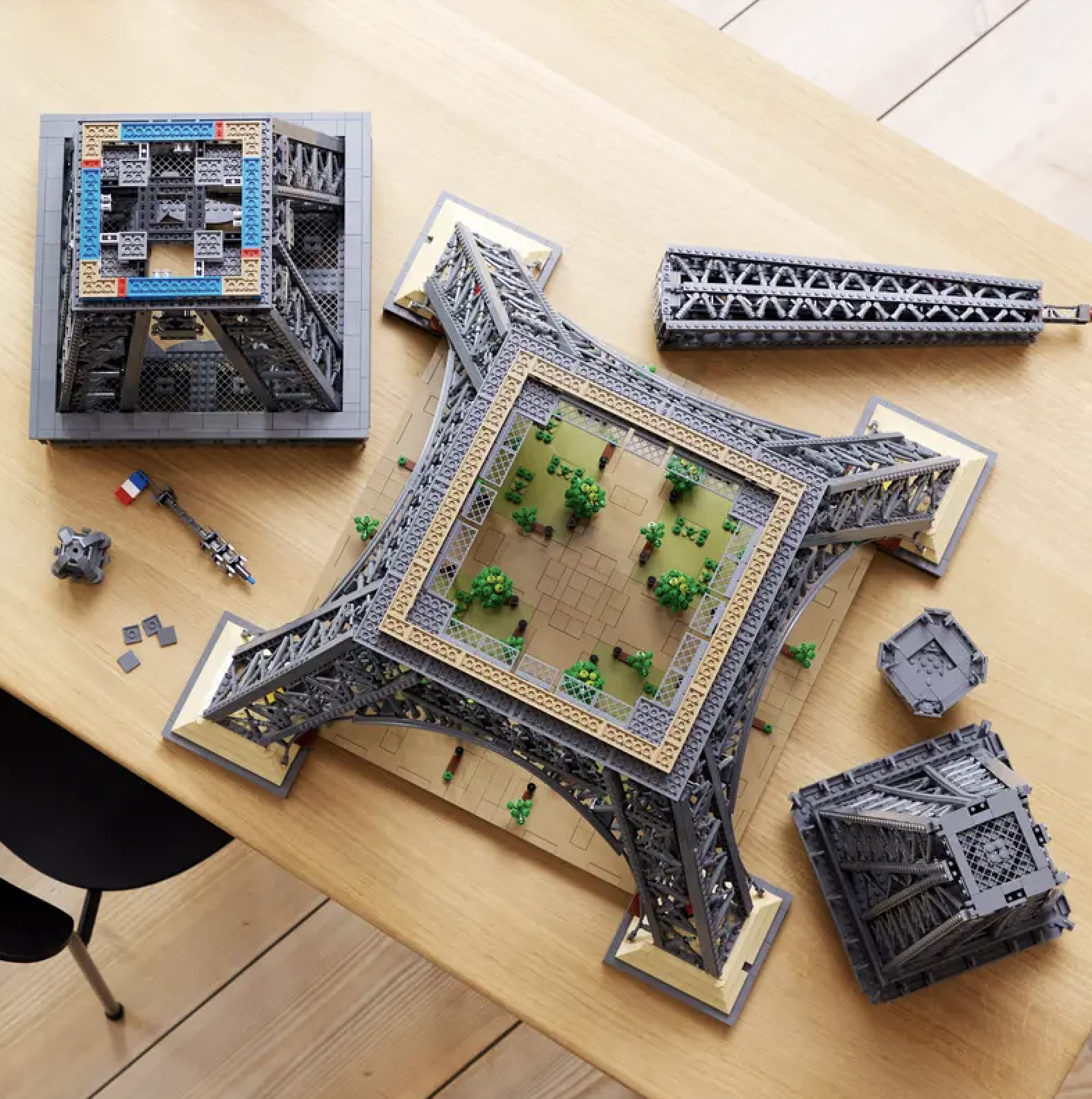 2. New York's Skyline
At pretty much the other end of the spectrum is this small but beautiful homage to the world's most famous city skyline. This one is fun and easy to build and the different buildings mean you can easily break it up into different build sessions or work on it with your kids.
The set includes a (very small) Statue of Liberty, Flatiron Building, Chrysler Building, Empire State Building and – if we're being honest – a slightly unsuccessful attempt at modelling One World Trade Center.
This one is available to rent from Brick Borrow and there many, many more city skylines to borrow and build in this popular series, including London, Paris, Singapore and San Francisco.
Above: The completed New York Skyline set. Image courtesy of LEGO.
3. Volvo's Articulated Hauler
Few sets are more satisfying (or daunting) to build. This vast and complex kit from LEGO's Technic range is no small undertaking, but once complete you'll be able to drive and control it via Bluetooth and a free app on your smartphone. My son loved playing with this one!
It's available to rent from the Brick Borrow library.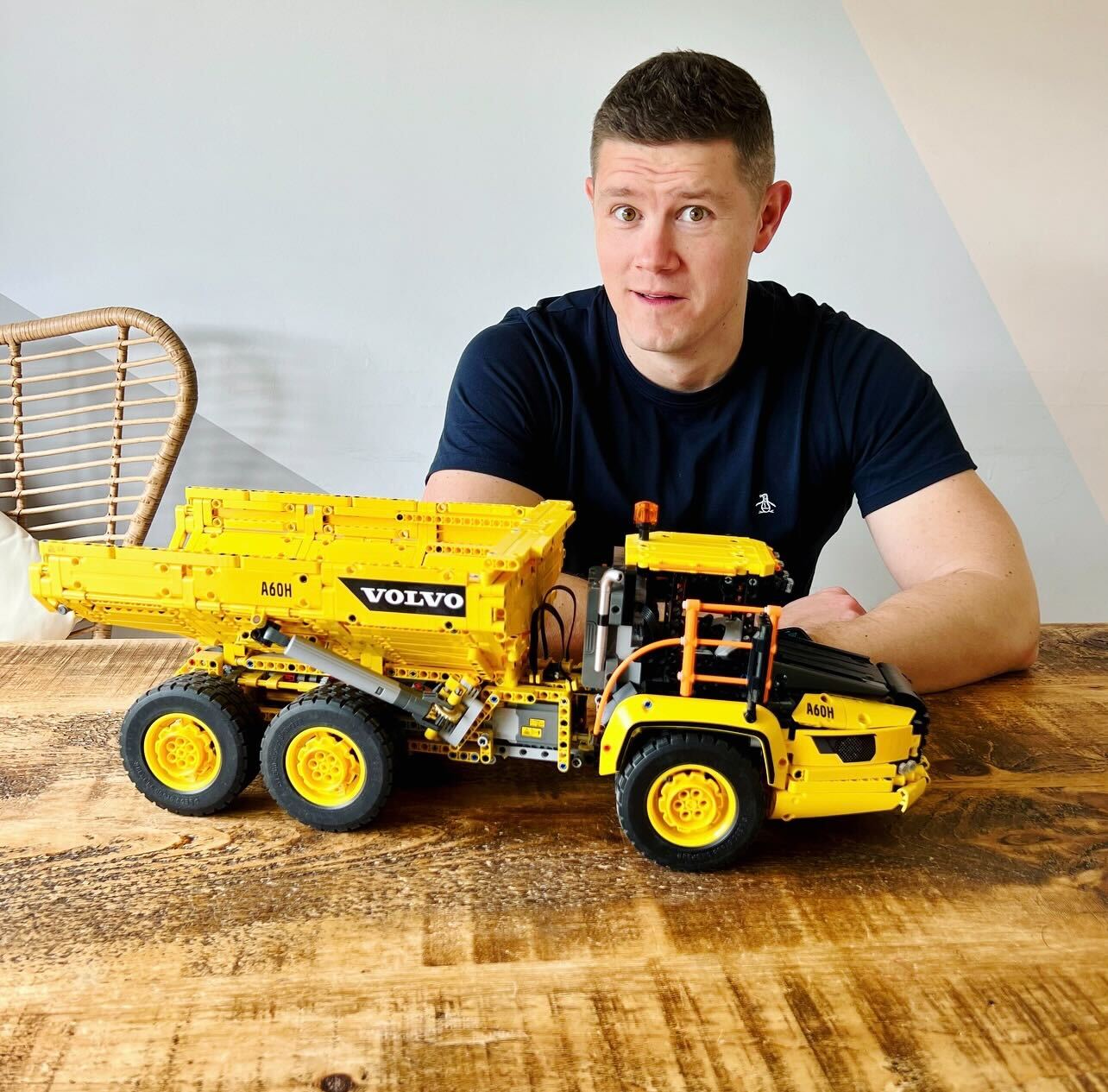 Above: Fred Mills with the Volvo hauler set.
4. The Colosseum
Officially one of the biggest LEGO sets ever, this 9,036 piece beast will certainly make a Gladiator out of you.
It's not cheap, but the Romans didn't cut budget corners when it came to the greatest arena in history and neither has LEGO. This is an epic set that really does justice to what is one of the most influential buildings in human history and easily the most iconic structure of the ancient Roman empire.
This one's aimed at ages 18 and older – and it would appear that many of 9,036 LEGO bricks are the same colour, making for a Gladiatorial build.
The set is available from LEGO directly. Good luck. Win the crowd.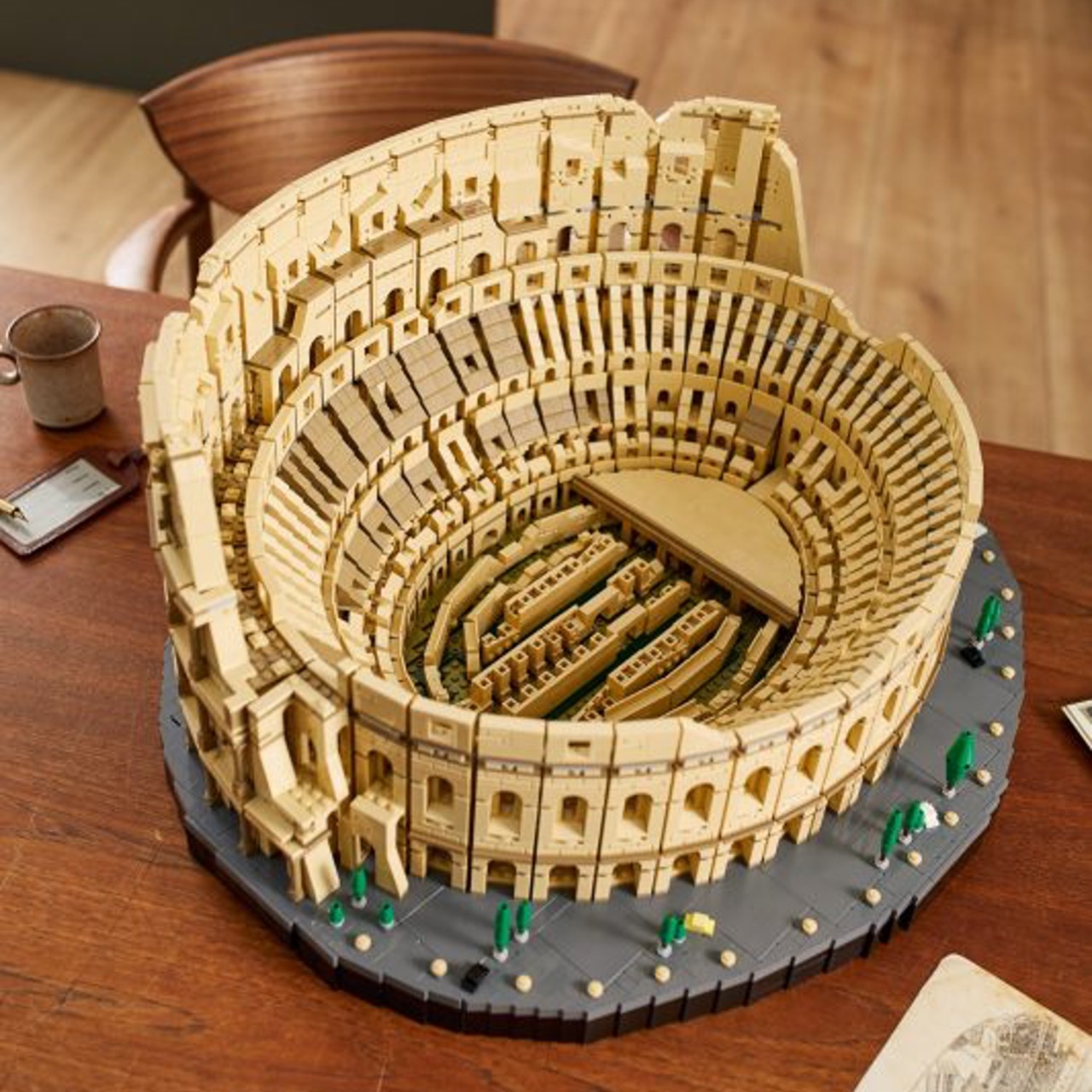 Above: The enormous Colosseum model. Image courtesy of LEGO.
5. The Great Pyramid of Giza
This fascinating set provides an insight into one of the world's greatest construction projects – a feat of engineering that still captures our imaginations thousands of years on from its completion.
The river front section of this model shows how the area around the Great Pyramid may have appeared in ancient times, while a lift-off cross-section reveals the stone-moving construction techniques that may have been used and part of the maze of tunnels that lead to the royal burial chambers.
This 1,476 piece build is aimed at adults but will prove super educational for the young people in their lives too! Best of all, it's available to rent from Brick Borrow.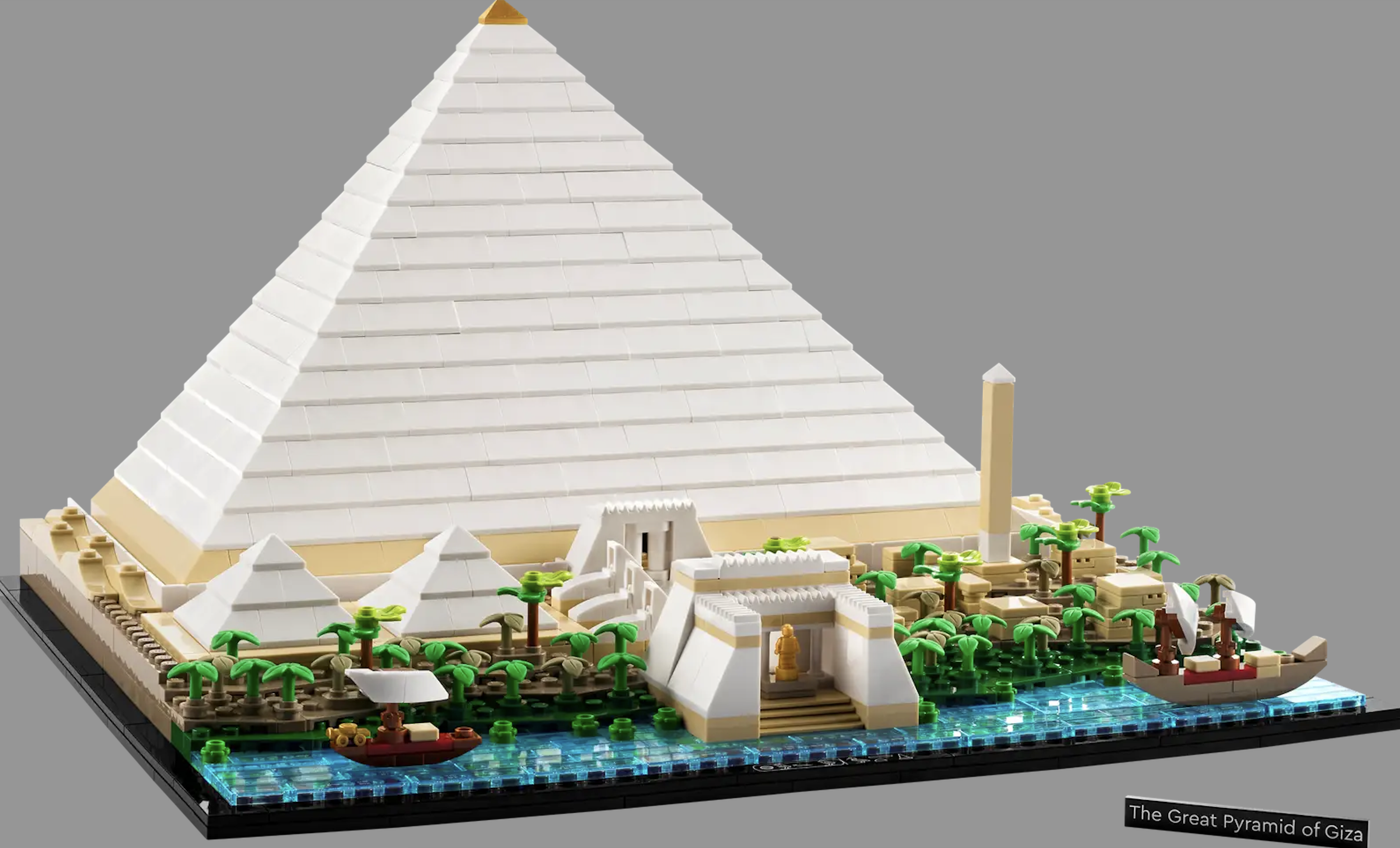 Above and Below: The Great Pyramid of Giza set is one of the most fascinating and educational LEGO builds you can do. Images courtesy of LEGO.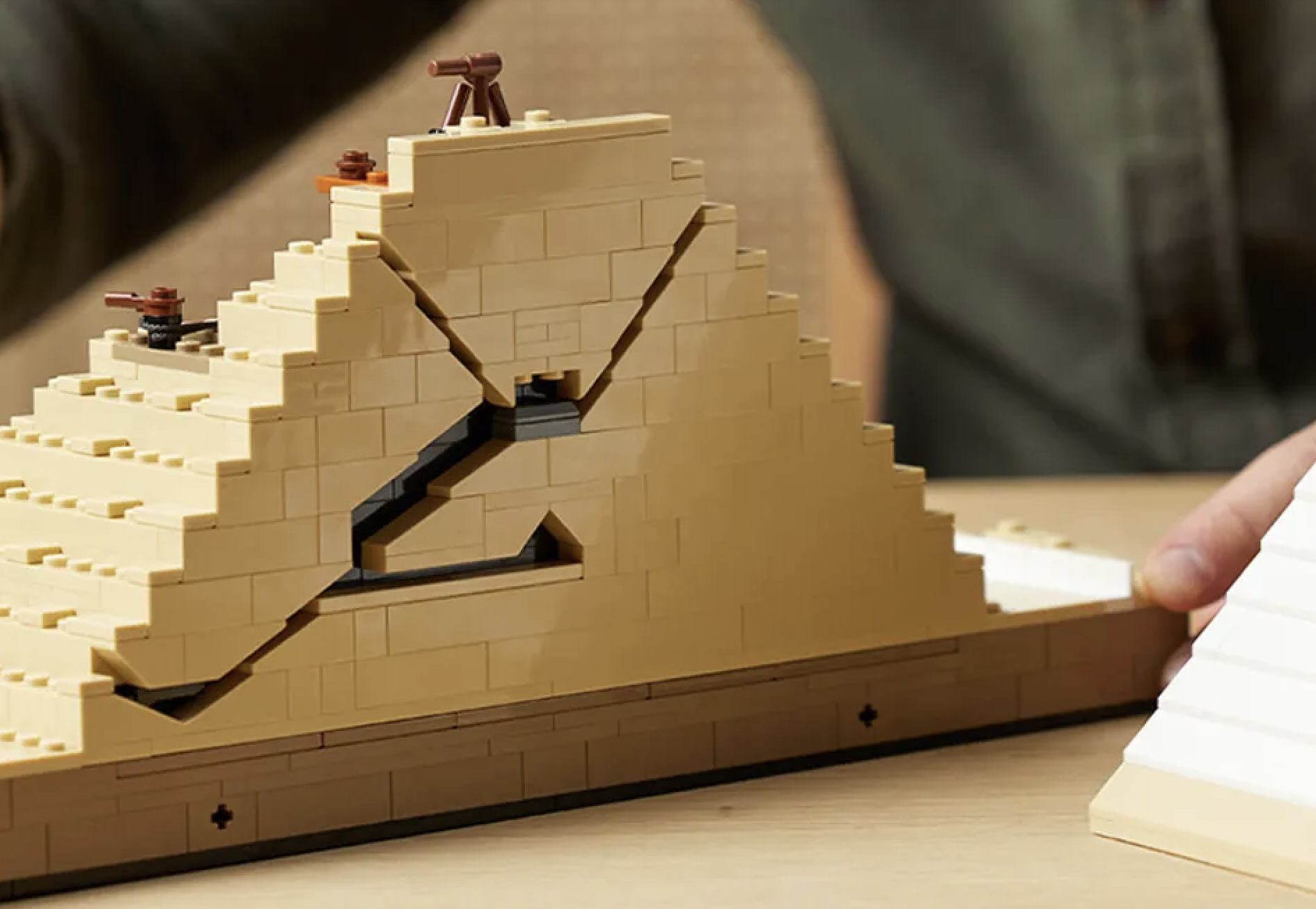 6. The Empire State Building
It's the world's most iconic skyscraper, so it's only right that there's a LEGO set paying tribute to it. The attention to detail here is great – there are mini lobby escalators inside and even miniature New York City yellow taxis around the model's base.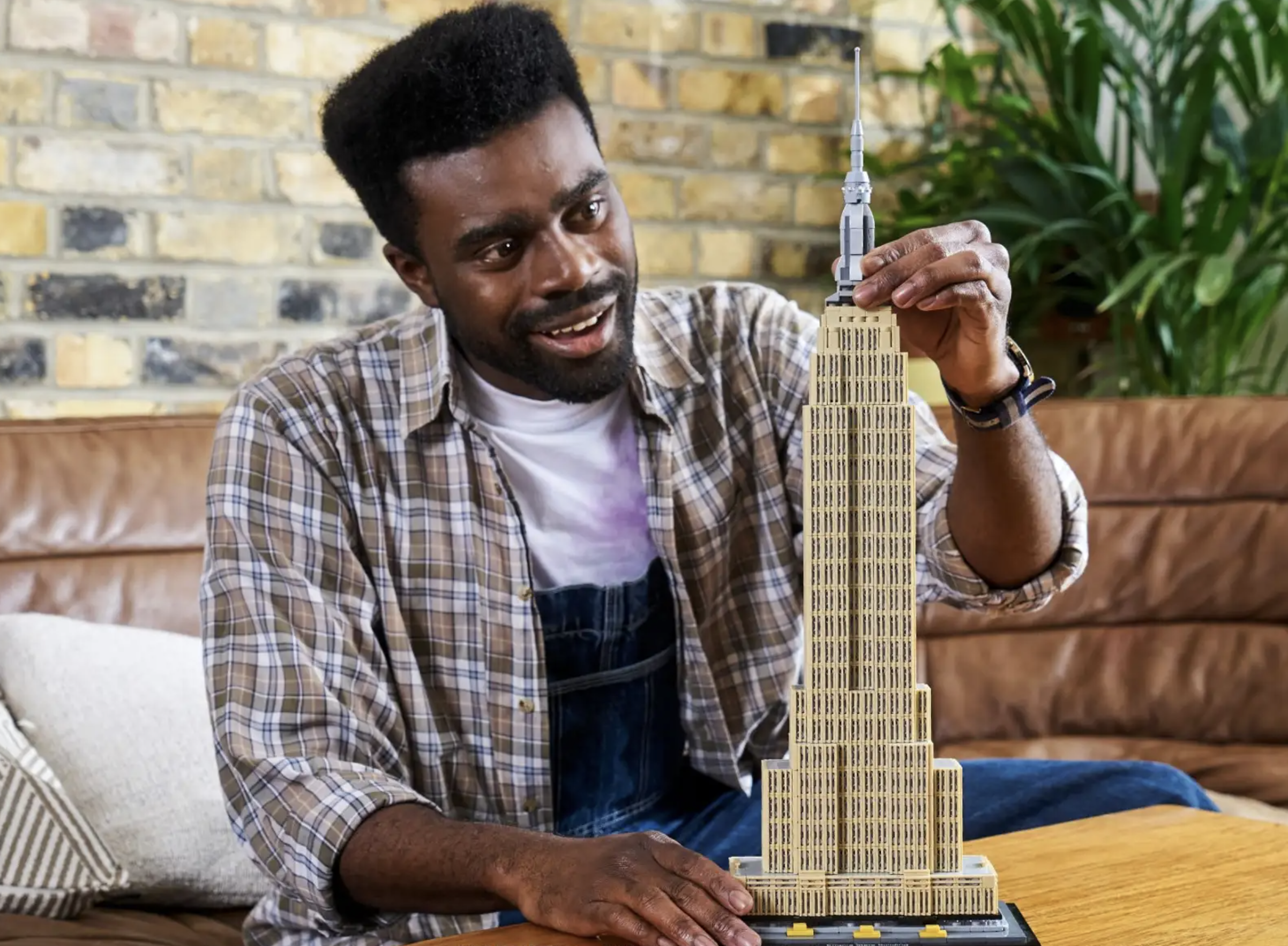 Above: The Empire State Building set. Image courtesy of LEGO.
The build is actually harder than it looks, partly because many of the bricks are the same colour. It's also aimed at a slightly older age group so each element of the model is broken into quite a complex but repetitive process that includes a lot of pieces. But the results are great and it looks fantastic on any sideboard or bookcase (you can tell your partner that we confirmed that). Nothing beats putting that spire on top at the end.
This set has now been officially retired by LEGO but you'll still see it in almost every LEGO store, toy shop or airport departure lounge you walk into.

7. Disney's Castle
Yes it counts. Yes we're including it.
There's nothing cooler than constructing the Disney Castle and this is one set that's pretty much guaranteed to get your kids excited about building.
There's plenty of architecture to be admired here with an incredible array of Disney references and twists cleverly peppered throughout.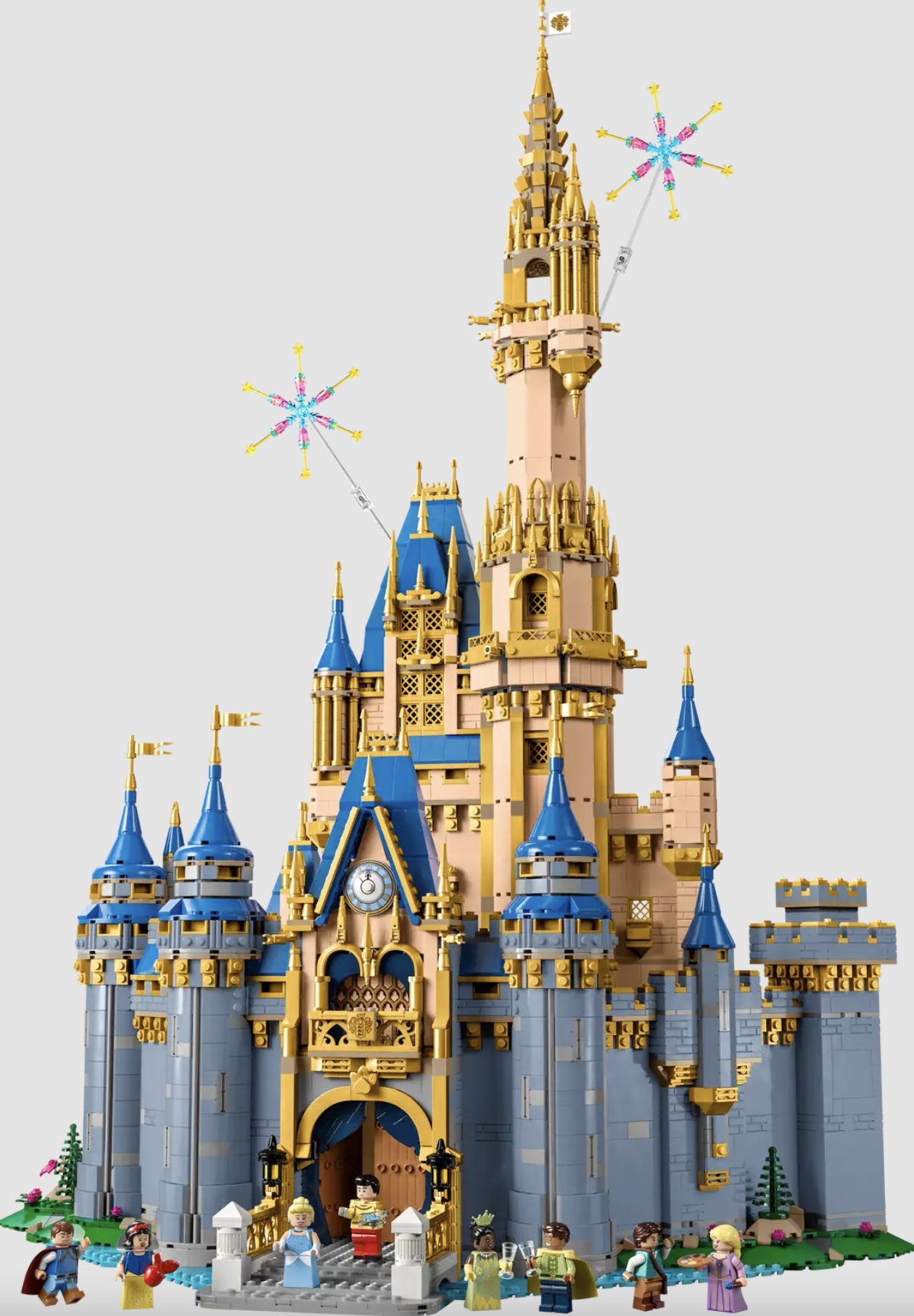 Above: The Fairytale build, complete with fireworks and Disney mini-figures. Image courtesy of LEGO.
Available directly from LEGO this is a very big set, but it's well worth doing!
Other notable architectural sets in this vein include Disney's wildly popular UP! House and a series of sets depicting Hogwarts from the Harry Potter films.
8. The Santiago Bernabeu
LEGO really hit the back of the net with this model. Loads of detail, opening cross sections and even a mini-pitch make this build a must for any Real Madrid fan.
The massive 5,876 piece set depicts the team's iconic home ground and is available directly from LEGO in most countries. It's pricey, but nowhere near as expensive as the team's human players.
If you love your stadium builds, check out this massive LEGO set of Old Trafford too.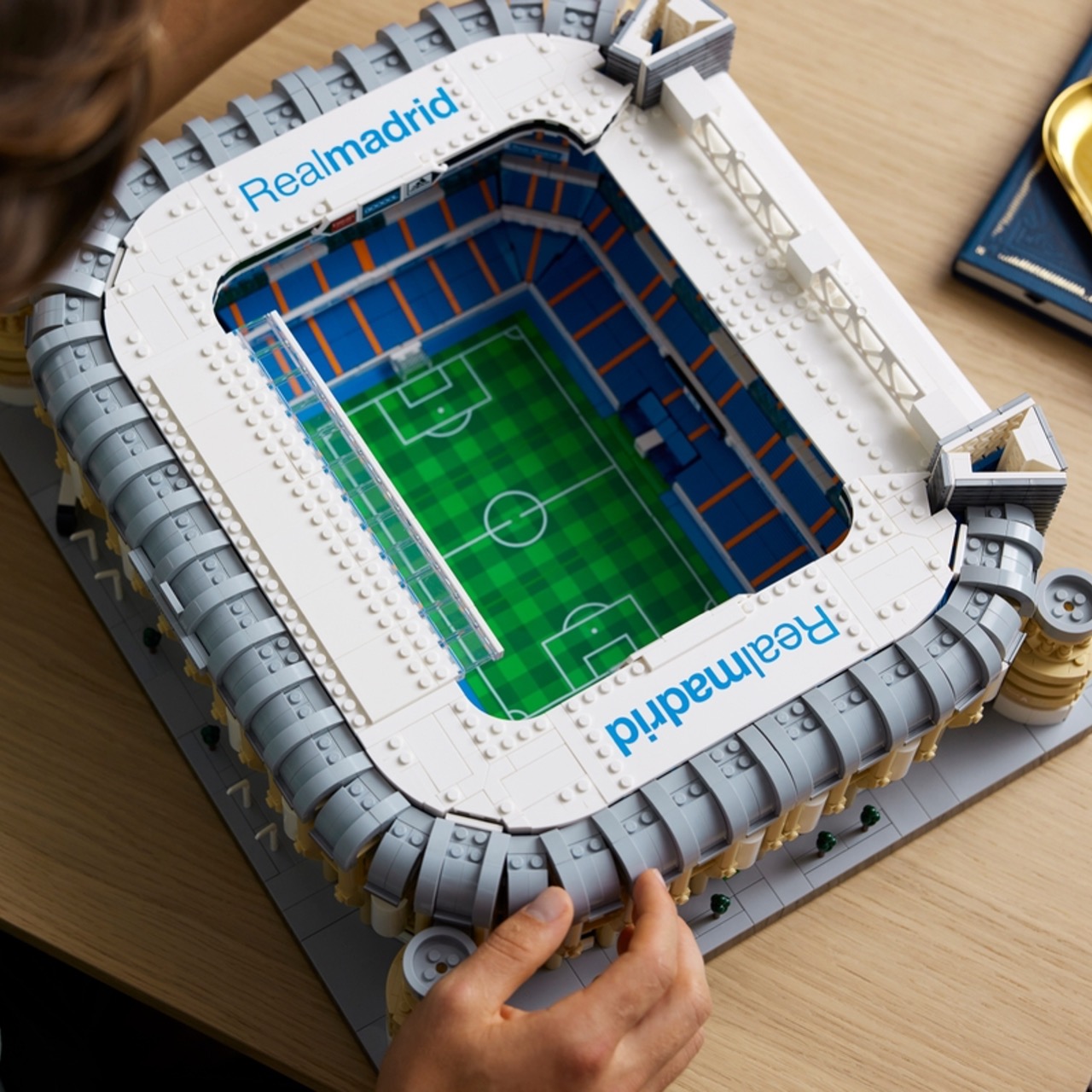 Above: This is a build for champions! Image courtesy of LEGO.

9. Liebherr's Crawler Crane
Everything about this 2,882 piece LEGO Technic set is awesome. It's detailed, it moves, and the build teaches kids loads about mechanics and the important role that machines like this play on major construction sites.
This big set is really fun and satisfying to put together – it's available directly from LEGO in most countries.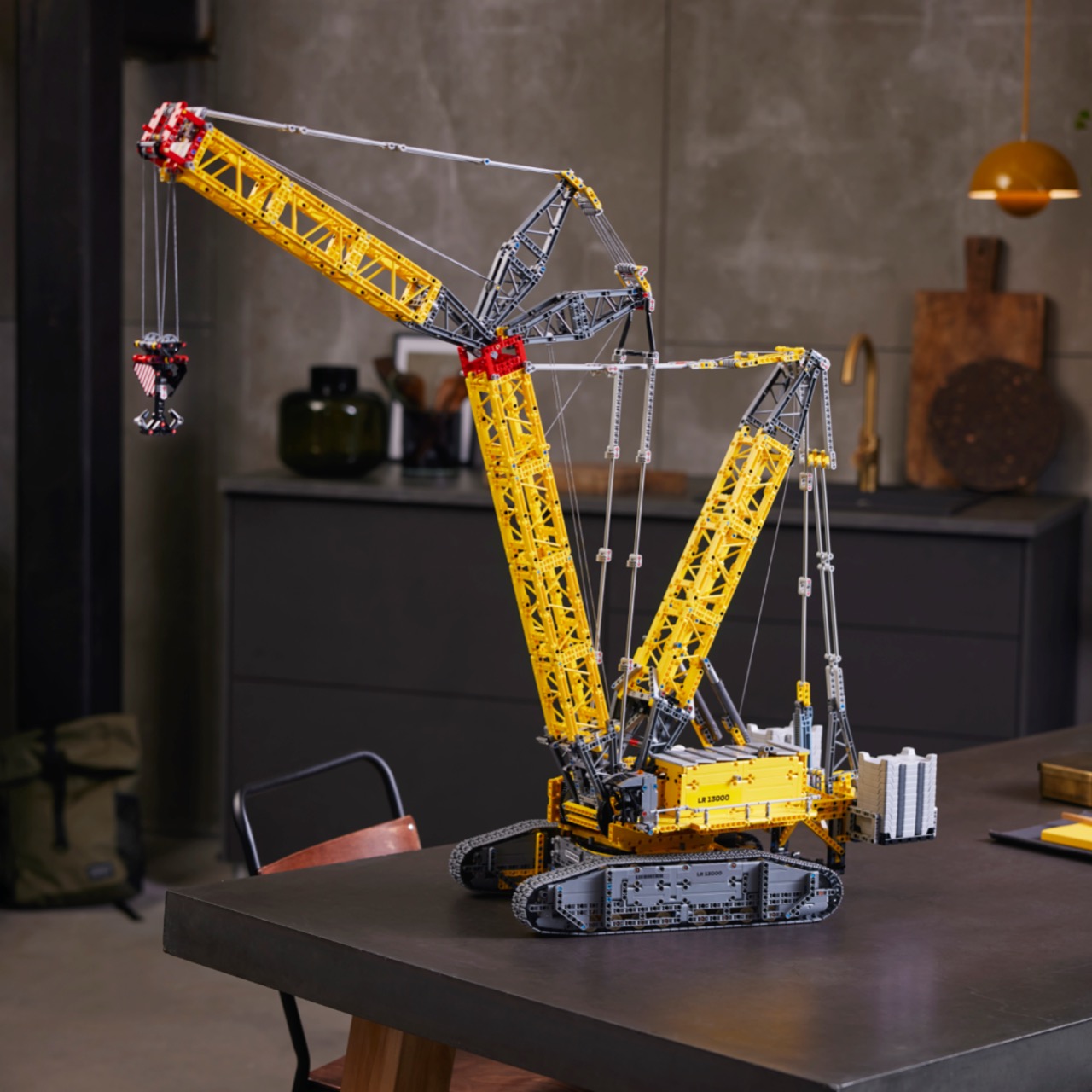 Above: The huge LEGO Technic Liebherr Crawler Crane. Image courtesy of LEGO.
10. London's Big Ben
This detailed LEGO recreation of London's Elizabeth Tower (home of the "Big Ben" bell) and part of the Palace of Westminster sadly didn't stand the test of time.
The 4,163 piece set has been retired and now seemingly replaced with the much smaller but still fun-to-build London skyline model.
As a UNESCO World Heritage site and Grade 1 listed building there really should be a bigger and cooler model of the Palace of Westminster. Luckily you can still track this set down online and in a few LEGO stores (if you're lucky).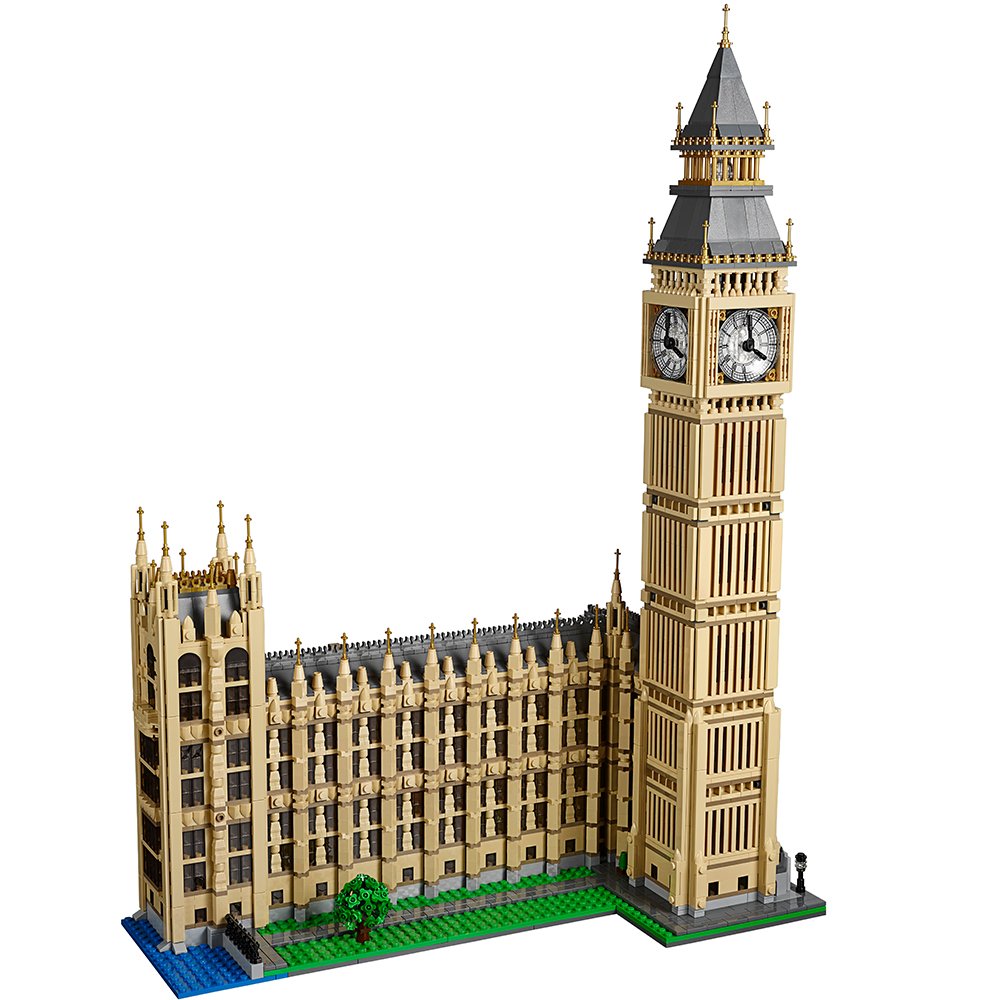 Above: LEGO's Elizabeth Tower and part-Palace of Westminster set. Image courtesy of LEGO.
11. The Statue of Liberty
This US icon is one of the hallmarks of LEGO's Architecture series.
Again, watch out for a more challenging build than you might expect here as most bricks are either beige for the pedestal or green for the statue. Other than that it's a fun, satisfying and slightly addictive model to construct. Adding the flame and crown last of all is a great moment.
This set is available to rent from Brick Borrow.
A much rarer find is this slightly twisted apocalypse themed-version of the statue that's since been retired by LEGO.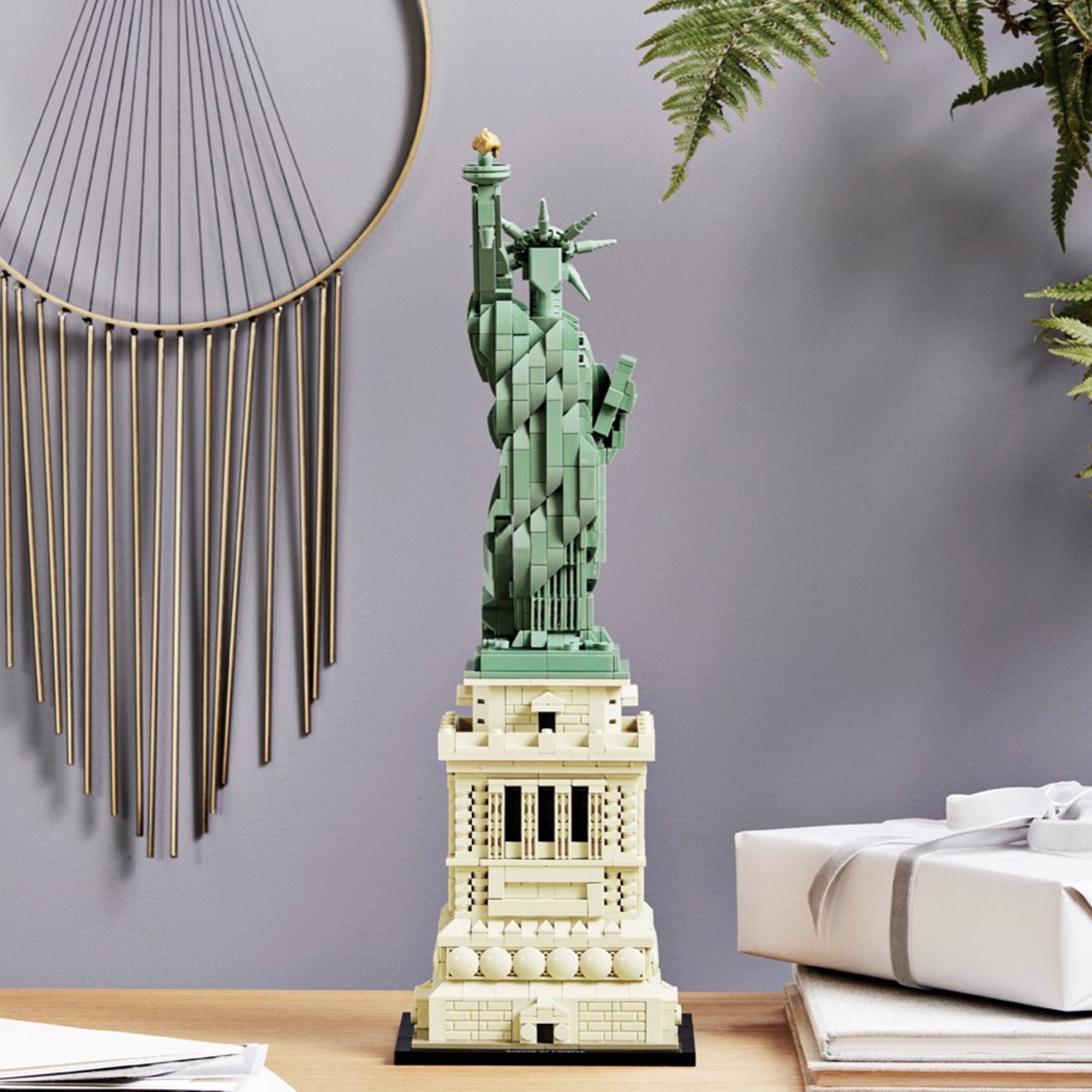 Above: The iconic statue recreated in LEGO. Images courtesy of LEGO.
12. The Taj Mahal
It's arguably the most beautiful building ever constructed, so it is only fitting that there's a LEGO tribute to this incredibly influential architectural landmark. Though now (outrageously) retired by LEGO, you can still find it easily available online and in a few LEGO stores.
With amazing intricacy and attention to detail this challenging set is made up of seven modular sections and makes for a really enjoyable build.
If you're not feeling up to the sprawling 5,923 piece set there's a more modest 2,022 piece version still available from LEGO and in Brick Borrow's library.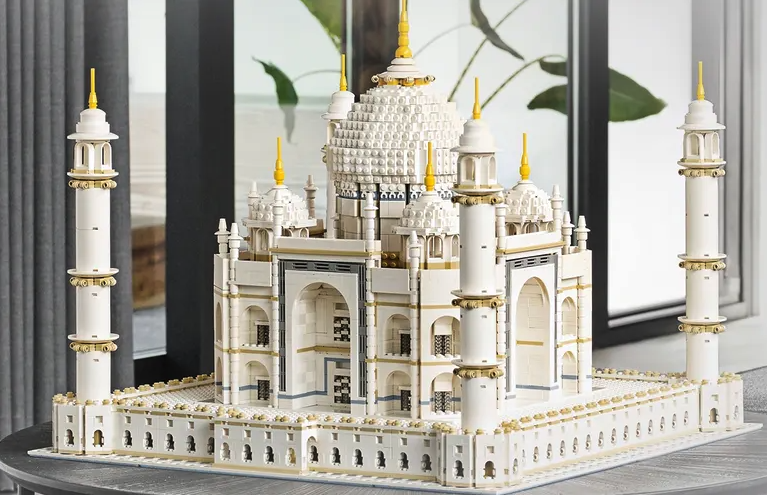 Above: LEGO's 5,923 piece Taj Mahal set is a beautiful build. Below: The smaller 2,022 piece version is just as enjoyable to assemble. Images courtesy of LEGO.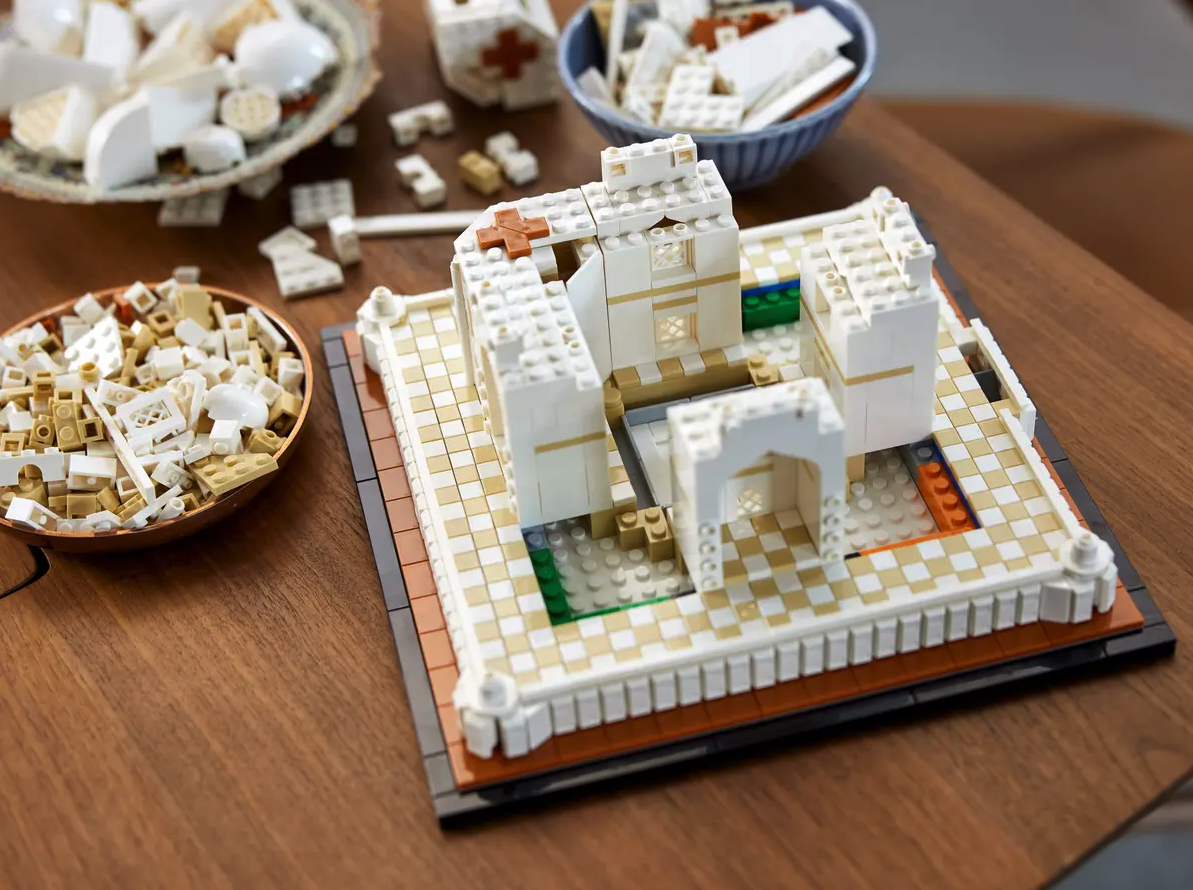 13. The Vestas Wind Turbine
Construction plays a critical role in enabling a more sustainable future, powered by clean energy. It's a message that's driven home in this fun to build set that will start some great conversations with your kids about how renewable power can be generated.
The 826 piece model stands a metre tall when complete and even includes working lights and a motor that turns the wind turbine's blades. They've also thrown in three LEGO mini-figures and a dog for good measure. You'll be left blown away.
Though now retired by LEGO this set is still widely available online and in many stores. Later editions (produced from 2019 onwards) even include a spruce tree, manufactured from sustainably sourced plant-based plastic.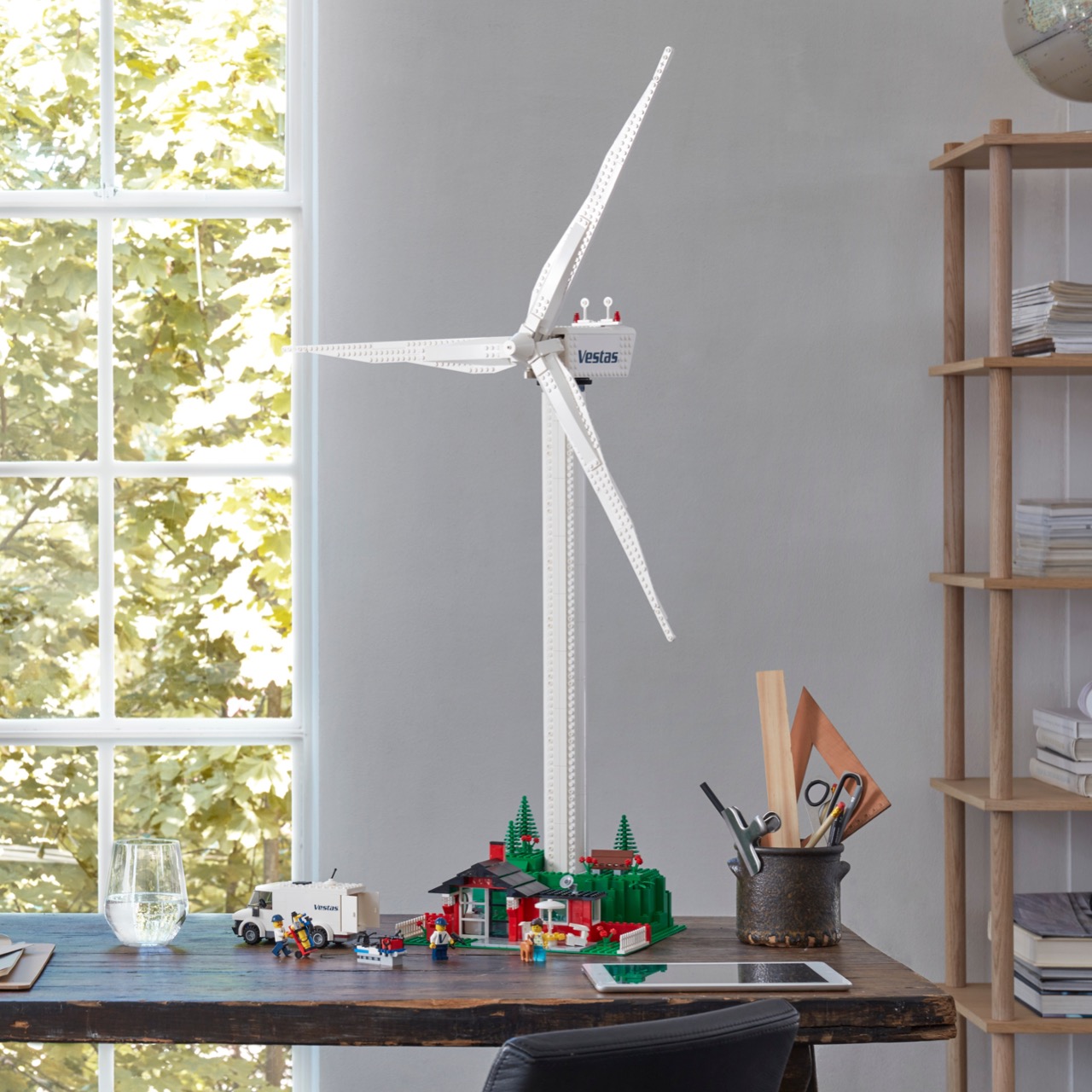 Above: The Vestas Wind Turbine set features blades that actually rotate. Image courtesy of LEGO.
The Missing Architecture and Construction Sets
There are millions of buildings in the world and we of course can't expect that they all be recreated in official LEGO sets, but there are some glaring omissions here that we'd like to gently bring to the attention of the LEGO group on behalf of architects and engineers everywhere.
The world needs a LEGO set of the Sagrada Familia. We need decent-sized sets of the Burj Khalifa, White House, Palace of Westminster and Chrysler Building.
Where are the Neuschwanstein Castle or St Peter's Basilica? Windsor Castle feels like an obvious fit. Montreal's Habitat 67 is an architectural masterpiece that was actually inspired by LEGO bricks. Surely that makes it worthy of a set?
Please get these models produced and out there in the world LEGO. We promise to build them!
What architecture and construction LEGO sets have you most enjoyed building? What did we miss? What other sets should LEGO create? Let us know in the comments.

Comments
---