Cities
Saudi Arabia's Wild Megaprojects Explained
Youtube Views

586,260

VIDEO VIEWS
Video hosted by Fred Mills. This video contains paid promotion for Masterworks.

YOU MAY have noticed that Saudi Arabia is on a bit of a megaproject building spree.
From 175-kilometre linear cities to cubes large enough to hold twenty Empire State Buildings – the Middle Eastern country has been announcing record shattering projects left, right and centre in an effort to pivot its economy and change its PR narrative – a narrative that's seen many call into question its government and construction labour practices.
So why is Saudi Arabia trying to out-build the world? Why is it pouring so many hundreds of billions into construction? And can all these projects amount to more than their glossy renders?

To put it bluntly, the clock is ticking.

Saudi Arabia became wealthy thanks to a little substance called oil – and while the country has no shortage of the stuff (it's the world's second-biggest producer of it), global demand for the commodity is falling.

Now, when your country's economy is almost entirely dependent on oil that's a problem – so Saudi Arabia is trying to diversify and fast; taking a leaf out of the Dubai handbook and trying to become a global magnet for tourism.

In essence it's a strategy of "build it and they will come" – but build it big and with lots and lots of cash. In short, Saudi Arabia wants to do Dubai on a scale that even Dubai couldn't dream of.

The country has set-up the Public Investment Fund (PIF), a sovereign wealth fund that's working to deliver all of these massive projects with state money.

Whether you like it or not, anchoring new developments with headline-grabbing structures is proven to attract both domestic and foreign investment, and that creates a bigger market for trade, outside of oil.

In a bid for legitimacy, the PIF has signed-up some of the world's biggest architects and engineering firms, and taken out ads in The New York Times, Time Magazine and on billboards around the world.

In short, Saudi Arabia is trying to use construction for positive PR – and right now it needs some of that.

While these projects may appear bright and shiny on the outside, many have raised concerns over their environmental impact and the country's history of poor construction labour practices.

It's hard to keep up with the pace of megaproject announcements, so here are five of the biggest ones to be aware of.

5. The Giant Cube: The Mukaab

Lesson one from Dubai: go big.

And this building will be absolutely huge – designed as the centrepiece of what it's claimed will be "the world's largest modern downtown", in the middle of Saudi Arabia's capital Riyadh.

At 400-metres high by 400-metres wide it will be the world's first supertall cube and if it's successfully constructed, easily one of the largest structures ever built.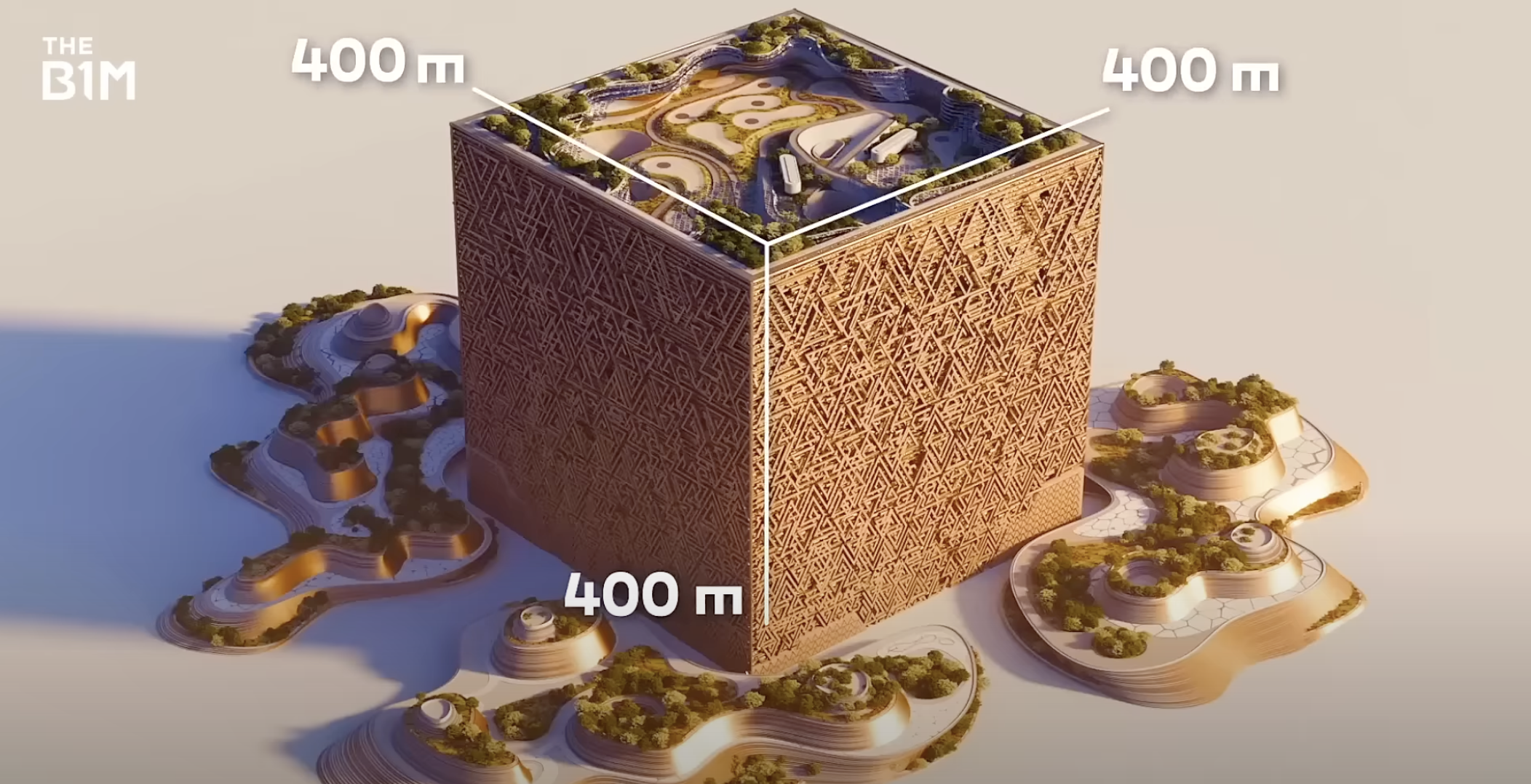 Above: The Mukaab will be 400 metres high. Image courtesy of NEOM.
The problem with deep plan buildings like this is getting natural light into the centre of them and creating spaces that human beings actually want to inhabit – that's where skylights and atriums come in.

But light is not an issue here. Inside will be a massive and ever-changing immersive screen wrapped around a tall central tower, creating a virtual world on the scale of Blade Runner.

Overall there will be 100,000 residential units, some 9,000 hotel rooms and more than 980,000 square metres of retail space.

It won't be completely alien looking either, this triangular pattern on the building's exterior is meant to evoke local Najdi architecture.

The total cost of the project hasn't been fully disclosed but it'll likely be the budget of a 400-metre skyscraper – squared.

4. The Desert Ski Resort: Trojena
That's right: a ski resort in the desert.

It'll sit in the centre of NEOM: a $500BN Saudi gigaproject that includes a few of the schemes in this video.

Technically in the desert, Trojena will actually be nestled up among some of the country's highest peaks, approximately 2,600 metres above sea level.

There'll be a ski slope, a mountain biking course, luxury properties dubbed "slope residences", a vertical village of restaurants and retail stores folded into a cavern, and an enormous manmade lake.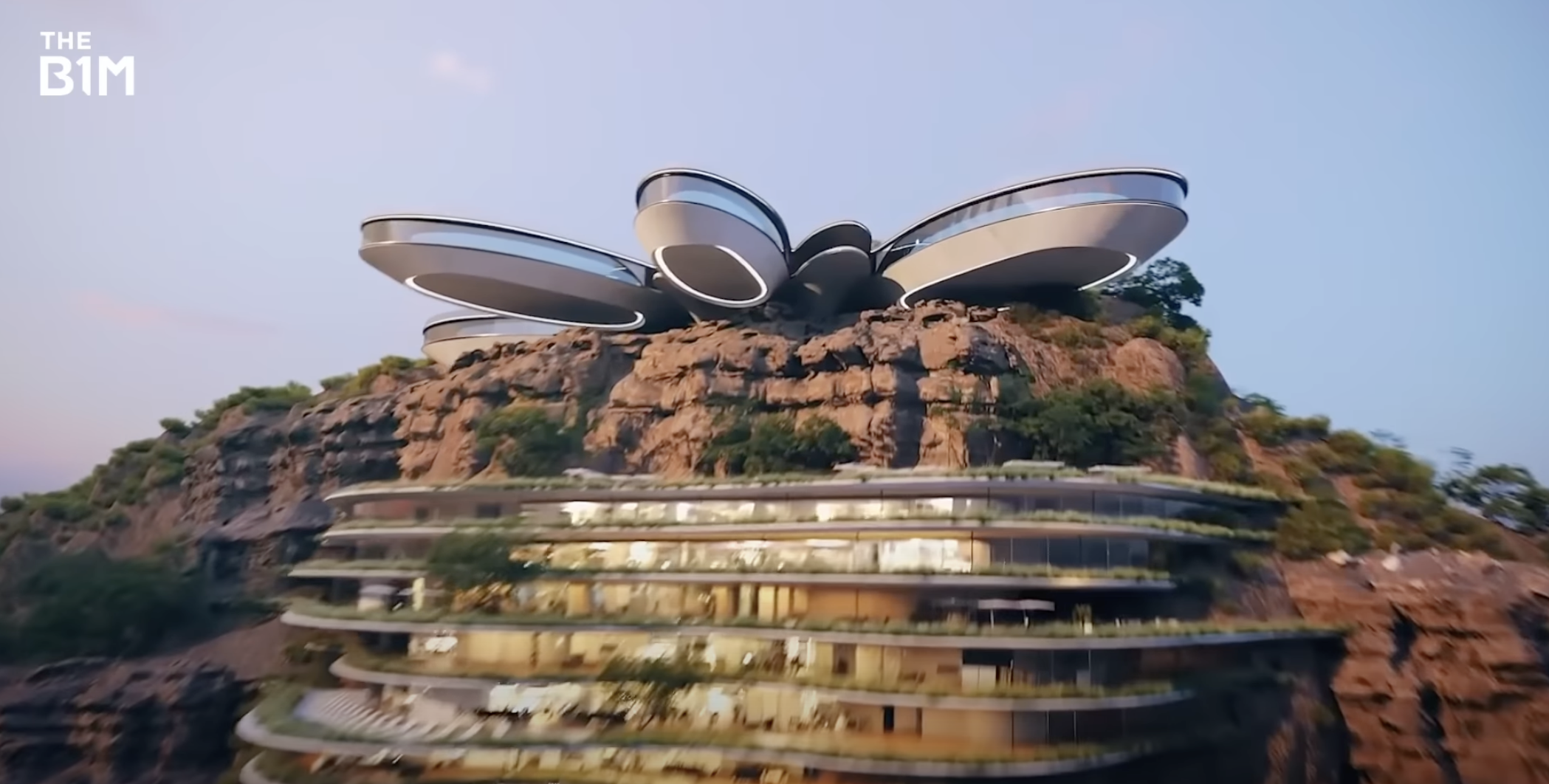 Above: Trojena will be an epic ski resort in the desert. Image courtesy of NEOM.

Trojena has already officially won the bid to host the Asian Winter Games in 2029 – the first time that a winter sporting event will be held in an Arabic-speaking country.

It's likely to join a litany of other controversially located sporting tournaments, like the Qatar World Cup and Beijing Winter Olympics.

Construction appears to be underway.

3. The Floating City: Oxagon
This will be the world's largest floating structure – an immense port that'll take advantage of its location near the Suez Canal to become a major shipping destination hub and the logistics nervecentre for NEOM.

The entire megaport will be octagon, with part of it floating out onto the Red Sea.

Separating the two sections will be a huge shipping canal, complete with a cruise terminal and oceanographic research centre.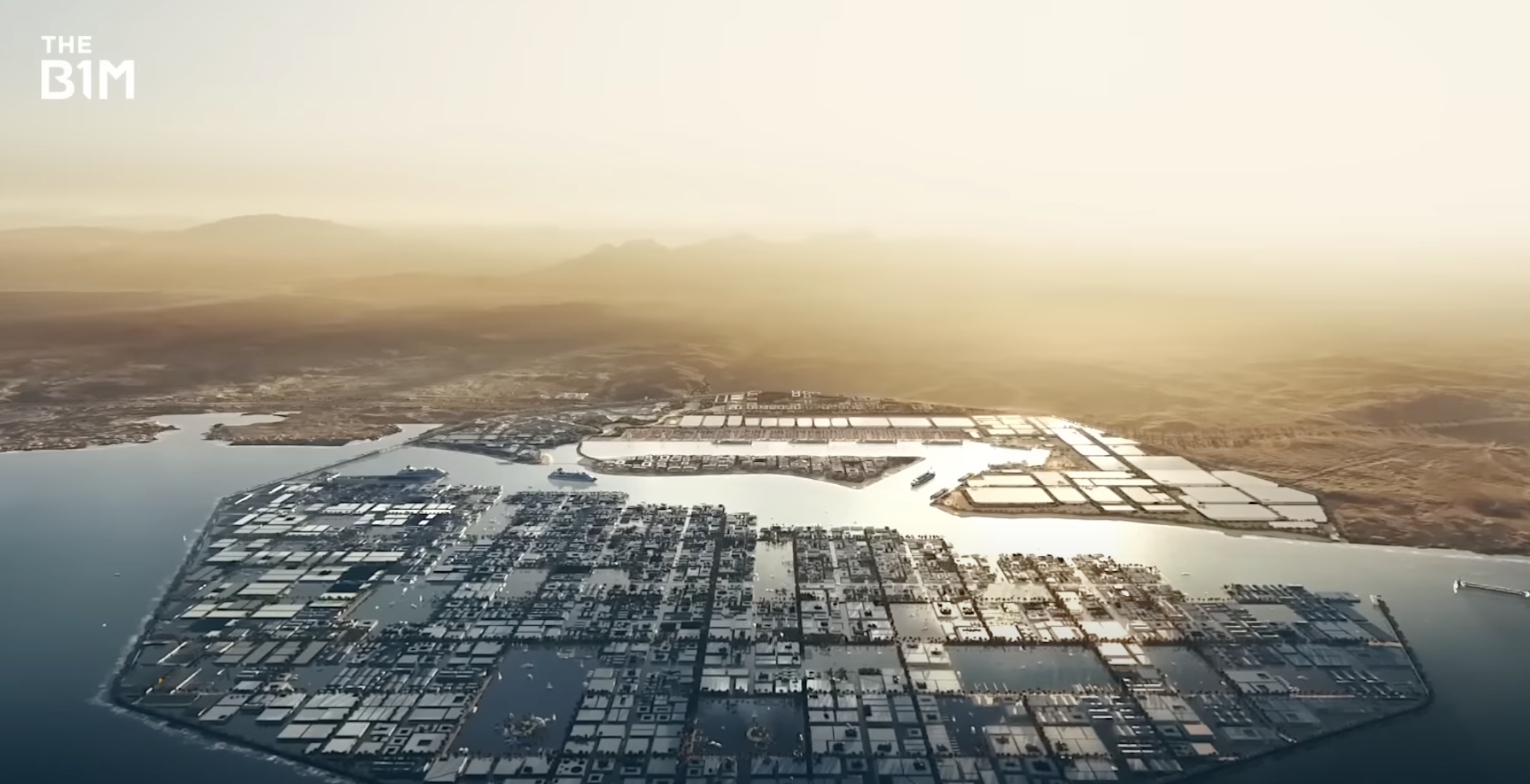 Above: Oxagon will be an immense floating city. Image courtesy of NEOM.

The floating sections of the port will be arranged around water-filled floating squares connected by smaller canals – a bit like Venice, just much hotter and without the architecture.

The whole thing is carefully positioned to set-up Saudi Arabia up as a diverse trading hub for the rest of the world.

2. The Ultra Luxury Airport: Red Sea International Airport

This is the closest project on this list nearing completion – and it is one ritzy airport.

Controversially designed by Foster + Partners, the Red Sea International Airport will open later this year and is expected to accommodate a million passengers a year by 2030.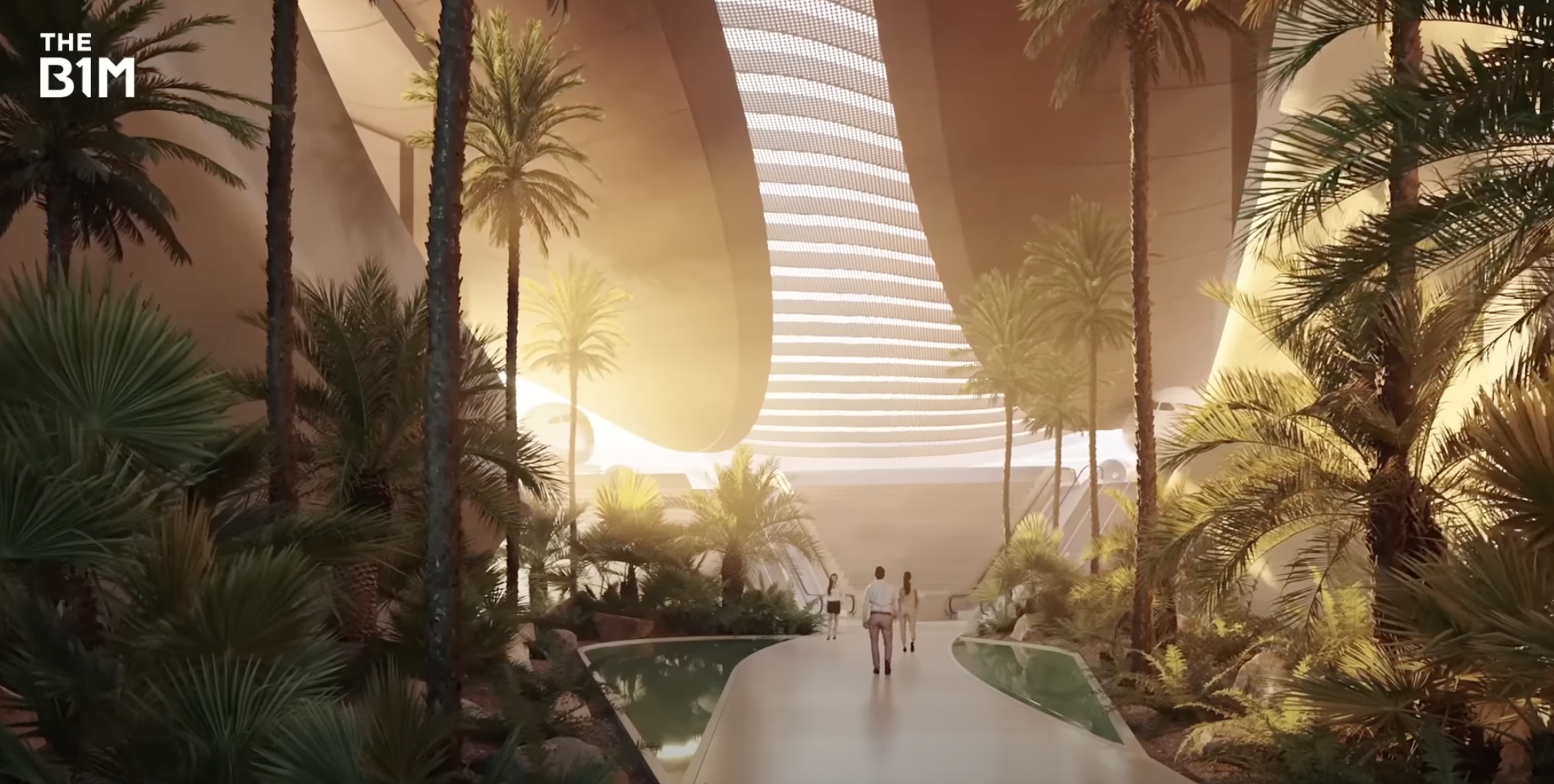 Above: The terminals will be more oasis than airport. Image courtesy of Foster + Partners.

What makes this airport so luxurious? Well, in a way, it's trying to be the anti-airport airport.

It's trying to replace the stress-inducing hustle and bustle of normal international hubs with tranquil gardens and terminals that will house spas and restaurants – a pretty far cry from JFK.

This is exactly what you'd expect from terminal buildings that are about to act as the gateway to Saudi Arabia's upcoming mega luxury resort – a veritable oasis complete with island resorts and five star hotels.

The airport's location 15 kilometres inland from the coast of the Red Sea puts it less than eight hours away from 80% of the world's population and sets it up as a future Dubai or Singapore – cities that became truly international thanks to their geography and well-positioned airports.

1. The Impossible City: The Line
Then there's the megaproject that needs no introduction. The Line.

A 500-metre tall mirrored linear city that'll stretch for over 170-kilometres across the desert sands and that either represents the cutting edge of architecture or a grim dystopian future depending who you ask.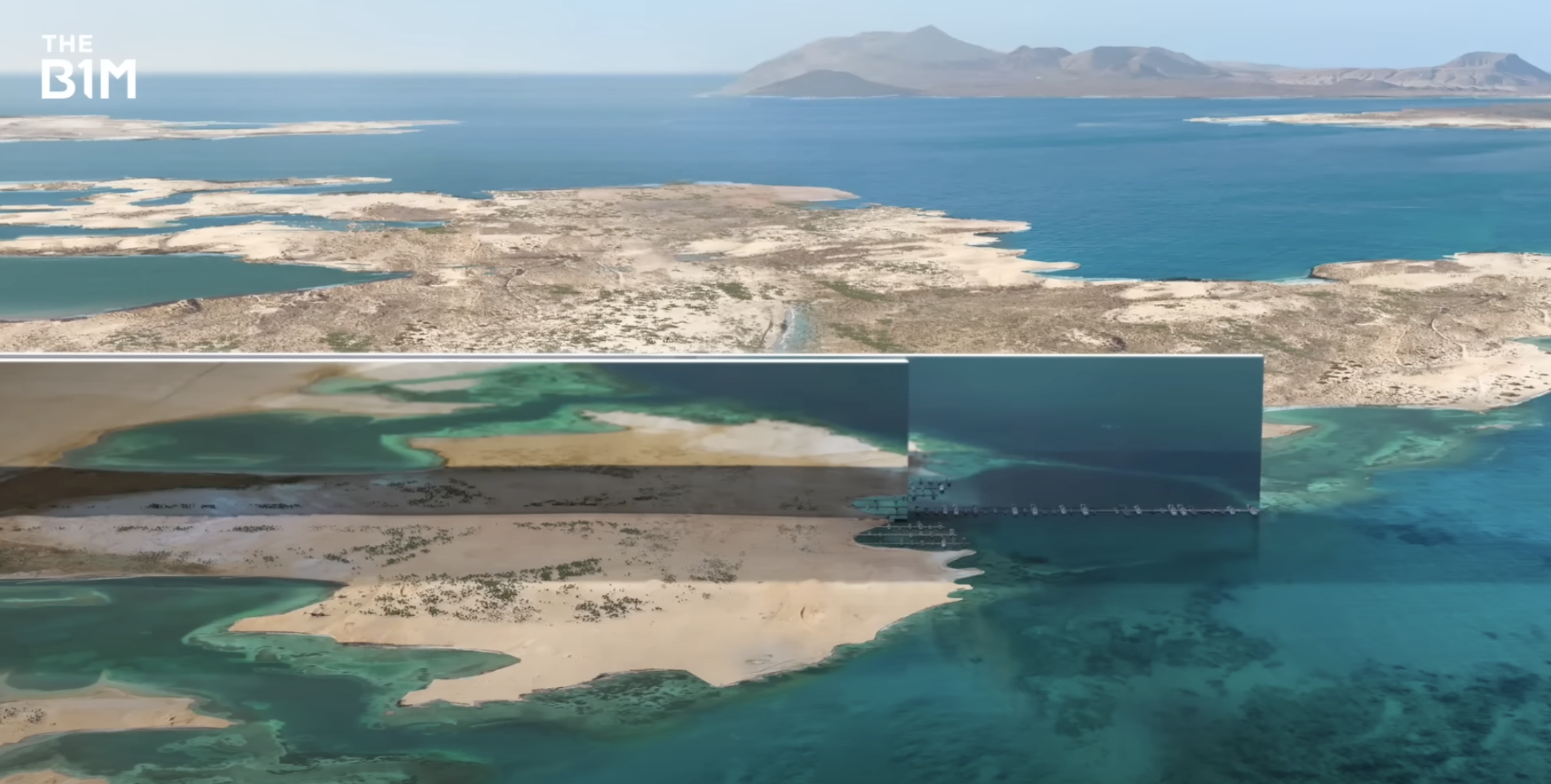 Above: The Line will be an immense 175 kilometre long linear city. Image courtesy of NEOM.

Also part of NEOM, this architectural fever dream has been designed around the "15-minute city" concept and is pitched as a futuristic eco-development north of the Red Sea with no cars, streets or carbon emissions.

The Saudi government says it will create housing for more than 9M people, and leaked documents reportedly show proposals for everything from robot maids to an artificial moon.

To make construction slightly easier the massive project will be separated into 135 modules, each 800 metres long and 500 metres tall.

It certainly puts a line in the sand for engineering. If successfully completed it would become far and away the biggest building mankind has ever constructed.

Recent drone footage revealed that excavation work has actually begun and that foundation piles are being drilled into the desert.

Currently about 1M cubic metres of earth are being excavated every week at the marina site for the first module.
However, a report called "The Dark Side of Neom" from human rights group Alqst, found that local tribespeople resisting eviction have been rounded up and arrested.

There have also been questions over the project's environmental impact. Despite claiming that its linear form would limit urban sprawl over the Earth's surface, the sheer amount of water needed for the population of this desert city could put a strain on the surrounding resources needed for agriculture and conservation.

While even simpler things, like the migration of wildlife, could be completely thrown off by what is essentially a 175-kilometre mirrored mega fence.

As for which of these projects will get built, well Saudi Arabia has the cash and the determination to construct all of them at least on some scale. We may not get the full 175-kilometres of The Line, we may instead get… The Dot.

Either way, this country is pouring hundreds of billions into an urgent bid to pivot its economy and change its PR narrative. The place is likely to change dramatically over the next decade, and to be perfectly frank, it has to.

This video contains paid promotion for Masterworks.

Narrated and presented by Fred Mills. Additional footage courtesy of NEOM, OT Sky, Red Sea Global and Foster + Partners.
We welcome you sharing our content to inspire others, but please be nice and play by our rules.
Comments
---