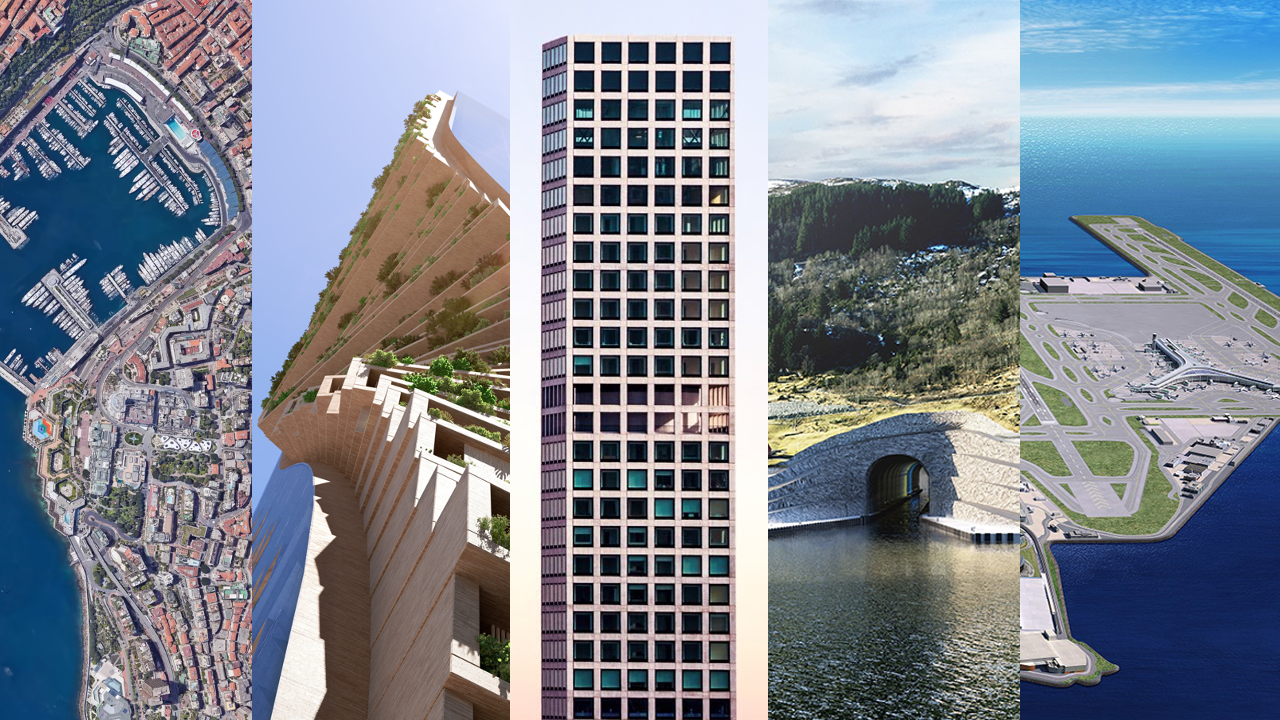 CITIES
The B1M's 21 Best Videos of 2021
2021 was The B1M's strongest year ever.
Yes, for many of us these past 12 months have sucked, but video-wise my team and I have absolutely smashed it, if we do say so ourselves.
We've grown our audience to more than 20M viewers a month, taken our YouTube subscriber count over 2M, exceeded our revenue targets, doubled the size of our already awesome in-house team, dropped a banging documentary and introduced the Construction Story of Year award.
We also launched an entirely new publishing channel called Tomorrow's Build and grew its YouTube following to a casual 216K subscribers.
There was a ridiculous amount of work behind the scenes to build the team and infrastructure to make that all happen, and my hair has started to turn grey, but we won't bore you with those details.
Let's just get to the videos!
Here they are. In no particular order, our 21 favourite videos of 2021 (see what we did there) pulled together for your Christmas binge-viewing pleasure. Watch responsibly.
Why New York's Billionaires' Row Is Half Empty
4.2M views, released December 2021
Ok, so there might be a bit of an order. Our 28-minute feature exploring the impact and legacy of New York's Billionaires' Row is breaking all records and has already become our fastest viewed video ever – racking up an incredible 3M views within just five days of its release.
This sets a whole new bar for The B1M in terms of journalism, production and story-telling technique, and we're looking forward to doing more like it in 2022.
The $11BN Tunnel Connecting Scandinavia to the Mediterranean
2.6M views, released June 2021
June saw us release our feature on the mighty Brenner Base Tunnel.
The SCAN-MED corridor runs from Finland all the way down to Malta - and, thanks to a bridge over the sea at Copenhagen, it's all pretty easy-going, until you reach that rather major mountain range called the Alps. For decades that's slowed travel down, creating a tortuous bottleneck on what's otherwise a pretty slick route.
To solve the problem, the EU is now digging an $11BN tunnel directly through the very heart of the mountains to effectively connect Scandinavia with the Mediterranean.
Japan's $64BN Gamble on Levitating Bullet Trains Explained
3.2M views, released August 2021
This video certainly lifted off the ground. We explored Japan's plans to build the world's fastest passenger train – a maglev system that's set to move at twice the speed of the country's current bullet trains and cut journey times in half.
We also looked at the project's controversies. It's been grappling with delays, skyrocketing construction costs and a fierce debate over environmental concerns.
Norway's Cruise Ship Tunnel Explained
3.6M views, released April 2021
Norway is home to some of the world's most stunning scenery, but it's not exactly easy to get around. For centuries, humans have found navigating its network of glacial valleys known as fjords a serious challenge.
But now a one-of-a-kind sea route is being built: the world's first full-scale ship tunnel.
This video seriously took-off back in April, thanks in-part to a very well-received Tom Cruise pun.
The $100BN Railway in the Desert
4M views, released July 2021
This has to be one of the biggest megaprojects in our top 21 list. The $100BN middle eastern railway network is being constructed through some breath-taking and incredibly harsh terrains.
It's got a big budget, big engineering and is set to have a big influence. Our hit video back in July brought it all to life.
Japan's 400 Kilometre Tsunami Shield
2.2M views, released October 2021
One of the most important pieces of concrete in Japan is born out of one of history's most chilling events. The 2011 Tōhoku earthquake and tsunami on the east coast of Japan left roughly 20,000 people dead, decimating entire towns and triggering a nuclear disaster.
In the wake of the destruction, the government poured billions of dollars into building new tsunami defence systems. Now, nearly 400 kilometres of tall concrete walls are standing along the coast, designed to weaken strong waves and buy people time to evacuate during the next disaster.
In one of my personal favourite videos from 2021 we explored the effectiveness and wider impact of Japan's 400 kilometre new tsunami shield.
Finland Might Have Solved Nuclear Power's Biggest Problem
5.7M views, released June 2021
This video basically went nuclear and became our most-viewed release of the year!
We took a look inside Finland's deep geological repository for spent nuclear fuel, a project that's being constructed in billion-year-old bedrock not far from one of its newest reactors.
Funded by charges collected from consumers through electricity sales, the $1BN project that's due to complete in 2023 will see a series of tunnels extend half a kilometre below ground creating a permanent disposal facility for spent fuel.
The World's Greatest Compromise
2.1M views, released April 2021
Another personal favourite (yes, I have too many).
20 years on from 9/11 we released a powerful video about the re-building of New York's World Trade Centre and its impact on the city. This video got a huge reaction from our audience and even got a comment from Johnny Harris which pretty much made my year.
The final line of this video is pretty special and worth repeating here – "Time will be [One World Trade Centre's] fairest critic, and the next generation may conclude that the trade-offs and compromises of One World Trade Center ultimately speak more powerfully to the challenges of this site, than anything an architect could plan."
The Country That Becomes a Racetrack
3M views, released May 2021
Our Monaco video took poll position around the Grand Prix in May, beating out video releases from other publishers including Vox and the BBC.
We explained how the world's second smallest country builds a world-class street circuit that spans a third of its length and manages its population growing by more than 500% overnight.
Las Vegas is Building the World's Largest Sphere
2.4M views, released August 2021
With competitors emerging in the Middle East and Asia, Las Vegas is in a fight to maintain its status as the entertainment capital of the world and is betting big-time on its latest attraction.
The world-first spherical structure, containing the largest and highest resolution LED screen on earth will not only transform the Las Vegas skyline, but quite literally reshape the live entertainment industry. A well-rounded video.
The Tunnel That's Failing New York
1M views, released November 2021
The 110-year-old two-track Hudson Tunnel carries 200,000 people a day – and it's crumbling. Between 2014 and 2018, major failures caused 65,000 minutes of train delays. That's roughly 45 days of commuters stuck on platforms, trains or facing a departure board full of cancellations.
Fixing this relatively humble tunnel between New York and New Jersey has been dubbed one of the most important infrastructure projects in America. But first, engineers need the money and political will to get it done.
Grand Central's $11BN Underground Expansion
1M views, released August 2021
One of the largest transport projects in the US has been happening 14 storeys below Manhattan's Park Avenue.
For the last 15 years, construction crews have been blasting, boring and building an entirely new concourse beneath the iconic Grand Central Terminal, all without shutting down service. The East Side Access Project is the largest new train terminal to be built in the US since the 1950s, with eight miles of tunnelling and 40 miles of new tracks.
Constructed in the middle of the city that never sleeps, the megaproject's challenges, and price tag, have been immense.
The Massive Chinese Cities You've Never Heard of Yet
2.1M views, released May 2021
It's an astonishing fact. Today more than 113 Chinese cities have a population of over a million people and the country is home to more of the world's largest cities than anywhere else.
This hit video from May looked at some of the massive urban centres in China that many of us have never even heard of.
The Unstoppable Growth of China's High-Speed Rail Network
1.7M views, released March 2021
Two-thirds of the world's entire high-speed rail network is now in China.
In the 12 years since its first line opened, the country has dramatically out built every other nation and now plans to double the size of its high-speed network in just the next 15 years.
Travel times have fallen, the country's economy has boomed, cities have exploded - and the rest of the world has been left wondering how they'll ever come close to building at such an insatiable pace.
March saw us explain the seemingly unstoppable high-speed growth of China's sprawling high-speed rail network.
New York Built the World's Most Expensive Subway
470K views, released December 2021
New York is home to some of the world's most iconic buildings. But its most impressive structure might actually be underground.
With the swipe of a Metrocard, you can ride from the Bronx to midtown to Brooklyn to Queens all on the same network. But it's not always seamless. Now, New York is undergoing its biggest subway expansion in 50 years with the Second Avenue Subway.
The $1.2 Trillion Plan to Rebuild America
750K views, released November 2021
Infrastructure might be the one thing Americans can actually agree on.
2021 saw the signing of a new $1.2 trillion bill that's set to transform the country's roads, bridges, trains, water supplies, energy grids and more.
In this awesome 8-minute explainer featuring the President-Elect of the American Society of Civil Engineers, we explored how America arrived at this moment and whether the new bill will be enough to save its crumbling infrastructure.
Fun fact: We made this video about 1-2 months before it's release and then had to sit on it waiting for the bill to pass!
Hong Kong's $18BN Airport Expansion Explained
1.4M views, released April 2021
In the 1990s Hong Kong needed to replace its outdated airport. The only problem was the same problem that always comes up in a densely developed city that's surrounded by mountains - where do you put it?
Well, the answer was actually to make the city bigger, and Hong Kong reclaimed 10 square kilometres of ocean, before building what was then the world's largest airport terminal on top of it. 20 years later, that airport is itself now approaching capacity and $18BN is being spent to expand it - and the city - once again.
The Battle to Build the Big Apple's Little Island
774K views, released June 2021
The spring of 2021 saw New York's iconic waterfront get a radical new addition.
Rising from the Hudson River, the 2.4-acre Little Island cost more than $260 million to build has been described as an oasis for New Yorkers, pushing the bounds of what a public pier can be. We took a look at how the project came about, and got an exclusive interview with Thomas Heatherwick, the visionary British architect behind it.
Dubai Has Built the World's Deepest Pool
2.4M views, released September 2021
Taller, further, larger, and higher has all become a bit same-y for Dubai and the latest addition to its record-breaking rap sheet goes in a completely different direction.
Allowing divers to plunge 60-metres below the surface, the emirate is now home to the world's deepest pool - complete with a sunken city.
Building Australia's Tallest Skyscraper
490K views, released October 2021
Twisting into the sky, Melbourne's tree covered STH BNK by Beulah tower is born out of a very real desire for a better connection to nature in our built-up areas.
But making Australia's new tallest building a reality is far from easy, and the team is dealing with extreme height, tough site conditions, remote working, international media attention and the small matter of successfully growing plants in the sky. With inside access to the project team our video in October brought this amazing scheme to life.
Germany's 27-Year Struggle to Complete a Rail Project
1M views, released March 2021
Train station. building projects don't come more epic than this.
Completely reconfiguring how railways pass through its centre - with tunnels, bridges, replaced foundations and a dramatic new park - the city of Stuttgart is on an ambitious journey to become a transport hub at the heart of Europe.
But it's now 27 years since that journey began and the promise of economic benefit has clashed hard with the realities of getting the project completed. Complex and controversial in equal measure, March 2021 saw us take a look inside Stuttgart 21: one of the world's most impressive and longest-running railway projects.
Huge thanks to everyone that's watched and supported us this year!
Comments
---