Tech
What is a Common Data Environment?
Youtube Views

45,893

VIDEO VIEWS
ON a typical construction project, a lot of information is produced. The trouble is that information is often unstructured, poorly co-ordinated and difficult to find.
The resultant inefficiency is estimated to add an extra 20-25% onto the cost of delivering our built environment. If we take more care and have more integrity around how we structure project data, we can help to eradicate this waste from the process, delivering clear time and cost savings.
The key to well-structured data is a Common Data Environment (CDE); an online place for collecting, managing and sharing information amongst a team working on a project.
A CDE could take many forms, depending on the size or type of project you are working on. It could be a project server, an extranet or a cloud-based system.
"An online place for collecting, managing and sharing information"
The important thing is that this space is digital, that everybody in your team has open and unhindered access to it, and that it can be easily sub-divided into areas for categorising information. In simple terms, it needs to be a collaborative and well-managed space for sharing work.

In this video, we look at the CDE format as set out in the British Standard PAS 1192-2, the guidance document for delivering projects at BIM Level 2. The guidance builds on the principles of BS 1192, which was published in 2007.
With a single shared area established, the process of data flow in a CDE starts with the Client's authorised Employer's Information Requirements (EIRs).
This document states the information that the Client will need from the project team in order to make decisions at key points in the project lifecycle, including during its operation and use.
Design teams and other project contributors are able to work in their own 'Work in Progress' areas, developing and honing their graphical and non-graphical information.
Once checked, that information is approved and moved to the 'Shared' area for other parties in access and use in the creation and development of their contributions.
At BIM Level 2, whilst others may re-use information, the ownership and power to change the information remains with its originator.
At key project stages and decision points – such as at the end of work stages, Planning approval or Construction Issue – the Employer or Employer's Agent approves and signs-off information before moving it to the 'Published' area. It is very important to check here that the information provided aligns with the Client's stated requirements in their EIRs.
The published information can then be used to engage specialists; such as tier 2-3 contractors or manufacturers. They are able to work in similar 'Work In Progress' areas to the design team before sharing their approved contributions.
As each project milestone is met, published information is moved to the 'Archive' area for future reference and use.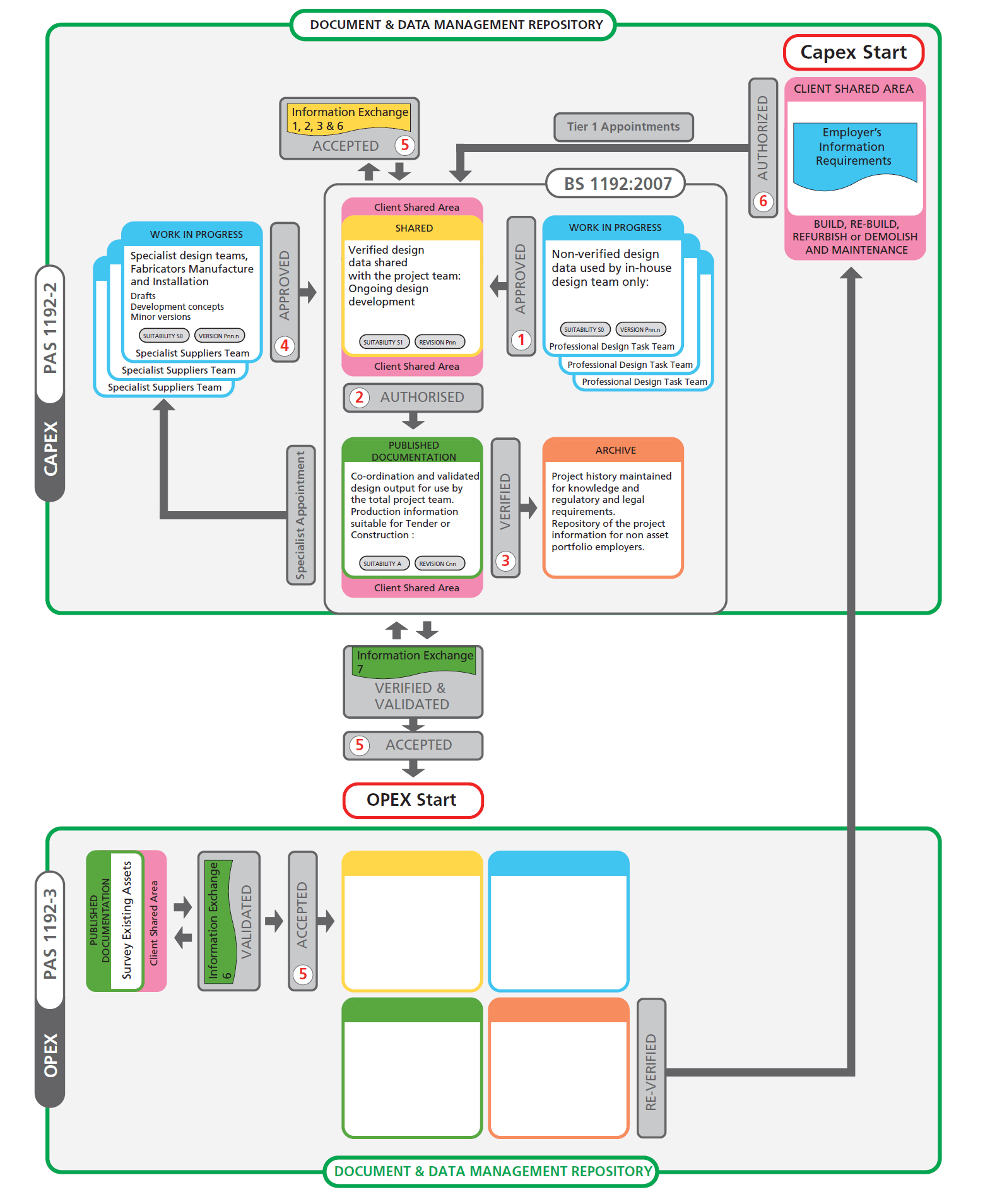 The common data environment (CDE) as illustrated in PAS 1192-2: 2013, © 2013 The British Standards Institution.

Effective use of a CDE will build an accurate and well-structured data set – a 'Project Information Model' (PIM) – as the stages progress. Once verified, this published documentation and data is used in the asset management phase and known as an Asset Information Model (AIM).
By delivering and operating a building in a BIM Level 2 environment (that is, within a CDE) revision control of documents becomes simple, production information is right first time and the cost of producing it is reduced.
You can learn more about Common Data Environments in PAS 1192-2, which is available as a free download from the British Standards Institution here: http://shop.bsigroup.com/forms/pass/pas-1192-2
This video contains extracts of PAS 1192-2: 2013, © 2013 The British Standards Institution, © 2013 Mervyn Richards OBE and © 2013 Mark Bew MBE.
We welcome you sharing our content to inspire others, but please be nice and play by our rules: http://www.TheB1M.com/Guidelines-for-Sharing
Comments
---