Tech
THIS Is How We Build On Mars
Youtube Views

836,709

VIDEO VIEWS
Video produced in partnership with Unreal Engine. Presented and narrated by Fred Mills.

SPACE travel ignites imagination, but the idea of actually living on another planet has always felt pretty far-fetched - until now.
Faced with unprecedented challenges here on Earth, NASA are exploring ways to actually build on Mars.
But how would we get to this planet, let alone build there? This incredible proposal holds many of the answers, along with some lessons for building right here on Earth.
THE NEXT FRONTIER
Mars is our closest habitable planet and taking a manned mission there is seen by experts as our next achievable goal in space exploration.
A human presence on Mars would enable us to learn more about the universe, gain a better understanding of our own planet and search for extraterrestrial life.
In recent years, encouraging progress has been made towards this objective - both by NASA, and by other organisations such as SpaceX and the European Space Agency.
But reaching the Red Planet, and building the environments that will be essential for any manned voyage there is an extreme undertaking.
To help, NASA invited teams of innovators to submit ideas.
One of the leading responses was a unique human-centric habitation concept submitted by international design practice Hassell in partnership with engineering firm Eckersley O'Callaghan.
Here, our future settlers would thrive, rather than simply survive.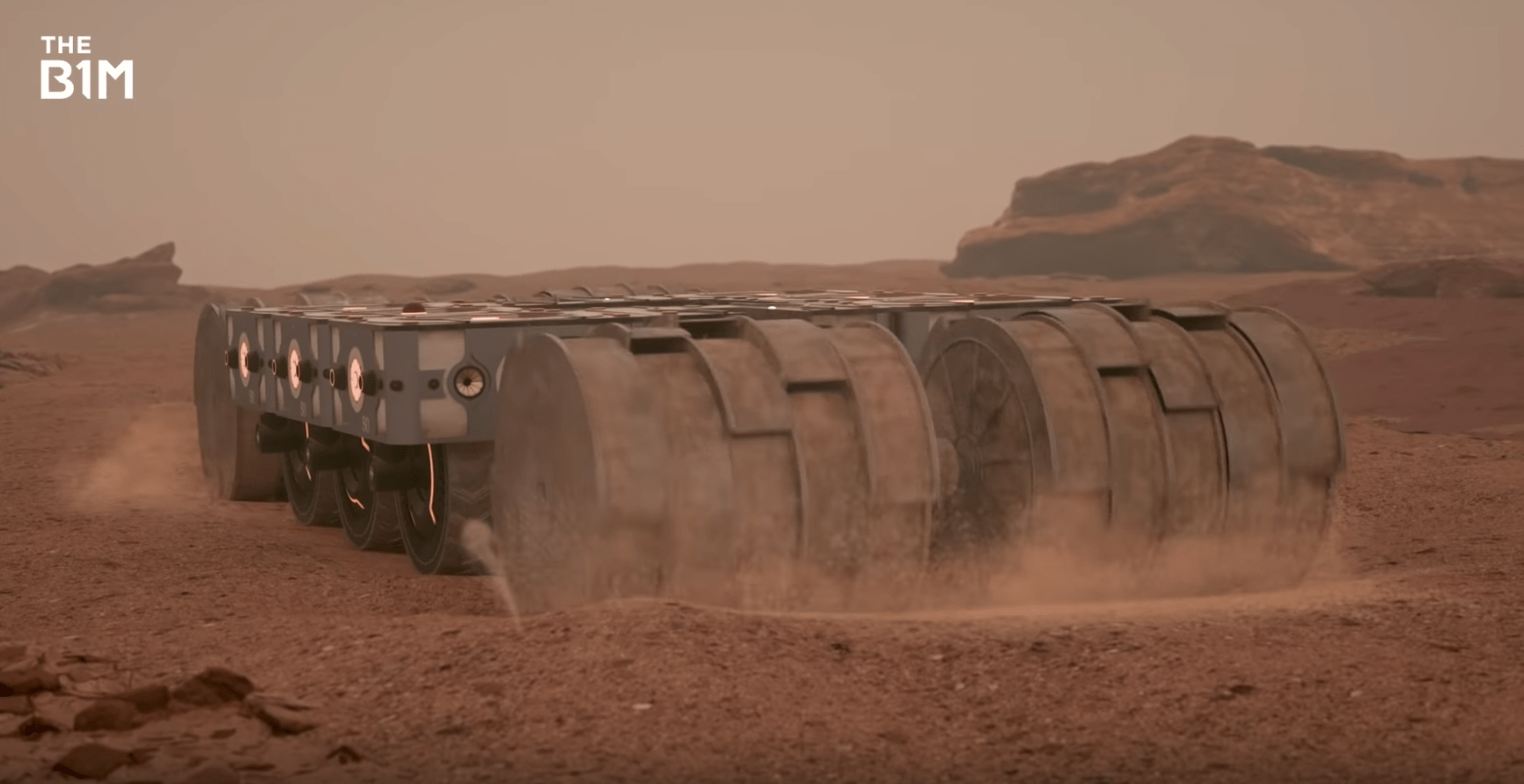 Above: NASA stipulated that designs must employ 3D printing technology capable of using the harsh Martian terrain - or regolith - as a building material for the base. Image courtesy of Hassell/Eckersley O' Callaghan.
The concept was masterminded by Xavier De Kestelier, head of design technology and innovation at Hassell.
It was recently put on display at London's Design Museum as part of the 'Moving to Mars' exhibition, where The B1M's Fred Mills got the chance to meet him.
De Kestelier explained to Mills how the company has been working closely with scientists and engineers on its proposal to ensure that the concept is credible and not simply a piece of science fiction, using technology that is available today or in the very near future.
A COSMIC TASK
Building a settlement like this, in a place where no human has been before, is a serious challenge.
As each kilogram of equipment is expected to be hugely expensive to transport to Mars, NASA's preferred strategy is for structures to be 3D printed using material from the local environment.
With the surface Mars exposed to much higher levels of radiation than on Earth, Hassell came up with the idea of creating a cave-like structure to protect the astronauts.
Working from London and San Francisco, Hassell developed an external shell which would be made entirely from Martian soil by swarms of autonomous robots equipped with advanced cameras and sensors.
These machines would be sent to Mars to construct the shell structure in advance of the astronauts arriving.
When humans arrive, they would assemble the internal elements; light-weight living pods inflated within the shell that create spaces for sleep, exercise, research, vertical farming, food preparation and socialising.
The circular arrangement of the pods enables the base to continue to function should one area become damaged or compromised.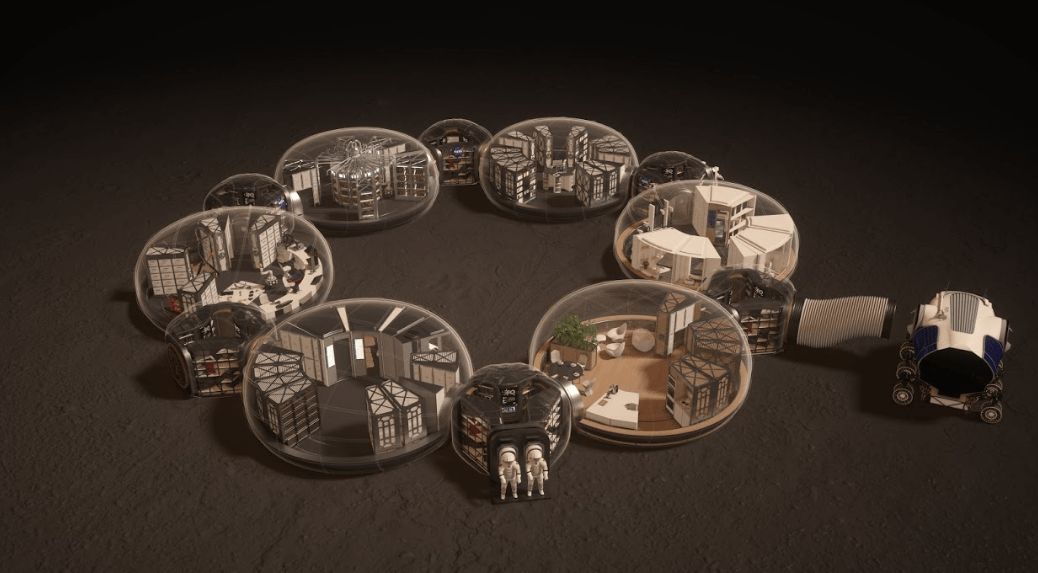 Above: Inside would be a series of pods, each with a set function, such as a laboratory, greenhouse or lounge space. Image courtesy of Hassell/Eckersley O' Callaghan.

With the build phase complete, the robots would take on new roles, such as excavation or scouting for new locations.
VISUALISING THE FUTURE
To craft the high-quality visuals that were a crucial part of building the concept, Hassell turned to Unreal Engine.
De Kestelier revealed how the platform was ideal for making regular small adjustments and working to tight deadlines.
It also allowed the project team to develop a virtual real-time simulation of the environment showing a 24-hour cycle; a key feature of the exhibition.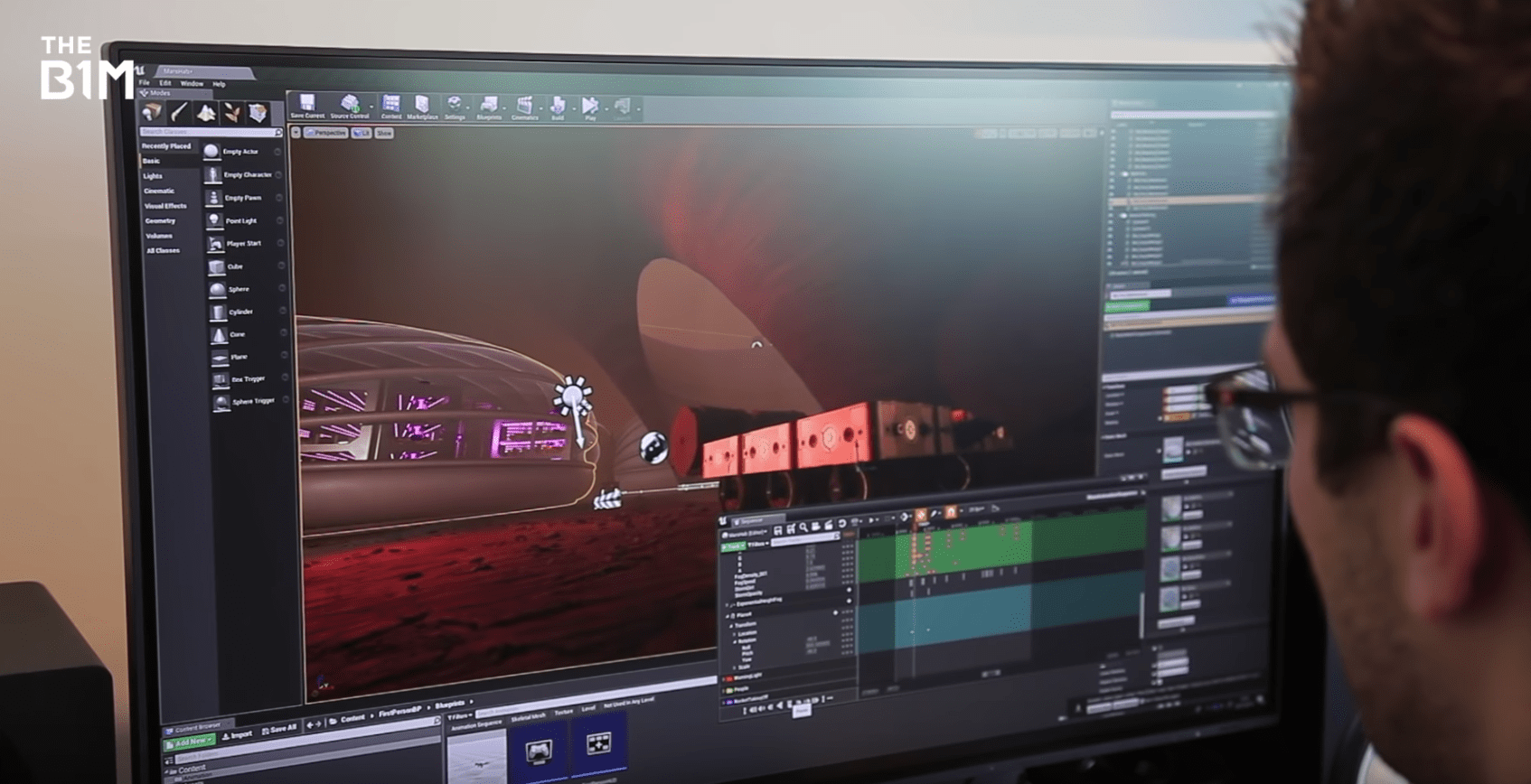 Above: The high-quality visual simulations were developed by Lightfield in London using Unreal Engine by Epic Games. Image courtesy of Lightfield London.
The environments that many of us associate with space travel tend to favour functionality above all else, prioritising performance and equipment efficiency over human amenities.
But Hassell's design turns this convention around and creates a habitat where the crew can live and work in comfort and safety - in familiar surroundings - without sacrificing the essential practical elements that a Mars base requires.
The astronauts would be able to repurpose as much waste material as possible, from 3D printing spare parts, tools and furniture to making clothes from landing parachutes.
When asked how proposals like this could be leveraged to solve problems on Earth, De Kestelier highlights the circular economy principles with sustainability a crucial factor at every level of his concept.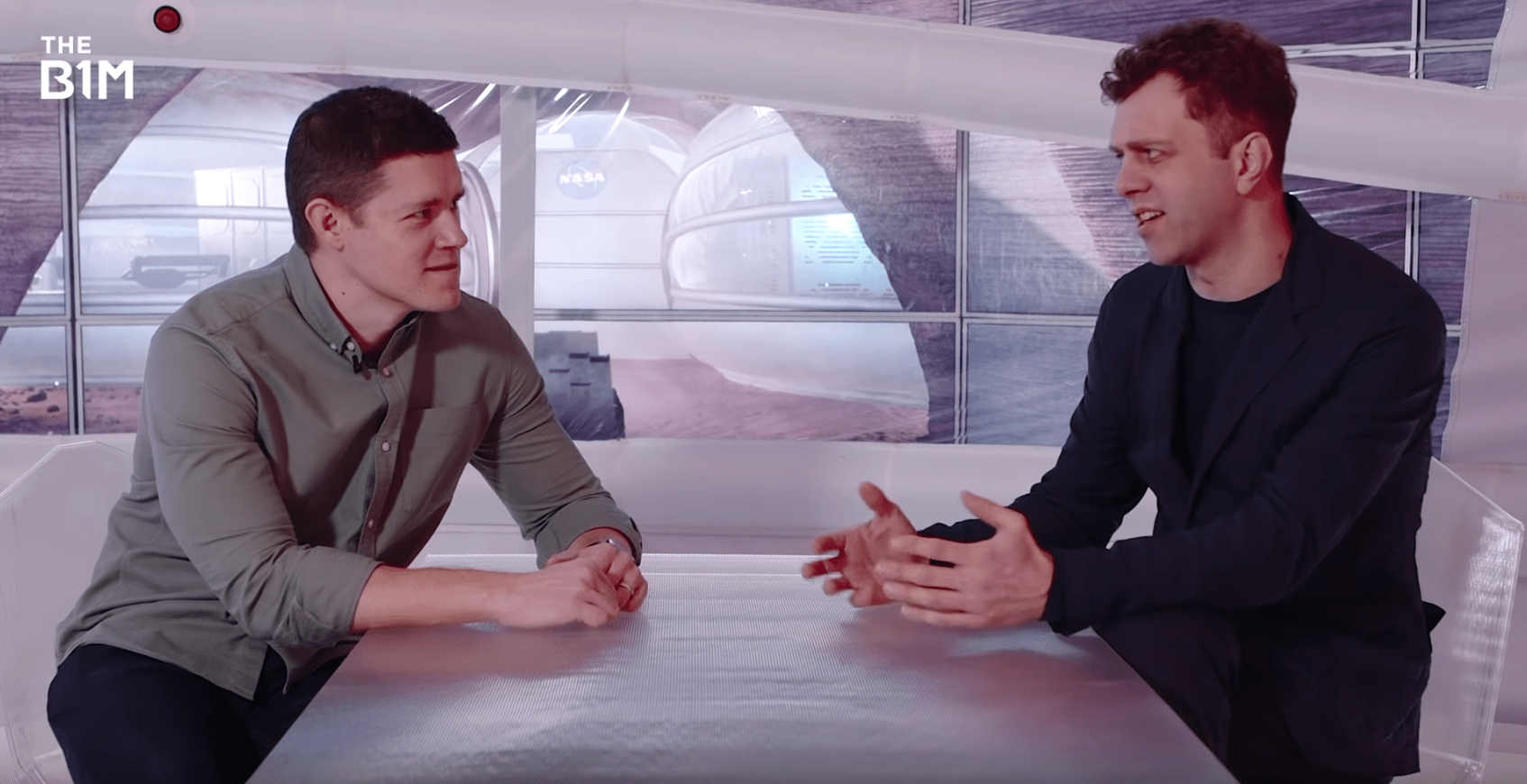 Above: (L-R) Fred Mills and Xavier De Kestelier speaking at London's Design Museum, which hosted the 'Moving to Mars' exhibition.
As an architect, De Kestelier found designing a highly technical space to be an interesting challenge, in his view underlining the need for architects to be a part of complex engineering environments and other types of projects.
While many technological, financial and political challenges must be overcome before the first manned mission to Mars, this remarkable concept - brought to life in such a compelling way - makes the prospect seem much more feasible.
Learn more about Unreal Engine here.
Our thanks to Epic Games, Hassell, NASA and the London Design Museum. Presented and narrated by Fred Mills. Additional footage and images courtesy of Epic Games (Unreal Engine), Hassell, Lightfield London, Eckersley O'Callaghan, NASA the European Space Agency and SpaceX.

We welcome you sharing our content to inspire others, but please be nice and play by our rules.
Comments
---