Cities
The True Scale of the World's Biggest Stadiums
Youtube Views

453,189

VIDEO VIEWS
Video hosted by Fred Mills and powered by Bluebeam. This video and article contain paid promotion for Bluebeam.

THERE'S nothing quite like the excitement, tension, passion and electricity that fills the air when thousands of cheering fans see exactly what they paid for.
Our stadiums host the world's biggest sporting and entertainment events; there's no other place that brings so many people together for a single purpose.
But their size is difficult to really fathom, and when you're caught up in the moment or trying to remember your seat number coming back from the bar it's easy to under-appreciate these incredible feats of engineering.
To help you out we've scoured the globe and sized-up our planet's biggest and most iconic sporting structures comparing them with familiar and easily relatable stuff to finally build some respect for their enormousness.
Take your seats and prepare to be amazed, this is the true scale of the world's biggest stadiums.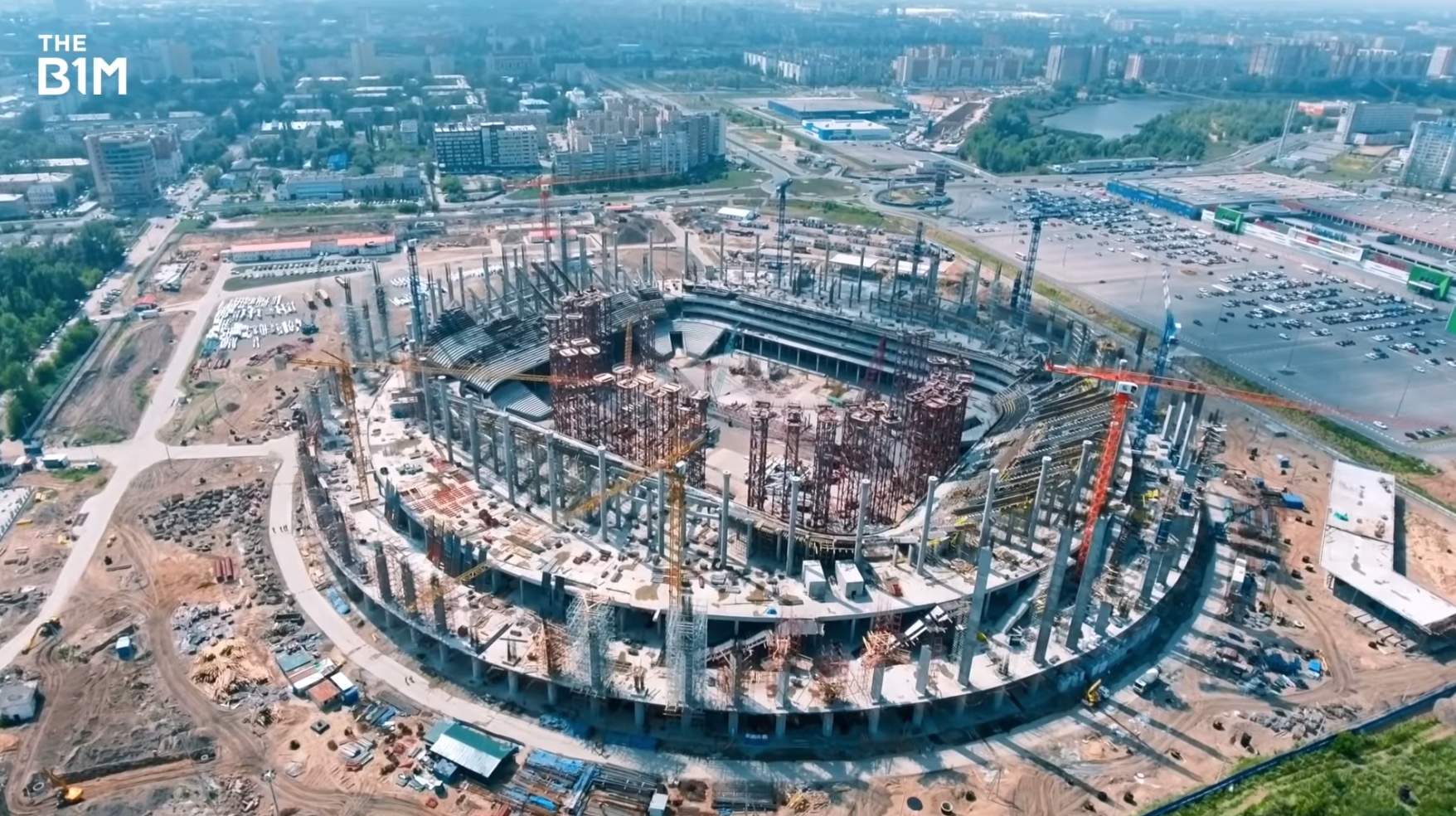 Above: The scale of stadium builds can make them difficult to fathom.
When you think about a stadium's size, you immediately think about its capacity, and don't worry, we will cover that in a bit. But there's so much more to these enormous structures than just how many people they can hold.
Taking a quick journey back through time to around 2,000 years ago the Colosseum was arguably the most famous stadium in human history. While technically it's an amphitheatre, it is widely regarded as the grandfather of modern stadia. Its basic structure and layout has continued to be replicated to this day.
At 48 metres, the Colosseum is as tall as a 15-storey building. It could hold an incredible 50,000 spectators and if it was still functioning today, it would rank as the fifth largest stadium in Italy.
Moving from one of the earliest stadiums to one that might never even get finished, the currently under construction, Evergrande Stadium in Guangzhou is on track to complete in late 2022 - although recent events could see that change as its parent company faces ongoing financial problems.
Should it ever be complete the 100,000 seat stadium will become one of the largest ever built with a floor area totalling 480,000 square metres - that's more space than there is in the world's largest skyscraper, Shenzhen's Ping An Finance Center - or enough space to keep 120,000 people socially distanced during a match.
Many stadiums resemble the shape of a bowl - and as you know several venues and even the biggest championship in the world go as far as to include that reference in their names. In that vein it's only fitting that we dedicate an entire section of this video to the volumes that stadia could theoretically hold, but never actually will. We know what you here came for.
With an internal volume of over 2.9 million cubic metres AT&T Stadium in Dallas would be able to hold enough water to fill 1,177 Olympic-sized swimming pools - that's if all the exits were sealed to stop the water flowing out.
With its two supporting arches reaching 91 metres high, AT&T stadium is just five meters shorter than London's Big Ben making it one of the tallest stadiums in the world - but while "Everything's Bigger in Texas" as the saying goes, it's London's Wembley Stadium that takes the title with its 133-metre tall arch coming in just two metres shorter than the London Eye.
Now an argument could be made that Montreal's Olympic Stadium should hold this honour with its 175-metre inclined tower that supports the cables for its once retractable roof - and no doubt that argument will be made in the comments. But the tower is not critical to its overall structural integrity so we came to the decision that it couldn't qualify.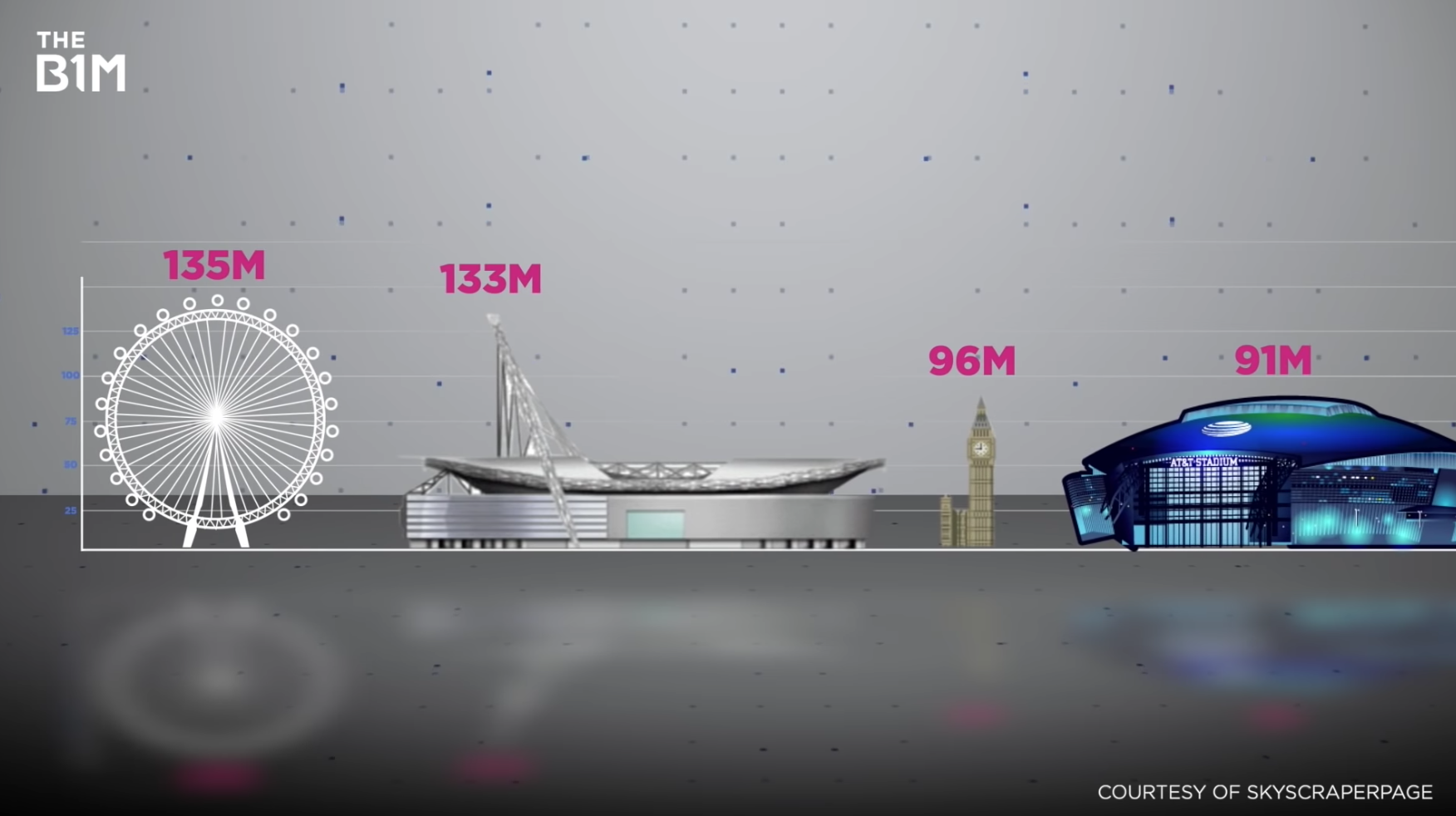 Above: The arch of London's Wembley Stadium rises taller than Big Ben and is almost as high as the London Eye observation wheel.
Supporting Wembley's roof and enabling unobstructed views of England losing final matches on the pitch, the 315-metre long arch is just one metre shorter than the southern hemisphere's second tallest building, Australia 108 in Melbourne.
While we're in this part of the world, we're going to talk about Melbourne Cricket Ground (MCG) - one of the largest and oldest continuously used stadiums in the world today. It's grown from a small cricket field with seating for just 60 spectators in 1854, to space for over 100,000 today.
The ground has hosted everything from the first ever cricket test match to the Olympics Games, Rugby World Cup's, Australian Rules Football, Papal visits and even an RAAF military base.
The stadium's footprint now covers the equivalent of three city blocks or roughly the amount of floorspace in the US Capitol.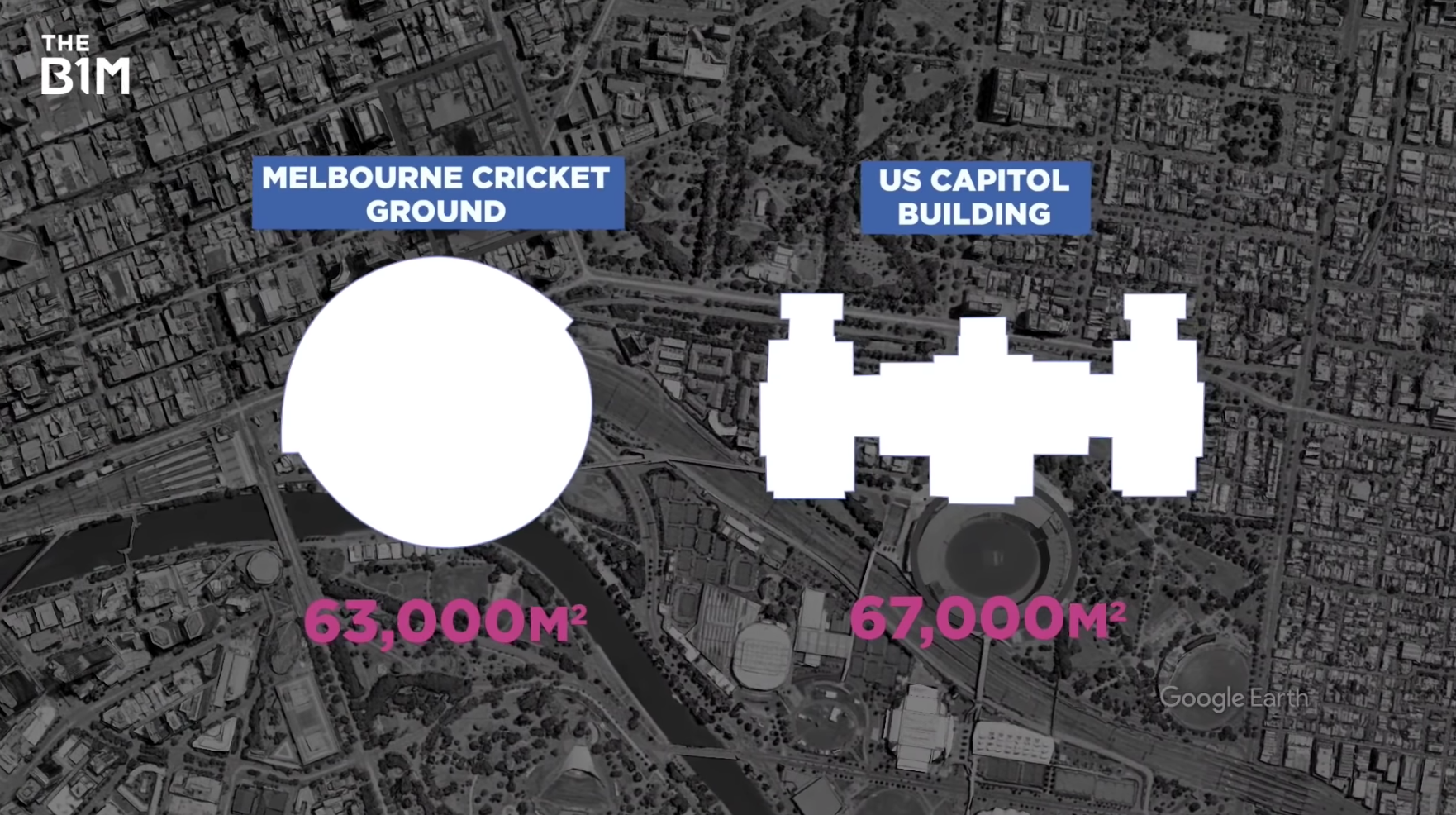 Above: Melbourne's MCG is almost the same size as the US Capitol.
But size-wise, the MCG doesn't even crack the world's Top 10 anymore. American College Football stadiums take eight spots on the list while the world's two largest stadiums are back over in Asia, but not where you might think.
Over the years North Korea has claimed to be number 1 at everything, but when it comes to stadium capacity they actually did hold top spot for a number of years with the 114,000 seat Rungrado 1st of May Stadium in Pyongyang.
Designed to resemble a magnolia blossom, the stadium was built in response to South Korea hosting the 1988 Olympics and it was the world's largest between 1989 and 2020, when India completed the 132,000 seat Narendra Modi Stadium in Ahmedabad.
While that's more than enough to accommodate a weekend's worth of Coachella ticket holders, we've only been looking at traditional stadiums, and even the world's biggest stadiums pale in comparison to the largest sporting venues.
With high stakes, international appeal and prestigious bragging rights, horse racing and motorsport sites take the crown when it comes to spectator capacity.
Tokyo Racecourse - the world's largest horse racing venue - can accommodate 223,000 people at a time, while the Indianapolis Motor Speedway in the United States - home of the Indy 500 - takes pole position as the highest capacity sporting venue on Earth with a permanent seating capacity of over 257,000.
To put that into perspective for our largest audiences, that's more than the entire population of Daytona Beach in the US, Blackpool in the UK, Windsor in Canada, or Hobart in Australia.
Video narrated by Fred Mills. Additional footage and imagery courtesy of NFL, Raiders, Skyscraperpage, Guangzhou Evergrande, Gensler, Gizmo Drones, Dan Cortese, International Olympic Committee (IOC), Google Earth, PIB India and Coachella.
We welcome you sharing our content to inspire others but please be nice and play by our rules.
Comments
---