Infrastructure
Road Building Is Damaging Our Planet. Here's How We Fix It.
Youtube Views

140,968

VIDEO VIEWS
Video powered by Uberbinder and hosted by Fred Mills. This video and article contain paid promotion for Uberbinder.
LIKE it or not, everyone's talking about the climate - and it's about time.
After years of grim prophecies about the state of our planet it seems our governments and industries are finally taking some action on carbon emissions - or so it seems.
But whether these measures are enough, there's one area of construction that simply has to change if we are to win this fight, and it's been almost completely ignored - road building.
Forget renewable energy and electric cars – this is the area of infrastructure that urgently needs a change of direction.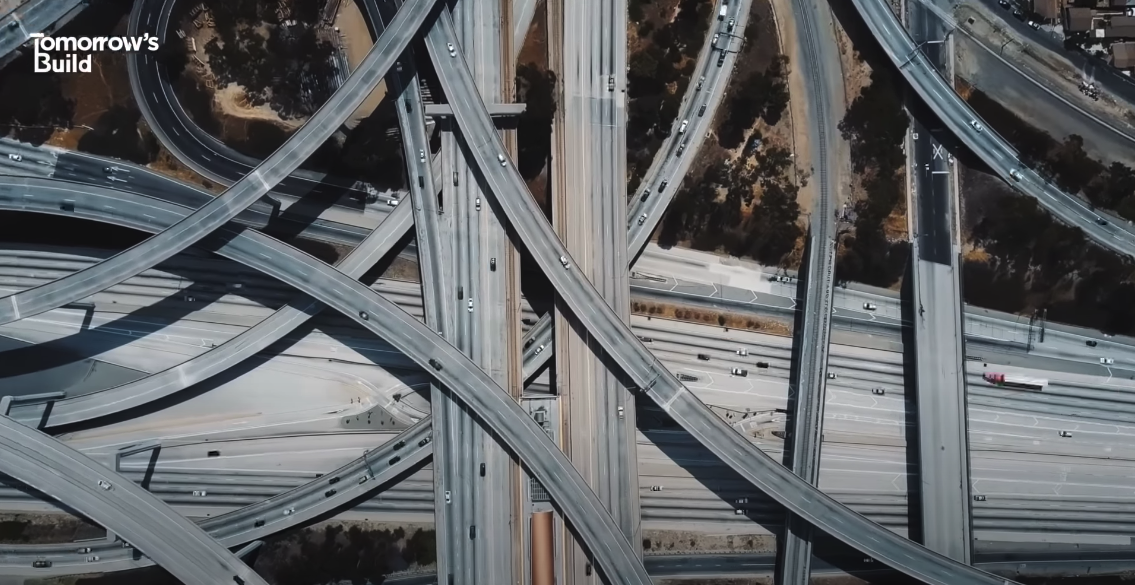 Above: It's time to start looking more closely at how our roads are built.
Warnings about our planet's changing climate are nothing new, but in August 2021 we received perhaps the most serious one yet.
A new report from the Intergovernmental Panel on Climate Change revealed scientists are now seeing unprecedented changes in every region, caused by human activity.
The first major review of its kind for almost a decade, it's been called a landmark study, and a "code red for humanity."
We won't dissect all 1,300 pages here, but we can summarise it by saying the future looks pretty bleak if we carry on pumping out carbon emissions at the rate we currently are.
But we've kind of known this for some time, and it's not as if we've done nothing about it.
For example, there's the 17 Sustainable Development Goals set up by the UN in 2015, which all Member States intend to achieve by 2030.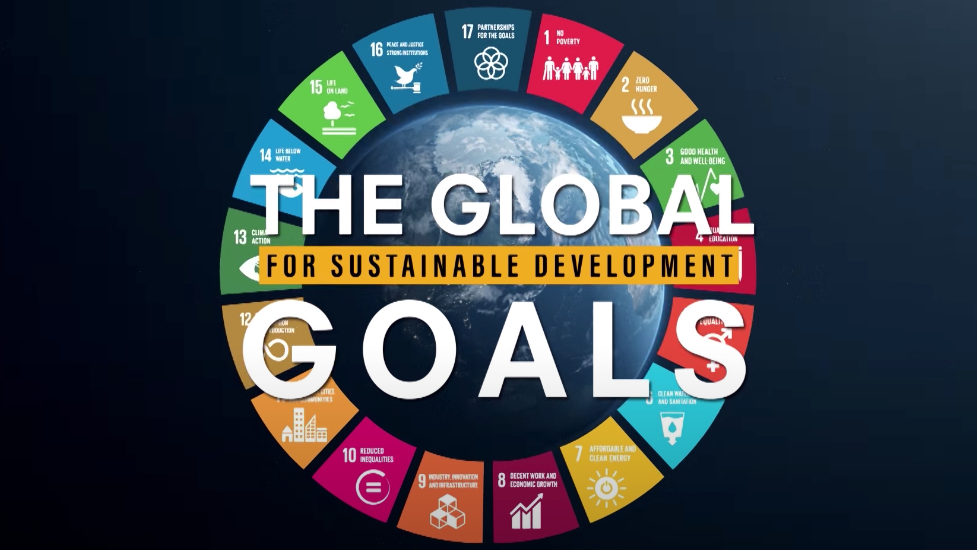 Above: The Sustainable Development Goals range from ending poverty to giving everyone access to affordable, clean energy. Image courtesy of Business and Sustainable Development Commission.
While this all looks great on paper, many believe there's too much talk and not enough action on the climate agenda - and we don't just mean Greta.
Others feel little progress is being made towards those 17 Goals.
"They were very ambitious when they were agreed and they remain very ambitious now. Consequently, we're not on track to achieve them at the moment. Almost none of the goals are on track," says Jessica Espey, a senior adviser to the UN's Sustainable Development Solutions Network, which promotes solutions for reaching these Goals.
"We've only got nine years left to meet the deadline. And if we're going to do that we need to have a really fundamental rethink and conversations in all major industries to make sure that everyone moves at the same pace and realises the urgency of this agenda."
Although the goals are all important, the ones that focus on responsible consumption and production; sustainable cities and communities; and industry, innovation and infrastructure are particularly key.
"Those three goals are about trying to encourage us to fundamentally rethink some major heavy industry and infrastructure in the way we build and design the urban landscape and all of its associated trappings, including road infrastructure and transit systems. It's hugely important," states Espey.
Above: Transport accounts for a significant proportion of all CO2 emissions worldwide.
Yet there's one area within transport that contributes massively to the problem, which is almost completely overlooked as a sector that needs to evolve.
We've been constructing roads for millennia and they remain an essential enabler of mobility and trade.
However, despite the huge progress we're seeing with the vehicles that use them and the emergence of new trends like 15-minute cities and car-free centres, developments in road building have been minimal.
The thing is we can't just do away with roads entirely. Even in the future they will still be essential. Electric and autonomous vehicles will still need them, for example.
What does need to change, though, is the way they're built.
"Construction and road building worldwide hold the key to significantly lower emissions," claims Jonathan Davis, co-founder and chief commercial officer at road building material start-up Uberbinder.
"There's very little reporting about the impact of road building now on our future. We've had over 100 years of a process that everybody's accepted and we've reached a point where that process can't continue."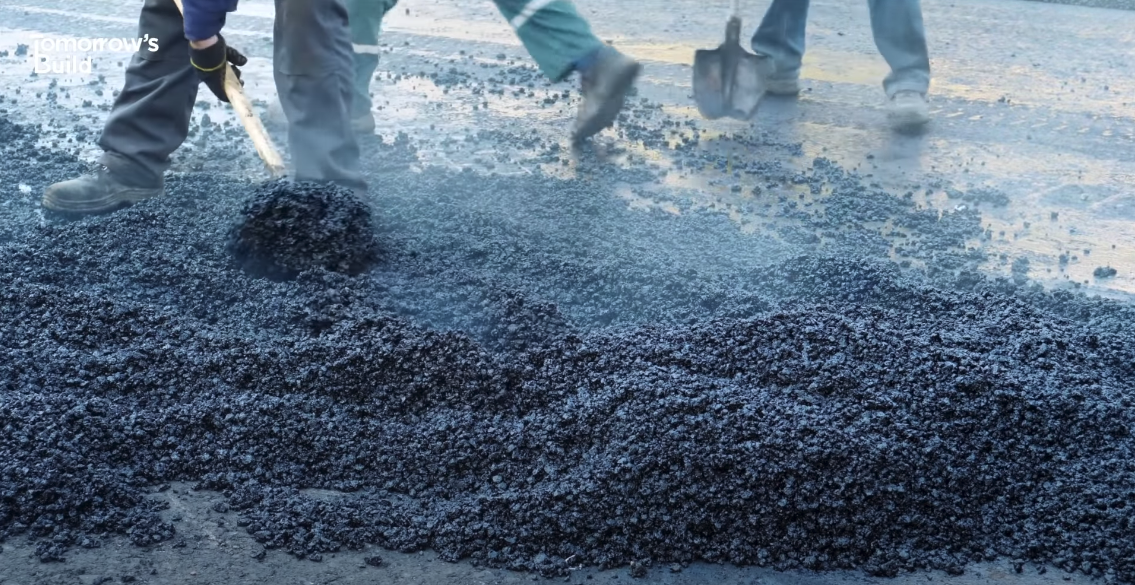 Above: The way we build roads has changed little over time.
Why is that? Well, you only have to look at how unclean and flimsy current road building practices are.
Our roads need to be repaired or replaced far too often, and there's a continued reliance on cement and bitumen, which make up over 10% of all carbon emissions.
"If you look at them they're out of step with the needs of our time," Davis says. "Transportation infrastructure, construction and road building are responsible for over one third of our emissions worldwide and one third of that comes from cement and bitumen."
Things are beginning to change in the world of road building, however, driven by new trends like autonomous and digital technology, automated production and new materials.
Several new ideas and pilot projects have emerged in that last category recently.
"I think innovation in this area and some of the great technology that people are working on can change our industry," says Dr Elham Fini, an associate professor at Arizona State University and an invention ambassador at the American Association for the Advancement of Science.
"I think bio-based materials and bio-inspired approaches as a whole - they have a lot to offer," Fini continues. "One other round of innovation that I see many people are trying to do is use a lot of recycling and reuse of materials that are so-called waste."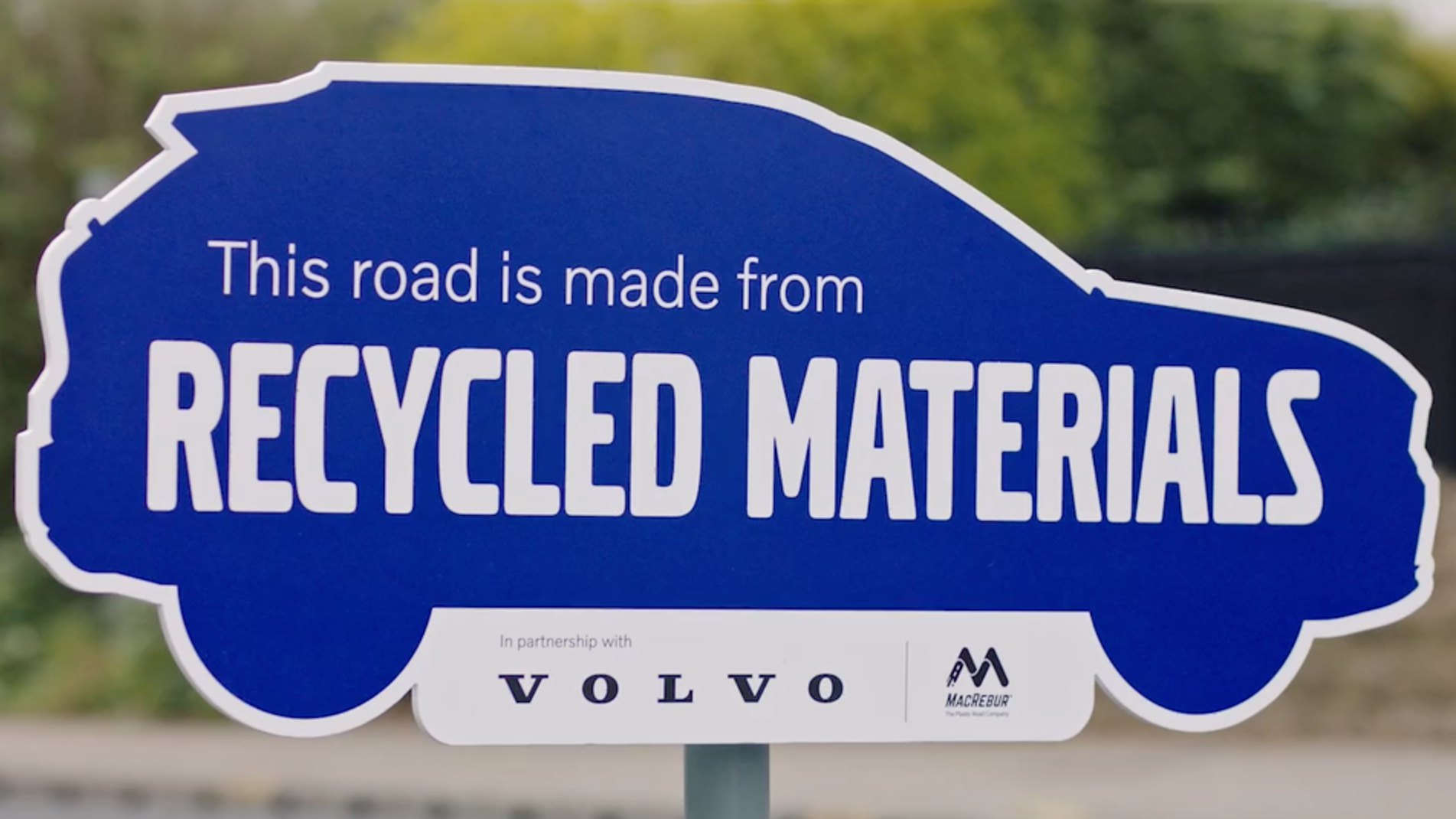 Above: It is now possible to use materials like waste plastics in road building. Image courtesy of Volvo Cars.
Several new companies have used these methods to come up with alternatives to regular concrete and asphalt, including Uberbinder, which is based in Seattle.
The firm has created an advanced binder product - one that it claims will significantly lower the energy and carbon impact of road building.
Binders are the components of a road surface that - as the name suggests - bind or hold the aggregate material together.
"Uberbinder is a revolutionary organic polymer binder that's purpose engineered to replace the carbon and energy-intensive cement and bitumen binders in concrete and asphalt," Davis explains.
"It uses industrial and agricultural by-products and waste to make the binder itself. We're drawing materials that are readily available."
These include sulphur, which is low-cost and easily scalable. It promises several other benefits over regular asphalt, like higher strength and durability, and it can be used at ambient working temperatures.
"We have a proof of concept, we've done a good deal of testing," Davis adds. "We're keen to work with road builders towards better sustainability, better performance, better roads."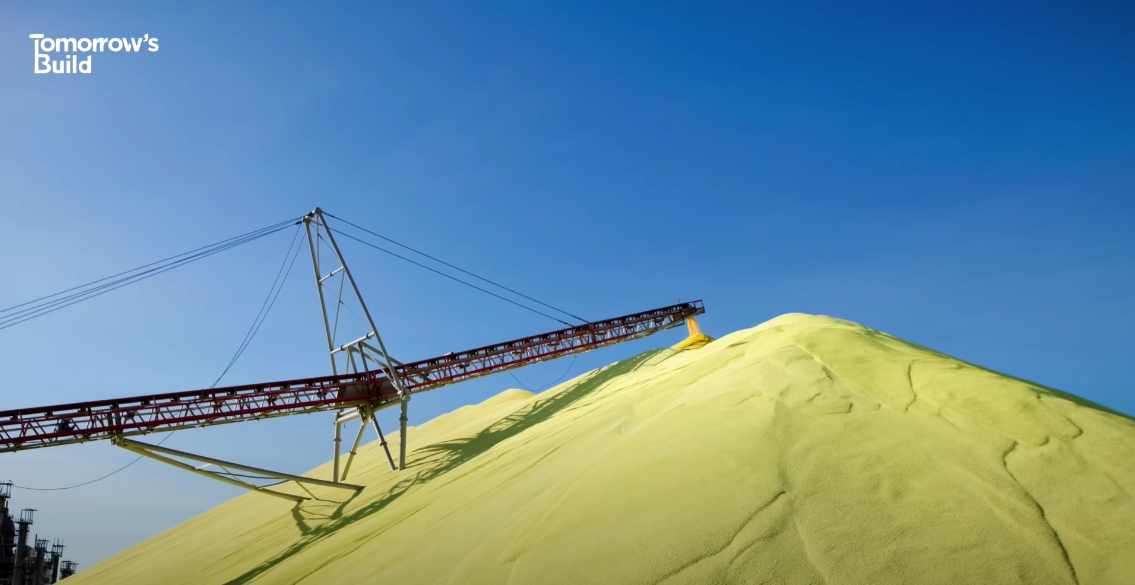 Above: Sulphur is the fifth most abundant material on Earth.
The challenge now is to convince an industry that has been hesitant to evolve to adopt new solutions like these - even when the benefits can be quite clear.
"They've been using the same material - concrete - since Roman times and we're still doing it the same - a cement and aggregate mix - because there is a lot of resistance to change," Fini says.
"Innovation and invention are much needed, especially when we are dealing with all the environmental stressors, climate change and all the issues and major problems we are facing here."
Getting road authorities and governments to shake their habits is going to be crucial if we're to improve our chances of hitting those targets mentioned earlier.
But with more highly sustainable new ideas coming through on the materials side than ever before, we might finally be on the cusp of a much-needed breakthrough.
It's not the only solution to our troubles of course, but overhauling this forgotten area of transport infrastructure will be key to getting our planet on the road to recovery.
This video was sponsored by Uberbinder.
Discover more about their new binder material here.
Video presented and narrated by Fred Mills. Additional footage and images courtesy of ACCIONA, Asian Development Bank/CC BY-NC-ND 2.0, Audi AG, BBC, Business and Sustainable Development Commission, Electreon, SDSN, Semcon, Volkswagen and Volvo Cars.
We welcome you sharing our content to inspire others, but please be nice and play by our rules.

Comments
---