Tech
The Ancient Building at the Heart of the Future of Construction
Youtube Views

5,020

VIDEO VIEWS
This article contains paid promotion for Trimble.

YOU ONLY NEED to look around to see how construction defines our modern world.
Skyscrapers soaring to heights once thought impossible, bridges crossing seas, or entire cities built on water, these amazing feats of design and engineering are a testament to the skill and ambition of this crucial industry.
But while construction can push the boundaries of technology to create buildings that defy the laws of physics, the core of much of the industry is still resolutely old fashioned.
A typical construction project still relies on the following time honoured system: A client hires an architect who produces a design, engineers and specialists work out how to make that design a reality and contractors are brought in to build the finished product.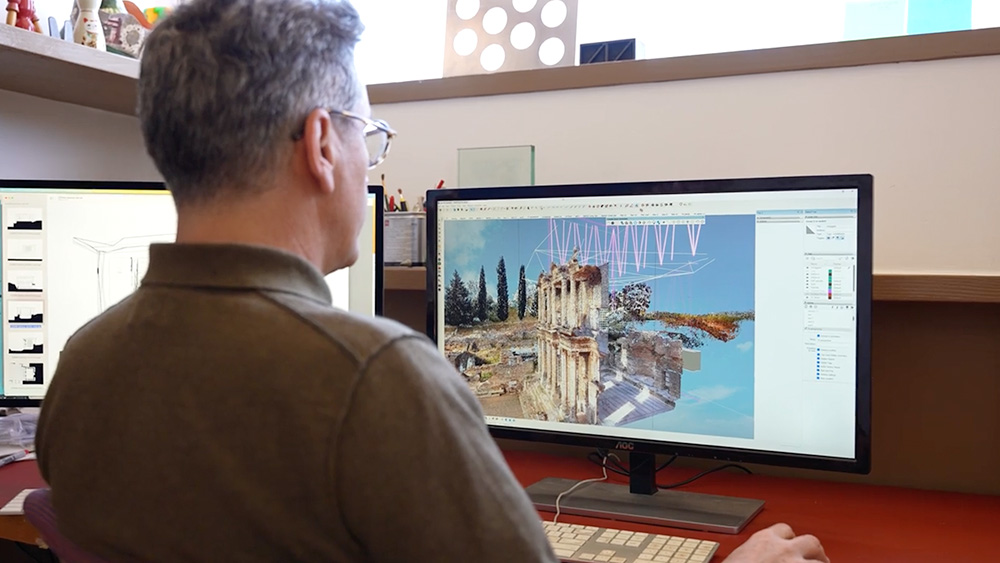 Above: An AEC professional works on The Great Library. Image courtesy of Trimble.

It's a linear system, but of course construction is anything but. During construction engineers may have to make changes due to geological conditions, new technical requirements may require an increased level of complexity or an increase in material costs may lead to design changes.
In other words, changes are constant, but how these changes are communicated is often surprisingly outdated. It's a system based on drawings which are issued and re-issued as and when updates are needed. What this inevitably leads to is somebody working on one version while another party works on another newer or older version.

This becomes a real problem on a large project when the numbers of drawings can run into the thousands. Time is lost through miscommunication, work may have to be repeated and effectively a large degree of inefficiency is baked into the process.
But there is a way of working which lives up to the sophisticated world the industry helps create: connected construction. Currently there's a project underway to explore its possibilities in a place almost as old as the construction industry itself.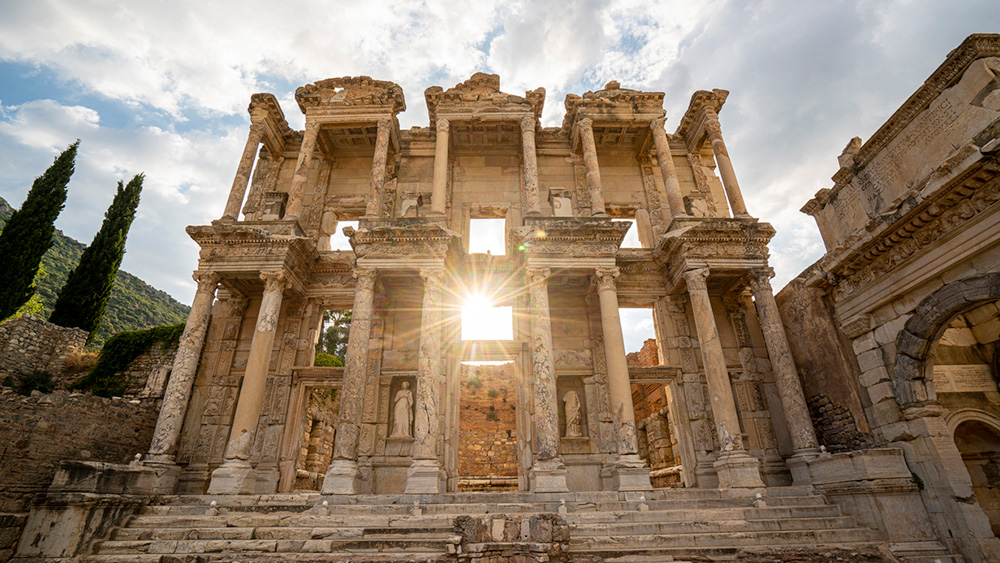 Above: The Library of Celsus was built almost two millennia ago.

The Library of Celsus in the city of Ephesus, Turkey was built around the year 110 CE and is one of the last remaining great libraries of the ancient world. This legendary building contained many features which you'd expect in a modern building: an intricate plumbing system, a clever use of perspective to make its facade appear bigger than it is and climate-controlled storage to keep library materials in good condition. All of this helped it to serve as an iconic centre of learning and knowledge in the ancient Roman world.
A new project is underway to, once again, turn the Library of Celsus into a centre of learning by exploring how connected construction can transform almost every aspect of how we build.

A world-class team of industry professionals are working to digitally re-imagine the Library of Celsus as The Great Library. Working with a suite of cutting-edge tools, the team will scan and document every element of the existing structure and create a constructible design for the new library.
So where does connected construction fit into this?
Rather than working in a traditional manner which may be dispersed, and disorganised, The Great Library Team are using cloud based software and hardware solutions to create a golden thread which runs through every aspect of its work. Everything from a surveyor's measurements to an electrician's diagrams to the architect's designs are automatically stored and linked in a central source of truth.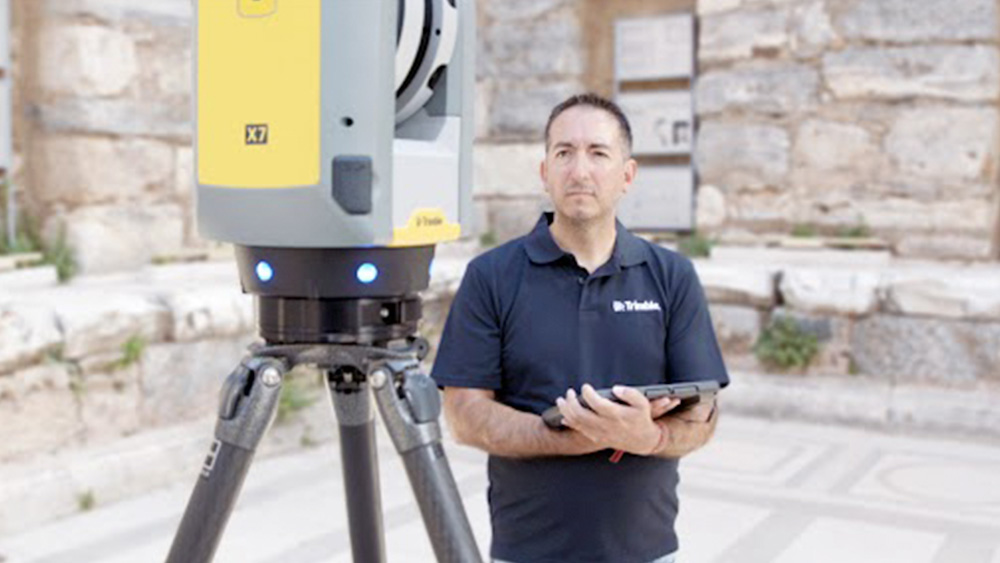 Above: An AEC professional scans the Library of Celsus. Image courtesy of Trimble.

With all data in the same place, everything is connected. If the architect makes a change to the position of a wall or archway, they can do so knowing the ground plan is correct and all technical drawings are automatically updated to reflect the change.
While The Great Library could be seen as construction in reverse, the applications for the connected technology are central to any project. A connected workflow creates a more streamlined worksite where well informed teams can work with confidence knowing they and everyone they work with has access to the latest information.
The benefits of this are obvious: it reduces wasted material as work is not needed to be re-done and excess material doesn't eat up chunks of the budget as it wasn't bought in the first place. It stops wasted time as well as crews no longer need to stand around waiting for communication to be clarified or mistakes to be rectified.
This is the biggest promise of connected construction, turning an activity which is inherently inefficient and wasteful into a slick, streamlined process.
The Great Library will take the concept of connected construction and create a living project with outcomes that will teach and inform. As the industry experts share their experiences, it will start a conversation with the wider industry on how we can use innovative technology to meet the challenges of modern construction and build the structures of tomorrow.
To dive deeper into the world of connected construction, experience The Great Library here.
Additional footage and images courtesy of Trimble.
We welcome you sharing our content to inspire others, but please be nice and play by our rules.

Comments
---