Infrastructure
The $27BN Railway Through a Mountain
Youtube Views

1,136,578

VIDEO VIEWS
WAY up in the northwest of Italy you'll find the Susa Valley, a picturesque mountain region close to the border with France.
Life is quiet, peaceful and easy-going, but below ground one of Europe's biggest construction projects is gathering pace.
In just a few years, a massive high-speed railway will pass through here as part of the new Trans-European Transport Network. But there's one little problem standing in the way — a huge mountain range.
To conquer this terrain, construction crews are having to dig deep — tunnelling further than ever before — but the scheme has faced heavy opposition and other big challenges.
This is how the world's longest rail tunnel is being built — right through the heart of the Alps.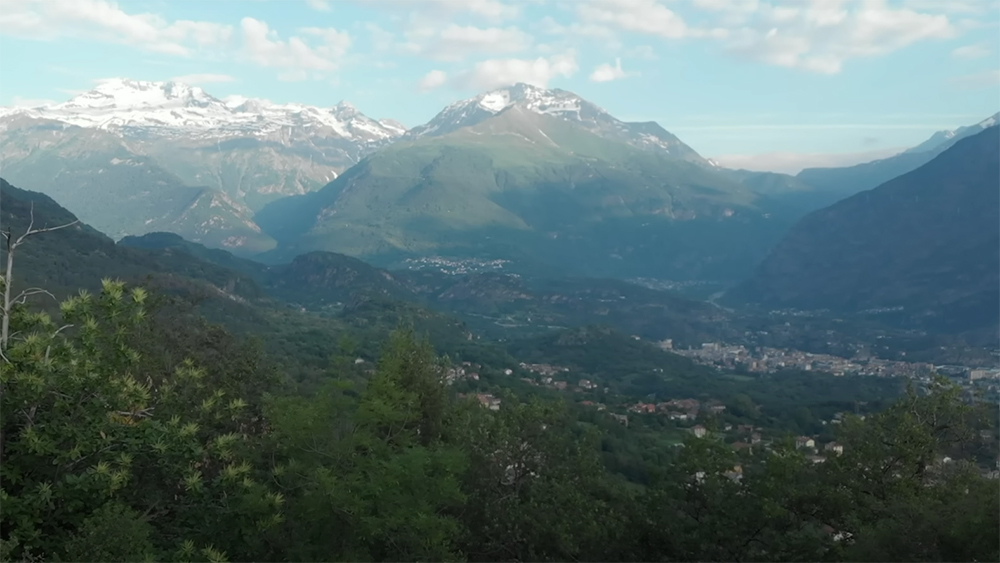 Above: Italy's Susa's Valley will soon form part of a new system of transport links stretching across Europe.
If you want to travel between Lyon and Turin, two of the biggest cities in France and Italy, it might look quite simple at first — they're only separated by a few hundred kilometres.
In reality, the train takes around four hours to traverse the mountains. Much of the long and winding route was constructed centuries ago, and according to some it no longer meets international standards.
The Fréjus tunnel has been around since 1871. But today it's simply not wide enough. There's only a single tube and the line was built on a slope, so trains use more energy than on a flatter surface.
"Because the original lines that use this pass like the Brenner, the Simplon, the Gotthard and the Fréjus were built in the late 19th, mid-late 19th and early 20th century they were built to a different standard," Marco Chitti, an Italian urban planner and postdoctoral researcher at New York University's Marron Institute, said.
"They were mountain lines. They have steep grades and sometimes they are not suitable for modern freight traffic."
And yet despite its downsides, many people still have a soft spot for this historic piece of infrastructure, which was upgraded for modern trains back in the 2000s.
At the time of its unveiling, it became the world's longest rail tunnel, where techniques like pneumatic drilling and dynamite excavation were pioneered.
Over time, though, the line has seen a lot less use and now it's having to make a way for something much bigger.
Since 2013, work has been underway on the Trans-European Transport Network, a huge web of new and upgraded transport links all over Europe.
There are nine main routes in total, including the giant Scan-Med Corridor running all the way from Finland to Malta.
Yes, we've covered that already — it's where the Fehmarnbelt Fixed Link and the Brenner Base Tunnel, a 55km railway through the Alps, are under construction.
But to complete the 3,000km Mediterranean Corridor, which goes from east to west and connects Spain to Hungary, an even larger hole is needed — the Mont Cenis Base Tunnel.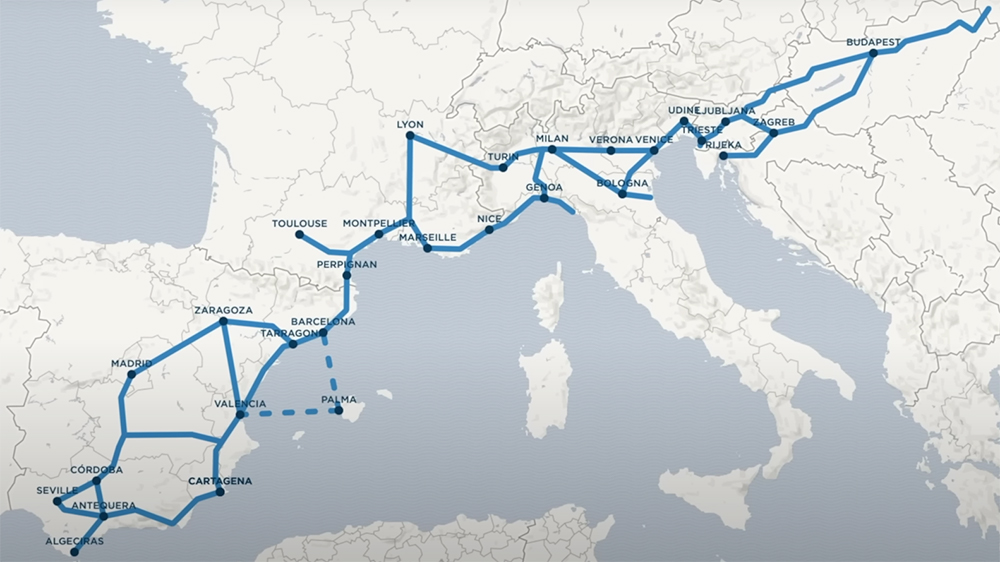 Above: One of nine routes in the Trans-European Transport Network, the Mediterranean Corridor includes a new railway between Lyon (France) and Turin (Italy).
It's the main engineering section of this new rail link between Lyon and Turin, which has been talked about since 1990.
At 57.5km it will take the title of world's longest single rail tunnel when finished, barely beating Brenner and the Gotthard Base Tunnel, which completed in 2016.
Called the Lyon-Turin line, it will use modern methods of construction to go much deeper underground than the current railway, meaning no uphill climbs and a more direct route. But it also means tunnelling through a lot more mountainous rock.
"That's the reason it's called a Base Tunnel, because instead of going up the valley and trying to get the shortest point possible to go across the mountain, the steepness of your line has to be very low," explained Chitti.
"Of course, you have to be in the base of the mountain so instead of 13, your tunnel gets to 50, 55, 60 kilometres as most of these base tunnels are."
Built for passengers and freight it'll stretch for over 270km in total, with 70% of the line in France, and the other 30% in Italy.
Construction and management of the cross-border section is being handled by Tunnel Euralpin Lyon Turin, or TELT — co-owned by the French and Italian governments.
There's a joint approach to the funding too. The whole line is set to cost around $27BN, with $9BN going on the main tunnel.
Above: 40% of the money is coming from the EU, with Italy putting in 35% and France the remaining 25%.
Not only is the new line a key link in the European network, it promises big environmental benefits. Once operational, the railway is predicted to take over a million trucks off the road, which would reduce CO2 emissions by three million tonnes every year.

Then there's the time saving — it'll knock two hours off the current travel time between the two cities.
With the new tunnel, it's fair to say technology has moved on a bit from the old one, but for a lot of the work being done so far, the idea is actually quite similar.
To get through areas of particularly hard ground, construction teams are still using the traditional drill and blast approach.
This involves a combination of large drilling machines that carve their way through the rock and good old-fashioned explosives.
But of course, on a 21st century megaproject like this, newer methods are being implemented too, including massive tunnel boring machines, or TBMs.
"You cannot really use one method of excavation," Chitti said. "You cannot have a proper knowledge of what's underground because you cannot do the normal coring and sampling you do for subways where you just go on the surface, you do some sampling down the ground along the route that your subway would take, which would go 15, 20 metres below the ground.
"So what they do is exploratory tunnels. A lot of this work has been done, and this is to know what's inside. I mean, you have to dig before you dig."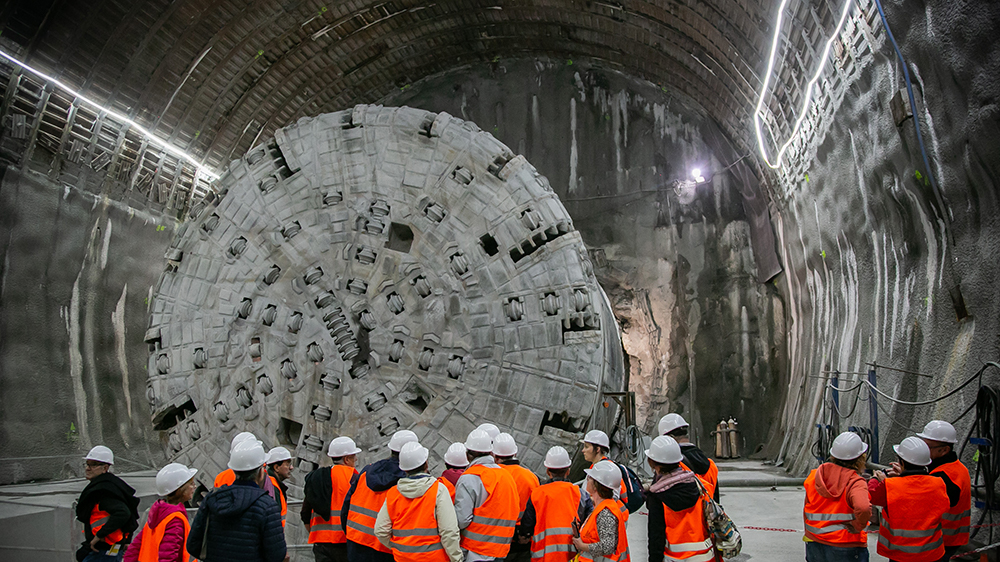 Above: One of several tunnel boring machines set to be deployed on the project. Image courtesy of Tunnel Euralpin Lyon Turin.
Of the 162km of underground sections that need to be built overall, including access tunnels and shafts, around a fifth have been completed, with much of the construction done between 2015 and 2019.
For a while after that, not a great deal happened — partly due to the pandemic and it hadn't been decided which companies would be carrying out the remaining work.
That was until 2021, when three major contracts were signed — but only in France, with the entry portal for the main tunnel now underway. The plan for completing the construction over in Italy is due to be announced some time in 2023.
On the Base Tunnel itself, there's quite a way to go. Only just over ten kilometres have been completed in one direction on the French side.
This was done using a TBM called Federica, which spent three years burrowing through the mountains' most complex geology.
Once finished, it was taken apart and removed through one of the shafts that had been excavated earlier. A further seven TBMs are set to be used for the rest of the build.
To create a giant tunnel like this though, it's not all about digging horizontally; you've also got to go upwards. Why? Because you need ventilation — mainly so the air is breathable and free of smoke if the tunnel needs evacuating.
For the Mont Cenis Base Tunnel, four ventilation shafts are being excavated — 5.2 metres in diameter and 500 metres deep. That's more than the height of the Shanghai World Financial Center.
They are made by drilling a narrow hole from ground level into the tunnel, where a special cutting head is attached. The result is what's called a raise boring machine.
Above: Raise boring machines are used to excavate a ventilation shaft from the bottom up. Image courtesy of Tunnel Euralpin Lyon Turin.
Overall, there's still a lot to do but plenty of time to complete it, as the line is set to finish in 2032.
Now, if you're familiar with our videos on huge infrastructure projects, you'll know there's usually some level of opposition, and the Lyon-Turin railway is no different. This one, however, really has faced a lot of backlash over time.
In Italy, a movement called No TAV has been campaigning against it for decades. Its place of origin? The Susa Valley. TAV stands for Treno Alta Velocita, meaning high-speed train.

They say the new line will do too much damage to land and the money could be better spent on other services, like hospitals.
Although changes to the route have been made to address their concerns in the past, many remain firmly against the project.
There's been resistance over in France too, with even the Mayor of Lyon calling for a stop to the project.
Opponents have criticised the environmental impact, believe funds should be redirected towards the existing line, and claim millions of Euros intended for rail infrastructure in the region has gone towards roads instead.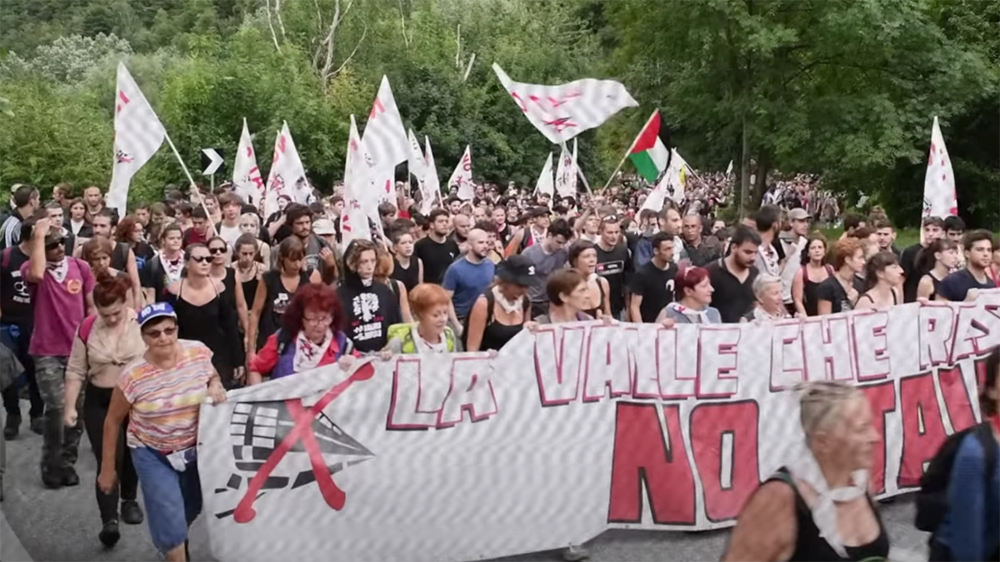 Above: The No TAV group has organised several protests — some involving tens of thousands of people and others sparking clashes with police.
Despite all this, with support continuing from both governments and the EU, the project is pushing ahead.
"I think it was a bad political choice to tout this project as a high speed line, because it is not really," Chitti claimed. "As much as I think there is a market for high-speed rail between Italy and France, it's not as big to justify a full base tunnel.
"In Switzerland, the Gotthard Base Tunnel was not done for the two-three passenger trains per hour that use it, but for the hundreds of freight trains per day that use it to go from northern Italy to Germany and reverse."
Yes, it may have come under more pressure than normal, even for a high-speed railway, but the Lyon-Turin line is now picking up speed. Let's hope it's not another couple decades before it completes.
Promising lower-carbon travel and trade, and providing a missing piece of Europe's transport puzzle, there are plenty of positives for both countries and the wider continent.
The communities caught in the middle might not agree, but as a construction project you won't find many more impressive or ambitious.
Additional footage and imagery courtesy of Tunnel Euralpin Lyon Turin, Euronews, European Commission, BBC News, BBTSE, Femern A/S, Florian Pépellin/CC BY-SA 4.0, ITV News, MikeDotta / Shutterstock.com, Stefano Guidi / Shutterstock.com and OpenStreetMap Contributers (https://www.openstreetmap.org/copyright).

We welcome you sharing our content to inspire others, but please be nice and play by our rules.
Comments
---