Cities
Sydney's $5BN Tunnel U-Turn
Youtube Views

1,343,216

VIDEO VIEWS
Video narrated by Fred Mills and powered by Bluebeam. This video and article contain paid promotion for Bluebeam.
SYDNEY, Australia. It's one of the world's top travel destinations for a reason. You've got Bondi Beach, the Opera House, the Harbour Bridge — all iconic landmarks that keep tourists coming in their droves.
But if you actually live here, or just need to get from A to B anywhere near the central business district, things can become less than idyllic.
In fact, driving around the city can be a bit of a nightmare, which is why a brand new highway is being built beneath the harbour to ease congestion.
But as of late 2022 it's now happening in a completely different way to the original plans — after work has already begun — and in the world of big infrastructure that's a huge call to make.
This multi-billion-dollar new road tunnel has just done a massive U-turn. But why?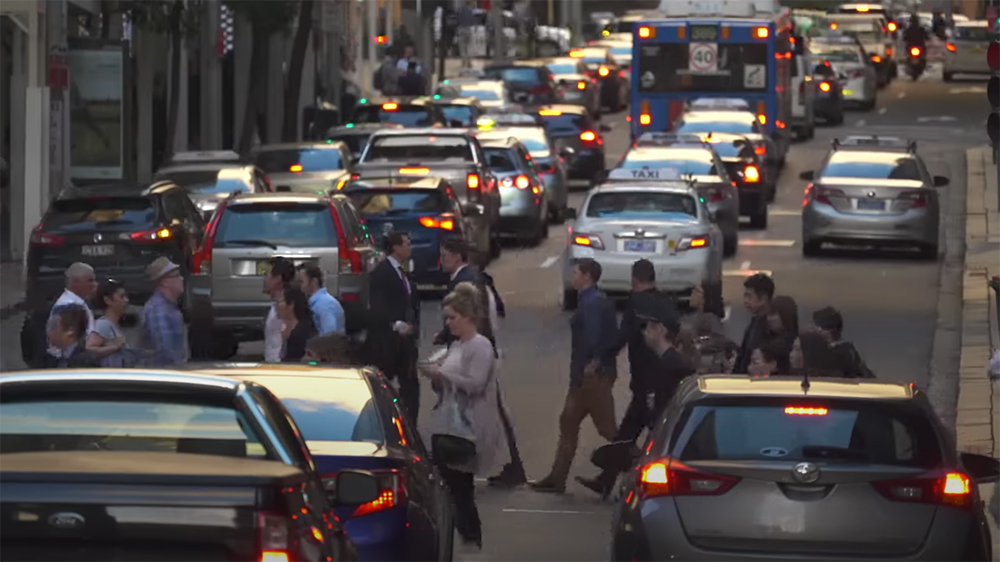 Above: Come to Sydney and you'll get sun, sea, sand … and traffic.
Traffic is a problem in many cities, but in Sydney drivers have it worse than most.
Although that's partly down to high car ownership and a lack of public transport, there aren't many options if you want to cross the harbour by road. And a lot of people do that — on the Harbour Bridge alone, over 200,000 journeys are made every day.
There's also the Harbour Tunnel that runs parallel to it underground and the Anzac Bridge to the West. That means traffic bottlenecks are common across all these connections and when incidents occur and you need a detour, a lot of the time you're not gonna get one.
Now though, a whole new crossing is being built across this great waterway, and it's another huge construction project.
This AUD $5BN scheme is called the Western Harbour Tunnel. Surprisingly enough, it's another tunnel under Sydney Harbour but this time further to the West, creating a much-needed new bypass of the CBD.
The New South Wales Government says it will cut traffic on the Western Distributor highway by 35%, the original Harbour Tunnel by 20% and the Harbour Bridge by 17%.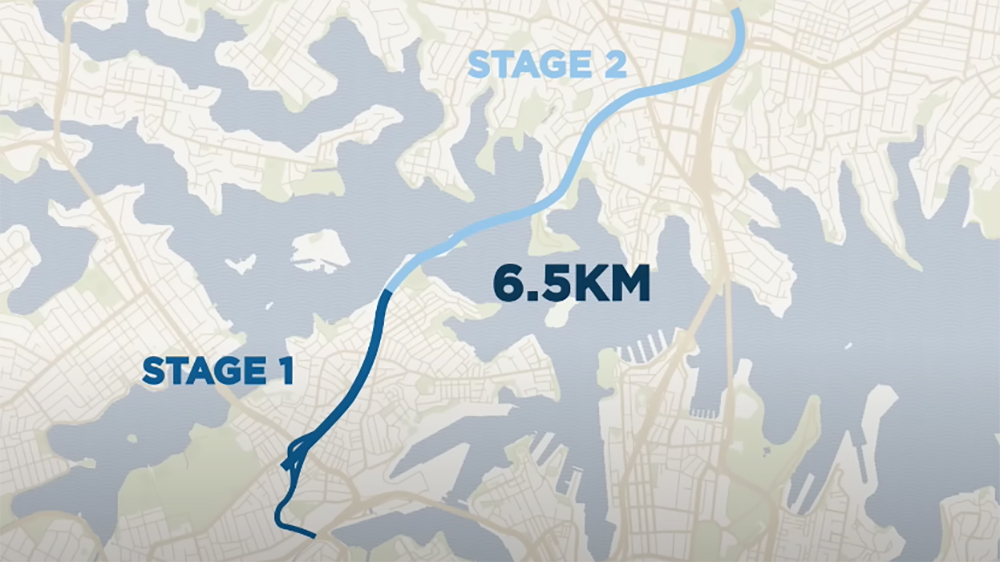 Above: The Western Harbour Tunnel is around 6.5km long and is being delivered in two stages.
Construction on Stage 1, which involves the use of road header tunnelling machines, began in mid-2022.
The name for this new piece of infrastructure might be a little obvious but the construction method for the crucial middle part is where things get interesting.
That section passing under the water would be an immersed tube tunnel — the same approach used to build the original Harbour Tunnel in the early '90s.
This would involve dredging a large trench on the harbour bed, dropping prefabricated tunnel segments into it and then covering it over.
To make all this possible, huge temporary construction sites were planned at either end of the crossing. These would be used for everything from manufacturing the tunnel segments, to constructing the cofferdams and disposing of material.
Hang on, what's a cofferdam? Well, these are used to create a dry area within a body of water, which you need to connect a submerged tunnel to the mainland sections at each end.
If you're a B1M fan then you'll remember the immersed tube is also the method of choice for the Fehmarn Belt fixed link between Denmark and Germany.
And just like with that project, despite the benefits, not everyone is happy about Sydney's new tunnel and a lot of it comes down to the environmental impact.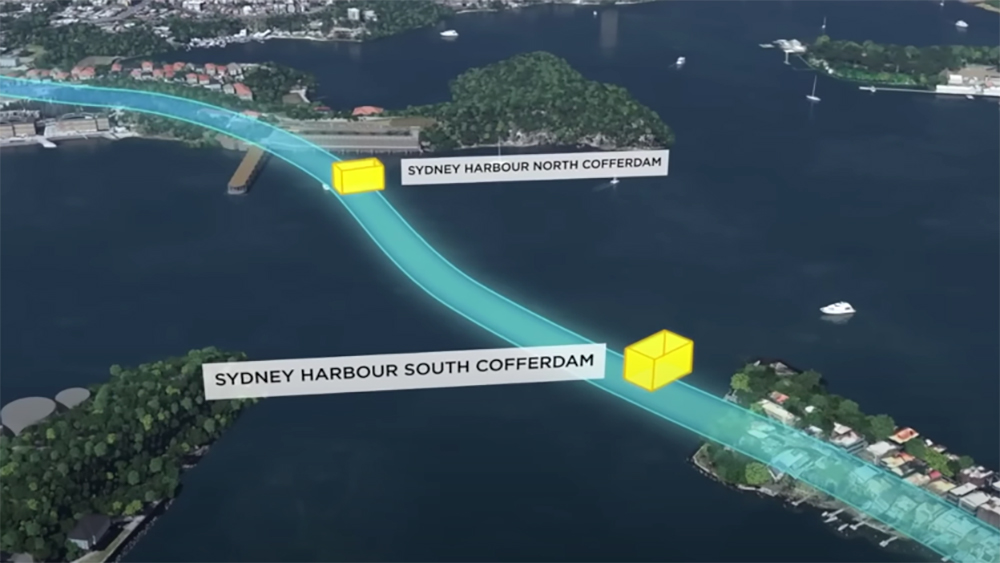 Above: Cofferdams would need to be constructed at the North and South ends of the underwater section. Image courtesy of State of New South Wales/Transport for NSW.
There were concerns that dredging would unleash a "cocktail of chemicals" in the harbour, those temporary sites would cause heavy disruption and the project in general would create a lot of noise, dust and even damage to property.
In fact, the arguments against it were getting so serious, it seemed something needed to be done about it.
Now, you may be wondering why we explained all of that last bit in the past tense. Well, it was no accident — that whole immersed tube thing we just told you about? Forget it, it's no longer happening.
Yes, one of the biggest construction projects in Australia — already in progress — is now being delivered in a totally different way. Instead, that underwater section is being dug by a pair of tunnel boring machines.
But before you roll your eyes and think the most exciting part of the project has been taken away, these are no regular TBMs.
To dig holes big enough for a six-lane highway — that's three in each direction — these machines are going to be a whopping 16 metres in diameter.
Compare that to the TBMs used for the Sydney Metro (below) and you can see just how huge they really are — similar to the ones building Melbourne's West Gate Tunnel.
Like with the Metro, they'll arrive by boat in large pieces before being taken to the launch cavern, where they will both begin their journey under the harbour.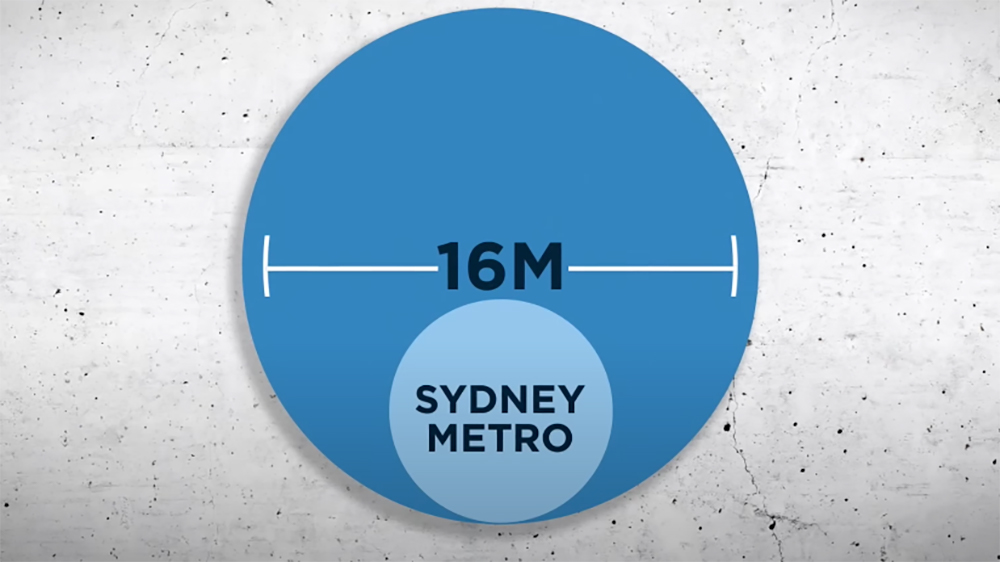 Above: The tunnel boring machines used for this project will be unusually large.
It sounds a lot simpler than what was planned before but it still won't be easy. The TBMs will have to burrow deeper than where the immersed tube tunnel would've gone and there are challenging ground conditions to tackle too.
In fact, one of the reasons for the previous method was the site's "poor geology", which can make deep tunnelling difficult. That's why ACCIONA, the contractor chosen for this stage of the project, is going to use what's called a Mixshield TBM.
This is where you have an air cushion just behind the cutting head, to control and support pressure at the front of the machine as it moves along.
They're ideal for when you need to dig a really big hole in an area of high soil and water pressure and the ground is made up of different materials — just like under Sydney Harbour.
So, the big question, then, is — why switch to a TBM? Well, one government minister said it's "the best outcome for the local community and the environment."
It means no more dredging, and two of those construction sites are no longer needed. The cost will be lower too, according to the same official.
But while it does address some of the main concerns, it doesn't cover all of them. Some residents are unhappy about the disruption caused by the work already done on Stage 1, and that part isn't changing.
Others aren't too pleased that it's set to be another toll road in a city where drivers already pay a lot to get around, and one MP has claimed it could lead to more car use and ultimately little impact on traffic.
It's also going to take longer to complete than first planned — with a 2028 finish instead of 2025-2026, which is kinda to be expected following the recent changes.
Major work on Stage 2 won't begin until late 2023, following more consultation with local communities.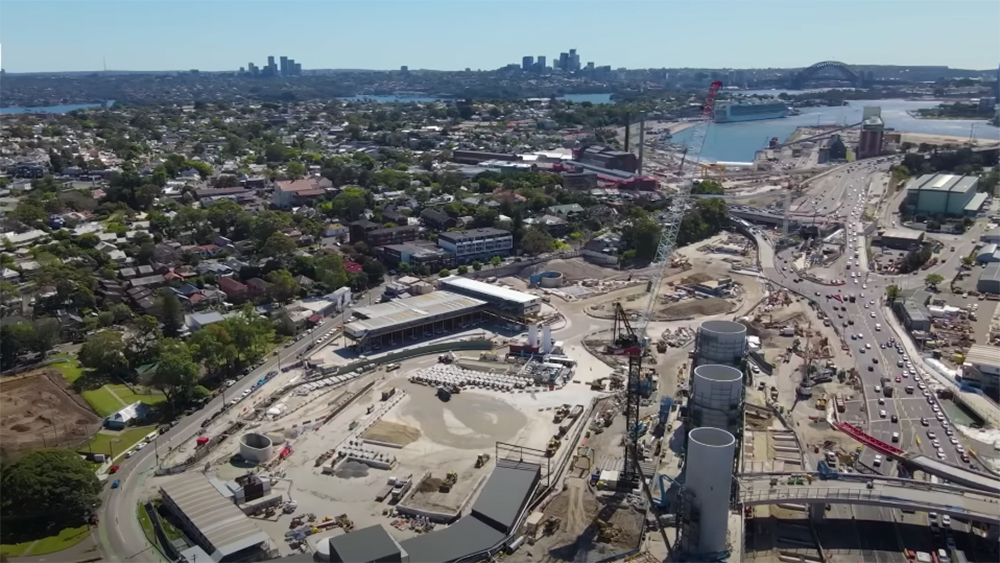 Above: Work has been underway on Stage 1 since the Summer of 2022.
Sydney's Western Harbour Tunnel is yet another example of the pros and cons of a big infrastructure project. It could make a big difference to the city's traffic problem but it's going to be expensive, disruptive and take years.
But what it also shows is that plans can change if there's a big enough reason, and that doesn't happen very often.
Whereas other schemes seem to carry on regardless even under intense scrutiny, this project has made the boldest of moves. The people of this great city will be hoping it pays off.
Video narrated by Fred Mills. Additional footage and imagery courtesy of State of New South Wales/Transport for NSW, Herrenknecht AG, Aidia Studio, Amit, Duzy Bertha, Kearon de Clouet, Mumbai Coastal Road Project, 9 News Australia, OpticalTwelve, 7NEWS Australia, Sky News Australia and State Government of Victoria Australia.
We welcome you sharing our content to inspire others but please be nice and play by our rules.
Comments
---