Documentaries
Inside The Lab That Tests Elevator Free-Falls
Youtube Views

1,179,885

VIDEO VIEWS
Video hosted by Fred Mills. This article and video contain paid promotion for KONE.

IN TYTYRI, Finland, a small town about an hour away from Helsinki, there's a building with a hidden secret.
Here is the only place on Earth that does free-fall drop tests on skyscraper elevators, down a mine – with a shaft deep enough to comfortably swallow New York's Chrysler Building or London's Shard.
This freezing near-wilderness is where the machines that make the world's tallest and most iconic buildings viable are put through their paces.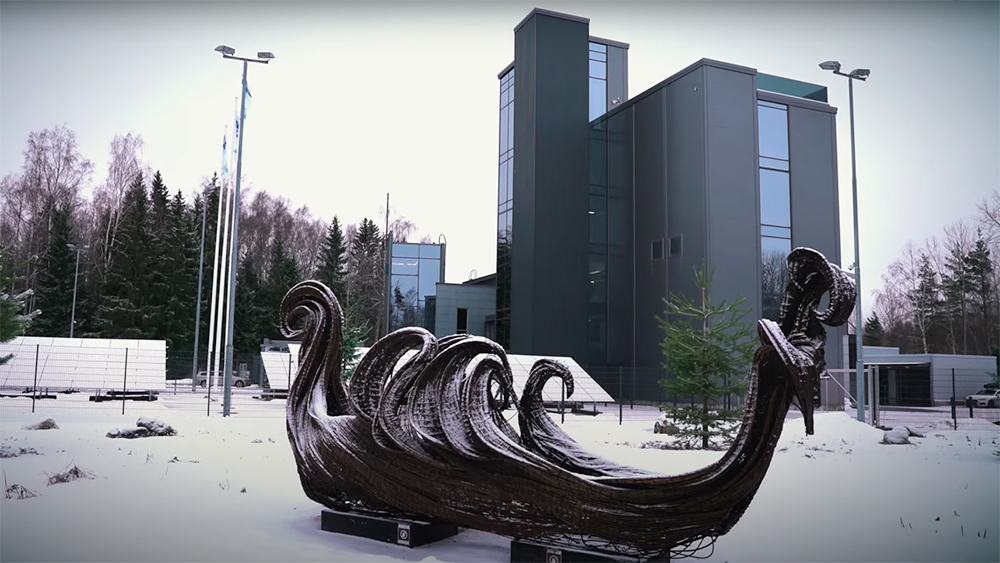 Above: This might look like a fairly normal office building, but there's more to it than meets the eye.
It's where KONE, the elevator engineering company, has built its High-Rise Laboratory.
Now, you've probably already been in a KONE elevator, or on a KONE escalator, and not even realised it.
You won't just find them in Singapore's Marina Bay Sands or London's Leadenhall skyscraper – they're everywhere.
Airports, train stations, hotels, you name it. KONE's systems move over a billion people on this planet every day.
Everything that our elevators need to do is put to the test right here — from endurance, ride comfort and aerodynamics to speed, energy use and of course safety. Believe it or not, below this building there are 11 test shafts, including the deepest in the world.
Now testing elevators in a country that doesn't really have any proper skyscrapers is tricky. For KONE it meant either building an expensive test tower of its own, or digging an even more expensive and very deep hole. And that's where the idea of repurposing an existing hole came in.
First opened back in 1997, KONE's high-rise laboratory reaches a depth of 350 metres — deeper than the height of the Eiffel Tower.
Above: The lab is part of a working limestone mine. Image courtesy of KONE Corporation.
Of those 11 test shafts, seven are dedicated to super and mega-tall testing, and the other four are for mid- and low-rise buildings.
Our skyscrapers wouldn't work or be even viable without the elevator. You're not going to want to live or work 100 storeys up if it means 100 flights of stairs.
It was the elevator along with advances in steel frame and concrete construction that enabled our skyscrapers to rise, managing urban density and helping financial centres to thrive.
While it might sound dramatic, what happens in this little, nondescript, underground facility is kind of critical to how our world functions.
From here, KONE can do something that no other company can — carry out free-fall tests on skyscraper elevators where the car falls at speeds of up to 26 metres per second. And they can check that the brakes kick-in long before the worst happens.
They do it using a safety rig, which is basically like a dummy elevator, as Timo Vlasov, offering manager for KONE Major Projects explained: "The tested safety gears are located in the lower beam and then we have secondary safety gears also there in case something would go wrong.
"Then we are loading this full of weight depending on the test we want to do. And then practically, we are just dropping it … and once it reaches 100 kilometres per hour, then we are stopping it and we need to stop it smoothly."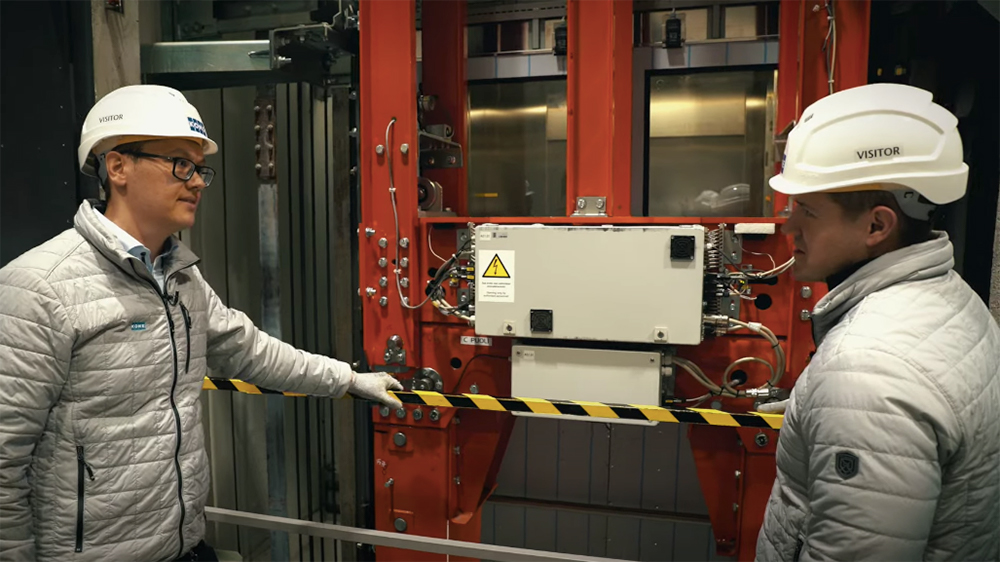 Above: KONE's Timo Vlasov shows The B1M's Fred Mills around the safety rig.
The key to all this working is a clever and excitingly-named contraption called an overspeed governor. The steel rope carrying the elevator passes through it at the top of the shaft.
If the elevator starts moving much faster than normal – usually by around 20% — the emergency brake system is activated.
Now we know how to stop them if necessary, how are they made to move in the first place? Well, elevators are powered by a motor, but if you're going to be hauling one up a supertall skyscraper at speeds of up to 17 metres per second, it would have to be huge.
In fact, you'll need a motor like the one in the main control room at Tytyri — the KONE EcoDisc MX100. It's the largest hoisting machine that the company makes and weighs around four tonnes.
"This goes to the very tallest buildings that we have delivered, like CITIC Tower in Beijing or Merdeka 118 — the second tallest building to be, and finalising now in Malaysia as we speak," KONE Major Projects head of technology Samu Salmelin said.
And yet, it's not all about the size of your motor. Even with the most powerful one available, most elevators can only travel up to around 500 metres. That's because of one very important component — the rope.
The higher an elevator needs to travel, the longer its steel cable needs to be — and you don't need to be an engineer to realise that that means you're going to need more steel. At a certain point, all the weight of the elevator car, its passengers, and that steel rope becomes too much.
According to KONE, on a 500-metre building that can be around 27,000kg — or the weight of ten off-road vehicles.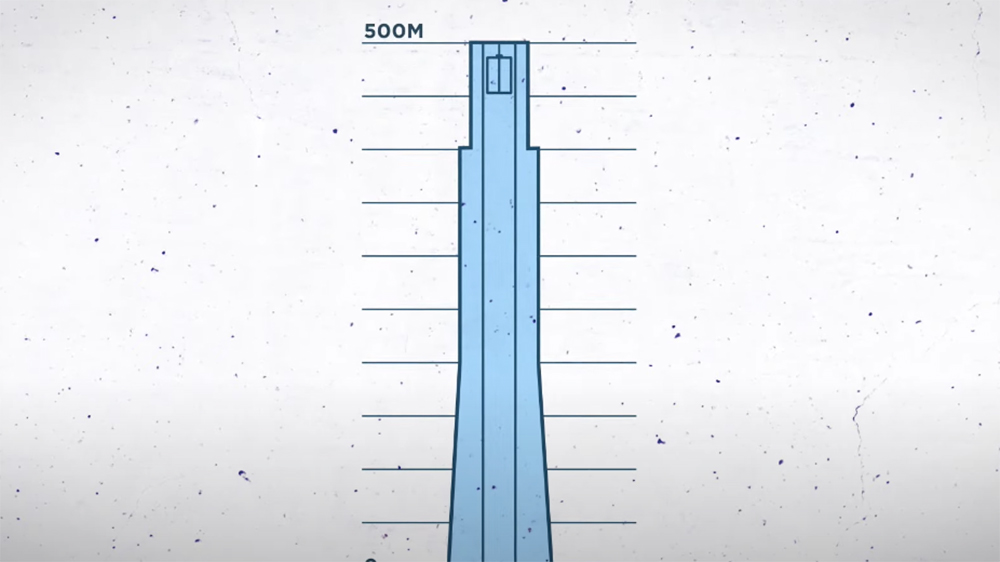 Above: There's a limit to how high an elevator can travel. They can't just go on forever.
To rise higher than 500-metres, very tall buildings would have required people to change elevators — at least until one new innovation came along. It's called UltraRope — a new kind of cable made from carbon fibre that's being tested at Tytyri.
It's seven times lighter than steel, more durable and can enable elevators up to a kilometre long — if we can ever make a building that tall. We're looking at you, Jeddah Tower.
When it comes to UltraRope it's a case of the taller the tower, the bigger the benefits. Across 500 metres, the energy saving as compared to using a conventional steel rope is around 30%, and the higher you go the greater the efficiencies.
This matters because we need to make our cities and structures more sustainable, and energy efficient technologies like this can help to reduce a building's carbon footprint.
UltraRope has also been chosen for skyscraper builds where atmospheric conditions were challenging — like on the new Brisbane Quarter in Australia's third largest city.
Developed by Shayher Group with contractor Multiplex handling design and construction, the luxury complex includes a hotel, 40-storey office building and 80-storey residential tower called The One Residences.
"KONE is used right across all three of those developments and also in the shared space as well. We've elected to go with UltraRope in the commercial tower," Nigel Kilgour, general manager for The One Residences at Shayher Group, revealed.
"It's got a fair bit to do with speed and obviously humidity. Brisbane's got, I suppose, high humidity and with the longer rope runs they get a bit of a stretch on them. With UltraRope it decreases the amount of downtime that we experience for those."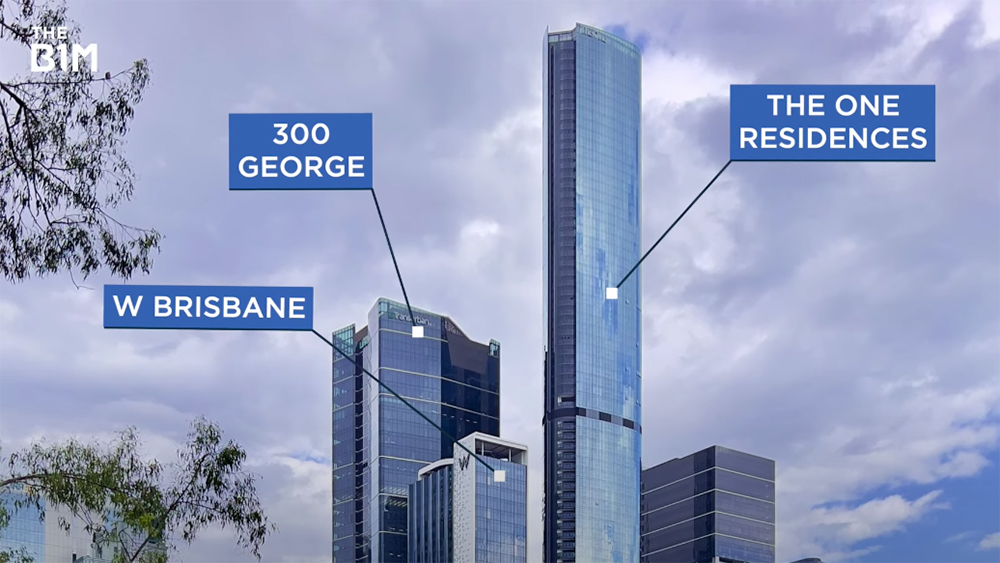 Above: KONE elevators are being used all over the new Brisbane Quarter in Australia. Image courtesy of Kgbo/CC BY-SA 4.0.
Glenn Robinson, Multiplex's regional director for Queensland added: "The KONE UltraRope for us lowered the risk of lift shut down in high winds due to building movement. When you get these tall towers, there's a certain level of sway in the buildings — in high winds this can be more significant.
"As a lift is being pulled up to the top of the tower the sway can send a lift into error, but with UltraRope this pull of the lift car to the top is more centric and is designed to avoid the deviation and subsequent errors that you can get."
The technology is ideal for heavier-load elevators too, like double-deckers. That's where two cars are placed on top of each other, creating twice the capacity.
It just so happens that one of these massive machines was being installed on the day of our visit. This doesn't happen very often, but to go and see it we had to head deep underground — over 350-metres down.
But on the way to the bottom we stopped off at the Visitor Cave, on the -200m level. Down here is where Salmelin told us more about why KONE opted for a subterranean facility instead of a test tower.
"When KONE decided to enter the high-rise market, we needed a test facility, and typically we would build a tower — a tall tower. But luckily, our engineers were able to find this mine to build it, and it took us only ten months to go actually into elevator testing here," he said.
"Here there was actually 200 metres of shaft already available, but then we had to knock the rest — more than 100 metres."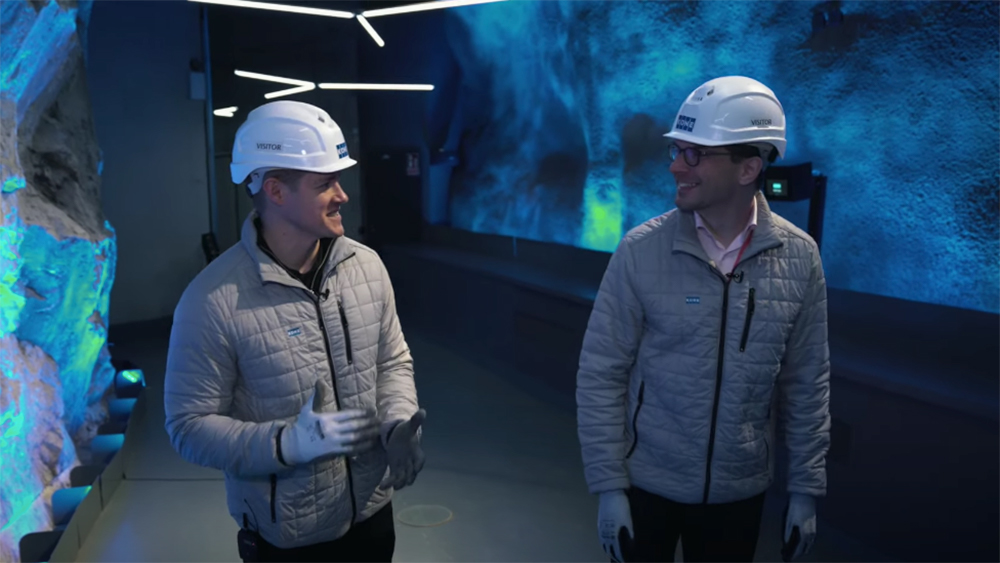 Above: The B1M's Fred Mills in the Visitor Cave with KONE's Samu Salmelin.

Afterwards it was time for the deepest part of our journey — to the bottom of the very longest shaft, right next to a live mining site.
"What we are doing here is installing the double-decker test elevator, and we are also testing our installation methods and instructions that all the methods and tools that we are using are safe, and then we can repeat those same procedures in the real skyscrapers," Vlasov explained.
"What is happening around here is the real mining operations. So, this place is full of tunnels so we can actually drive by a truck here, bring all the components in and then lift those to the elevator."
Like so many aspects of the built world around us, elevators are something we take for granted. We use them all the time but never really think about all the work that goes into making them run.
And where better to come and see this than a facility that's taking elevators to new heights in the most unexpected of places.
To think all of this exists, in a country with no skyscrapers, shows that to find all the things worth seeing in this incredible industry, sometimes you've got to look beneath the surface.
Learn more about how KONE moves the world.
Video hosted by Fred Mills. Additional footage and images courtesy of KONE Corporation, Multiplex, Kgbo/CC BY-SA 4.0, The Dronalist, 20th Century Fox and Warner Bros. Pictures.

We welcome you sharing our content to inspire others, but please be nice and play by our rules.
Comments
---