Cities
Sweden's $100BN City Upgrade
Youtube Views

997,523

VIDEO VIEWS
Video hosted by Fred Mills. This video and article contain paid promotion for Bluebeam.
GOTHENBURG is a city of contradictions. It's Sweden's second largest city and the country's economic and industrial powerhouse, home to household names like Volvo and AstraZeneca. $100BN is being ploughed into a multi-decade plan to grow the city even more and make it Northern Europe's commercial and logistics heart by 2035.
To cap it all off, it's getting a sleek new skyscraper, the CityGate tower which, when it's completed later this year, will be the Nordic region's tallest office building.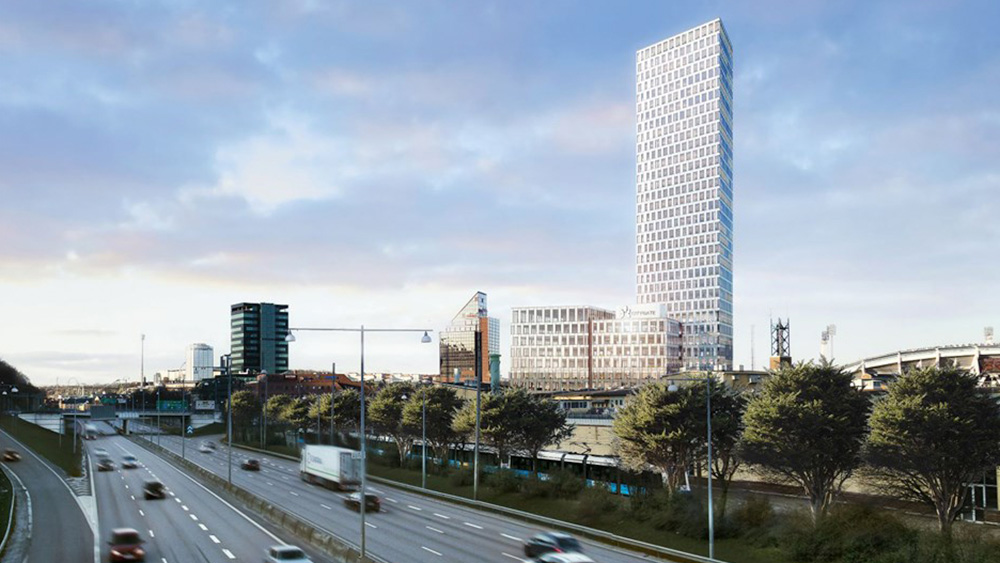 Above: An artist's rendition of the completed CityGate tower. Image courtesy of Skanska.
But, spend any time Googling the city and you'll be bombarded with articles about what a green, sustainable and all round great place Gothenburg is to live in.
So what exactly is going on here and how has this Swedish city managed to match blockbuster development, with sustainable growth?
To really understand what's happening in this city right now, we need to rewind a bit. Around 40 years ago Gothenburg went through a big change. In the 1980s the shipbuilding industry that had been vital to its economy since the 16th century was in terminal decline.
But that was far from the death knell for the city. Throughout the 1990s the huge empty shipyards were transformed into a high-tech research and development hub and the city's maritime connections helped it grow into a major trading port.
Then in 2014 the Gothenburg Development Strategy was announced – a comprehensive plan which would shape the development of the city for the next two decades. From 2016 to 2035 over USD $100BN is being spent on expanding infrastructure like the city's port and metro system as well as building some 55,000 new homes.
But despite the huge surge in construction, Gothenburg is not compromising on its green credentials. That's certainly easier said than done, but the new CityGate tower is a great example of how it's being achieved. Despite being the biggest office building in the Nordic region, it's expected to be awarded the highest LEED certification.
LEED was set up in the 1990s to recognise buildings constructed to a high environmental standard. Reaching the coveted Platinum status is so tough that only around a few thousand buildings in the whole world have ever been awarded it.
With CityGate those environmental credentials started right from the design and construction stages. Recycled aluminium was chosen to create the facade and a high-tech solution was used for one of the most polluting aspects of the build: concrete.
Concrete production accounts for about eight percent of all global CO2 emissions, but the concrete used at CityGate replaced carbon intensive cement with fly ash, a by-product of the coal industry, which has very similar properties.
Perhaps one of the most impressive feats is that the entire building will be powered by a new solar park that it's connected to just outside Gothenburg. That's right, the largest office building in Sweden will be 100 percent powered by renewable, solar energy.
But it's not just the sustainability of this project which is distinctly Swedish. Almost all of the 144-metre tower was prefabricated.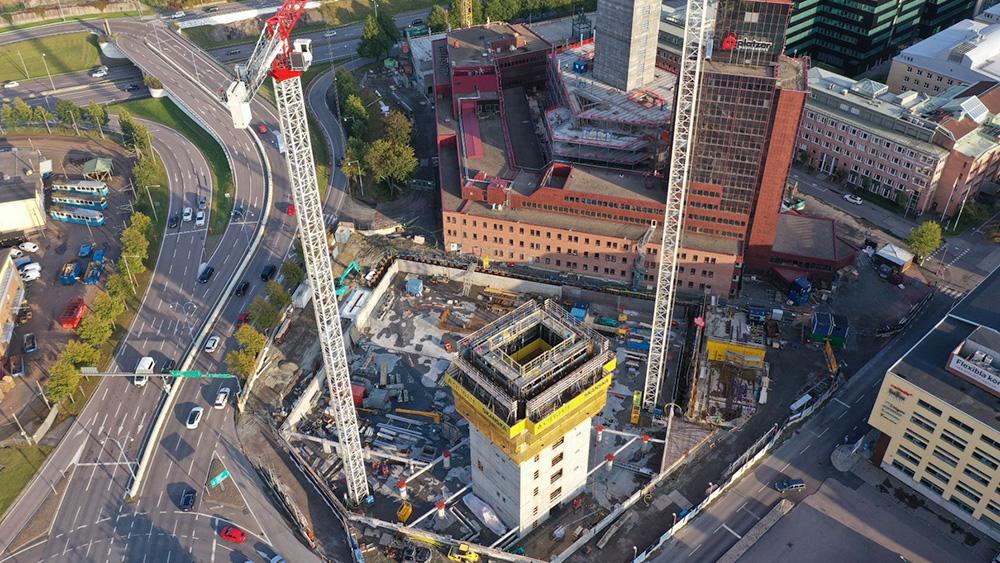 Above: Innovative building methods were used in the construction of the tower. Image courtesy of Skanska.
Sweden has long pioneered prefabricated construction, and up to 80 percent of its housing stock has been built in this way.
The concrete core was the only element of this building to be cast on site – all the other floor slabs, steel work and panelling were delivered and the building was put together like a giant LEGO set. That's ideal for a small site that's a bit hemmed in by a stadium, fire station and another site just next door.
It also meant the structure could be built incredibly quickly. When construction began in earnest the whole tower shot up in just 14 months. To put that into context, that's the same length of time it took to dig into the tough Gothenburg clay to create room for the building's foundations.
CityGate also set a new nationwide standard for using digital construction tools like Bluebeam Revu.
Projects of this size take some serious organising, and with so many digital files and messages flying around it's really important that people can coordinate with their teams and be sure they're looking at the right information.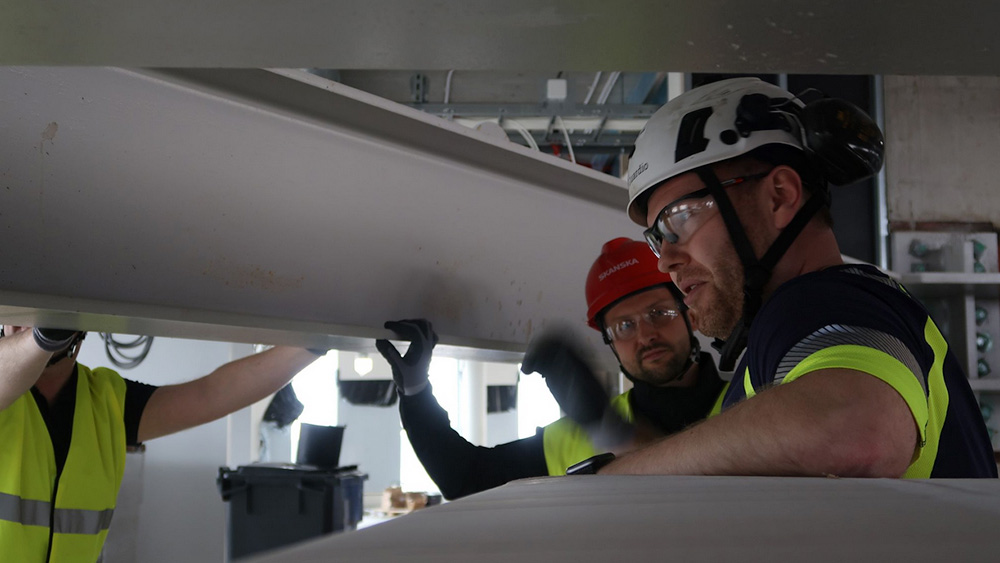 Above: The CityGate team used Bluebeam software to coordinate the thousands of technical drawings. Image courtesy of Skanska.
"We have 3,000 to 4,000 technical drawings and everything has to go through design reviews," site manager Jimmy Hemmingsson told The B1M. "When we have all these documents linked together digitally, it's much easier for everyone in the project to find what they are searching for."
Bluebeam Revu is a cloud-based collaboration tool that makes sharing and coordinating documents easy. It puts the latest information in front of everyone who needs to see it – whether they're in the office, working remotely, on the move out on site or working at the very top of a super-sustainable Swedish skyscraper.
As well as speeding up workflows, reducing stress and making sure things get built the right way first time around, there's also the fairly obvious sustainability benefit of doing away with paper.
"It also saves a lot of trees being cut down because we don't need to print out all these drawings," Hemmingsson said.
As impressive as CityGate is, Gothenburg still has a pretty enviable reputation to keep up, But as we've seen elsewhere, big money and major developments don't always turn out the best for the locals, so what is Gothenburg doing differently?
Well, right from the start the Gothenburg Development strategy sought to encourage business growth while also specifically keeping liveability at the very top of the agenda.
But what makes it so good in the first place? We asked the founder of This Is Gothenburg blog, Rob Griffith Jones:
"I have heard it described as a big but slow city. Even in rush hour, it's not that rushed. You also have access to nature, it's equidistant for me to go swimming in a lake or go out for dinner in a restaurant… you don't have to choose between living in the countryside or the city."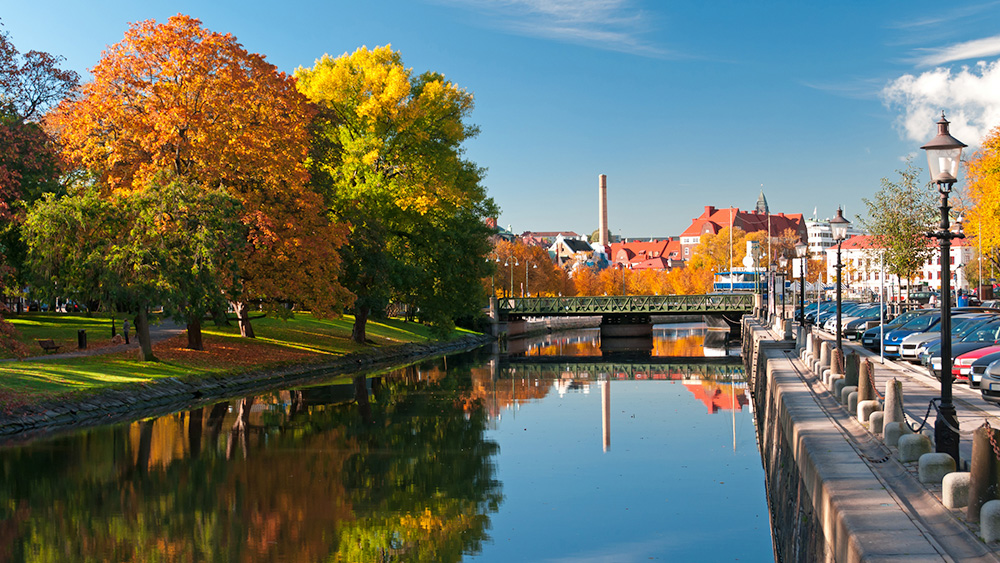 Above: One of Gothenburg's many attractions is its great access to nature.
To preserve this way of life, city planners wanted to keep Gothenburg's small and local feel. Rather than allowing growth into large suburbs with long commute times, the city plan calls for key inner city areas to be developed and made denser.
At the moment about one in ten Gothenburgers live around the city centre which is also where 90 percent of the jobs are. Dag Hammarskjölds, one of the main entrances to the city will be transformed from an impassable motorway into a pedestrian friendly boulevard, with green space and new public transport.
Yes, I know what you're thinking, if Gothenburg's so great, why don't you just go and live there? Well, you may be relieved to hear that there is in fact a catch to this nordic nirvana.
Housing in Sweden's major cities has been a controversial subject for decades. Renting is commonplace in Sweden and generous protections for tenants keep rents low while helping to provide stable long term contracts.
Some have argued that these generous provisions have actually disincentivised house builders to construct new homes.
"The house builders are saying it's not possible to build affordable housing in the city centre and the Housing Association is saying that's not true, so it's it's some it's entirely up for debate." Griffith-Jones said. "There is a strong need for new houses in the city and that demand has existed for decades."
While housing is an issue, it's nowhere near the chronic levels found elsewhere. Gothenburg is facing pressures similar to many other cities around the world – but it seems to be doing a good job at dealing with them before they get too out of hand.
This massive, holistic plan was partly triggered when Gothenburg city council realised it was expecting a rise in population of 150,000 over a period of two decades. Compare that to somewhere like Toronto which is expecting over two million people to come to the city in the next 10 years but doesn't really have a plan to house its existing citizens.
While this may not be a complete case of a city having its cake and eating it, it's certainly setting a high bar for others to follow. And it looks like it might remain at the top of those lists for some time to come.
This video contains paid promotion for Bluebeam. See how Bluebeam enables the construction of tall buildings like this one.
Video presented and narrated by Fred Mills. Special thanks to Bluebeam. Additional footage and imagery courtesy of Steampipe, Göteborg & Co, Skyflyers, House of Vision, Buena Vista Pictures, Skanska, Riksantikvarieämbetet, Pål-Nils Nilsson, Shearersfoods and Stendahls.
We welcome you sharing our content to inspire others, but please be nice and play by our rules.
Comments
---