Cities
Building the World's Most Impressive Skybridge
Youtube Views

707,529

VIDEO VIEWS
Video hosted by Fred Mills.
DESPITE THEIR HEIGHT, it can be difficult for skyscrapers to stand out. There is, after all, only so high they can go, and with the era of megatalls seemingly at an end, designers are turning to alternative ways of elevating their work above the rest of the field.
Skybridges have proven fertile ground for providing an architectural flourish. While they've been around for some time — dating, perhaps, as far back as the 17th century — in recent years skybridge design has become increasingly daring.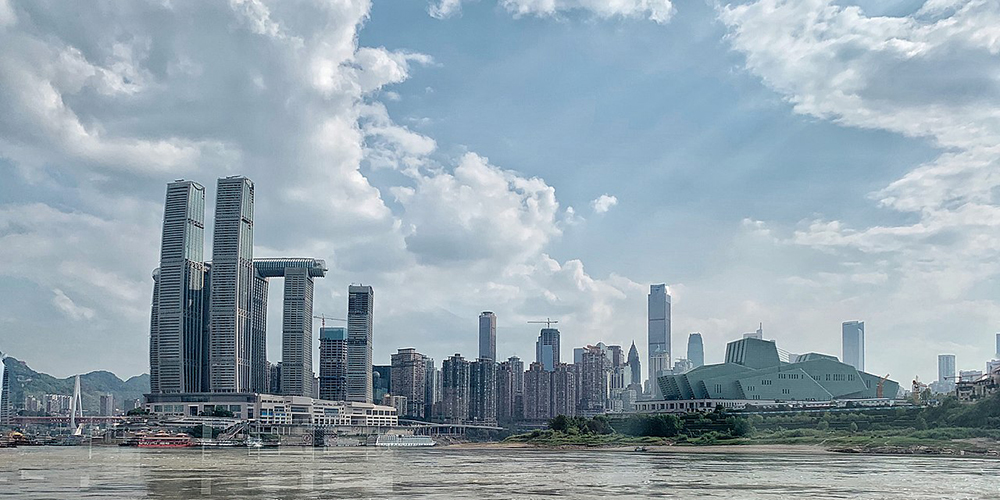 Above: Raffles City Chongqing captured the world's attention when it was completed in 2019. Photo courtesy Junyi Lou/CC BY-SA 4.0.
Take, for instance, Raffles City Chongqing, which balances an almost 300-metre-long skybridge called The Crystal atop its four towers. Or the world's longest cantilever at One Za'abeel, extending dozens of metres over the Dubai cityscape.
But while every skybridge is an impressive feat of engineering in its own right, few can match the sheer aesthetic audacity on display in Melbourne. Construction at Sapphire by the Gardens got underway in early 2022, and the results will be spectacular: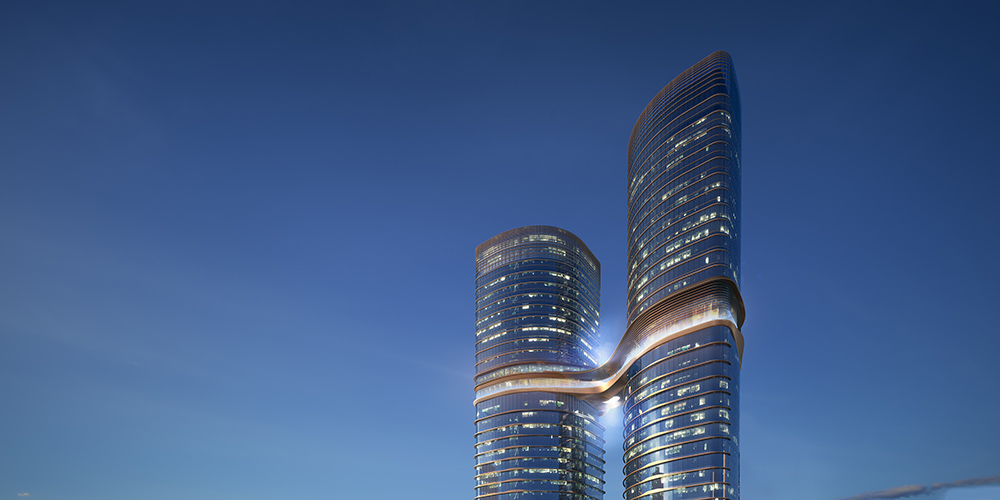 Above: This new effort in Australia will become another horizontal highlight when it finishes construction later this year. Image courtesy S P Setia/Cox Architecture.
This is one of the most eye-catching skyscraper designs of recent years, but building something like this 40-storeys above the ground is far from easy. The team trying to make it happen are grappling with extreme height, complex structural forces, and the eyes of Australia looking on.
Building the world's most beautiful skybridge
As well as being a way to get from one tower to the next, the skybridge will boast private dining rooms, lounges and a glass floor offering some pretty scary views down to the city below.
It'll wrap around one whole floor of Sapphire by the Gardens proper, which will contain apartment buildings before stepping up to envelope two floors of the second tower, home to a luxury Shangri-La hotel.
There's a structural element here — both towers need the skybridge to create a rigid link between them, allowing them to share wind loads and seismic forces.
Steel tendons sitting inside the skybridge's concrete floor slab will stretch from one tower to the next, holding them together and creating that fixed link. Steel beams will also be used for the bridge's roof, with a flexible joint on one side allowing for any minor differential movement.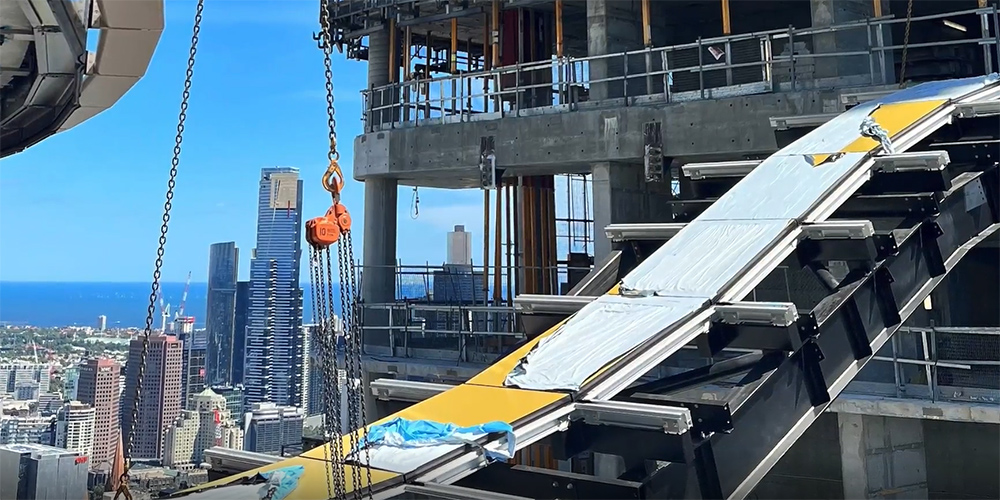 Above: The skybridge links the two towers together 170 metres above ground. Photo courtesy S P Setia.
But before any of this can happen, a plywood deck has to be installed. This offers protection and a platform for adding the slab steelwork, which is divided into seven pre-assembled modules, and the lower cladding.
The concrete will then be poured in two phases. Once it's strong enough, the steel tendons can be stressed in a process known as post-tensioning, and the towers will then be locked together with steel ties.
After post-tensioning is complete, the temporary steel ties are removed, and the facades and cladding can be installed. The wooden deck is then taken out and the gaps left behind are filled in.
"Melbourne's most exclusive address"
There is of course more to Sapphire by the Gardens than its epic skybridge.
When construction here began, the excavation and piling were followed by one of the largest concrete pours in Melbourne's history. The stuff — 469 truck loads of it — was spread three metres deep over the site's 1,000-square-metre footprint. That foundation supports a ten-storey combined podium before the towers go their separate ways, with Sapphire by the Gardens rising to 219 metres and the Shangri-La slighter taller at 232.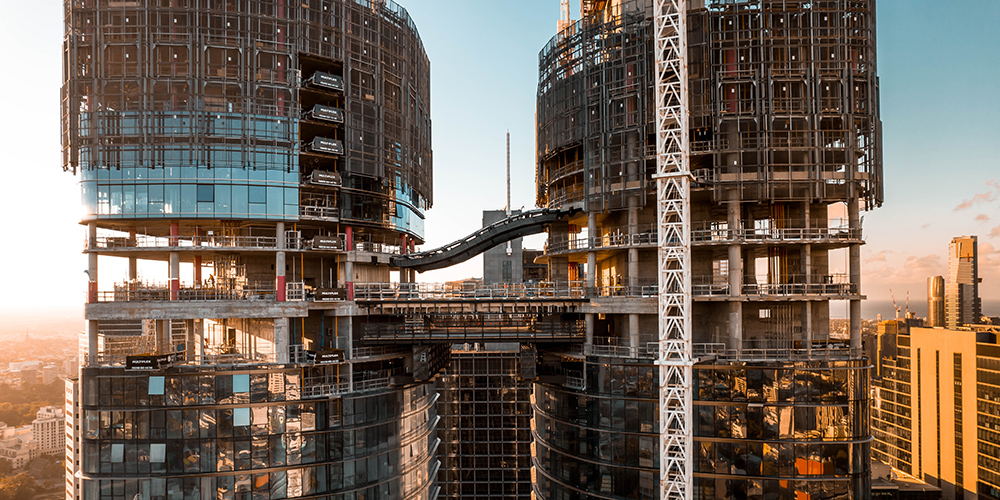 Above: The Sapphire By The Gardens (left) and Shangri-La Hotel (right) towers under construction in January 2022. Photo courtesy S P Setia.
Skybridge aside, the jewel in the crown of the project might be Sapphire's 1,200-square-metre Super Penthouse. Developer S P Setia says it's the largest penthouse on the market in Australia. Naturally it comes with a correspondingly huge asking price of AUD $39M.
Multiplex, the main construction firm building Sapphire by the Gardens, has described it as "Melbourne's most exclusive address," and that's not just about the architecture. The towers aren't your average apartment block or hotel. They overlook the historic Royal Exhibition Building and Carlton Gardens — a UNESCO World Heritage Site — giving panoramic views of the grounds and the city's central business district.
Melbourne's skyline is increasingly crowded, with 60 skyscrapers already built and at least 10 currently under construction. But between location, luxury and a truly spectacular flourish in its skybridge, Sapphire by the Gardens will certainly stand out.
Video narrated by Fred Mills. Additional footage and imagery courtesy of S P Setia, Multiplex, Cox Architecture, ALEC Engineering and Contracting, Google Earth, Junyi Lou/CC BY-SA 4.0, Martin Falbisoner/CC BY-SA 4.0, The Dronalist and OpenStreetMap Contributers (https://www.openstreetmap.org/copyright).
We welcome you sharing our content to inspire others but please be nice and play by our rules.

Comments
---