Cities
Building The World's Tallest Tree-Covered Skyscraper
Youtube Views

742,307

VIDEO VIEWS
Video powered by Bluebeam and hosted by Fred Mills. This video and article contain paid promotion for Bluebeam.
OUR cities have a problem. Despite craving it, we're struggling for green space and architects and engineers have had to get creative - repurposing old infrastructure and slotting parks in where they can.
It's a pressure that's given rise to one of the ambitious skyscrapers ever conceived.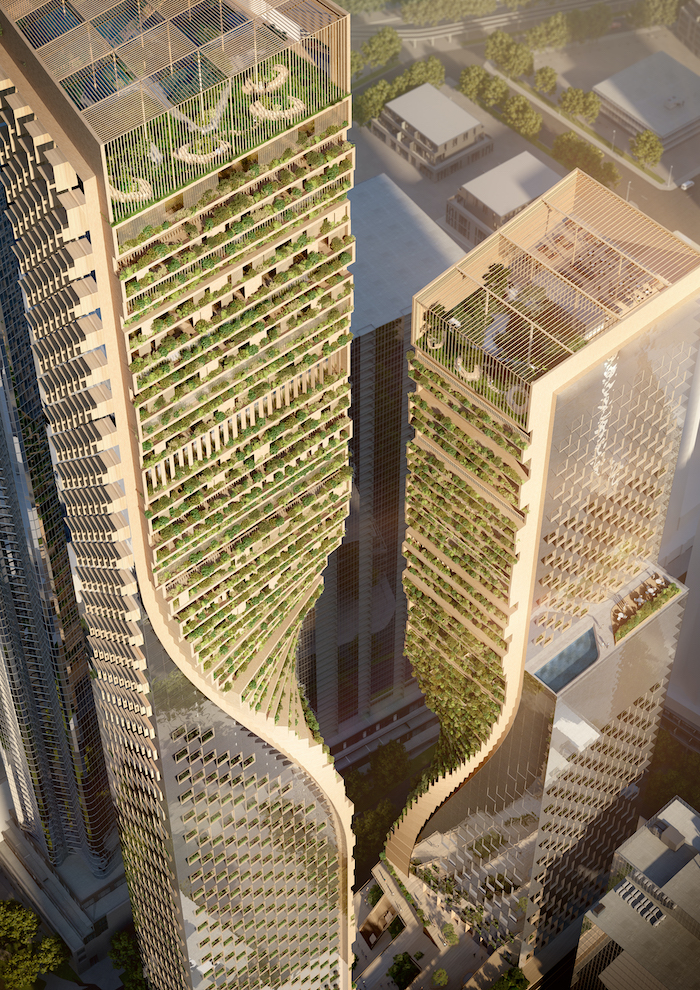 Above: STH BNK by Beulah is set to become the tallest vertical garden in the world. Image courtesy of UNStudio.
Twisting into the sky, Melbourne's tree covered STH BNK by Beulah tower is born out of that very real desire for a better connection to nature in our built-up areas.
Making Australia's new tallest building a reality is far from easy, and the team is dealing with extreme height, tough site conditions, remote working, international media attention and the small matter of successfully growing plants in the sky.
Cast your mind back to 2018 and you might recall an architecture competition in Australia that caused quite a stir.
Australian developer Beulah had acquired a site in the heart of Melbourne's Southbank and wanted to create a building with a difference - something that stood out among the sea of skyscrapers that had emerged.
Pairing local firms with six of the world's most famous architects, the competition produced some of the boldest proposals Australia had ever seen and made international headlines.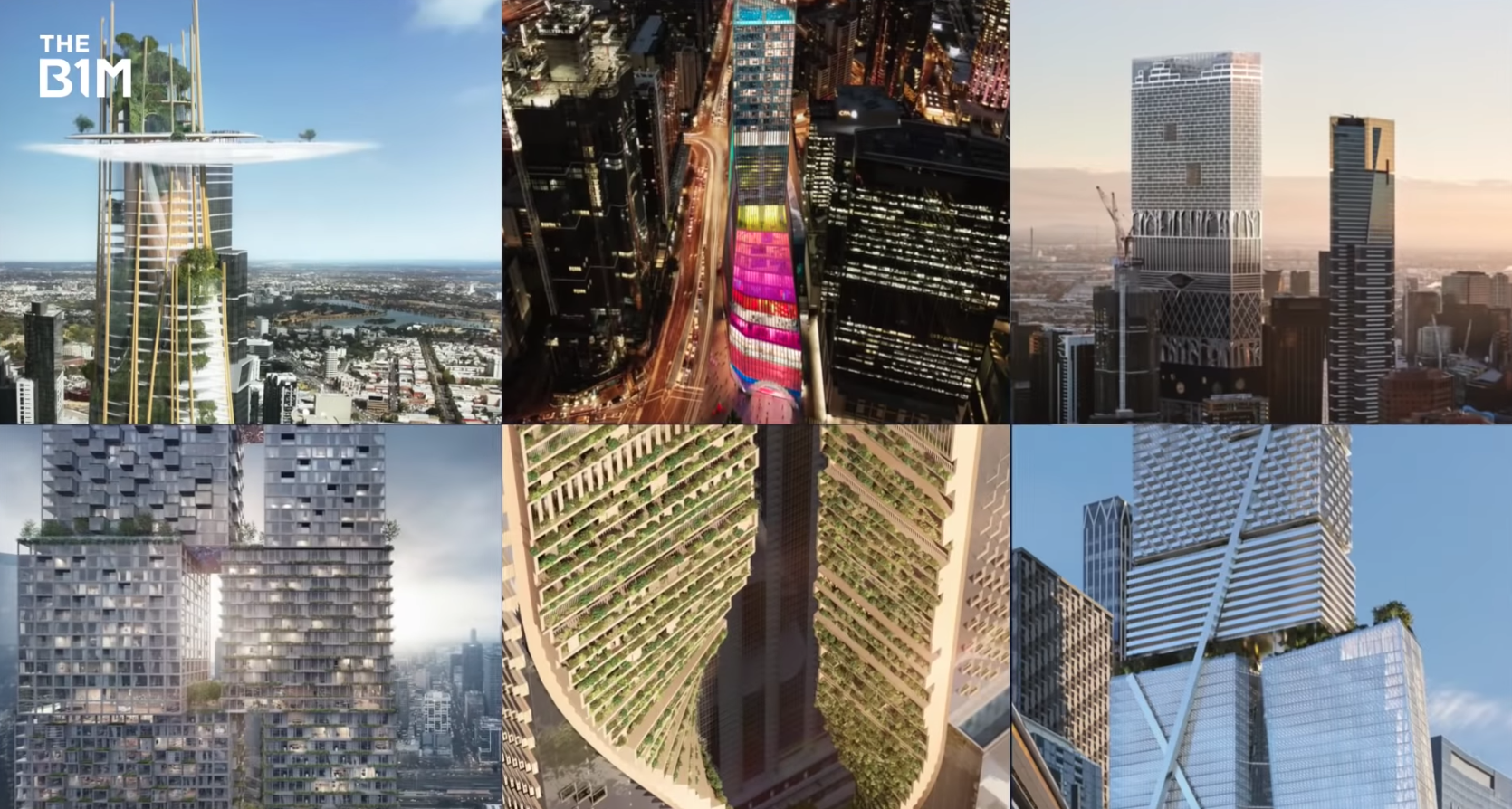 Above: The entries from the architectural design competition. Images courtesy of MAD Architects, Bjarke Ingles Group, OMA, K18, MVRDV, COOP HIMMELB(L)AU and UNStudio.
After an intense debate among the judges - and the internet - Green Spine won the contest. Designed by UN Studio and COX Architecture, the mixed-use towers would feature dramatic planting across their levels and become the tallest skyscrapers in the country.
The design team travelled the world to learn lessons from similar projects, steadily developing their plans to integrate commercial space, apartments, a podium that includes retail units, and a new cultural square into 165 storeys of green space across the two towers.
The renamed STH BNK by Beulah tower would become the first vertical garden to exceed 300-metres and reach supertall status.
Now, building a pair of twisting skyscrapers and covering them in plants was never going to be easy.
But combine the challenge of getting plants to thrive at such a height with the project's slender profile and the fact that it's being built in an area that used to be marshland - and you have a major feat of engineering on your hands.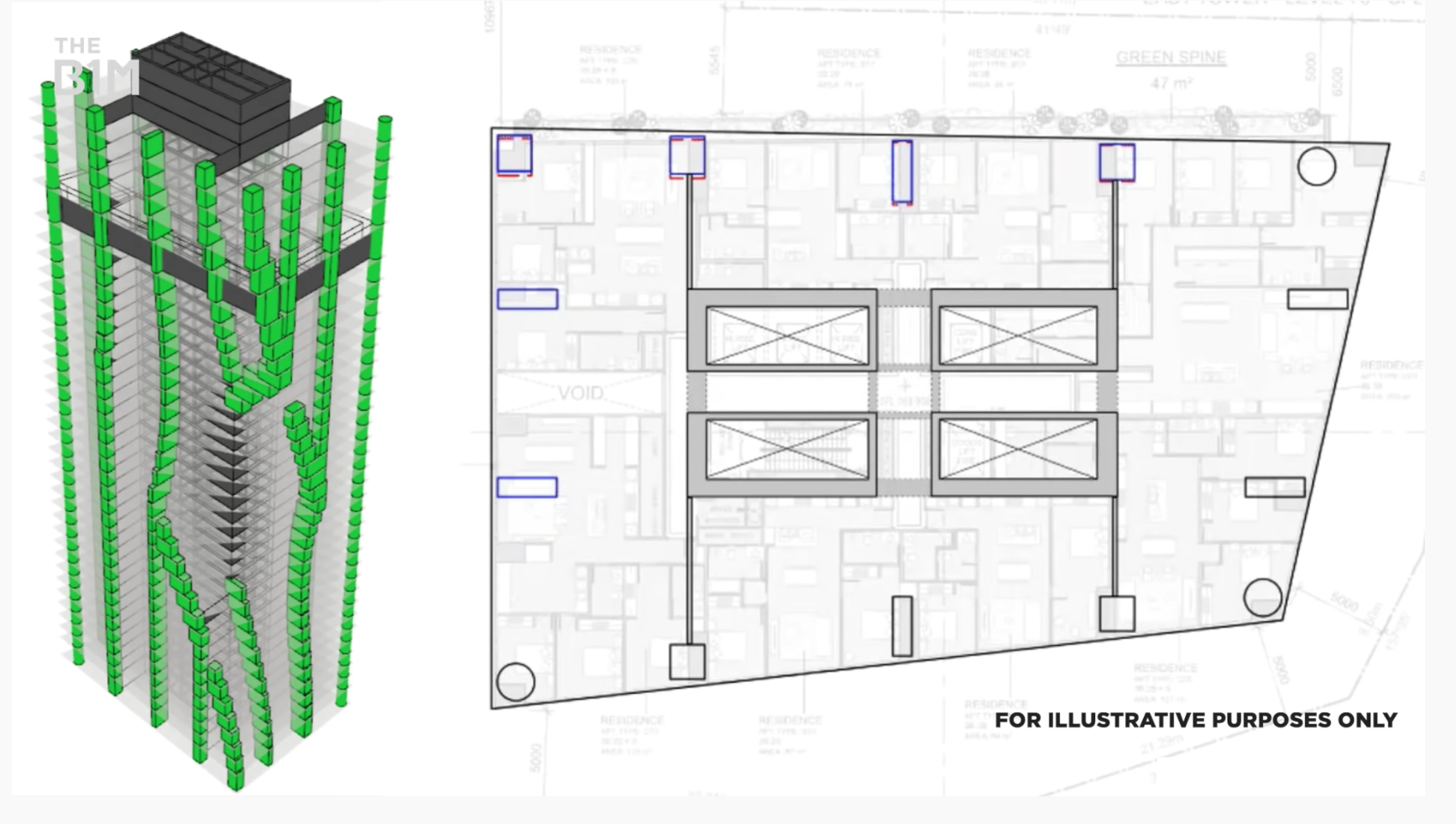 Above: The towers will use "walking columns" to maintain adequate load transfer. Image courtesy of AECOM.
Due to soil conditions, developers in the area tend to go for above-ground podium parking, but while this avoids the challenges of the infamous Coode Island Silt, decades of this practice have left the area almost devoid of human street life.
To maintain a thriving and active streetscape STH BNK by Beulah will feature underground parking as deep as 20 metres below ground.
Contractors will either use a top-down method, break up the stages of excavation into smaller segments and excavating from within, or sink deep diaphragm walls and anchor them to the bedrock to create an area that can be excavated without risk of collapsing soil.
The local East Tower's slender height-to-width ratio of 13.5 to 1 presents some particularly onerous challenges.
It's twisting form is achieved by use of walking-columns. Normally columns line-up between floors to carry loads through a building and down to the foundations. But here, each column will have to be slightly offset to the one on the floor immediately below, creating the building's twist while still maintaining a pathway for loads to travel through.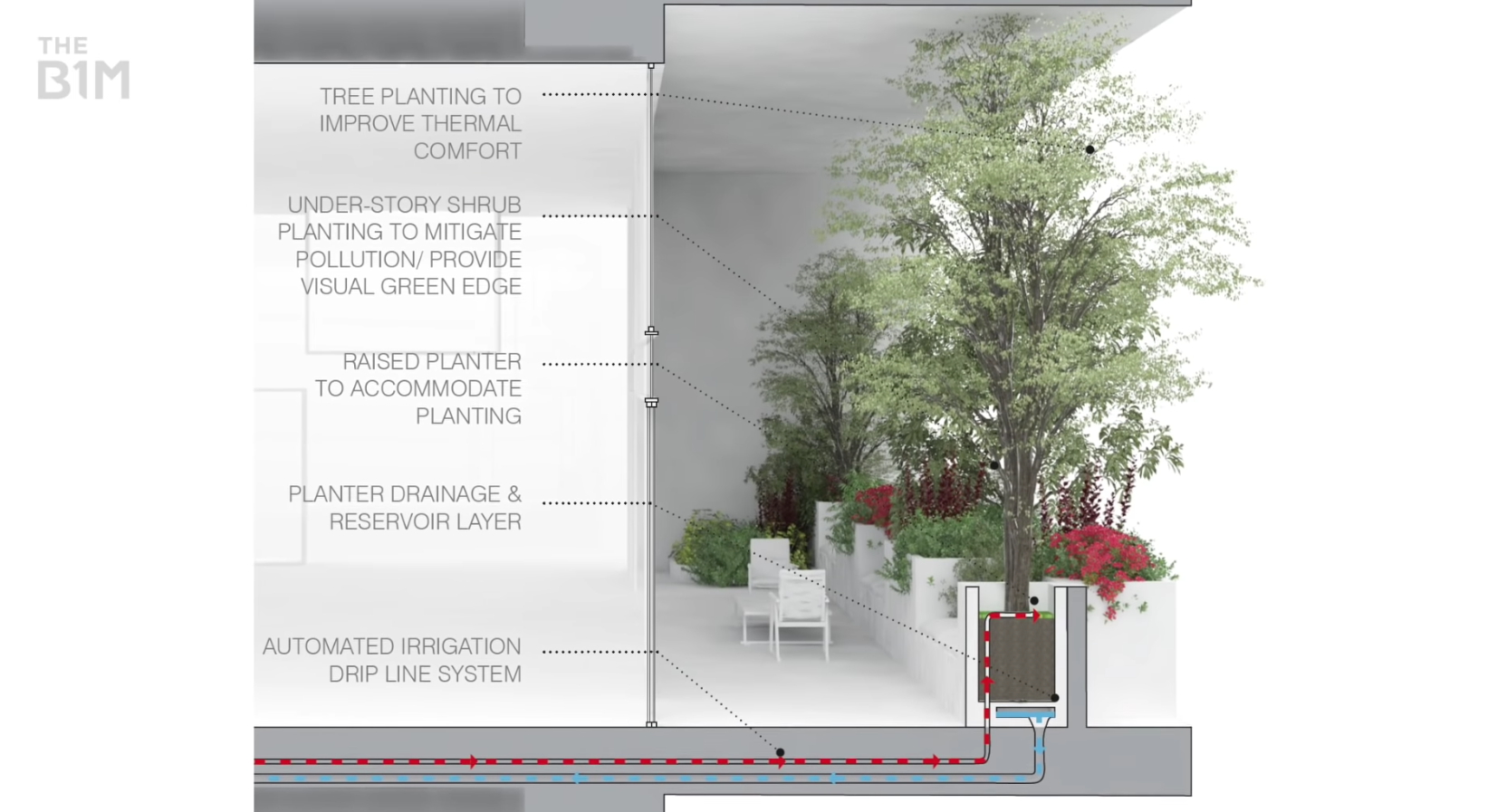 Above: A system of pipes carrying water and nutrients directly to plants will allow them to thrive in the elevated positions. Image courtesy of Beulah.
If you think that sounds complicated, it's just the start. The towers will also feature a full height reinforced concrete core connecting to the perimeter columns via sheer walls with reenforced plant levels acting as outrigger floors, tying the entire structure together, and topping things off - a tuned mass damper will hide in plain sight as an artistic feature on the building's roof.
While green spaces on buildings are nothing new - the scale and ambition of STH BNK by Beulah's design is unprecedented. There'll be over 5.5 kilometres of vertical gardens and sky parks extending as high as 365-meters above street level.
An international team of landscape architects has run wind testing and sunlight analysis to choose species that can thrive in a city famous for its extreme summers, cold winters, and the occasional feeling of four different seasons in one day.
To keep everything green without the need for an army of gardeners constantly working their way through the building, every garden bed will be connected to an autonomous irrigation system that's capable of monitoring soil conditions and delivering water and nutrients directly to the roots of each plant.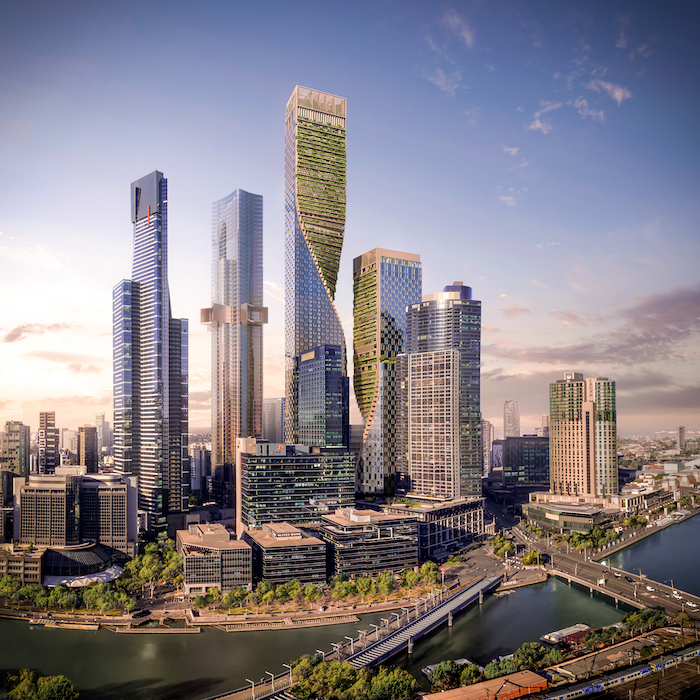 Above: STH BNK by Beulah will be the tallest skyscraper in Australia. Image courtesy of UNStudio.
The idea is that the system should require minimal human maintenance once complete.
Bringing together a complex design between two architects, landscape specialists and several consultants on a challenging site would be tough in any circumstances - but thrown into that mix is the fact that much of the design evolution over the past three years has happened remotely.
By making use of Bluebeam's platform all stakeholders were able to engage and collaborate on the project during the pandemic, regardless of the restrictions in place.

By incorporating computer models and information into the platform, the team were able to quickly visualise all aspects of the design from - services to structural elements - and make necessary adjustments that updated across the program in real-time.
Using a centralised platform the team were able to ensure they were getting the best outcomes across the project and from all stakeholders.
Having been given the formal green light in April 2020, STH BNK by Beluah is now seen as a major part of Melbourne's post-COVID economic recovery by the state government.
For whatever lies ahead STH BNK is seemingly on-track to make a pretty big impact - not just by injecting new life into this part of Melbourne and becoming the country's tallest building, but by changing how we think about design in our cities and proving what can be achieved if we look to make the most from the limited space most of us now have available.
This video was sponsored by Bluebeam. Learn more about the software tools used and how they can help your project in our free live event with the expert team.
Video presented and narrated by Fred Mills. Special thanks to Adelene Teh, Michael Neilsen, Julian McNeil and Ben May. Additional footage and images courtesy of UNStudio, Beulah, AECOM, Gizmo Drones, MAD Architects, Bjarke Ingles Group, OMA, K18, MVRDV, COOP HIMMELB(L)AU, OpenStreetMaps, Stefano Boeri Architetti and Melbourne Weather Memes.
We welcome you sharing our content to inspire others, but please be nice and play by our rules.
Comments
---