Cities
Building Melbourne's Prefabricated Skyscraper
Youtube Views

140,324

VIDEO VIEWS
Video hosted by Fred Mills.
WITH the demand for luxury residential apartments in Manhattan increasing and a severe lack of land available for development, we have seen the rise of super-slender skyscrapers across the city's skyline.
While this trend originated and first became identifiable in New York – through structures like 432 Park Avenue and 53W53 – the phenomenon is no longer limited to the city and is beginning to have global repercussions.

Around the world, developers are now striving to maximise floor areas and value from small sites by employing the super-slender high-rise technique.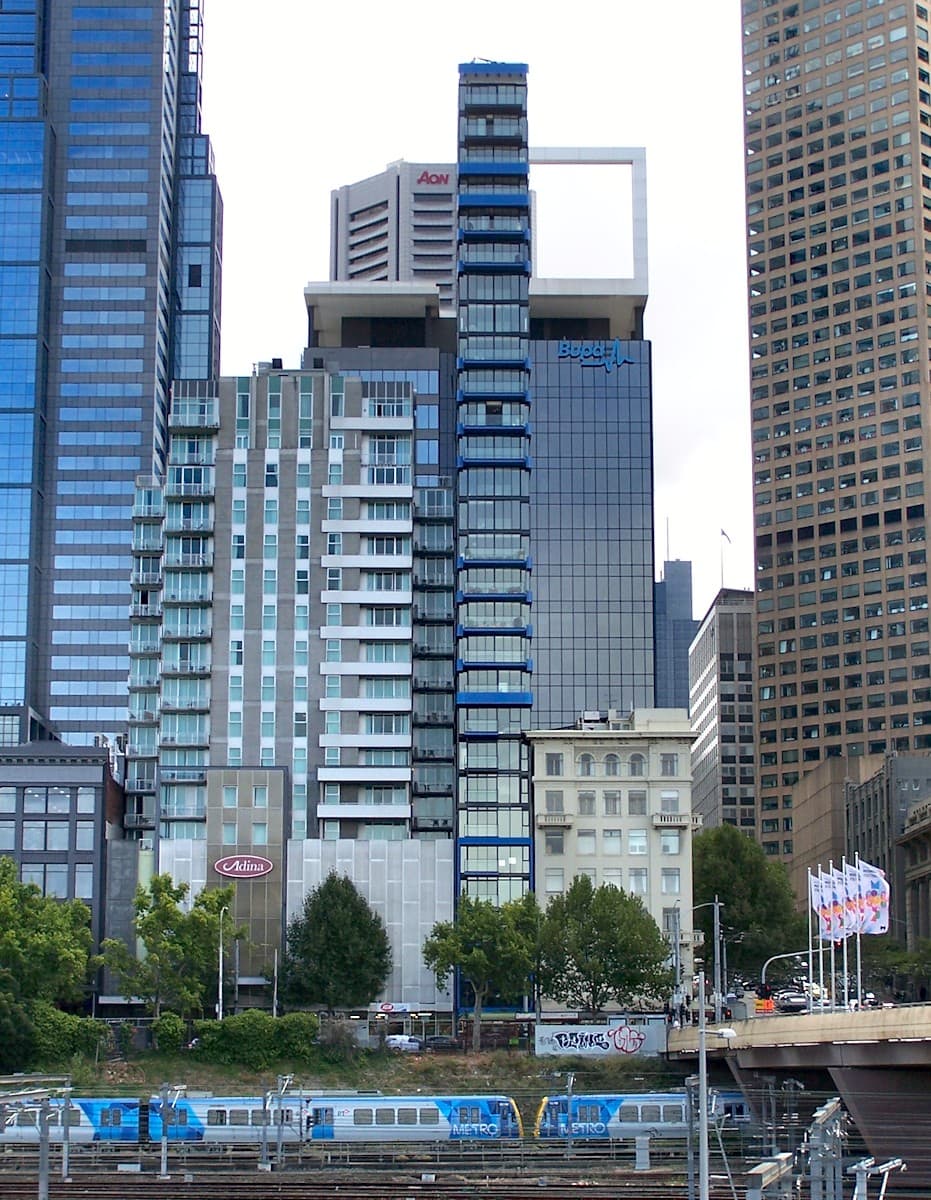 Above: The Phoenix tower in Melbourne is 88 metres tall with a width of just six metres (image courtesy of Tim Dickson).
But while such an approach does improve return on investment, the limited site access and additional engineering associated with building these towers make them much more expensive to develop.
Now, in Australia, contractor Hickory Group have pioneered a construction method that uses prefabricated modules to improve quality, streamline the building process and reduce overall construction costs.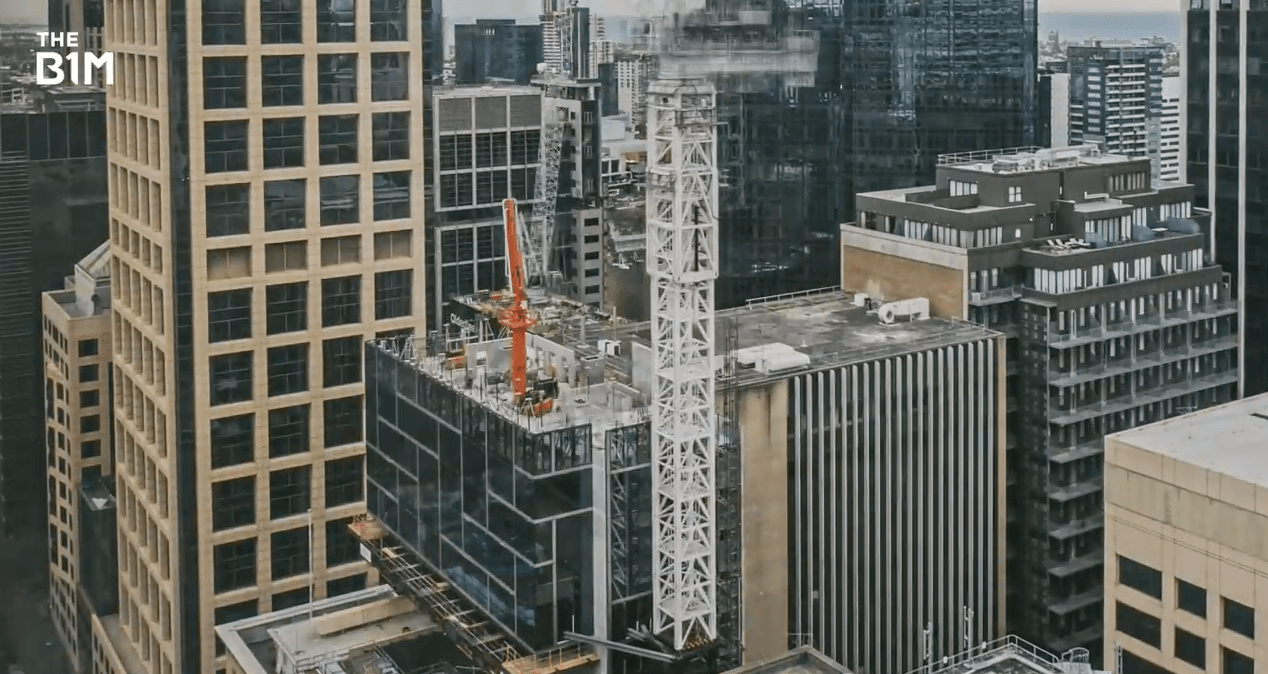 Above: Hickory is using prefabricated modules to construct a super-slender skyscraper in Melbourne, Australia (image courtesy of Hickory / Golden Age / Time and Place).
While the projects using this method have so far been modest in comparison to the super-tall giants of New York City, Hickory are about to take their prefabricated building method to new heights in the form of Australia's most slender skyscraper; the 60 storey Collins House in Melbourne.
Collins House is located in the heart of Melbourne on the city's prestigious Collins Street.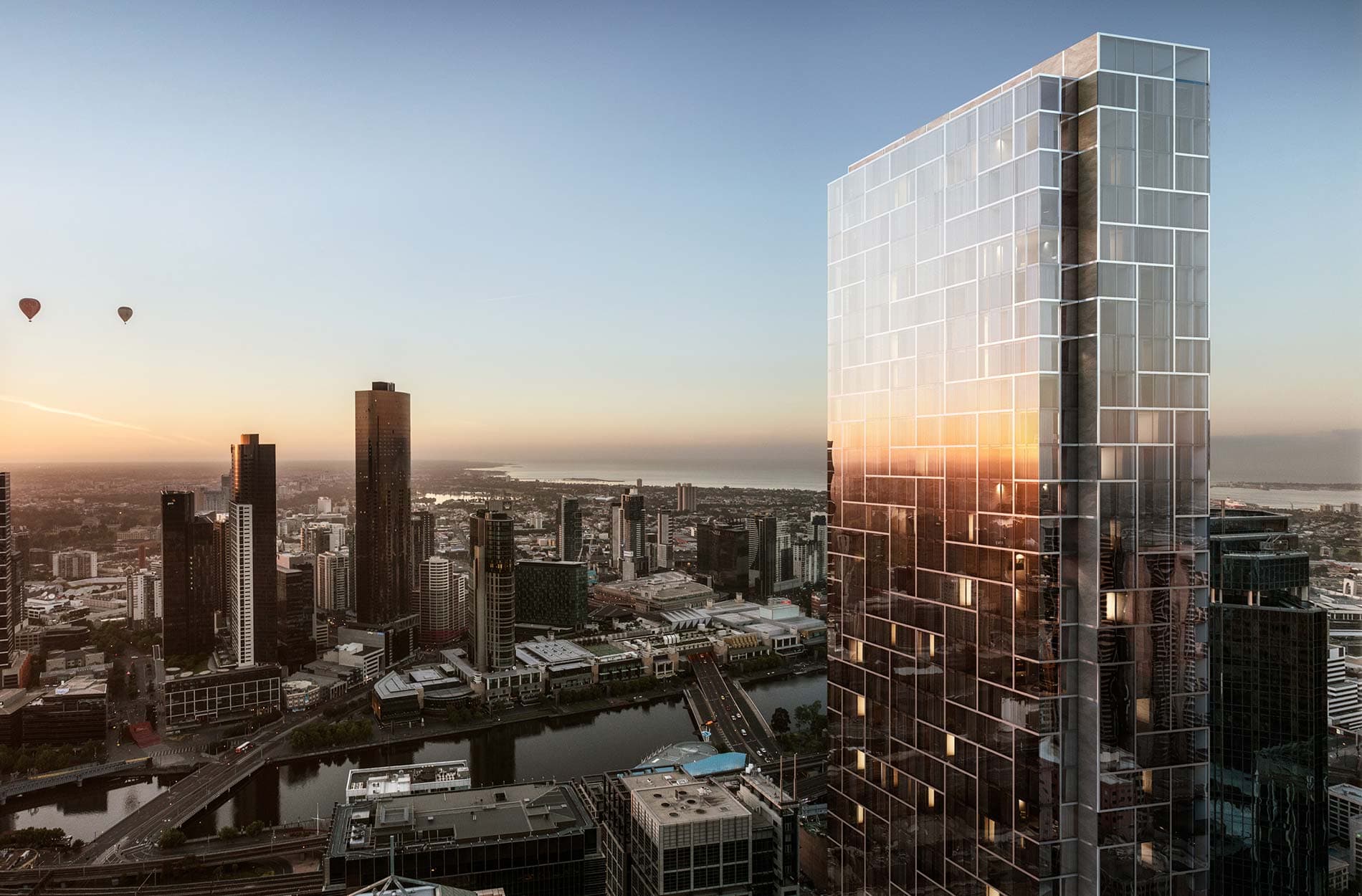 Above: Located on one of Melbourne's most prestigious streets, Collins House will be Australia's slimmest skyscraper upon completion ( image courtesy of Bates Smart and Golden Age Group).
Famed for its historic streetscape and home to some of the countries tallest buildings, Collins Street, and Melbourne as a whole is in the midst of a high-rise building boom, the likes of which Australia has never seen.
With soaring demand for high-rise living and commercial vacancies at an all-time low, at least 20 skyscrapers are currently under construction, including the city's tallest building the 317 meter Australia 108.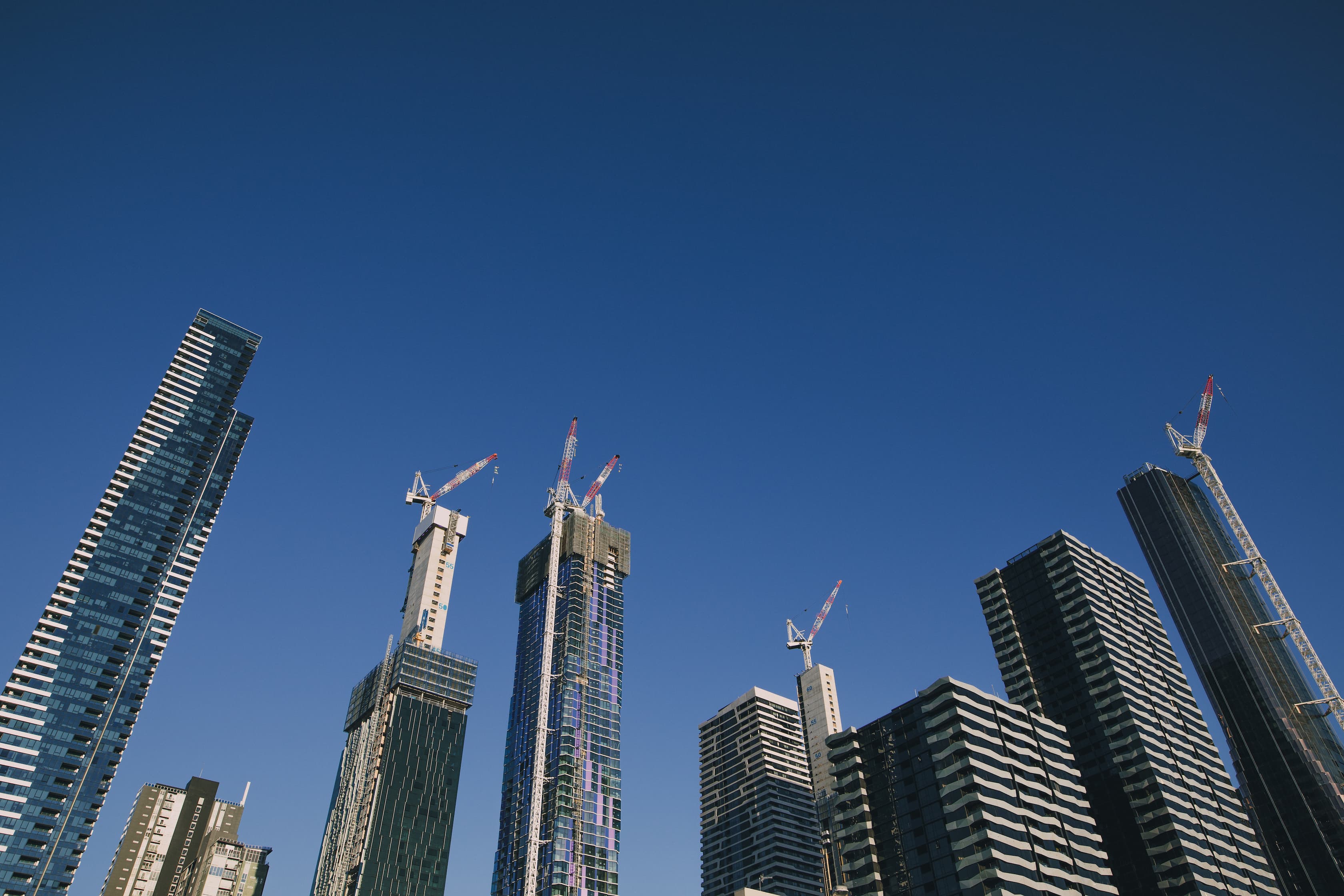 Above: The demand for residential and commercial space in Melbourne has led to the biggest high-rise construction boom in Australia's history with 20 buildings over 150 metres under construction in the city at the time of publication.
The demand has driven land values to record highs with a modest site just a block from Collins House recently selling for over AUD $140M.
Now, developers are pushing engineering to the extreme in order to make the most of the small parcels of land they are able to acquire.

The Collins House site is a mere 12.5 metres wide. Fronting the bustling Collins Street and with occupied commercial buildings on either side, developers Golden Age had no choice but to build upward in order to maximise floor area.
As part of the development, air rights were purchased from an adjoining building along the eastern boundary allowing architects Bates Smart to design a 4.5-metre cantilever over the neighbouring property and increasing the size of each floor by some 35% from the 14th storey upwards.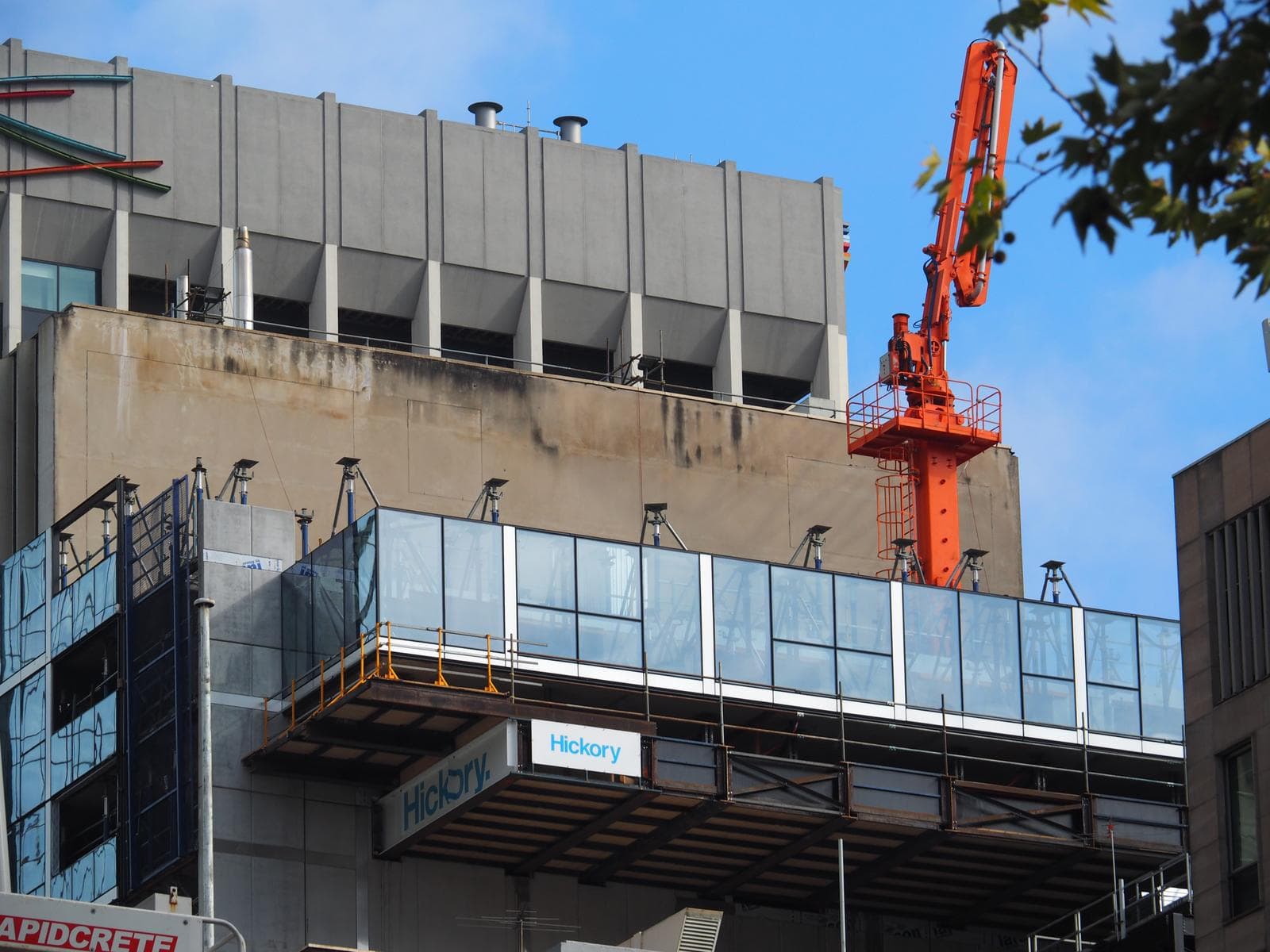 Above: In order to maximise floor space, airspace was purchased from a neighbouring site and a 4.5-metre cantilever was designed to expand the building's floor area (image courtesy of Redden).
With only one access point to the site, manoeuvring plant, materials and other equipment during construction was always going to be a struggle.
While the first 14 storeys of the tower are constructed from concrete, Hickory's prefabricated structural units form the remainder of the skyscraper's height.
The use of prefabricated techniques has had a remarkable impact on the quality, speed and level of safety on the Collins House scheme.
With the majority of components assembled off-site and craned into place within an hour of delivery, the project's programme has been reduced by 30%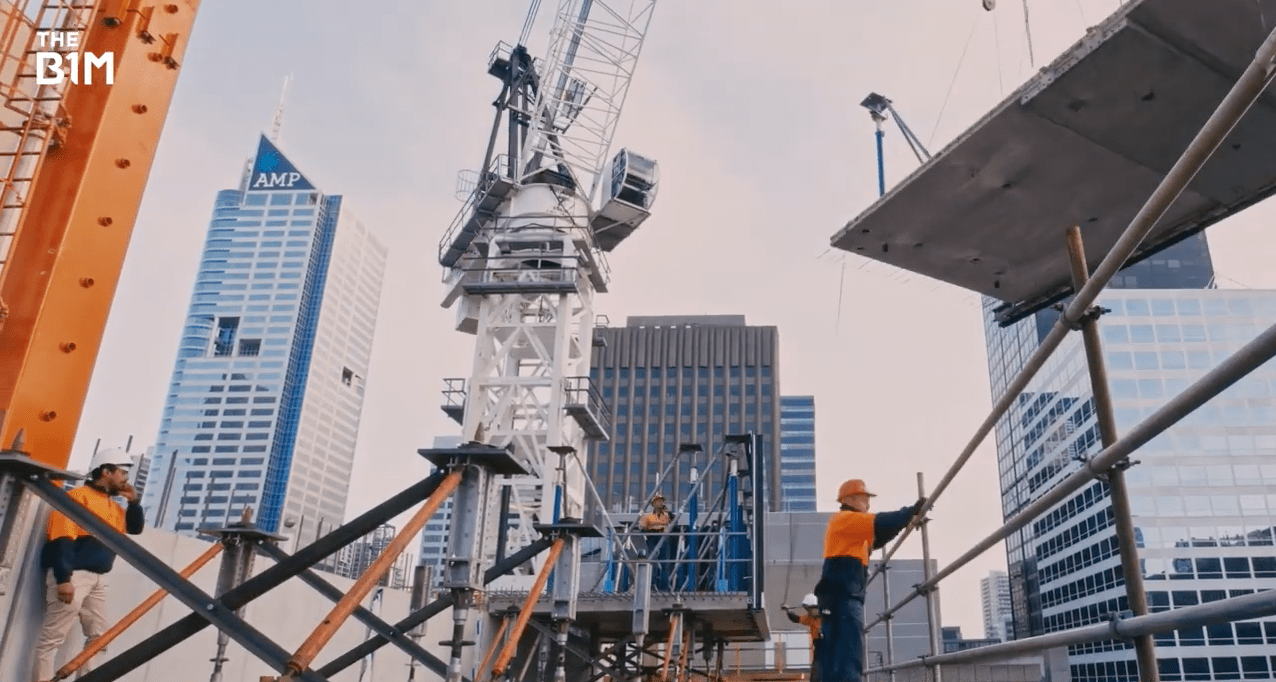 Above: The speed at which the prefabricated modules can be moved into place has significantly reduced the construction time (image courtesy of Hickory / Golden Age / Time and Place).
These prefabricated modules also reduce the need for external safety screens and barriers as the building is enclosed once the module is in place.
Being assembled offsite – under controlled factory conditions – allowed the modules to be inspected and any defects rectified prior to delivery, drastically improving the quality of the finished product and further reducing downtime on site.
Offering 271 luxury apartments, across its 60 floors as well as a host of residential amenities, Hickory's modular system provided a more flexible floor plate that can be adapted from floor-to-floor depending on the intended use of each space.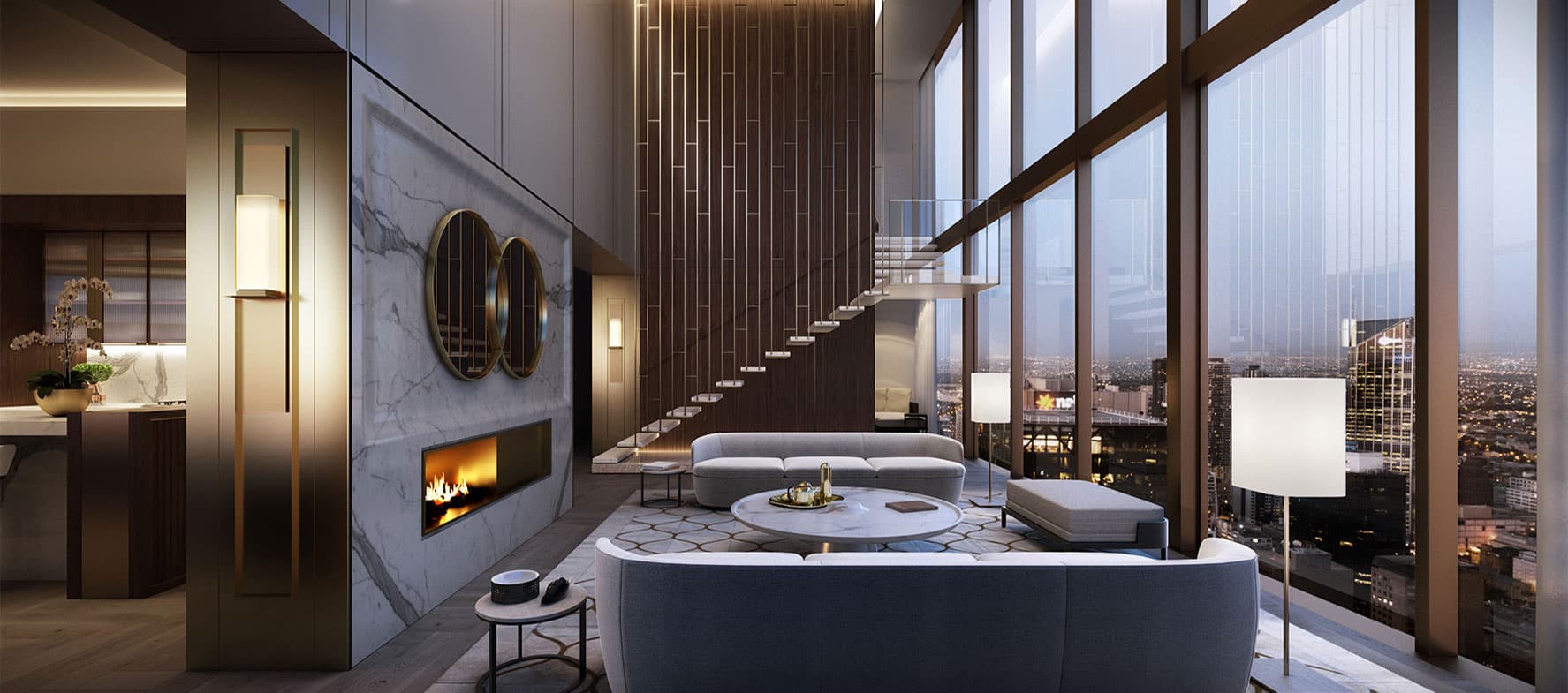 Above: The prefabricated nature of Collins House will have a significant impact on the flexibility of the building's layout ( image courtesy of Bates Smart and Golden Age Group).
Currently rising toward its 190-metre total height, Collins House will become one of the tallest prefabricated buildings in the world when it completes in 2019.
While Collins House is some way off the 426-metre height of New York's 432 Park Avenue, the slenderness ratio of the two structures is almost the same – at 1:16 and 1:15 respectively – making Collins House a powerful case study for the prefabrication of other super slender towers around the world.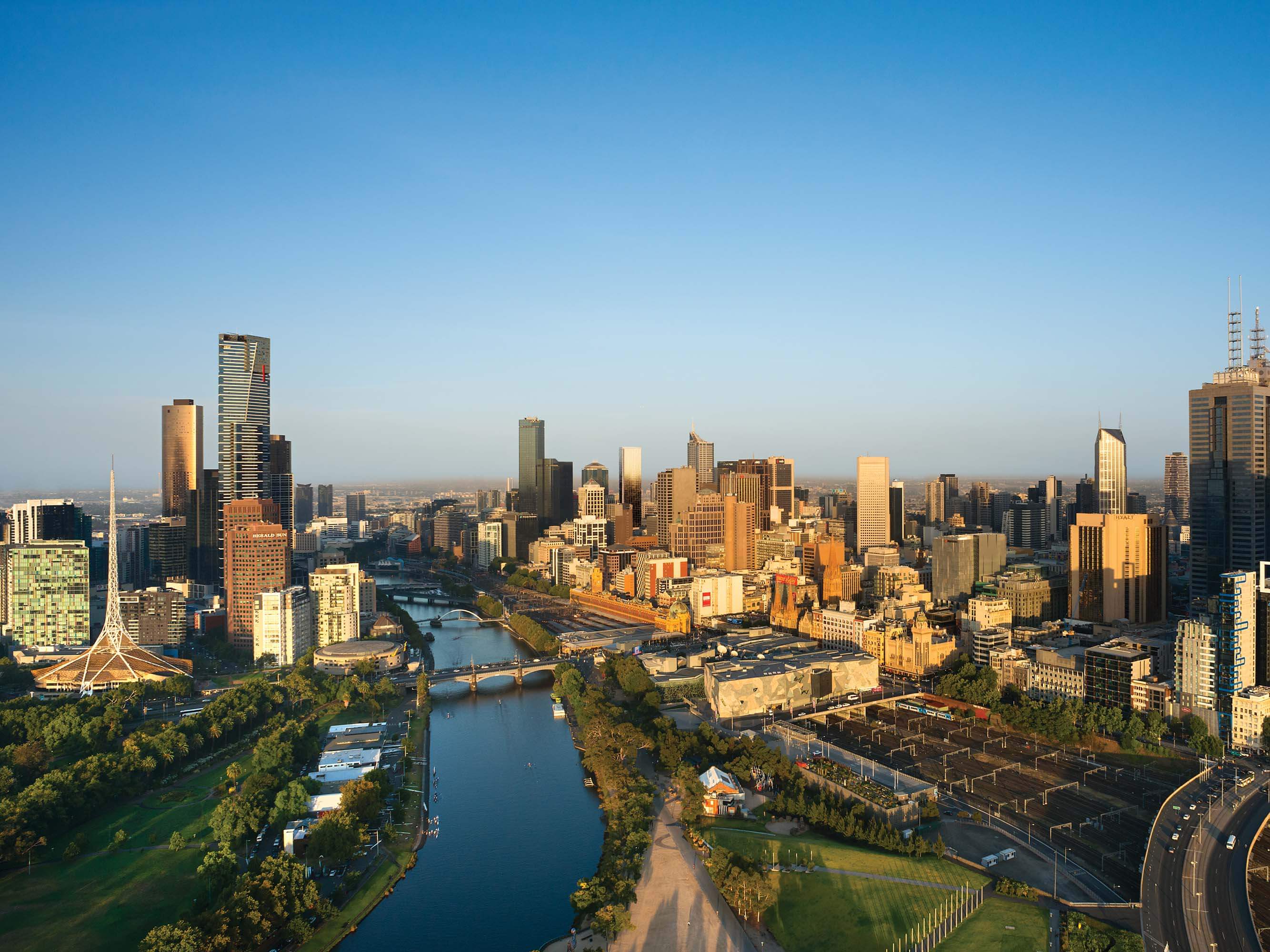 Above: While not reaching supertall status like the super-slender giants of New York City, Collins House is showcasing the power of prefabrication in skyscraper construction (image courtesy of Bates Smart and Golden Age Group).
With developers and contractors constantly searching for new ways to reduce building costs, keep standards high and speed-up construction, the success of pioneering methods like this – and on a building like Collins House – could set new benchmarks for the industry in the years ahead.
Footage and images courtesy of Dan Cortese, Hines, Tim Dickson, Andrew C Nelson, Hickory, Golden Age, Time & Place, Bates Smart, Google Earth, Mary Myla Andamon, Redden, UNStudio, Cox Architecture and Ryan Seychell.
We welcome you sharing our content to inspire others, but please be nice and play by our rules.
Comments
---