Cities
Champs-Élysées to Become an Urban Garden
Youtube Views

98,943

VIDEO VIEWS
PARIS Mayor Anne Hidalgo has given the green light for the city's iconic Champs-Élysées to be transformed into an urban garden.

Traffic congestion has seen the famous boulevard lose its grandeur over recent decades, and many local Parisians have abandoned it in favour of more pedestrian-friendly avenues.
Hidalgo hopes to bring the road back to its people by removing its outer lanes, widening pedestrian areas, planting more trees and greenery, and creating dedicated bicycle lanes.
Plans were first proposed in 2019 by local community leaders who begged the government to restore the road to its former glory.
The mayor then made it a cornerstone of her February 2020 reelection campaign.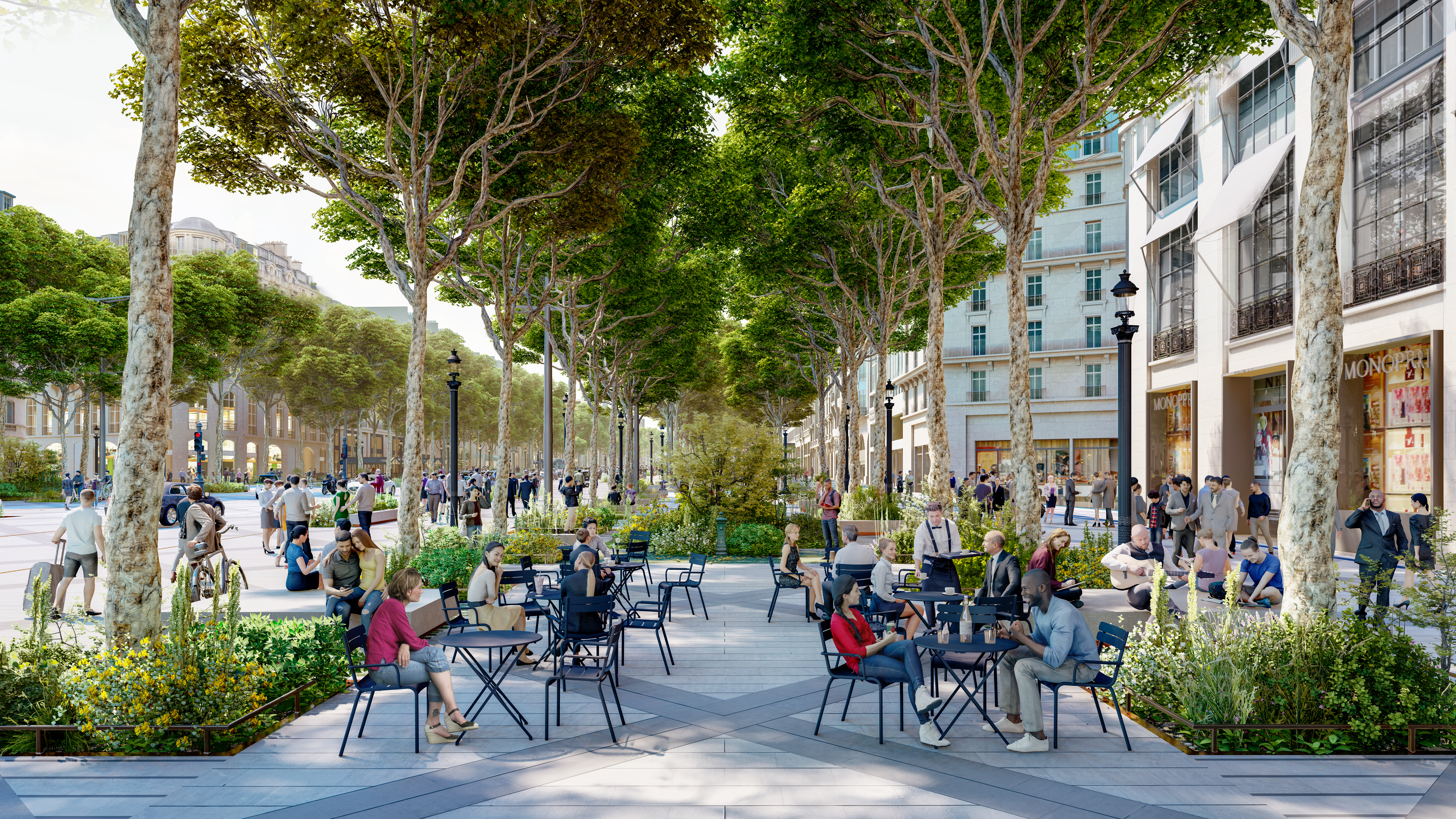 Above : The Champs-Élysées will be "returned to the French people" with wider pavements, bicycle lanes and more green spaces. Images courtesy of PCA Architecture.
The massive overhaul is part of a £225M project to regenerate Paris' streets and make the city greener and more people-friendly.
Throughout Paris, 140,000 on-street car parking bays will be removed and replaced with vegetable allotments, food composting, playgrounds, bicycle lock-ups and more trees.
Local residents have been consulted on what they'd prefer the spaces to be used for.
"We can no longer use 50% of the capital for cars when they represent only 13% of people's journeys," deputy mayor David Belliard told The Times.
"We have to plant greenery in the city to adapt to the acceleration of climate change. We want to make the air more breathable and give public space to Parisians who often live in cramped flats."


While plans for the rejuvenation of Paris pre-date COVID-19, the pandemic has expedited the entire process.
City-wide lockdowns have shifted the perspective of many Parisians - and others around the world.
There is a newfound emphasis on public transport, green spaces, parks and community.
Hidalgo has become a major proponent of the "fifteen minute city", where all residents will be able to reach necessary amenities such as shops, parks and offices within a fifteen minute walk or bike ride.

This concept is starting to become popularised across the world with many cities using their lockdowns to implement car-free infrastructure.

Copenhagen continued with plans to become completely carbon-neutral by 2025 and have 75 percent of all journeys be done by foot, bicycle or public transport.

Like Paris, the city has started transforming many of its parking bays into areas for plants and trees.
During the April lockdown, London also shifted space on its roads over to bicycles, expanding its network of cycling lanes.
As cities begin to rebuild from the pandemic, Paris offers a glimpse of what a post-COVID city could look like.
Header Image courtesy of PCA Architecture.
Comments
---