EUROPE
One Blackfriars Rises in London
Youtube Views

0

VIDEO VIEWS
LONDON is about to get an impressive new skyscraper.
The 52-storey "One Blackfriars" tower is set to complete in 2018. Located on the south bank of the Thames between Tate Modern and the Royal Festival Hall, the 170 metre (558-foot) tower will include 274 luxury apartments offering expansive views over the city.
Construction progress of the striking new structure (as of August 2017), developed by Berkeley Group, was captured in this video.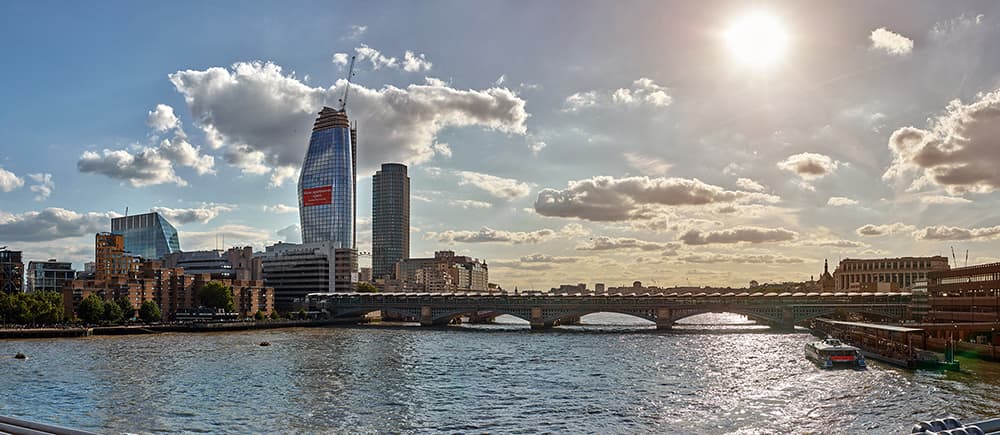 Above: One Blackfriars shortly before its topping out in July 2017 (image courtesy of SimpsonHaugh and THP Photo Imagining).
Once complete, the SimpsonHaugh-designed high-rise will feature a public viewing platform on the 32nd floor.
The first proposal for redevelopment of this central site - originally occupied by UK food retailer Sainsbury's corporate headquarters - was for an even taller 225 metre (783-foot) tower comprising a five star hotel and luxury apartments.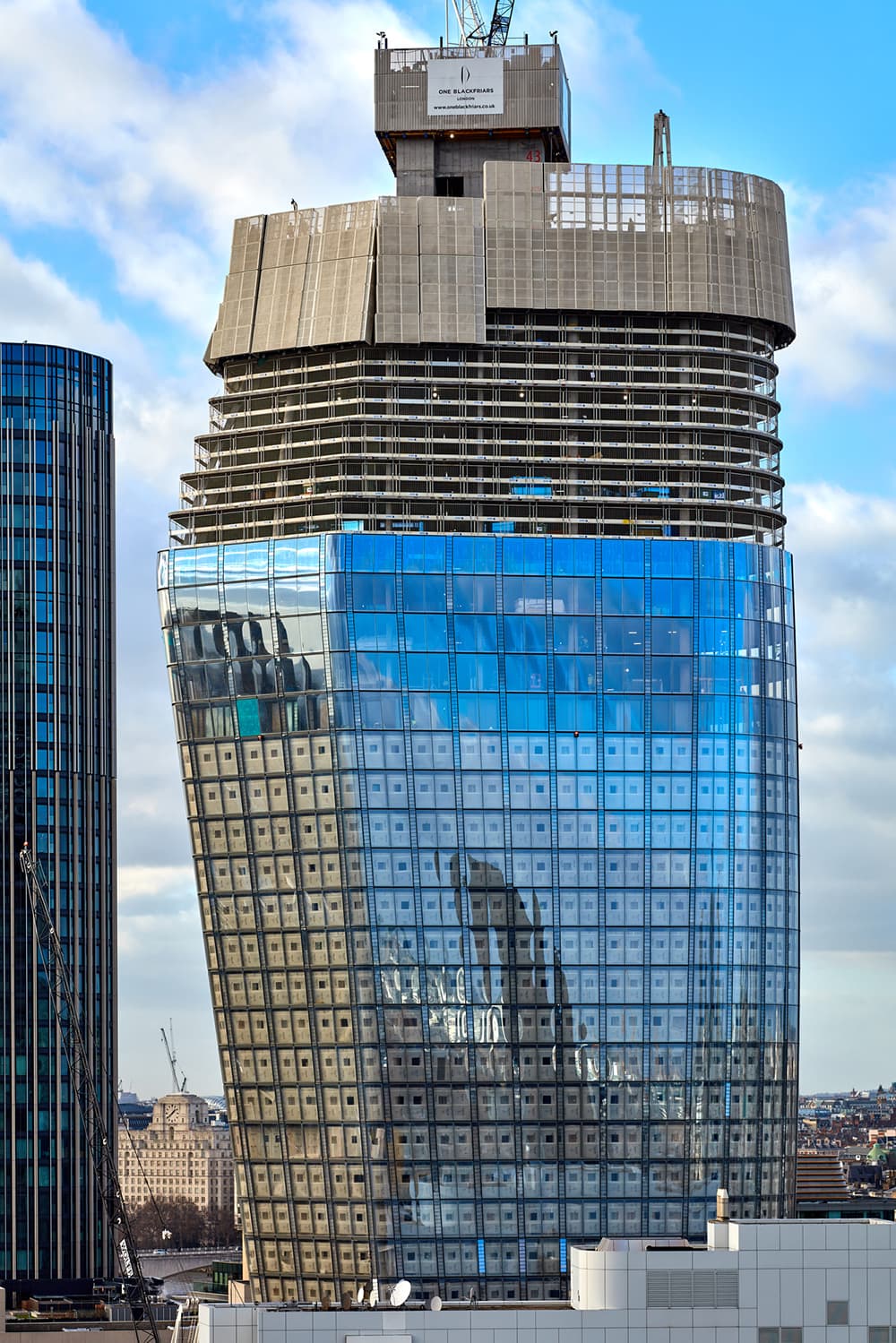 Above: The most distinct feature of the project is its curving facade. Most of the glass panes were bent into shape during installation ( image courtesy of SimpsonHaugh and THP Photo Imagining).
However, the design was later reworked to preserve a view of St Paul's Cathedral from St James's Park and its final form was approved in 2012. The tower is now surrounded by a public plaza and a cluster of podium buildings which comprise a 161-bedroom hotel, restaurants, shops and other publicly accessible facilities.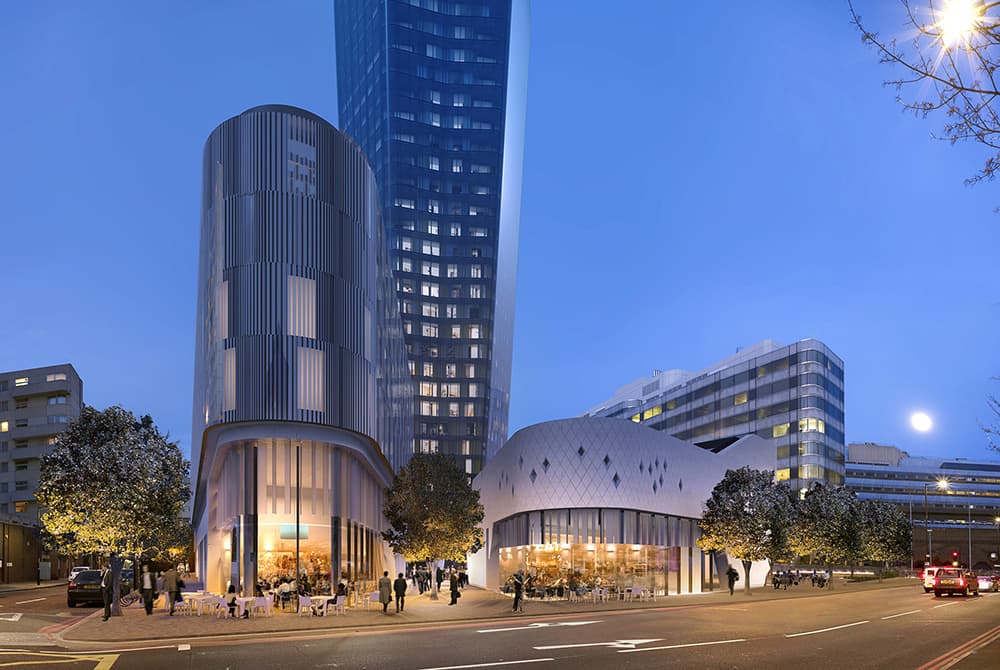 Above: The podium includes a 151-bedroom hotel, restaurants, shops and other services (image courtesy of SimpsonHaugh and Hayes Davidson).
The resident-only amenities in the tower's basement include a spa, gym, cinema and even a golf simulator.
The residences themselves will come in a number of variants; ranging from from one-bed studios, apartments with up to five bedrooms and even a 17,000 square-foot penthouse occupying the uppermost five floors.
Above: A computer generated image showing the view from the living space of one of the larger apartments (image courtesy of Berkeley Group).
The re-designed tower has an eye-catching complex curved glass facade made up of 5,476 glazed panels. These are set in an impressive fanning grid formation, embracing the form of the tower.
The building's shape was inspired by a curving, mid-century modern Finnish vase by artist Timo Sarpaneva. Despite appearances, 70% of the glass panels are actually straight, with just 98 double-curved.
Every floor plate has a unique shape.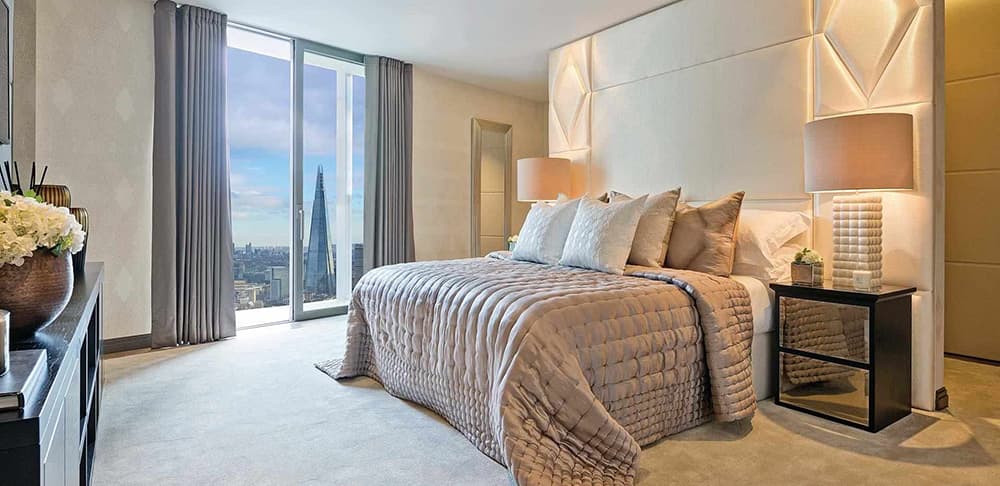 Above: An artist's impression of one of the bedrooms, showing how the double facade will enable the views to the outside (image courtesy of Berkeley Group).
Most of the curved panels were formed into shape as they were installed, giving the building its distinct curved outer form and providing wind protection to the enclosed "winter gardens" and balconies. Specially designed glass louvres can provide natural ventilation when required, but are otherwise designed to be watertight.
One Blackfriars' glass envelope is watertight to a wind pressure of 2000pa; four times the performance of domestic glazing.
Above: A computer generated image of the finished tower showing it's sleek exterior (image courtesy of SimpsonHaugh).
The building's complex form was initially 3D modelled in Bentley AECOsim Building Designer and Generative Components. Once the architects started collaborating with structural engineer Arup, they switched to Grasshopper; Rhino 3D's well-known plugin often used in parametric modelling.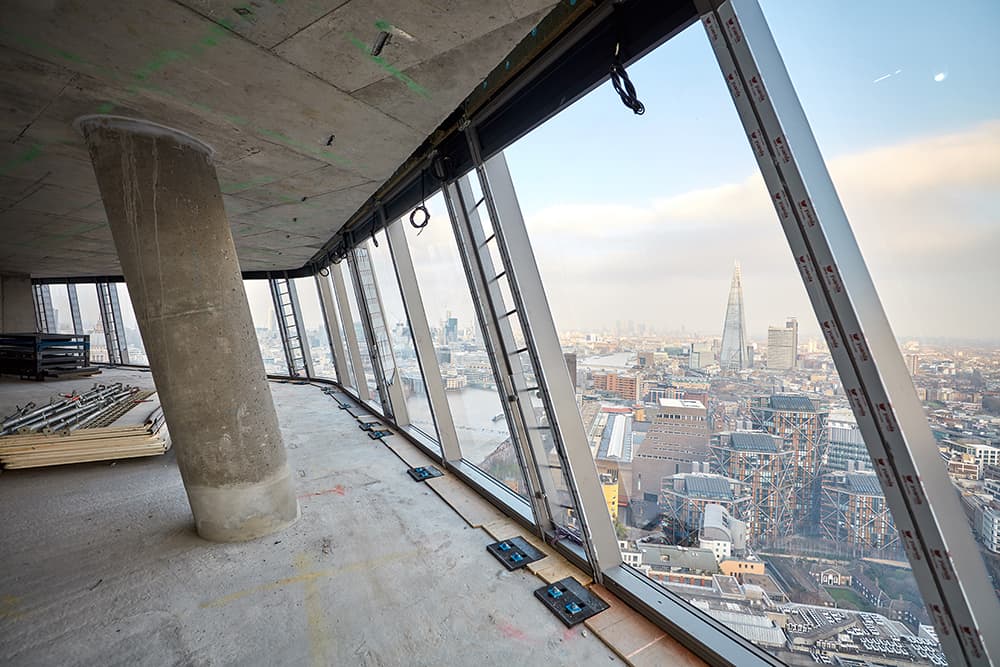 Above: An unfinished floor of the building showing the outer facade with glass louvres before the installation of the internal facade (image courtesy of SimpsonHaugh and Tony Hussey).
As the design process developed, the digital 3D model was federated with those of other specialist designers to identify clashes and help with overall design co-ordination.
Above: A drawing showing the different panel types used for the facade (image courtesy of SimpsonHaugh).
The graphical 3D models also found use with the marketing and sales team, enabling viewing angles for each of the apartments to be calculated and mocked-up for prospective buyers.

Above: A digital model showing the building's warped surfaces (image courtesy of SimpsonHaugh).
The project broke ground in late 2013 with the excavation of an 18 metre (60-foot) basement, which completed in 2015. The raft slab required over 3,200 cubic metres of concrete and was poured during a single, 24-hour period.
The tower's structure is formed by a concrete core, floor slabs and columns; all together some 57,000 tonnes of concrete was used during construction.
The top of the tower uses a structural steel cap in order to extend the elegant form of the building to its apex. This was test-assembled off-site before being transported to London and craned into position.
Don't forget to take a look at one of SimpsonHaugh's other significant London projects - the "place-making" Circus West Village at Battersea Power Station featured in one of The B1M's construction documentaries earlier this year.
Comments
---