BIM CASE STUDIES
Expanding Abu Dhabi International Airport with BIM
Youtube Views

285,251

VIDEO VIEWS
ABU DHABI's International Airport is increasing its capacity with a new terminal built between two existing runways. Here we take a look at how building information modelling (BIM) helped deliver the new $3BN facility.
RELATED: DELIVERING NEW ROYAL ADELAIDE HOSPITAL WITH BIM
The scale of the aptly named "Midfield Terminal" is truly incredible. The 700,000 square meter building will accommodate 65 aircraft and handle 8,500 passengers an hour, through 136 security screening lanes. Some 22KM of conveyor belts will move 19,000 bags an hour through the system.
The vast indoor space will house passenger and cargo facilities, duty-free shops and a wide range of restaurants.
DESIGN DEVELOPMENT
Midfield Terminal was designed Kohn Pedersen Fox Associates together with Arup, NACO and BNP Associates. Its X-shaped form consists of a six-storey central hub with four piers that provide access to the aircraft gates. The design is intended to reduce travel distances for passengers whilst positioning shared facilities for check-in, security and baggage reclaim in a central location.
"22KM of conveyor belts will move 19,000 bags an hour through the system"
The new terminal's form has been recognised by the International Air Transport Association (IATA). Upon completion they are set to award it an A-rating for space allocation within the passenger processing areas.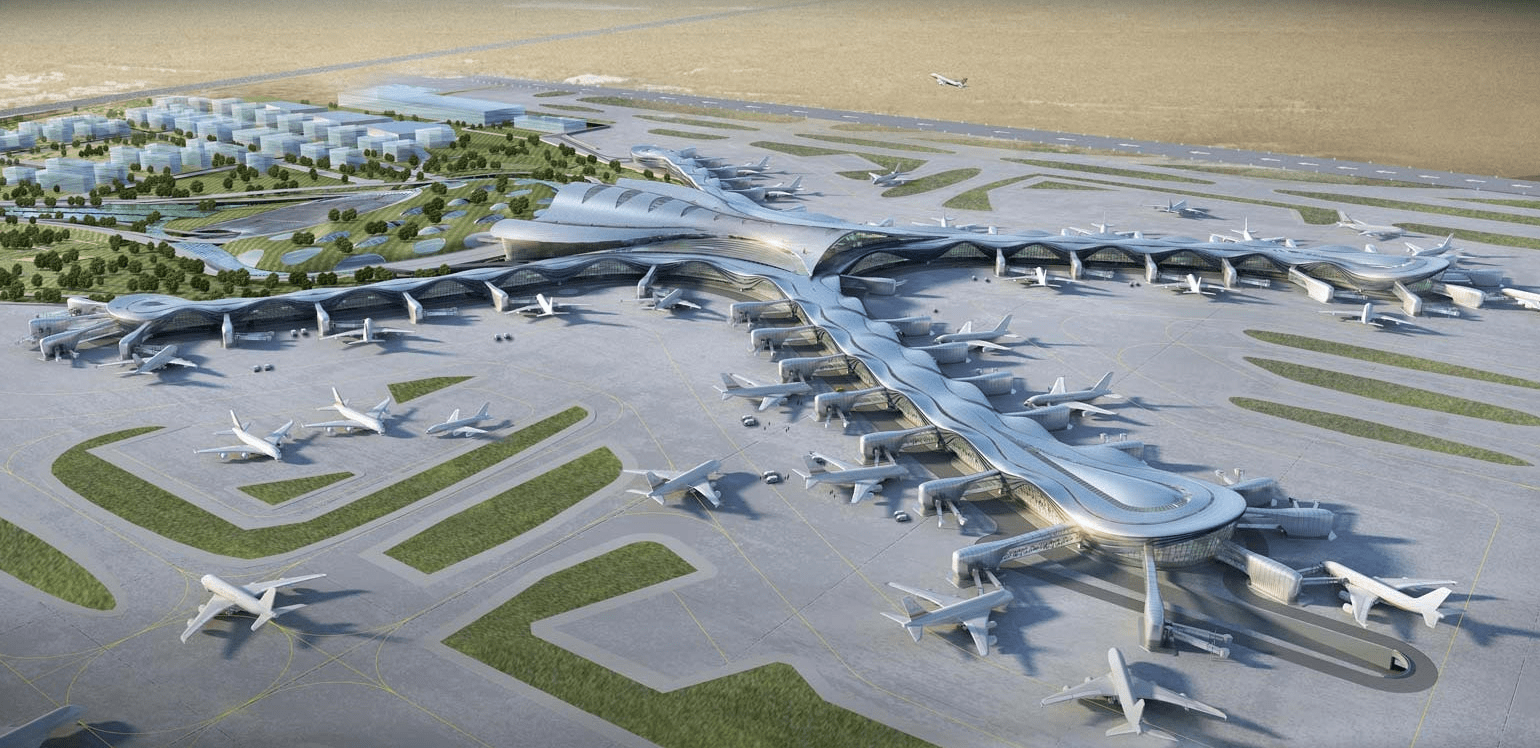 Above and below: Midfield Terminal's X-shaped form seeks to reduce travel distances for passengers (images courtesy of Abu Dhabi Airports Company).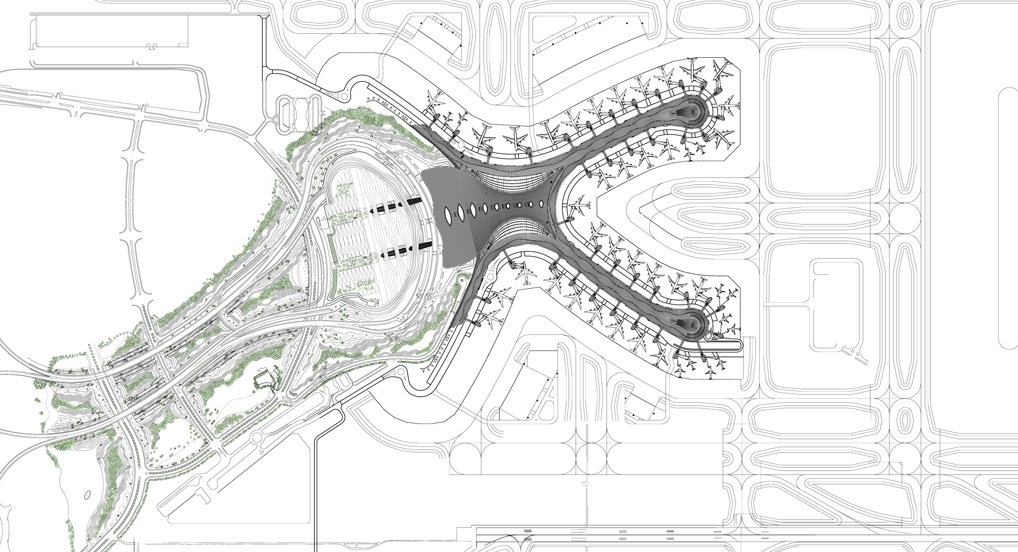 Midfield Terminal is being delivered as a Joint Venture between TAV, Consolidated Contractors Company and Arabtec (known as the TCA JV). They began to develop the project in a BIM environment at tender stage, some eight months before contract award. This enabled them to understand proposals fully and to demonstrate that understanding with a high level of confidence to their client, the Abu Dhabi Airports Company (ADAC). The team secured the project above competition from five other joint ventures that included Samsung, Hyundai Engineering and Construction and Bechtel.

Once the project team were assembled, the terminal's scale and complexity demanded that information be exchanged collaboratively in a shared online space. That Common Data Environment (CDE) gave parties access to well-structured information about the project.
Having a central source of approved data (a "single point of truth for information") proved a powerful platform for other project team members to undertake their work from – such as material take-offs, programing and the development of fabrication drawings. The project team estimate that BIM workflows saved them 119 days and USD $65,000 in creating fabrication drawings for just one zone of blockwork*. They also cite enhanced collaboration, reducing the cycle of critical RFIs down from 28 days to just two-seven days*.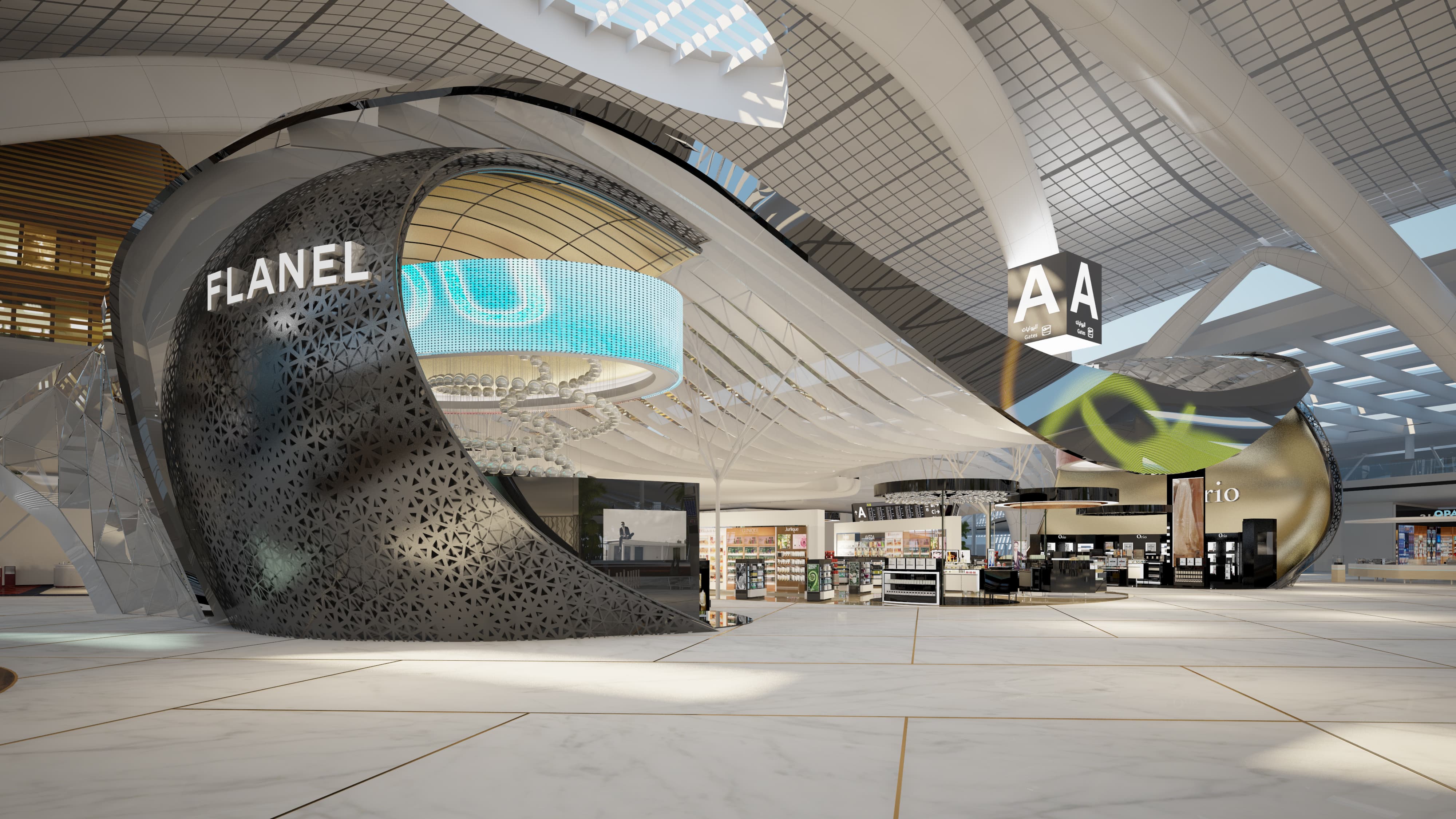 Above: The new Midfield Terminal will provide duty-free shops and restaurants across some 700,000 square meters of indoor space (image courtesy of Abu Dhabi Airports Company).
Working in a BIM environment enabled proposals to be tested virtually first before they were constructed for real out on site. The design team claim to have saved over USD $1M and 51,000 working hours purely in resolving clashes between the main façade and the various trades it interfaces with*.

DELIVERY
Construction of the Midfield Terminal will last four years, with the new facility becoming operational in 2017. The building process has benefitted greatly from 4D planning, using data within the information models developed by the project team. Accurate forecasts of the time needed to complete tasks could be developed, leading to better co-ordination of contractors and their resources.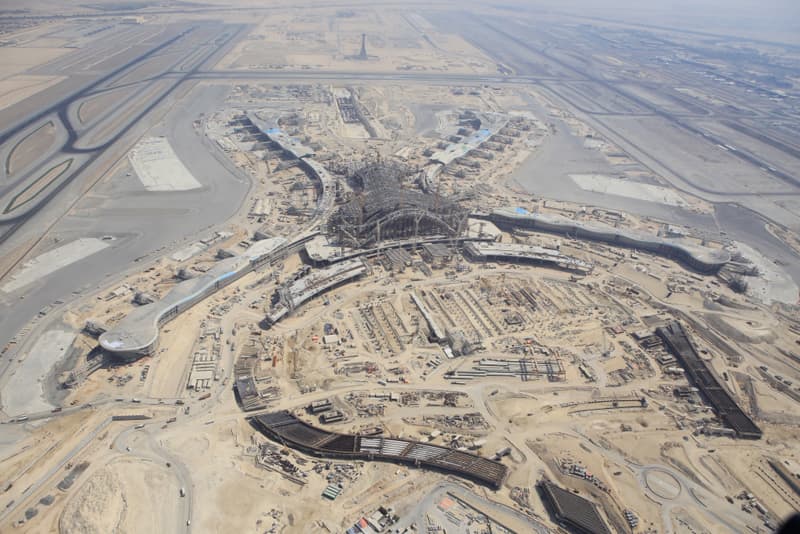 Above and below: Aerial views of the vast construction site between two live runways at Abu Dhabi Airport. Daytime temperatures can exceed 40oc in summer months (images courtesy of Abu Dhabi Airports Company).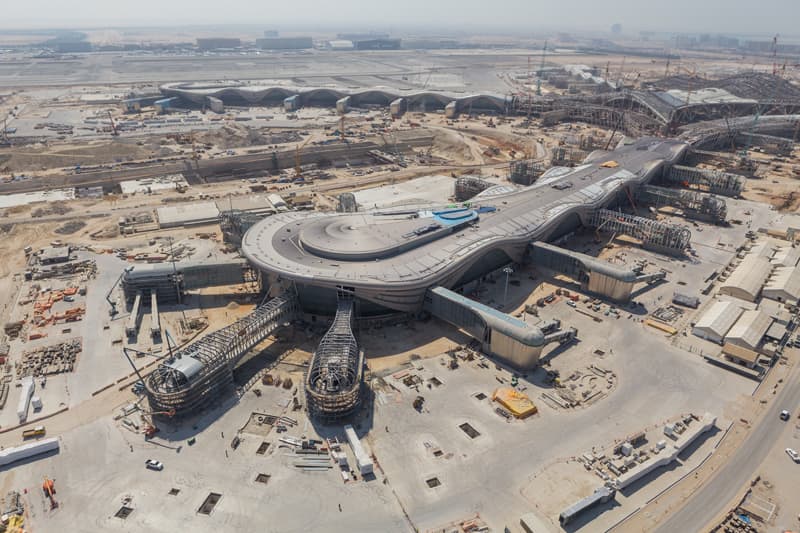 In one instance, TCA JV used 4D BIM techniques to test logistics proposals that suggested they needed to hire an additional five tower cranes for a period of 12 months. However, when they tested this theory in a 4D environment, they discovered that only 20% of these cranes' capacity would actually be used over the year. Such visibility led them to progress with mobile and existing cranes instead, saving considerable cost.
RELATED: WHAT IS 4D BIM?
The time taken to review and approve construction programmes was also reduced, as teams could simulate activities and share their feasibility in real-time in their meetings.
OPENING TO PASSENGERS
Once construction is complete, the building will enter its "Operational Readiness Assessment" phase; a nine month period thoroughly testing all aspects of the terminal to ensure operational and efficiency readiness from the first day of operation.
Data from the delivery phase information model will be used to support facilities management (FM) throughout the building's life.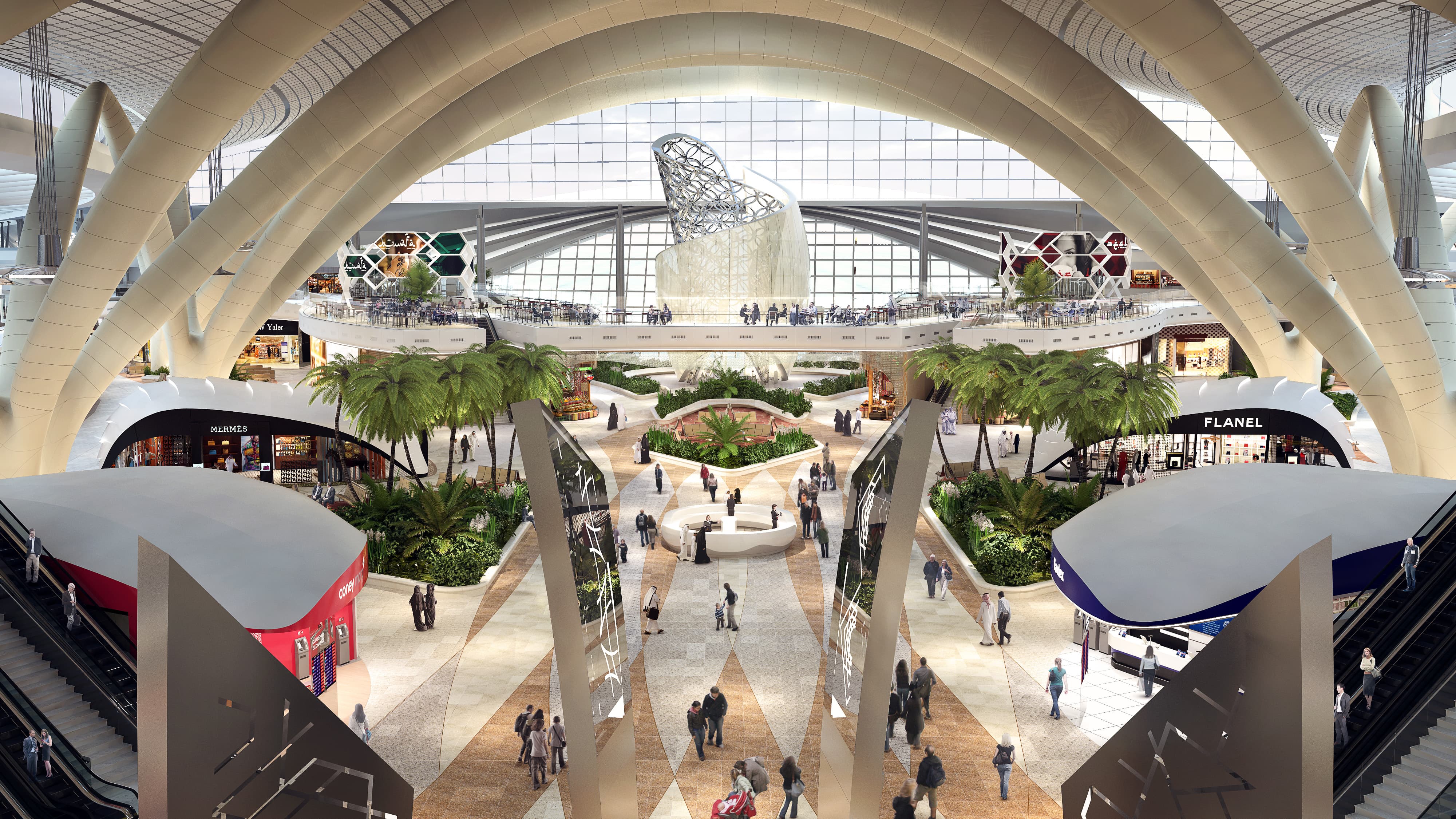 Above: The proposed interior of the new Midfield Terminal at Abu Dhabi International Airport (image courtesy of Abu Dhabi Airports Company).
Operation and use have been a key focus from the outset and the project employs a number of sustainable design features that reduce both its running costs and its impact on the environment. These measures have earned it a prestigious Estidama 3 Pearl Design Rating.
As the largest single building in the Emirate of Abu Dhabi, Midfield Terminal is a significant BIM case study for the Middle East and one that many others can certainly learn from.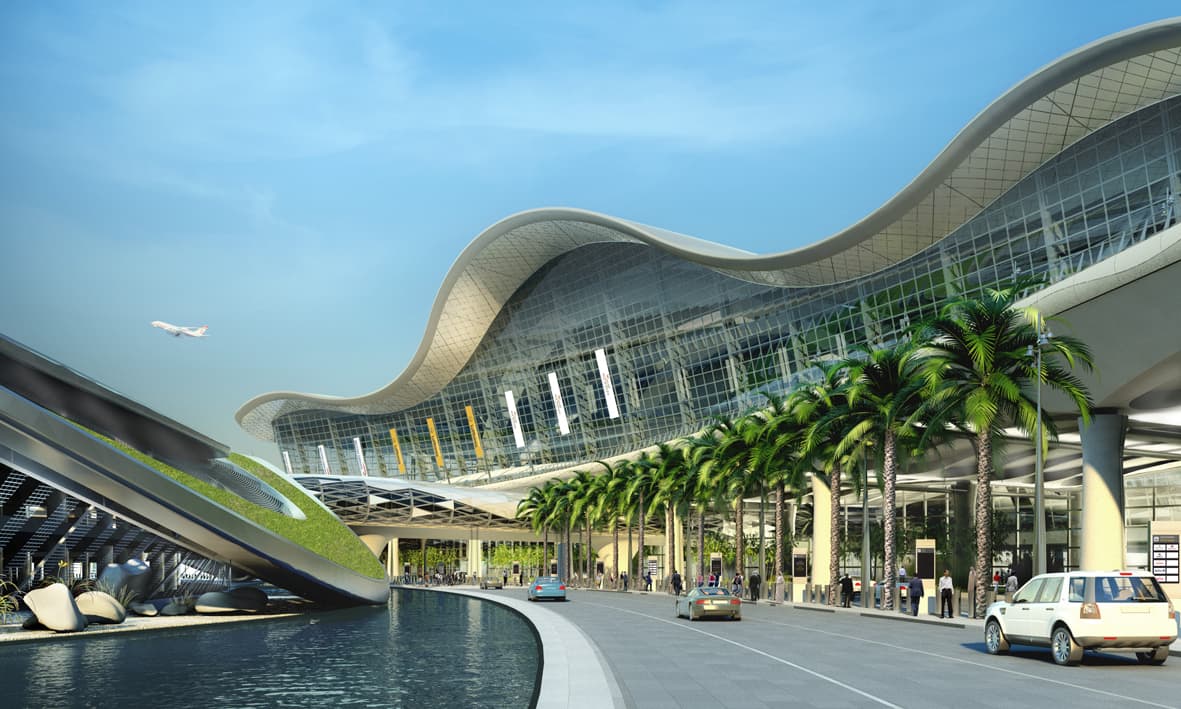 Above: The Midfield Terminal is set to open in 2017 (image courtesy of Abu Dhabi Airports Company).
You can learn more about the Midfield Terminal building at Abu Dhabi Airport on the project's website.
RELATED: MANAGING DENVER INTERNATIONAL AIRPORT WITH BIM
This video was kindly powered by Viewpoint.
Images courtesy Abu Dhabi Airports Company (ADAC). Data and statistics sourced from ADAC and Bentley Systems. Specific statistics marked (*) sourced from Bentley Systems.
We welcome you sharing our content to inspire others, but please be nice and play by our rules.
Comments
---