Cities
Building an "Exoskeleton" Skyscraper
Youtube Views

129,564

VIDEO VIEWS
MIAMI'S latest skyscraper looks like no other.
Designed by Zaha Hadid Architects, the distinctive 62-storey residential tower is situated on Biscayne Boulevard and features the architect's signature curved form. But these sinuous shapes are far from aesthetic flourishes, they are actually the building's structure.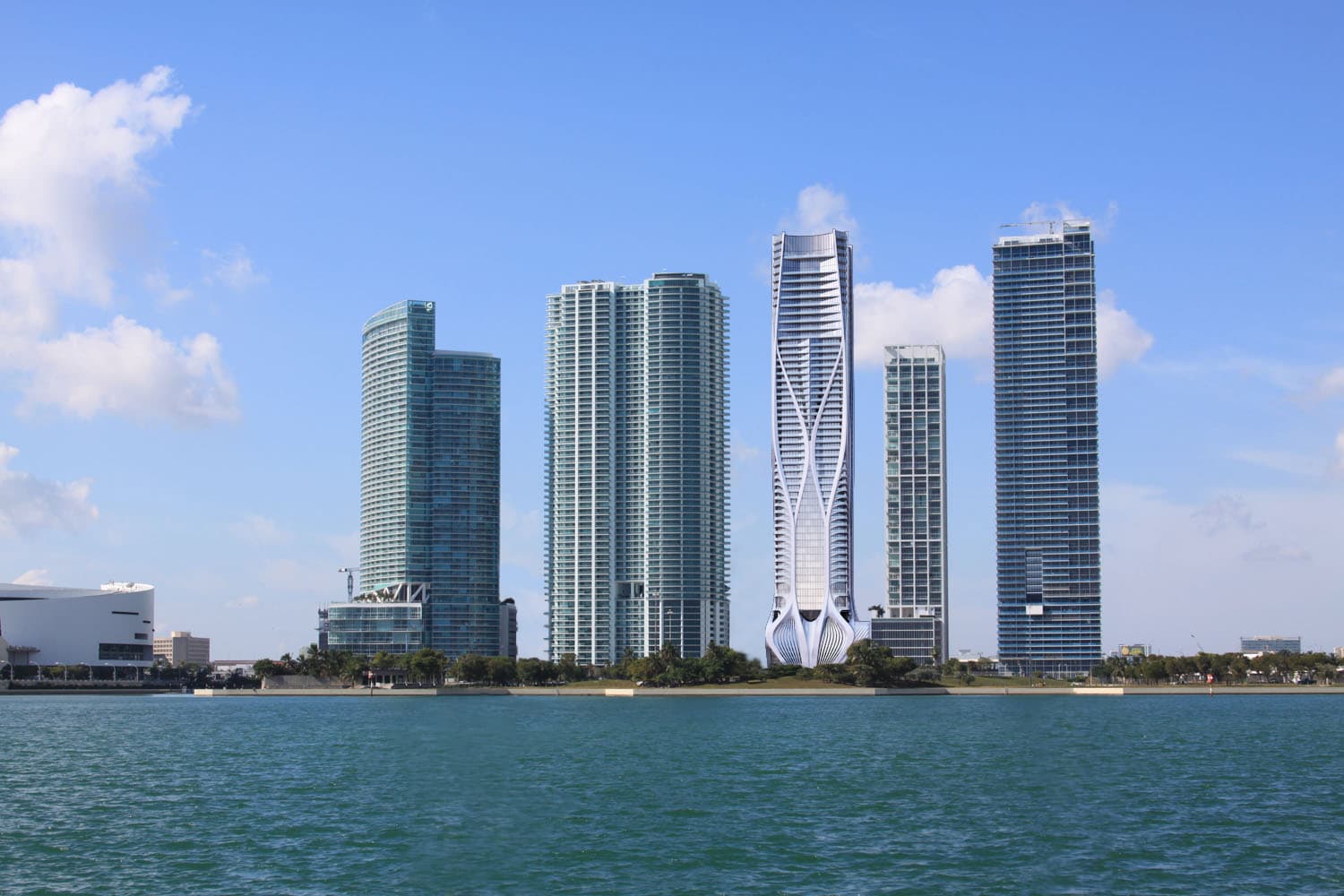 Above: One Thousand Museum in Miami was designed with an exoskeleton (image courtesy of Zaha Hadid Architects).
Named "One Thousand Museum" the skyscraper is described as an "ultra-luxury" condo development.
The 700-foot high tower is the epitome of luxury – containing just 83 units and with the most expensive apartments on the market at USD $50M. The building offers stunning views across Miami and boasts a two-storey aquatic centre, sky lounge, multimedia theatre and the city's first private helicopter pad.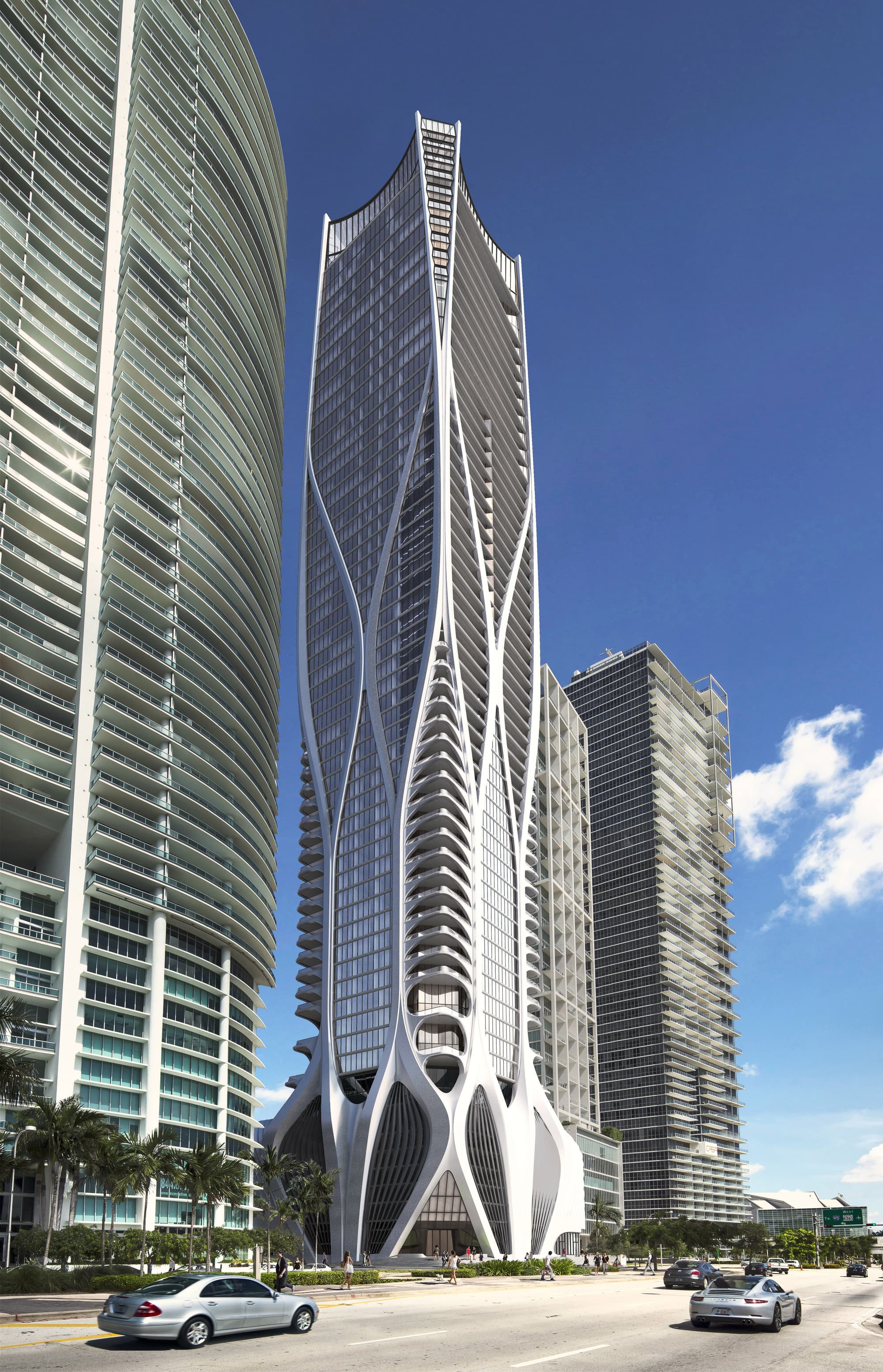 Above: The project's most impressive feature is arguably its frame (image courtesy of Zaha Hadid Architects).
WHY HAVE AN EXOSKELETON?
Unusually, much of the structural supports for One Thousand Museum lie outside of the building's skin – rather like the skeleton of an insect.
The exoskeleton concept was conceived to maximise the amount of let-able open floor space within the building. Although several contractors proposed a conventional structure within the curving exterior concrete forms, Zaha Hadid Architects was determined that these elements be more than just a design flourish.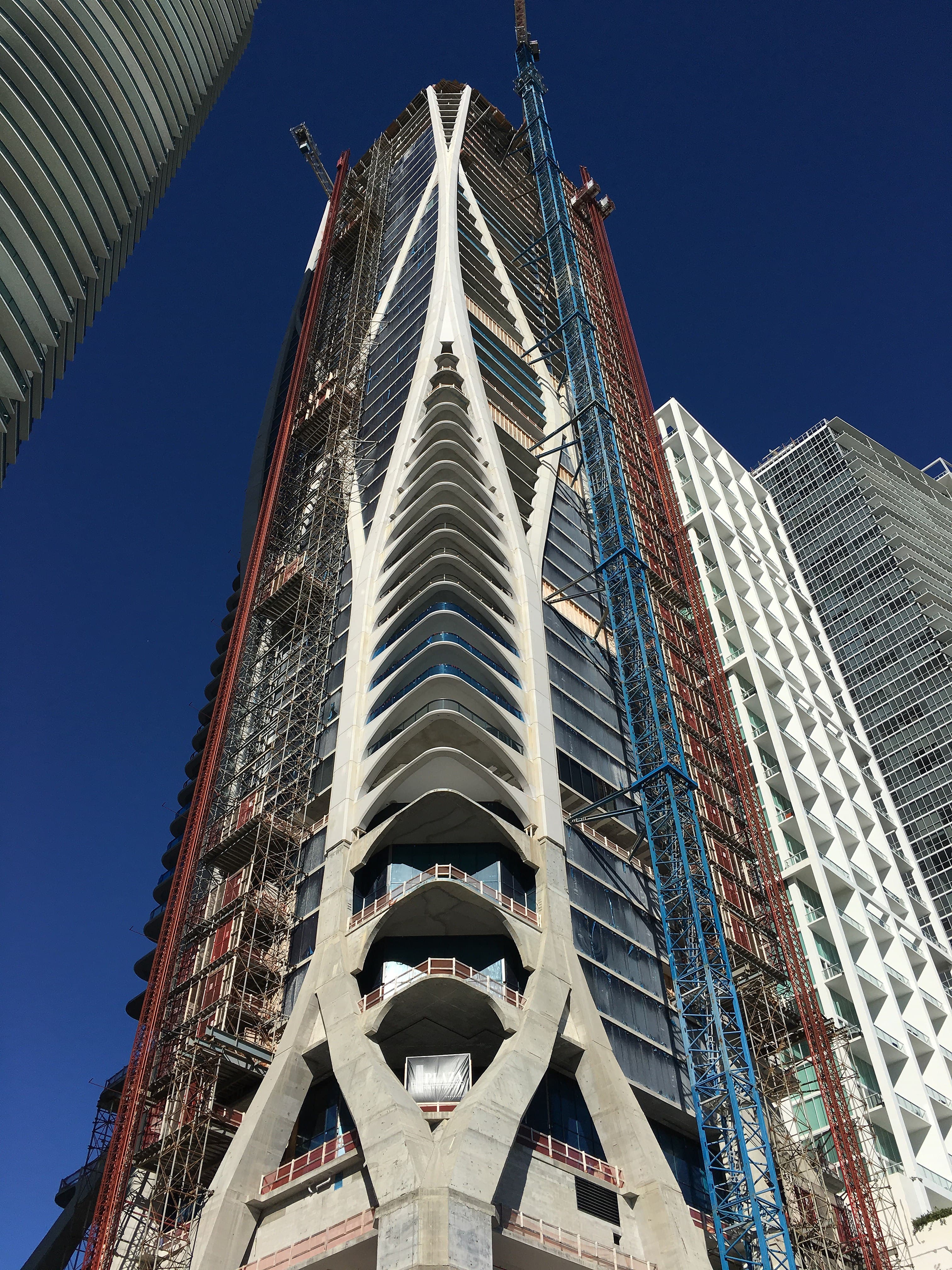 Above: The stylish features on the exterior of One Thousand Museum are in fact the skyscraper's superstructure (image courtesy of Phillip Pessar).
The result is an exoskeleton that is a key component of the skyscraper's structure, taking both gravitational and lateral loads. Its position on the building's exterior also provides a high degree of overall rigidity.
Along with eliminating the need for column lines between the centre of the floor plate and the perimeter walls, the exoskeleton also allowed the thickness of the building's central service core to be reduced.
While traditional proposals for achieving the structure included a three-foot-thick concrete shear-wall core, the concrete exoskeleton bracing, along with a post-tensioned floor slab system, meant the core wall thickness could be reduced by half.
BUILDING THE EXOSKELETON
Exoskeletons are far from typical in skyscraper construction – so building this structure presented engineering, construction and logistical challenges.
Although the team initially considered using conventional cast-in-situ reinforced concrete for the entire exoskeleton, this proved to be too expensive.
Instead a permanent formwork system for the exoskeleton was designed using Glass-Fibre Reinforced Concrete (or GFRC); a type of concrete containing extremely strong strings of glass.
GFRC was first used by Zaha Hadid and her project team to form the cladding at the Heydar Aliyev Center in Azerbaijan.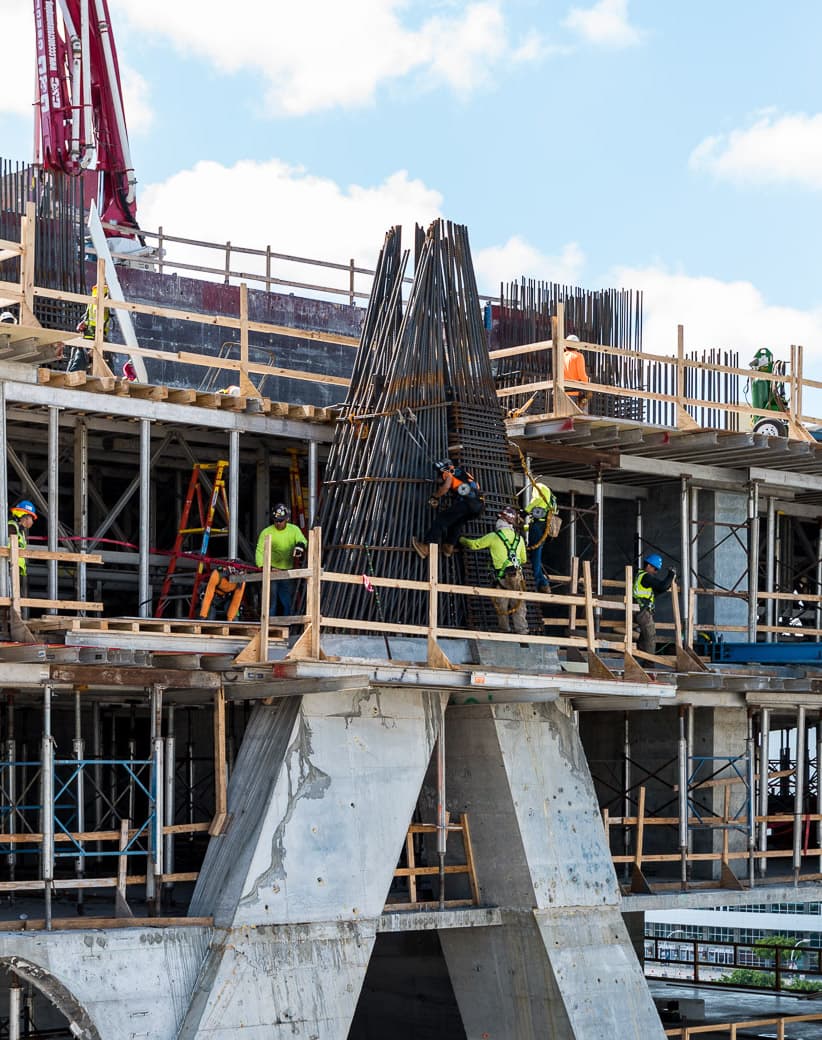 Above: The formwork sections for One Thousand Museum (image courtesy of Field Condition).
For One Thousand Museum, some 4,800 pieces of GFRC were fabricated in Dubai before being shipped to Miami. These sections of formwork were then assembled onsite before rebar was placed inside them. Concrete was then poured within the formwork to complete the exoskeleton.
Being permanent formwork, the GFRC moulds remain on the building's structure.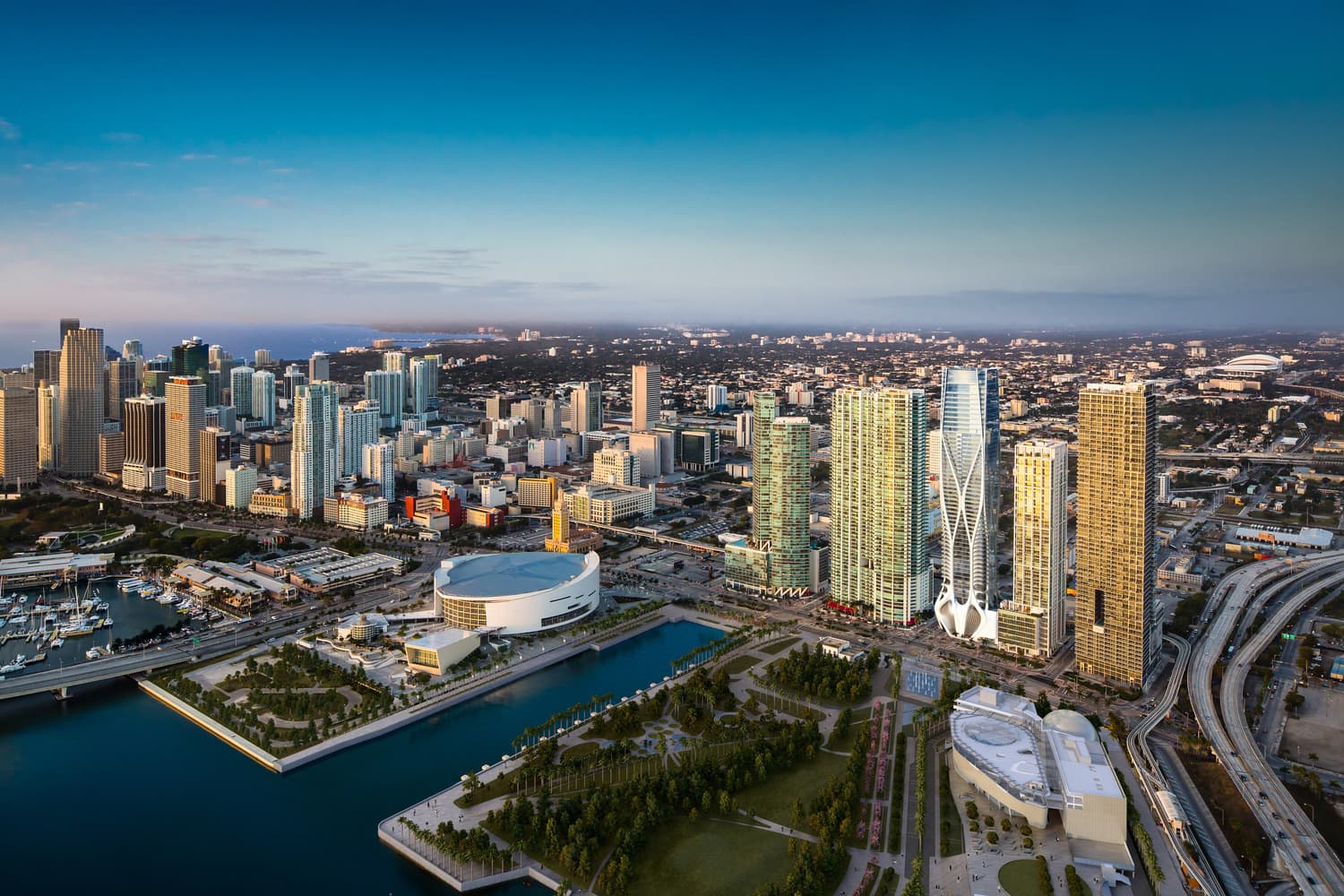 Above: Miami now has a unique Zaha Hadid designed tower gracing its skyline (image courtesy of Zaha Hadid Architects).
Now topped-out, this curved exoskeleton has enabled Miami's most impressive skyscraper to become a reality whilst giving it that distinctive Zaha Hadid aesthetic.
Don't miss our other videos on Zaha Hadid Architects' work!
Images courtesy of Zaha Hadid Architects, Field Condition, Iwan Baan and Phillip Pessar

We welcome you sharing our content to inspire others, but please be nice and play by our rules.
Comments
---