Infrastructure
The $8BN Plan to Save New York's Most Hated Airport
Youtube Views

1,442,136

VIDEO VIEWS
Video hosted by Fred Mills and powered by Bluebeam. This video and article contain paid promotion for Bluebeam.
LaGuardia. It's a name that will fill even the most seasoned traveller with fear.
The notorious airport is synonymous with outrageous delays, terrible crowds and barely-edible food. It's a cultural punchline, the subject of Saturday Night Live sketches and snide comments from both average citizens and the current president.
It's a well-earned reputation, and one which will take a lot of time and effort to shake off. But the next time the legion of LaGuardia-haters fly into or out of the US's most-derided airport, they've got a surprise in store, because it's gotten a serious makeover.
While it's still unclear whether the $8BN investment will 'fix' LaGuardia — there's only so much one can do in the light of the various problems with the site and configuration — the results so far are pretty impressive.
Terminal B
Phase One of the LaGuardia project was the reconstruction of Terminal B, completed in early 2022. Originally constructed in 1964, the terminal rapidly fell behind where it needed to be as aircraft and crowds grew ever-larger.
The original terminal had a large headhouse with four fingers emanating from it where planes would park. It was innovative for its day but the design created dead ends where no planes could park, meaning some passengers had to walk further. Worse, planes had to be towed away from the headhouse before they started taxiing, for fears that the thrust from their engines might cause damage to the buildings.
The new terminal fixes those issues by switching to a satellite configuration. There are now two satellite concourses joined to the headhouse by sky bridges and planes can pass underneath.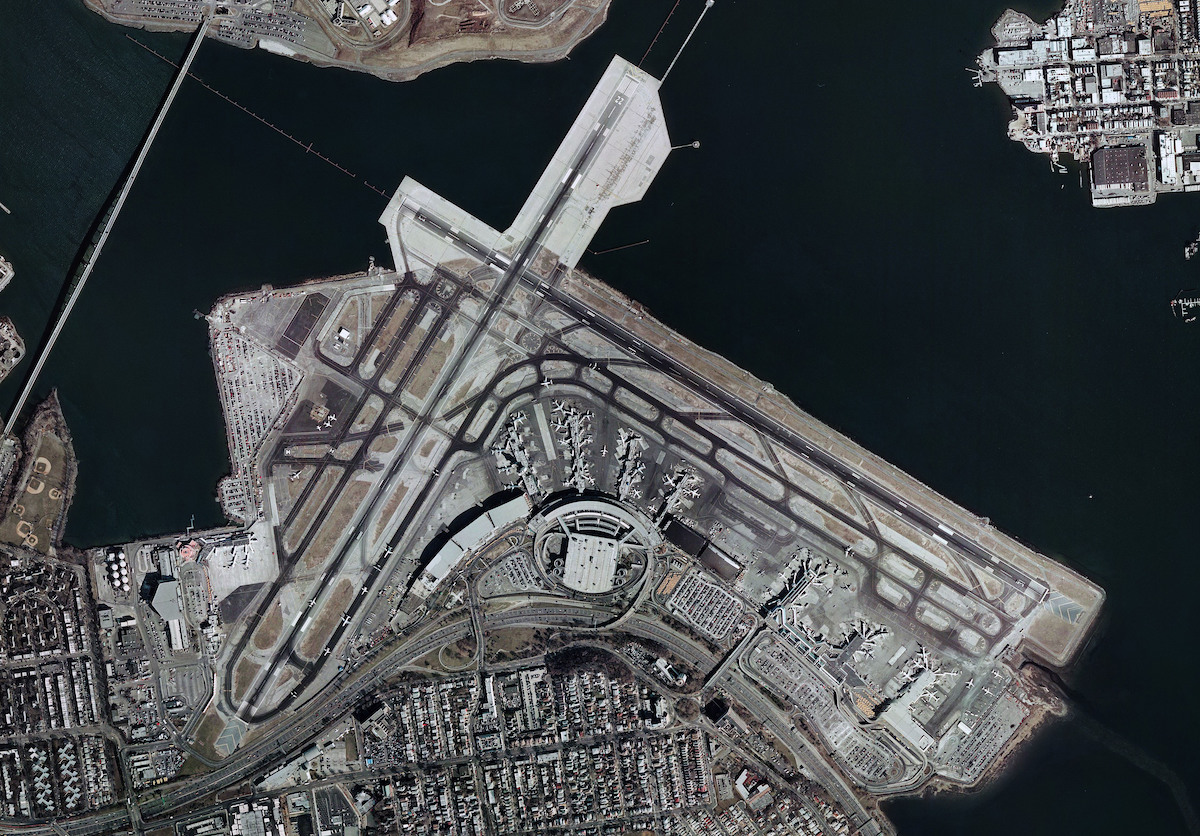 Above: LaGuardia's old Terminal B, aerial view. Image under licence from Alamy. Below: The new Terminal B. Image courtesy of LaGuardia Gateway Partners.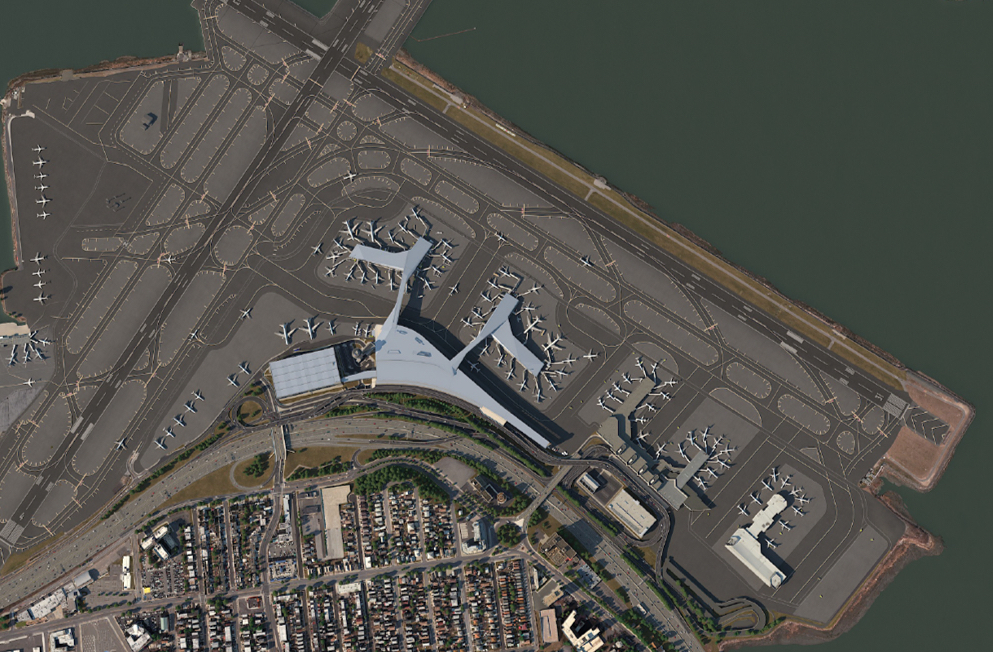 In addition, the interior has been seriously revamped. Gone is the cramped, musty feel of old LaGuardia. The new Terminal B is a triumph of design, a 21st-century airport that boasts the rare distinction of feeling like New York.
Phase 2
The next phase of the LaGuardia project will focus on the Delta-owned terminals, C and D. $3.9BN will be spent turning these two terminals into one structure. That new building will boast 120,000 square metres of space - double the size of the two previous terminals combined and there'll be new concourses able to host some of the world's biggest (and sexiest) planes.
Unsolved Issues
Will the new terminals be enough to fix all of LaGuardia's troubles? In a word, no. Many of its challenges are somewhat baked-in, and stem from what first made LaGuardia an attractive spot for an airfield back in the 1930s.
With a sea border on two of its sides, LaGuardia is also hemmed in by the Grand Central Parkway to its south, and that all rules out any kind of serious expansion, short of a land reclamation project. It's also hampered by its runway arrangement. LaGuardia's two runways are at right angles and cross near the end, effectively guaranteeing that they can't be used at the same time.
Meanwhile, getting to the airport will remain challenging. A proposed ferry terminal was dropped during construction and another key link — the AirTrain LaGuardia — has since been derailed.
The AirTrain was a proposed two-and-a-half kilometre elevated railway which would have plugged into the New York Subway and Long Island Railroad at Willets Point. But that idea was shelved after it came under heavy criticism in Queens by residents who opposed the destruction it could cause to their neighbourhoods and others who argued for a more direct link to Manhattan.
In many ways LaGuardia is a victim of its own success and may always struggle with its most intractable problems. Nevertheless the new Terminal B is a triumph of design and construction and will make a degree of difference. And now matter what, at least it no longer looks like a place that's been untouched since the 60s.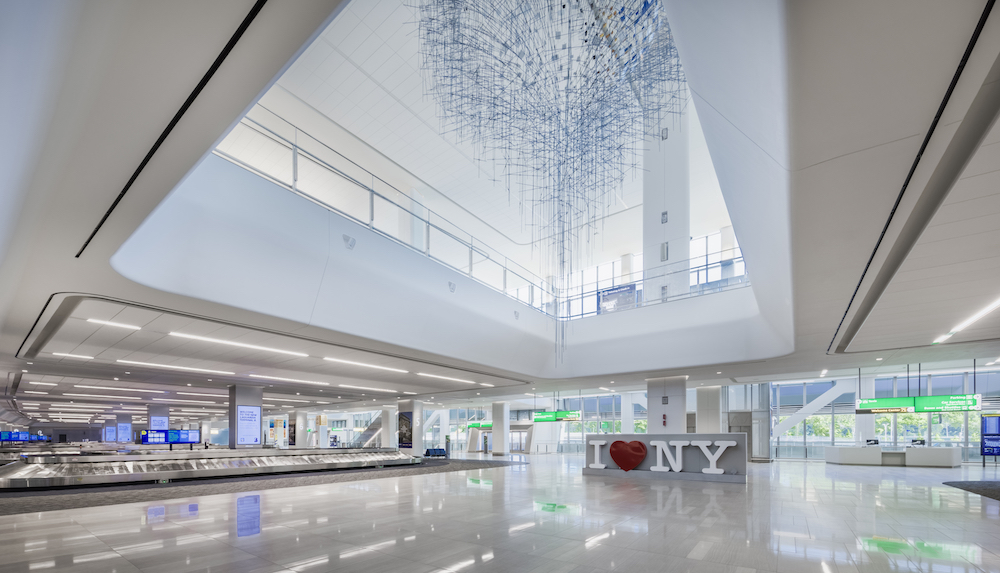 Above: LaGuardia's new Terminal B welcomes you to New York. Photo courtesy LaGuardia Gateway Partners.
Video narrated by Fred Mills. Additional footage and imagery courtesy of LaGuardia Gateway Partners, Delta Air Lines, SFO Flyer, The Port Authority of New York and New Jersey
We welcome you sharing our content to inspire others but please be nice and play by our rules.
Comments
---