DOCUMENTARIES
Building the World's Tallest Structure
Youtube Views

6,184,835

VIDEO VIEWS
Video hosted by Fred Mills.

FROM its early days as a small fishing village at the start of the 20th Century, Dubai has transformed into a truly global city.
From the vast Palm Jumeirah formed on land reclaimed from the Arabian Gulf, to the 7-star Burj Al-Arab hotel and the mega-tall Burj Khalifa – the emirate is now synonymous with some of the world's most impressive construction projects.
But the ambition, scale and extremity of the city's latest scheme, will quite literally take engineering and construction to new heights.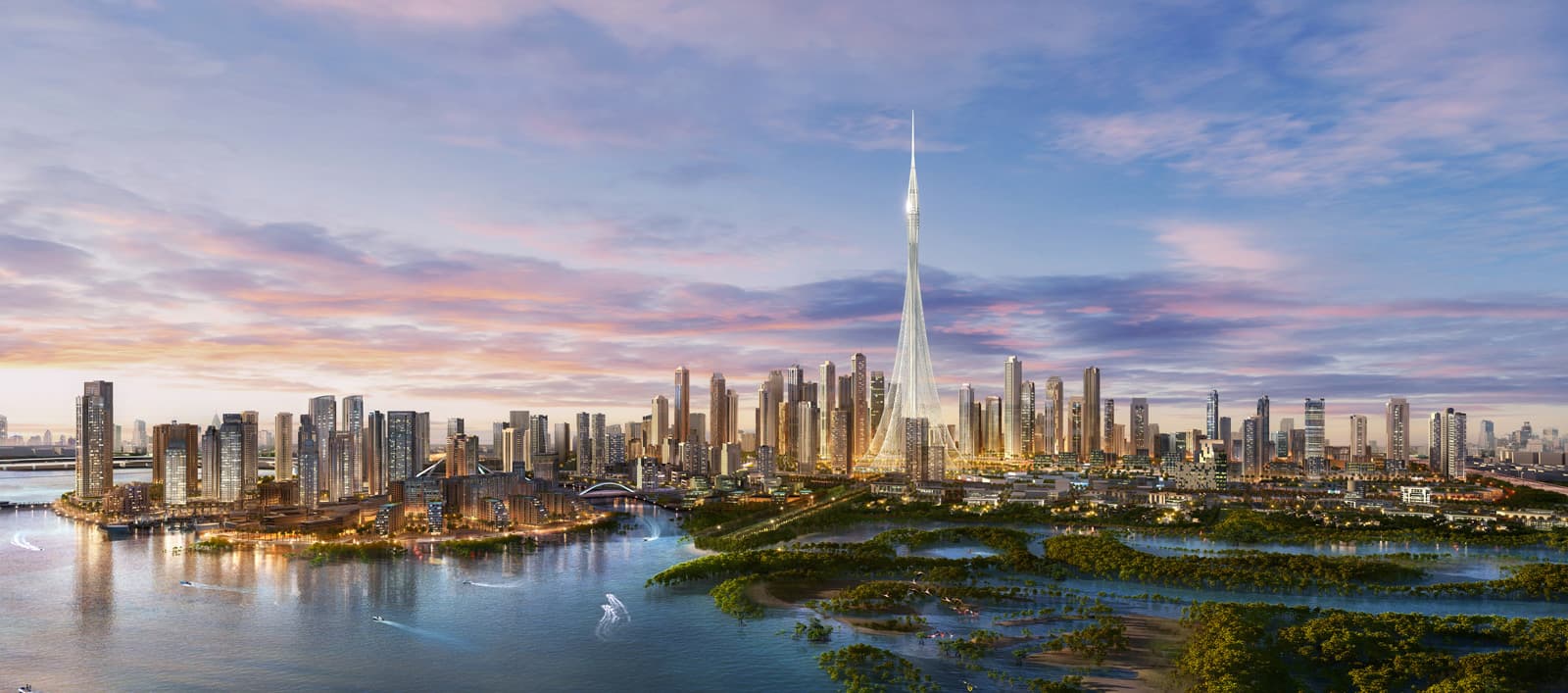 Above: The Dubai Creek Tower will form the centrepiece of a vast new retail, residential and entertainment development (image courtesy of Santiago Calatrava and Emaar Properties).
Dubai Creek Harbour is a vast residential, retail and entertainment development that is set to rival the existing Downtown Dubai district.
Designed by Santiago Calatrava to stand at the centre of this new destination, Dubai Creek Tower will rise to over 1.3 kilometres in height and become the tallest structure constructed by mankind to date.
Resembling a lily and drawing inspiration from a traditional Arabian minaret, the tower will consist of a simple shaft topped with an ovoid bulb structure that houses observation decks and restaurants, along with broadcast and telecommunications infrastructure.

In addition, the tower will be steadied by an array of steel cables, reaching up from an extensive new plaza below.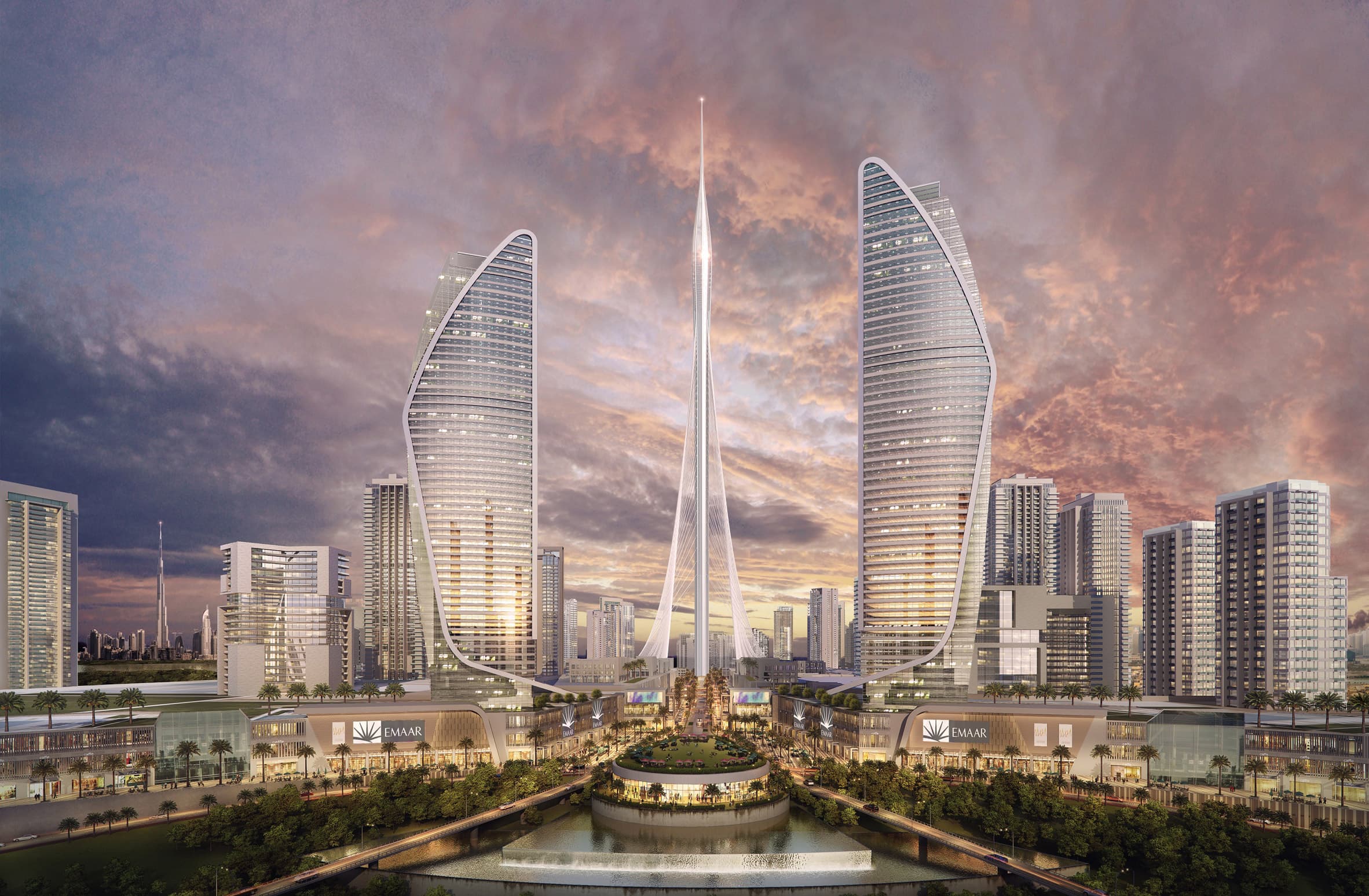 Above: The design of the Dubai Creek Tower draws on Arabian architecture and local flora (image courtesy of Santiago Calatrava and Emaar Properties).
Constructing a scheme that extends higher than any structure which has preceded it, and in such an extreme climate, is far from easy.
Work on the USD $1BN project first commenced in October 2016 with the excavation of over 170,000 cubic metres of earth.
From here, the scheme's foundations – consisting of 145 piles each extending to a depth of 75 metres – were formed. This process alone required more than 15,000 tonnes of steel and over 211,000 tonnes of concrete.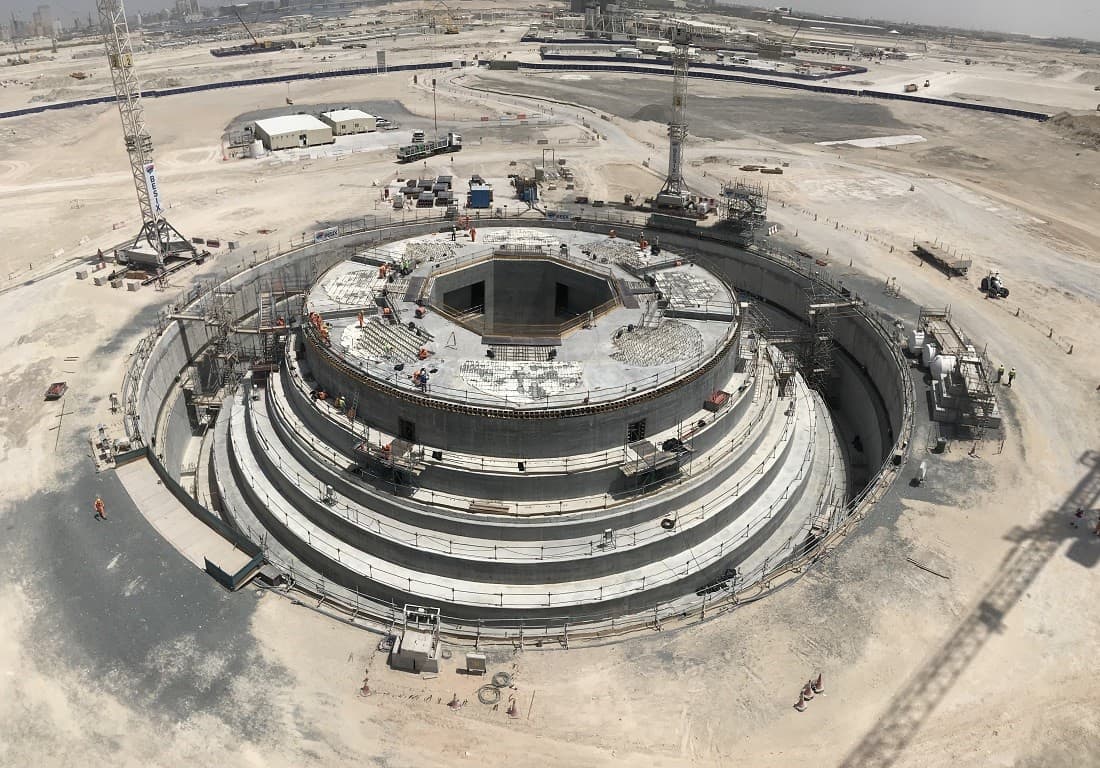 Above: The tower's foundations have been complete since 2017 and are awaiting the construction of the main structure (image courtesy of Emaar Properties).
Despite foundation works completing two months ahead of schedule in May 2017, there has been little work above ground since.
With the project initially intended to be complete ahead of the 2020 Dubai Expo, delivery has now been postponed to 2021.
While this date may still feel unfeasible for such an extreme structure, the relatively simple design of the Dubai Creek Tower as compared to denser, fully habitable skyscrapers allows for an accelerated construction schedule.
Though the tower's final height of 1,300 metres has been widely reported, developer Emaar Properties are keeping exact details of its summit under wraps in an effort to protect it from new, rival proposals - particularly across the Middle East and Asia.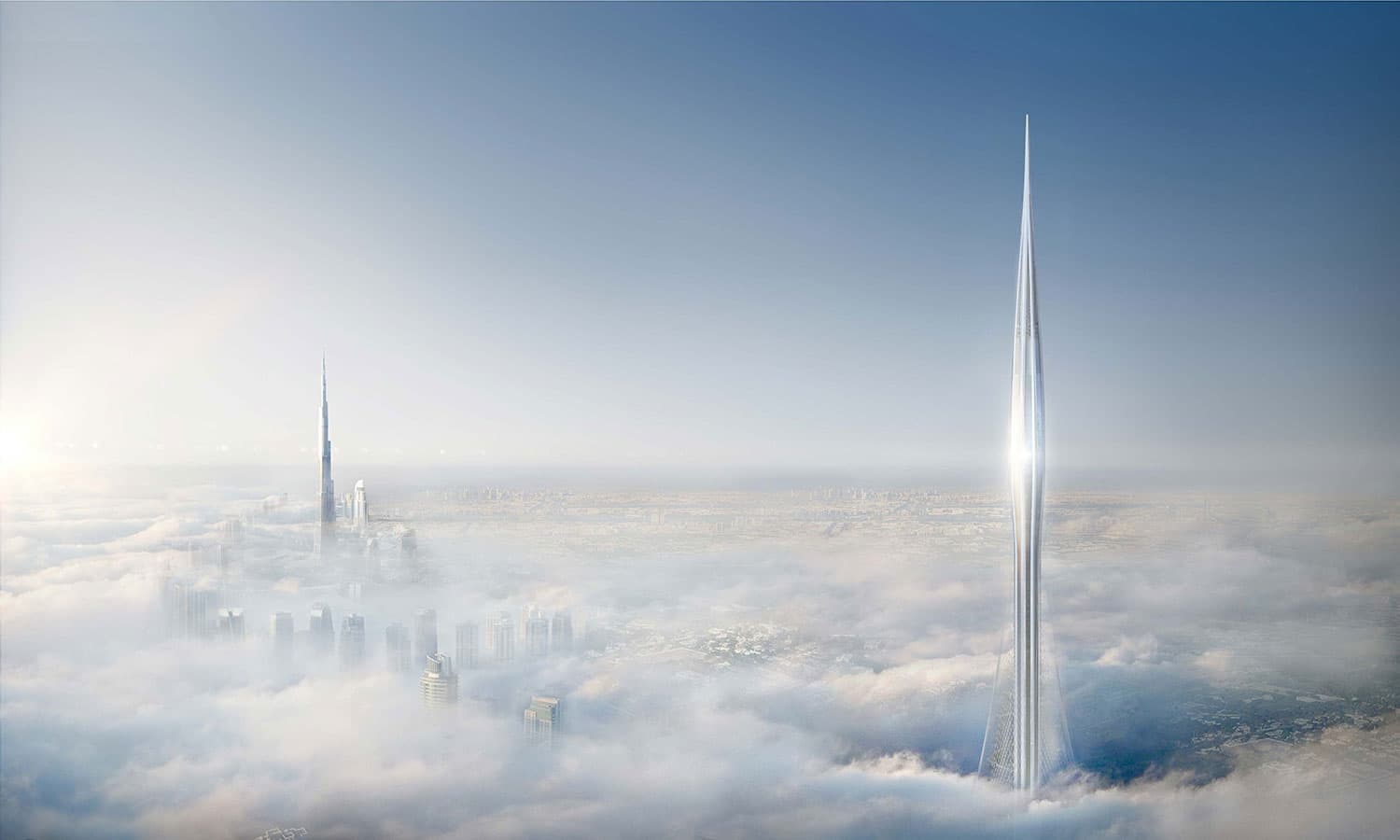 Above: Despite rising higher than the Burj Khalifa, the Dubai Creek Tower is not considered a skyscraper (image courtesy of Santiago Calatrava and Emaar Properties).
At 1.3 kilometres, Dubai Creek Tower would easily eclipse the height of the world's current tallest structure, the 828 metre Burj Khalifa and even that of the Jeddah Tower currently under construction in Saudi Arabia, that is expected to stand a kilometre tall when it finally completes.
However, it should be noted that while the Dubai Creek Tower would easily lay claim to the title of the "world's tallest structure", it would not be eligible to take the title of "world's tallest skyscraper" away from the Burj Khalifa as it does not meet two specific skyscraper classification criteria, as set out by the Council on Tall Buildings and Urban Habitat (CTBUH).
Firstly, the tower will not be completely self-supporting, partly relying on its tensioned steel cables for stability.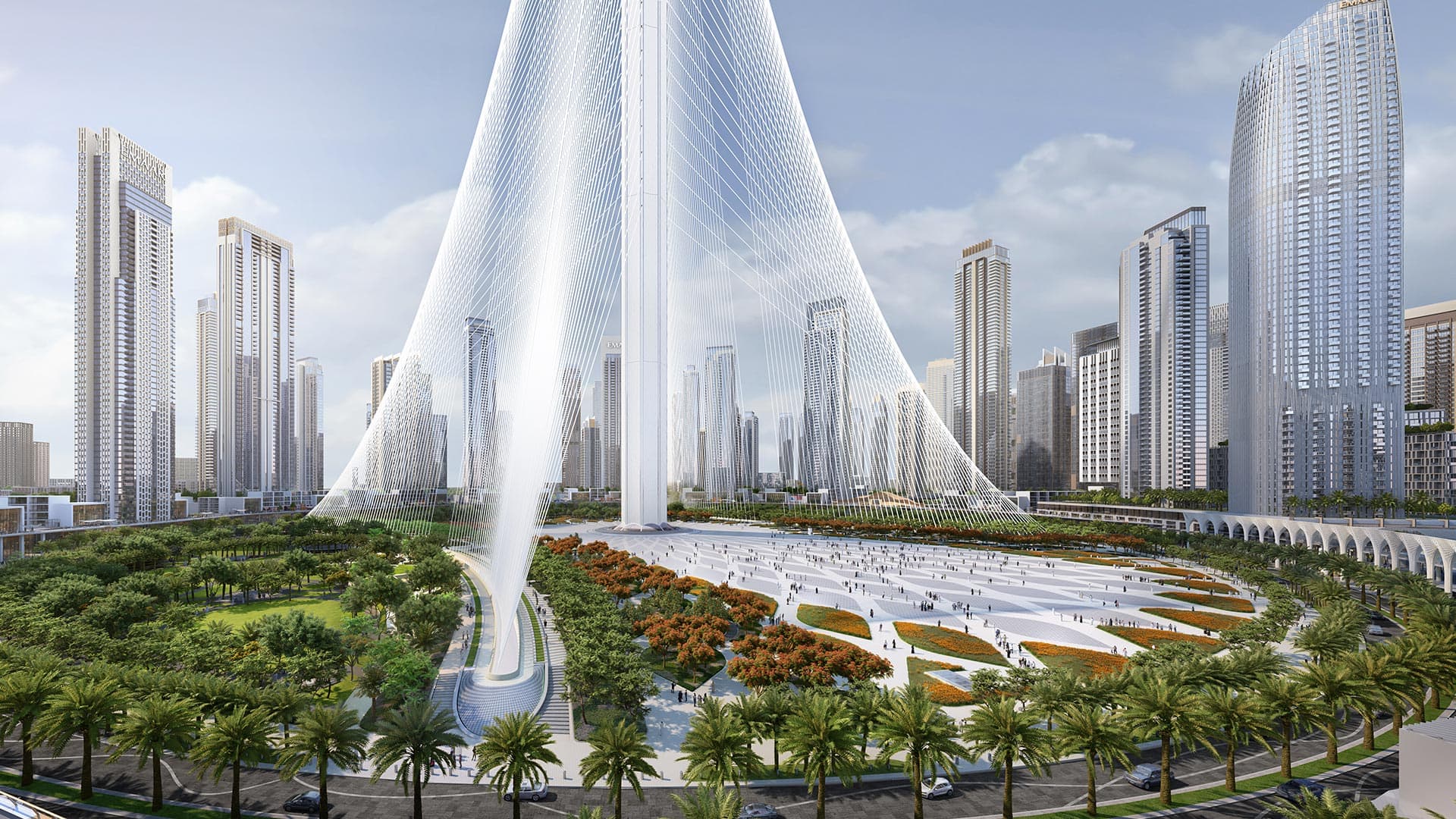 Above: Structures need to be completely self-supporting in order to be considered true "skyscrapers" (image courtesy of Santiago Calatrava and Emaar Properties).
In addition, to be considered a skyscraper, at least 50% of a building's total height must be habitable, a threshold that Dubai Creek Tower will not reach.
Technicalities aside, this remarkable structure will set a new benchmark in tall building engineering, further propelling mankind's seemingly endless race for the skies and once again demonstrating what our industry is capable of.
Footage and images courtesy of Emaar Properties, Santiago Calatrava, Marwan Naamani, Soletanche Freyssinet and J. Eduardo Segundo Hernandez.
We welcome you sharing our content to inspire others, but please be nice and play by our rules.

Comments
---