Tech
Bringing Star Wars: Galaxy's Edge to Life
Youtube Views

125,003

VIDEO VIEWS
NOT very long ago, in a galaxy not so far away, Disney and Lucasfilm began planning the construction of two new themed lands that would bring the Star Wars universe to life.
While Disney has been at the forefront of theme park construction for over 60 years, this latest undertaking is truly in a league of its own.
Embracing the latest digital and virtual reality technology, the team at Walt Disney Imagineering have created their most engaging and immersive themed attraction to date.
In 2015, following the acquisition of Lucasfilm by Walt Disney two years earlier, plans were announced for two new Star Wars-themed lands at the Disneyland Resort in California and at Walt Disney World resort in Florida.
Each extending over 14 acres and costing USD $1 billion to construct, these new attractions would take theme park development to a different level.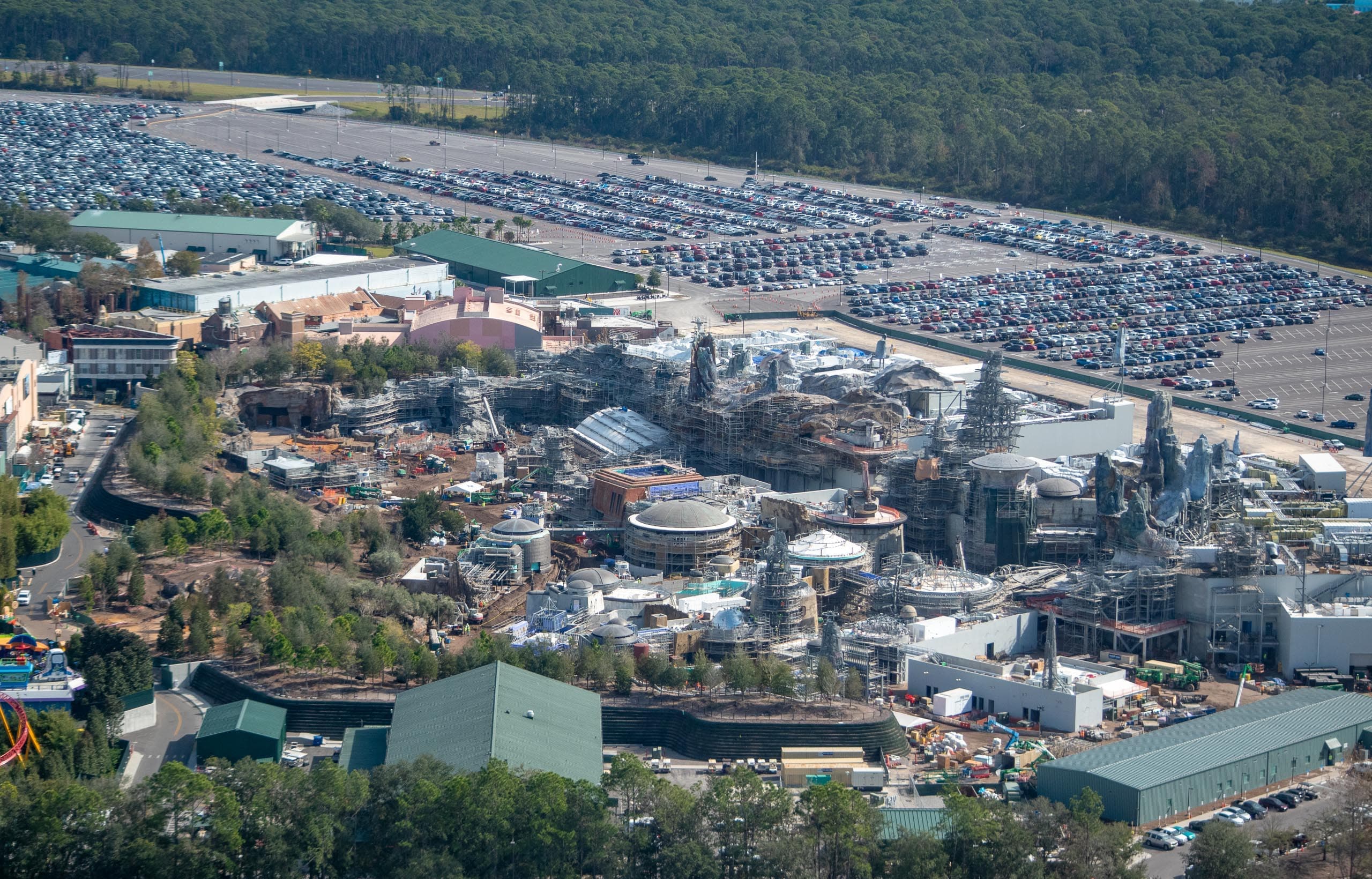 Above: The Star Wars: Galaxy's Edge at Walt Disney World under construction (image courtesy of Colin Chardavoyne).
From the themed menus at the park's many eateries, to staff dressed in true-to-film costumes, Walt Disney Imagineering and Lucasfilm Story Group have gone to extraordinary lengths to create a truly immersive world that is likely to capture the imagination of fans and the general public alike.
While thematically familiar elements, like the Millennium Falcon, will appear throughout the new lands, the creative team did not want to replicate storylines from the films but rather allow guests to create their own stories, based on their individual visits to the park.
To do this, the team chose not to recreate worlds from the blockbuster franchise, but to imagine an entirely new location based on a remote outpost planet in the Star Wars universe.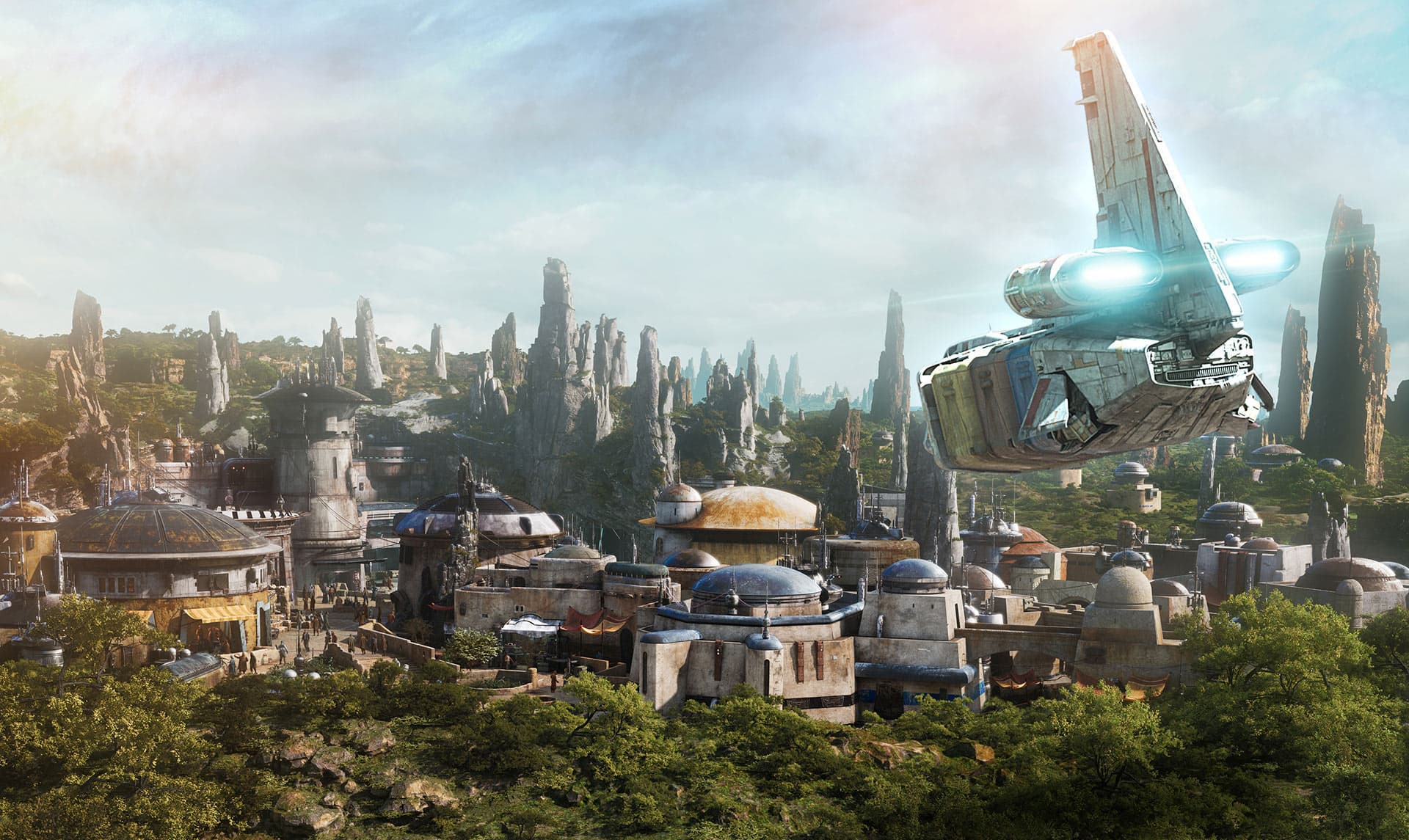 Above: The new parks will be based on an entirely new planet within the Star Wars universe (image courtesy of Disney and Lucasfilm).
To achieve the immersive experience that both Disney and Lucasfilm had conceived, all departments - from merchandising and construction, to set dressing and ride system engineering - needed to be involved in the project from the very outset.
With over 4,000 people engaged in the scheme at its peak, it was imperative that all parties were up to date with the latest information and decisions throughout development and construction.
Information modelling formed a major part of this endeavour - taking graphical information such as plans and 3D models, and non-graphical data such as schedules and specifications from across the various teams, and placing them in an easy to access and easily navigable digital environment - a single source of truth which all parties could access and update remotely.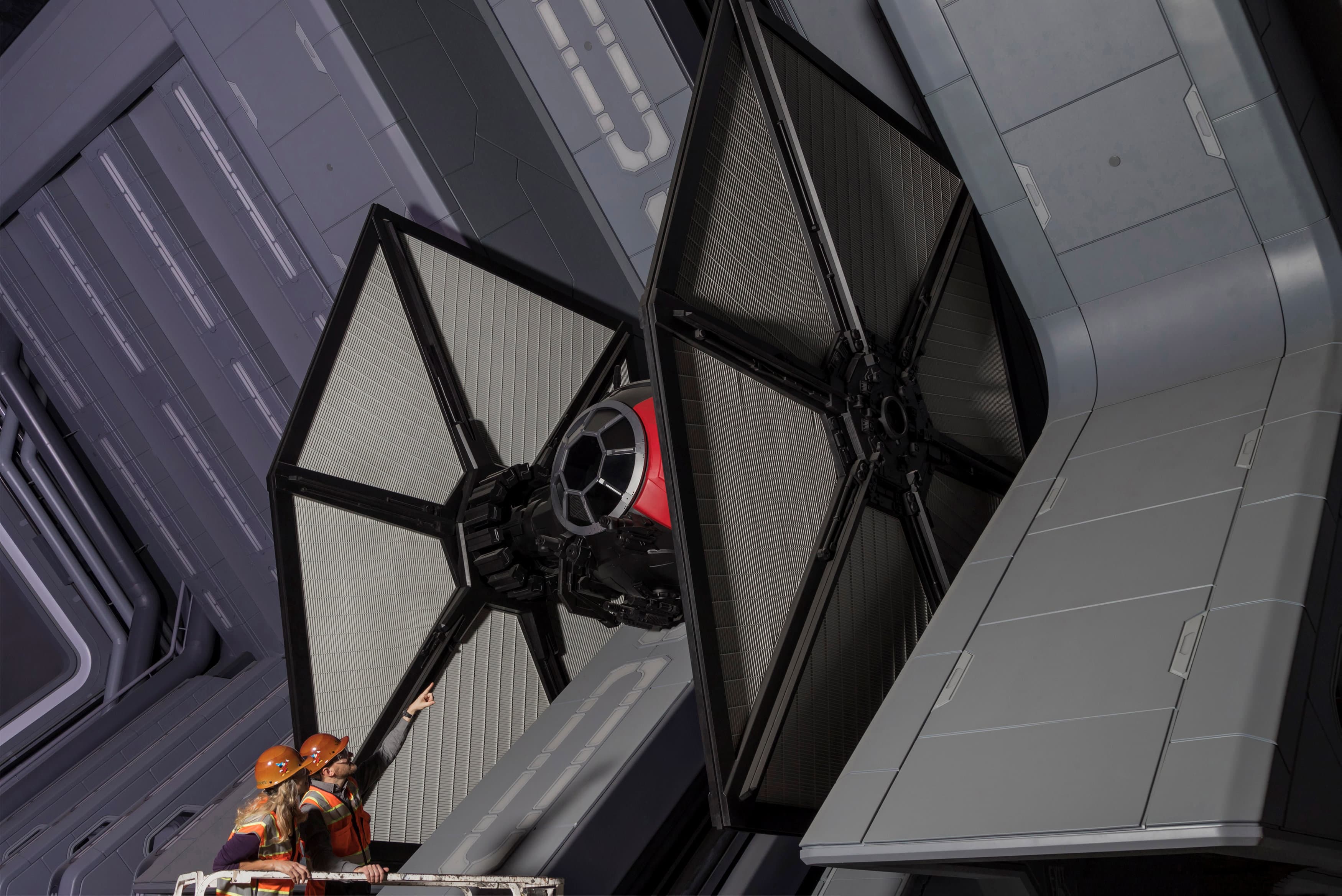 Above: Galaxy's Edge under construction (image courtesy of Joshua Sudock and Disney Parks)
With this information readily available and easy to locate, each team could access details about every part of Galaxy's Edge.
By creating a complete three-dimensional digital model of the entire themed land prior to construction, Walt Disney Imagineering was able to feed information into a virtual reality (VR) simulator, removing much of the ambiguity for the creative team and allowing them to step inside the park and make decisions and alterations before construction began.
VR also gave the creative team a view of the park from ground level, allowing them to design building facades and terrain using sight lines and forced perspective that hid the various mechanical and ventilation equipment on buildings and created a truly realistic new world for guests.
With designs agreed, construction work on both Galaxy's Edge lands commenced in 2016 following the closure of several attractions at the resorts including Big Thunder Ranch at Disneyland and the majority of the Streets of America attraction at Walt Disney World.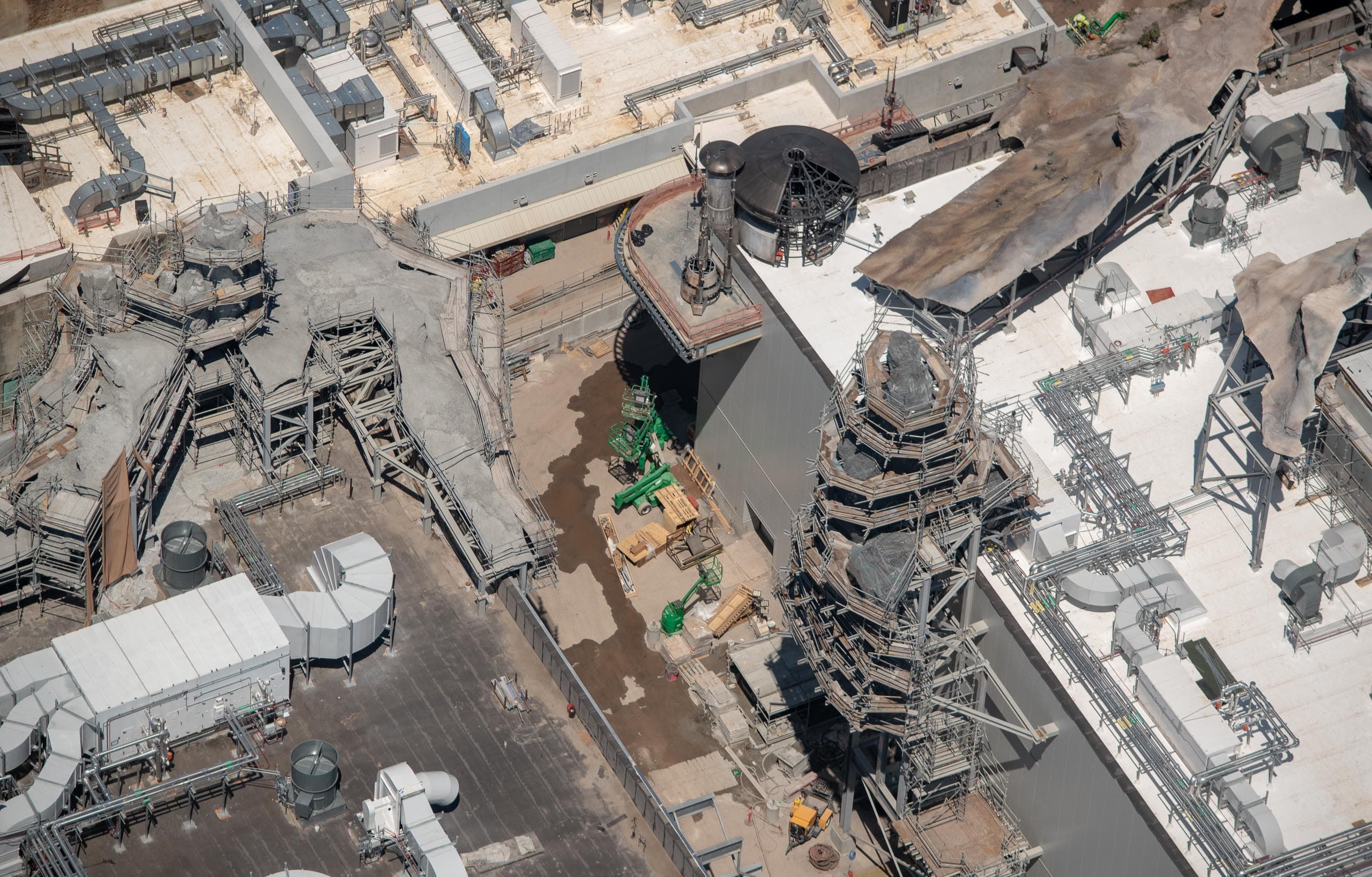 Above: Cooling and other mechanical equipment are hidden from view, adding to the immersive experience (image courtesy of Colin Chardavoyne).
Designed with the same key elements - including several themed restaurants and workshops from the films - both parks are anchored by two main experiences; the "Millennium Falcon: Smugglers Run" ride and the "Rise of the Resistance" experience.
In addition to the themed lands themselves, a Star Wars themed hotel is currently under construction at the Walt Disney World Resort in Orlando but is yet to receive an official opening date.
After nearly three years of construction, Star Wars: Galaxy's Edge is set to open at the Disneyland and Walt Disney World resorts in the summer and autumn of 2019 respectfully.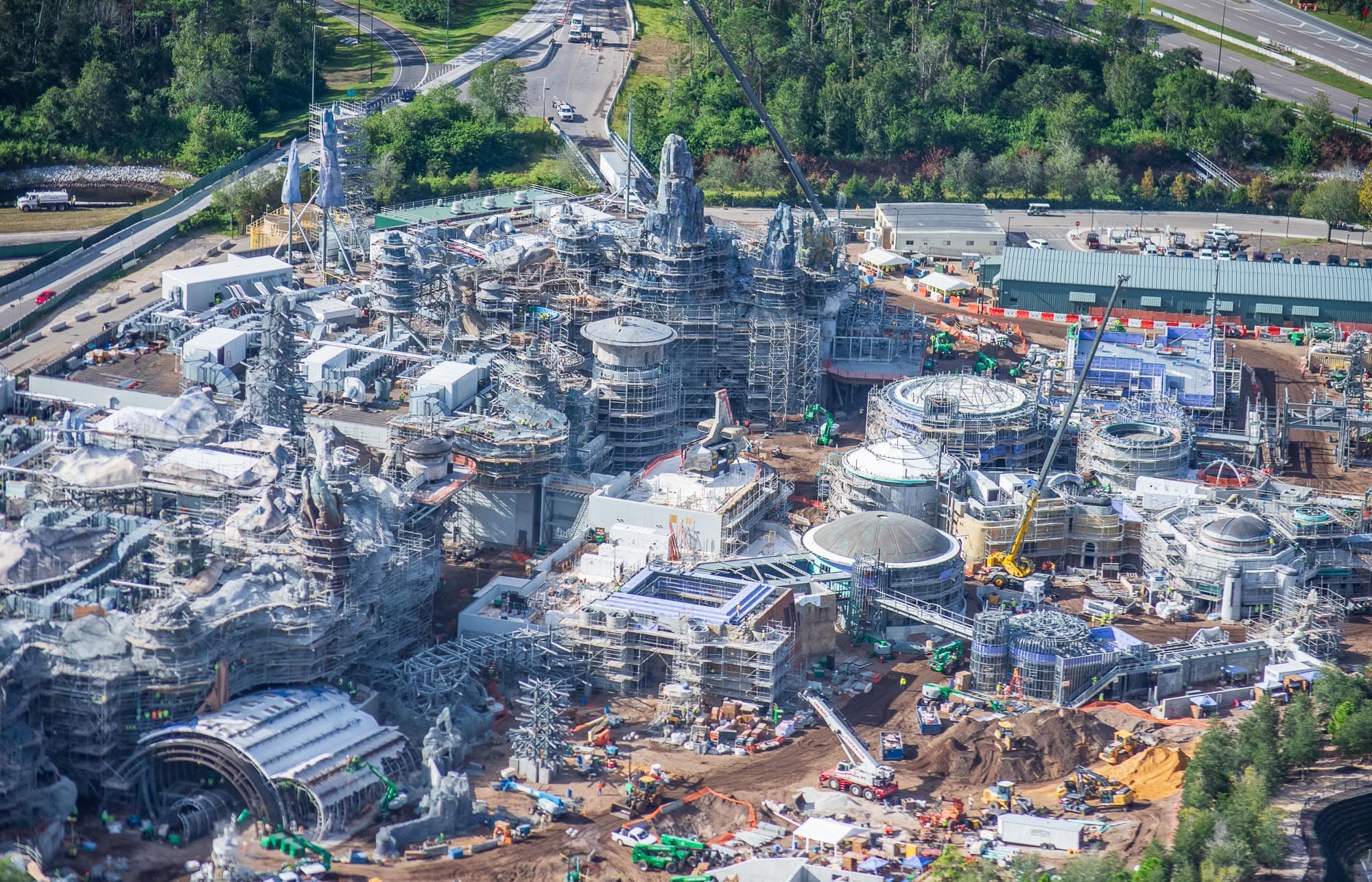 Above: Star Wars: Galaxy's Edge under construction in Florida (image courtesy of blogmickey.com).
With high expectations surrounding the project and with a phenomenal amount of time, money and effort invested from the Imagineers who conceived it - it won't be long before that galaxy far, far away becomes much closer to home.
Images and Footage courtesy of Colin Chardavoyne, Disney, Lucasfilm, Disney Parks, Kent Phillips, Christian Thompson, Joshua Sudock, Reverse Imagineering, Google Earth, Bioreconstruct and blogmickey.com.
We welcome you sharing our content to inspire others, but please be nice and play by our rules.
Comments
---