Documentaries
Building Walt Disney World
Youtube Views

936,947

VIDEO VIEWS
Video hosted by Fred Mills.

ONCE upon a time, there was a man with a vision.
That man was Walt Disney and his vision was for a theme park like no other; a whole new world of unique attractions, hotels and even a planned community that would set new benchmarks in innovation and city planning.
Though he never saw his vision completed, Disney is now immortalised in one of the world's largest and most visited attractions.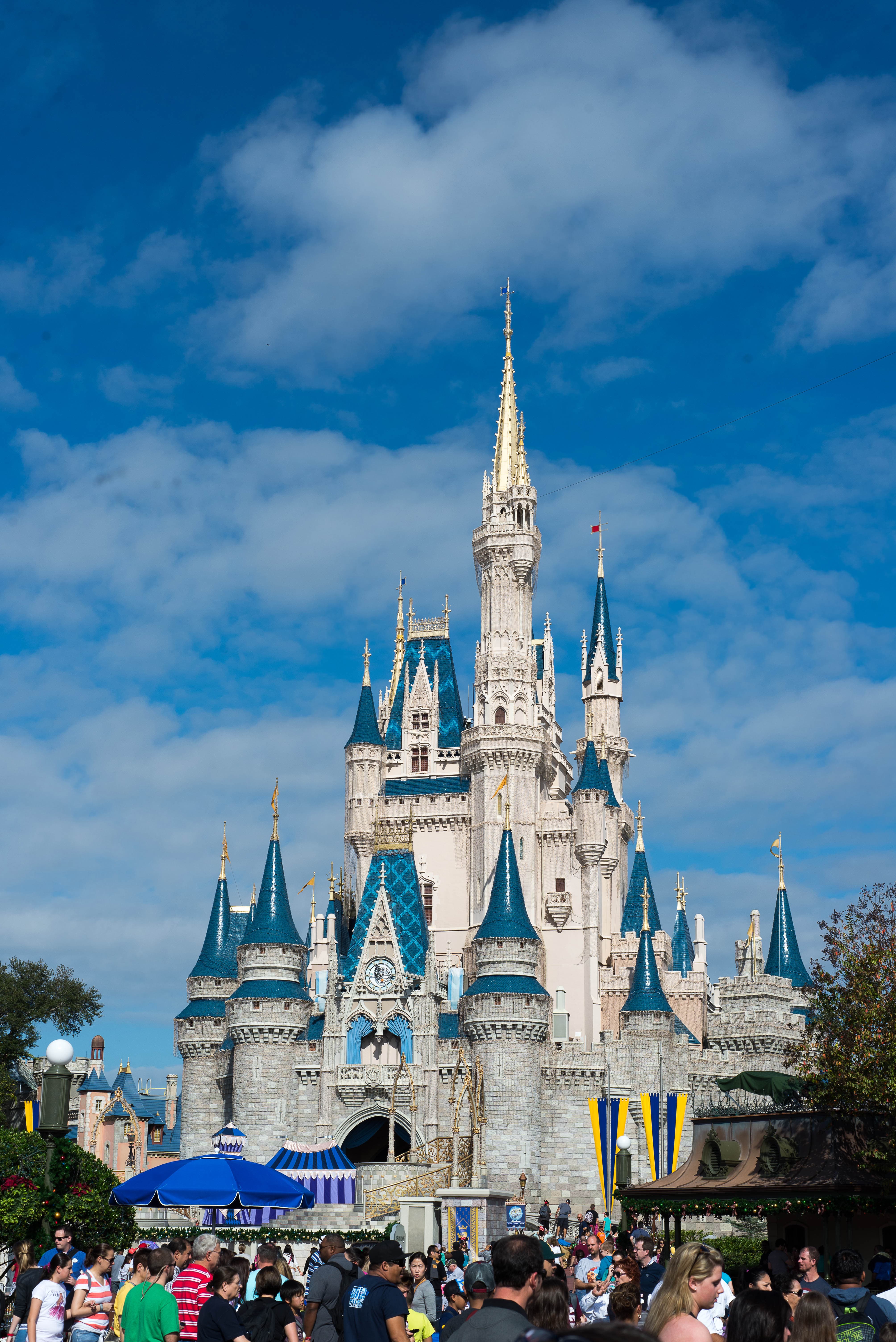 Above: Cinderella's Castle is the centre-piece of Disney's Magic Kingdom park.
In 1959, following the success of their first Disneyland theme park - which opened in California in 1955 - Walt Disney Productions began planning the development of a second resort in the United States (US).
With 75% of the US population at that time living east of the Mississippi River, a location on the east coast was explored.

The new project was personally conceived and led by Walt Disney. He disliked the numerous businesses that had sprung up around his California park and the lack of control that he had over developments in close proximity to the resort. With the second destination, he set out to control a much larger area of land.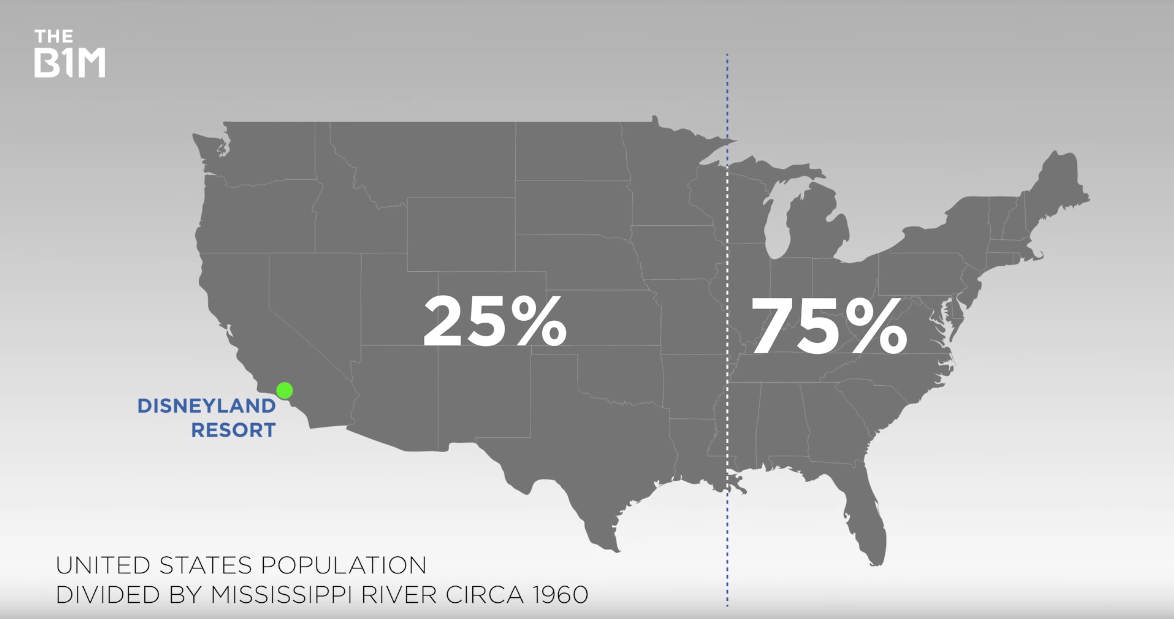 Above: In the late 1950s and early 1960s, some 75% of the US population lived east of the Mississippi River.
Walt Disney flew over a potential site near Bay Lake in Orlando, Florida (one of many locations he was reviewing) in November 1963.
The site was attractive for its proximity to Orlando International Airport (then McCoy Air Force Base) and the well-developed nearby road network which was set to be strengthened further with the construction of Florida's Turnpike and Interstate 4.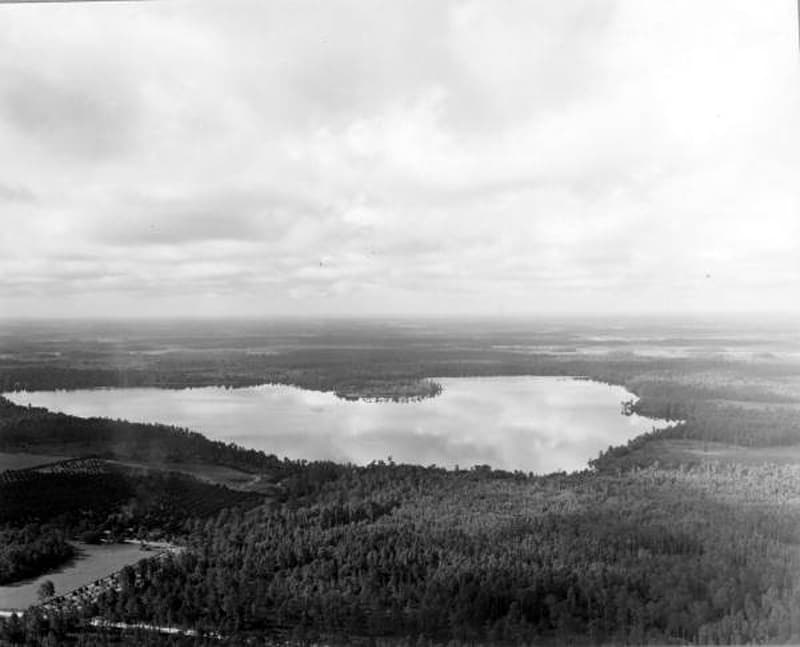 Above: The area near Bay Lake that Disney flew over in 1963 (image courtesy of State Archives of Florida).
To avoid unwanted attention and press speculation the early development of Disney's second park took place in complete secrecy - with even the notion that a second park was being considered being kept under wraps. With the Orlando site selected, Walt Disney Productions began quietly acquiring the land for their second resort.

In the early 1960s, many owners were only too happy to let go of the land, which was mostly swamp at the time.
The land acquisitions took place as distinctly separate transactions through a number of proxy companies. Some of these company names - such as the "Reedy Creek Ranch Corporation" - are now cast into a window above Main Street USA in the Magic Kingdom Park.
The agents brokering these deals were unaware who their ultimate client was, and in some instances areas of swamp land were acquired for as little as USD $100 an acre.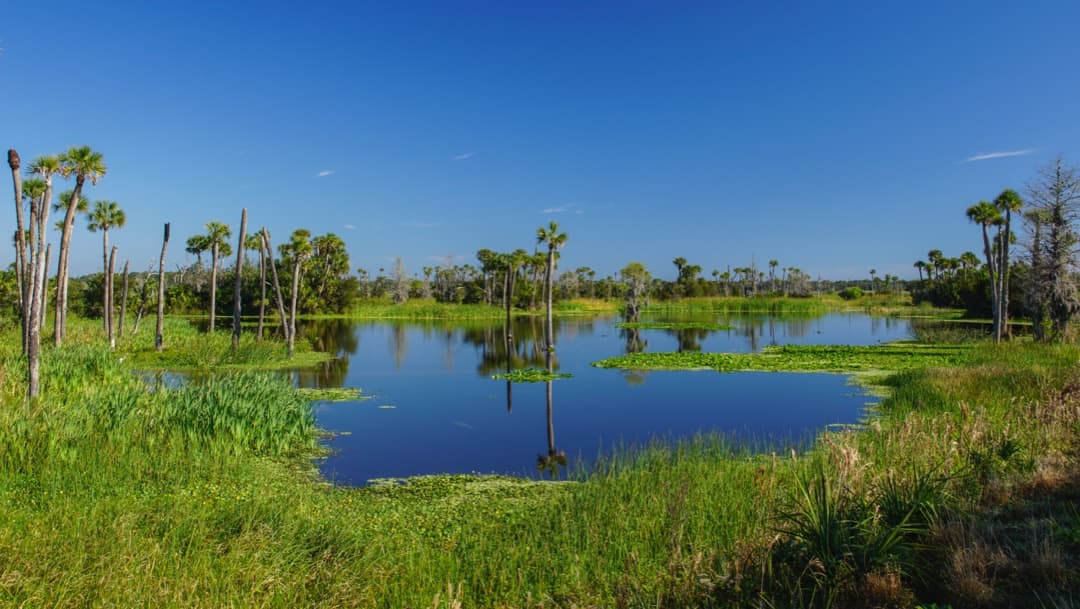 Above: Some areas of land were acquired for as little as USD $100 per acre.
Knowing that recording of the first deeds would ignite intense public scrutiny, Disney delayed the filing of paperwork until a large enough portion of land was under contract and the proxy companies could be amalgamated under the Disney brand.

Despite being undertaken by proxy companies, as the land acquisitions became public in quick succession to each other, rumours began circulating as to what such a large area could be used for. Newspapers at the time speculated that Henry Ford, the Rockefellers or even NASA were behind the purchases.

Walt Disney Productions gently stoked these rumours through intermediaries and even announced a $50M investment in their California park, to throw people off the scent.
In October 1965, Walt Disney was asked about the land purchases directly in a interview with the Orlando Sentinel. Whilst Disney denied the claim, his momentary look of shock when the question was first put to him led to the Sentinel publishing a theory that Disney were planning a major new park in Florida.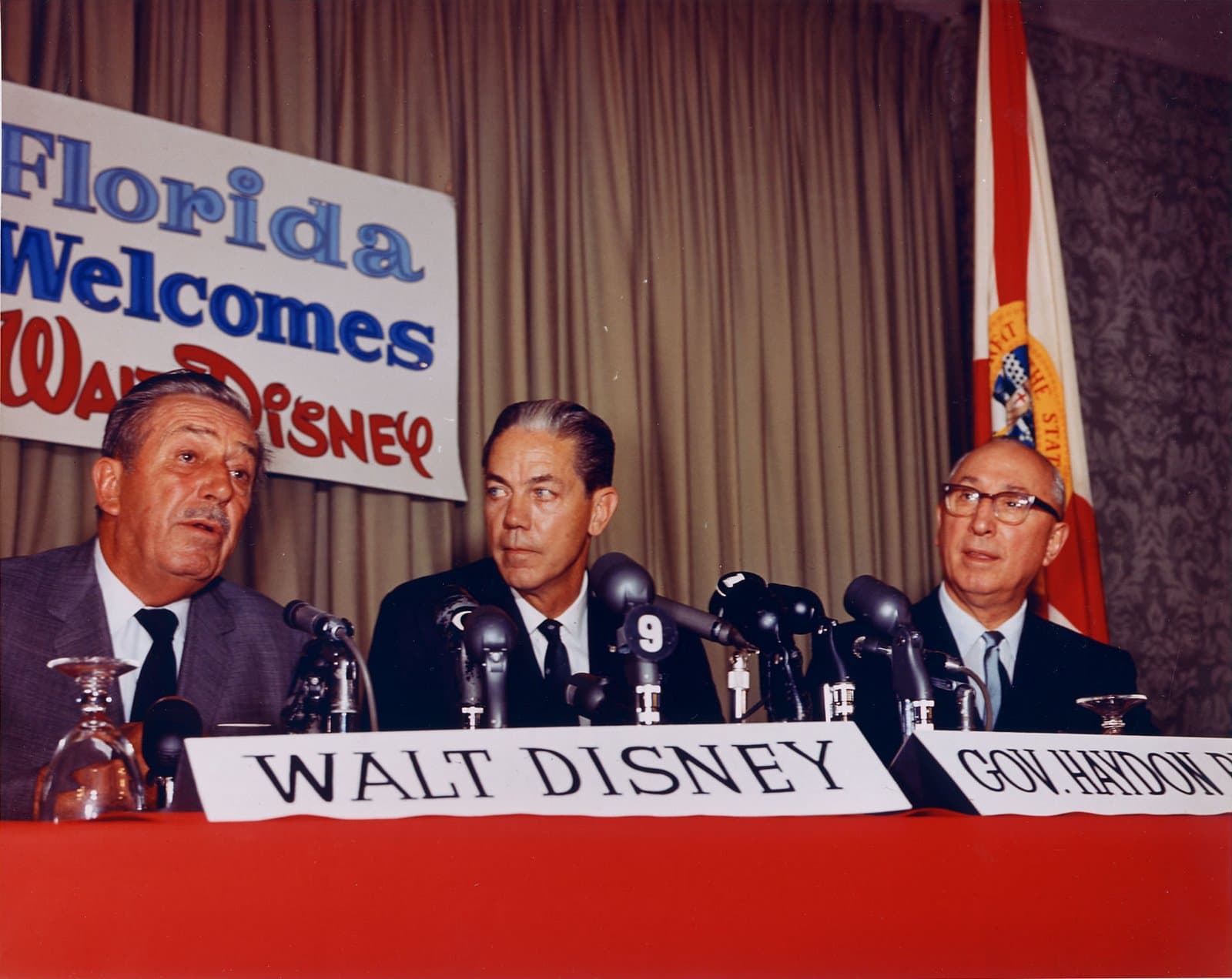 Above: The resort - known then as "The Florida Project" - being announced by Walt and Roy Disney and then-Governor, Haydon Burns (image courtesy of the Walt Disney Archives).
With the story breaking, Walt Disney and then-Florida Governor Haydon Burns formally announced what was then described as "The Florida Project" in November 1965.
Unfortunately, just over a year after announcing the development, Walt Disney passed away from lung cancer. Roy Disney, Walt's brother and business partner, delayed his retirement in order to oversee the first phase of his brother's vision.
A WHOLE NEW WORLD
In order for the resort to grow and succeed, new legislation was signed into law which made the land owned by Disney a special district containing two incorporated cities; Bay Lake and Reedy Creek (known today as Lake Buena Vista).
This status gave Disney immunity from County and State land use laws. It also allowed for the issuing of tax-free bonds to fund public projects within the district.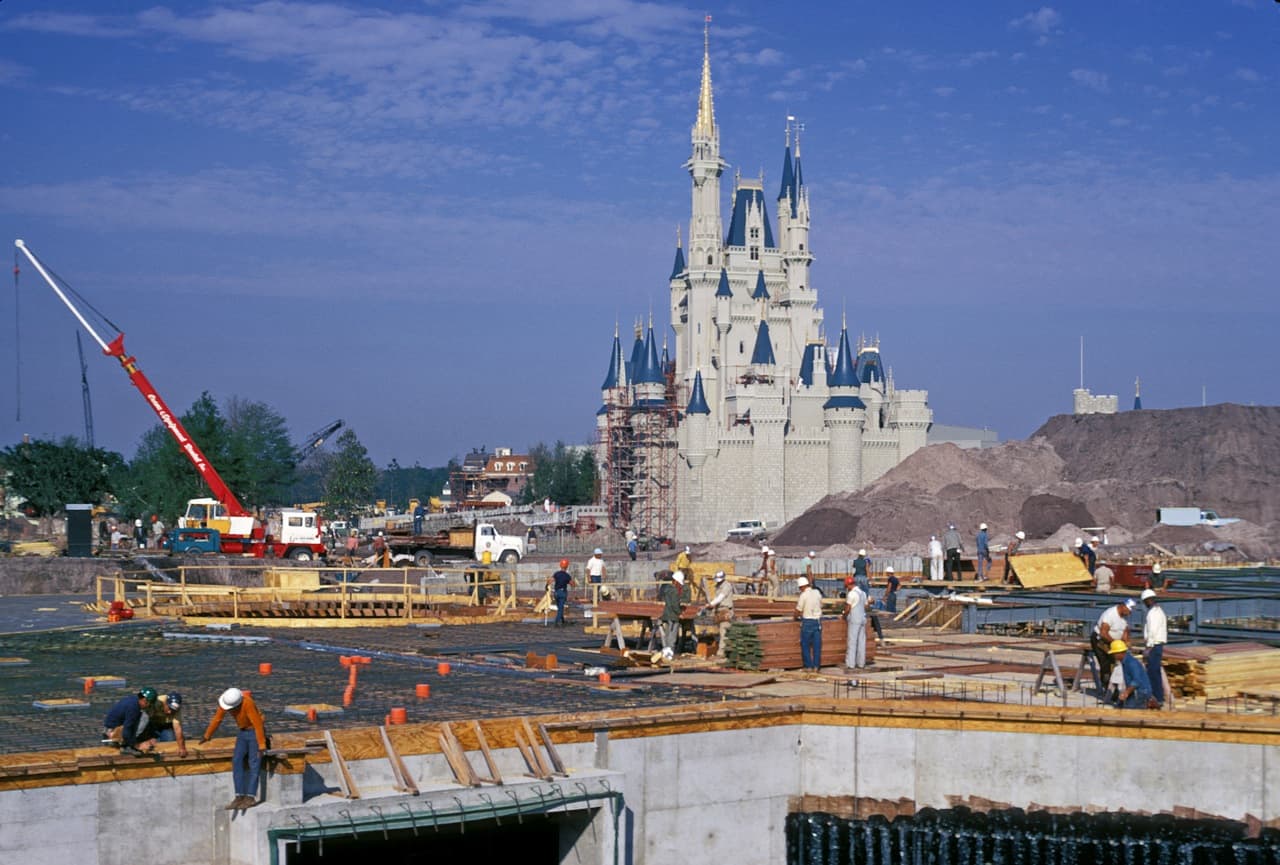 Above: The first theme park of the Walt Disney World Resort, the Magic Kingdom nearing completion (image courtesy of the Walt Disney Archives).
In 1967, the district began construction of drainage canals to dewater the vast site, along with roadways and supporting infrastructure for the Magic Kingdom.
By 1971, that theme park, together with the first section of the resort's monorail, numerous golf courses and hotels were completed - including the Contemporary Resort, Polynesian Village and the Fort Wilderness campsite.
When the resort opened to the public on 01 October 1971, Roy Disney dedicated it to his brother, announcing that it would be officially be known as "Walt Disney World" - ensure that the man who started it all would be remembered.
Sadly, Roy Disney himself passed away just three months after the park opened.
CONTINUOUS EVOLUTION

While the first phase of the park opened to much fanfare, Disney were determined to continually grow the resort and never allow it to become dated; maintaining a continuous pipeline of new attractions.
In its first decade, Walt Disney World added further golf courses and hotels in the Magic Kingdom vicinity as well as the Village Marketplace Shopping District (now Disney Springs) and the Walt Disney World Conference Centre.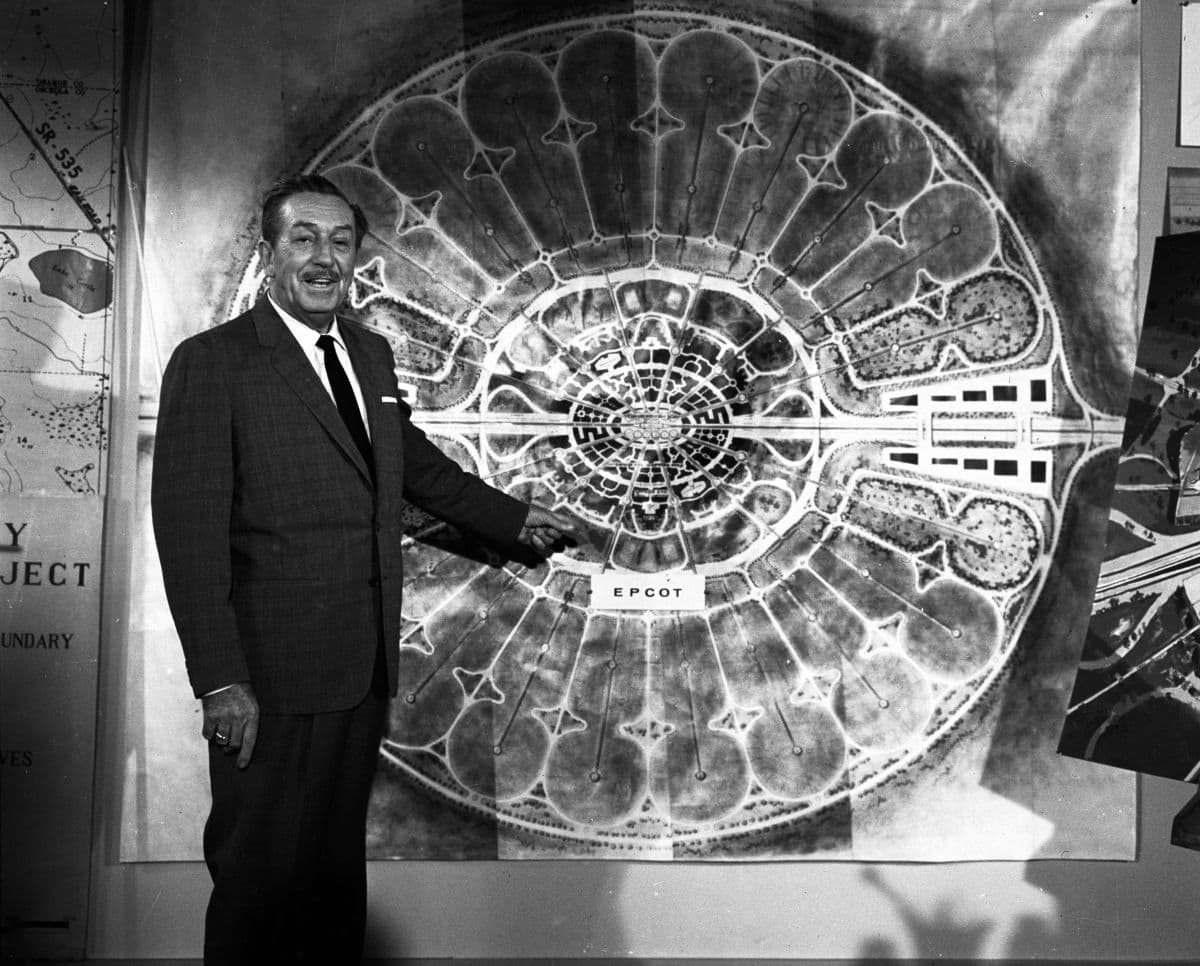 Above: From inception, Walt Disney wanted the new theme park to feature a planned community, this idea later evolved into EPCOT ( image courtesy of The Walt Disney Archives).
From inception, Walt Disney had wanted to develop an ambitious Progress City within the resort district that would act as a blueprint for cities of the future.
This concept was abandoned by the board after Disney's death but later evolved into a version of Walt's idea known as the "Experimental Prototype Community of Tomorrow" or "EPCOT".
EPCOT officially opened in 1982, becoming the second theme park at Walt Disney World.
Famed for its World's Fair-inspired Future World exhibits and the internationally themed World Showcase, the park is centred around a 55 metre (180 foot) high geodesic dome, known as Spaceship Earth.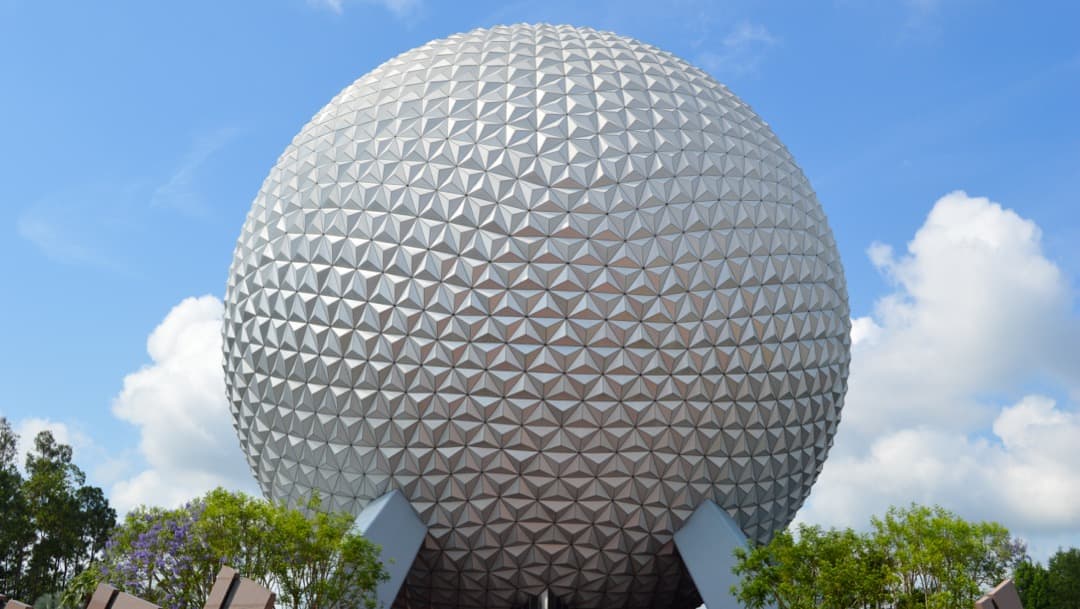 Above: The centrepiece of EPCOT - a 55 metre geodesic dome called Spaceship Earth.
The completion of EPCOT also saw the monorail system extended and today the system runs for over 14 miles around the resort carrying 150,000 people every day.
In 1989, a Hollywood inspired park, known as "Disney's Hollywood Studios" opened.
Operating as both a theme park and an active production studio - the facility contributed to a number of Disney's productions in the 1990s and early 2000's including Mulan and Lilo and Stitch.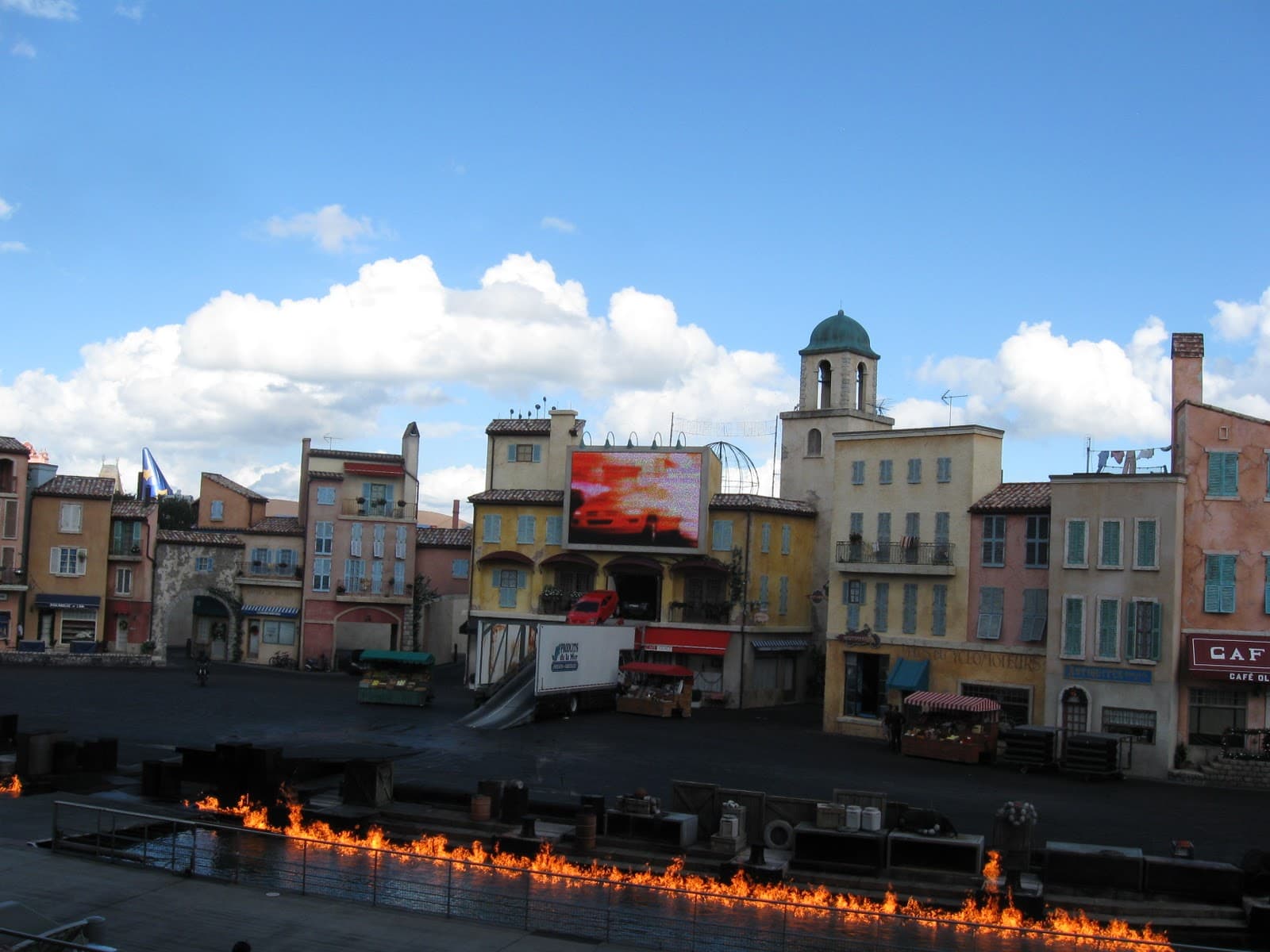 Above: Disney's Hollywood Studios theme park opened as both a visitor attraction and a production studio in 1989 (image courtesy of Paula Watson).
More recently the park has become home to the resort's latest attraction - "Toy Story Land" - which opened in 2018.
Typhoon Lagoon also opened in 1989 marking the resort's first step into water parks, and was followed by Blizzard Beach in 1995.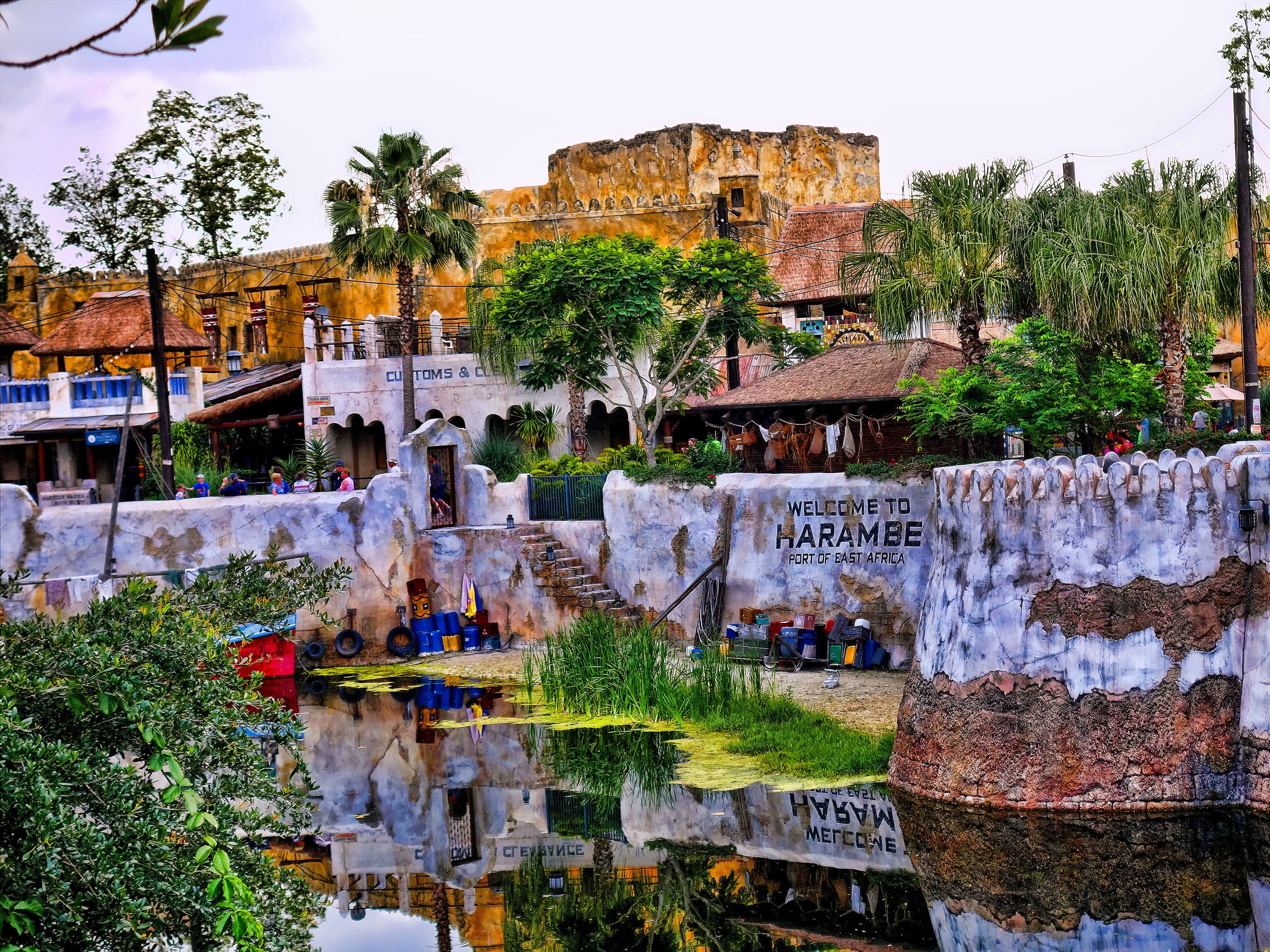 Above: Animal Kingdom, Disney's newest Orlando theme park (image courtesy of Jennifer Lynn).
Disney's Animal Kingdom is the latest theme park to open at the resort, dedicated to the natural world and conservation.
The attraction was opened in 1998 and has since continued to grow with "Pandora - The World of Avatar" added in 2017.

WALT DISNEY WORLD TODAY

Today Walt Disney World extends over a 43 square mile, 110 square kilometre area. It features 30 themed hotels and has over 74,000 staff making it one of the largest employers in the United States.
With more than 50 million visitors annually since 2013, the resort's growth shows no signs of slowing down and even more attractions are currently under development.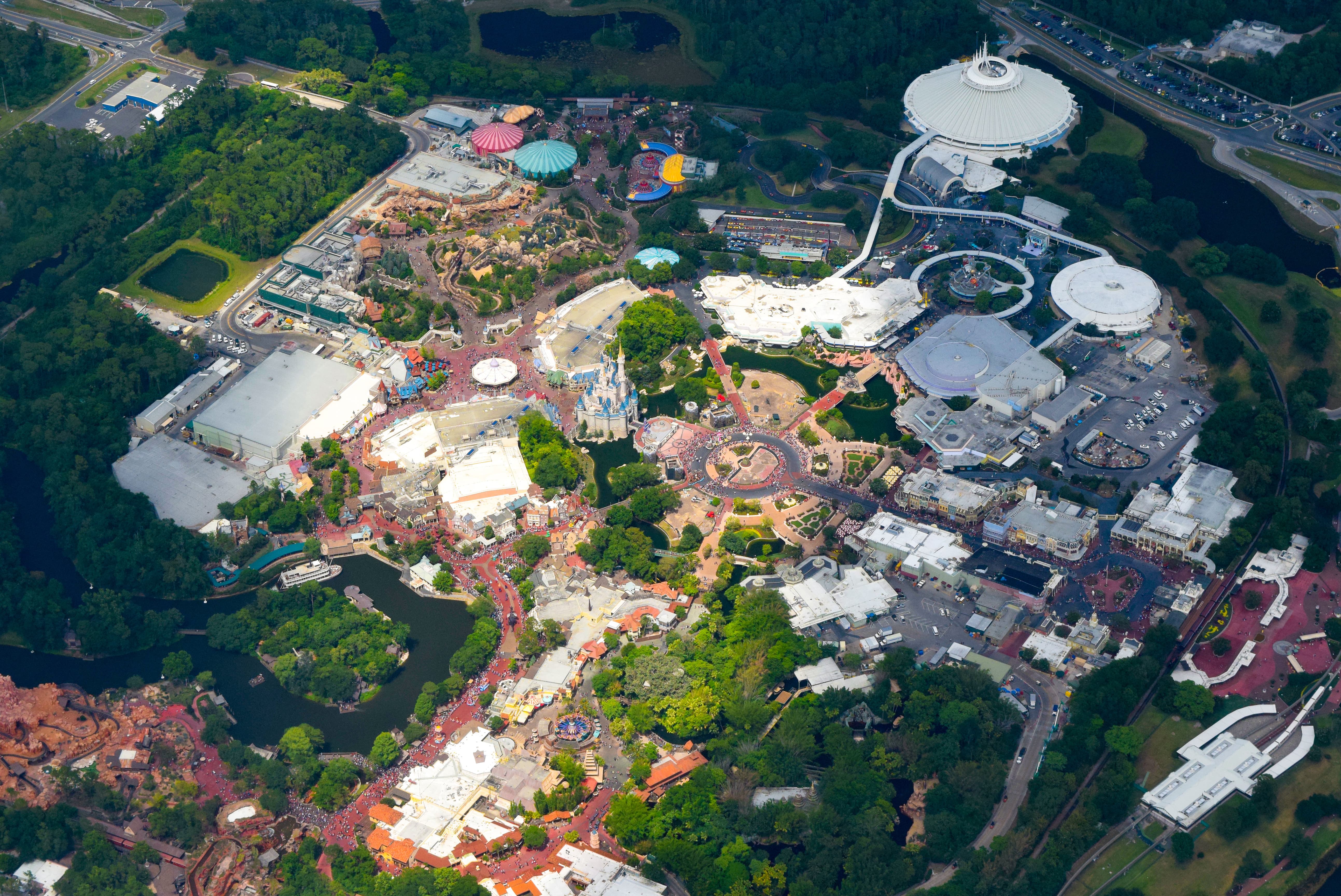 Above: An aerial view of the Magic Kingdom park. Below: The entrance to EPCOT from above.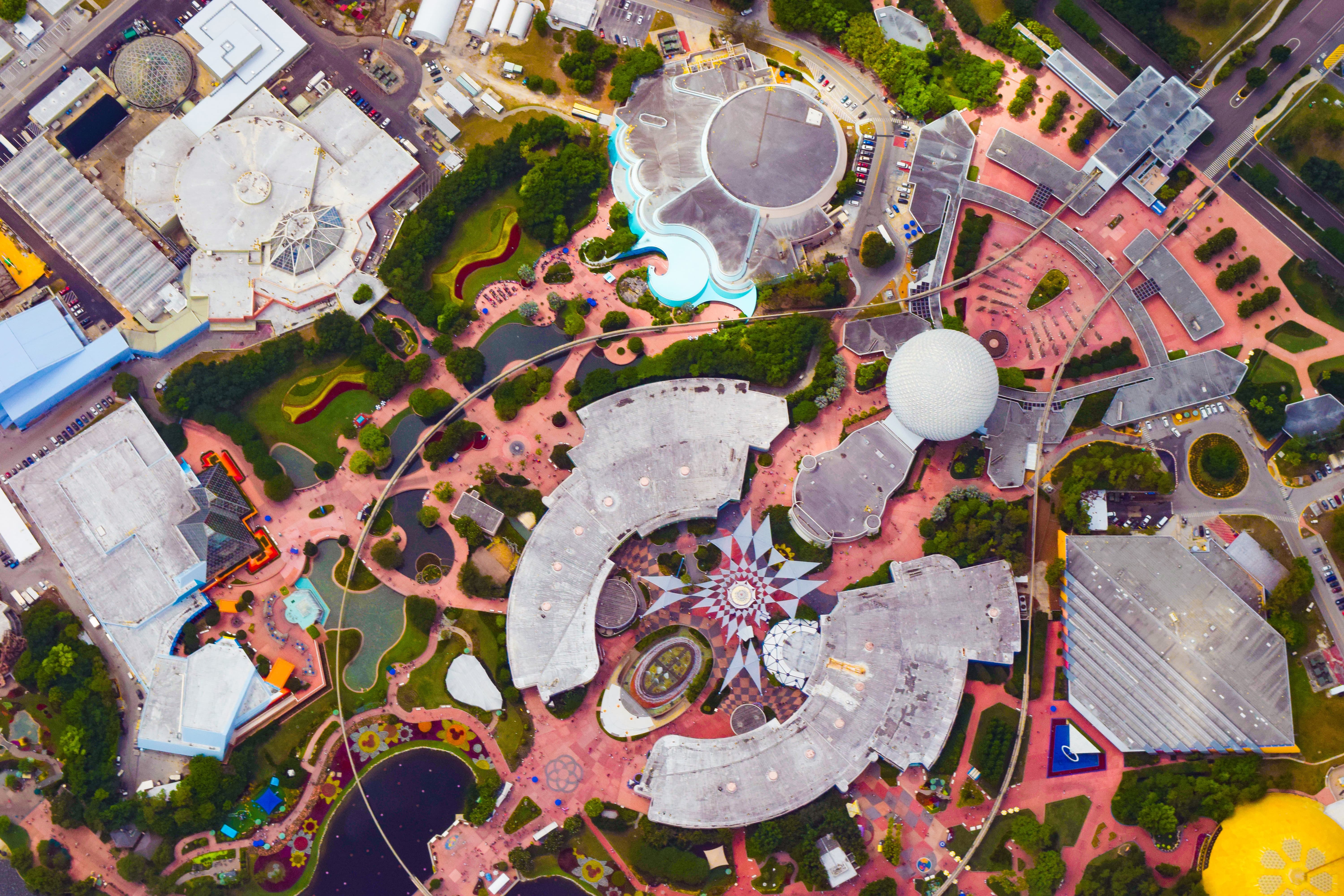 Disney's acquisition of Marvel in 2009 and LucasFilm in 2012 has given rise to "Star Wars: Galaxy's Edge" currently under construction and due to open in Disney's Hollywood Studios in 2019 and a "Guardians of the Galaxy" attraction due to open at EPCOT by 2021.

The Fox-Disney merger currently in the pipeline, is also likely to generate new resorts in the years ahead.
Over the past 60 years, this remarkable project has seen an area of swamp land become one of the world's most visited destinations, a powerful tribute to its founder Walt Disney and symbol of what can be possible if you keep on believing.
Images courtesy of The Walt Disney Archives, Google Maps, Robert J Boser, State Archives of Florida, Orange County Archives, The Walt Disney Company, Orlando Sentinel, The New York Times, State Library and Archives of Florida, Benjamin D Esham, The Disneyland Resort, Jennifer Lynn, Taylor Strictland, Paula Watson and blogmickey.com.
We welcome you sharing our content to inspire others, but please be nice and play by our rules.
Comments
---