Cities
Dalston Lane: The World's Largest Timber Building
Youtube Views

73,445

VIDEO VIEWS
DALSTON LANE is the world's largest cross-laminated timber (CLT) building.
The landmark project demonstrates the potential of using timber to build high-density housing in London and beyond. In our short documentary, we speak to the building's architect, structural engineer and client to discover how large buildings can be built with timber and why the material was used for this project.

"This building is interesting and important because it demonstrates that you can build with cross-laminated timber at scale," says Andrew Waugh, director of Waugh Thistelton, the architect that designed Dalston Lane.
The ten-storey, 121-unit development is made entirely from CLT from the first floor upwards, with core walls, through to the floors and stairs all made from the material.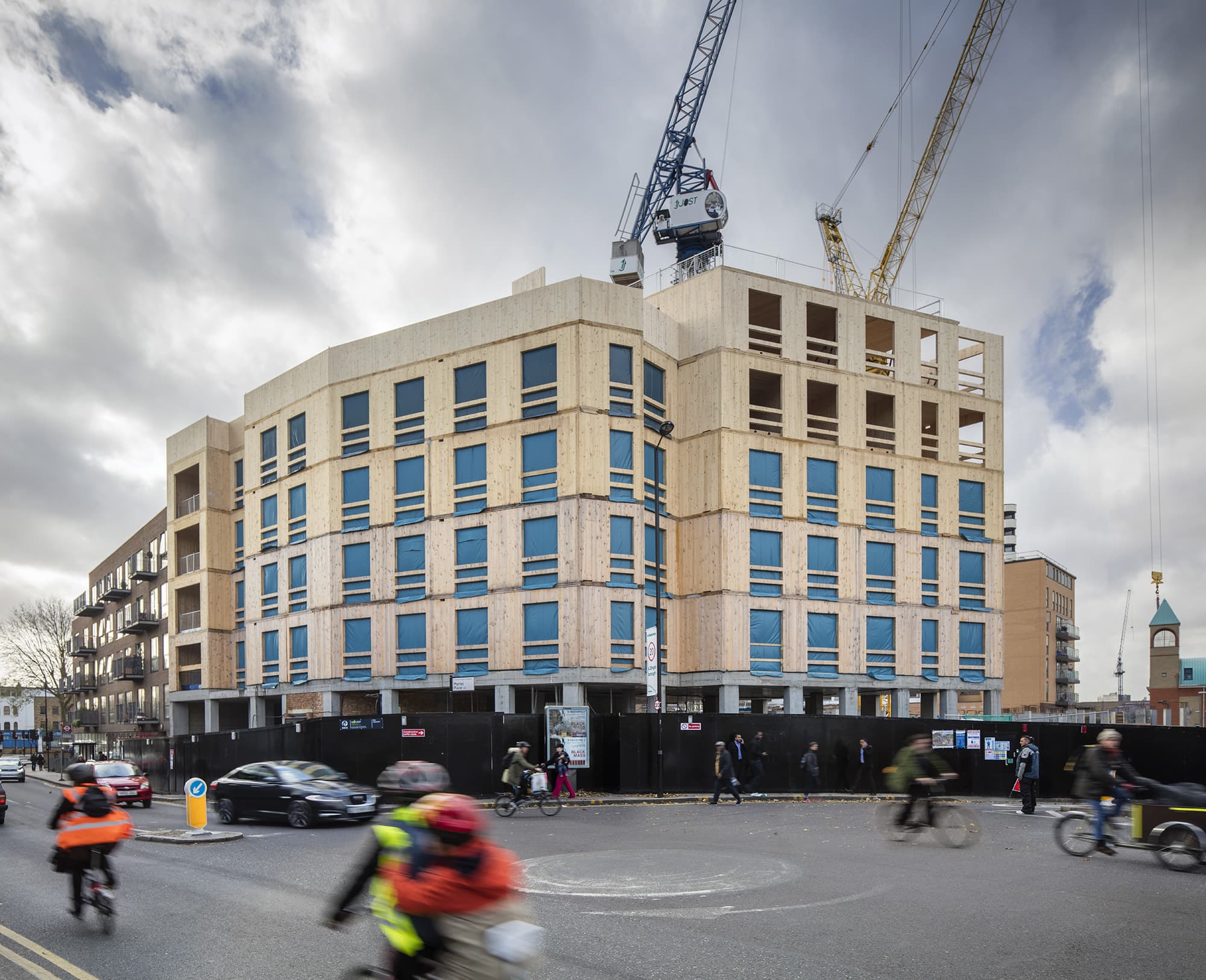 Above: Dalston Lane is the largest cross-laminated timber building built to date (image courtesy of Daniel Shearin).
Timber has been used to create a large-scale building in both terms of height and volume, and for Waugh this demonstrates the benefits of using timber in construction.
"The notion behind cross-laminated timber development is about urban housing – high-density housing", he says. "This is a great example of how we can generate the housing we desperately need across London and the UK and how we can build this from solid timber."
This ethos is echoed by David Lomax, senior associate at Waugh Thistleton and Dalston Lane's project architect: "The reason we chose timber for Dalston Lane is because our practice believes that if we are going to build the homes we need to solve the UK's housing crisis we need to do it in a sustainable way."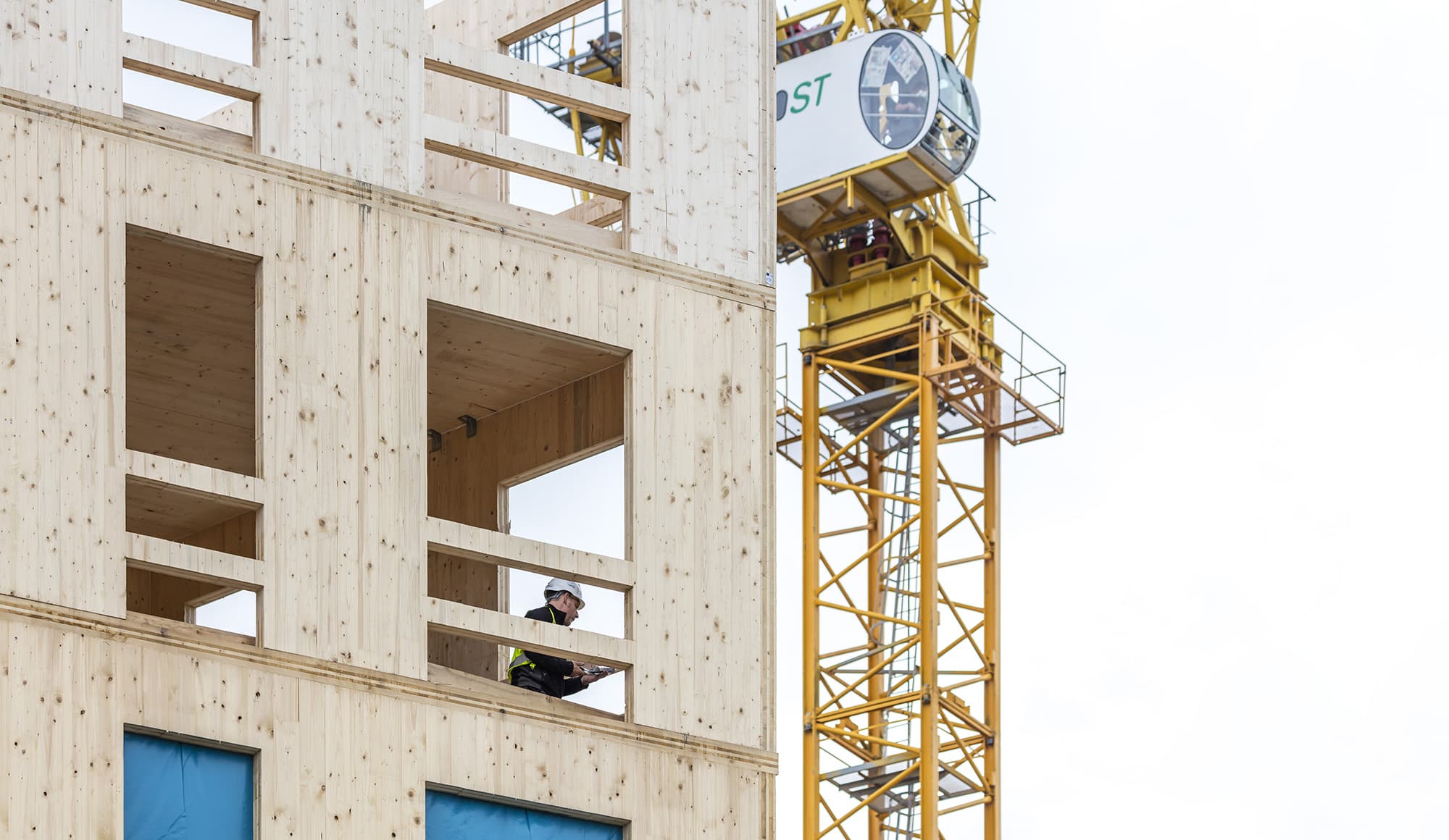 Above: Building with timber has enabled an additional 15 homes to be built on the site (image courtesy of Daniel Shearin).
At this project, there were also specific constraints that made timber an ideal structural material. An existing train line and a planned train route run under the site, which created interesting challenges – a traditional piled foundation could not be used and there was a restriction on weight due to the reserved future High Speed 2 (HS2) link.

Gavin White, engineering director at Ramboll explains how these constraints made CLT ideal for the scheme: "CLT buildings, when they are built with all the people and equipment in them, are about 30% lighter than an equivalent steel or concrete frame."
"CLT buildings are about 30% lighter than an equivalent steel or concrete frame"
This meant that a lightweight and sustainable building was constructed and an additional 15 homes could be provided on the site; something that couldn't have been achieved with steel or concrete.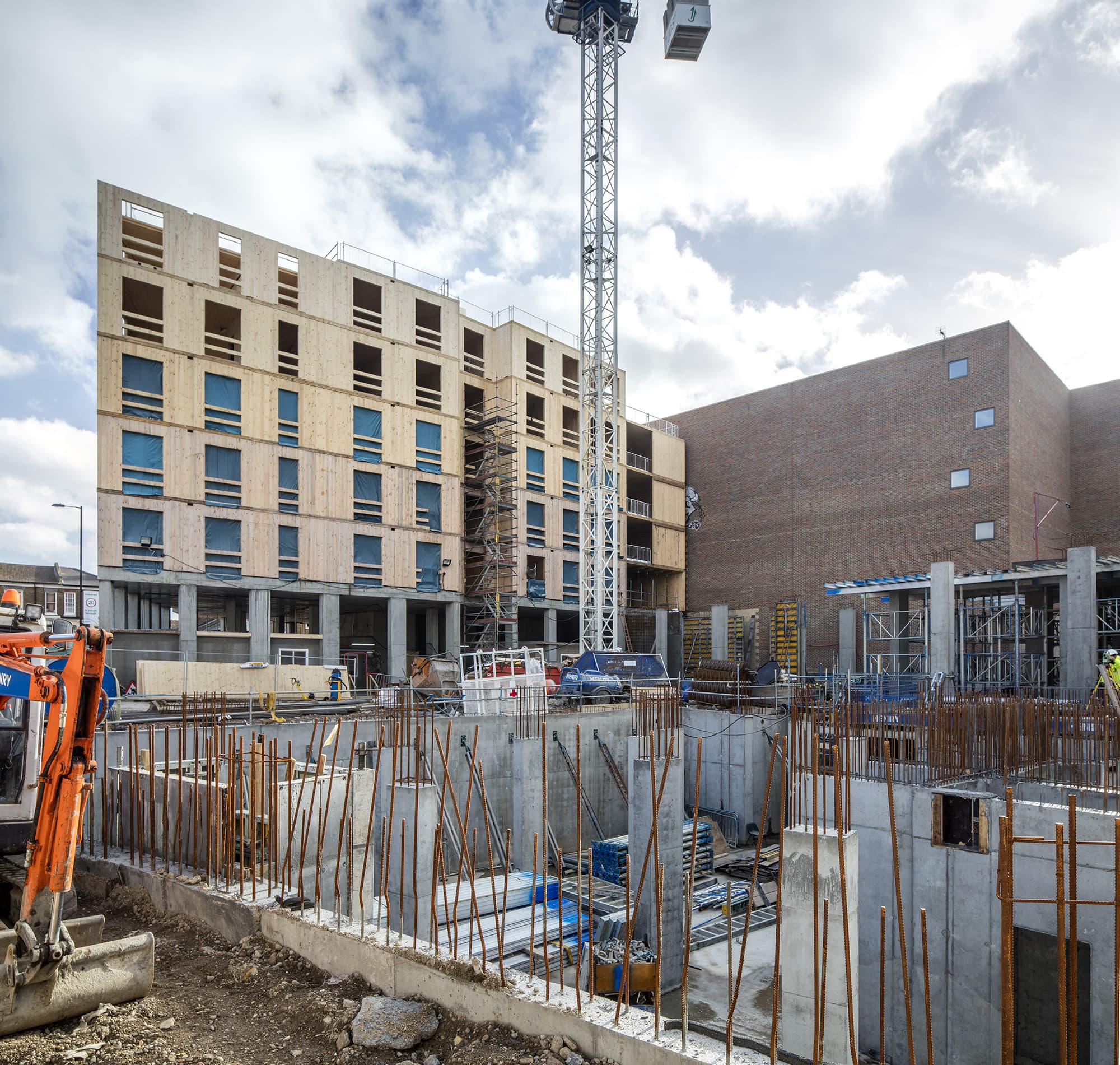 Above: The structure of the building is constructed from CLT above the first floor (image courtesy of Daniel Shearin).
At Dalston Lane, the amount of timber used has also been reduced.
In total the building has 20% less timber per square metre than Murray Grove, a CLT building designed by Waugh Thistleton that was completed in 2008. The saving was achieved by reducing the amount of timber used across the building's height; the upper storeys using less.
Although the building is predominantly CLT, most timber buildings usually have an element of concrete at ground floor, keeping wood away from the wet.
The same approach was adopted at Dalston Lane as Lomax explains: "From basement level through ground floor to the first floor slab we have a concrete building, but from there on up it is an exclusively timber structure. I think we have less than three and a half tonnes of steel in the entire building above that first-floor deck."
While in the past people may have consider ed timber a fire risk, attitudes are changing. The Dalston Lane structure follows the requirements of the Eurocode and is fully certified.
"Although it's made out of timber, the timber here is a solid panel so trying to light it is like trying to light a log with a match," says White.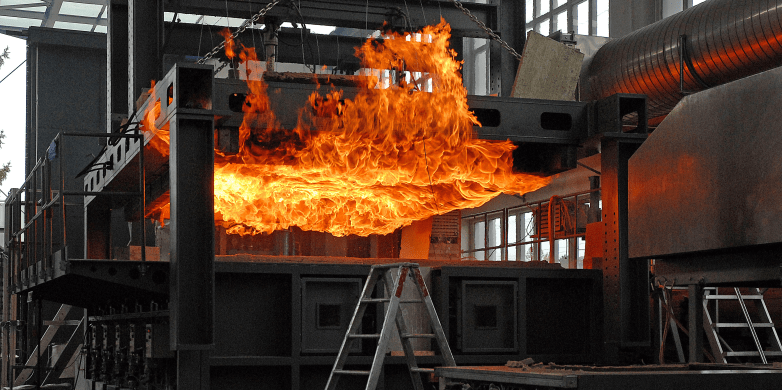 Above: CLT has been extensively fire tested (image courtesy of Daniel Shearin).
The timber itself is grown in sustainably managed forests in Austria and Germany before being manufactured into CLT in Austri a and driven to the UK.
"We have used about 4,500 cubic meters of timber, which is about 2,300 trees and there will be 800 people in the building, so we like to think of it as about three trees per person," says Waugh.
In total there were 111 deliveries of timber to the site - a significant reduction as compared to an equivalent-sized concrete building, which would have required some 700 deliveries just to build the frame.
This reduction in deliveries is an additional benefit of CLT says Lomax: "Not only can we build sustainably, not only can we build to an incredibly high quality we are also really excited about being neighbourly too."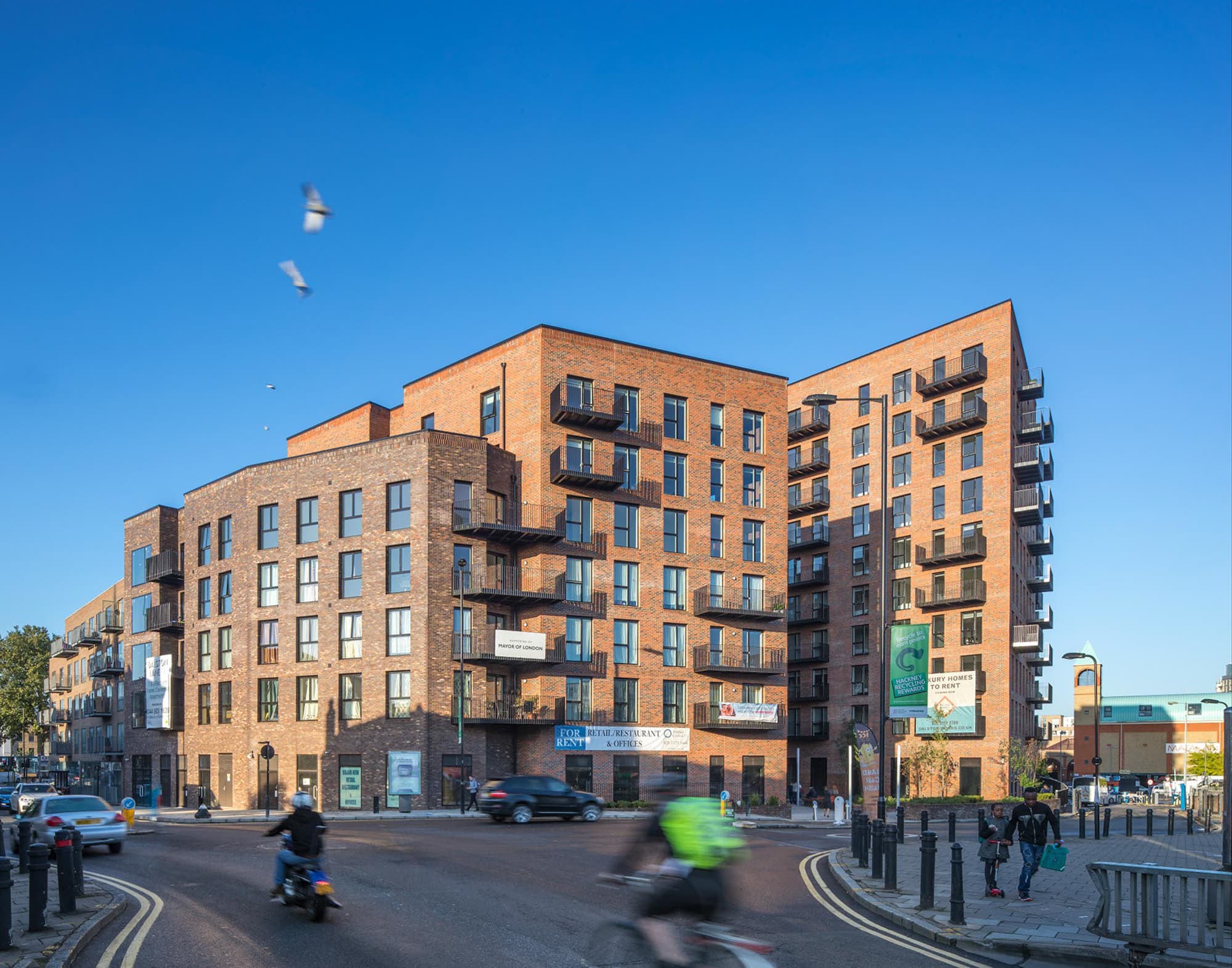 Above: The completed building is clad in brick, giving it a familiar appearance (image courtesy of Daniel Shearin).
Now complete, the building's timber structure has been fully clad in brick and is no longer visible, meaning that the block appears as a more traditional housing development.
"In some sense we want CLT to become normal," says Lomax. "And normal means normal materials, things that people recognise. They recognise brick elevations, they recognise steel balconies. So to us it's not so much that we are keen to express the aesthetic of timber, it's that we are keen to create buildings that our clients recognise, that they see as normal."
This normalisation is being felt throughout the industry says Damien Cartmell, managing director for construction at Regal Homes: "There is support for timber frame construction from both the Mayor of London and the Borough of Hackney and we worked closely with them to deliver this scheme in Dalston."
As developers realise the benefits of CLT we may see more timber housing in the future. Cartmell continues: "At Regal Homes we are committed to sustainable construction, delivering that through clever design and innovative construction techniques."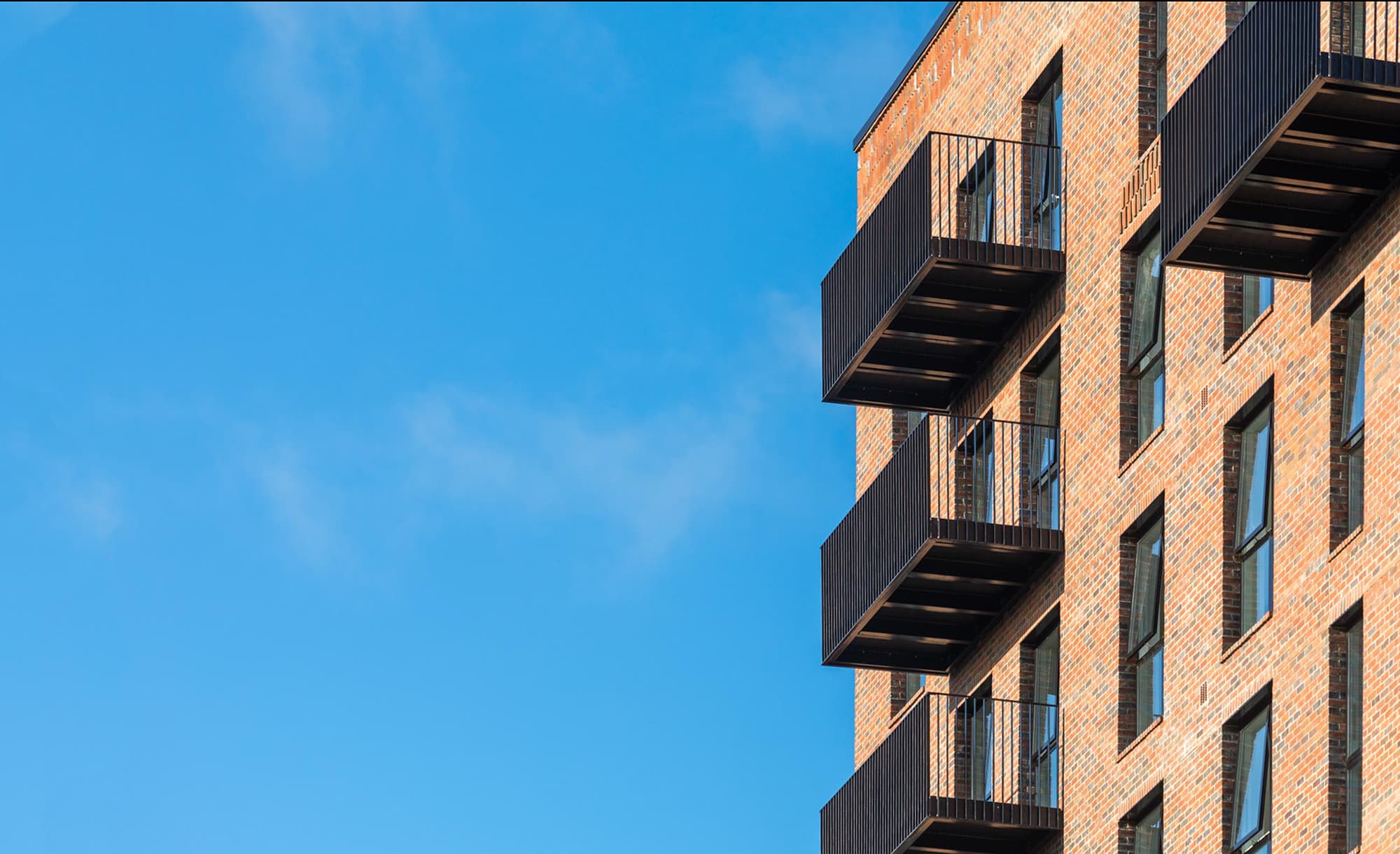 Above: Brick facades and steel balconies give the building the appearance of a "normal" London housing block (image courtesy of Daniel Shearin).
Waugh certainly believes that we will be seeing a lot more timber housing being built in London and other urban environments in the near future.
"Over the past 15 years of building with the material, we have realised that not only is this material sustainable, replenishable, but this building material also builds buildings beautifully," he says. "It builds them quickly, it builds them inexpensively, it builds them quietly, it builds them with fewer deliveries to site, so it really is in terms of renewing our city, in terms of increasing the density of our urban environments, a fantastic material to work with."
"I think we should build every building over three storeys from solid timber, we shouldn't be using concrete. Concrete is for foundations, roads and bridges"
"I really see the use of CLT growing exponentially in the next few years as carbon taxes come to the fore, as issues around climate change become increasingly important, as energy becomes more expensive'" he continues.
"I think we should build every building over three storeys from solid timber, we shouldn't be using concrete. Concrete is for foundations, roads and bridges," concludes Waugh.
You can learn more about what CLT is and how it is manufactured in our video.
Images courtesy of Waugh Thistleton, Jasson Rabbow and Daniel Shearin. We welcome you sharing our content to inspire others, but please be nice and play by our rules.
Comments
---