Cities
Meet New CIOB President Rebecca Thompson
Youtube Views

8,609

VIDEO VIEWS
IN our must-watch interview, Rebecca Thompson discusses how she got into construction, her rise to the CIOB presidency, love of the heritage sector and how to inspire more young people into our industry.
Earlier this year Thompson became the 114th Chartered Institute of Building (CIOB) President. She is only the second woman to occupy the prestigious leadership role (Professor Li Shirong was the first in 2009) and is the first to come from a heritage background. Such statements highlight the industry's ongoing challenge with inclusion; and attracting a more diverse range of people into the industry is a key objective of Thompson's presidency.
Thompson herself began her career as a receptionist at a building surveyor's office. "Like an awful lot of people, I came into construction completely by accident" she says.
"Like an awful lot of people, I came into construction completely by accident"
It was the support and encouragement of these surveyors that convinced Thompson to consider a role in the built environment. She explains: "I took some technical drawings into the office and they said – 'you're quite good at this have you considered a career as an architect or building surveyor?'. They really took me under their wing, showed me the ropes of building surveying and I absolutely loved it."
This continued unofficial mentorship – with Thompson returning to volunteer at the office throughout her A-levels – convinced her to pursue a career in the industry.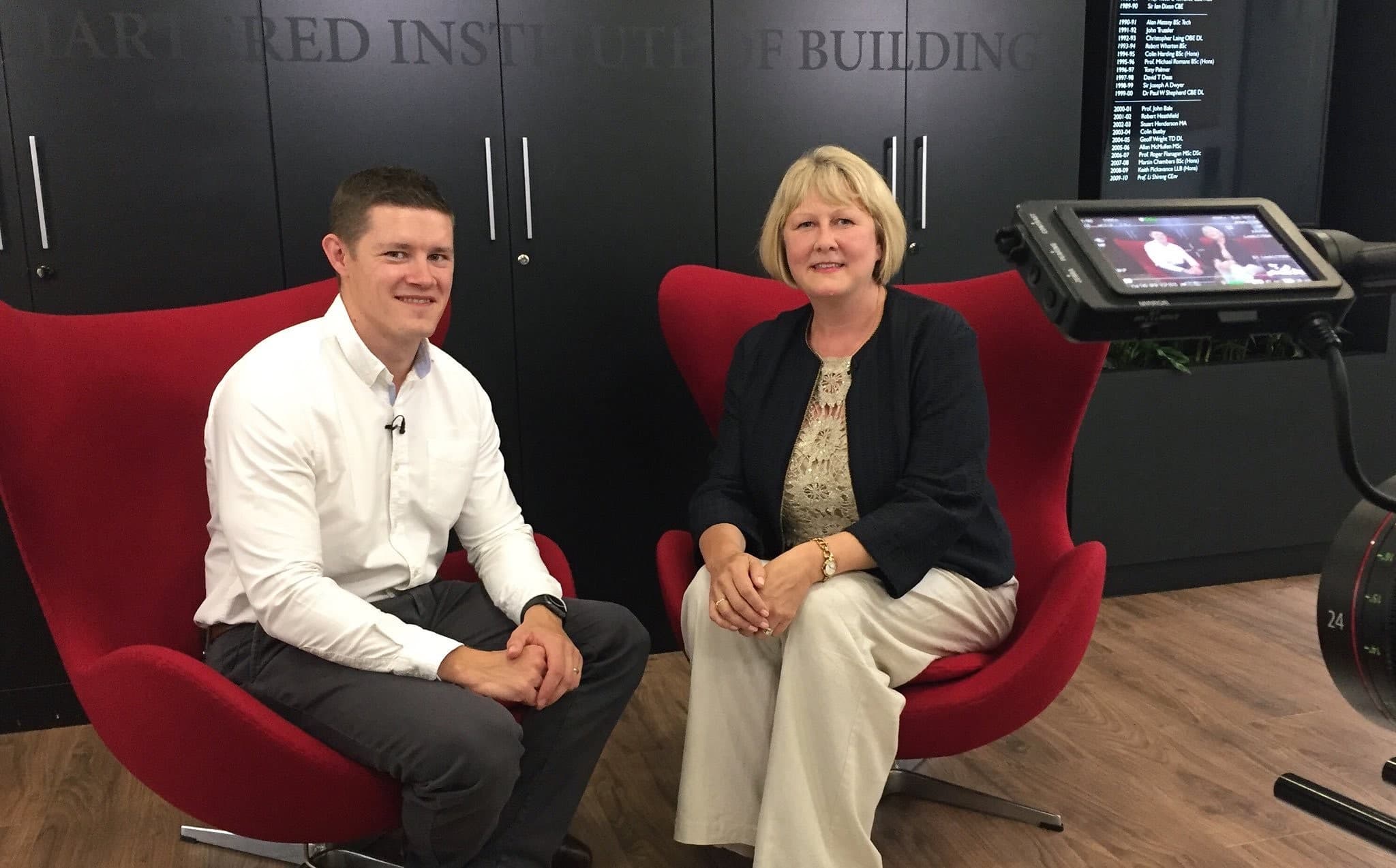 Above: Thompson talks to The B1M's co-founder Fred Mills.
"I decided to go to university and study building surveying" she explains. However, things did not quite go to plan, and another quickly opportunity arose: "After my A-Levels I went to the United States to do Camp America. I rang my Dad and said 'I am in South Carolina and I am going to go to Florida' – but, he said 'no you've got yourself a job, get yourself home.'"
That job was as a trainee surveyor at Shepherd Construction, where Thompson did an HNC in building studies. Thompson has now become the third CIOB president to originate from the company: "both Paul and Sir Peter Shepherd are past Presidents from York, so there is a nice lineage there," she says.
The heritage sector is Thompson's real love, and it's here that she sees an opportunity to encourage a broader range of people into the industry.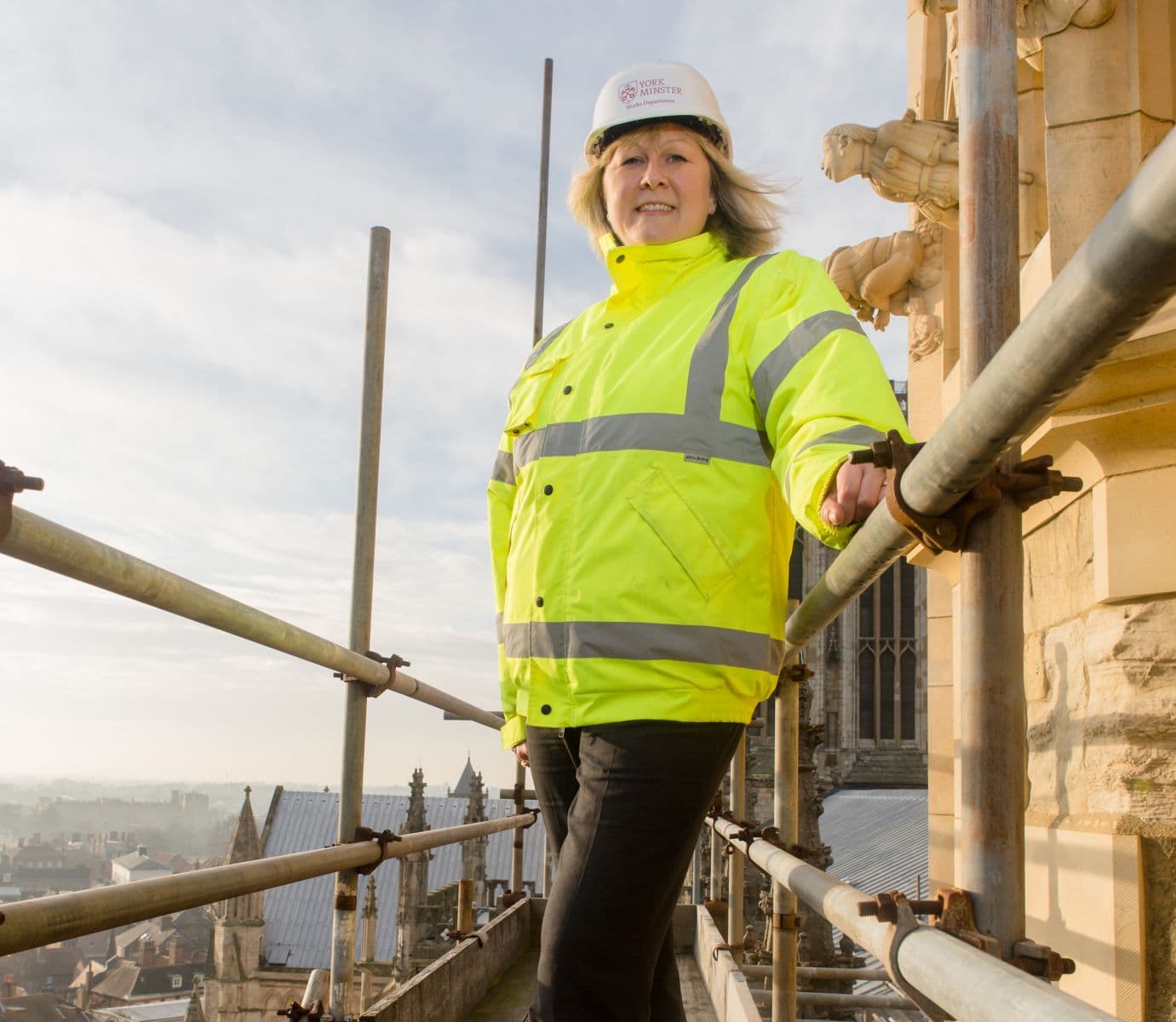 Above: Thompson comes from a heritage background and aims to promote this sector during her presidency (image courtesy of Chapter of York).
Having started her career in commercial construction, it was leading a team of archaeologists at EC Harris that first lead Thompson into heritage work. A degree from the Open University followed, with Thompson then finding her "dream job" leading the largest lottery-funded heritage project in the UK at York Minster.
Thompson relishes the challenges that heritage buildings pose as compared to new-builds. She goes on to explain the importance of both retaining and advancing skills in this area as some 25% of our existing buildings are historical stock: "It is a really complex part of the industry that I really love. I think it could encourage different people into the industry as well, and we have got a skills shortage."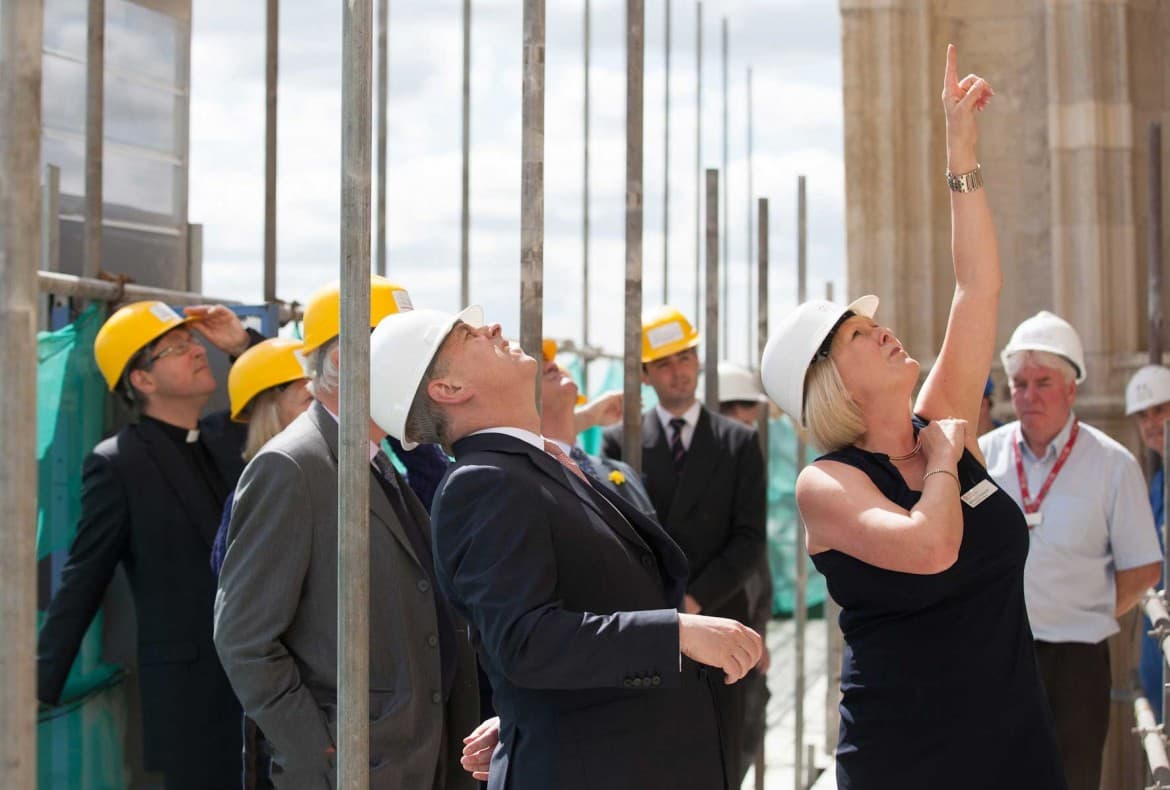 Above: Thompson showing HRH Prince Andrew around the works at York Minster as part of her 'dream job' (image courtesy of Duncan Lomax).
Tackling this skills shortage will be a key part of Thompson's presidency and it is something that is closely related to what she describes as a 'massive diversity imbalance'.
"We've got to make it a great industry to work in", she explains. "One way we can do that is by looking outside of the standard pool of people coming through with physics and maths and that sort of engineering talent."
Along with looking at those with a heritage, arts and archaeology background, Thompson highlights the power in transferring skills from other industries, with retired army veterans being the focus of a current CIOB campaign.
Thompson concludes by challenging young people to take advantage of the current skills gap to develop a career in construction: "If you are looking for a fantastic career in construction then go for it. It's a massive opportunity and I would really encourage anybody to join us."
You can learn more about the Chartered Institute of Building (CIOB) here and follow Rebecca Thompson on Twitter @rebeccatym.

We welcome you sharing our content to inspire others, but please be nice and play by our rules.
Comments
---