Infrastructure
Building Africa's City in the Sea
Youtube Views

2,519,934

VIDEO VIEWS
AS an increasing majority of the global population choose to live in urban areas, many cities in emerging economies are quickly becoming new economic powerhouses on the world stage.
With 13 million inhabitants, Lagos is the largest city in Nigeria and, despite overcrowding and continual erosion from the Atlantic, is expected to become the largest city in the world by 2100, when it will be home to over 88 million people.
Despite its current challenges, the State of Lagos and the Nigerian government are working to elevate the city to become the economic centre of West Africa and the financial heart of the entire African continent.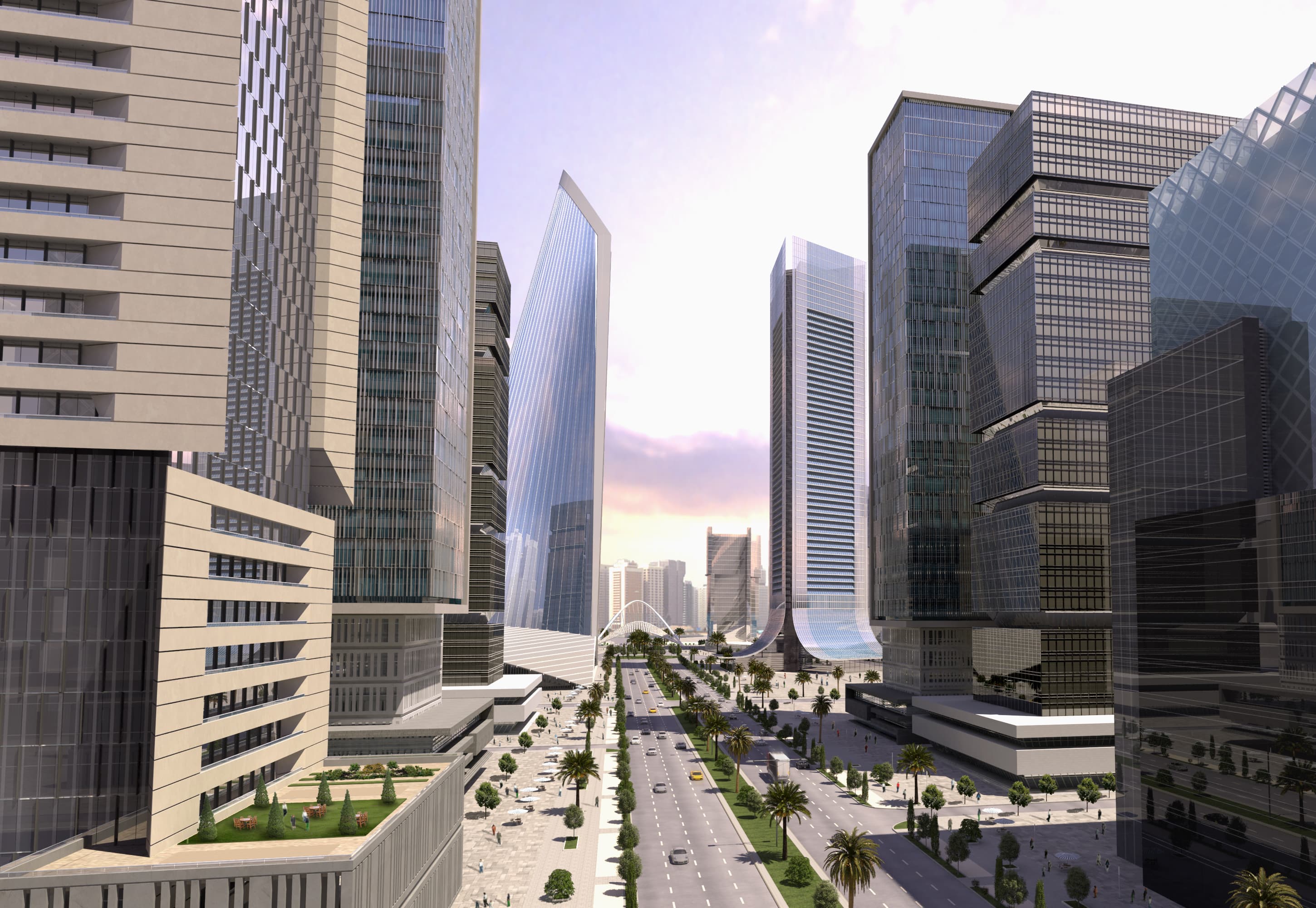 Above: Eko Atlantic is set to become the new financial heart of Africa (image courtesy of Eko Atlantic/South Energyx Nigeria Limited).
In order to provide Lagos with the space it requires to become such a prominent financial centre, a vast area of land is now being reclaimed from the Atlantic Ocean – turning back more than 100 years of coastal erosion and creating a multi-district addition to the already extensive city.
Funded by a consortium headed by South Energyx Nigeria Limited and developed in conjunction with the Nigerian government, the vast "Eko Atlantic" scheme will reclaim 10 square kilometres of land from the Atlantic Ocean and extend the coastline more than two kilometres offshore.
10 new city districts will then be constructed on this reclaimed land, providing commercial, residential and recreational amenities and homes to more than 250,000 residents. In addition, some 150,000 commuters will be expected to visit Eko Atlantic every day.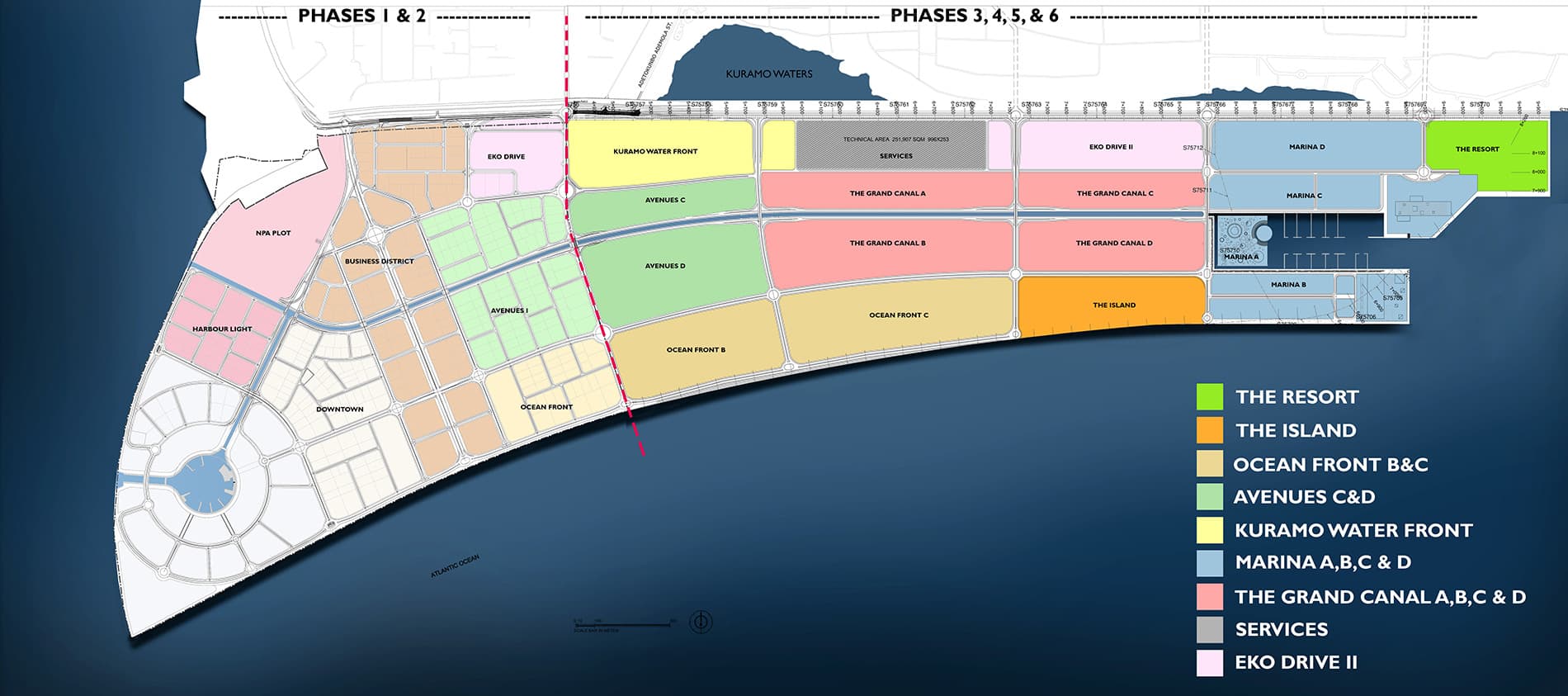 Above: The new land will re-establish Lagos' coastline and feature 10 new districts (image courtesy of Eko Atlantic/South Energyx Nigeria Limited).
Centred around Eko Boulevard - a two-kilometre long main route that is intended to become the equivalent of New York's Fifth Avenue or Paris' Champs-Élysées – this new city aims to become the global gateway into Africa with its own independent power, water, fibre optics and drainage systems that seek to provide world-class infrastructure to its occupants.
While several land reclamation projects have been undertaken across the world - in locations such as Dubai, Hong Kong and Monaco - many of these schemes have been constructed in the relatively calm waters of the Persian Gulf and the Mediterranean Sea.
However, with Lagos' position on the ocean, the land reclaimed to create Eko Atlantic needed to be engineered to withstand the extremes of nature.
THE GREAT WALL OF LAGOS
In order to construct this vast new area of land and ensure that it remained in place - even in the face of a 1-in-1,000 year storm - engineers are constructing what has become dubbed the "Great Wall of Lagos".
This wall consists of an eight-kilometre long, 45-metre wide structure, that rises 18 metres from the ocean floor to protect the newly reclaimed land and re-established Lagos coastline.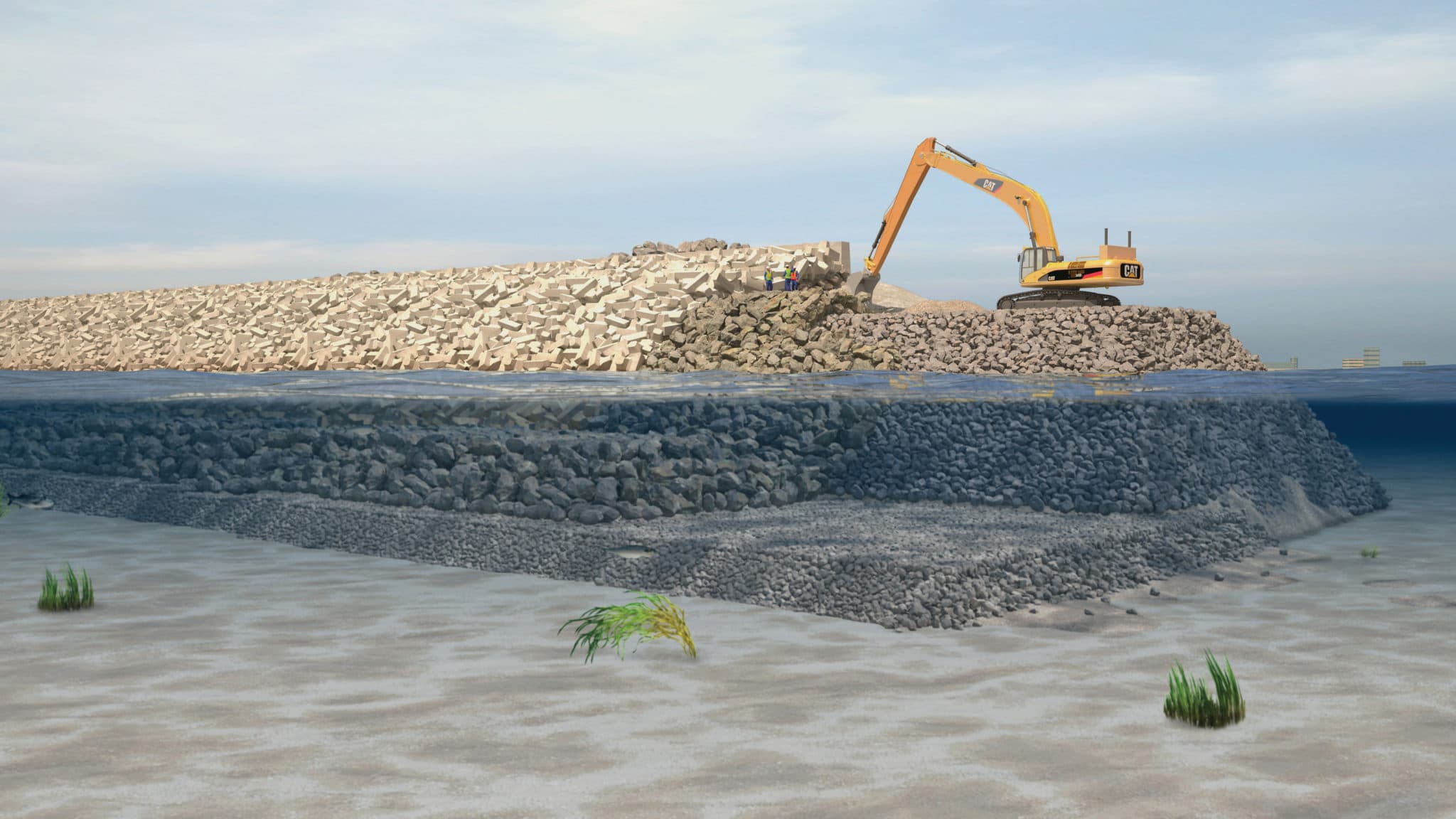 Above: Extending eight metres above the waves, the wall protects the new land from being washed out to sea (image courtesy of Eko Atlantic/South Energyx Nigeria Limited).
Designed to the highest marine standards, the wall is made up of 12 layers of rock and concrete giving it the ability to withstand an extreme, once in a millennium storm event.
Consisting primarily of various grades of rock, the real strength of the wall comes from more than 100,000 X-shaped concrete blocks which form its visible top layer.
These concrete blocks weigh five tonnes each and are moulded using a special concrete mix that eliminates the need for steel reinforcement which could degrade over time in the oceanic environment.
Using GPS trackers, each block is placed precisely along an X, Y and Z axis, allowing them to interlock with one another and create a united structure capable of withstanding and disrupting the strongest Atlantic waves.
While the Great Wall has been praised for restoring the coastline and protecting the low-lying Victoria Island from flooding and erosion, critics of the project claim that the new land has led to storm surges being re-directed either side of the development and into unprotected areas of Lagos.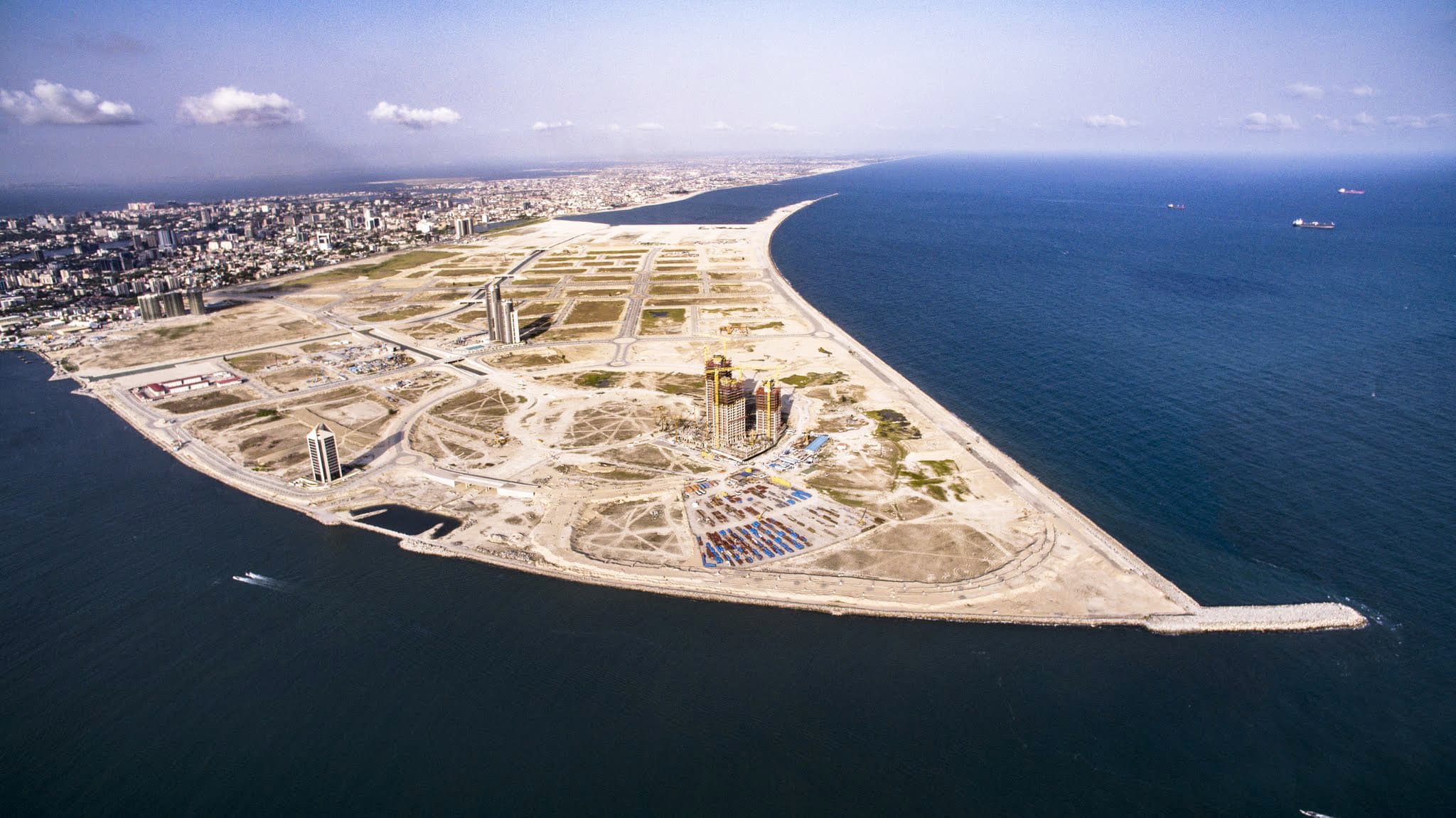 Above: More than half complete, infrastructure and buildings are now being constructed (image courtesy of Picasa).
Rising eight metres above the waves, the wall creates a lagoon which is then filled with sand from the ocean floor, creating new usable land for developers to construct Eko Atlantic.
A CITY RISES FROM THE OCEAN
While works first commenced in 2008, it was not until 2013 that enough land had been reclaimed to enable infrastructure and building construction to begin.
With canals, roads, and bridges under construction, in 2016 Eko Black Pearl became the first residential tower to open, marking a major milestone for the project. Since then, the tower has been joined by the Eko White Pearl and a number of other structures across the area.
With 6.5 square kilometres of land already reclaimed from the ocean, the project is now over 50% complete – and with critical infrastructure in place, developers will soon be opening the newly created region to further foreign investment.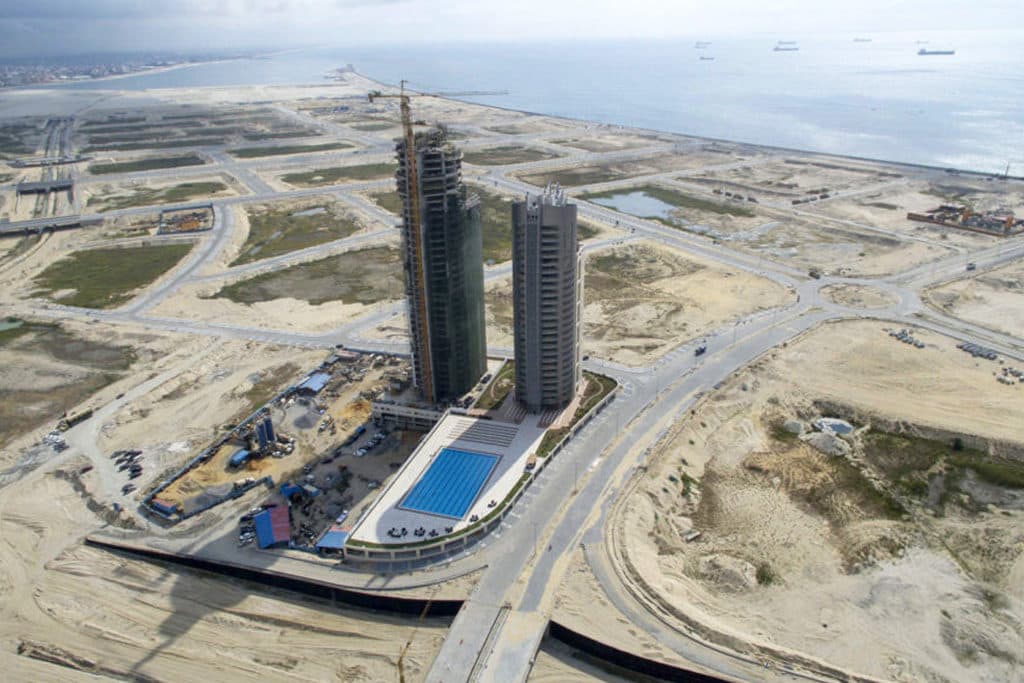 Above: Eko Atlantic is set to open up to increased foreign investment now that critical infrastructure is in place (image courtesy of Eko Atlantic/South Energyx Nigeria Limited ).
Despite receiving strong support from the Nigerian government, some have criticised the project saying that it will increase inequality between those in Eko Atlantic and the wider city of Lagos.
However, with projects like the Lagos Metro and the Lagos-Kano Railway, already raising the standard of living across the country, the increased investment that Eko Atlantic will bring to Nigeria is likely to allow further projects to be carried undertaken well into the future.
Footage and images courtesy of Eko Atlantic, South Energyx Nigeria Limited, Anse Du Portier, Joe Penny, Akintunde Akinleye, Picasa, DigitalGlobe, Eko Energy City and Xinhua.
We welcome you sharing our content to inspire others, but please be nice and
play by our rules
.
Comments
---