Cities
Monaco's Mediterranean Expansion
Youtube Views

1,183,635

VIDEO VIEWS
Video hosted by Fred Mills.

THE small European nation of Monaco is facing a housing crisis.
While it's one of the wealthiest countries in the world and a playground for the rich and famous, there simply isn't enough land to cater for the growing number of millionaires now looking to call Monaco their home.

With a population of 38,000 people living in an area not much larger than London's Regent's Park - and with an estimated 2,700 people expected to move to Monaco by 2026 - the issue of space has become critical.
With resistance to the construction of skyscrapers - partly because they could block existing sea views and partly because of a clear preference for villas amongst residents - a USD $2BN, 15 acre expansion into the Mediterranean Sea is now underway.
When completed in 2025, the expansion will provide enough land for 1,000 new residents, alongside a marina and extensive public spaces.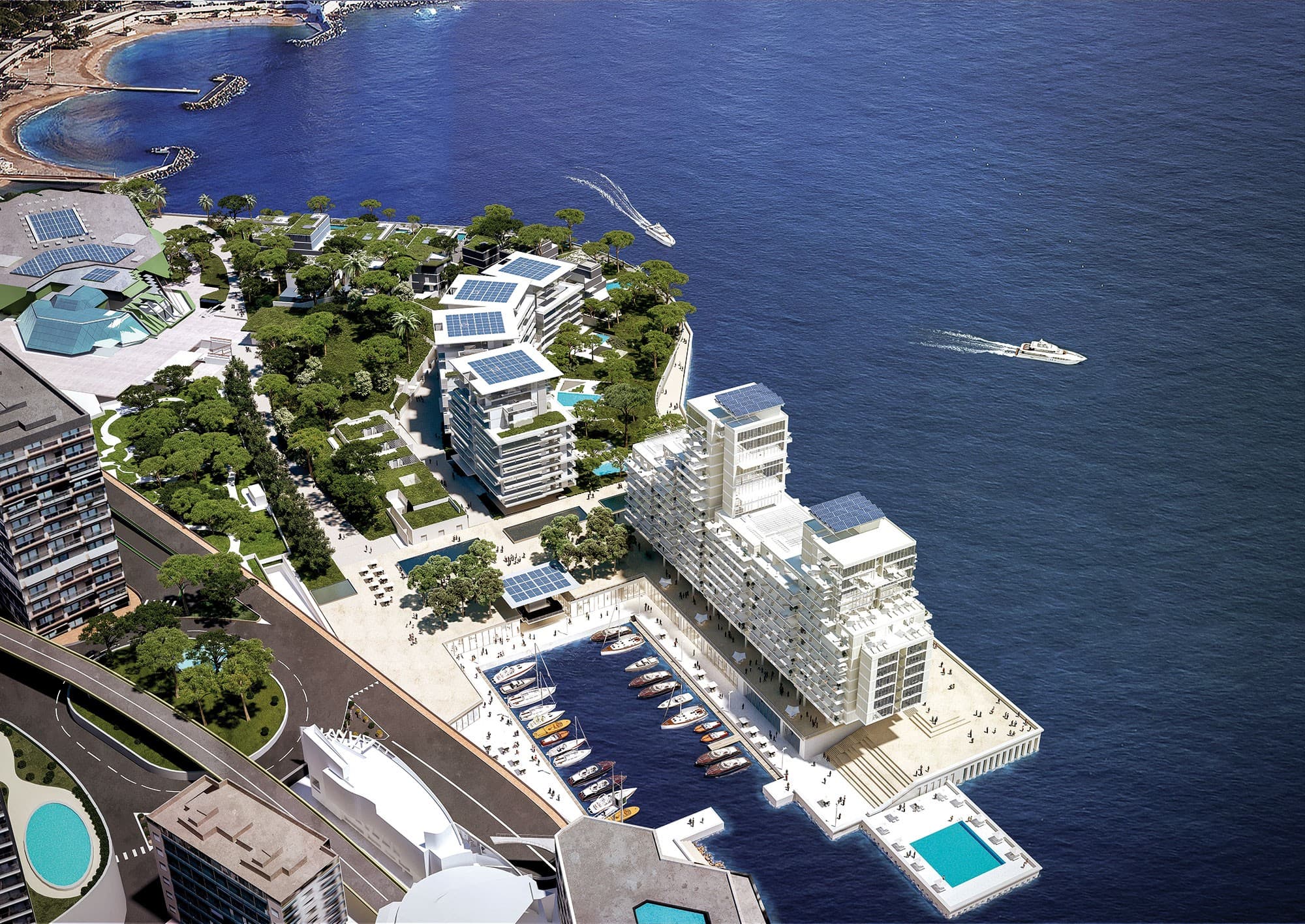 Above: The USD $2BN, 15 acre expansion named "Portier Cove" in Monaco (image courtesy of Valode + Pistre Architects).
Land reclamation is nothing new for Monaco. Bordered by France to the North, East and West, the only option that the state has for expansion is Southwards, out into the sea.
Since the first land reclamation in the late 19th century, the country has grown in area by over 20% through various expansions; the largest of these being the Fontvieille Ward.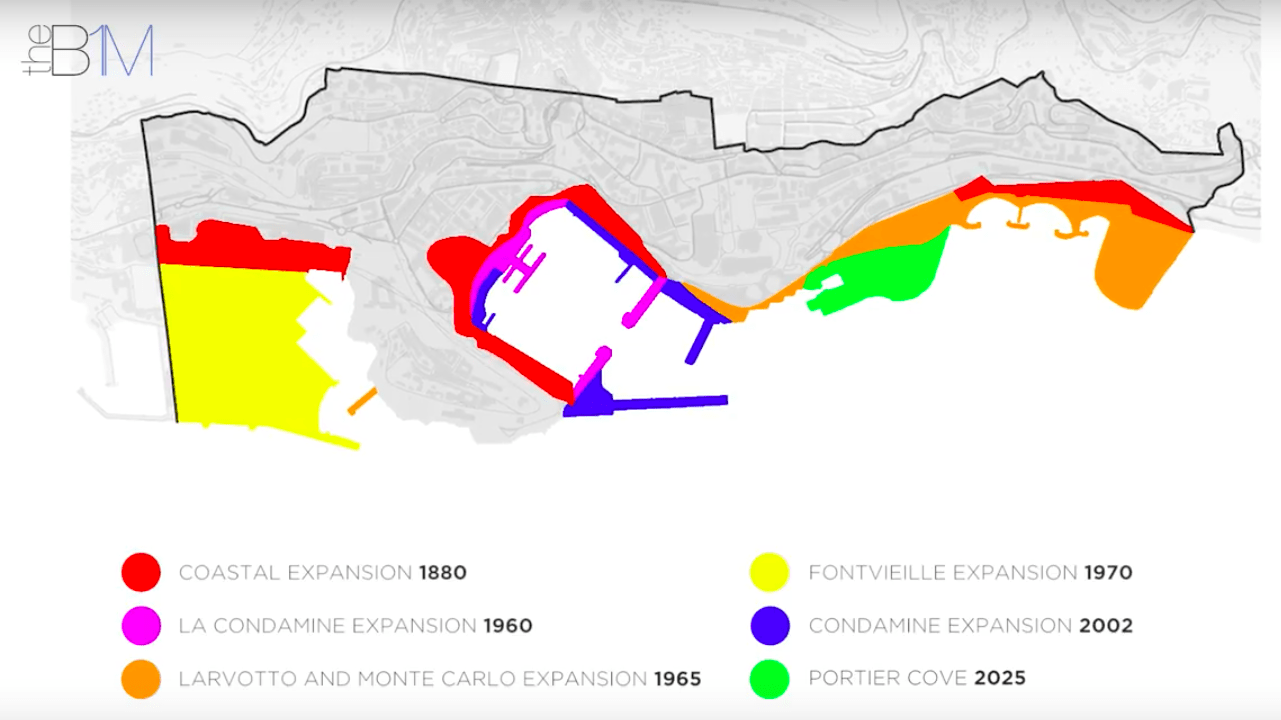 Above: Monaco has been expanded into the sea several times throughout its history.
The new expansion - called "Portier Cove" - will be entirely financed by the private sector.
Developers are set to profit from new residential projects on the reclaimed land which are expected to sell at prices of over USD $100,000 per square metre - more expensive than property in London, Paris or New York.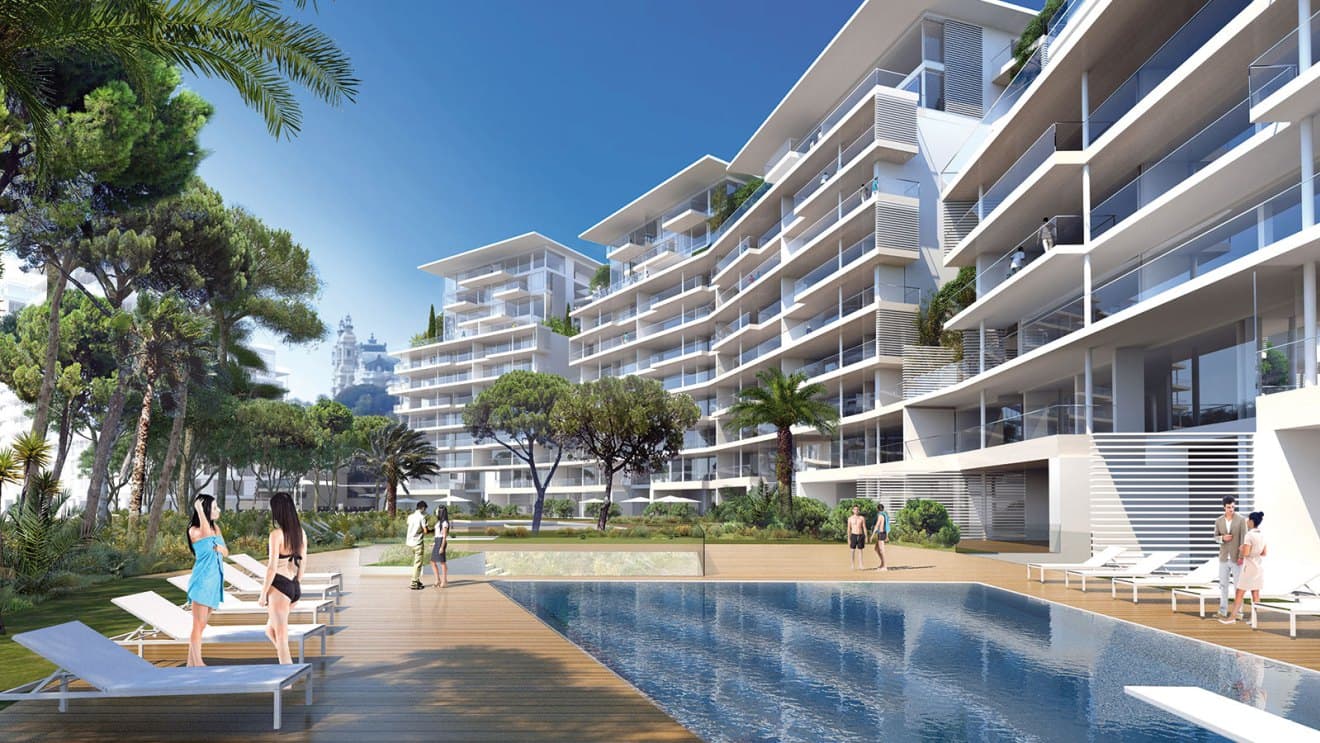 Above: The new residences on Portier Cove are expected to sell for more than USD $100,000 per square metre (image courtesy of Valode + Pistre Architects).
Located near the famous Monte Carlo Casino, Monaco's Government will own over USD $610M worth of new assets and civic space on the reclaimed land; including the seafront promenade, parks and gardens, and the expanded Grimaldi Forum.
The project was awarded to the French arm of Bouygues Construction in 2015 after they successfully delivered large scale maritime projects in Morocco, South Korea and France.
With environmental considerations being given particular focus - and with developers looking to set a new benchmark in environmental design - extensive protection works were undertaken before construction commenced.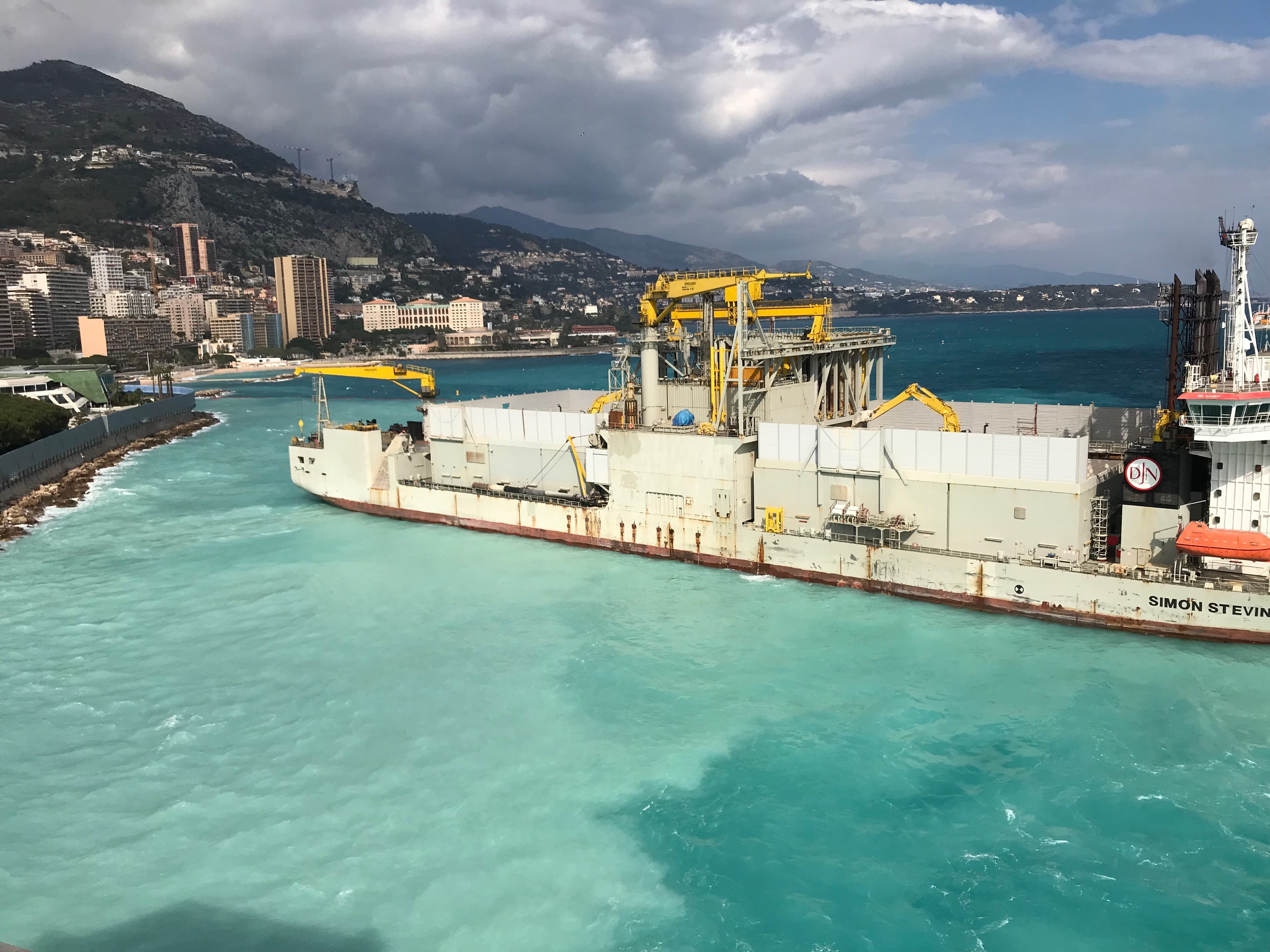 Above: Submerged screens will contain the sediment disturbed by dredging and limit the impact it has on the surrounding environment ( image courtesy of Dan Cortese).
Numerous plant and animal species were relocated from areas around the project site to a nearby marine reserve where they will be remain until the project is completed, and a series of man made reefs have been established to replace lost habitats.
"Submerged screens" have been installed around the site to minimise the impact that dredging will have on the surrounding ecosystem, and the new coastline has been designed to conform to the natural flow of sea water so as not to disrupt the current once complete.
To construct such a vast area of new land, contractors are spending 40 months dredging silt from the seafloor to expose the bedrock.
From there, 18 concrete caissons, each weighing 10,000 tonnes and standing 26 metres (85 feet) tall, will form a protective underwater belt that prevents the new land being washed away in large swells.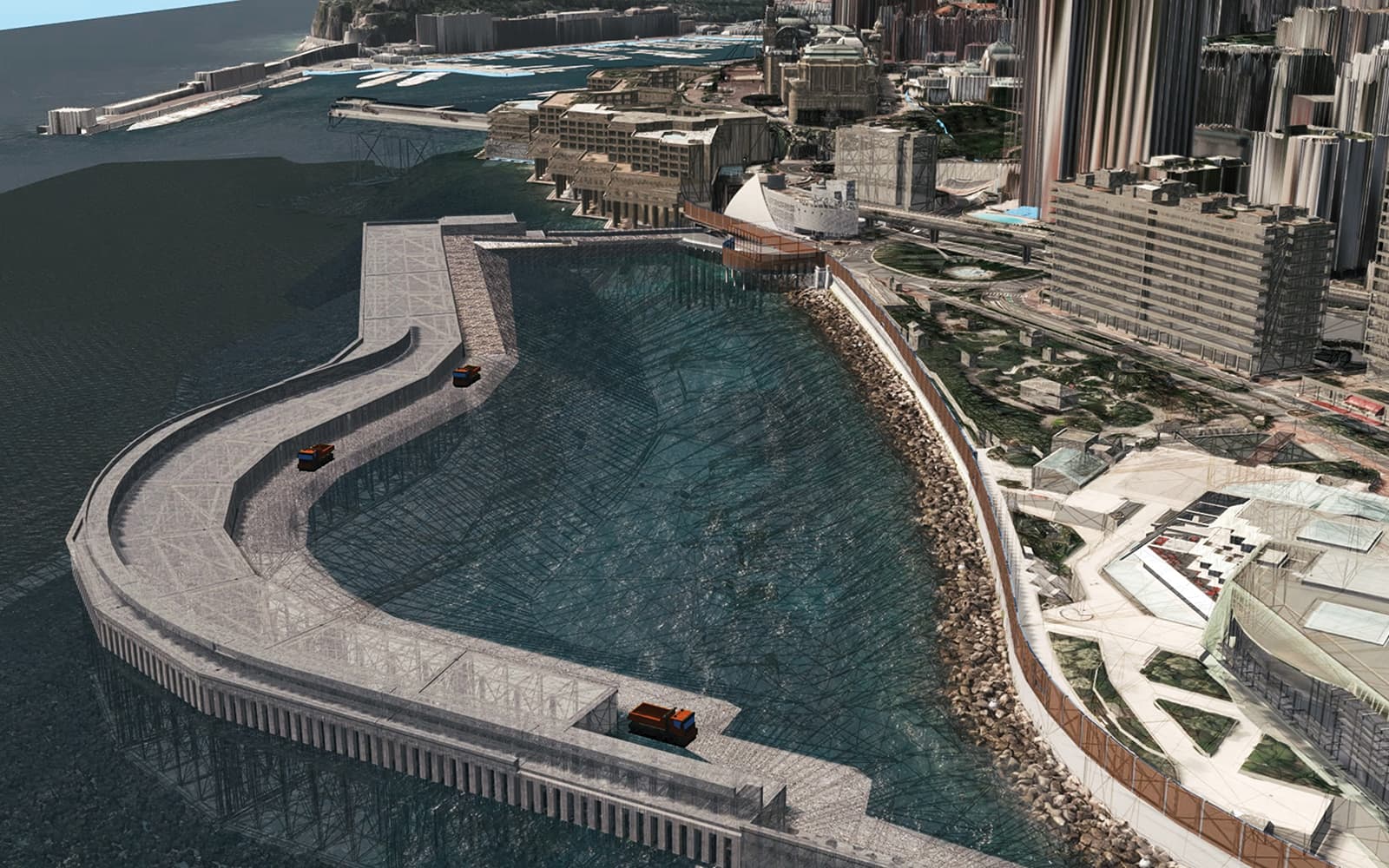 Above: The reclaimed land will be protected from being washed away in large swells by a series of concrete caissons (image courtesy of Bouygues Construction).
The area within the caissons will then be filled with over 1.5 million tonnes of rock from a nearby quarry in France and with marine sand shipped from Northern Sicily.
The land reclamation phase of the project is expected to be complete by 2020, when construction of the civil and residential developments will begin.
Set to contain 120 luxury residences in a new "eco-neighbourhood" the expansion will emulate Monaco's natural topography with structures gradually increasing from low-lying villas along the promenade to larger apartment towers inland.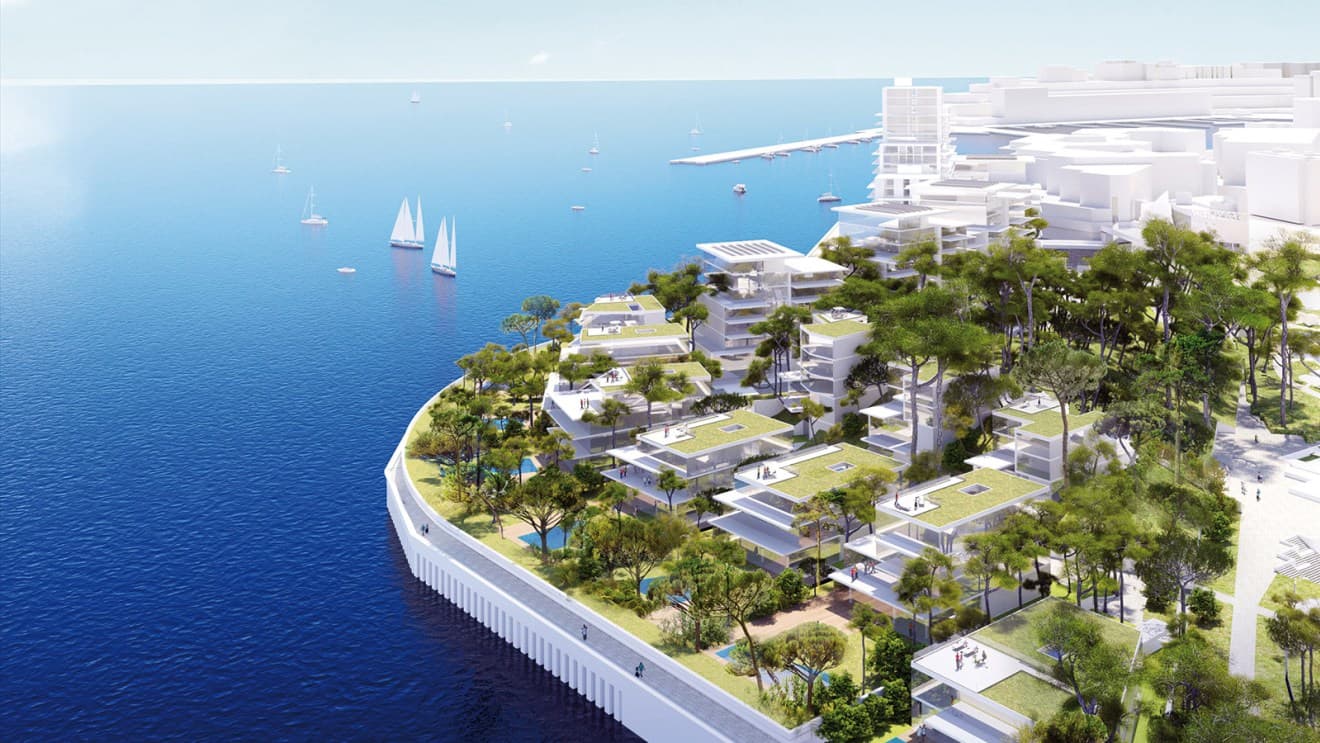 Above: The new land will follow Monaco's natural topography and appear to rise as it moves inland (image courtesy of Valode + Pistre Architects).
When complete in 2025, the Portier Cove expansion will serve the growing number of people seeking to move to Monaco and stand as an impressive benchmark for future land reclamation projects around the world.
Images courtesy of CREVISIO, Andreas Einaudi, Hampus Cullin, Valode + Pistre Architects, Google, Dan Cortese, Jan De Nul Group and Bouygues Construction.
[This video was originally published on 04 April 2018 with an incorrect image credit at 0:01. The correct credit for this image is CREVISIO. This was amended on 04 September 2018.]
We welcome you sharing our content to inspire others, but please be nice and play by our rules.
Comments
---