Infrastructure
China's Sporting Super-Complex Explained
Youtube Views

420,691

VIDEO VIEWS
Video powered by Autodesk Construction Cloud and hosted by Fred Mills. This video and article contain paid promotion for Autodesk Construction Cloud.
IN THE SPACE of just one generation, China has grown into the world's second-largest economy - transforming cities, connecting its regions, harnessing the power of nature, and taking a central if somewhat controversial role in global affairs.
But while these feats are impressive, they mean little if no one knows about them.
To capture the world's attention and showcase the nation, China has built some of the most impressive sporting infrastructure on Earth in recent years - and its latest complex takes things into a whole new league.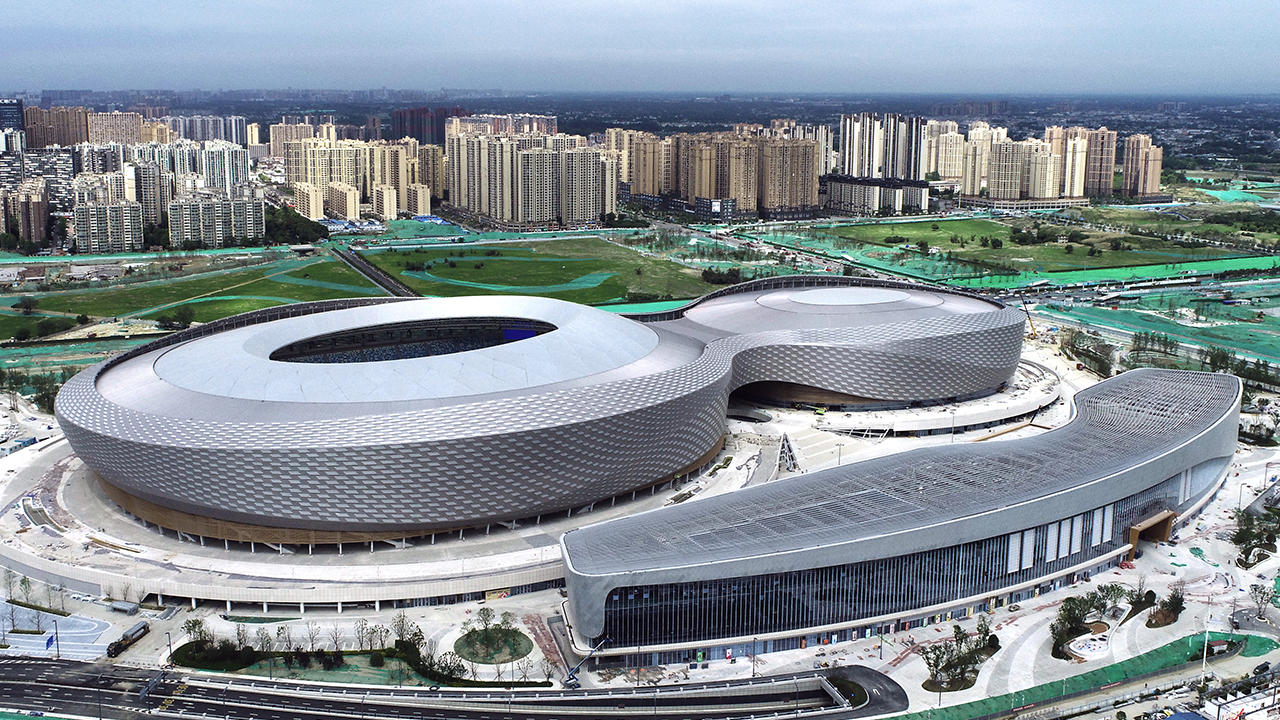 Above: Phoenix Mountain Sports Park in Chengdu. Image courtesy of Autodesk.
Phoenix Mountain Sports Park in Chengdu is another big, glitzy and impressive sports venue in China - but it's different from the others.
To really understand how it came about and why it looks the way it does, we need to rewind a bit.
China's transformation over the past 30 years blows the mind.
The economic reforms of the 1980s have seen its cities explode and small towns are now huge metropolises. The country has built two-thirds of the world's entire high-speed rail network in just 12 years and it's now an undisputed manufacturing powerhouse.
But to really get noticed by the world, China knew it needed to do something big and in a language that everyone understood.
Massive multinational sporting events are powerful ways for countries to show the world what they're about or that they have officially arrived - we saw it at Tokyo's first Olympics in 1964.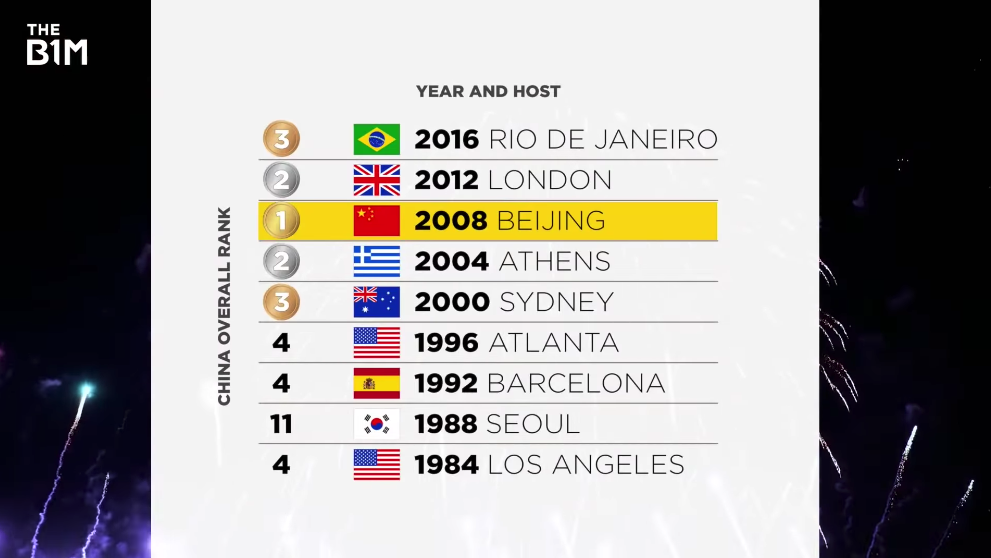 Above: China has used sports to show the world it has arrived.

China wanted to host one of these and began seriously developing its talent.
After ranking 11th at the 1988 Seoul Olympics, the country came back and has finished in the top five at every Games since.
When Beijing hosted the Olympics in 2008, China amazed the world with its opening and closing ceremonies and topped the medal table - a feat it repeated in 2010 when the Asian Games were held in Guangzhou.
It's since been awarded the 2021 World University Games in Chengdu, the 2022 Beijing Winter Olympics, the 2022 Asian Games in Hangzhou and to top it all off, the 2023 AFC Asian Cup less than a year later.
But the country is keen to learn from the challenges of the past - because some venues built to host previous events both here and around the world have sat largely inactive afterwards due to a lack of natural demand for such specific infrastructure.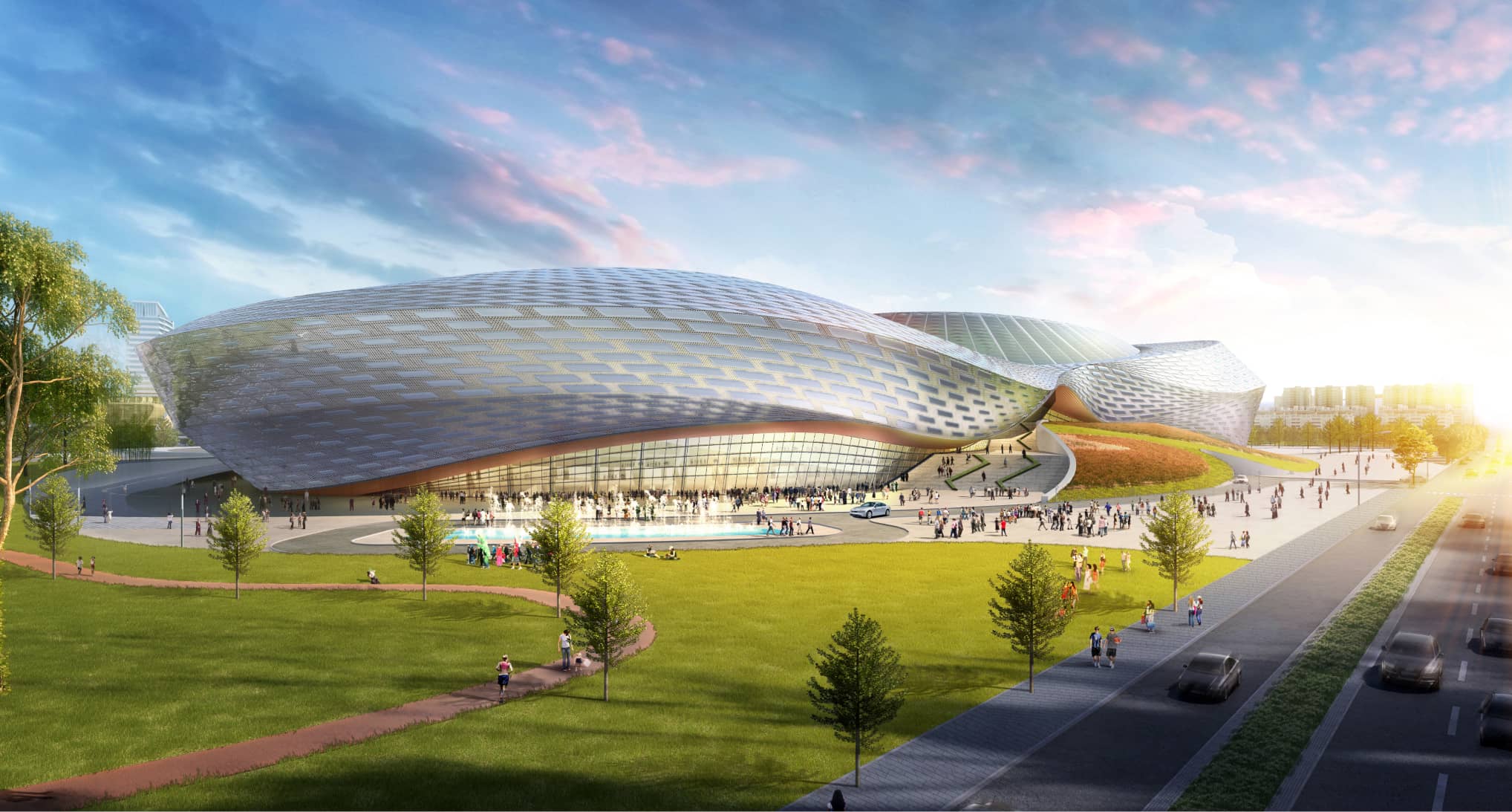 Above: A new way of designing stadium precincts. Image courtesy of HKS.
There's now a new approach and sports venues are being built with both community and legacy in mind.
The new Phoenix Mountain Sports Park in Chengdu is a pretty textbook example of this. It's set to host the, now delayed, 2021 Summer World University Games and the AFC Asian Cup in 2023 - but it's conceived as a public meeting place, where the local community can gather throughout the year regardless of what's on the sporting calendar.
The 43-hectare complex is more like a public square for the emerging Jinniu District with a world-first conjoined 60,000-seat FIFA-grade football stadium and 18,000-seat multi-purpose arena at its heart.
The site has been designed to host exhibitions, concerts, and festivals among its extensive landscaping and 128,000 square metres of mixed-use, hotel and retail facilities.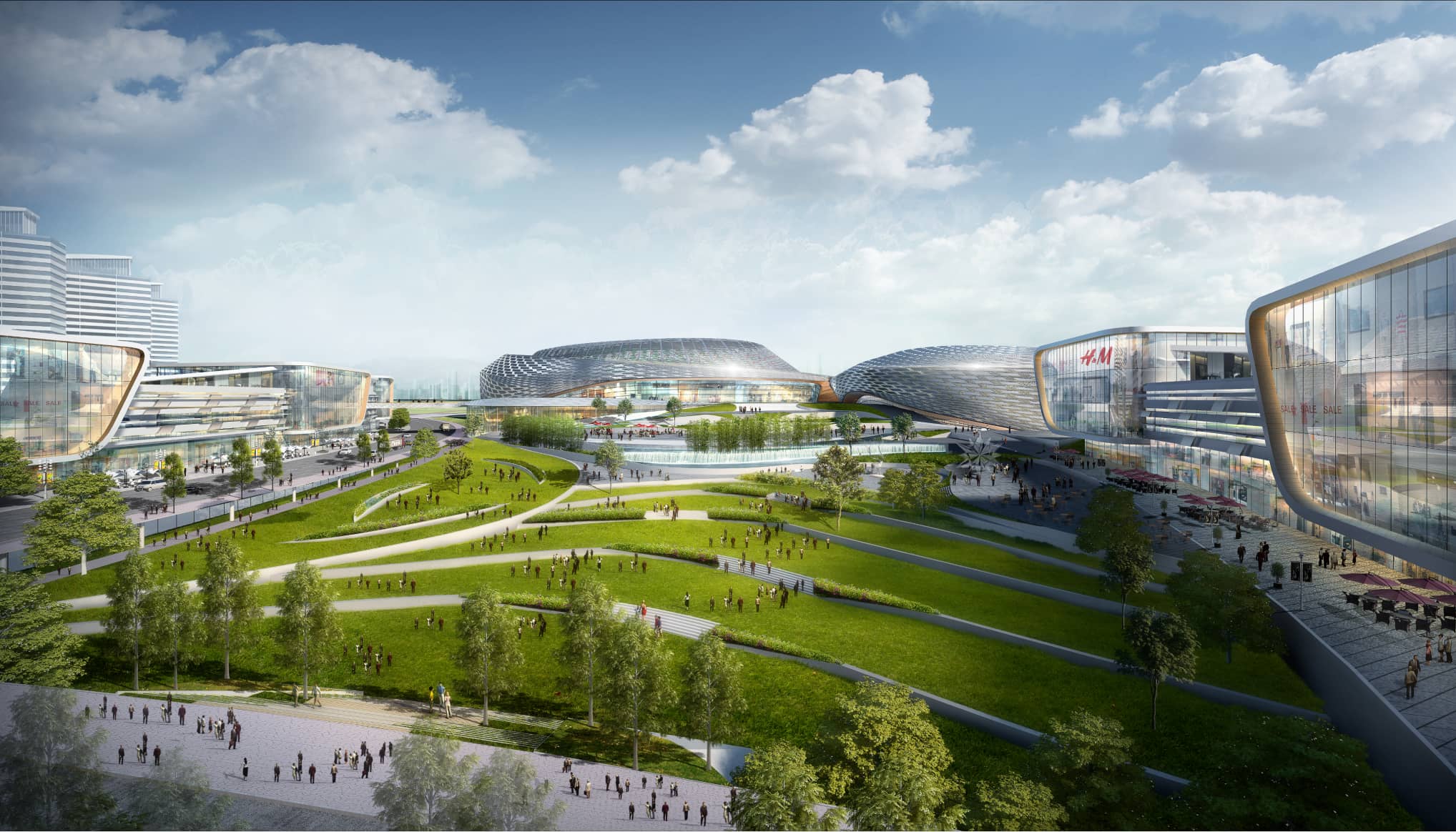 Above: Phoenix Mountain Sports Park is the heart of an entire district. Image courtesy of HKS
Nodding to Chengdu's history, it's supposed to resemble a traditional Sichuan bowl of tea from above, while its dynamic exterior makes use of layers of materials that mimic silk threads, playing with light and shadow to create a visual experience that changes throughout the day.
Completed in February 2021, the stadium is now the largest in China dedicated to football. It connects to the neighbouring arena via a multi-use bridge structure that contains clubrooms and facilities for both venues.
With retractable seating and stage options, the venue was designed with flexibility in mind and can cater to everything from concerts and basketball to ice hockey and table tennis.
The structure is one of the largest curved and open cable dome roofs and the largest curved ETFE membrane structure in the world.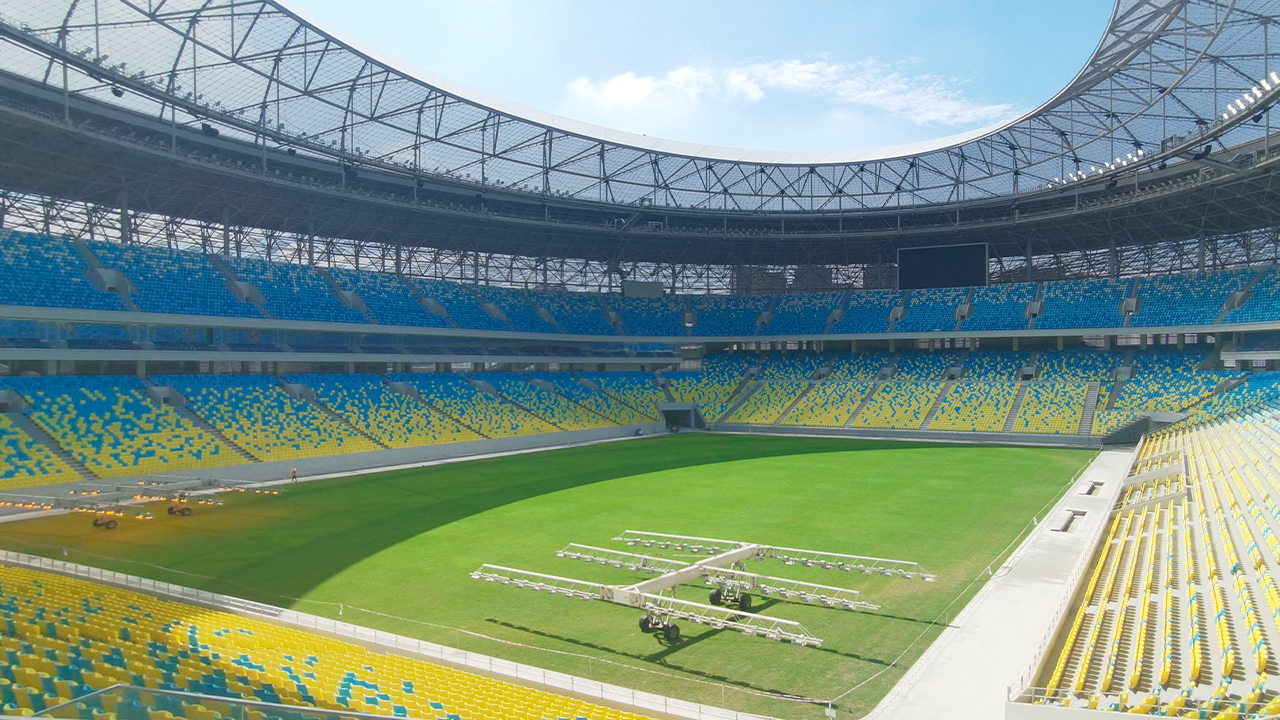 Above: The main stadium's room is a feat of engineering. Image courtesy of Autodesk.
All stadium projects are complex, but Phoenix Mountain's world-first design, technical challenges and extremely tight schedule of just two and a half years from design to completion put it in a league of its own.
To complete the project by its "immovable" 2021 deadline, the team used a range of software from Autodesk's AEC Collection and Autodesk Construction Cloud.
Preliminary designs and construction drawings were created on AutoCAD, while in-depth models of the structure, MEP services and the membrane roof were all produced in Revit, creating information and schedules to share with manufacturers.
The team then basically used the BIM 360 platform from Autodesk Construction Cloud to build, test and coordinate the entire project in a virtual environment before then doing it all for real out on the sports park.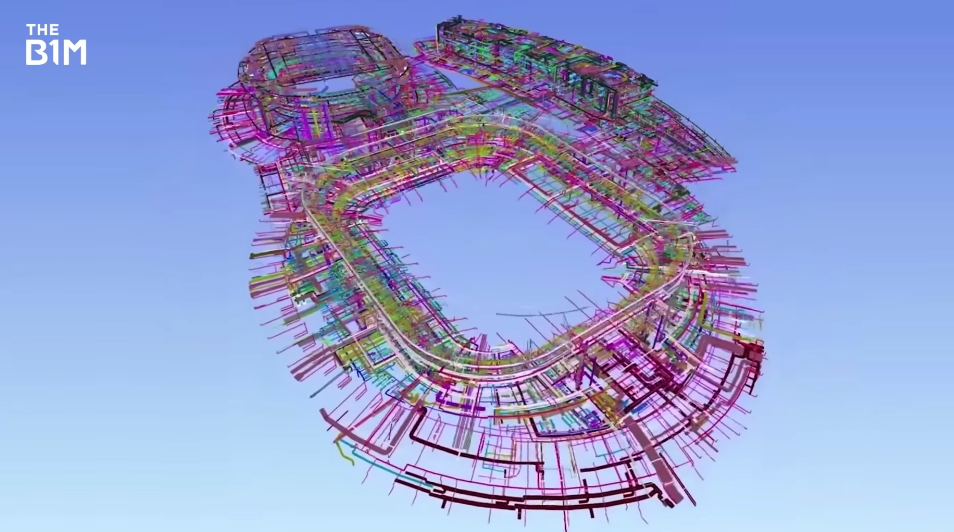 Above and Below: The main stadium's room is an extreme feat of engineering. Image courtesy of Autodesk.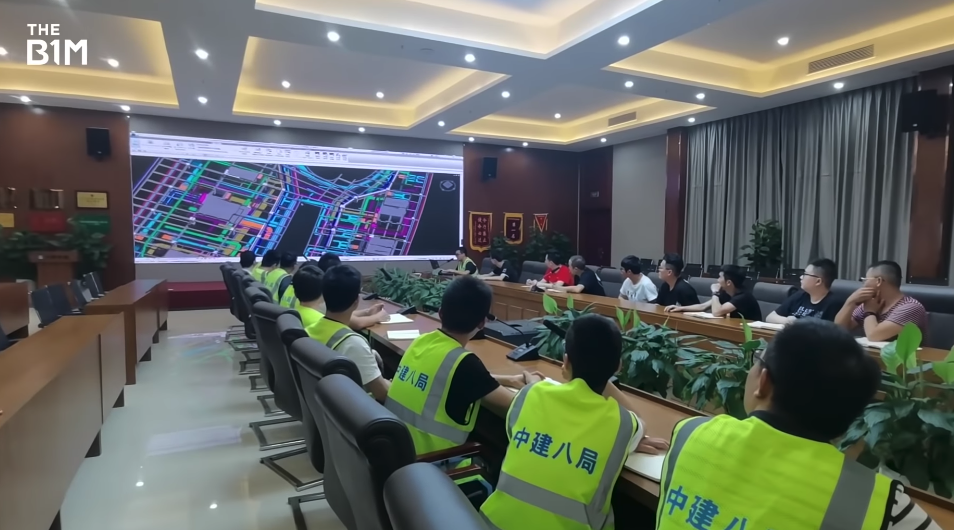 The team effectively made all their mistakes and picked up issues in the BIM 360 software, which is a much less costly place to do it than on the live construction site. Before a single beam was lifted, the team had digitally pre-assembled the building to confirm the construction process.
The approach reduced risk and helped them tackle the project's immense challenges. Once the physical works started, they completed just 730 days later - 30% faster than a similar-sized stadium.
The project managed to reverse the infamous trend set by many other stadiums in the lead up to a major sporting event, completing 132 days ahead of schedule.
That would have meant a whole lot more had the wonderful coronavirus not postponed the 2021 World University Games by a year, but it's an achievement nonetheless and it saved a projected USD $14.5M on the project.
In recent years the appeal of hosting major sporting events has been on the wane around the world. Even with the economic business cases, the eye-watering capital costs often put governments off, there are a fair few Olympic horror stories about and the pandemic's impact on the Tokyo Games is surely any cities' worst nightmare.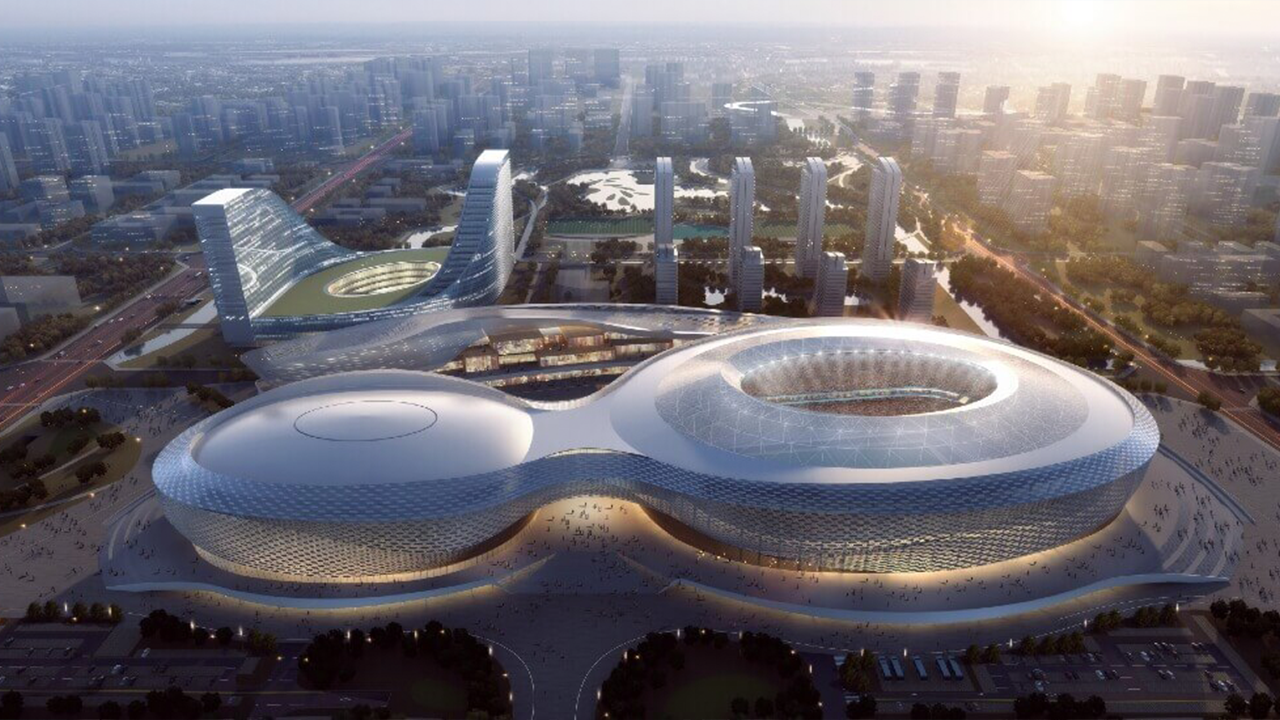 Above: The development will be a model for other cities to follow. Image courtesy of HKS.
Chengdu's approach is one to look to. At their best sports venues not only do a great job of hosting major events but become the focal points for communities. They create the space for people to come together, to share in sport, music or culture; they become the facilities where the next generation of athletes develop, and they trigger long-term economic prosperity.
Phoenix Mountain seems set to follow in the footsteps of some of the world's most successful sports infrastructure to date - confirming China's position as a sporting superpower but moving into a more community-centric phase.
This video was sponsored by Autodesk Construction Cloud. Learn more about the software tools used and how they can help your project here.

Video presented and narrated by Fred Mills. Additional footage and images courtesy of Autodesk and HKS.
We welcome you sharing our content to inspire others, but please be nice and play by our rules.
Comments
---