Cities
Wood Wharf: Building a City in the Cloud
Youtube Views

163,458

VIDEO VIEWS
London is about to get an entire new district, as the vast Wood Wharf extends Canary Wharf and becomes a vibrant mixed-use destination in its own right. To design and construct this extraordinarily complex scheme, the project team are embracing digital technologies and building Wood Wharf virtually in the cloud, before doing so for real on site. We stepped inside phase one of the master plan to learn more.

WHILE the impressive skyscrapers of the City of London are synonymous with Britain's thriving financial services industry, it is largely the success of Canary Wharf that helped to cement London's position as one of the world's most influential financial centres.
Located to the east of Central London, the Canary Wharf district, owned and operated by the Canary Wharf Group, has grown from a derelict dockland in the early 1980s to become one of the city's most desirable office and retail destinations, and soon to be a place to live.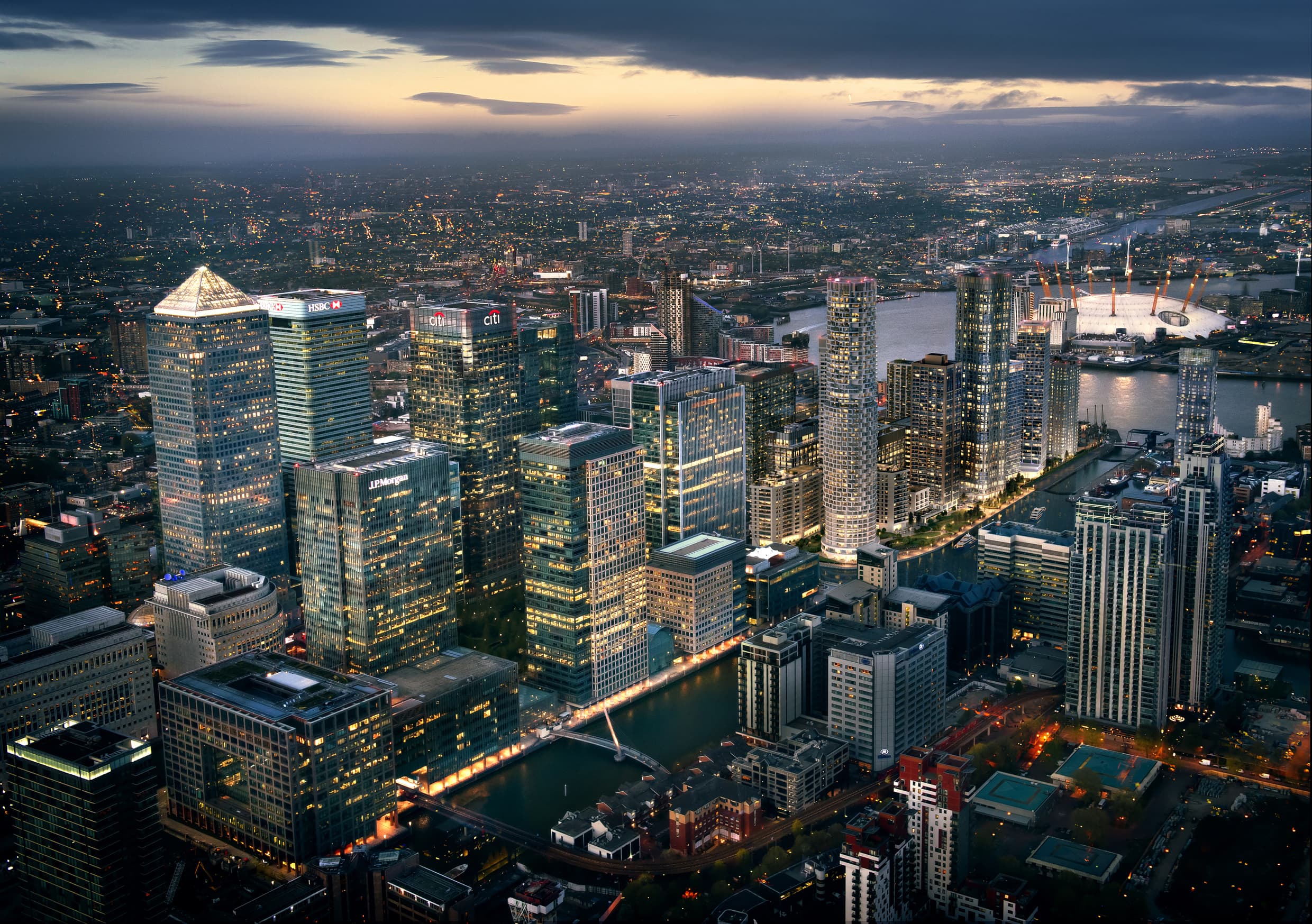 Above: London's new mixed-use Wood Wharf district is currently under construction (image courtesy of Canary Wharf Group).
Now, in an effort to meet the demand for space in the area and to continually improve its appeal, a new district is being constructed.
Partly developed on land reclaimed from the River Thames, Wood Wharf is practically a stand-alone city in its own right. The decade-long development, which commenced in 2015, is set to deliver up to 3,600 new homes, 2.8 million square feet of office accommodation, up to 490,000 square feet of retail space, a GP surgery and a two-form primary school for 420 children, alongside over eight acres of public spaces, squares and parks.
At its heart, the impressive Herzog & de Meuron designed flagship residential building, One Park Drive, will rise to a height of over 200 metres.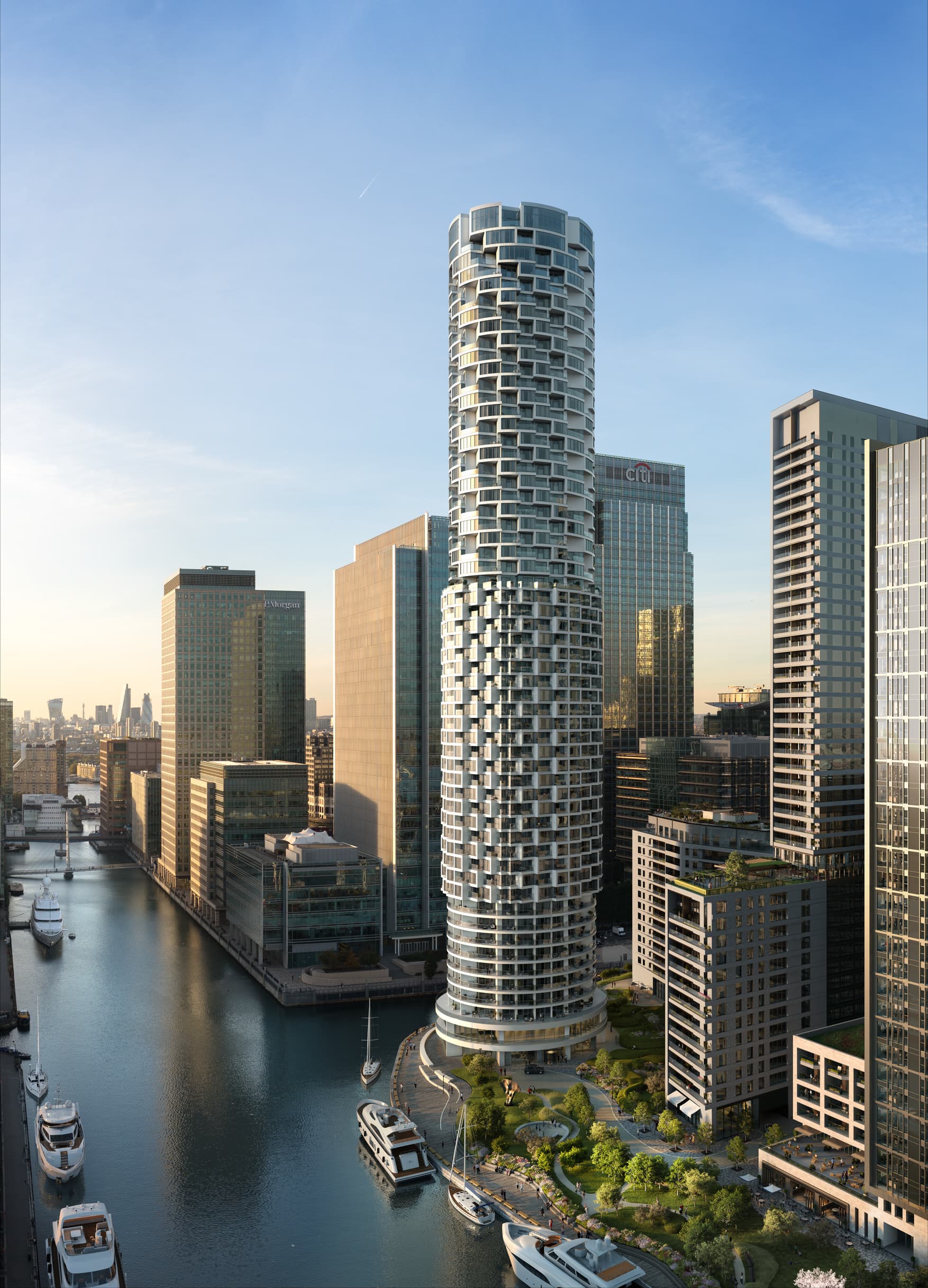 Above: One Park Drive is the development's flagship tower (image courtesy of Canary Wharf Group).
"One of the key challenges is really about place making," explains Steven Smith, Associate Director at Canary Wharf Contractors.

Project Director Mark Taylor agrees: "Wood Wharf is not just an extension, it's a whole new city within a city.
"It's creating the right development in the right location with lots of integrated uses. You go to school, you go to work, you go to live, you go to have a drink and it will have a really nice waterway feel to it."
Before work on the extensive new district could commence, the project team had to first establish the site. While a portion of the demise consisted of derelict docks and warehouses on dry land, the remainder was the South Dock waterway; an inlet from the Thames.
To reclaim this land from the water, contractors first installed a sheet pile wall into the river bed. The lagoon created was then filled with material that was shipped to London from the Isle of Wight. Any fish caught within the newly created area were relocated back into the South Dock before dewatering works completed.
Despite the complexity of this operation, the hard work was yet to come.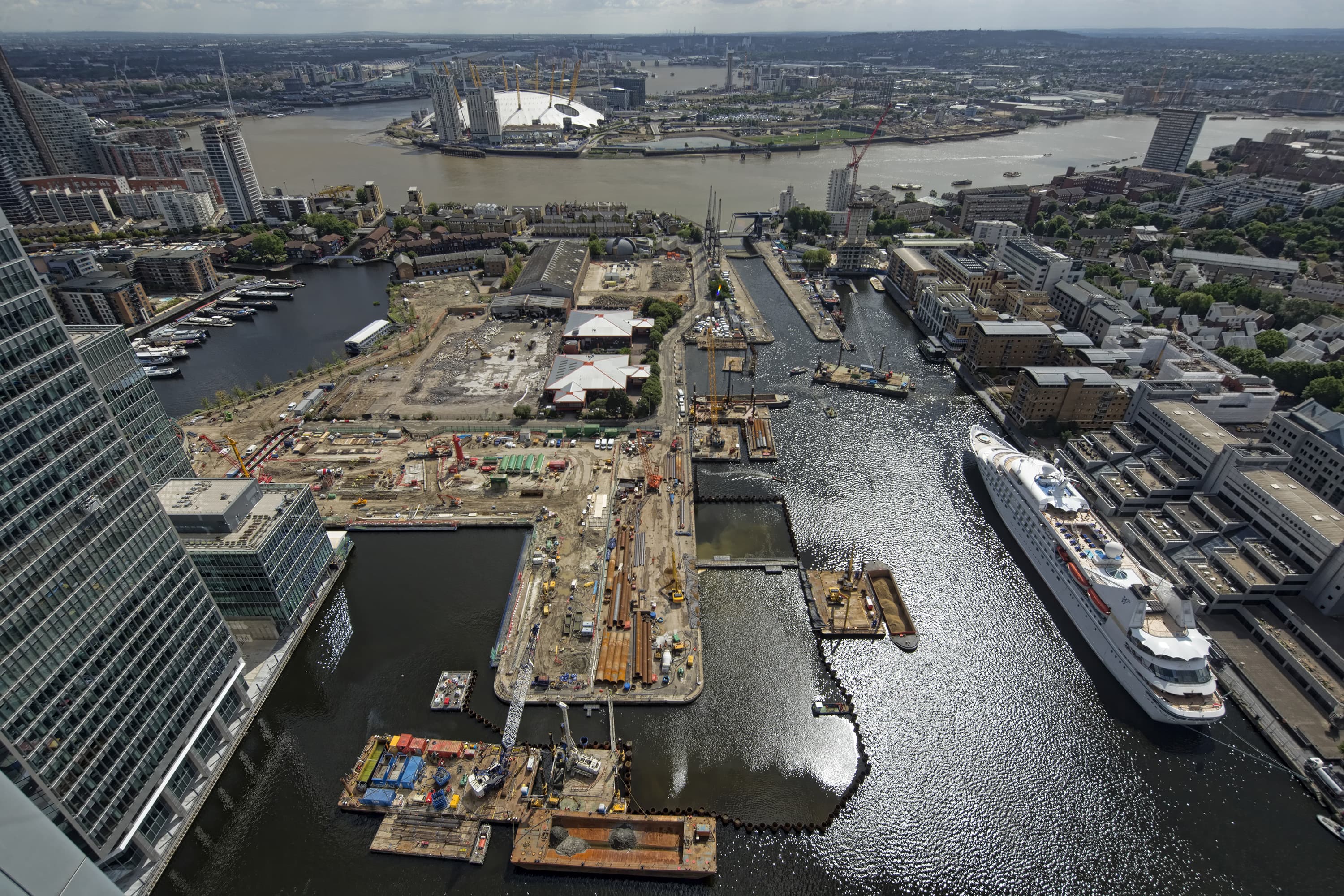 Above: Portions of land were reclaimed from the Thames prior to construction (image courtesy of Canary Wharf Group).
The first phase of the Wood Wharf development alone contains 12 different buildings, each ranging from 12 to 57 storeys in height and containing more than 1,600 residential units, offices, retail, public space and energy infrastructure.
"There are a large number of towers being sprung up from the same common basement," explains Jozef Doboš, Chief Executive of 3D Repo.
"So all of the buildings share the same utilities, which makes it an extremely complex and interesting project at the same time."
Richard Bray, Project Executive at Canary Wharf Contractors, is working on the front line of coordinating those various interfaces, integrating several buildings into the basement element.
"It has doubled the amount of people you talk to," explains Bray. "You've got two architects, two mechanical and electrical service engineers and we've also doubled the amount of contractors working in the same area. We have had to spend a lot of attention making that coordination work."

BUILDING IN THE CLOUD
The complexity of the Wood Wharf scheme demands the use of a sophisticated, yet intuitive digital tool for the project team to coordinate information within.
Emerging from Canary Wharf Group's Level 39 technology incubator, 3D Repo is a design coordination platform that allows project teams to open, share, interrogate and co-ordinated digital building information models with ease.
Conceived and developed by Doboš, the tool was honed on the Wood Wharf scheme and is now commercially available across the construction sector.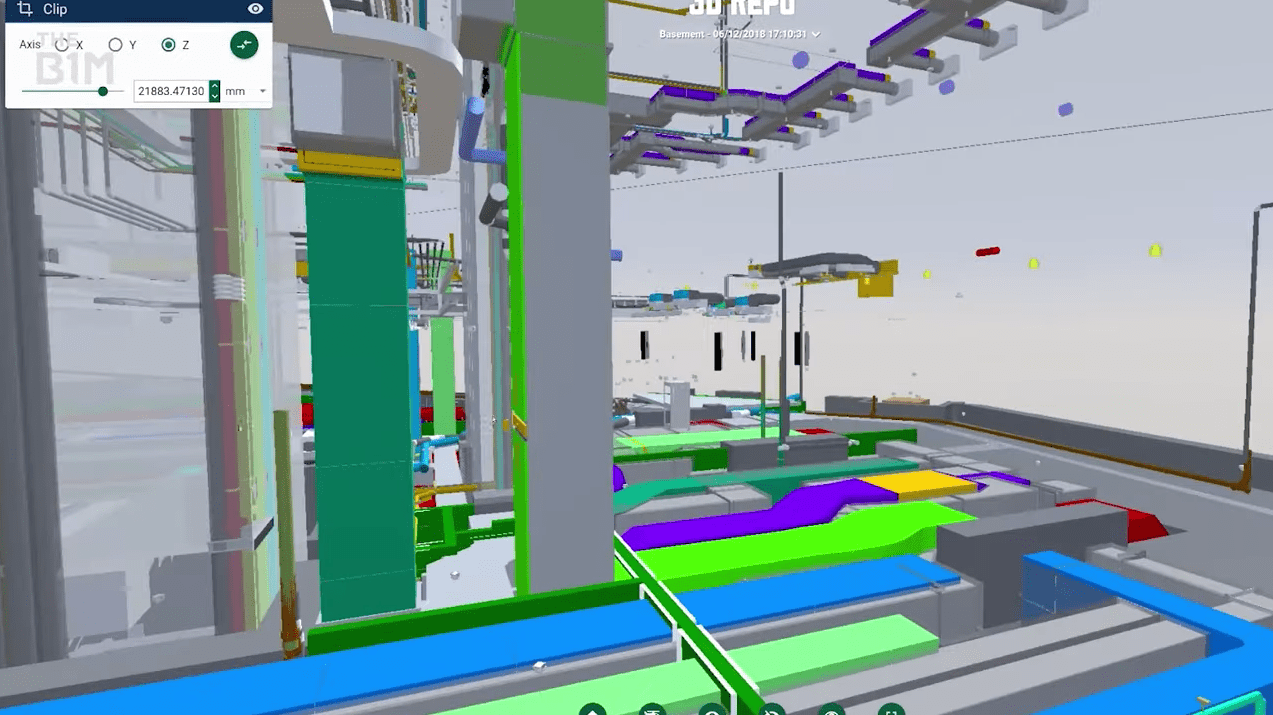 Above: 3D Repo enabled the design team to work collaboratively across multiple projects within the Wood Wharf development.
3D Repo provided Bray and his team with a cloud-based overview of the project's federated information model - a file formed by combining the digital models from various different design team specialists.
With this insight, the team could identify coordination issues and clashes between different elements of the design and resolve them before works commenced on site. This helped to avoid rework during construction, improving quality and efficiency.
In addition, the tool enabled Bray and his team to set agendas for meetings, take minutes and share assigned tasks with all the relevant parties.
Enabling remote, online collaboration between numerous designers, 3D Repo allowed the vast Wood Wharf district to build virtually in the cloud, before it happened for real on site.
"It enables a synchronous collaboration, which means the different companies can login to the online platform, access the data when they need and communicate with the other parties without the need to exchange more emails or written notes" explains Doboš.
"Any issue I raise, or anyone in the team raises, is available to anyone else in the team. You click the pins in the model and it gives you a description of the issue" adds Bray.
KEEPING THEIR COOL
One of the most complex elements of the first phase of Wood Wharf is the coordination and construction of a large plant area positioned atop one of the scheme's tallest structures.
Dubbed the cooling towers, this critical piece of infrastructure sits some 45 storeys above ground and will provide chilled water to much of the new district.

Collaborating in the cloud, designers and engineers were able to coordinate this area in detail and resolve issues before several tonnes of plant equipment were craned into place.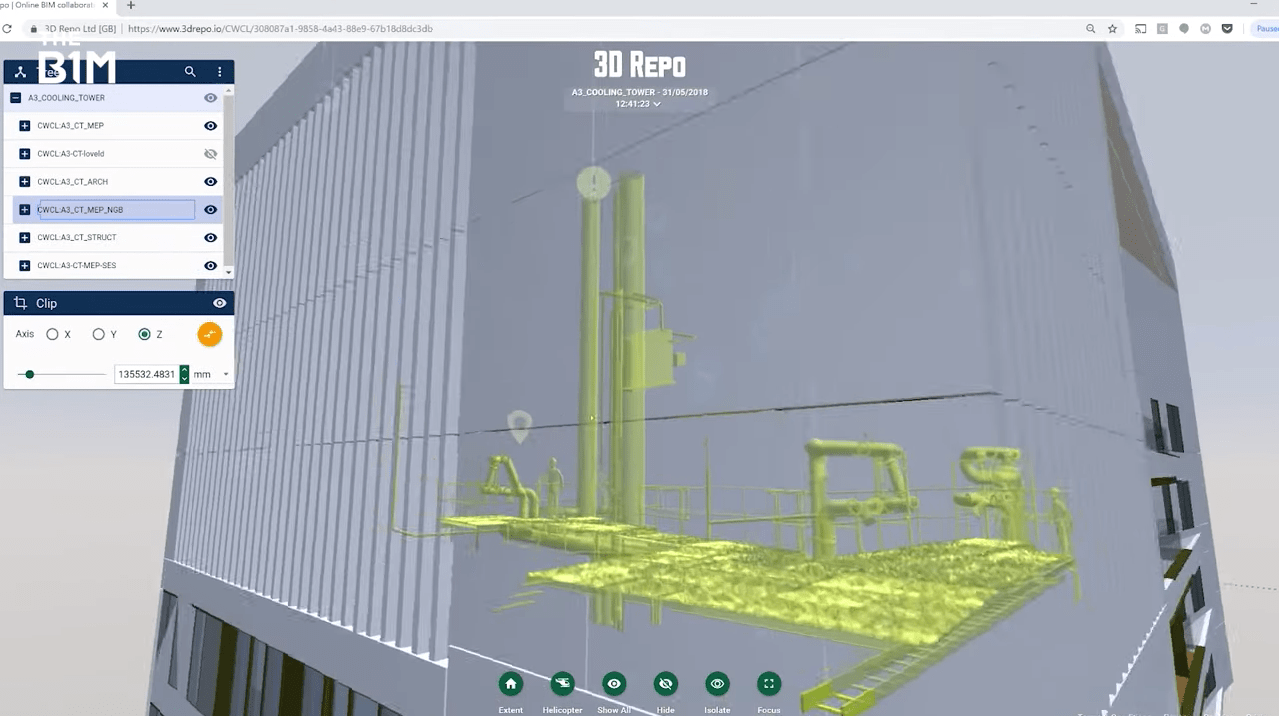 Above: Using 3D Repo the design team were able to see the development in three dimensions and resolve clashes prior to construction ( image courtesy of 3D Repo).
"We don't have clashes anymore," laughs Bray, although he admits there was one minor issue with insulation. "A soft clash," he called it, but pointed out that working within a common data environment (CDE) generally enabled the team to work smoothly and avoid ambiguity.

"Once the district is complete, it will be nice to see all the work, all the drawings and 3D models all come into one, to see the finished article," he concludes.
LONDON'S NEW DISTRICT
Canary Wharf Group's vision to create a new mixed-use community with shared infrastructure and diverse architecture is highly dependent on the close and transparent communication between the different teams.

"Our job is to create conditions for the designers to succeed," says Smith. "In terms of technology such as [information modelling] and 3D Repo, it's creating a platform that allows the team to work together and to collaborate efficiently."
"Project managers live to see their project delivered and they want to be the ones to do it safely, on time, on budget and have the best 'wow' factor" explains Taylor.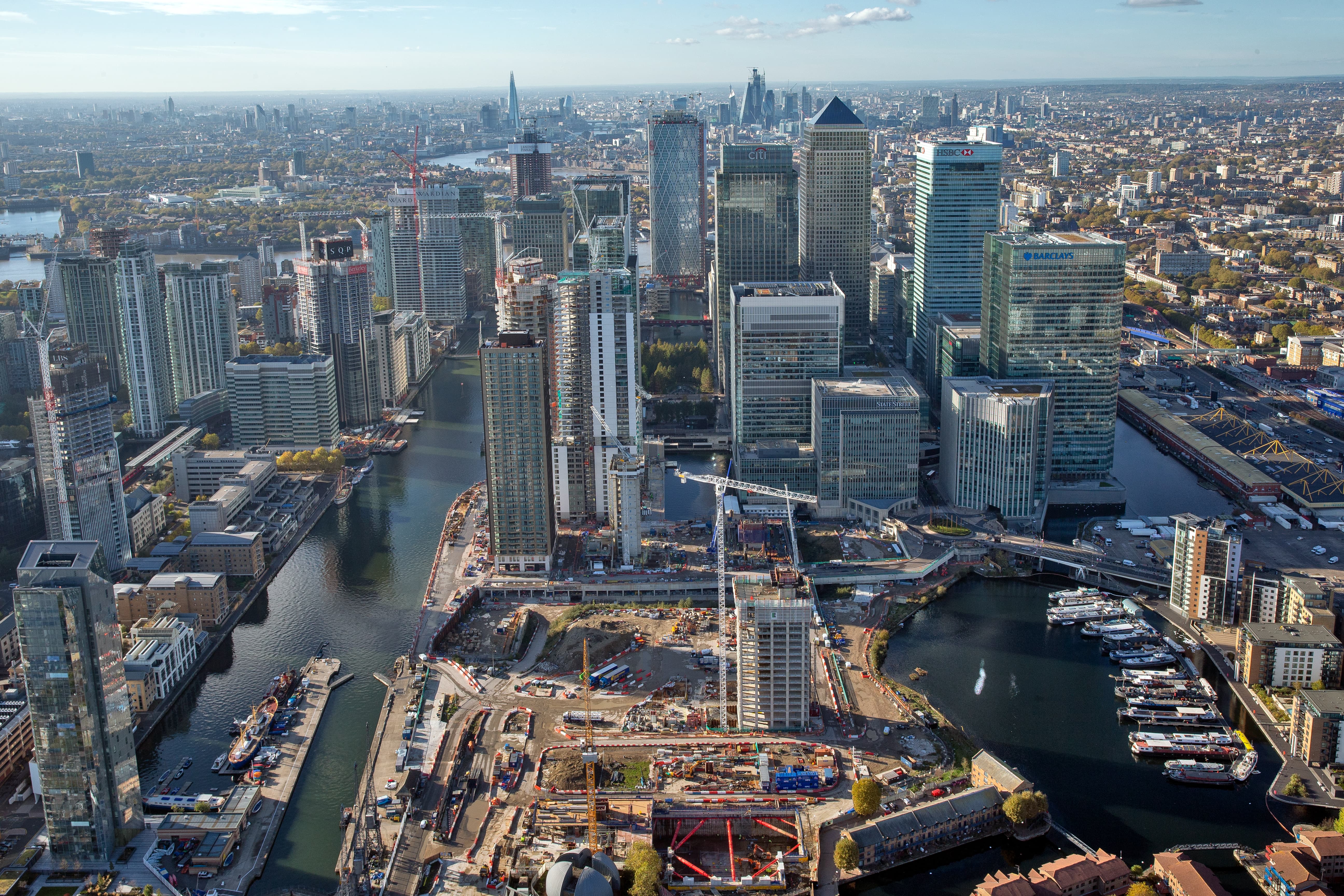 Above: London's new Wood Wharf district under construction (image courtesy of Canary Wharf Group).
"If you pass that enthusiasm for what you do onto the guys, you won't go far wrong."
And while enthusiasm was palpable from all those involved in the project, digital cloud technology enabled the stakeholders to share vital data among each other, directing that enthusiasm as smoothly as possible into the final project.
As the first phase of Wood Wharf approaches completion, it is clear that the close collaboration between contractors, designers and engineers on the scheme, largely enabled by 3D Repo, stands as a powerful example for others adopting digital coordination tools in the design and construction of complex and diverse urban developments.
You can learn more about London's new Wood Wharf district here.
Additional footage and images courtesy of Canary Wharf Group and 3D Repo.
Comments
---