Tech
These Huge Projects Were All Made in Factories
Youtube Views

251,489

VIDEO VIEWS
Video powered by Trimble and narrated by Fred Mills. This article and video contain paid promotion for Trimble.
THE way we build hasn't really changed over time - but now, a revolution is sweeping construction.
Prefabrication, where parts of a structure are manufactured in a factory away from site before being delivered for assembly, is starting to seriously take-off, and for good reason.
Able to reduce cost, time, risk and waste, while improving safety, quality and productivity - the benefits of offsite construction are finally finding traction in a world that needs it more than ever.
From towering skyscrapers to huge airports, these huge projects were all made in factories.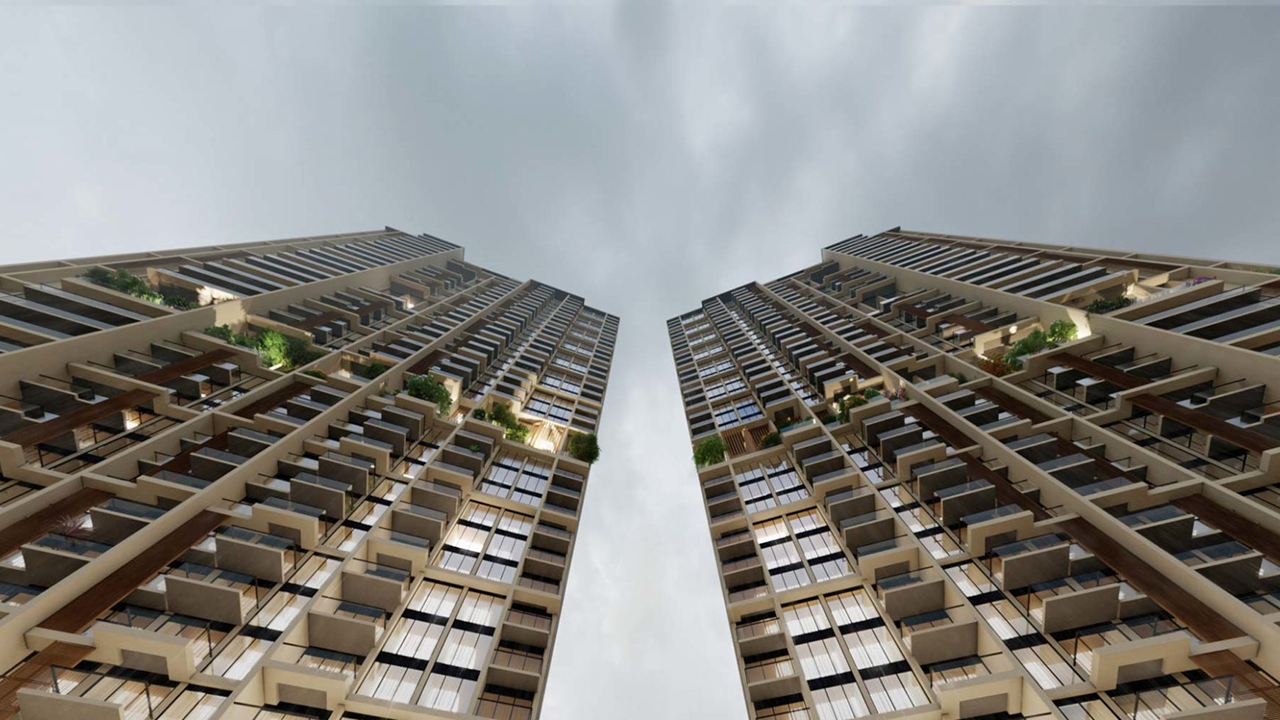 Above: As the Avenue South Residences in Singapore prove, prefabrication is no longer limited to small-scale projects. Image courtesy of ADDP Architects.
Prefabrication is not a new concept. While its origins can be traced back even further, prefab houses were being shipped to Australia as far back as the 1840s, and the technique became a key part of the UK's post-war recovery in the mid-20th century.
Today - with our world facing new housing shortages - offsite construction techniques are still most-used in homebuilding.
But with high-rise living now becoming more popular, architects and engineers are taking prefab construction to new heights.
The 215-metre De Zalmhaven I residential tower in Rotterdam is being built entirely from precast elements at a rate of one floor a week.
The structure is the centrepiece of the De Zalmhaven project, which includes two other 70-metre towers and comes at a time when demand for living space and land prices are rising across the Netherlands' main cities.
Its challenging site location, restricted space and tight schedule, hundreds of facade, balcony and stair-way parts, as well as thousands of internal walls, were all pre-manufactured before being delivered to site and hoisted into place.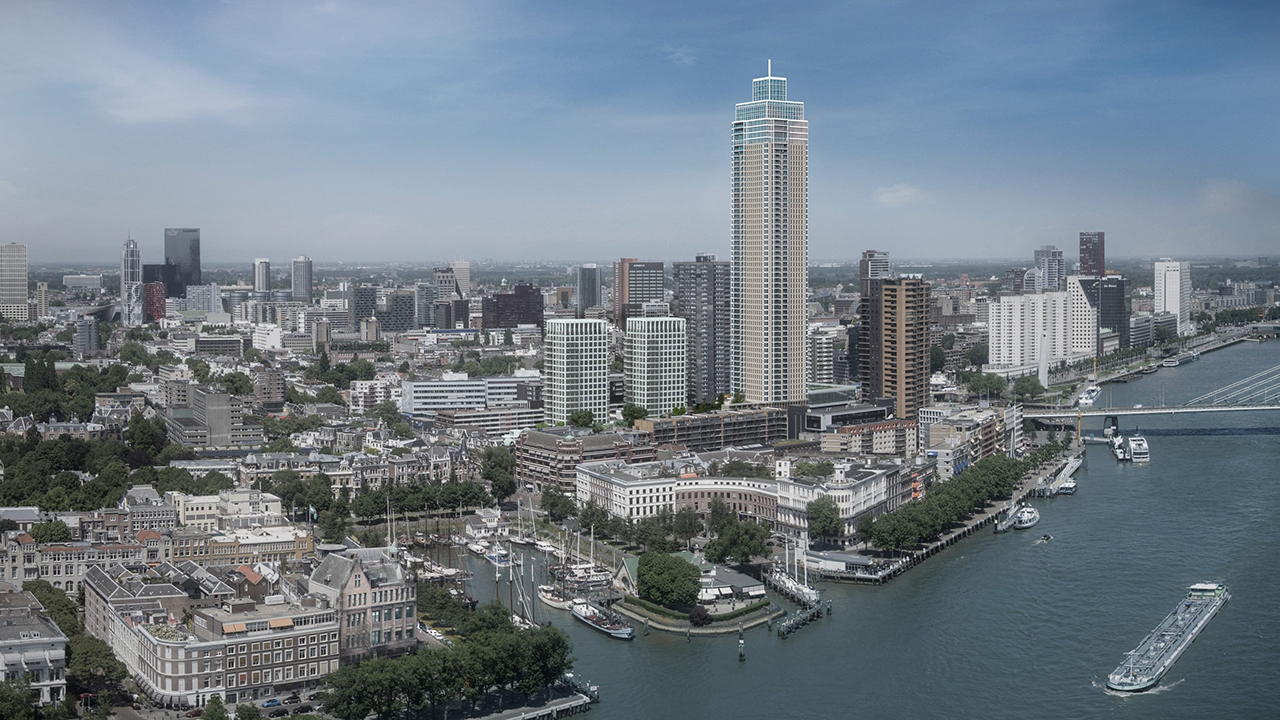 Above: De Zalmhaven I will be the world's tallest prefabricated skyscraper when it completes. Image courtesy of Dam + Partners Architecten.
Meanwhile in Singapore, twin 56-storey prefabricated skyscrapers are set to be built on the city's western edge.

All 988 residential modular units that make up the Avenue South Residences will be constructed in factories offsite, then assembled by crane one-by-one.
While prefabrication is usually optional, the local government sold the land on the condition that offsite methods were used in any new development.
With prices averaging over a million US dollars, and with each tower offering sky gardens and waterfront views, the project directly challenges the idea that prefabricated buildings have to be unsophisticated or without style.
But offsite construction is by no means limited to housing, and the approach is now being used in several airport upgrades; including Clark International in the Philippines.
A new passenger terminal nearing completion at the transport hub in Pampanga features precast concrete floor slabs and wall elements throughout.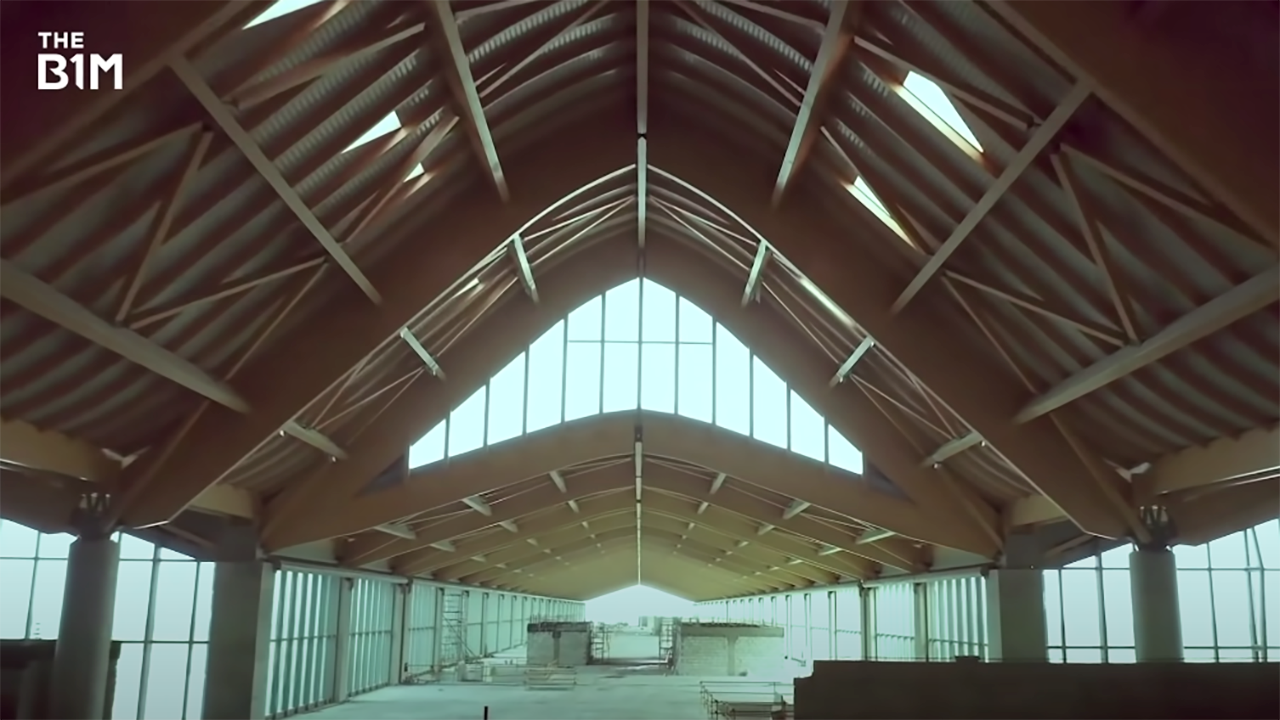 Above: Glulam wood imported from Austria was used to build the roof at the new terminal. Image courtesy of Bases Conversion and Development Authority.
Its design is based on a modular concept, enabling a large proportion of components to be prefabricated. This speeds-up the build process, keeps costs down and enables the terminal to be easily expanded in the future.
The main structure's undulating roof is also made from sustainably-sourced glued laminated timber - or glulam - imported from Austria, with arches inspired by the nearby Mount Arayat.
Stadiums are also embracing offsite.
Now one of Europe's leading sports venues, set to host matches at the delayed Euro 2020 football tournament, the Puskás Arena in Budapest relied on ready-made construction to achieve its challenging three-year build time.
Stairs, beams, grandstand and slab elements were all manufactured away from the site, while the stadium's 38 monolithic support structures were made from precast concrete reinforced with glass fibre using bespoke polyurethane moulds weighing almost two tonnes.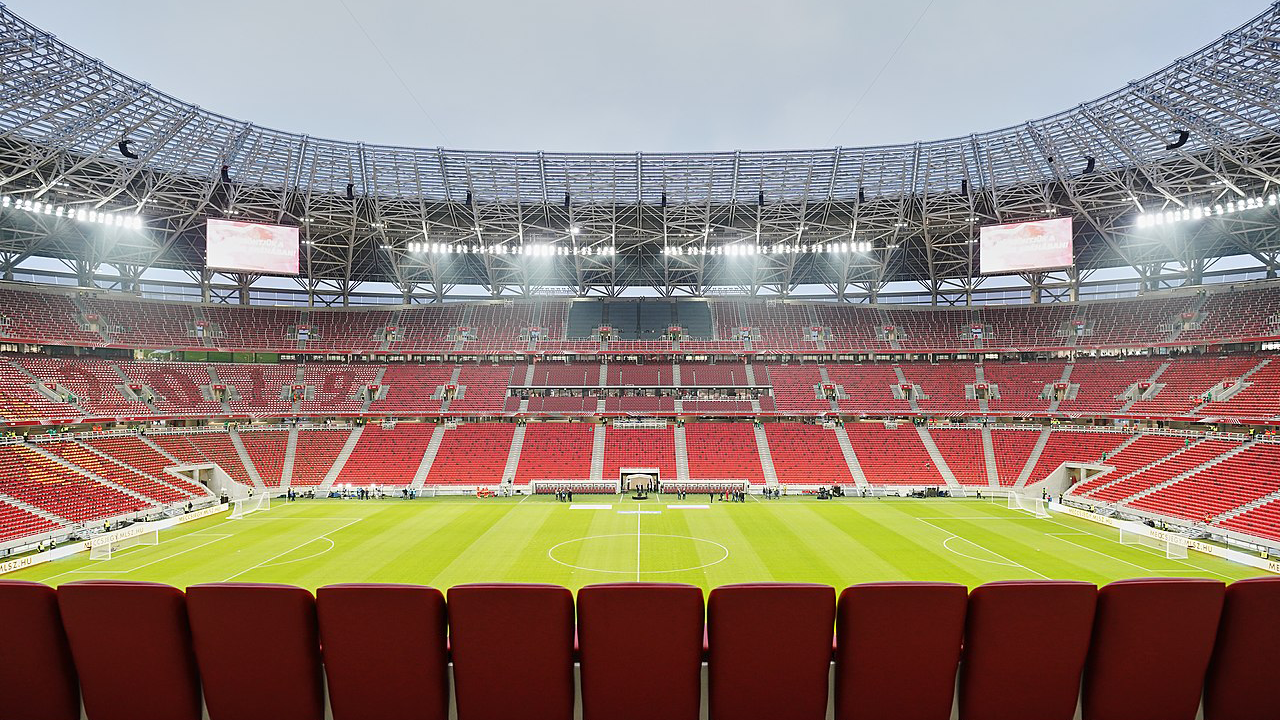 Above: The stadium was finished at the end of 2019. Image courtesy of KKBK/OD Pictures.
The 67,000-seat venue lies on the exact same site as the historic Ferenc Puskás Stadium that it replaces.
Around 50,000 cubic metres of the non-precast concrete used on the arena was recycled from the old ground, and the new stadium also retains its predecessor's eastern tower.
Away from buildings, prefabrication has been critical to the completion of major bridge projects for many years.
The Öresund Bridge linking Denmark and Sweden was the longest combined road and rail bridge in Europe for almost 20 years, and remains one of the continent's most iconic crossings.
Many of its components, including the huge caissons and piers, had to be prefabricated on-land, before being shipped out to the site for assembly.
But more recently, a 12-kilometre stretch of the enormous Temburong Bridge in Brunei was constructed using thousands of precast elements.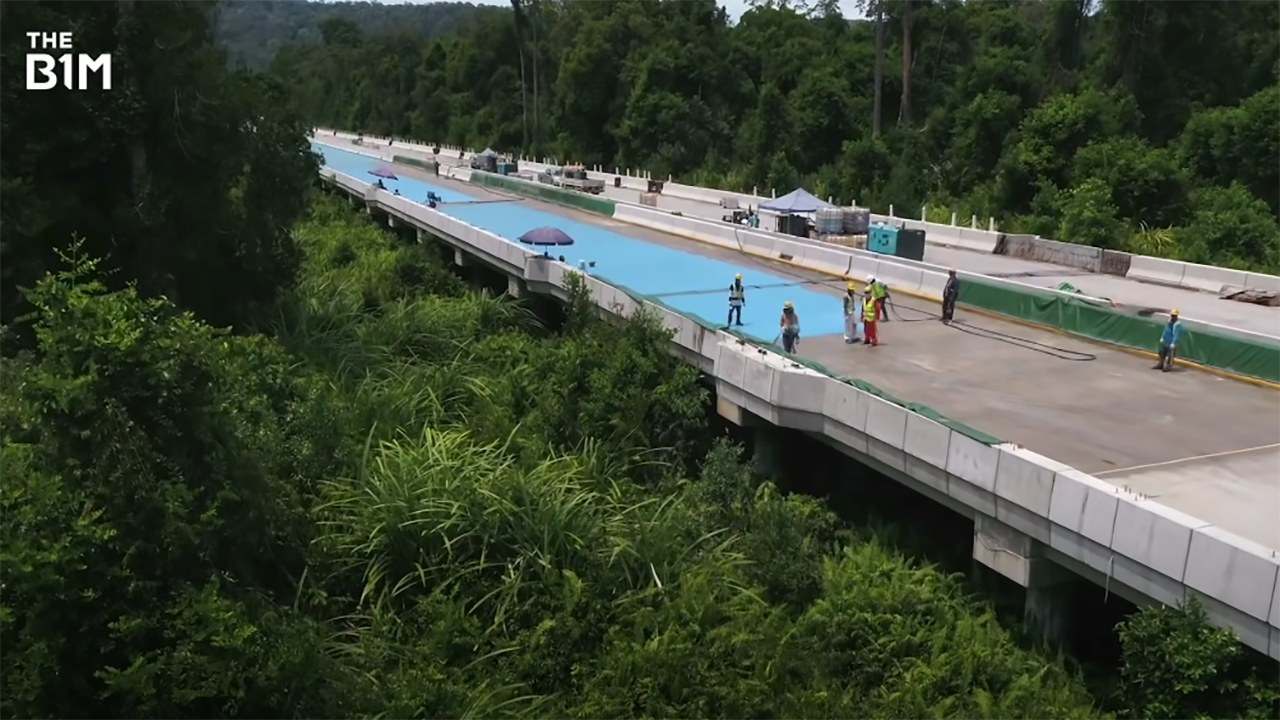 Above: Precast concrete was used extensively to help limit damage to the local environment. Image courtesy of USL Group.
China's State Construction Engineering Corporation was tasked with building an immense viaduct over a series of mangrove swamps, in unusually harsh conditions.
To minimise impact on the environment, sections were manufactured off-site and craned into position.
In total, the viaduct features almost 2,000 prefabricated spans; more than any other bridge of its kind.
As our societies continue to adapt to the unprecedented changes caused by the pandemic, prefabrication could soon become the 'new normal' - and with the construction sector underpinning much of the global economy, a greater offsite focus may just be what's needed to build our way to recovery.
See how major contractors are delivering projects such as De Zalmhaven I, with Trimble Connected Construction.
Narrated by Fred Mills. Additional footage and images courtesy of ADDP Architects, BAM Bouw en Techniek, Bases Conversion and Development Authority, Daelim-Swee, Dam + Partners Architecten, Department of Transportation - Philippines, Elekes Andor/CC BY-SA 4.0, Gippslander2012/CC BY-SA 3.0, Győző Mórocz, Harmet, Katerra, Kiemelt Kormányzati Beruházások Központja Nonprofit Zrt (KKBK) + OD Pictures, KovacsDaniel/CC BY-SA 3.0, Le Deluge/CC BY-SA 3.0, Luzon International Premier Airport Development Corporation, Metsä Wood, Paul Hoppenbrouwers, Peter L Higgs/CC BY-SA 4.0, SHH Productions, USL Group and WASA AG.
We welcome you sharing our content to inspire others, but please be nice and play by our rules.
Comments
---