Cities
The Race to turn Las Vegas into an F1 Track
Youtube Views

616,848

VIDEO VIEWS
Video narrated by Fred Mills. This video and article contain paid promotion for Bluebeam.
WHAT happens when you take the world's most exciting motor sport and host it in the entertainment capital of the planet? That's right, Sin City is becoming Spin City, so buckle up as we get ready for the inaugural Las Vegas Grand Prix.
There will be thrills, spills, glitz and glamour. But beyond all that is something even cooler: a massive construction project. More specifically, a project that took a non-stop party city and turned it into a racetrack for some of the fastest cars on earth, all in just over a year.
While staging a Grand Prix in a world famous city might add a certain X factor, whether it's Las Vegas, Singapore or Bahrain, there's always a unique set of challenges. In Monaco, at the oldest street race on the circuit, the team has got this down to a fine art. Every year, prefabricated temporary structures are installed in the weeks leading up to the race and quickly taken down once the show moves on.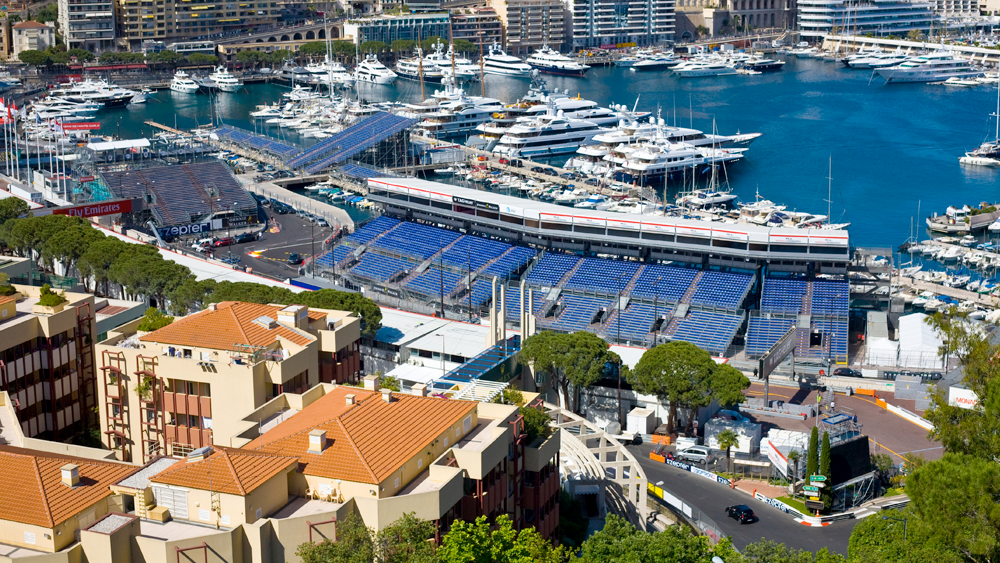 Above: Monaco is turned into a racetrack every year.
But things are done slightly differently in Vegas. Las Vegas Grand Prix took the decision to create a permanent toehold in the city by buying a 39-acre site a block east of the strip, which would house the paddock, media centre and support infrastructure for the race.
True to Las Vegas style, it's going to feature the largest paddock on the entire F1 circuit: over 300 metres long, 30 metres wide and topped off with a huge, illuminated F1 logo.
The ground floor will feature 13 garages, which will serve as the base for each of the teams along with two other floors and a rooftop area for hospitality. But with construction beginning in November 2022 the team had just 11 months to complete the build before a handover target of October 2023.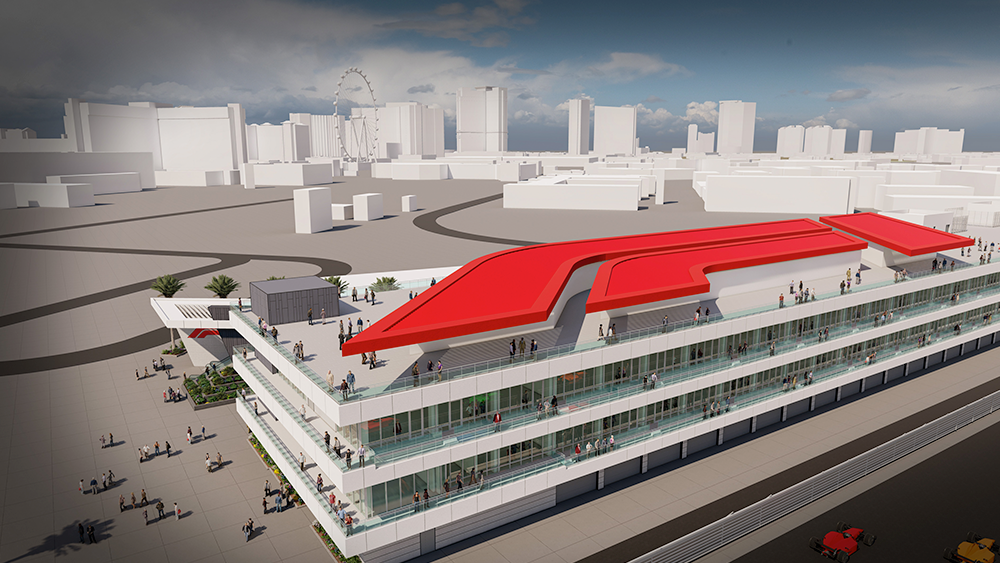 Above: An early render of the paddock building. Courtesy of Las Vegas Grand Prix.

To avoid delays that could be caused around the long lead times of elements like escalators, elevators and cladding, these crucial systems were all purchased before the design of the building was complete.
As steel beams would have taken too long to make and assemble, the structure of the building relies on concrete and rebar instead. To speed the construction up further, the plan for the building was split into two 150 metre long buildings. Two crews began construction at either end of the site and worked towards the middle.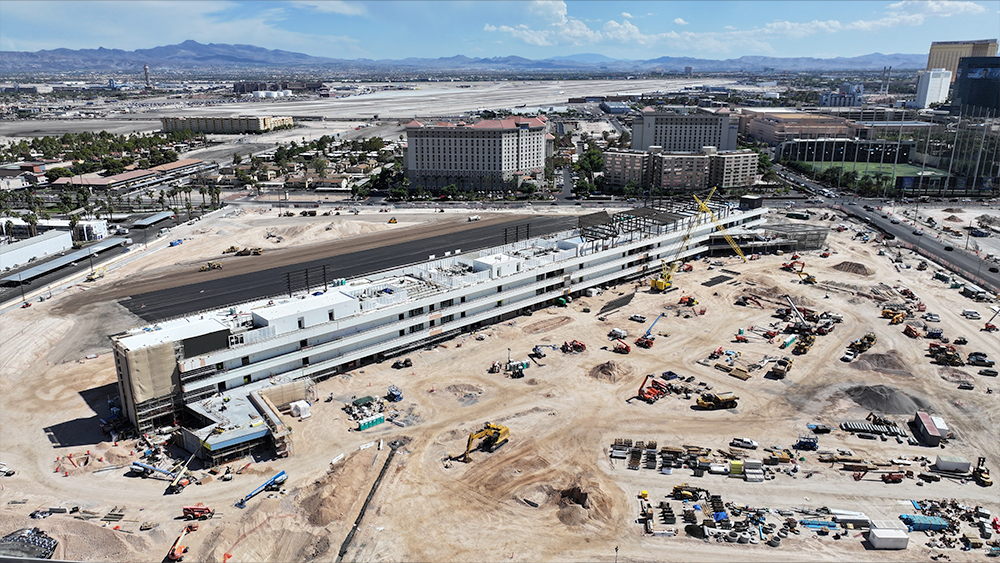 Above: The design of the paddock building helped speed up construction. Courtesy of Las Vegas Grand Prix.

But that was far from the extent of the construction work in the city. Las Vegas' normal, bumpy, cracked roads aren't fit for $20M race cars, as track designer Dr. Carsten Tilke told us:
"They are so close from the bottom of the car to the track they will feel every bump. So it's very important to have an even track with the right grip, that allows the cars to overtake and be fast on the corners."
Ahead of the event, USD $80M was spent resurfacing Las Vegas' roads to bring them up to Formula 1 standard. This meant stripping up to 25cm of existing road and adding four new layers to create a surface which is flat to within a tolerance of three millimetres for every four metres.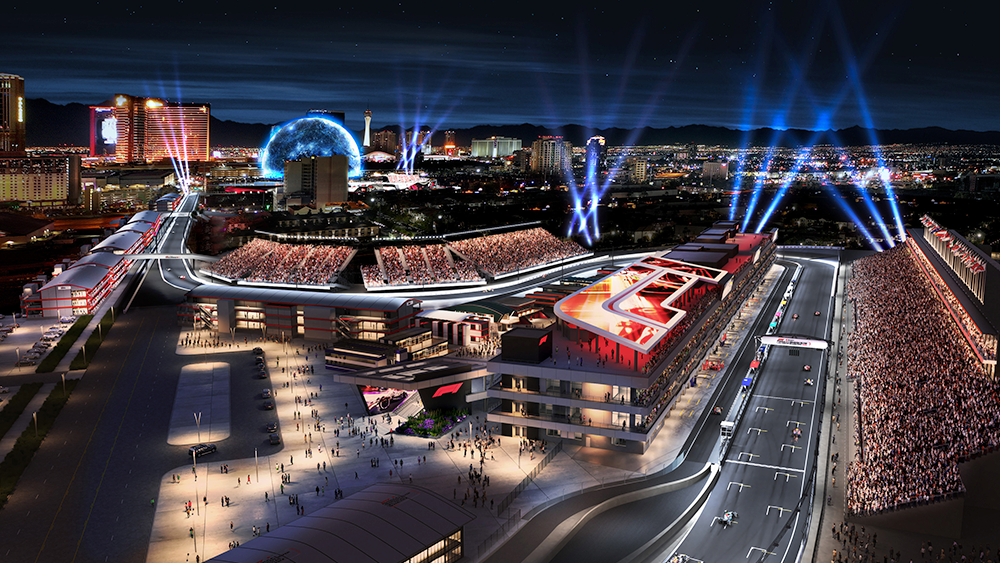 Above: USD $80M was spent upgrading the roads used for the race. Courtesy of Las Vegas Grand Prix.

All this might be enough to satisfy Formula 1, but it's not the only show in town and the race has some big neighbours it needs to keep happy. Unlike other street circuits where the roads used for the track are closed off for days, in Las Vegas the Grand Prix is only allowed to close the roads for seven hours at a time.

"What is really also unique here is that we open the track after every session to make sure that there is the right access to the casinos … and then it needs to be closed on a very short notice again, to be ready for the next Formula 1 session," Tilke said.
When the lights go out on the Las Vegas Grand Prix, it will add an iconic new venue to a sport known for glitz and glamour, and for the city of neon, a new fixture as permanent as white lions and blue men.
Video narrated by Fred Mills. Additional footage and images courtesy of F1 Las Vegas, EA Sports F1 23, Automobile Club De Monaco, Alexander Migl, BBC, Warner Bros Pictures, Google Earth, FOX 5 and Las Vegas Grand Prix.
We welcome you sharing our content to inspire others, but please be nice and play by our rules.

Comments
---