Infrastructure
Managing Denver International Airport with BIM
Youtube Views

51,114

VIDEO VIEWS
Video hosted by Tom Payne.

DENVER International Airport are using building information modelling (BIM) workflows to support both capital delivery and facilities management across their vast site. Here, The B1M's Tom Payne takes a look at their progress to date.

RELATED: EXPANDING PANAMA CANAL WITH BIM

Denver International is the fifth busiest airport in the United States and the largest in terms of area; covering an enormous 85 square kilometres. As a travel hub for the region it sees over 53 million people travel through it each year, inevitably resulting in wear and tear.

NEW HOTEL + TRANSIT CENTRE

The airport recently added a new landmark structure at the front of their terminal combining a railway station with a new 519 room hotel. The new facility includes numerous sustainability features and has become a gateway for passengers arriving.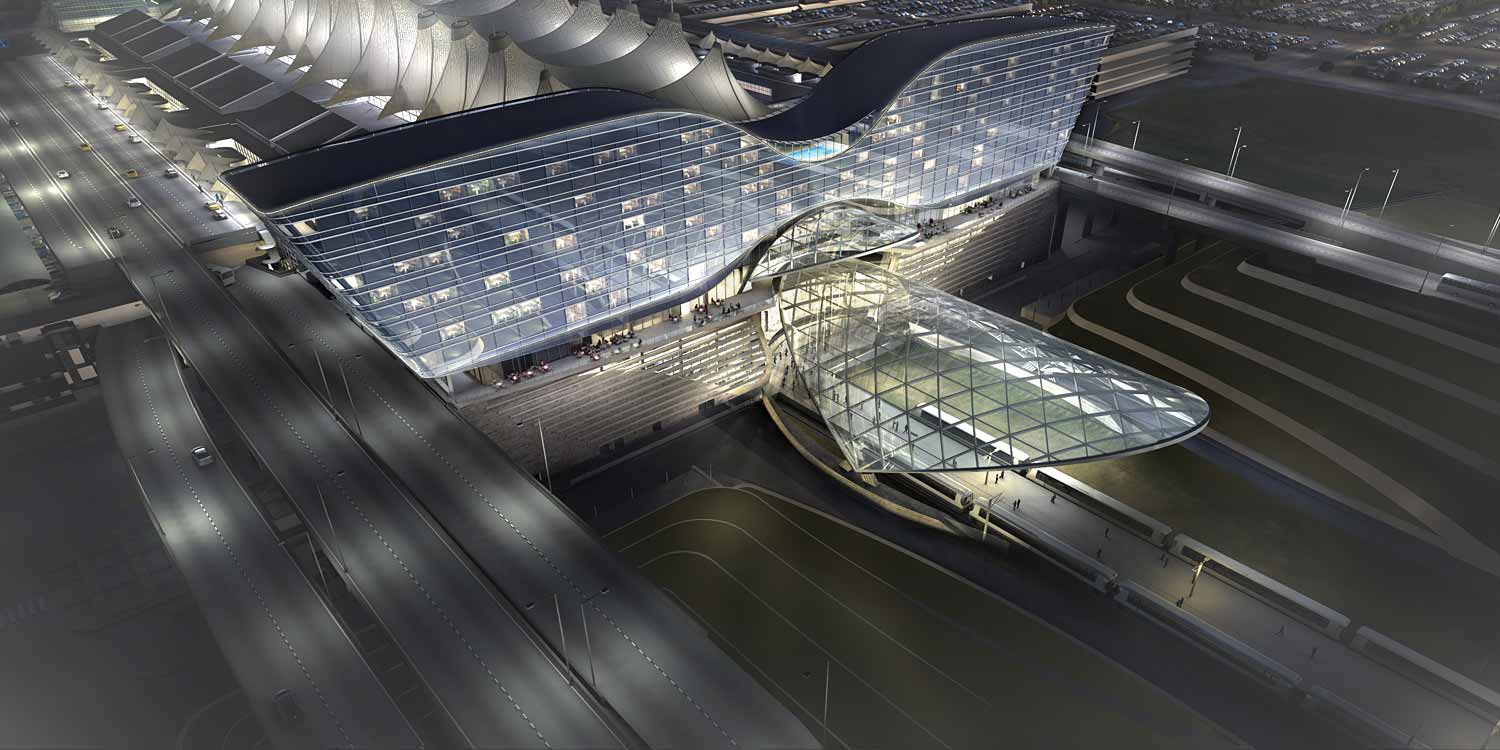 Above and below: The new structure at Denver International Airport (images courtesy of Gensler).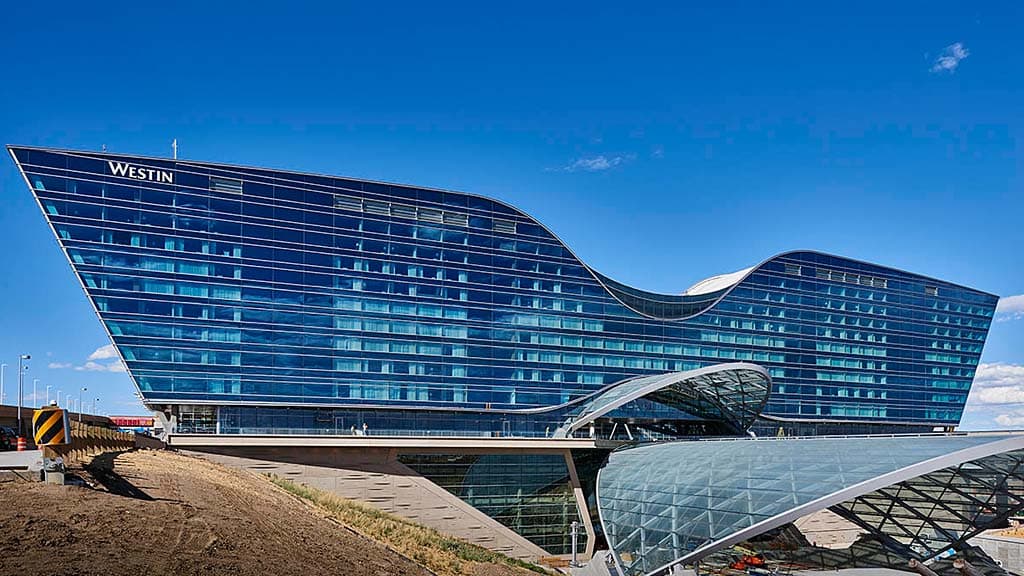 The project was designed by Gensler and Anderson Mason Dale, and has been managed by HNTB and Parsons. The construction was undertaken by three contractors – Mortenson, Hunt and Saunders – working as the MHS Joint Venture.
The team worked in a building information modelling (BIM) environment, coordinating their information and proposals in a mutually accessible common data environment (CDE). This enabled remote working from different parts of the country where necessary; accessing information and making decisions upon it from a single point of truth.

"The team could access information and make decisions upon it from a single point of truth"

Developing in a BIM environment, the project benefitted from improved collaboration, coordinated timelines and a faster construction period. The team were also able to provide data for the airports facilities management team to use over the buildings life.

But for Denver it didn't stop there. The Hotel and Transit Centre was sort of a warm-up test project for a much bigger BIM effort right across the airport.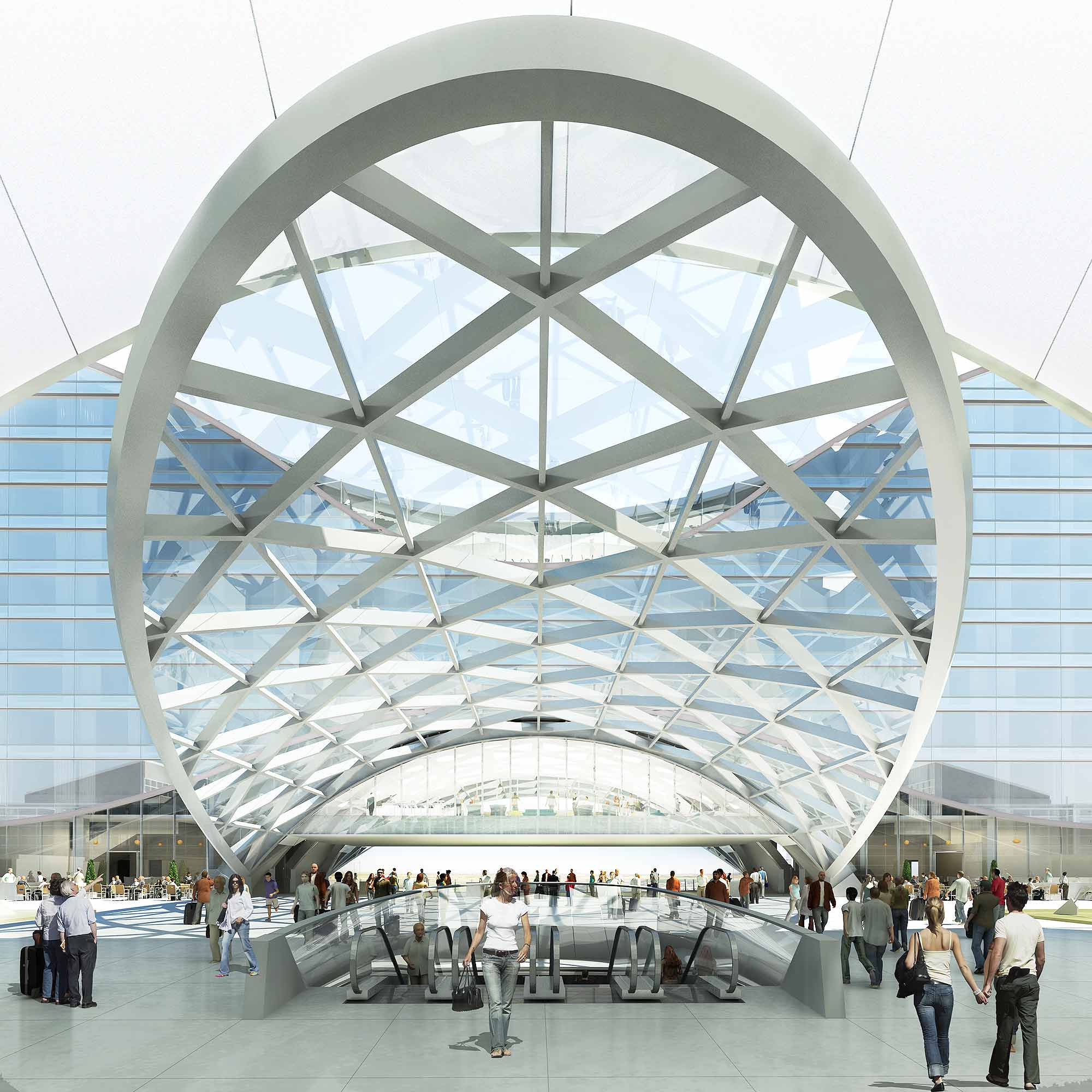 Above and below: Gensler's Design for the new Hotel and Transit Centre at Denver International Airport (images courtesy of Gensler).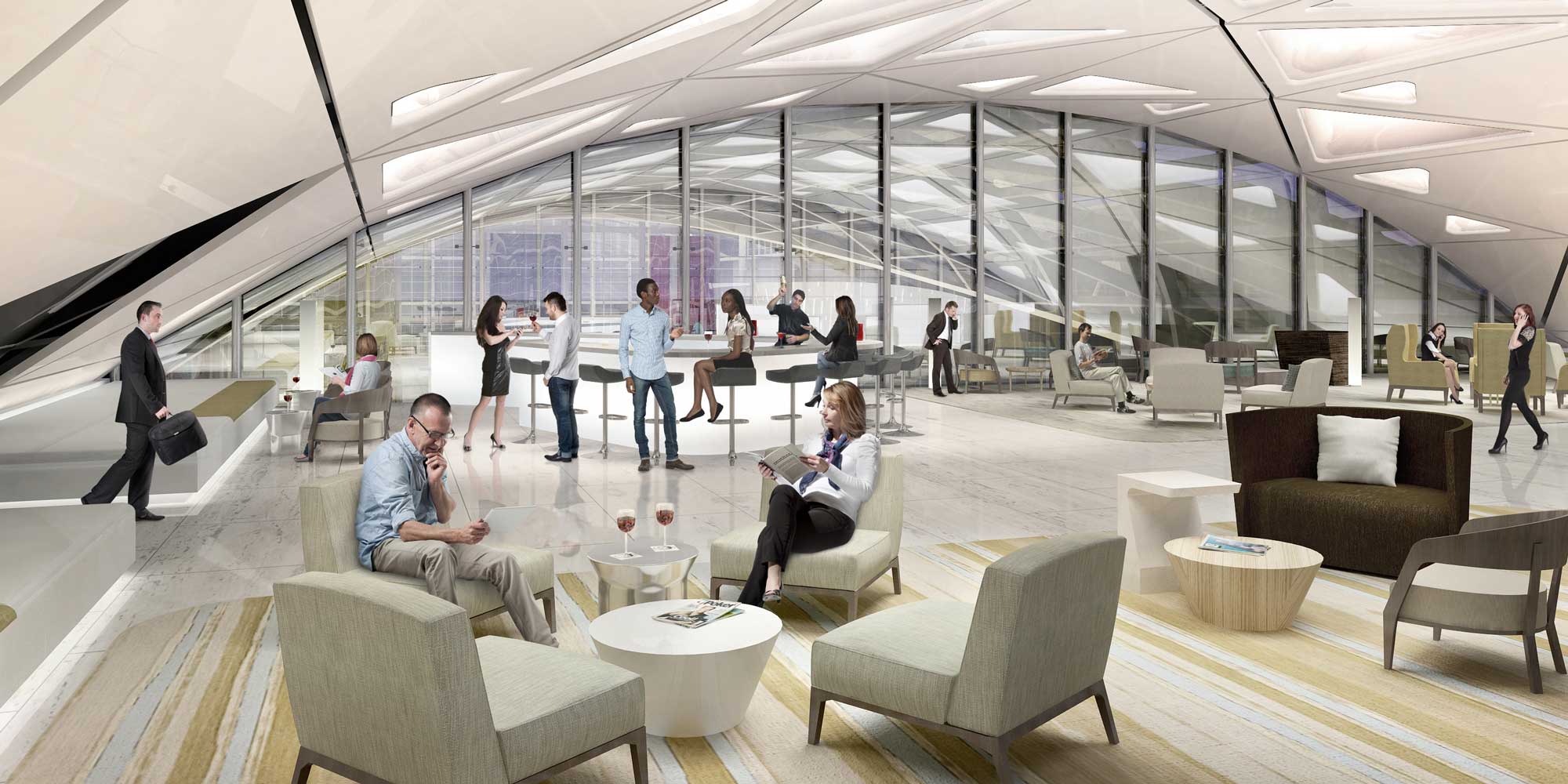 BIM ENABLING FACILITIES MANAGEMENT

The airports operators see the benefit of having a better understanding of the facilities they're running in order to get the best out of them – that means improving the experience of the people moving through them every day and saving money by bringing down their running costs.

The digital picture that Denver are building is not about going out and creating 3D models and visualisations of their entire airport. For them, having a detailed database that informs all ongoing actions is far more important than visualisations. It would also be quite impractical and very expensive to model the entire airport in one go. They have a skeletal model for the whole place that is added to with more detail as it steadily becomes available.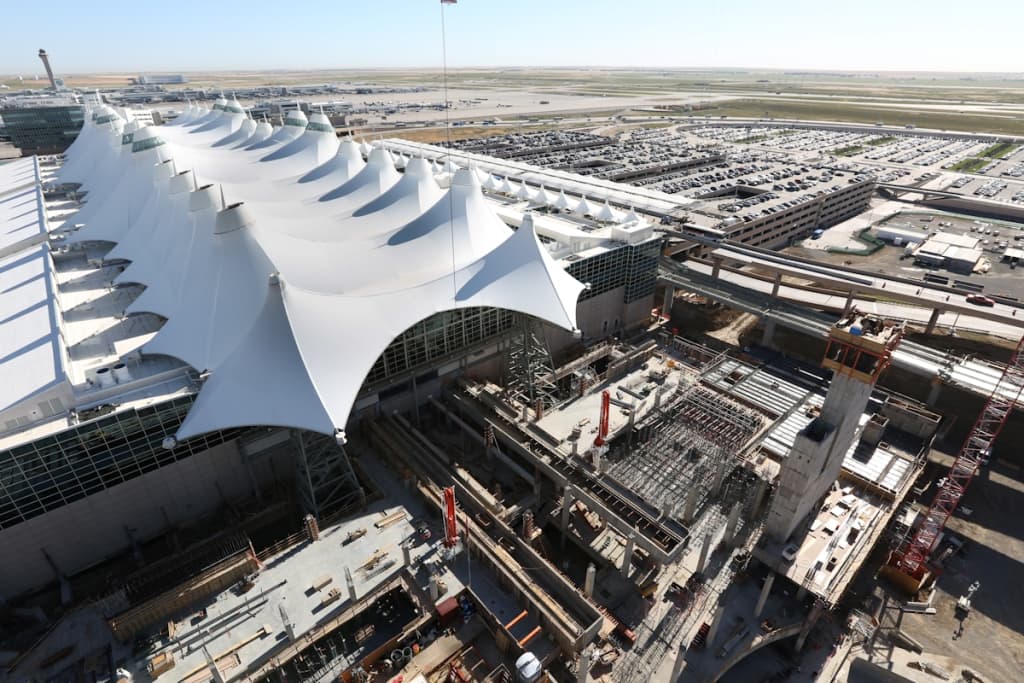 Above: Denver International's vast site, with the new Hotel and Transit Centre under construction in the foreground (image courtesy of Airline Reporter).
The Hotel and Transit Centre is part of a number of extensions and alterations that they are undertaking to improve airport operations and increase capacity. As these occur, the model is updated to form a more reliable picture. In the longer term, a key benefit is the ability to do detailed feasibility studies – designing and scoping a new element, based on a detailed "perpetual as-built" of what is currently there. There's no need for surveys and a reduced need for time-consuming feasibility studies.

"There's no need for time-consuming feasibility studies"

OBTAINING AIRPORT RECORD DATA

So where do you start with something like this? Well of course the airports operators want to convert and carry over as much data about the facility that they already have. But getting hold of some original record data isn't exactly a digital process.

Denver International was built in the early 1990s and opened in 1995, at a time when the transition from hand drawing to CAD was itself still fairly new. The result is a vast array of drawings spread across floppy disks, hard drives and filing cabinets. The first step in Denver's cataloguing was to bring that and over 9 million CAD files together in one place.
In the early stages of the Hotel and Transit Centre project, the team used laser scanning to capture the existing above and below ground conditions to better understand how the new building and railway station would relate to them. The first three bays of the terminal building were scanned from the roof down to the ground and this helped to model it in great detail. The interior was mapped over three days during the middle of the night. The result was accurate as-built scan data that was important for the new project and could be used within the airports ever enriching facilities management database.

THE ULTIMATE VISION

Ultimately Denver International Airport want to run their entire facility from a single source of digital information, a single point of truth, for what is what across their vast site. They are trialling tablets to put this information into the palms of their staff and operatives, giving them instant access to the data they need and saving time that is often lost travelling across the terminal or airfields.
"The challenge is to get the team to think of data as if they own it"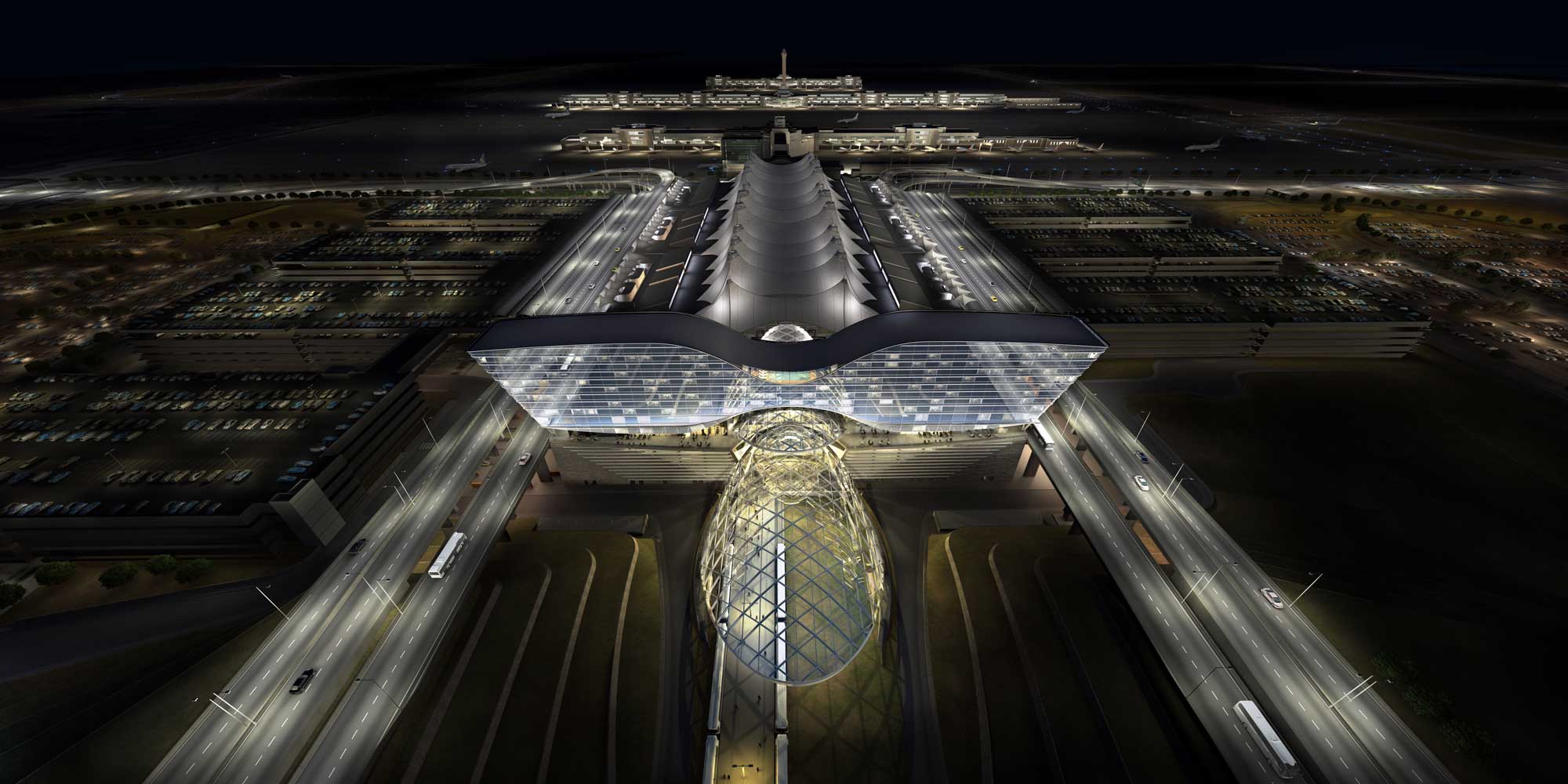 Above: The Hotel and Transit Centre at Denver International Airport (image courtesy of Gensler).
They're also working on an automated, bi-directional information exchange between the models used by project teams on capital works, and their Facilities Management platform. The challenge, as one of the team put it, is in getting those delivering capital projects to think of data as if they own it, rather than just creating a set of documents. They need to have the mind-set that will eventually have to come back to the model, and use it to inform future work.
RELATED: TRANSFORMING DONGDAEMUN DESIGN PARK + PLAZA WITH BIM

This video was kindly powered by Viewpoint.

You can find out more about the Denver International Airport's expansion programme here.

Images courtesy of Denver International Airport, Gensler, Autodesk, Sreejithk, Tekla, Airline Reporter, Dbenbenn, Sunnya and Stuurstroom.

We welcome you sharing our content to inspire others, but please be nice and play by our rules.
Comments
---