DOCUMENTARIES
Construction Progresses at Apple's Campus 2
Youtube Views

380,114

VIDEO VIEWS
TECHNOLOGY giants Apple never do anything by halves. The development of their future "Campus 2" headquarters is the perfect example of a mind-set that has enabled the juggernaut to continuously change the game, flip the switch and buck the trend.
Drone footage captured and edited by aerial videographer Matthew Roberts displays the construction work in progress, a 176-acre behemoth of top-notch architectural, engineering and construction prowess in California.
First, a quick history lesson. Back in 2006, Steve Jobs announced to the council of the city of Cupertino that Apple had purchased nine connecting buildings within the city, some of which were owned by Hewlett-Packard. Apple's current HQ is based in the same city, with the company having links with Cupertino dating back to 1977.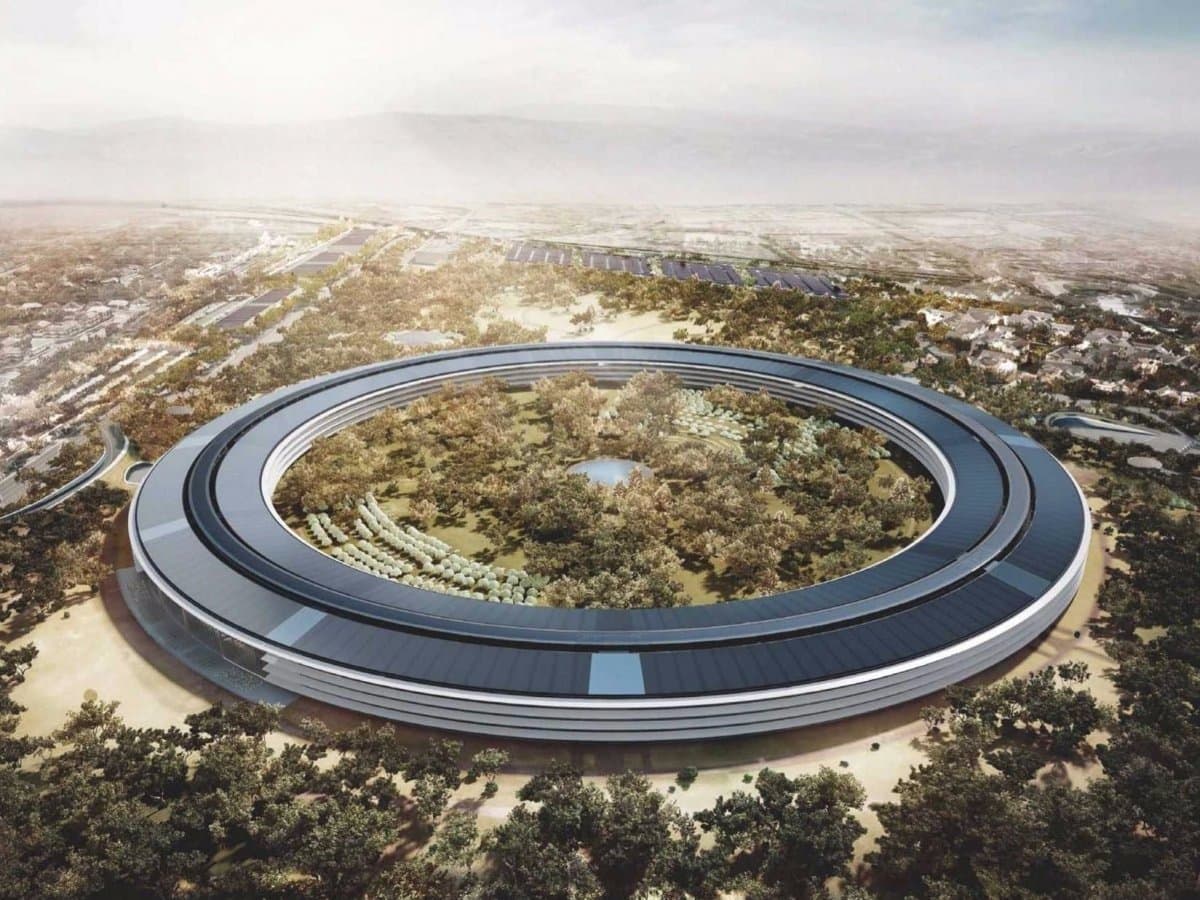 Above: How Apple's new Cupertino HQ is set to look once completed (image courtesy of Apple) and Below: The floor plan for Basement Level 1 of the main ring building (plan courtesy of Foster + Partners).
Three years later, Jobs began working on the project as an integral "part of the team" rather than a client, until his death two years later in 2011. Not just an innovator when it comes to technology, Steve's request to be treated as an equal member of the team was welcomed by the architects, UK-based Foster + Partners. The city's council approved finalised plans in October 2013 and the rest is history.

WATCH NEXT: TOP 5 NORMAN FOSTER PROJECTS
Foster + Partners are utilising building information modelling (BIM) on the 2.8 million-square-foot 'spaceship', with Bentley software the platform of choice for the firm. DPR and Skanksa are responsible for the building's shell and core, with Arup acting as the scheme's engineers. The project is estimated to cost Apple a whopping USD $5BN. Don't worry though, that is only 2.3% of the tech leader's cash reserves – a colossal figure of USD $215BN as of January 2016. No biggie for Tim Cook and the gang then!
Footage captured by the drone video clip shows the mammoth scale of work being carried out in the Santa Clara Valley plot. The main ring-like office space is one mile around and will use six kilometres of glass across four floors.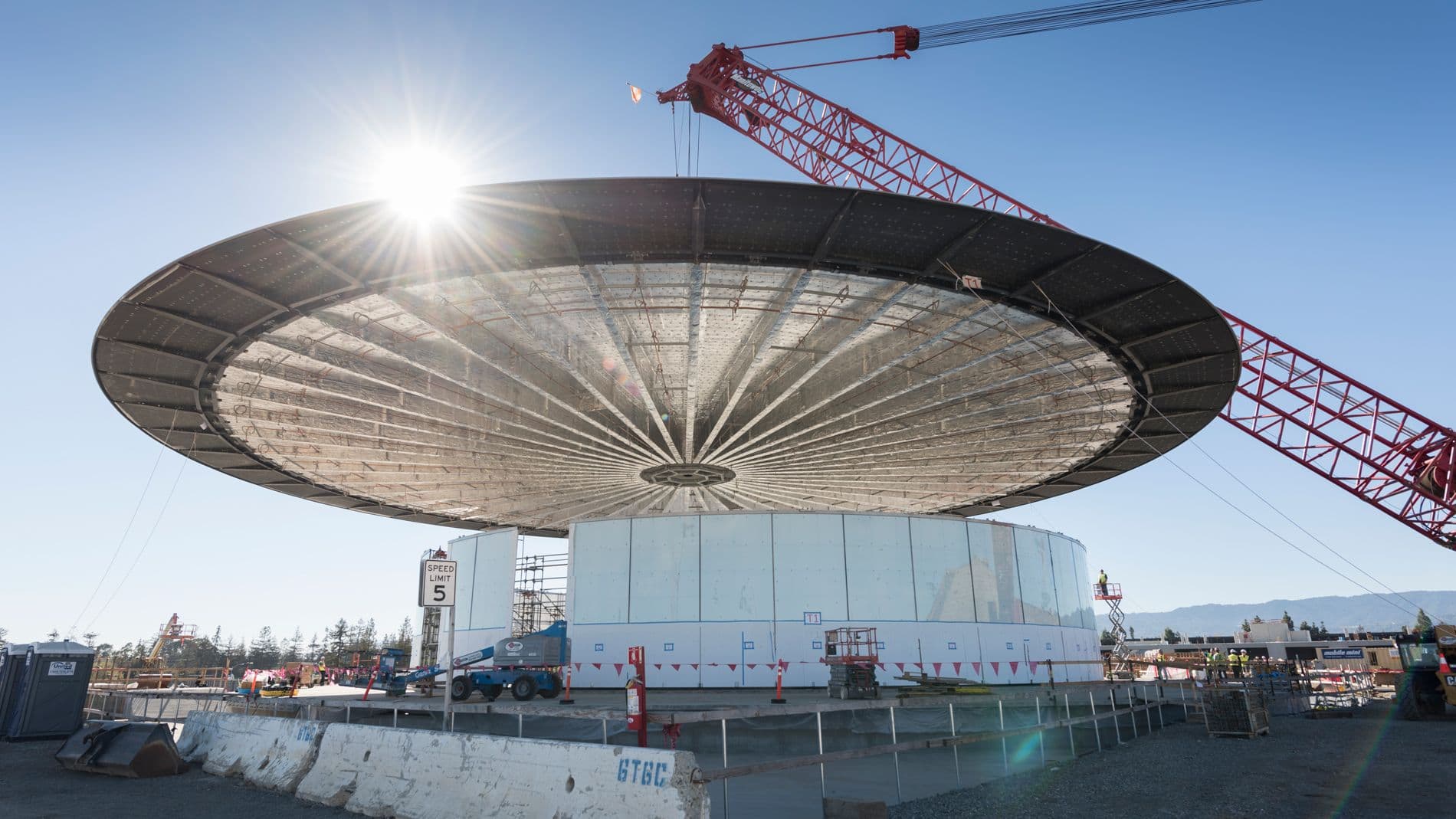 Above and Below: The roof of the new auditorium being lifted into position. The completed space will be able to seat 1,000 people (images courtesy of Apple).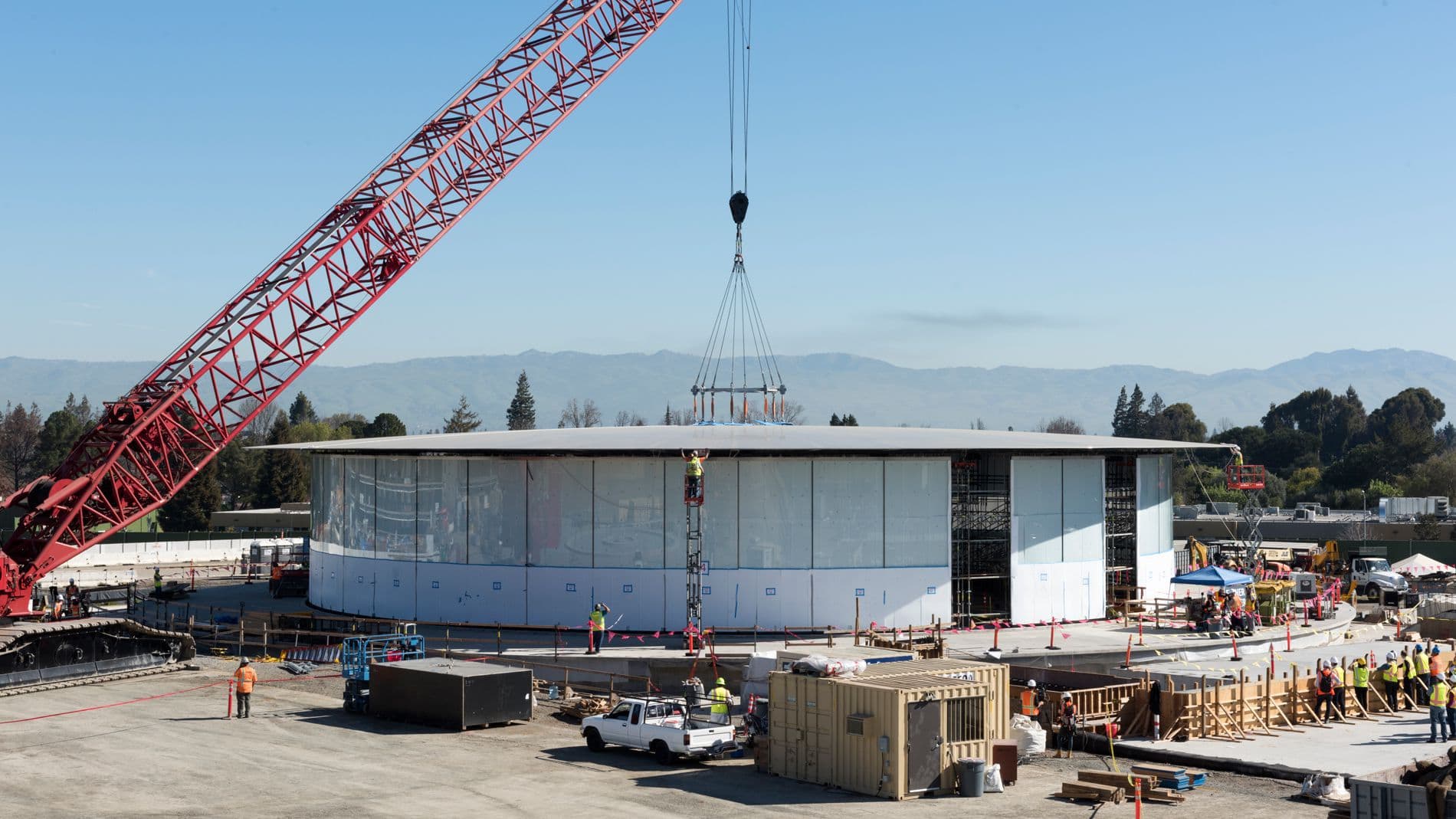 In addition to the main ring, Apple's new base will include: office space (plus 83,000 square feet of meeting areas and chill-out zones); a 1000-seat capacity auditorium for showcasing Apple's innovations and product launches (unlucky for the people of San Francisco!); a 30 acre park complete with large pond; seven cafés (one three-storeys high and catering for up to 3,000 hungry staff); research and development facilities, a fitness centre, a bus station, a visitor centre and underground car parking for the 14,000+ employees who will be based there.
I need to catch my breath after that extensive list – you can see why they needed to employ an information modelling process to help manage all of this, can't you?!
"The new campus facility is estimated to cost USD $5BN – representing just 2.3% of Apple's total cash reserves"
Some 80% of the completed hub will be green space, with the main campus using 100% renewable energy; making it one of the world's most environmentally friendly buildings. Go hard or go home springs to mind. Let me rephrase that: go hard for your home? Solar panelling will play a big part in that mission, 40% of which is installed as of October 2016. Recycled water will also be used; 13,300 feet of pipeline will distribute the water between Campus 2 and Cupertino.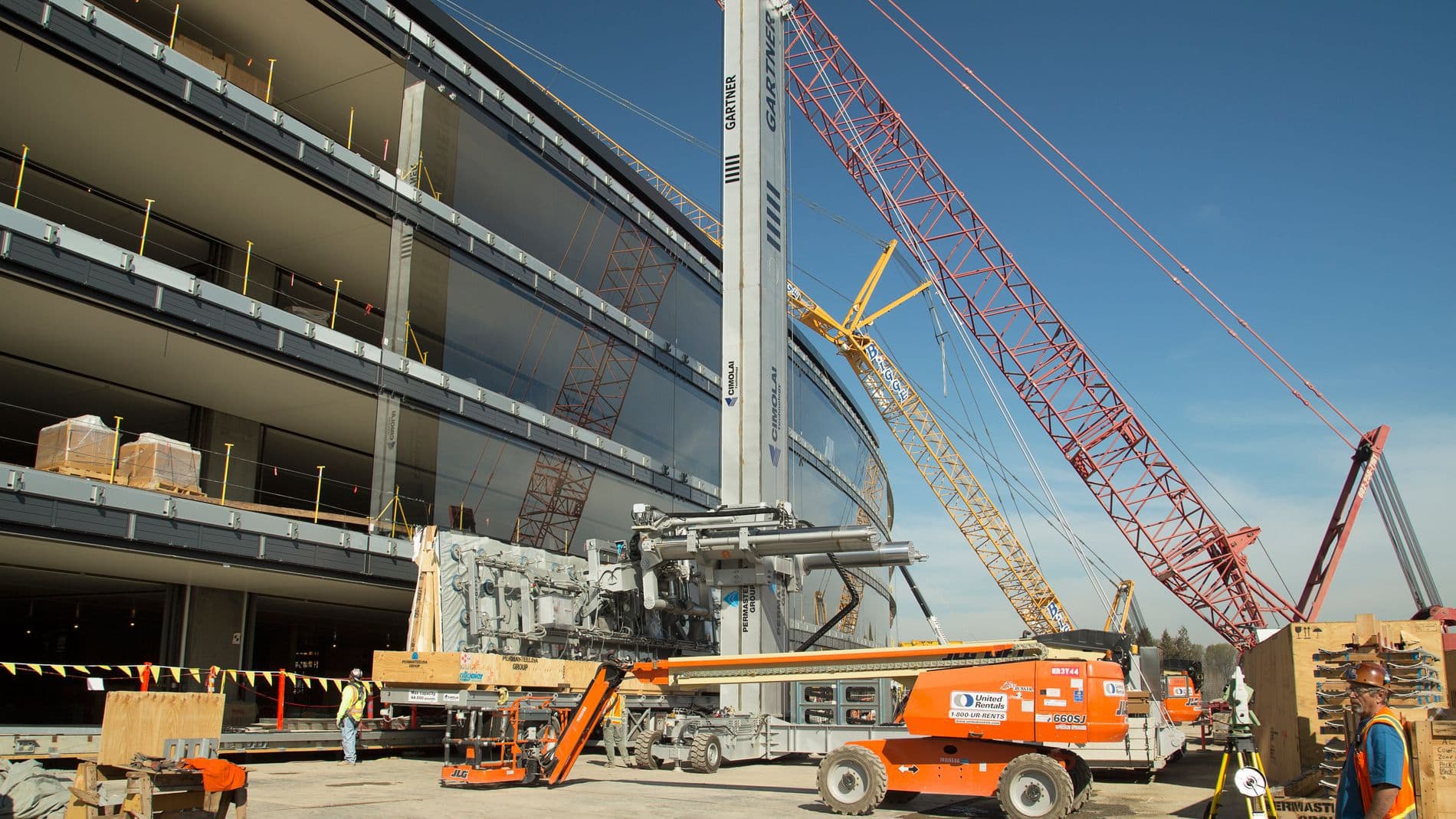 Above: Glazing being installed across the main ring building's four storeys (image courtesy of Apple).
Landscaping work – a massive project in itself – has also commenced. Jogging paths and walking routes will give the grounds a park-life feel while a herb garden and fruit tree orchards boasting over 300 different species will add a horticultural flavour. You'll be able to Byte into an Apple.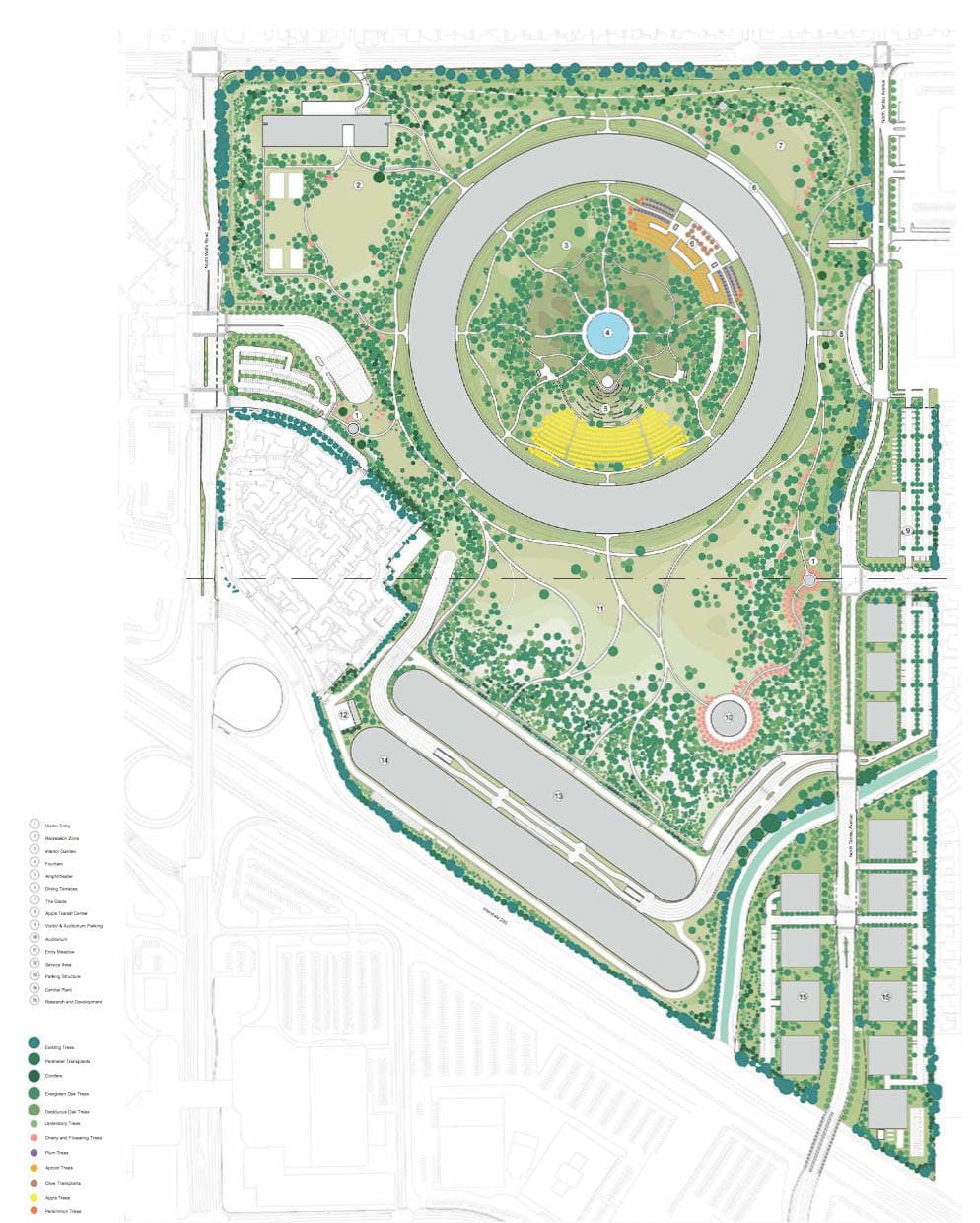 Above: The landscaping master-plan for Apple's Campus 2 clearly indicates the vast extent of the works (plan courtesy of Apple).
The slogan for Apple's Mac Pro in 2013 was 'Built for creativity on an epic scale'; a mantra that resonates with me when looking at the epic proportions of Apple's Campus 2. Whilst Steve Jobs is sadly no longer around, it is amazing to see his vision finally coming to life six years after his death. The new HQ is set to open for business in 2017. Let's just hope you will be able to plug your headphones in whilst you're there…
Do you have a great video to share or original footage that you would like us to publish? Submit here.
Watch more incredible videos by Matthew Roberts here.
We welcome you sharing our content to inspire others, but please be nice and play by our rules.
Comments
---