Cities
Constructing an Icon: The Washington Monument
Youtube Views

321,508

VIDEO VIEWS
Video narrated by Fred Mills. This video contains paid promotion for Bluebeam.
WASHINGTON, D.C. is known for its museums, politics and iconic landmarks.
But there's one that stands out among the rest: the Washington Monument.
This unmissable marble and granite structure towers 169 metres over the city's notoriously low-rise skyline and has remained an enduring symbol of the US for over a hundred years.
But, take a closer look and you'll see that its bricks change colour part way through.
Now, that isn't just down to bad cleaning, it's actually evidence of the complicated mess that was the monument's construction.
This is the story of how an American icon almost never existed.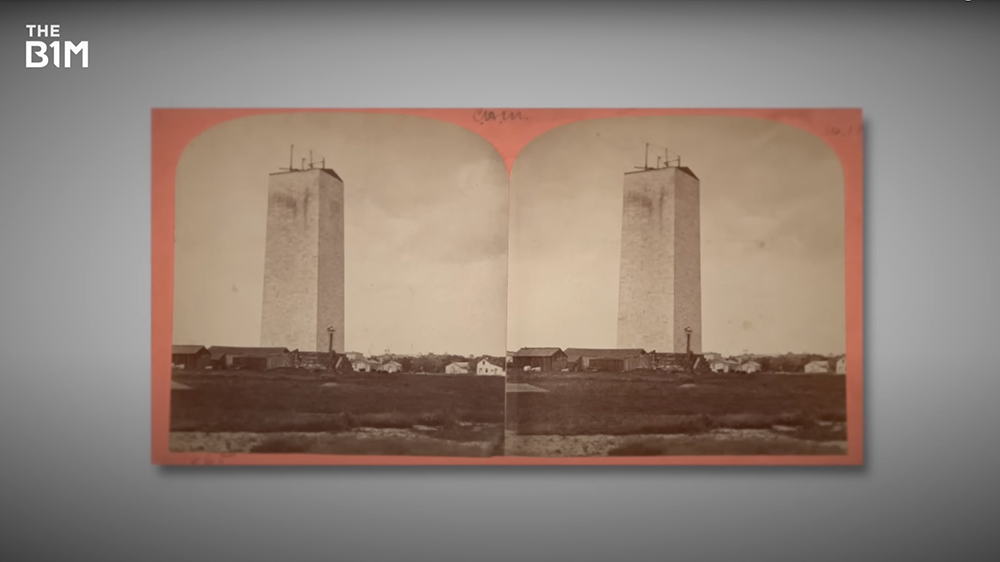 Above: The Washington Monument stood half-complete for decades.
The Washington Monument is the tallest stone structure in the world. In fact, it was the tallest structure in existence until the Eiffel Tower snagged its title.
Built with over 36,000 stones, its load-bearing walls are an incredible 4.6 metres thick at its base but taper up to a mere 46 cm at the top.
Compared to many buildings it looks pretty simple. No walls of glazing, balconies or trees. But building this 100,000-tonne structure was far from easy.
When George Washington died in 1799, a private society was formed to honour the country's first president. It began fundraising and selected architect Robert Mills to design a monument – a logical choice given that he'd already designed the Washington Monument in Baltimore, Maryland.
His initial design imagined a 182-metre obelisk in a circular colonnade along with a statue of Washington and other war heroes.
But it was expensive – roughly USD $1M dollars – so officials decided to start building the obelisk and deal with the statues later.
In the spring of 1848, excavation works began on the 2.3 metre deep foundation pit.
The footings were built using large blocks of gneiss rock set into a mixture of lime mortar and cement.
A clever and efficient system of pulleys and cranes was used to create two layers of walls using coarse white marble shipped from a quarry near Baltimore, Maryland.
Stone by stone, the structure climbed to a height of 46 metres.

Above: The original design for the Washington Monument was never fully completed.

But in 1854, everything came to a halt.
Funding ran out and construction was taken over by the "Know Nothings" political party – yes that's really what they were called. Public support for the project dried-up and a few years later the Civil War broke out.
Half complete, the monument stood for decades as an 'hollow, oversized chimney' and was mocked as a national embarrassment. It looked as if it may never be finished.
But when the Civil War ended, the committee began lobbying for funds again. It eventually gained support from Congress and the Army Corps of Engineers – but the challenges weren't over yet.
Engineers were worried that the original foundations wouldn't support the weight of the finished structure, so they added slabs of reinforced concrete to the base, and the monument's height was shortened from 182 down to 169 metres.
A newly-invented steam elevator was also installed to help carry materials as the structure rose. While steel beams were eventually used to support the lift shaft, the structural elements of the massive structure are entirely masonry.
Then, to make matters more complicated, the quarry where the marble was originally shipped from was shut down. As a backup, the team sourced new marble from Massachusetts.
But the brownish colour of the new stone began to look out of place and engineers quickly sourced the rest of the stone from another quarry in Maryland.
To save money, the statues from the original plan were never built.
Finally in 1884, the monument was officially completed and it opened to the public a few years later.
Today, you can still see where the different stones were used – now weathered by time – standing as a quiet record of the decades-long battle to build this structure.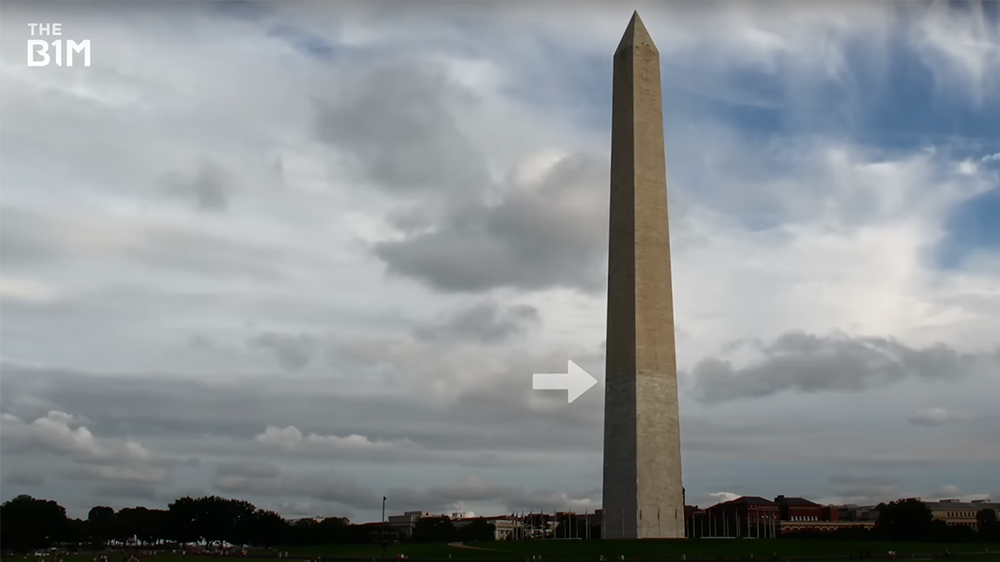 Above: The change in stone is still visible on the monument today.

Since its opening, the monument has replaced its steam elevators with faster electric ones and installed glass walls and better lighting.
It even survived an earthquake in 2011. Afterwards engineers repaired several fissures throughout.
Despite its turbulent birth, the Washington Monument has evolved from a national embarrassment to an icon, and is now a revered emblem of America's capital.
It stands tall above this most powerful of cities silently watching a noisy history unfold: it's seen presidents come and go, enormous legislative and judicial decisions be wrangled over and millions make their voices heard.
This remarkable structure is so much more than a monument to George Washington. It's a striking reminder of the disruption and horror caused by the American civil war, a case-study in how challenging building in this country can be, and a testament to what determined construction teams can achieve when they believe in what's possible.
This video contains paid promotion for Bluebeam. Government has long had the stigma of moving slowly when it comes to innovation but read how two municipalities set a standard for electronic plan review using Bluebeam Revu here.
Additional footage courtesy of Historic New England, Boston, Warner Bros, ABC, National Park Service and OpenStreetMaps.

We welcome you sharing our content to inspire others, but please be nice and play by our rules.

Comments
---