ASIA
China's New Bridge Will Carry 140,000 Vehicles a Day
Youtube Views

2,281

VIDEO VIEWS
A VITAL connection across China's Pearl River is currently under construction, creating a much-needed link between Guangzhou and Dongguan in the heavily industrialised Pearl River Delta Region.
The Pearl River is spanned by a number of large, highway bridges upstream, but there's only one bridge that spans the waterway as it flows into the South China Sea: the Humen Pearl River Bridge.
Above: A new, much-needed bridge is currently being built across the Pearl River (image courtesy of SCMP). Below: The first Humen Perl River Bridge, opened in 1997, is operating at full capacity (image courtesy of Wikimedia).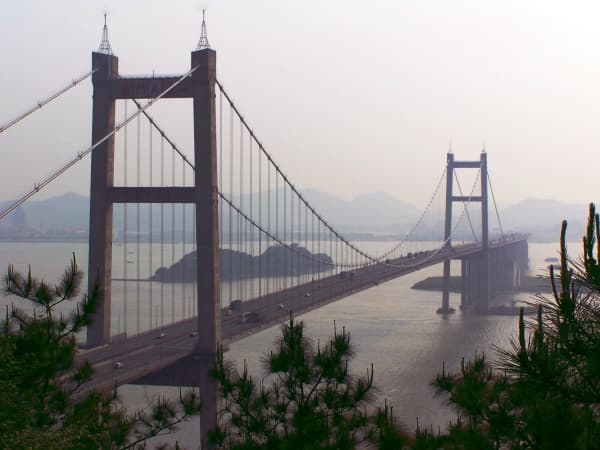 Within a decade of opening in 1997, it was apparent that a second bridge would be needed to relieve growing pressure.
The six-lane highway bridge, with a main suspension span of 2,913 feet (888 metres), is currently operating at full capacity and often experiences slow traffic and traffic jams.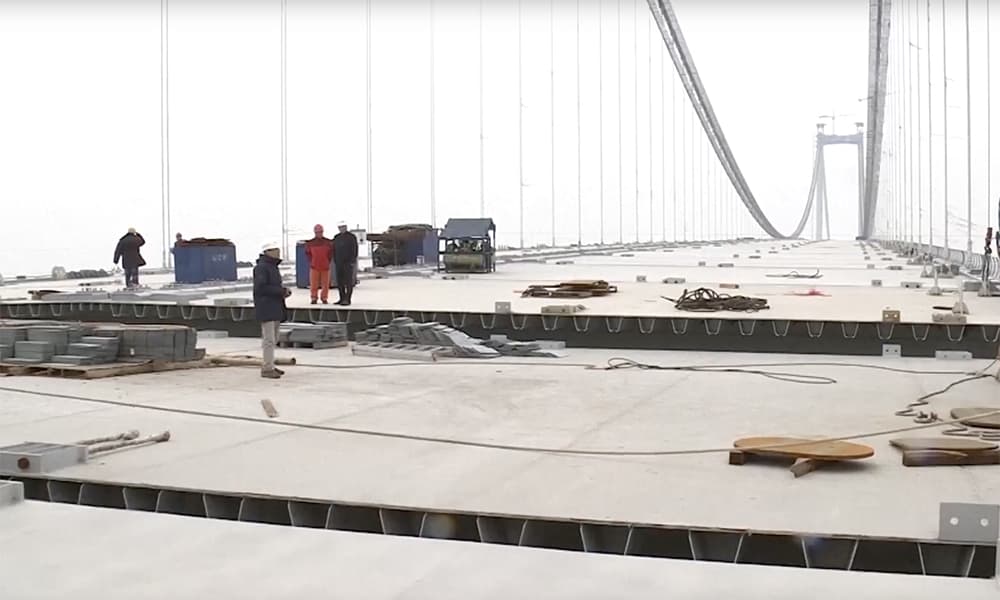 Above: The new crossing features two large suspension spans, the longest of which is 5,538 feet (1688 metres) (image courtesy of SCMP).

The construction of the Second Humen Bridge, located about 10 miles north-west of the existing crossing, is currently proceeding at a rapid pace.
Designed to carry a staggering 140,000 vehicles a day, the eight-lane bridge features two large, suspension spans of 5,538 and 3,937 feet (1,688 and 1,200 metres).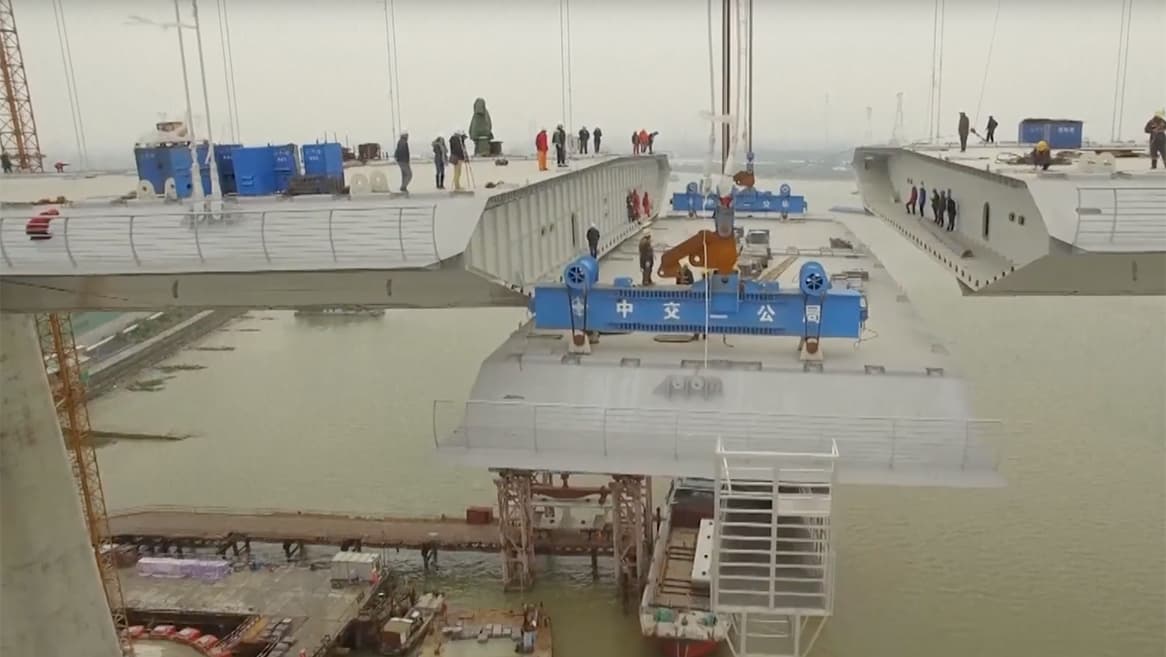 Above: The bridge deck of the larger span is composed of 94 steel sections (image courtesy of SCMP).
The bridge's towers will rise to 853 feet (260 metres), making it the highest suspension bridge in China. 94 steel sections make up the road deck of the new bridge, the heaviest of which weighs about 350 tons.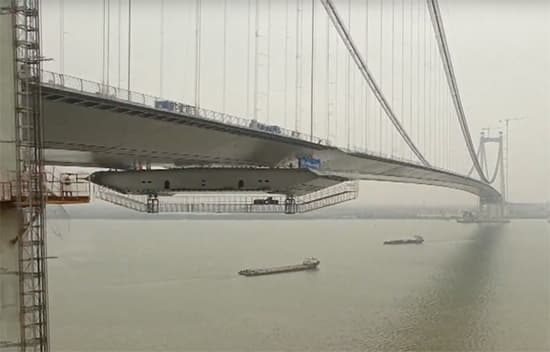 Above: The build was made more challenging by busy shipping traffic on the Pearl River (image courtesy of SCMP).
The overall link, including on-ramps and two intersections at either end of the new road, is over 6 miles (10 kilometres) long and is set to open in 2019 at a cost of USD $1.85BN.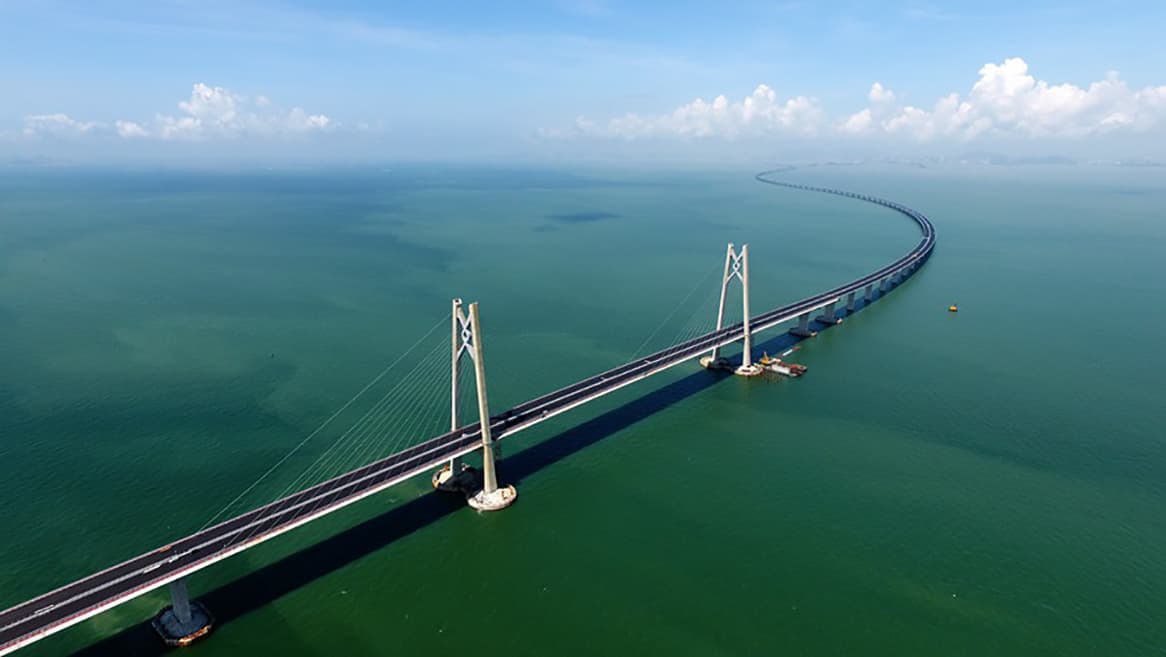 Above: The Hong-Kong-Zhuhai-Macau bridge currently under construction (image courtesy of Xinhua).
Another link across the entire Pearl River Delta, located about 45 miles south of the earlier Humen bridge, the Hong-Kong-Zhuhai-Macau Bridge, is also nearing completion.
Comments
---