Tech
China is Building the Stadium of the Future
Youtube Views

766,695

VIDEO VIEWS
Video hosted by Fred Mills. This video and article contain paid promotion for Epic Games.
WHEN you think of football stadiums today, you'll probably think of huge crowds in Europe or Brazil. But the birthplace of football – or soccer – is actually in China, and it's about to get a 21st Century makeover.
The Xi'an International Football Centre is unlike anything you've seen before, blending traditional Chinese architecture with a futuristic parametric design to create something that's almost spaceage. Set to complete in 2023, the new complex will be ready just in time to host the AFC Asian Cup.
But this is more than just a stadium. It's a new landmark in an historic city that could change its trajectory.
More than 2,300 years ago, the Chinese invented a kickball game called cuju – played by rich young men, professional footballers and even emperors.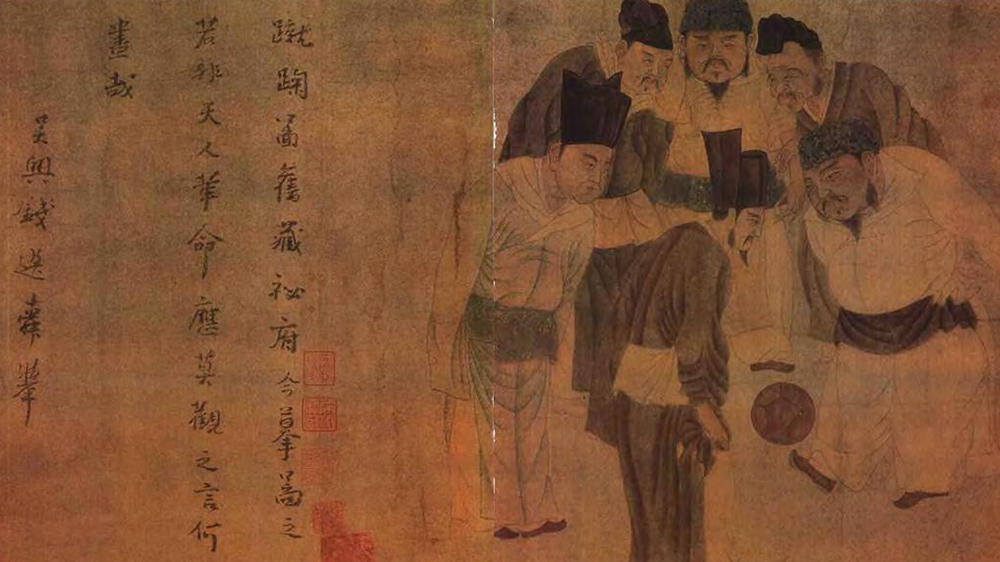 Above: Cuju is believed to be the origin of football today.

It wasn't quite the game we know today, but in 2004 FIFA – the leading football organisation – officially acknowledged that the origin of the sport started with cuju in China.
Fast forward to today, and China has only ever competed in one World Cup. But if its current stadium-building spree is any indication of where it could be headed, there are big ambitions ahead. The Guangzhou Evergrande, Dalian Barracuda Bay, Xiamen Egret and Kunshan Football Stadium were all built recently.

But one of the most impressive venues is rising right here in Xi'an, one of the oldest cities in China. This region was home to some of the nation's most important dynasties, and was the starting point of the Silk Road. Today, it's one of China's most popular tourist destinations, touting the Terracotta Warriors and Bell Tower.
Over the last few decades, it's become an economic centre for the region, producing everything from planes to electronics and processed foods.
In 2014, a brand new region was established called the XiXian New Area. It's made up of five new cities that are meant to serve as a model for innovative urban development. Essentially, it's part of China's effort to modernise its western region by bringing in new businesses, research and development – and yes, football.
Fengdong New District is home to roughly 9 million people and two professional football teams. And pretty soon it'll be welcoming 60,000 people to watch the biggest football tournament in Asia.
In a city known for ancient history, the Xi'an International Football Centre is distinctly original.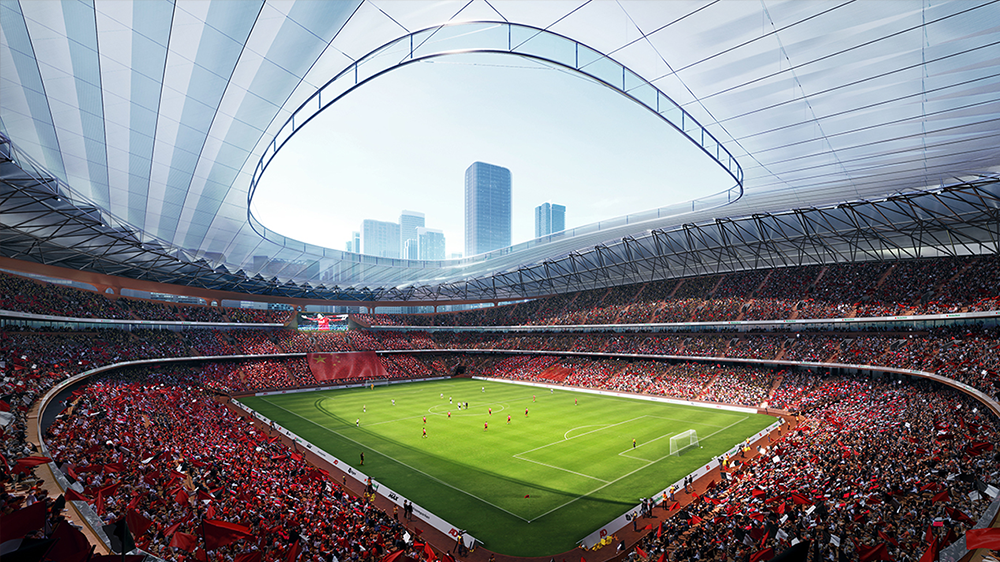 Above: The stadium's seating bowl was modelled digitally before construction began. Image courtesy of Zaha Hadid Architects/Negativ.com.
Zaha Hadid Architects used algorithms and digital tools, like Unreal Engine, to model what the structure will look like and how it'll react to the climate, before it's ever built. The sweeping lines of the stadium's facade are designed to protect the building from winds from the north.
Along the outside are shaded terraces that'll be filled with greenery, so you can look over the city all the way to Qing Mountain. The fluid roof design was made with Xi'an's hot summer climate in mind. The structure is made up of a tensioned cable-net topped with a translucent membrane over the seating area.
Because it's so light, the roof uses less materials than would normally be needed to build something like this. The clear overhang protects spectators from rain and direct sunlight while still allowing some natural light to flow in – that's pretty key if you want a grass pitch.
We've all had the experience of buying a ticket for a match only to have an obstructed view – but here the geometry of the seating area was designed digitally to make sure all 60,000 seats can see the action. The team performed a sightline analysis on a digital model of the stadium to calculate the aspect ratio of the pitch to the viewer from each seat in the stadium.
This football centre couldn't be built without digital technology.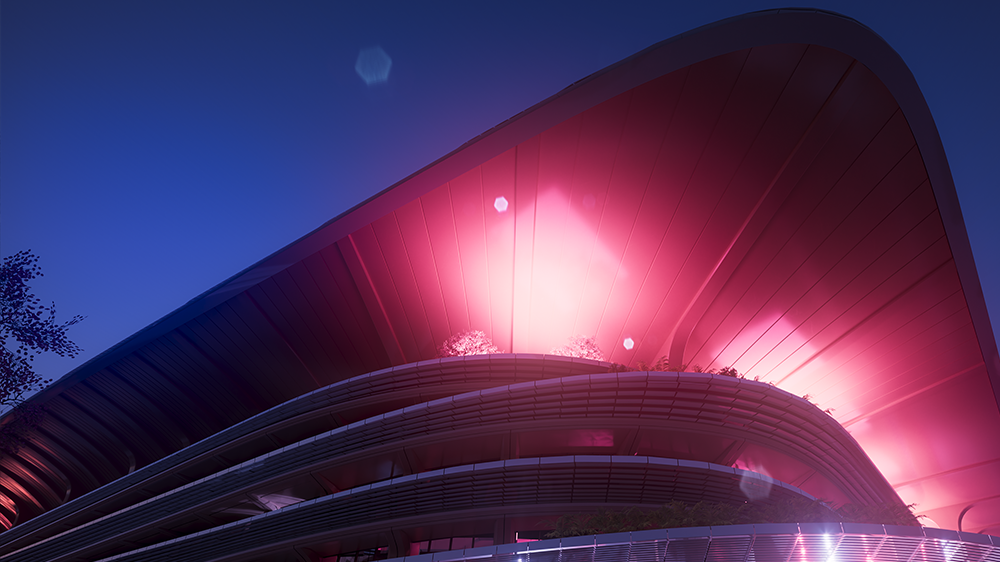 Above: A rendering of the new football centre. Image courtesy of Epic Games Unreal Engine.
What you're looking at aren't just any old renders. They're powered by Epic Games' Unreal Engine, one of the most advanced bits of software out there right now.
The same engine used by video game developers is now being used by some of the best architects in the world, and the results speak for themselves.
While some stadiums are left to be abandoned after they host their main event – Xi'an Stadium is designed to far outlive the 2023 Asian Cup. There are training fields for local teams and the next generation of footballers. And with room for 60,000 people, it'll be home to both domestic and international football matches in the future.
But it's not all about sport.
The new complex will be accessible from Xi'an's expanding Metro network, which means if you're by a Metro stop it shouldn't take you more than a half hour to get there. With public plazas and restaurants on the ground level, it'll be open to the public during the day. And when there's not a match on, the centre will host different cultural events and performances.
Xi'an Stadium is a stunning mix of old and new. And with a vision that stretches far beyond football, it's pushing the boundaries of what a stadium can be.
This video contains paid promotion for Epic Games. Unreal Engine is being used to create cutting-edge digital renderings for architecture projects around the world, try it for free here.

Narrated by Fred Mills. Additional footage and images courtesy of Epic Games Unreal Engine, Zaha Hadid Architects, ATCHAIN and Xi'an International Football Center Construction Management Office.
We welcome you sharing our content to inspire others, but please be nice and play by our rules.

Comments
---