Infrastructure
The Race to Build a $6.3BN Railway for the Olympics
Youtube Views

1,304,725

VIDEO VIEWS
Video narrated by Fred Mills. This video and article contain paid promotion for Bentley.
THIS CITY has big plans. And when we say big. We mean big.

Skyscrapers. The Olympics. Massive new megaprojects pushing the bounds of engineering.

And it's all happening Down Under.

The next decade will see a transformation on an international scale. And it's all beginning right now with the biggest infrastructure project in the state's history: a new metro that burrows under the city itself.
But this isn't Sydney or Melbourne.

This is Brisbane, Australia's fastest growing city.

Now if you haven't heard of Brisbane before, you're not alone. But the city has lofty ambitions. That much was clear when it won the bid for the 2032 Olympic Games.
Brisbane is Australia's third-largest city, but it's growing at a phenomenal rate. About a thousand people are moving to the region every week.
While the Olympics are a part of Brisbane's rebranding as an international destination, it won the bid in part because of the city's commitment to its ambitions and the massive new infrastructure already being planned.
That includes the $6.3BN megaproject Cross River Rail. It's a new 10.2-kilometre rail line with 5.9 kilometres of twin tunnels that dive under the Brisbane River and Central Business District, or CBD. Essentially, they're building a massive new railway right below downtown Brisbane.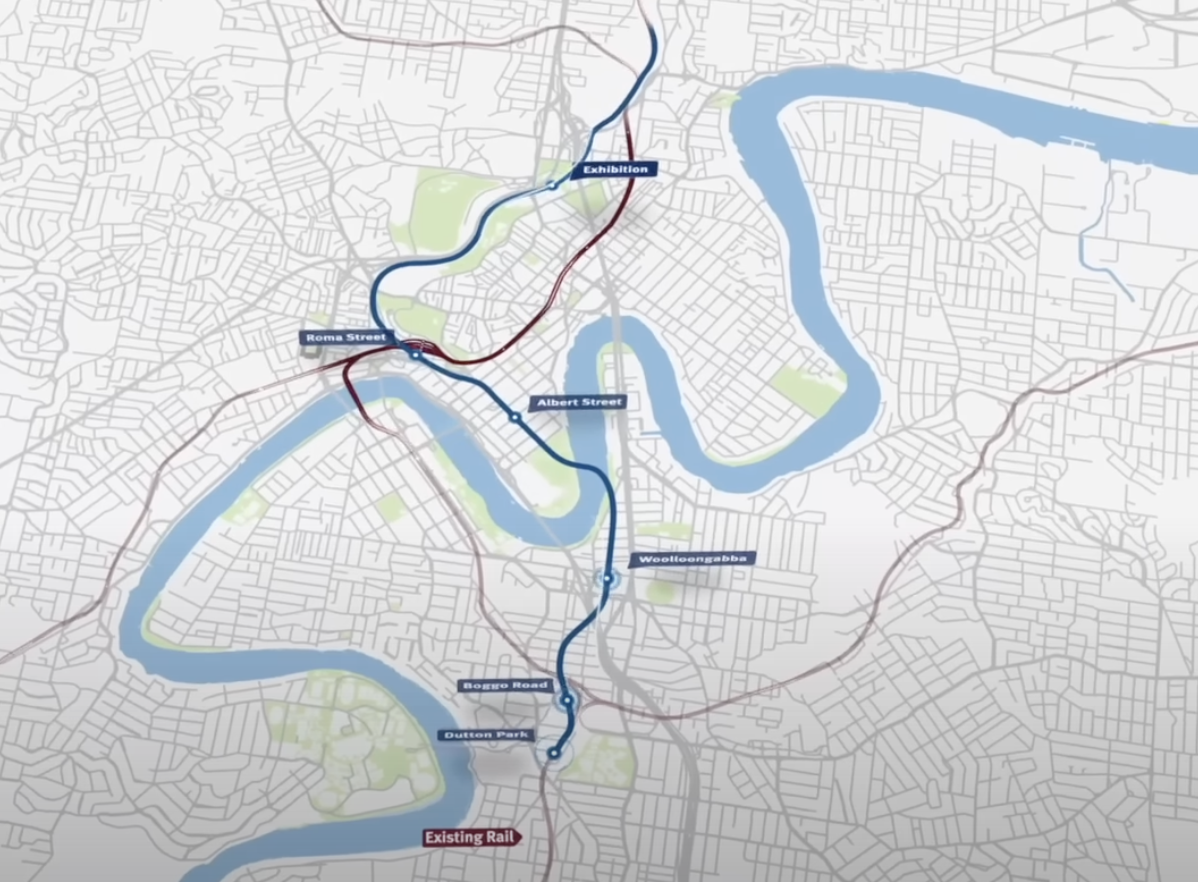 Above: The new rail cuts under the Brisbane River. Image courtesy Cross River Rail.
The project also includes four new underground stations and eight upgraded stations, plus the development of three new Gold Coast Stations.
"But really beyond that, what you've got is a network that is hasn't been upgraded for quite some time," explains Graeme Newton, Chief Executive Officer Cross River Rail.
"And so we've got stations in the inner suburbs, which some of them date back to when they were first built were in the late 1800s.
"The scale of it will be it's really the biggest infrastructure project in the city's history in the center. And what it will do is change the way in which people actually move around the city."
Cross River Rail seeks to rectify a major problem with Brisbane itself.
You see, Brisbane is a city defined by its river, for better or worse. And this river is a beast.
Right now there is only one crossing over the river, severing the city into two distinct halves. The new railway will ease the pressure on the current rail network which is nearing capacity.
Untying this knot will unlock enormous economic potential as well as revitalising previously disconnected precincts. The construction of the rail itself already provides the city with 1,500 jobs per year.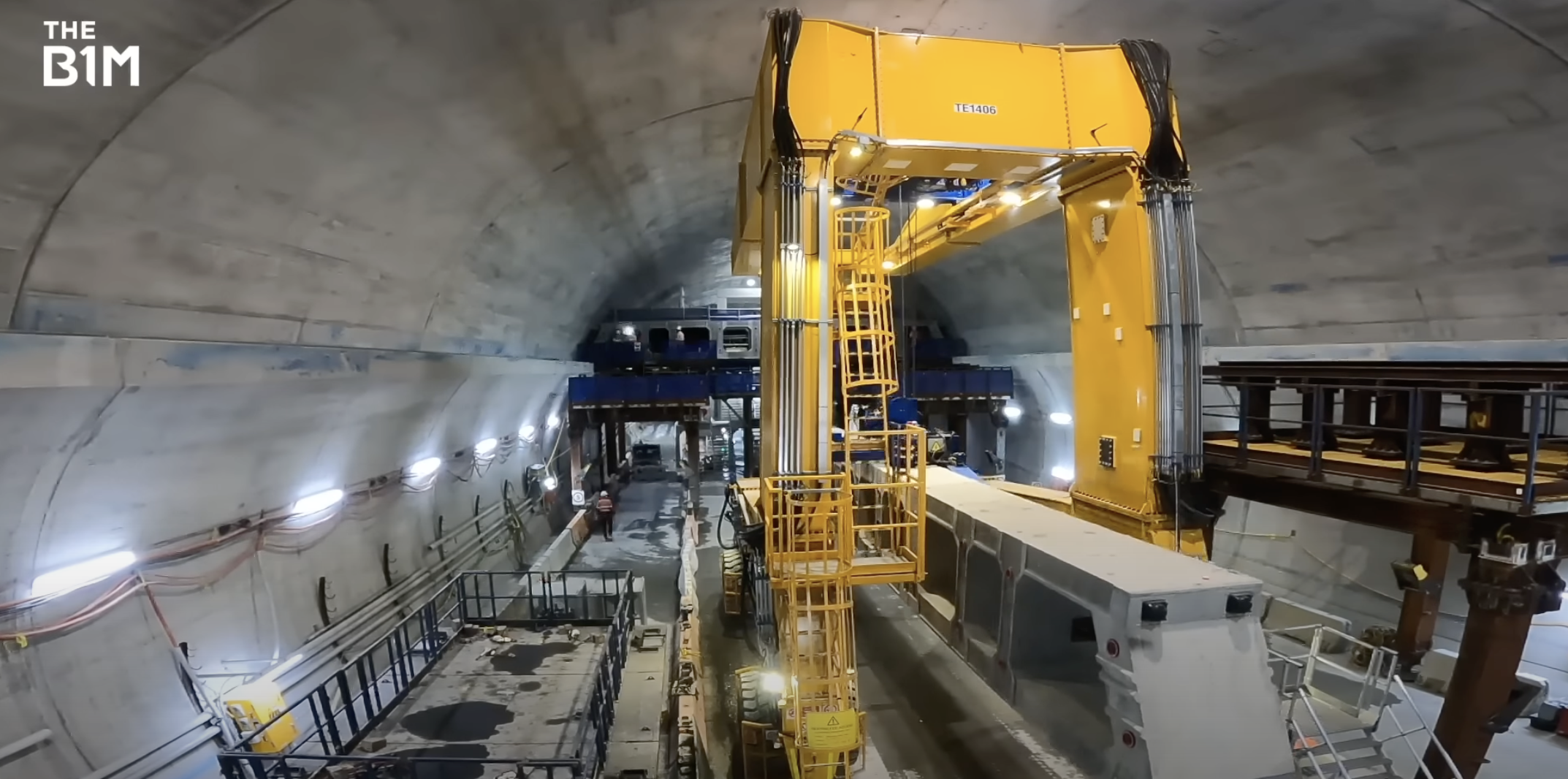 Above: The new mezzanine levels being constructed under Brisbane. Image courtesy Cross River Rail.

There is a business case for it as well. One report predicts the project's benefits will outweigh the costs by AUS $1.9BN. And for every dollar invested, the project will return $1.41 in benefits for Queenslanders.
"The development in some economic forecasting multipliers take it to sort of 15 to $20 billion worth of growth and in the order of 35,000 jobs around just basically as a result of the interconnectedness that you're going to get out of having the rail system and then the development around those," says Newton.
Perhaps the most important reason for the construction of the Cross River Rail is the absolute population explosion the region is set to have.
The population of South East Queensland is forecast to grow from 3.5 million today to 4.9 million in 2036.
In just a few years that puts the region on par with Melbourne and Sydney.

More than 80 percent of this growth will happen just outside of Brisbane, while at the same time 45 percent of job growth will occur in the Brisbane metropolitan area.
This means that jobs are continuing to sprout up in the city while people are moving to suburbs surrounding it. There is a vital need for better public transportation between both.
Not to mention these new stations will link up with the Olympic stadiums, transporting the millions of expected tourists in 2032.
But building under a major metropolitan area is no easy feat and the engineering challenges themselves have been immense.
"When you see it up close and personal, it is an engineering marvel," says Newton.
"It's almost like doing open heart surgery in the middle of the CBD, digging an excavation down about 50 meters below the CBD. That is, to get below all of the services, get below the footings of the current high rise office buildings and so forth. So it's actually the deepest hole ever dug in Brisbane and we're putting the station into that because the tunnels have to weave their way underneath the middle of the city."
That's where these mezzanines come in. They make use of these massive tunnels by creating a pedestrian level directly above the train tracks.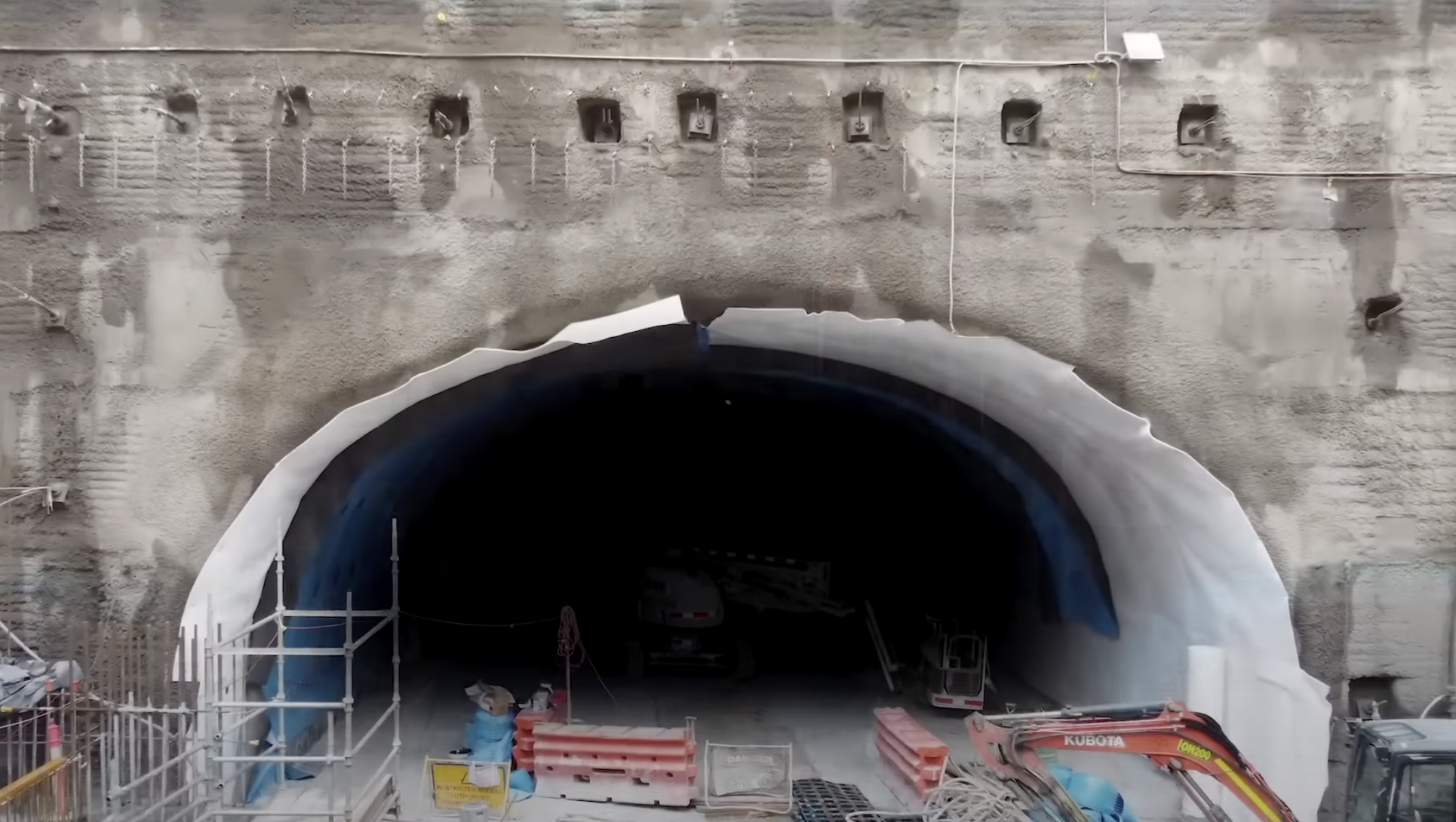 Above: Tunnels for the new metro. Image courtesy Cross River Rail.
Now, mezzanines aren't anything new, but the way these ones are being built is new with this segmental bridge technique.
That's a pretty common practice for building bridges above ground, but constructing something like this in a tunnel underground is a whole new challenge.
Here's how they're doing it.
Each mezzanine beam is precast in massive concrete segments weighing up to 70 tonnes.
They're then lowered down through a hole in the heart of the city into tunnels that will become the new train station.
Because an underground tunnel is a lot more cramped than a wide open space above ground equipment was custom made to fit the site.
Next those three segments are connected into one single beam which is picked up, rotated 90 degrees and placed onto the cavern arches to form the mezzanine level.

This was all made possible thanks to the early integration of a digital twin of the entire project.

It's essentially a virtual version of the Cross River Rail using software from Bentley.

It was even first-person navigable, just like a video game.

The model is so detailed that those on site can use the BIM model in real time essentially as an X-ray to see behind walls or what's beneath them.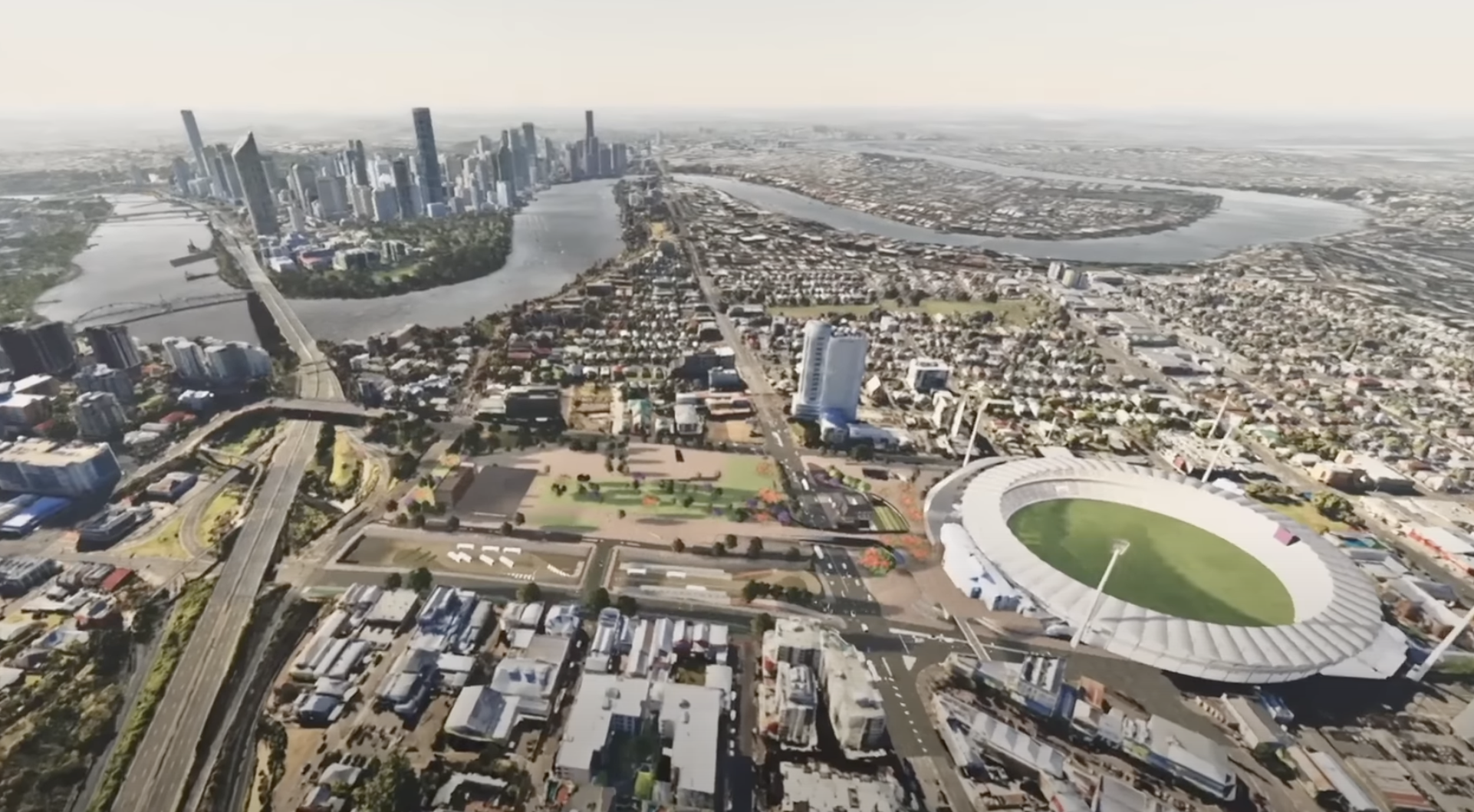 Above: The digital twin of Brisbane. Image courtesy Cross River Rail.
It also meant other future projects in the city could access the model and plan around the new stations to the millimetre.

The digital twin meant that engineering and construction decisions could be made quickly and efficiently, reducing overall costs.

Design flaws could be spotted and fixed before they even became a problem, while progress of the entire project could be seen from every angle as it happened.

The model will be is already being used to train future drivers as well as to update members of the public and brief ministers and the premier. Specialist needs and disability groups are also using the model to ensure accessibility.

Once the project is constructed the digital twin will also help run the rail and will be used by operation and maintenance service providers.

Cross River Rail is now well on its way to being delivered. Early works began in August 2017 and major contractors commenced construction in late 2019. The project is set to open in 2026, well ahead of the 2032 Olympics.

The next decade is going to see phenomenal changes for Brisbane and South East Queensland, and those changes are starting right now.

This video contains paid promotion for Bentley. Learn more about how their software is advancing the world's infrastructure here.
Additional footage and images courtesy of Cross River Rail, Queensland Government and ABC News. Revitzo imagery provided by Cross River Rail.
We welcome you sharing our content to inspire others but please be nice and play by our rules.
Comments
---