NORTH AMERICA
Apple Store with Macbook-Shaped Roof Opens
Youtube Views

VIDEO VIEWS
APPLE's impressive new flagship store - designed by Foster + Partners - has opened in Chicago.

The store, which is topped with a Macbook-shaped roof (apparently inadvertently), stands on the embankment of the Chicago River on a stretch of Michigan Avenue known as the "Magnificent Mile."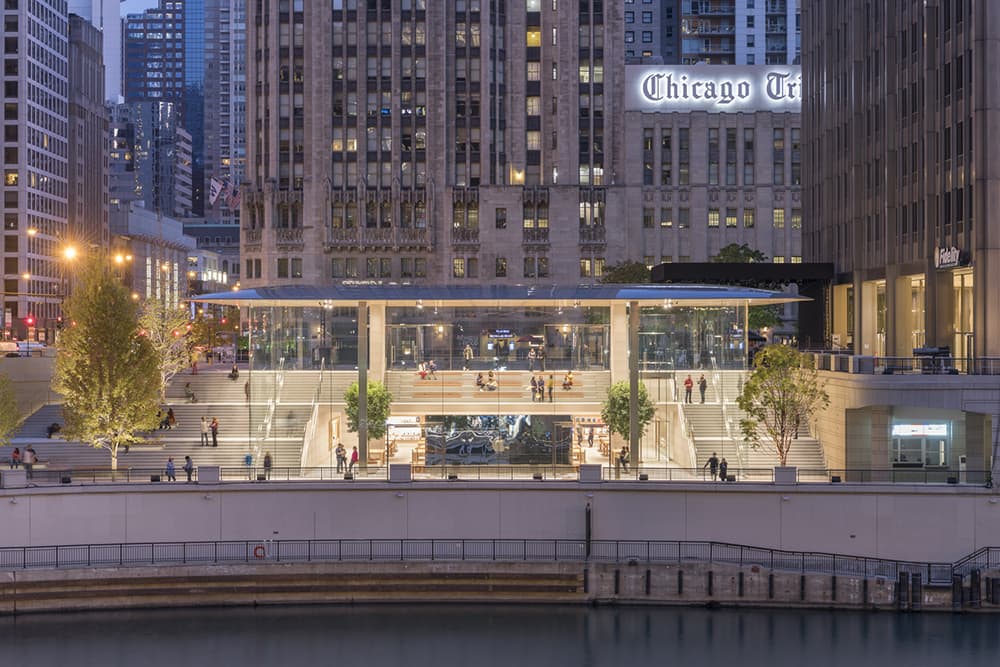 Above and Below: The new Apple Store on Michigan Avenue is located in one of Chicago's most desirable areas (image courtesy of Foster + Partners).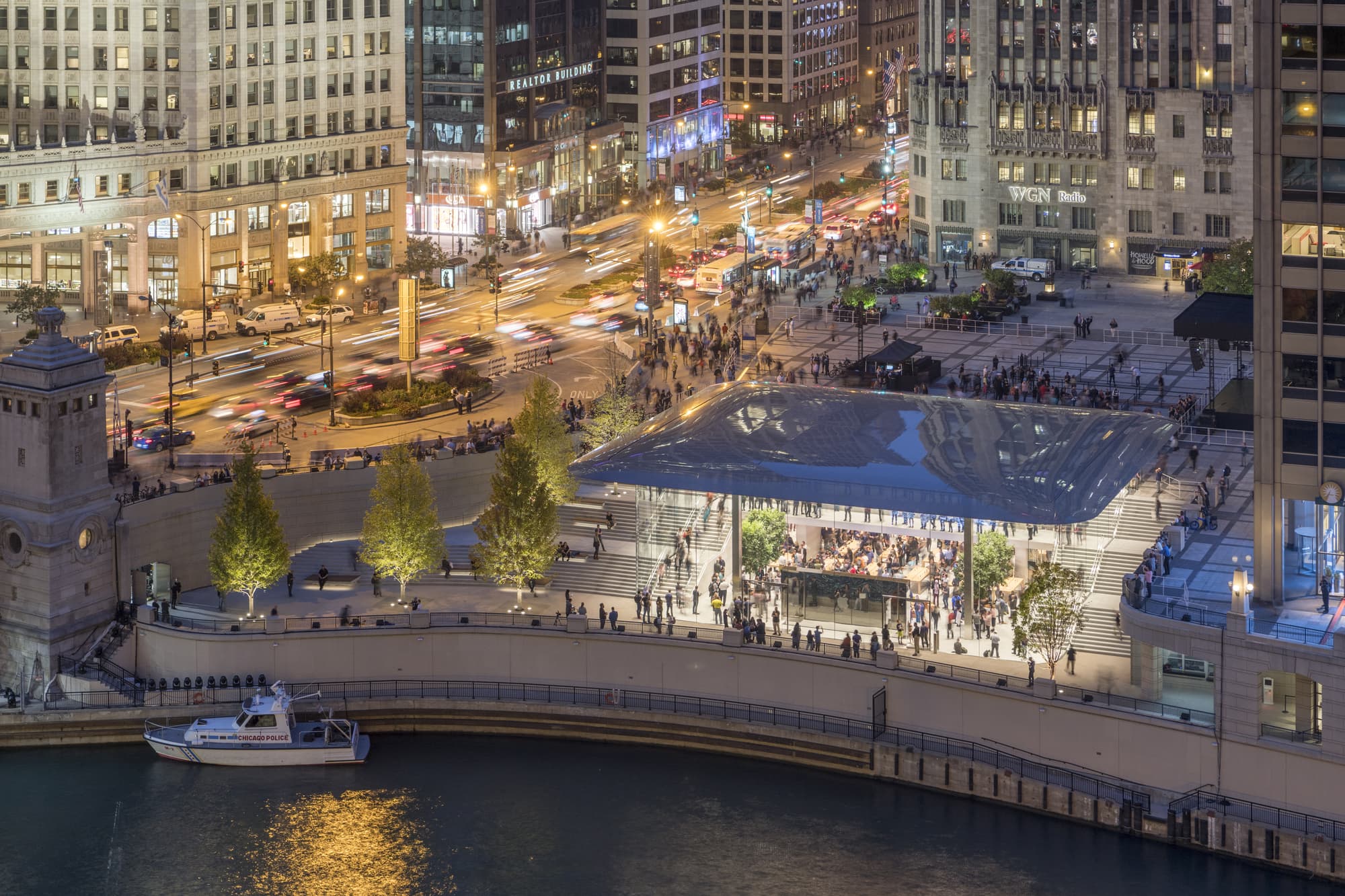 The new retail facility seeks to "reflect Apple's commitment to the cities and communities it inhabits" and is the result of a close collaboration between Apple's chief design officer Sir Jonathan Ive, Angela Ahrendts - Apple's senior vice president of Retail and Online Stores - and Foster + Partners.
Incorporating the technology giant's new "town square" retail model, a large open space facing the waterfront is reserved for talks, workshops and debates organised by the company. The more traditional part of the store - including product displays - is located away from the river.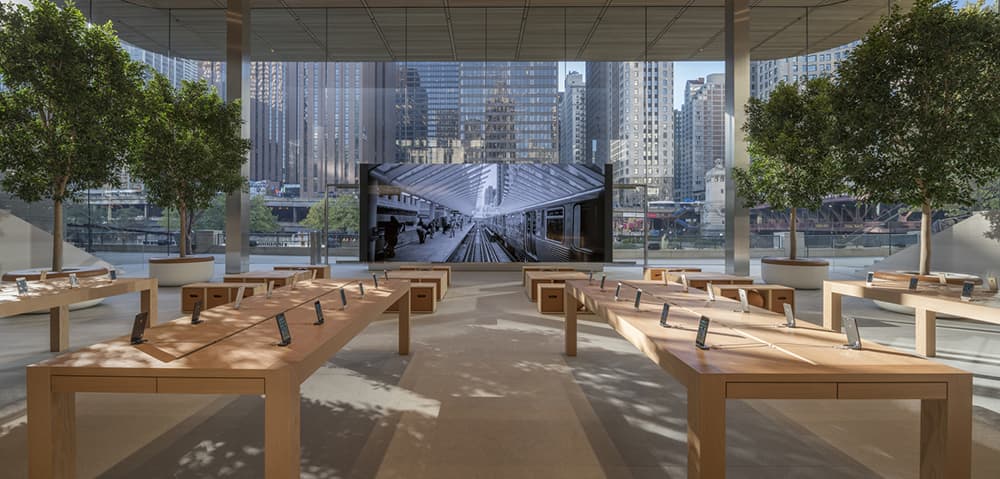 Above: The "town square" area of the store is located towards the riverfront, the more conventional sales display are at the back ( image courtesy of Foster + Partners).
Measuring 111 by 98 feet (around 34 x 30 metres), the slender roof resembles an Apple Macbook when viewed from above. In order to make it as light and strong as possible, it has been made out of carbon fibre reinforced polymer.
The roof structure is held up by four slender steel columns. It overhangs the glass facade by 10-17 feet (3-5 metres) to provide solar protection.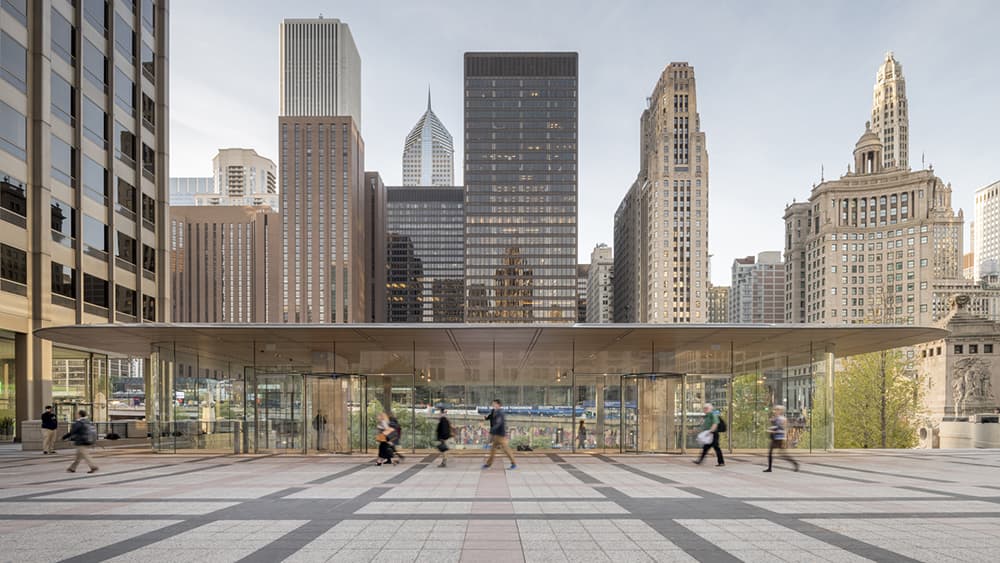 Above: Seemingly supported by the glass facade, the store's slender roof appears to almost hover (image courtesy of Foster + Partners). Below: Stairs from the riverfront are continued inside the store (image courtesy of Foster + Partners).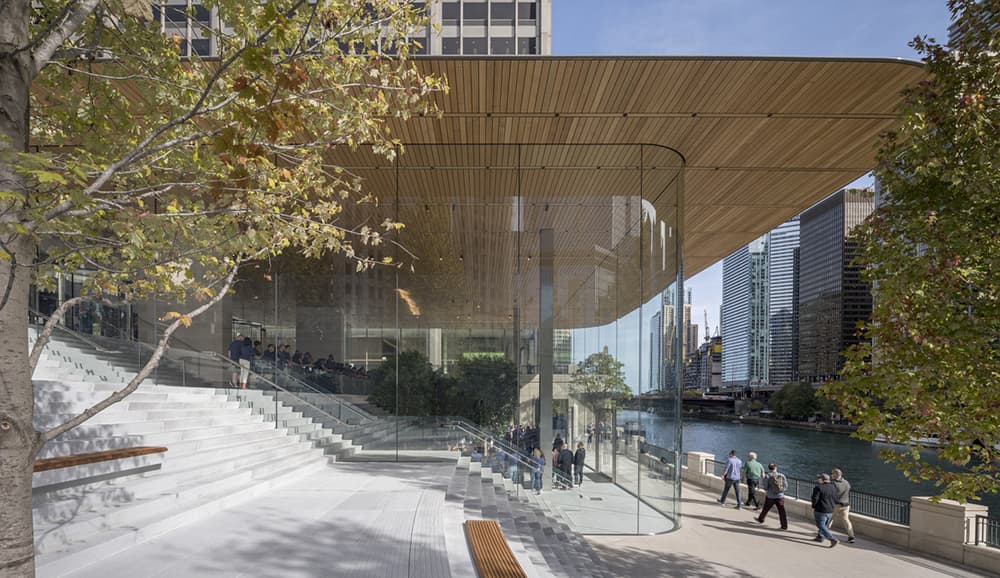 The facade is made from 4 layers of 0.5-inch thick laminated ultra-low iron glass. In order to "blur the boundary" between the inside and outside, stairs that lead from the street level down to the river have been incorporated into the store's interior.

Despite the store's minimalist appearance, the construction of the 20,000 square foot (1,858 square metre) store cost a reported USD $62M.
The new store builds on Apple's ongoing relationship with Foster + Partners, who are now engaged in designing many of the tech-giant's stores around the world - including the newly-opened unit on London's Regent Street.
The firm also worked closely on the vast new Apple Park in Cupertino, California. You can see images and drone footage of that facility, back when it was under construction, here.
Comments
---