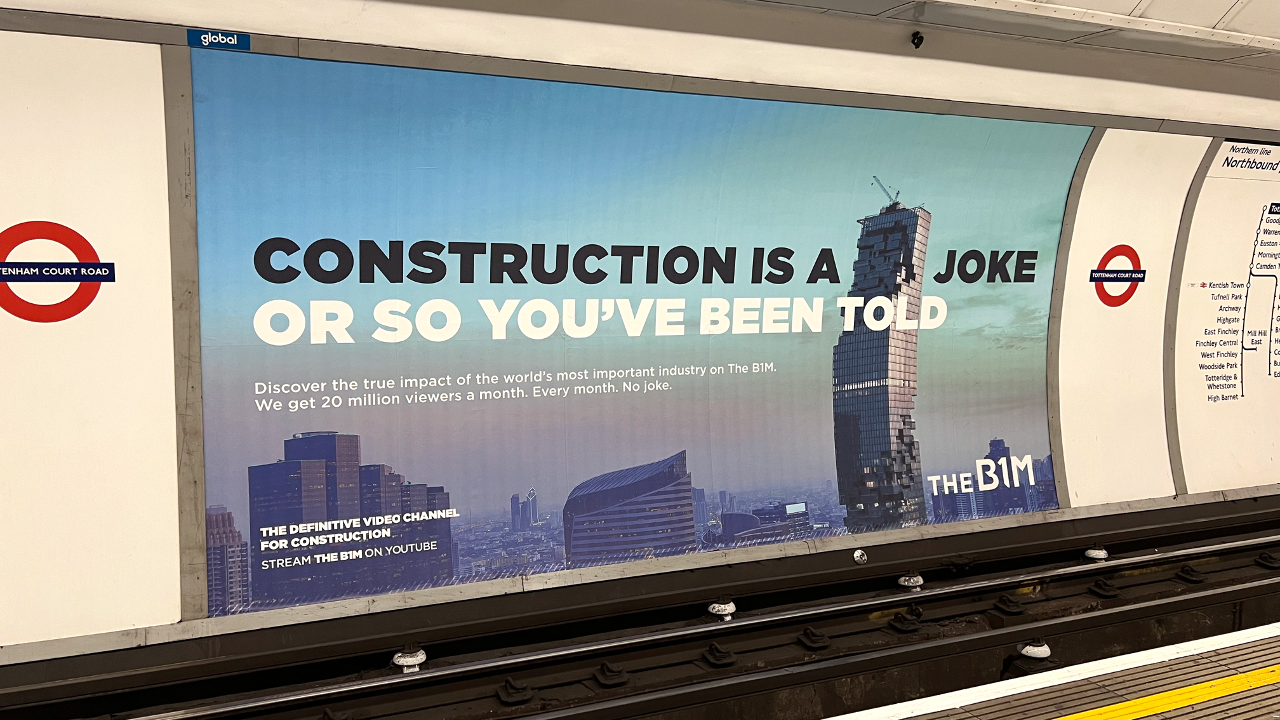 PRESS RELEASE | 17 February 2022
The B1M launches London Underground campaign
THE B1M has launched a provocative new advertising campaign on the London Underground network.
Using the headline "Construction is a joke", the campaign is intended to challenge the public's misconceptions about the sector, encouraging them to "discover its true impact" through The B1M's award-winning video content.
The large-print ads will appear above the tracks at a number of central London stations including Kings' Cross, Tottenham Court Road and Waterloo, home of The B1M's headquarters.
Above: One of the adverts above the Northern Line tracks at London Waterloo.

The campaign has been developed to align with The B1M's mission – 'We love construction and we want the whole world to love it too' – describing the sector as "the world's most important industry".
Speaking as the campaign went live, The B1M's founder and MD Fred Mills said he was proud of company's growth, and is keen to see the reaction to the ads from the general public.
"It's incredibly exciting. We're passionate about changing people's perceptions of construction and hope that this campaign, alongside our multi-million-viewed videos, does exactly that"
"I've always wanted the rest of the world to see this amazing sector as I do" Mills added.
"I've long believed that it's the world's most important industry and to have built a vehicle that helps millions of people see that, both through video and now in large billboards on the London Underground is awesome. We've come a long way from my spare bedroom where the company first started"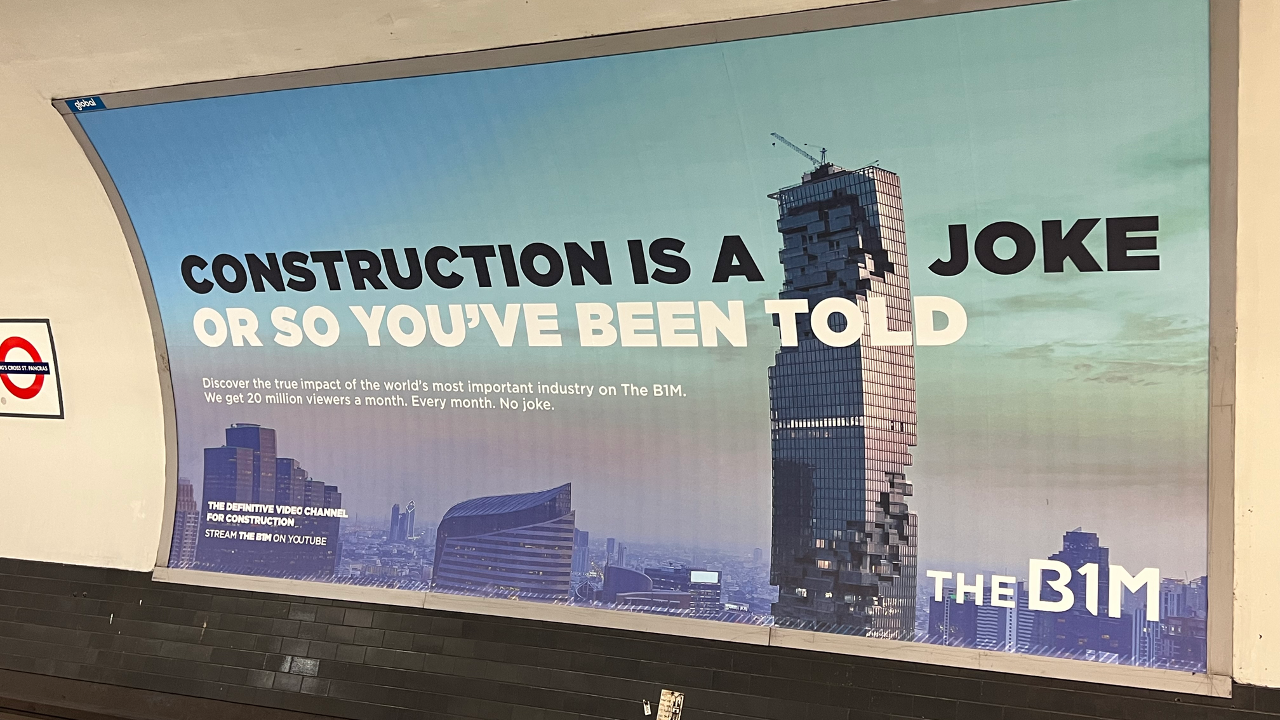 Above: The B1M's ad at King's Cross St Pancras. Below: The ad creative.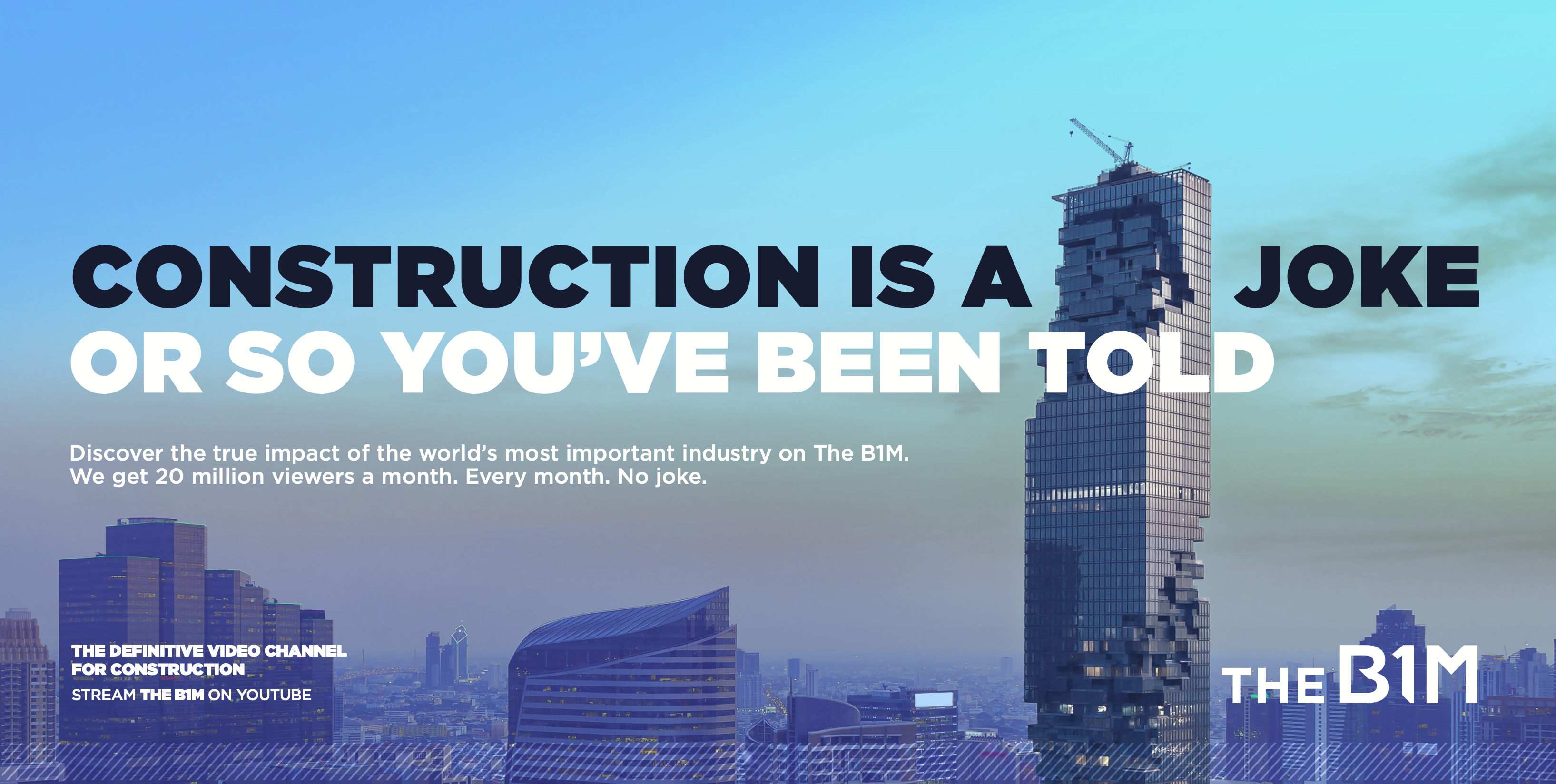 The London Underground campaign follows another strong period of growth for The B1M.
2021 saw the business grow its monthly viewership to 20 million, take its YouTube subscriber count over 2 million, exceed revenue targets, double the size of its in-house team and launch an entirely new publishing channel called Tomorrow's Build.
In December the channel released a 28-minute documentary on New York's so-called Billionaires' Row to significant acclaim. Viewers, critics and industry leaders described the piece as "outstanding" and a "tour-de-force" that "truly takes The B1M into the Netflix league".
The business has had a strong start to 2022, continuing to expand its team, being named one of "5 YouTube Gems" by The Times newspaper and releasing three videos that quickly gained more than a million views on YouTube.
They included Why Russia is Building an Arctic Silk Road and China's Skyscraper Boom is Officially Over released on The B1M channel, alongside Dubai's Radical Plan for 2040 on Tomorrow's Build.

Watch The B1M's acclaimed Billionaires' Row documentary:
Comments
---