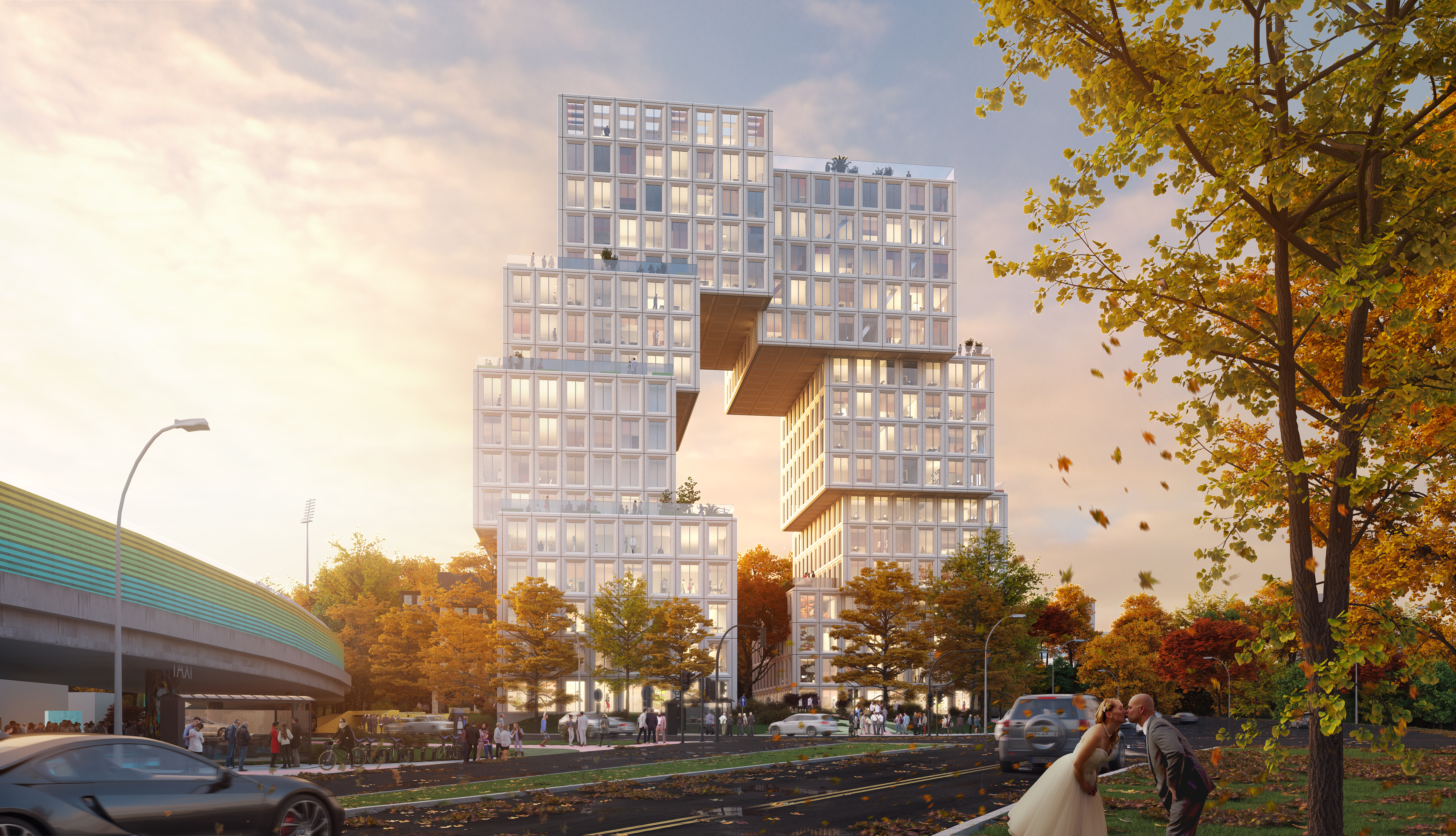 CITIES
Interlocking landmark towers announced for Munich
A SET of interlocking landmark towers will rise near the river Isar in Munich creating a new destination out of what architecture studio MVRDV has called a challenging site.
Disconnected from its surroundings by two major roads — the six-lane Candidstraße on the south and Munich's middle ring road to the north — the new towers will seek to reactivate the area at ground level with new outdoor green spaces.
Existing buildings on the site will be renovated and expanded, the new towers will reflect the old buildings, mimicking their block form while being white instead of black.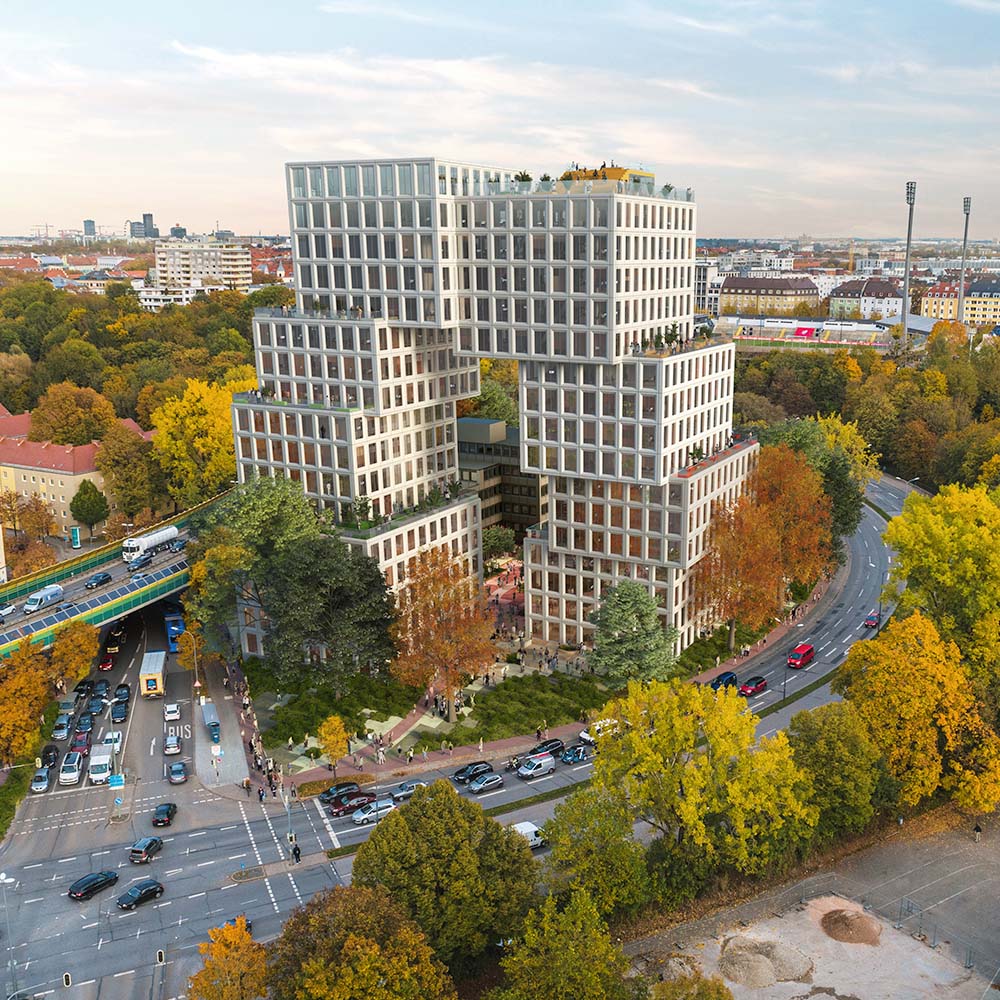 Above: The two towers rise as stacked volumes, joining at the top. Image courtesy of MVRDV.
While the older buildings are "stacked" horizontally, the new buildings rise vertically into the sky, leaning towards each other and forming a gate.
Six of the nine existing blocks will be incorporated into the new design contributing greatly to the sustainability of the proposal, reducing the amount of embodied carbon that would otherwise have been produced by construction.
The current medical clinic and offices will be expanded to include restaurants, a fitness studio, an elderly service centre, a child daycare, and a community and cultural centre.
Pedestrian access underneath the ring road will be improved upon, while the central courtyard at the site's core will be expanded and be made into a lush recreational space.
Landscapers have taken inspiration from the art world by including bright colours into the outdoor surfaces and furniture, visually linking the site to the nearby subway station.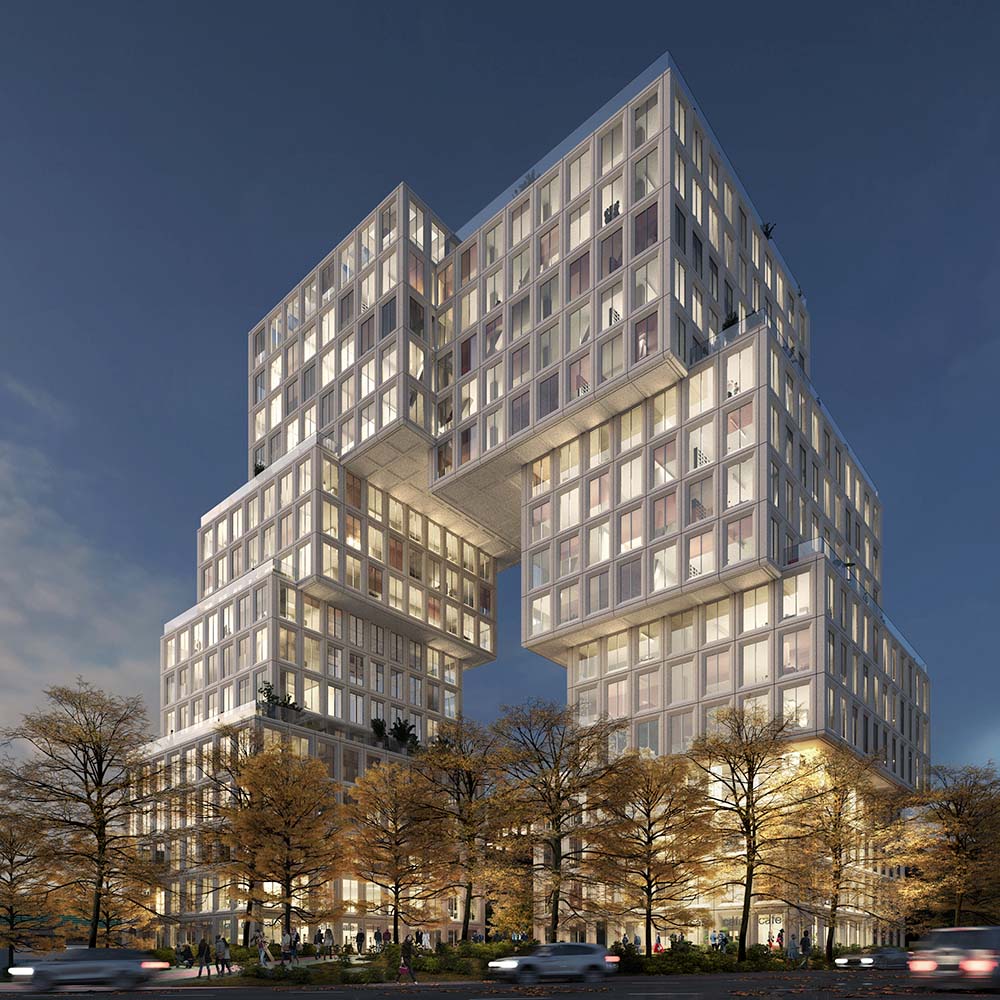 Above: The stepped form creates terraces that culminate in a rooftop garden. Image courtesy of MVRDV.
A number of terraces are created out of the towers' stacked form allowing for the communal outdoor spaces to continue vertically culminating in a rooftop terrace that can be accessed by all residents of the building.
"Combining a renovation of an existing building complex with a pair of towers that are joined at the top, Candid-Tor represents a bold intervention on a challenging site in the south of Munich," explained MVRDV in a press release.
"The project becomes a landmark that helps to define the surrounding area and joins a series of other sculptural landmarks forming a chain on the east side of the river Isar."
This isn't the first major renovation of a challenging site MVRDV has proposed, recently announcing the colourful retrofit of a 100-metre concrete building in Shenzhen.

Comments
---