Cities
Transforming London's Broadgate: 100 Liverpool Street
Youtube Views

177,553

VIDEO VIEWS
London's Broadgate is getting a £1.5BN makeover. But evolving one of the UK capital's largest pedestrianised neighbourhoods into a world class, mixed-use destination, is no easy task. In this compelling documentary, we step inside 100 Liverpool Street - the latest major project on the masterplan - and discover what it takes to make the extraordinary happen.

THE City of London is one of Europe's most dynamic and prestigious commercial hubs.
Ever since its deregulation and the ensuing "big bang" of the 1980s, the area has undergone rapid change, with generations of architects, developers and contractors responding to the demands of a fast-changing property market, and the changing nature of the City itself.
"Broadgate was originally developed as a best-in-class campus in the 1980s" explains Gareth Roberts, Head of Broadgate Developments at British Land, the property developer that part-own the neighbourhood with GIC, Singapore's sovereign wealth fund. "After 30 years, that needed to adapt and to change."
Mostly consisting of commercial office space, the 32-acre Broadgate complex is located adjacent to Liverpool Street Station, one of London's busiest rail terminals.
Despite originally being constructed on the very edge of the City, the last three decades have witnessed significant change in the surrounding areas.
There is now a thriving tech scene in Shoreditch and Old Street to the north of Broadgate, and there has been a considerable increase in commercial activity around the skyscraper cluster to the south and in Spitalfields to the east.
"These areas have come up tremendously, and that's changed the context of Broadgate," explains Nigel Webb, British Land's Head of Development.
Charles Horne, Project Director at British Land, adds "In order to keep pace with demand in the market, we have to create a more mixed-use destination."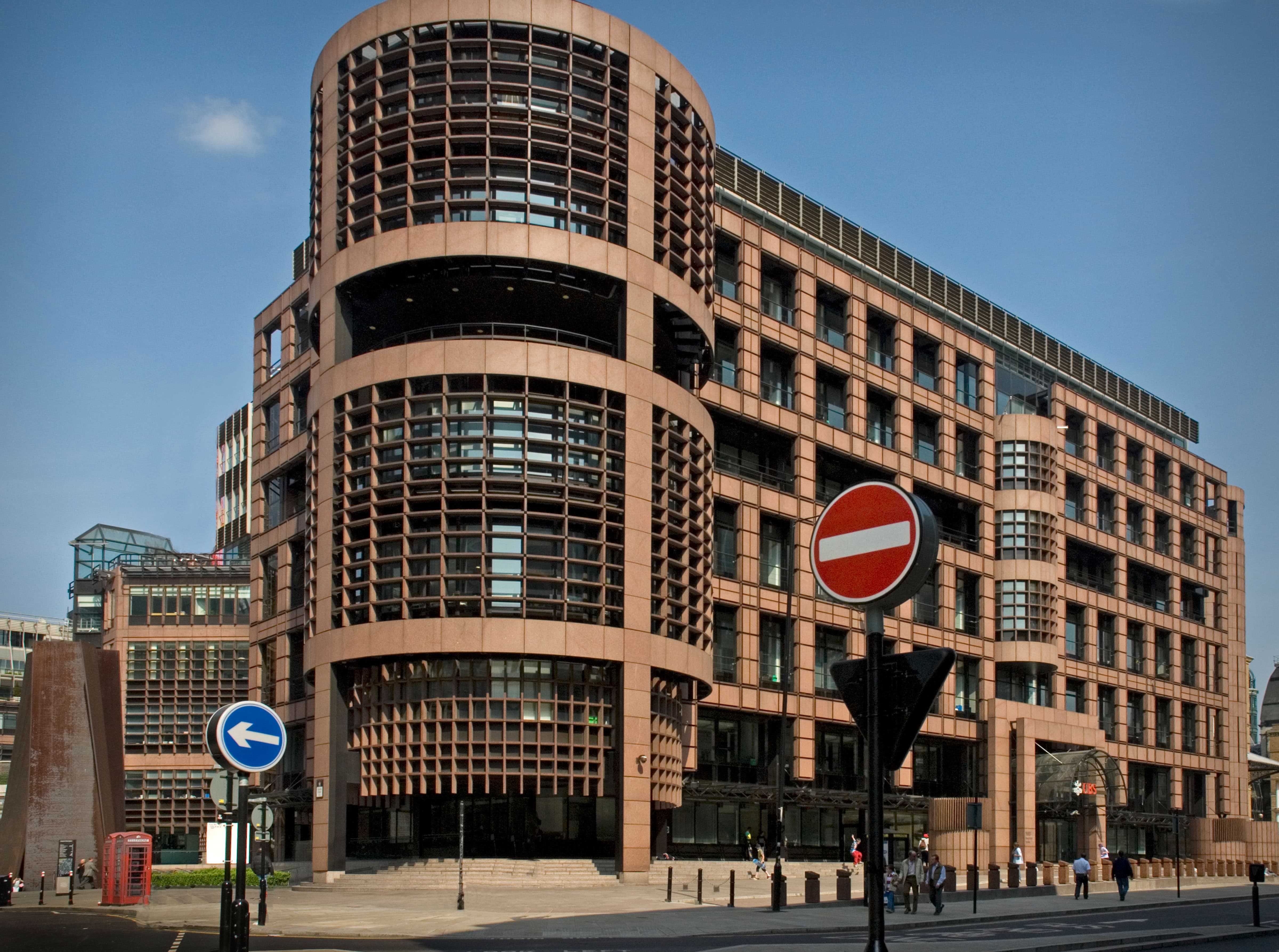 Above: The Broadgate campus was originally constructed in the 1980s.
However, the original 1980s buildings were deemed to be uninviting - particularly at street level with few doors or windows and little to attract the passing public - and could not easily be adapted into what is now envisioned as a world class, 7-day mixed-use destination in the heart of London.
Following the replacement of 4-6 Broadgate with the vast new 5 Broadgate in 2015, works are now centred on the remarkably complex 100 Liverpool Street - an impressive new mixed-use structure that is being partly constructed above the live rail station.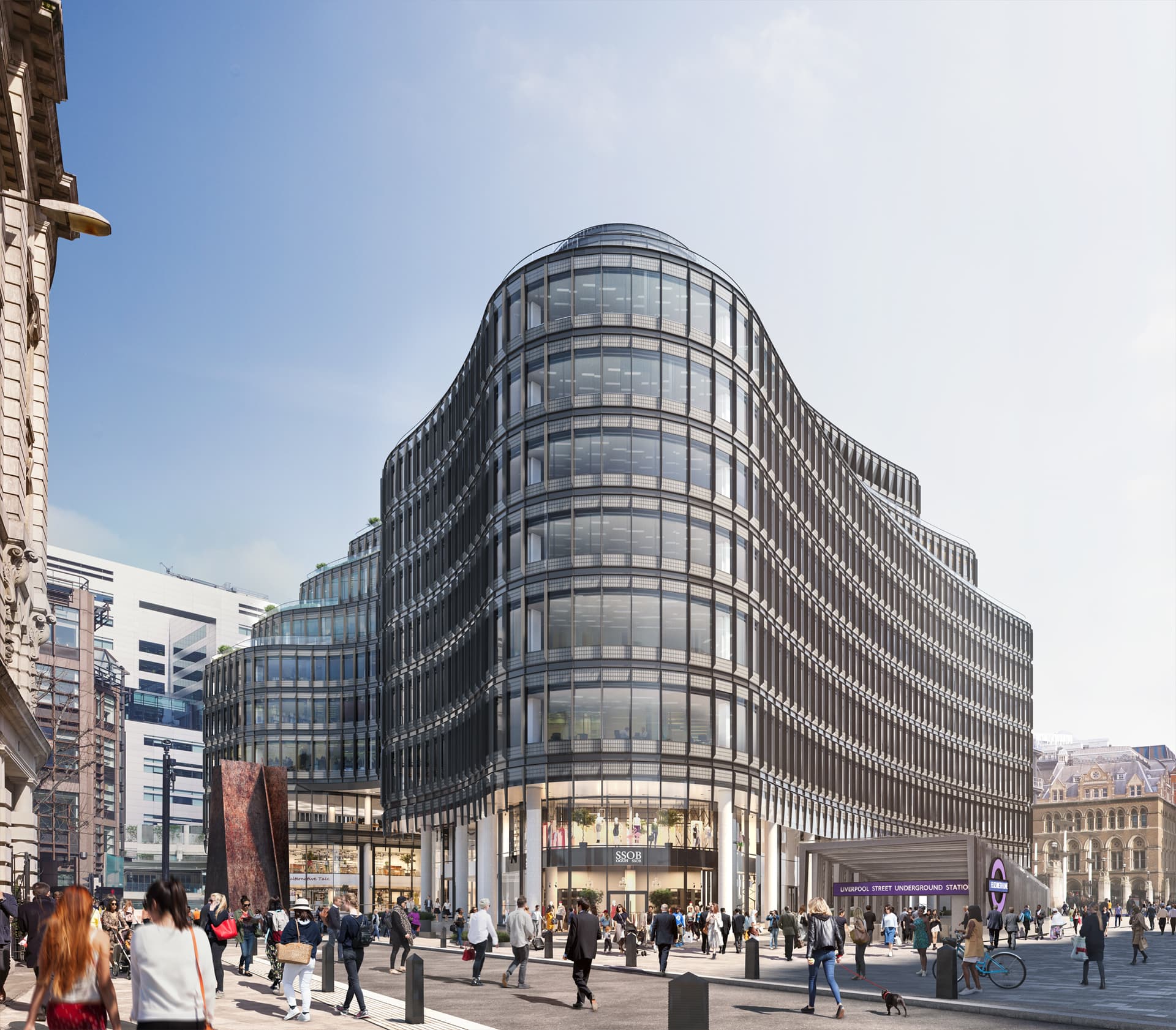 Above: The impressive new 100 Liverpool Street (image courtesy of Hopkins Architects).
Designed by Hopkins Architects and constructed by Sir Robert McAlpine, the building retains and expands on some of the original structure of 8-12 Broadgate, creating 433,000 square feet of commercial office accommodation while adding 90,000 square feet of retail and hospitality space.
At 100 Liverpool Street the devil is truly in the detail.

While part-demolishing an existing office structure and replacing it with a new one may sound straightforward, in reality it was anything but.
"It is actually fiendishly complicated", explains Roberts. "We've got a variety of interfaces that are really, really challenging."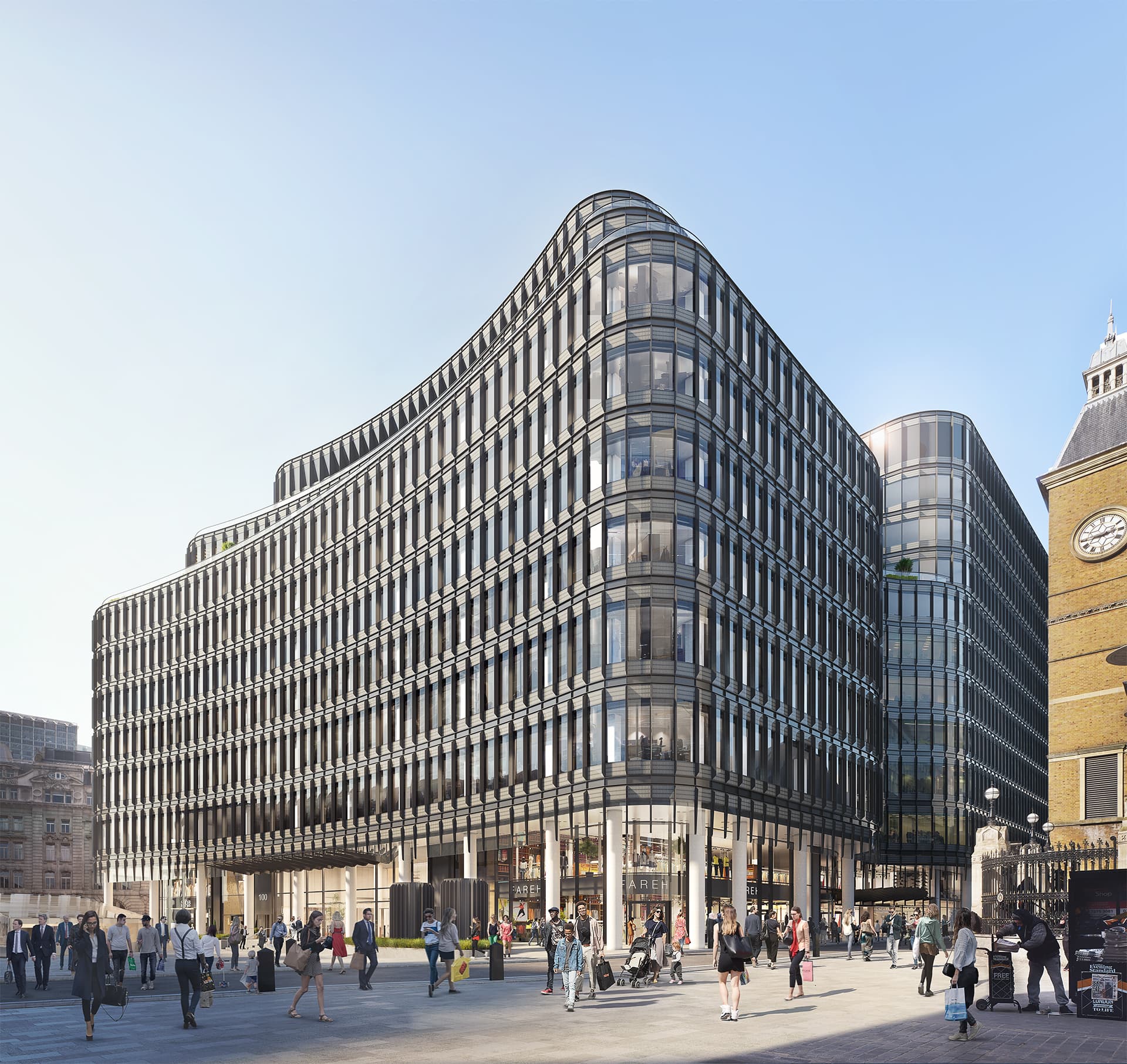 Above: The building is constructed next to an Elizabeth Line entrance, currently being constructed by Crossrail (image courtesy of Hopkins Architects).
Those interfaces principally occur with Network Rail, who operate Liverpool Street rail station which the building part-straddles, Transport for London (TfL) which operates Liverpool Street bus station that had to be temporarily relocated, and Crossrail, who are building a large new entrance to the planned Elizabeth Line station below.
These constraints determined the phasing of the work, with demolition to part of the original 8-12 Broadgate structure being prioritised to ensure timely access for Crossrail.
"If you miss your small window of opportunity, you could be delayed by a year, easily," concludes Roberts.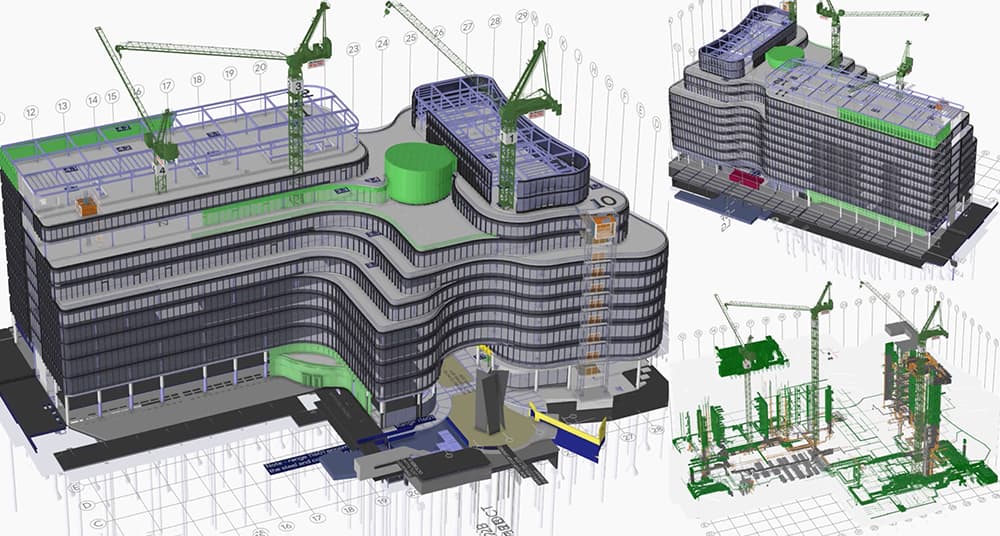 Above: The 4D information model for 100 Liverpool Street (image courtesy of Sir Robert McAlpine).
"We were very lucky to have a very strong team of people at British Land and at Sir Robert McAlpine" says Horne.
"[They] were able to prove to those three bodies that we wanted to bring about an outcome that was in everyone's best interests and that was at all times collaborative and achieved with consensus."

Public outreach has also been critical. Some 150,000 commuters pass through the area every weekday and ensuring they informed about how the works will impact and eventually benefit them is key.
As well as using traditional methods like email, newsletters and graphic information displayed on hoardings, the team at Sir Robert McAlpine pursued a more innovative approach.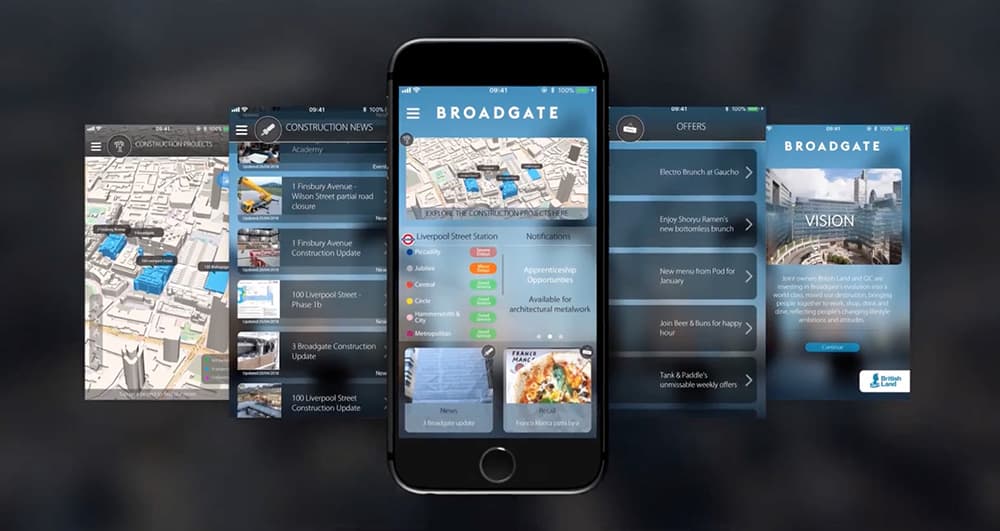 Above: The team developed an app to help communicate the redevelopment of the site (image courtesy of British Land / Sir Robert McAlpine).
"The way people communicate nowadays is through apps," says Liz Waters, Stakeholder Communications and Community Manager at Sir Robert McAlpine. "We decided to look at what we needed to do to produce an app that would give people the information they need and also engage them with what we're doing - create a bit of excitement about the projects we're working on at Broadgate."
The result is the free, interactive, Broadgate Construction app which allows users to explore a 3D map of the Broadgate campus, view animated construction sequences, comment on construction works and keep up-to-date with the latest developments.
Sir Robert McAlpine's robust approach has paid off, and to date the project team have not received any significant complaints from existing Broadgate tenants or surrounding stakeholders.
LOWERING A 200-TONNE SCULPTURE
One of the most acute representations of the scheme's complexity is the work to the Fulcrum; an existing 200-tonne corten steel sculpture that had to be lowered 1.4 metres as part of the development.
Designed by the American artist Richard Serra, the 17 metre sculpture has stood outside the entrance to Liverpool Street station since 1987.
However, its position 1.4 metres above the station concourse created a ramp that did not correspond with plans to create a continuous retail journey from the rail terminal through into Broadgate.
As such, plans were developed to lower the sculpture in-situ, down to the desired level.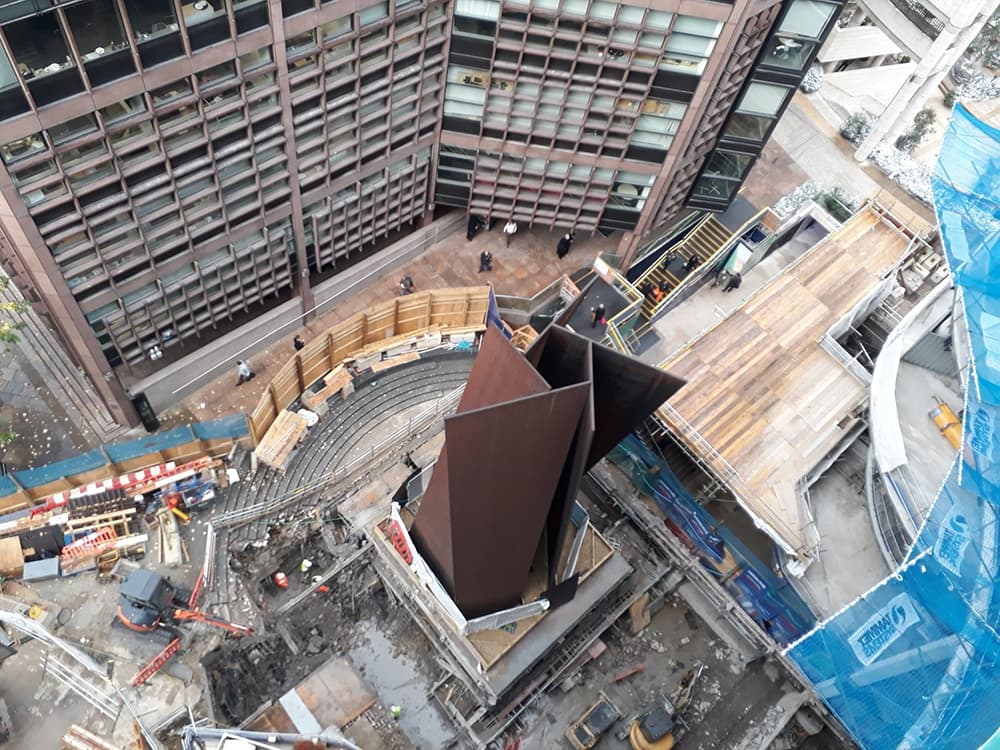 Above: The Fulcrum, a 200-tonne corten steel sculpture has been part of Broadgate since 1987 (image courtesy of Sir Robert McAlpine).
Lowering the Fulcrum required complex management and engineering.
"We started demolition in various phases, and the last phase was the Fulcrum area," explains Chris Deverson, Chief Engineer at Sir Robert McAlpine. "In August [2018] we redirected the pedestrians through our building."

After extensive preparation, testing and scenario planning, eight hydraulic jacks each with a 150 millimetre jack stroke and a series of matching stools were used to gradually lower the artwork.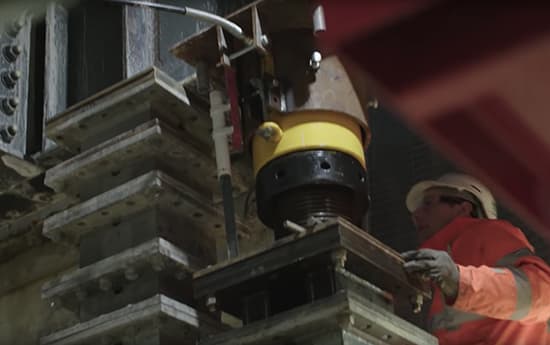 Above: A construction worker inspects one of the hydraulic jacks that helped to lower the Fulcrum.
When the structure was fully lowered, its load was transferred onto new supporting steel work, where it was fastened and cast into the new floor slab.
The truly remarkable operation took several months of planning and went without a hitch when executed.
"It is not normal to lower 200-tonne pieces of art 1.4 metres" says Horne. "It is testament to the abilities, the skill and the determination of all those people that have worked hard to deliver this that has been achieved satisfactorily with the City of London's Planners' support, with the artist's support and most of all with British Land and GIC support. It has been a magnificent success story and one that I am immensely proud of."
A GOOD PIECE OF CITY
"It's not just [about] putting together a structure," concludes Waters, adding that 100 Liverpool Street project has allowed the team to showcase their competence and demonstrate "how exciting redevelopment and construction really is."
The successful collaboration and communication between all the stakeholders, as well as the expert engineering that has been invested in the scheme to date is clearly paying-off.
The project has "been run successfully, it's on programme, and it's going to be a tremendous success," according to Webb.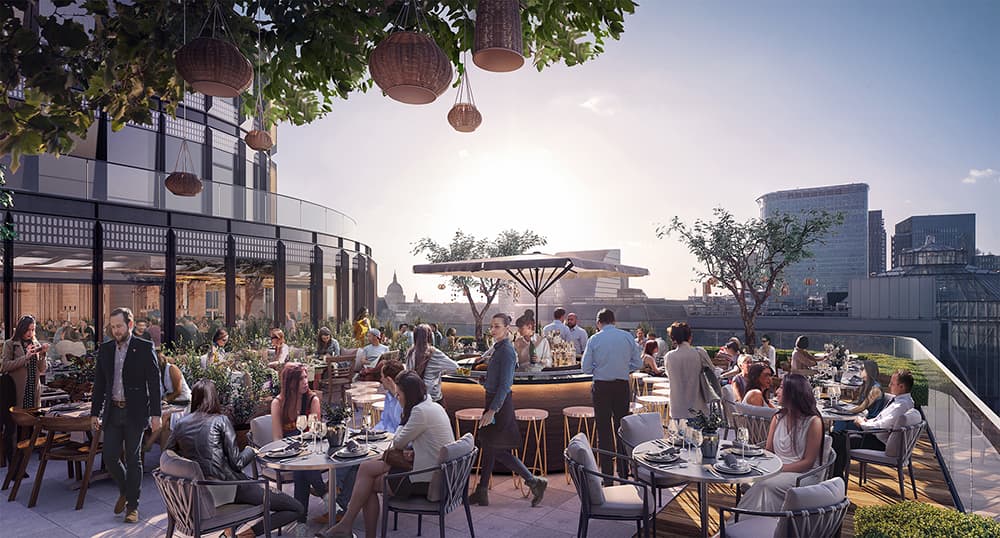 Above: The project aims to attract new visitors and revitalise the surrounding area (image courtesy of Hopkins Architects).
But perhaps the biggest achievement will be the scheme's impact on the surrounding area.
"I genuinely believe that in early 2020 when the scheme is finished, people will think this is a good piece of the city," concludes Roberts. "It is going to brighten up their day, whether they work here, whether they're just passing through or if they're a visitor."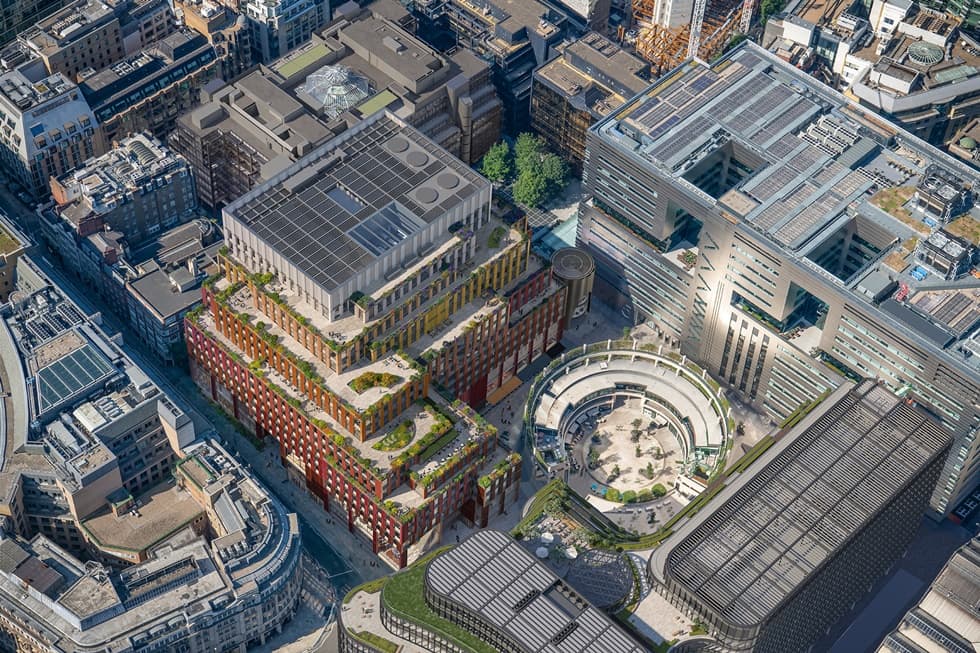 Above: Looking ahead, the next phase of the Broadgate masterplan will see 1-2 Broadgate replaced with an eye-catching multi-coloured facility designed by AHMM, further expanding the destination's retail and hospitality offerings (image courtesy of AHMM).
Documentary produced by The B1M. Additional footage and images courtesy of Sir Robert McAlpine, Google Earth Studio, Hopkins Architects and Site-Eye.

Comments
---