Tech
Transforming Dongdaemun Design Plaza with BIM
Youtube Views

41,487

VIDEO VIEWS
Video hosted by Tom Payne.

DONGDAEMUN Design Park and Plaza (DDP) is an incredible public space in the heart of Seoul, South Korea. But realising Zaha Hadid's design was far from straight-forward. Here we take a look at how building information modelling (BIM) helped make concept a reality.
RELATED: EXPANDING ABU DHABI INTERNATIONAL AIRPORT WITH BIM
The project sits on the site of a former stadium in Dongdaemun, just to the east of Seoul city centre. "Dongdaenum" itself means "Great East Gate" and the area was one of four entrances into South Korea's capital during the Chosun dynasty. More recently, the district has become a hub for fashion, media and new technologies.
The new Design Park consists of an 86,574m2 building, a plaza and a landscaped park. The core facility provides space for art exhibitions, conferences, a design museum, design labs and a media centre.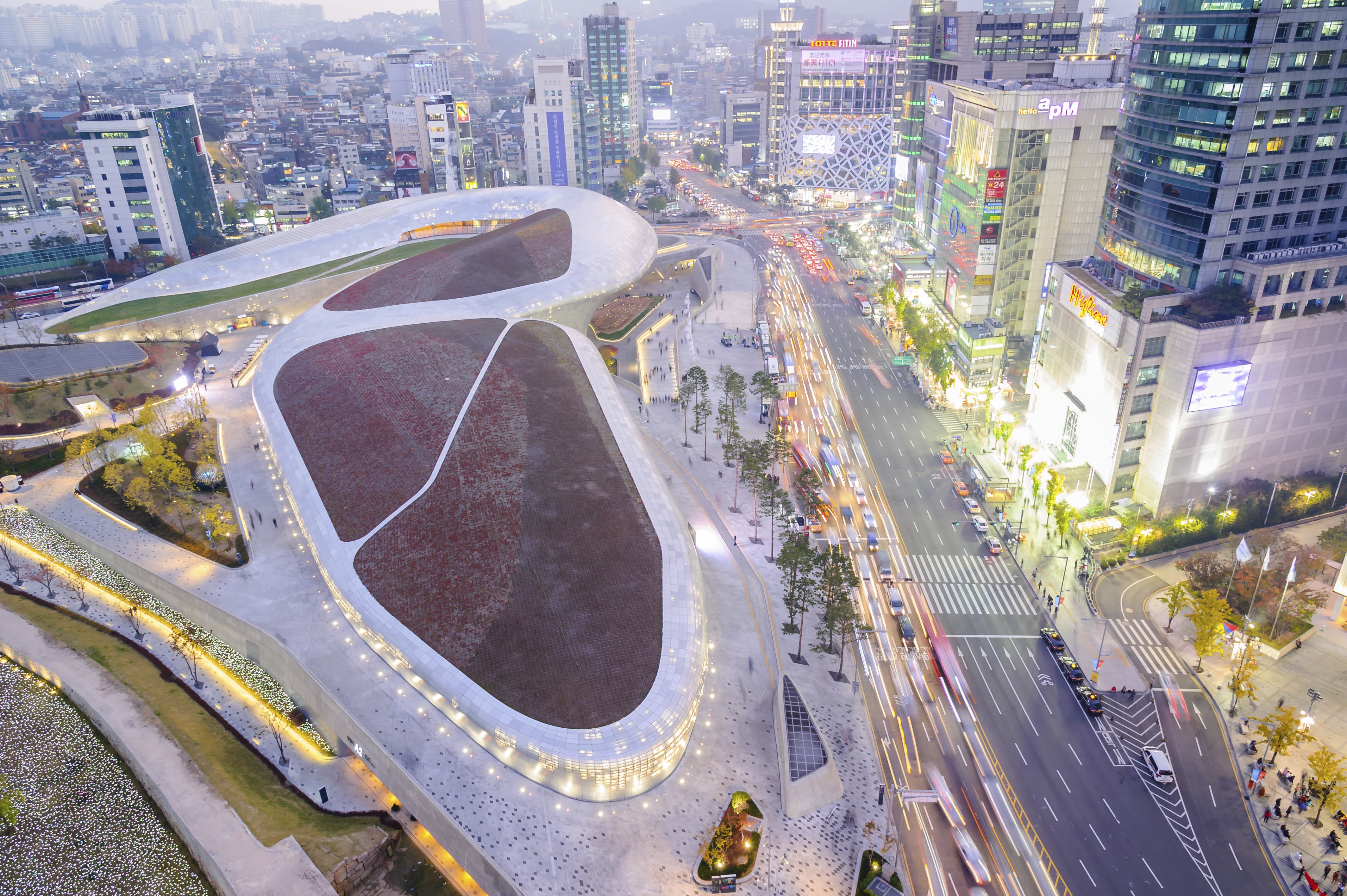 Above: Dongdaemun Design Park and Plaza (DDP) sits in the heart of South Korea's capital city.
BIM ADOPTION
DDP was one of the first project's to use BIM in South Korea and a number of challenges facing the project team led them to consider its adoption.
Firstly, the main building's free-form surface is covered with more than 45,000 unique double curved aluminium sheet panels. The long and complex design, fabrication and installation process put considerable pressure on both the programme and budget. Then, the unique free-form annex buildings had to be created from reinforced concrete. The project team was also very large and comprised of a number of leading practitioners working from different locations around the world.
BIM offered a chance to address many of these issues.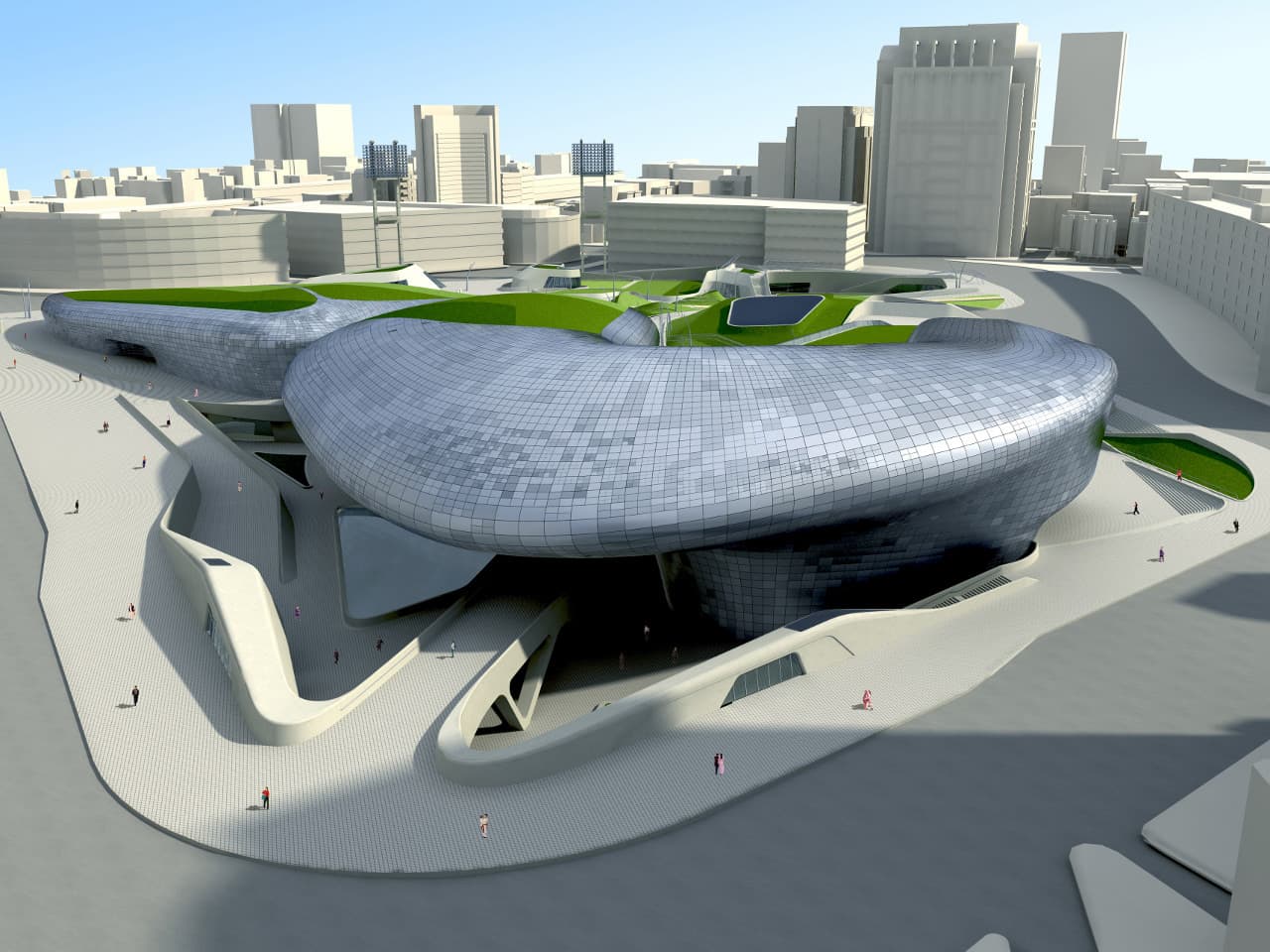 Above and below: 3D visuals of DDP at design stage (images courtesy of Zaha Hadid Architects).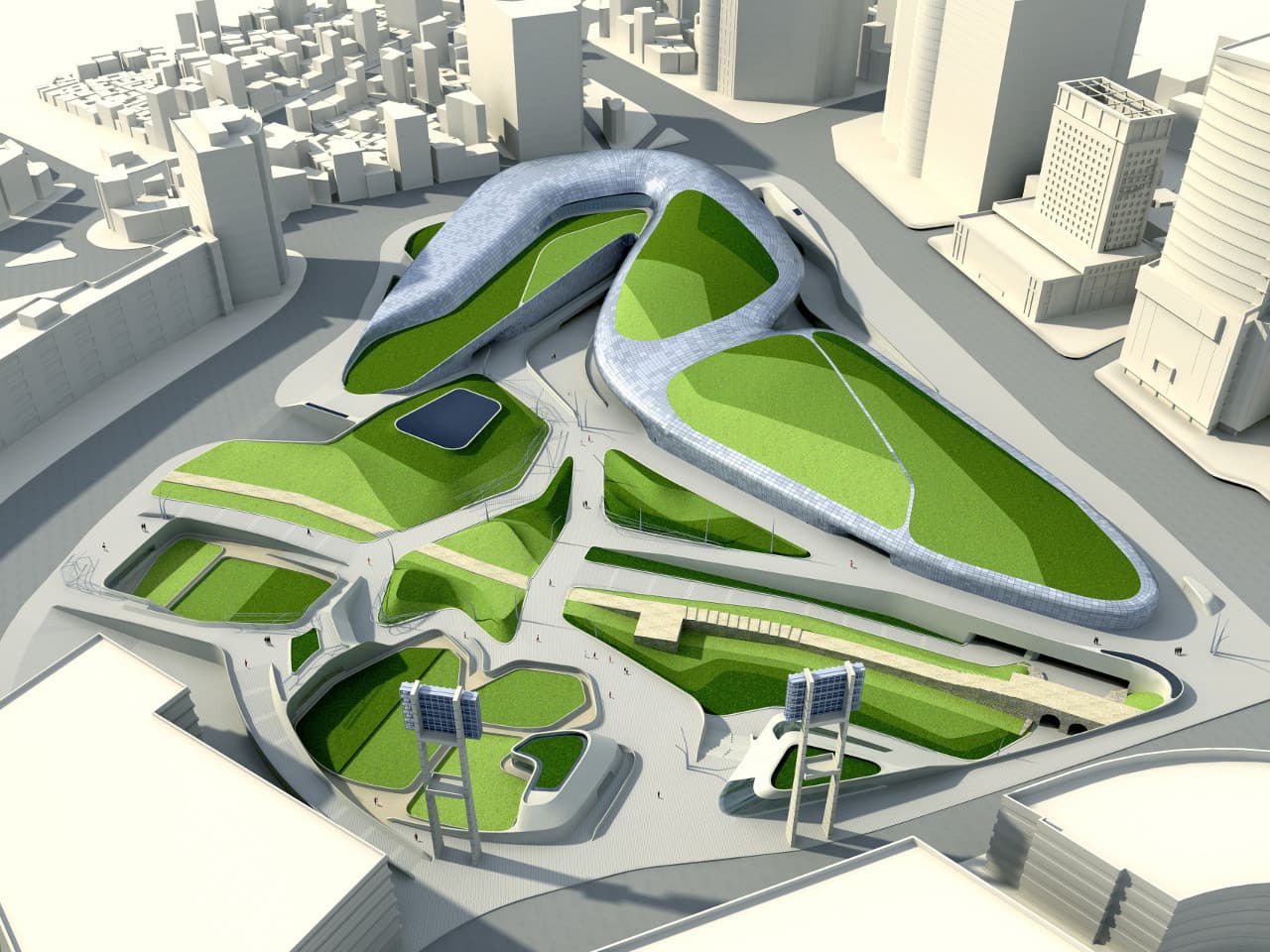 FAÇADE FABRICATION
To form the building's façade, the project team tried to investigate quick and affordable ways to manufacture the 45,000 aluminium panels. As each panel was unique, a way to mass customise panels without using fixed moulds was required.
"The free-form surface is covered with 45,000 unique double curved aluminium panels"
Traditional sheet-metal processing technologies considered at the start of the project, could only produce panels at a rate of one every two hours and at a prohibitive cost of some USD $7,000/m2.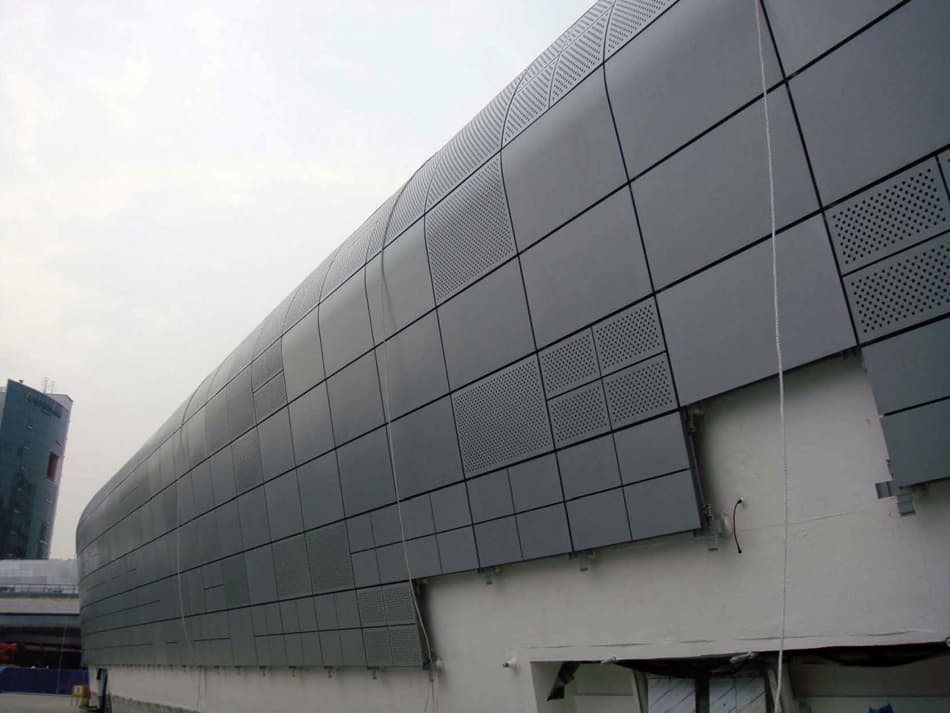 Above: Some of the 45,000 aluminium panels being installed on the building's façade (image courtesy of Samsung C+T Engineering and Construction) and Below: The completed façade (image courtesy of Zaha Hadid Architects and Virgile Simon Bertrand).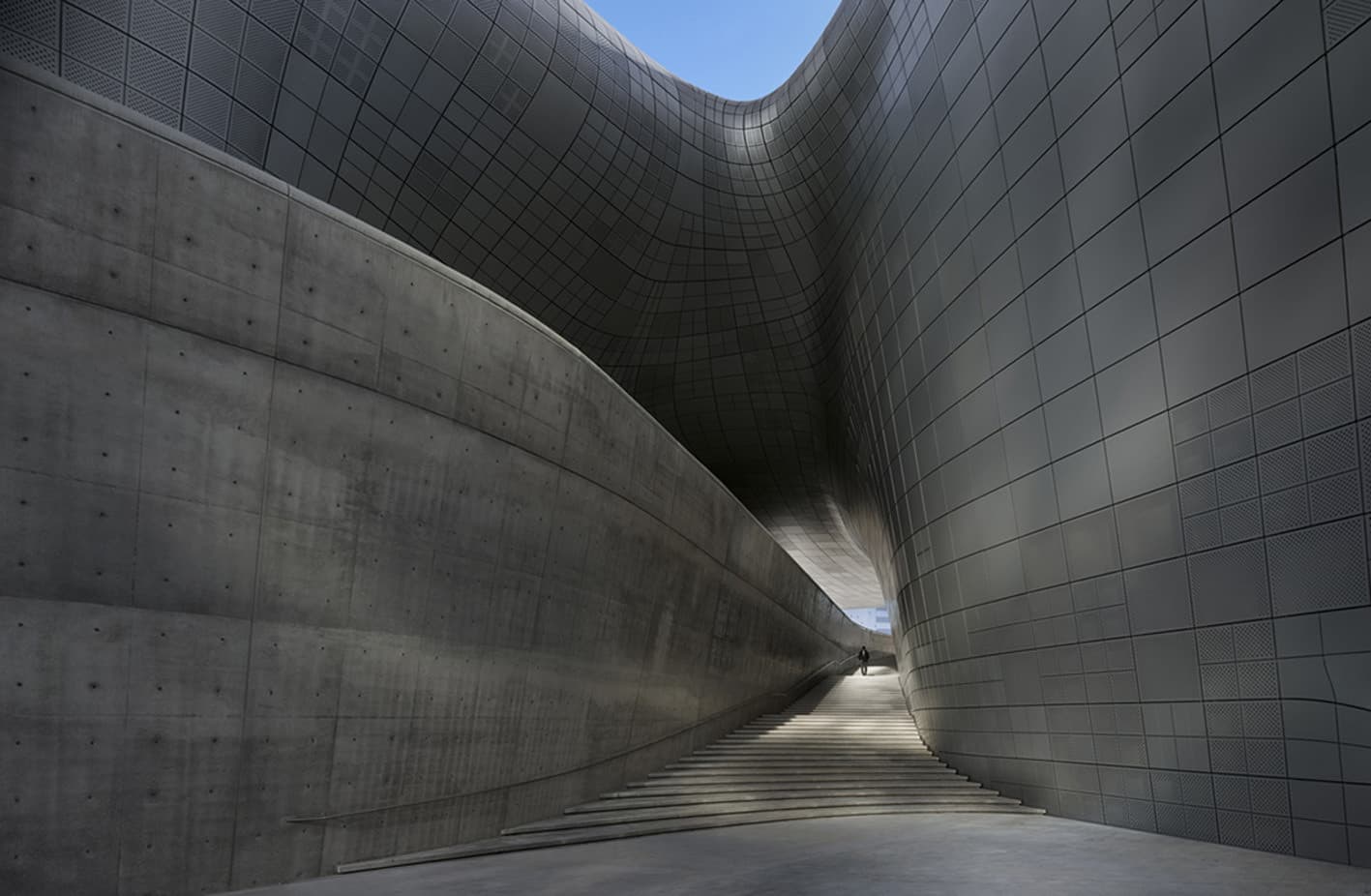 Eventually, the team developed a new hybrid sheet-metal processing technology called "multi-point stretch forming". They extracted data determining the form of each panel from the information models.
Fabrication costs and timescales varied dramatically with each panel, but averaged between USD $250-$400 each. The average fabrication time ranged from 15 to 40 minutes.
DONGDAEMUN ANNEXES
Forming the unique annexe buildings in reinforced concrete demanded highly accurate construction-issue information from the designers. Graphical information models were sliced every 30 cm to extract detailed cross-sectional information. Form-workers could then use that data to create the complex reinforced concrete shapes.
Despite having access to reliable and clash-resolved information, the project's contractors maintain that this formwork process was extremely laborious and considerably more expensive than conventional approaches.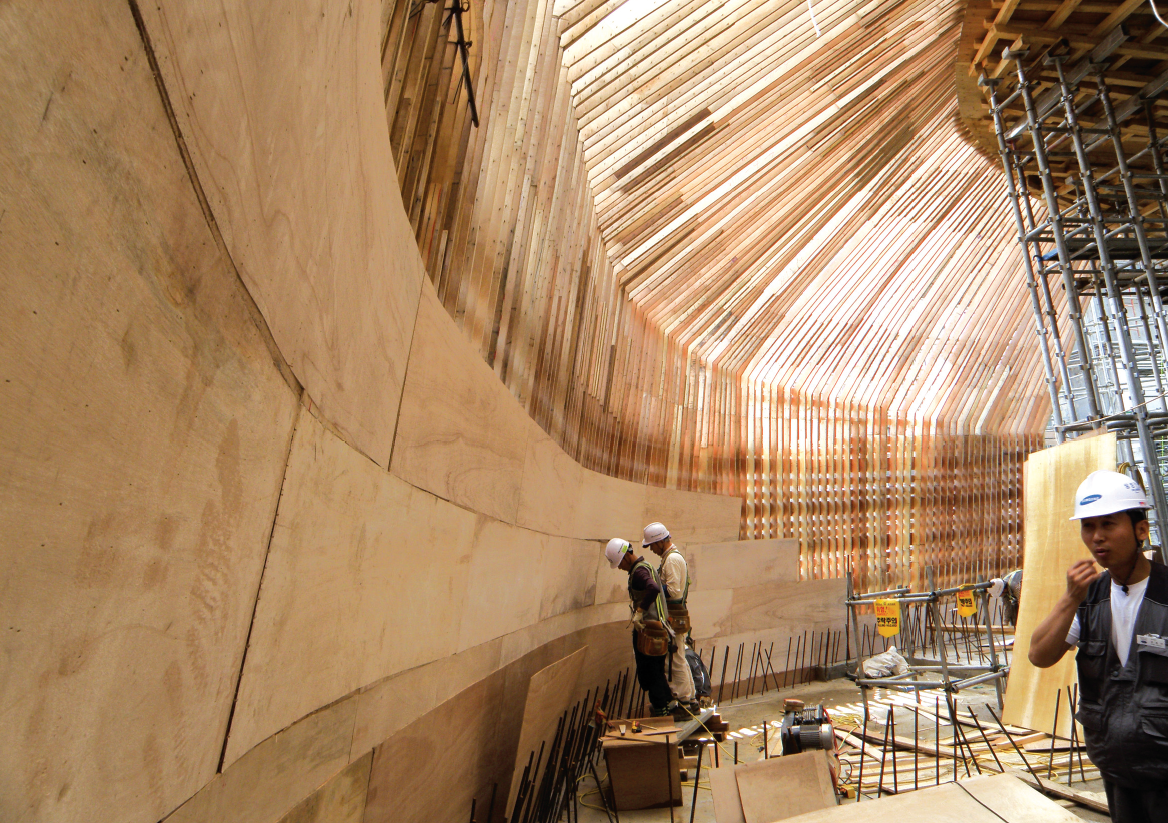 Above: Form workers constructing the complex forms on one of DDP's annex buildings (image courtesy of Samsung C+T Engineering and Construction).
COMMUNICATION
The project team experienced some communication and decision-making issues in the early stages. This led to the creation of an "Integrated Design Room" – common ground where people could co-locate to discuss, and make decisions about key design issues.
The teams used their information models projected onto the walls as a tool for communication and decision-making, resolving many problems much more efficiently. Indeed, a number of project team members cite the establishment of this space as a turning point for collaborative working on the scheme.
Whilst many digital communication tools exist, and all the project's data was stored in a common data environment (CDE) that could be accessed internationally, this approach demonstrates the power of having a physical venue for resolving urgent issues on complex projects. It perhaps also highlights the extent of the communication challenges faced.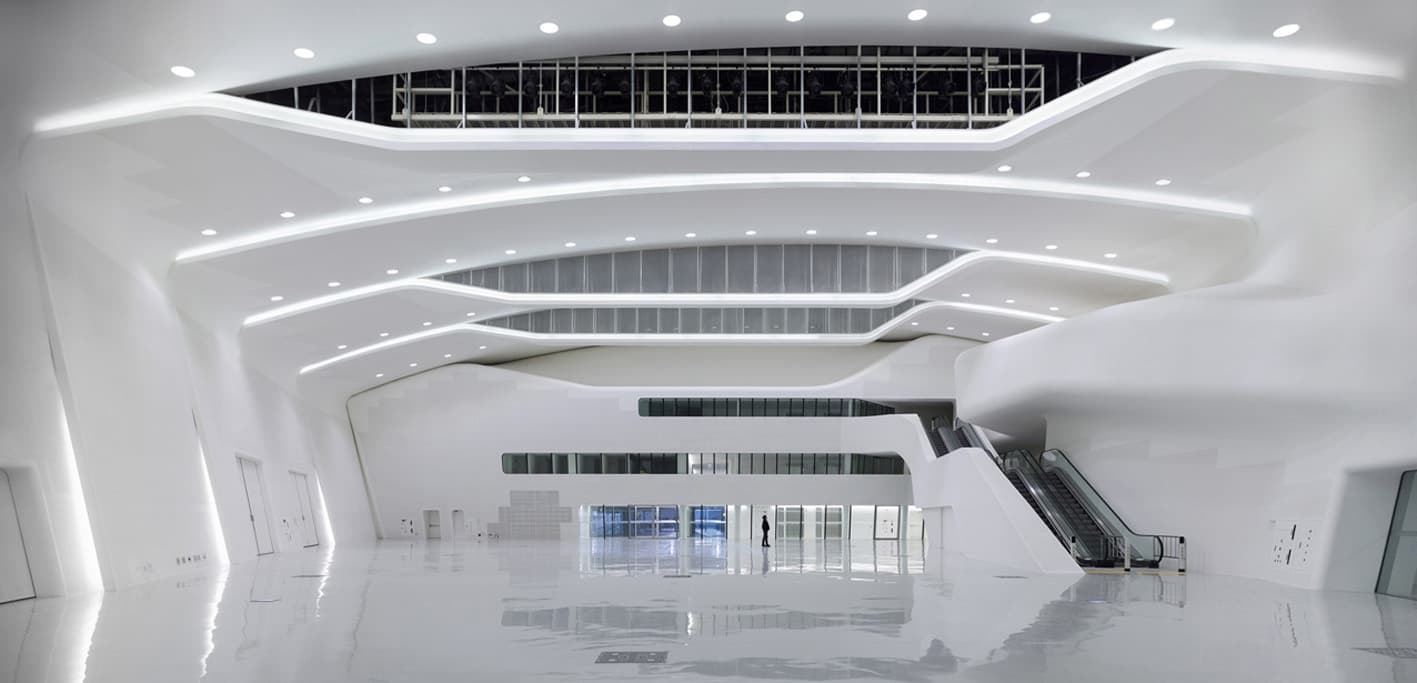 Above: The interior of DDP's main building is no less dramatic (image courtesy of Zaha Hadid Architects and Virgile Simon Bertrand).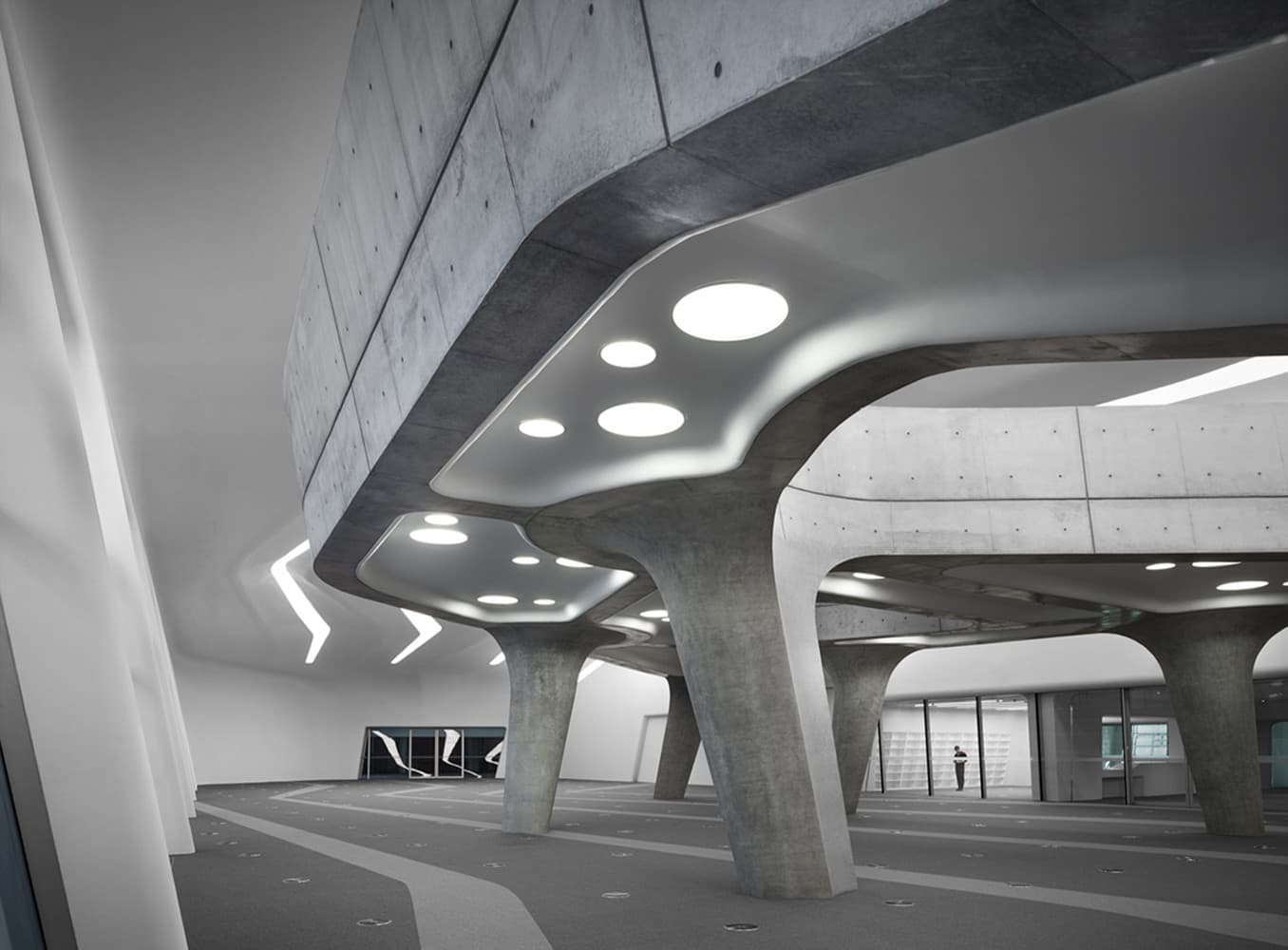 Above: Exposed concrete forms inside DDP. The building's complex geometry demanded close communication across the team (image courtesy of Zaha Hadid Architects and Virgile Simon Bertrand).
CLASH DETECTION
DDP's complex geometry dictated that the team worked in a BIM environment to identify clashes between their graphical models.
This proved particularly powerful between the structure and the mechanical, electrical, and plumbing (MEP) systems. It also proved highly effective for coordinating the complex underground utilities of two nearby subway lines.
Clearly, the primary use of BIM on the Dongdaemun project was in spatial co-ordination and in providing accurate fabrication data. But the project team felt that played a significant role in delivering the scheme successfully.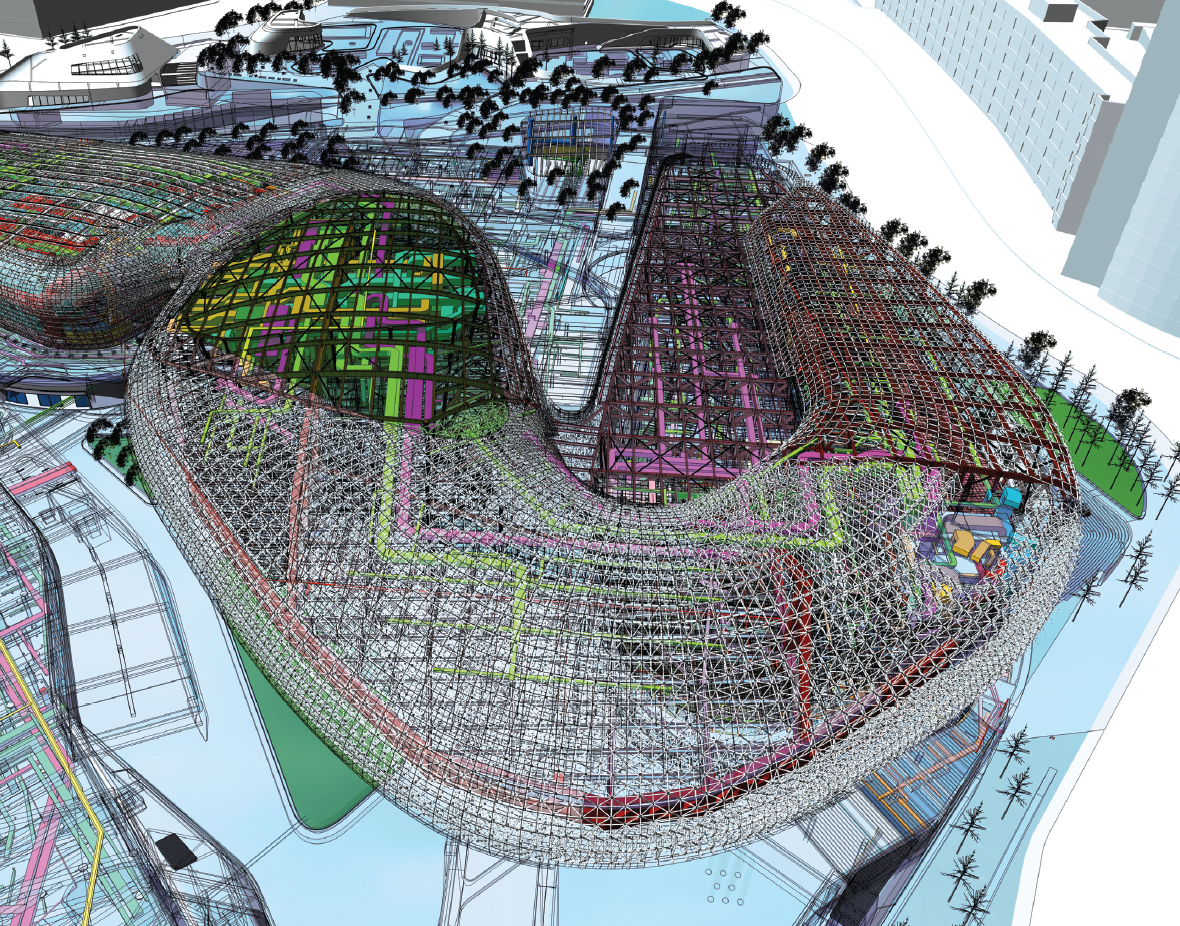 Above: A view of the graphical building information model by Gehry Technologies (image courtesy of Gehry Technologies).
HADID'S LEGACY
The DDP project is almost textbook Zaha Hadid.
It's an iconic, disruptive, beautiful, mind-bending design that was ultimately expensive, time-consuming and impractical to build. The wider project team were left to "make it work" and that's somewhat of a pattern that developed over her career.
Of course at Dongdaemun, Hadid didn't work alone. The project was managed, developed and progressed by the wider Zaha Hadid Architect's (ZHA) team, but that determination to maintain concept design come-what-may is endemic of a culture that was established and driven through by Hadid herself.
"Dongdaemun is almost textbook Zaha Hadid"
Efficiency and cost-led design are becoming the norm in our industry and with such a climate it's easy to criticise Hadid's work. She was clearly at the far end of the architecture spectrum – almost creating 'art' more than she created working 'architecture' – but her determination and vision should be applauded.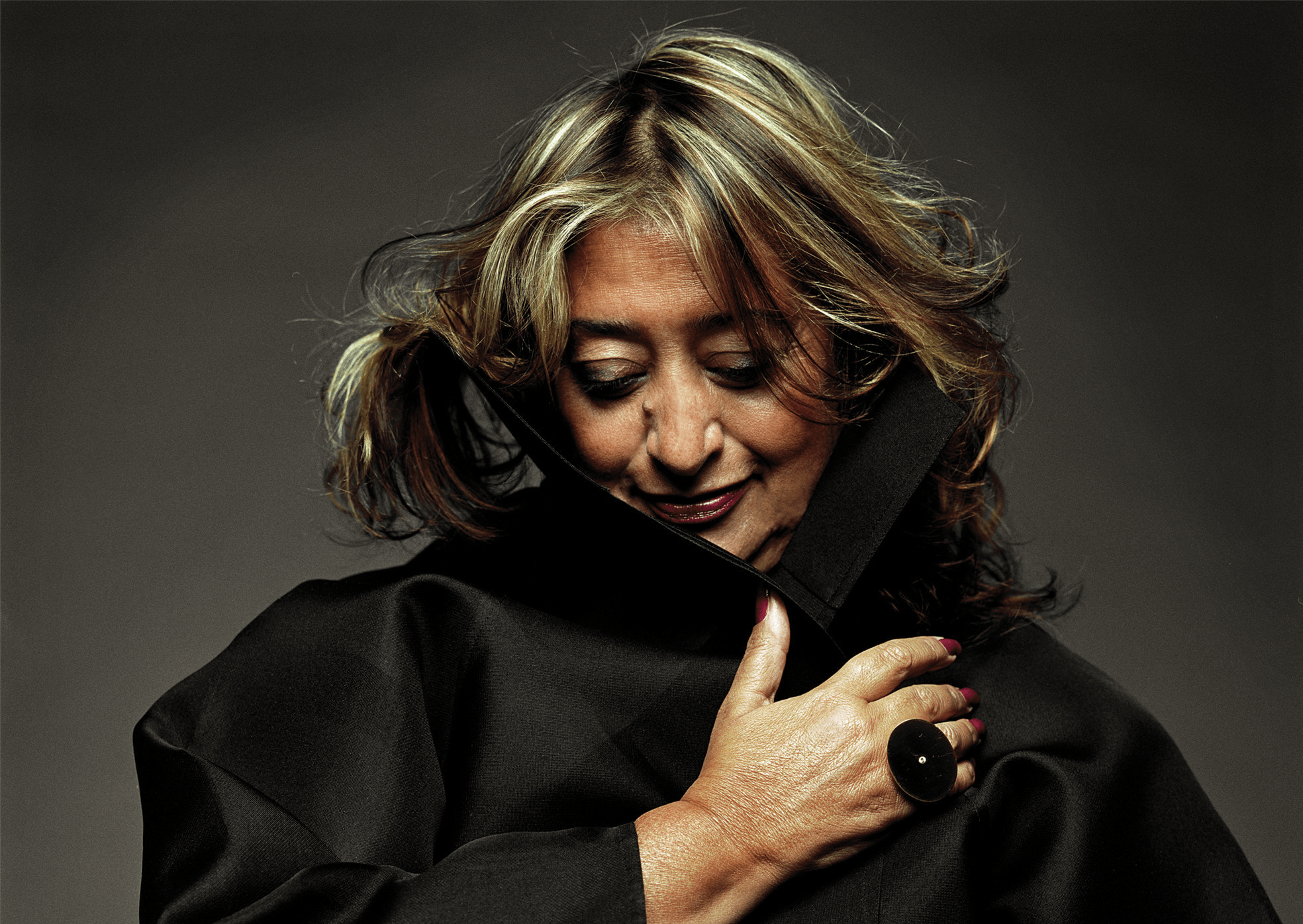 Above: Dame Zaha Hadid, who passed away in March 2016.
She showed us what was possible and challenged conventional thinking. As disruptive and frustrating as that was for those who had to "make it work" – and indeed for others footing the bill –, she left us with a living legacy of spaces that make us stop and think. Spaces that enrich our societies. Yes their 2-3 year delivery periods were fractious, but their lifespans enhance the fabric of human life.
Of course, other leading architects will point out that they are doing the same thing whilst meeting the requirements expected of a lead designer. But Hadid's contribution, however controversial, is too great to be ignored.
For all the challenges faced at Dongdaemun, the project now glistens amongst South Korea's historic capital city; another piece in Hadid's legacy and the first step in the country's BIM journey.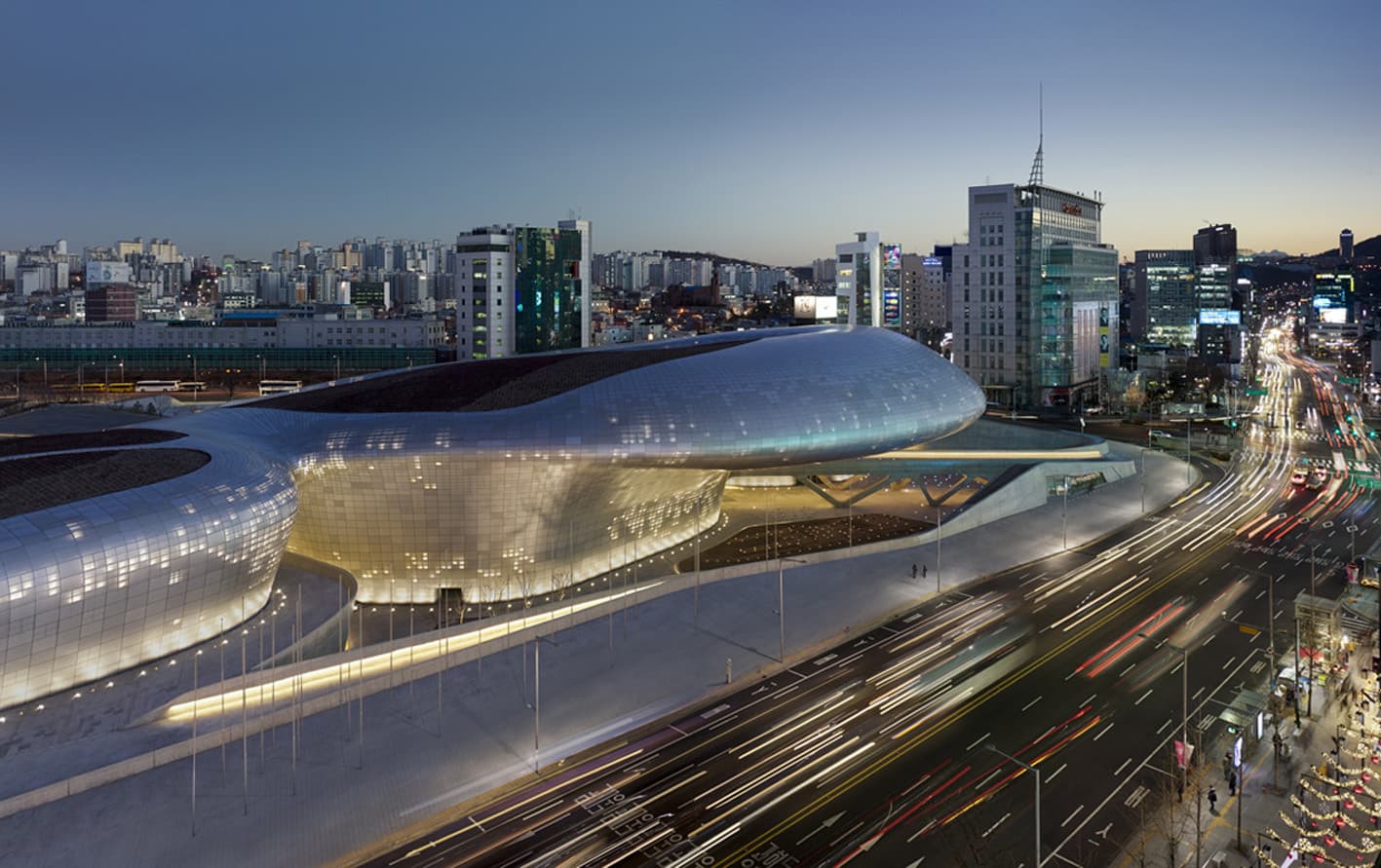 Above: DDP is a key piece of Zaha Hadid's legacy and the first step in South Korea's BIM journey (image courtesy of Zaha Hadid Architects and Virgile Simon Bertrand).
You can learn more about Dongdaemun Design Park and Plaza here.
This video was kindly powered by Viewpoint.
Images courtesy of Zaha Hadia Architects, Virgile Simon Bertrand, Samsung C+T Engineering and Construction, Gehry Technologies, Mark Froelich, Forgemind ArchiMedia and Matt McDonald. Data and statistics sourced from Zaha Hadid Architects, Samsung C+T Engineering and Construction, Dodge Data and Analytics and Gehry Technologies.
We welcome you sharing our content to inspire others, but please be nice and play by our rules.
Comments
---