Cities
Transforming Battersea - Phase One: Circus West Village
Youtube Views

45,945

VIDEO VIEWS
Nick Fleming, architect and partner of SimpsonHaugh and David Ho, design manager at Carillion, talk to The B1M's Emma Crates about some of the design and construction challenges within London's most iconic – and most congested – regeneration zone. Video produced by Fred Mills and Tom Payne.
COVERING 195 hectares – an area larger than Hyde Park – the Nine Elms Vauxhall project is one of the largest regeneration schemes in Europe. It's London's last industrial zone to undergo wholesale transformation, as shabby warehouses and distribution centres give way to gleaming towers and waterfront buildings.
The jewel in the crown of the redevelopment is Battersea Power Station, whose fluted cream chimneys have dominated the capital's skyline for more than 80 years.
"Covering 195 hectares, the Nine Elms Vauxhall project is one of the largest regeneration schemes in Europe"
With tech giant Apple already confirmed as a new tenant, and the Northern Line Extension to Battersea scheduled to open by 2020, the power station and its surroundings are set to become one of London's hippest addresses under an £9BN transformation.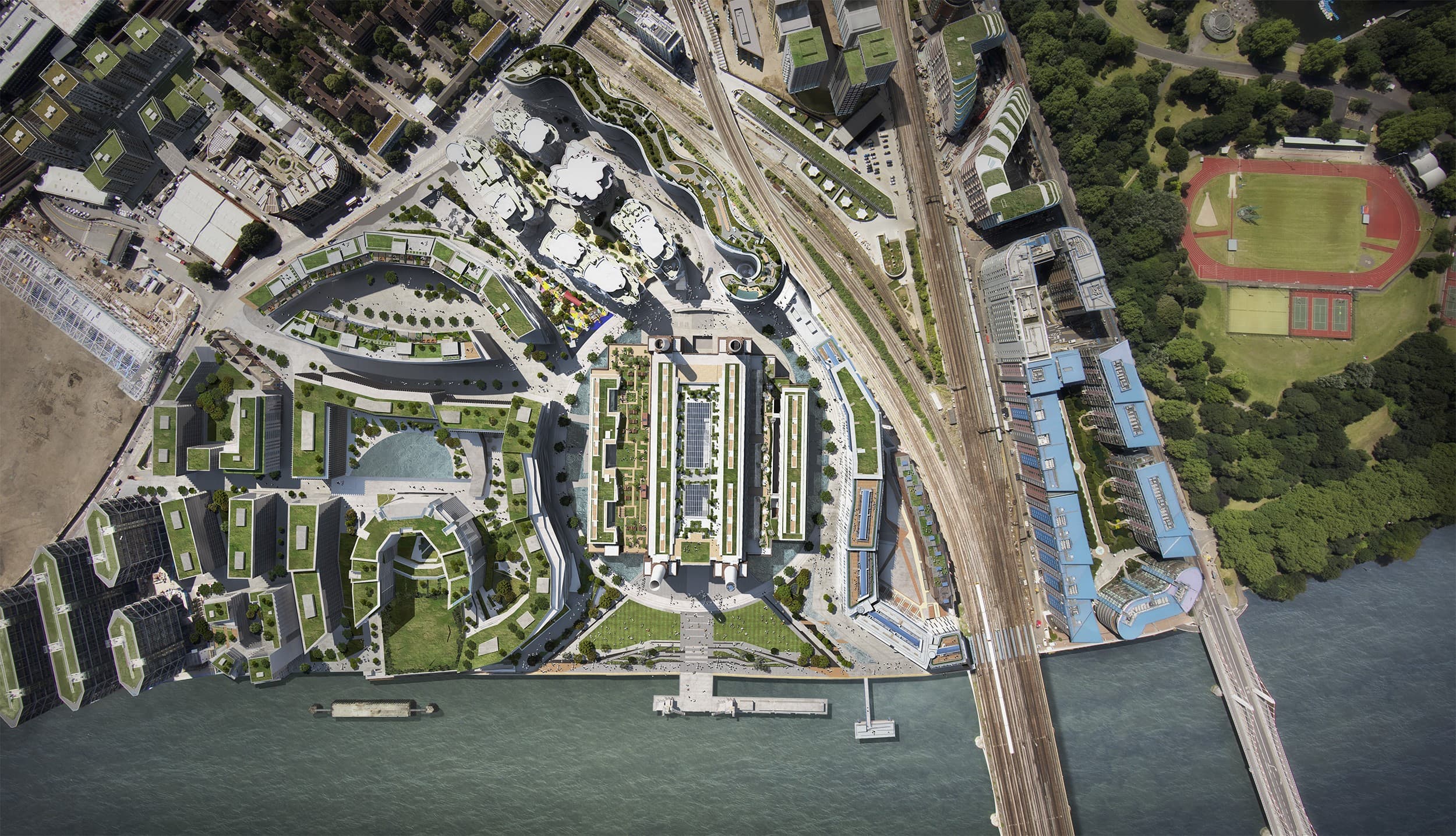 Above: Rafael Viñoly's multi-phase masterplan for the Battersea Power Station site (image courtesy of Battersea Power Station Development Company).
Now, architectural firms, developers and contractors are striving to create surrounding buildings that not only complement and enhance the power station, but can also become vibrant places for work, shopping and leisure.
Circus West Village at Battersea, a curving set of mid-rise series of structures that flank the Power Station's west side, is now nearing completion. Valued at £500M, it is the first of seven phases, master-planned by Rafael Viñoly that creates a "village" community between the power station and nearby Battersea Park.
Phase one includes two residential buildings – RS1-A designed by architectural practice SimpsonHaugh (formerly Ian Simpson Architects) and RS1-B by de Rijke Marsh Morgan (dRMM) – that sit on top of a two storey podium building. As well as creating more than 850 homes, retail and office space, Circus West Village will host cafes, restaurants, a theatre and a gym, some of the new venues will be housed under nearby railway arches.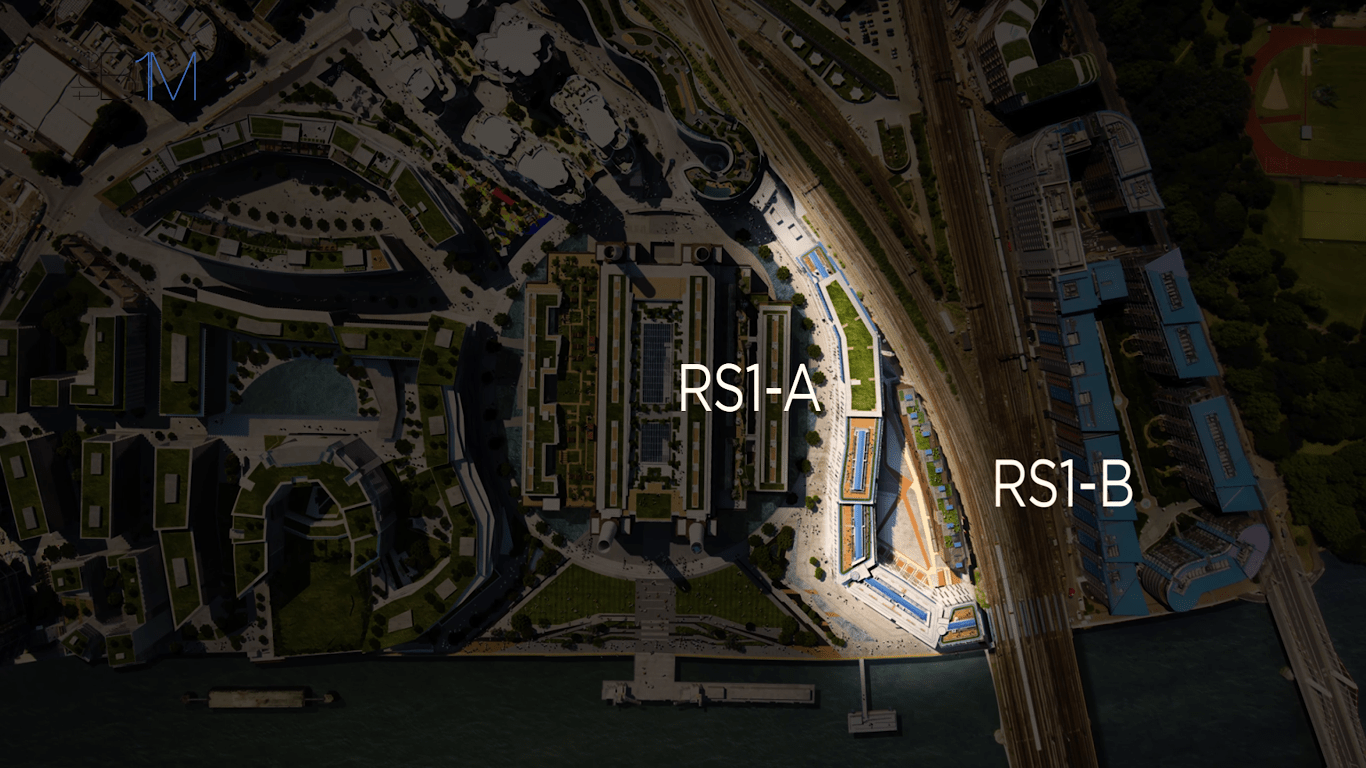 Above: Phase one's positioning within the masterplan and Below: The scheme taking shape alongside the Power Station (masterplan image [above] courtesy of Battersea Power Station).
Nick Fleming, architect and partner of SimpsonHaugh says that the challenge for the architects was developing a design language that could work with the scale of the Grade II* listed power station - the largest brick building in Europe.

"The starting point was two horizontal floor plates," says Fleming, adding that these were gradually broken down into smaller shapes. The final design to emerge was a series of interlocking horizontal blocks.
The project has been broken down into separate cores, but all are being delivered in parallel.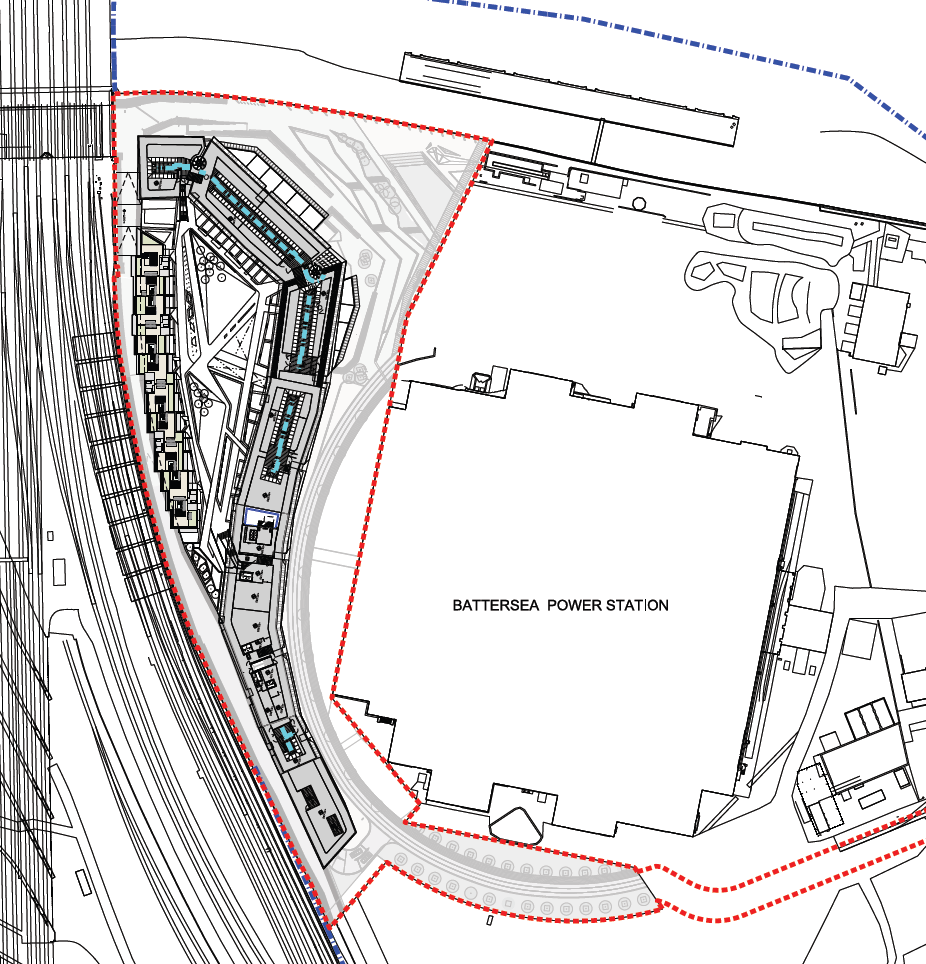 Above: The phase one plan (image courtesy of SimpsonHaugh and Partners).
To bring out the differences between the old and new buildings, contrasting materials have been used. The glassy facade reflects the brick of the power station.
"The glass allows views out, but it also allows reflections from the power station as people move around," Fleming adds.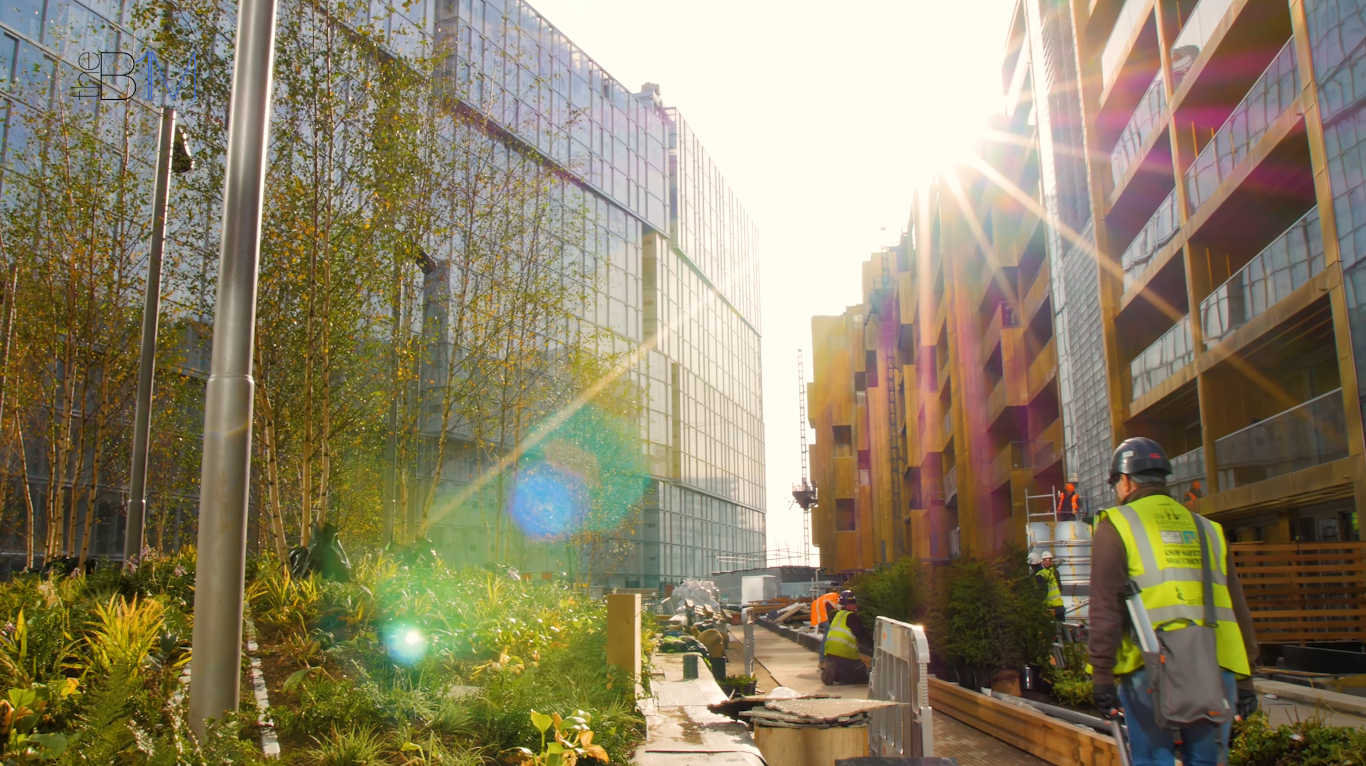 Above: Construction works progressing in the courtyard between the RS1-A and RS1-B structures, and Below: How the penthouse apartments in RS1-A are set to appear (image [below] courtesy of SimpsonHaugh and Partners).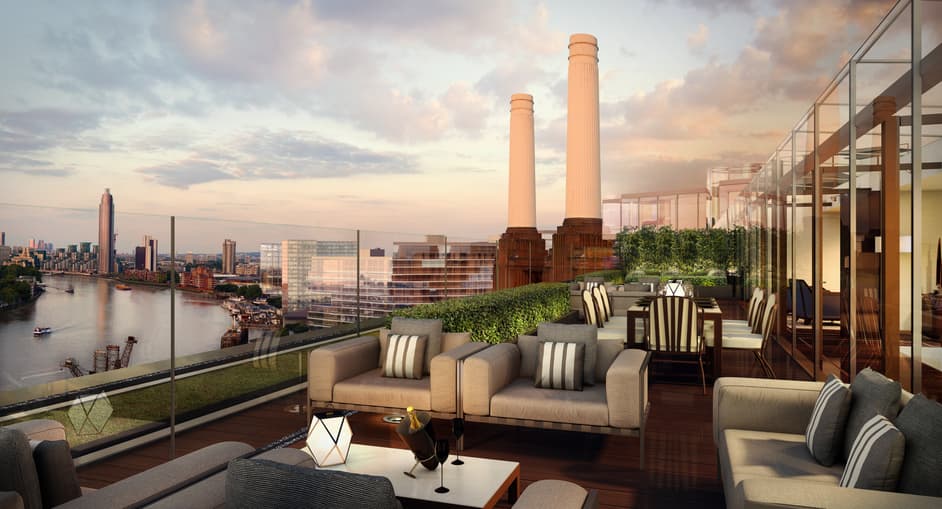 For contractors, working in this highly congested part of London brings its own challenges. Across the two miles of waterfront between Battersea Park and Vauxhall, dozens of sites, including the American Embassy, are at various stages of completion. The utilities companies are working around the clock to deliver broadband, electricity and water to projects and new communities. Around the power station itself, major infrastructure works, such as the Northern Line Extension and preliminary works for the Thames Tideway Tunnel are also underway.
The Nine Elms Vauxhall Partnership, the PPP that is driving the delivery programme for the area, estimates that during peak construction phases there could be as many as 2,000 traffic movements a day. To complicate matters further, the area is served by a limited road network.
"The biggest hurdle was getting the earth out, but as well as the road, we used the river, lifting the earth by crane onto barges"
As a result, contractors are being forced to find with alternative ways of working. David Ho, design manager at Carillion, says that the contractor has been making strategic use of the river to reduce road traffic as well as its carbon footprint.
"[During foundations work] we used sheet piling to get out of the ground," he explains, "The biggest hurdle was getting the earth out, but as well as the road, we used the river, lifting the earth by crane onto barges."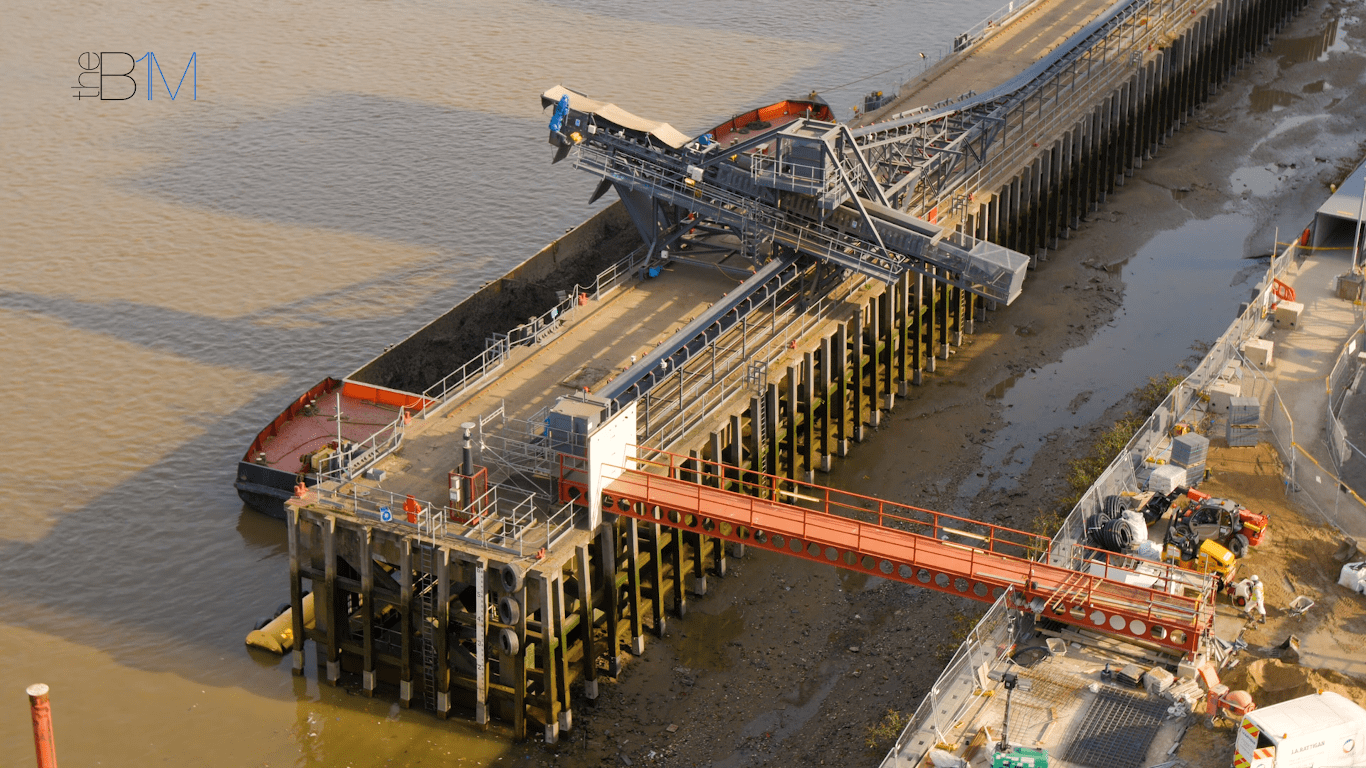 Above: The pier adjacent to the Battersea site; earth was partially removed by barge to alleviate road congestion and reduce carbon. Below: Works progressing to RS1-A.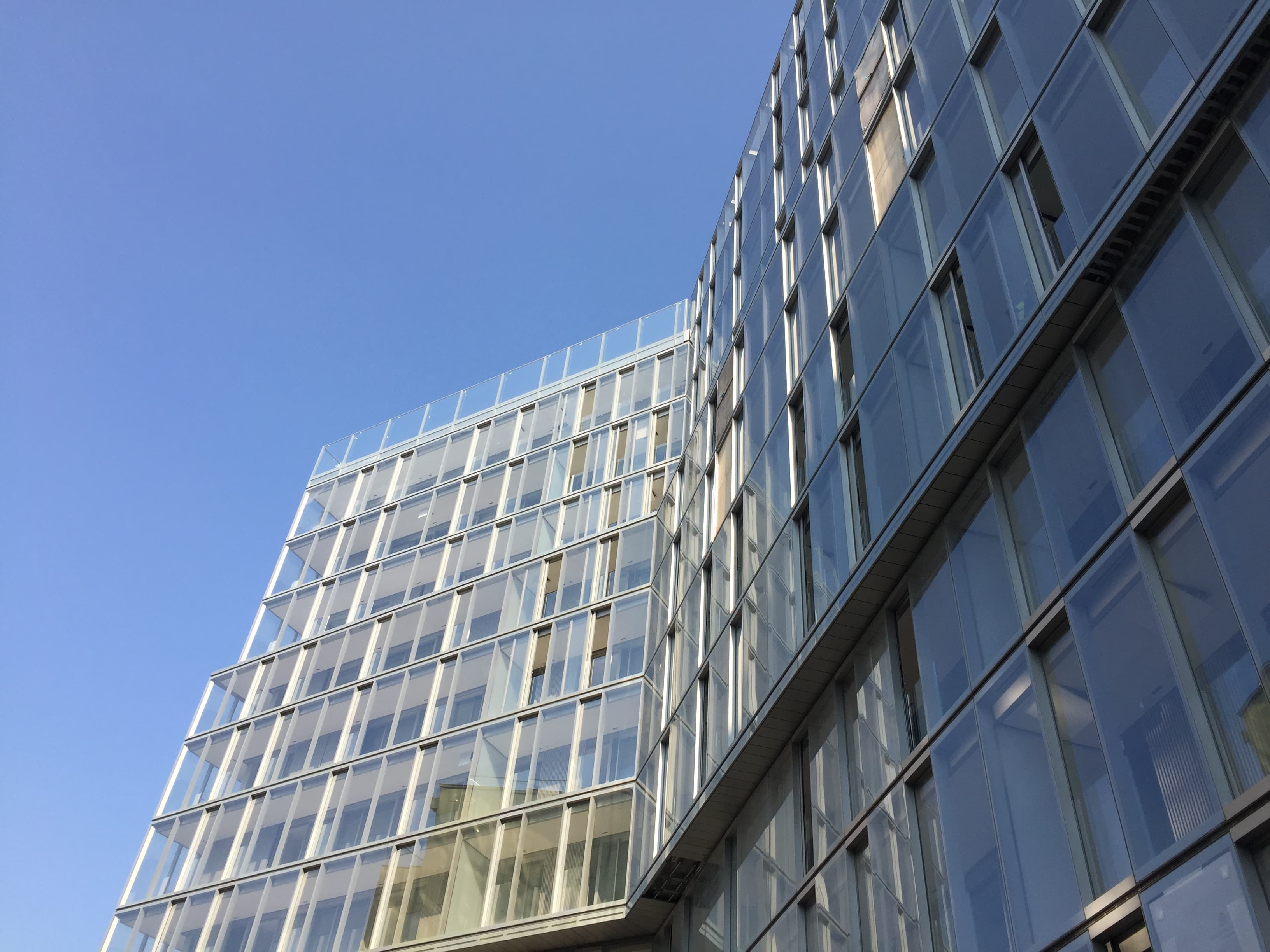 The superstructure of Circus West Village predominantly consists of in-situ poured concrete, with some precast elements. To reduce the risks posed to the schedule by late deliveries, Carillion has installed its own concrete batching plant on site.

Fleming says that the delivery of Phase one – which is setting a benchmark for all the phases to follow – has been a considerable challenge.
"Even though this is fitting into seven phases, it's a huge building in its own right," he comments.
"The opportunity to work with this iconic landmark is unique. It's a one-off project"
Ho puts the scale of the project into context.
"[the building] may be 17 stories high in parts, but when all these parts are stacked together, it would be longer than the Shard in length."
He adds: "To be one of the first people to be involved with this project is immense. It allows us to set our footprint down and deliver something unique, not only to our client, but also the community of Battersea and London as a whole."
Fleming agrees. "The opportunity to work with this iconic landmark is unique. It's a one-off project."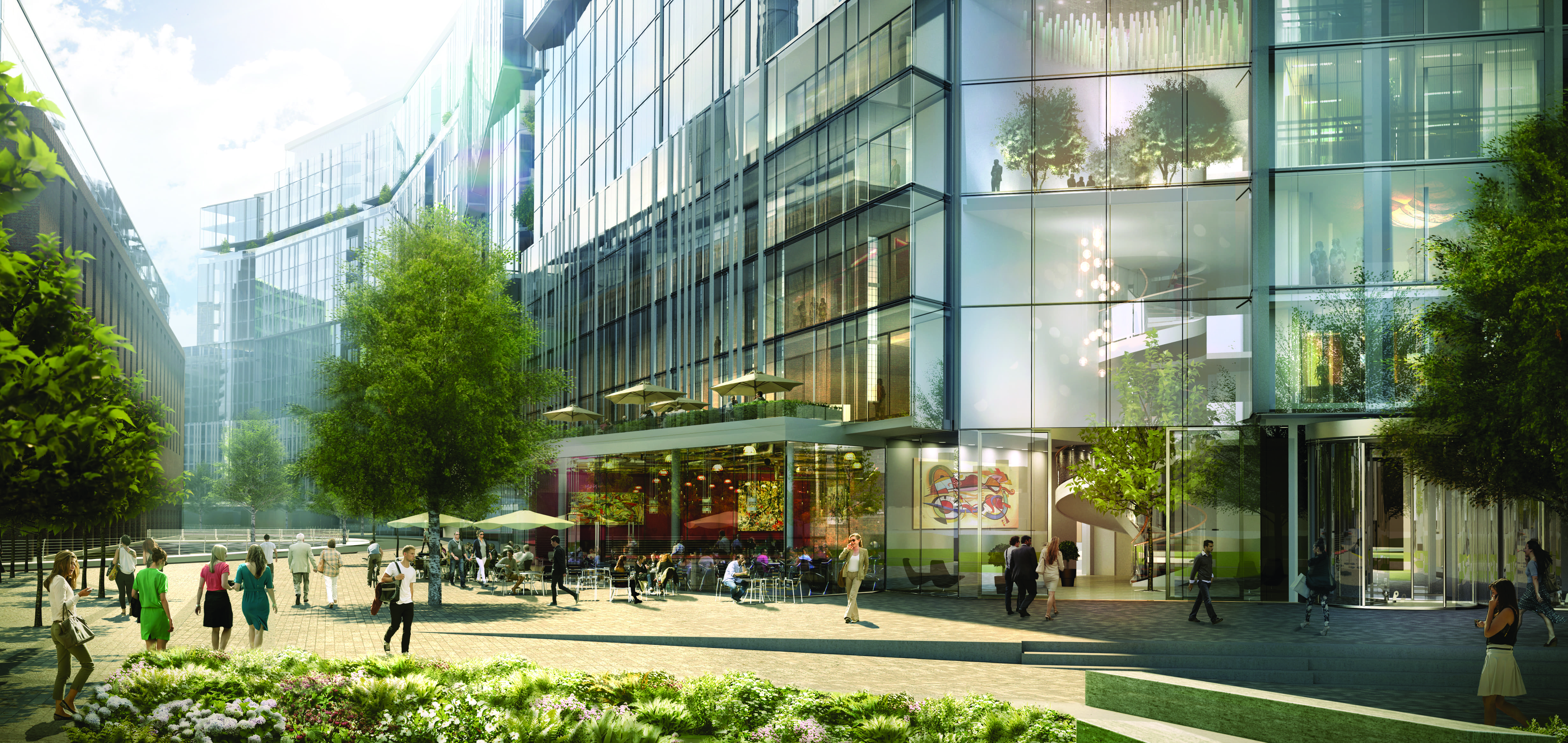 Above: How phase one's riverside space is set to appear once completed (image courtesy of SimpsonHaugh and Partners).
ABOUT CIRCUS WEST VILLAGE
Circus West Village at Battersea Power Station is a mix of 866 one, two and three bedroom apartments, duplexes, townhouses, and penthouses, as well as offices, shops, leisure and hospitality venues.
All residents will have access to an elevated private garden. Most apartments have an enclosed 'Winter Garden' that will provide useable outside space all year around, whilst the penthouses will have rooftop terraces.
Work began on Circus West Village in 2013, and residents started moving in from 2016.
ABOUT BATTERSEA POWER STATION
Battersea Power Station, one of the finest surviving examples of art deco architecture, was designed by architect Sir Giles Gilbert Scott. He also designed Bankside Power Station (now the Tate Modern art gallery) and the red telephone box.
The power station began generating power in 1933, and ceased operating in 1983. Following the decision to close Battersea Power Station, a national campaign was launched to save it as part of London's heritage.
Derelict for decades, and with an uncertain future, the structure was finally saved from demolition in 2012 when the Malaysian consortium comprising SP Setia, Sime Darby and Employees' Provident Fund stepped in to develop the site.
WATCH NEXT - PROJECT CAPELLA: A BIM JOURNEY
Our thanks to Battersea Power Station Development Company, Carillion and SimpsonHaugh and Partners for their support in creating this short documentary.
We welcome you sharing our content to inspire others, but please be nice and play by our rules.
Comments
---