Cities
The World's Thinnest Buildings
Youtube Views

248,205

VIDEO VIEWS
Video narrated by Fred Mills.

FROM the breathtakingly narrow houses rising on tiny plots of land in Tokyo to the engineering marvels punctuating New York's skyline - recent years have seen a proliferation of slender buildings.
There are many reasons why we build super thin buildings: economics, limited space, and even - in the case of the Beirut "Grudge House" built by a man seeking to block his brother's sea view - revenge.
As the trend has gained momentum, many incredible examples of slender structures have appeared around the world - including London's Slim House, designed by Alma-nac, which narrows to a point of just 2.3 metres. As well as the 1.8 metre wide house by YUUA Architects in Tokyo, Japan, a city famed for its dense living spaces and super-skinny residences.
Above: 1.8 metre wide house in Tokyo (image courtesy of YUUA Architects).
To avoid a crowded interior, YUUA focused on keeping the interior as open and free as possible, with many rooms located on split-levels, reducing the need for walls.
At the other end of the spectrum, the super-slender towers on Manhattan's Billionaire's Row take their narrow forms to impressive heights and the district is now home to the world's thinnest skyscraper.
From the many narrow buildings around the world, we've chosen to highlight a notable few. These are either record holders, famous in their own right, or impressive in their innovative use of small spaces.
From thin to thinner, breathe in and get ready to experience the world's thinnest buildings.
PHOENIX TOWER, AUSTRALIA
NARROWEST POINT 6.7 METRES
In a country renowned for its wide open spaces, this super slender skyscraper has become emblematic of the densification undergoing Australia's major cities.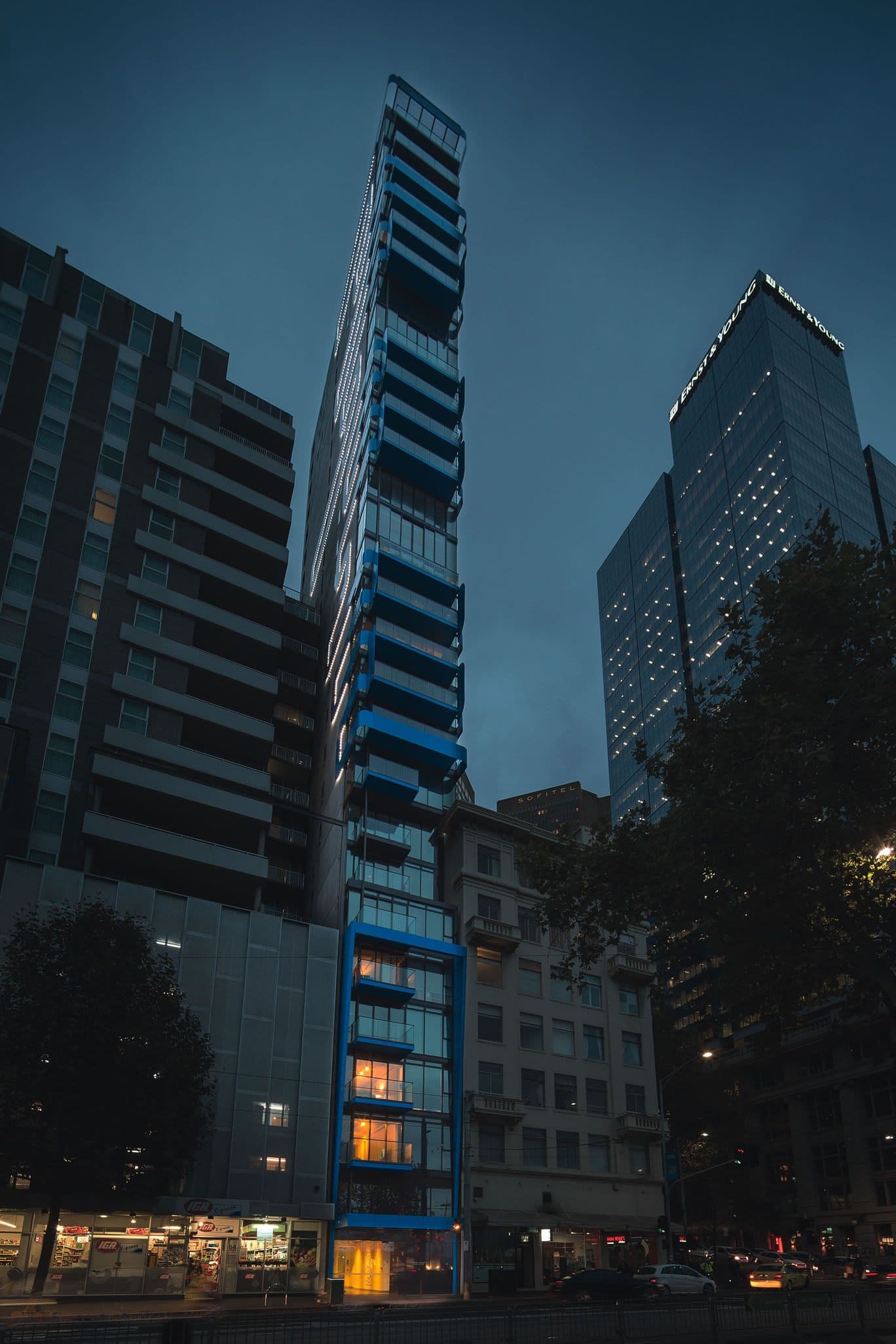 Above: Phoenix Tower is one of the skinniest skyscrapers in Australia (image courtesy of Fender Katsalidis).
Standing as one of Melbourne's skinniest buildings, Phoenix Tower is an astounding 6.7 metres wide. For context, New York City's authorities do not allow skyscrapers to be built on plots of land that are less than 13 metres wide.
With only one apartment per floor - and with space so tight - lifts open directly into each residence.
Planning requirements saw an illuminated blue ribbon added along the front and sides of the tower, so it appeared as more than just a razor-thin slab of concrete in the skyline.
THE MOLINOS HOTEL, SPAIN
NARROWEST POINT 5.2 METRES
Located just steps from Granada's famous Alhambra is the world's thinnest hotel.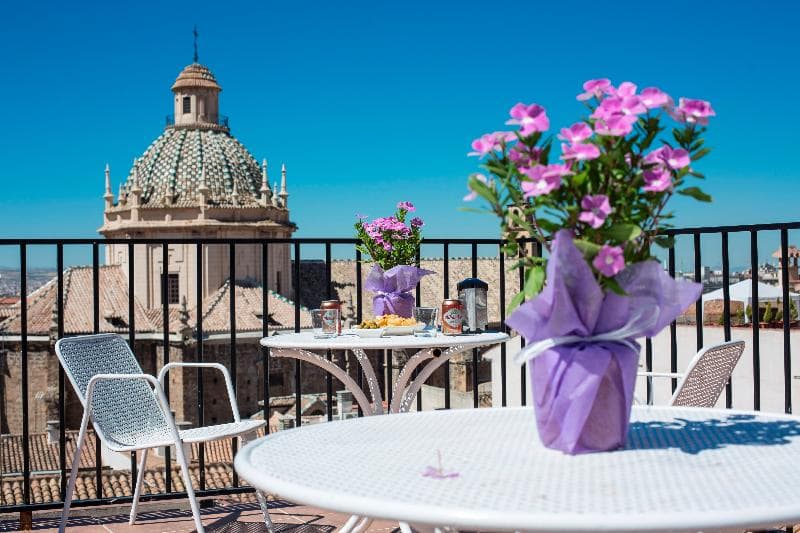 Above: The Molinos Hotel is just steps away from the Alhambra (image courtesy of the Molinos Hotel).
With a maximum width of 5.2 metres and a depth of 16.4 metres, the Molinos Hotel has officially been the world's narrowest since 1996.
Featuring nine rooms across three floors - as well as a reception desk that doubles as a cafeteria - previously, the only way to access the Alhambra was through the lobby of the hotel, making the Molinos famous worldwide.
SAM KEE BUILDING, CANADA
NARROWEST POINT 1.82 METRES
Easily mistaken as the front of the building behind it, this 1.82 metre wide structure holds the Guinness World Record for the skinniest commercial building.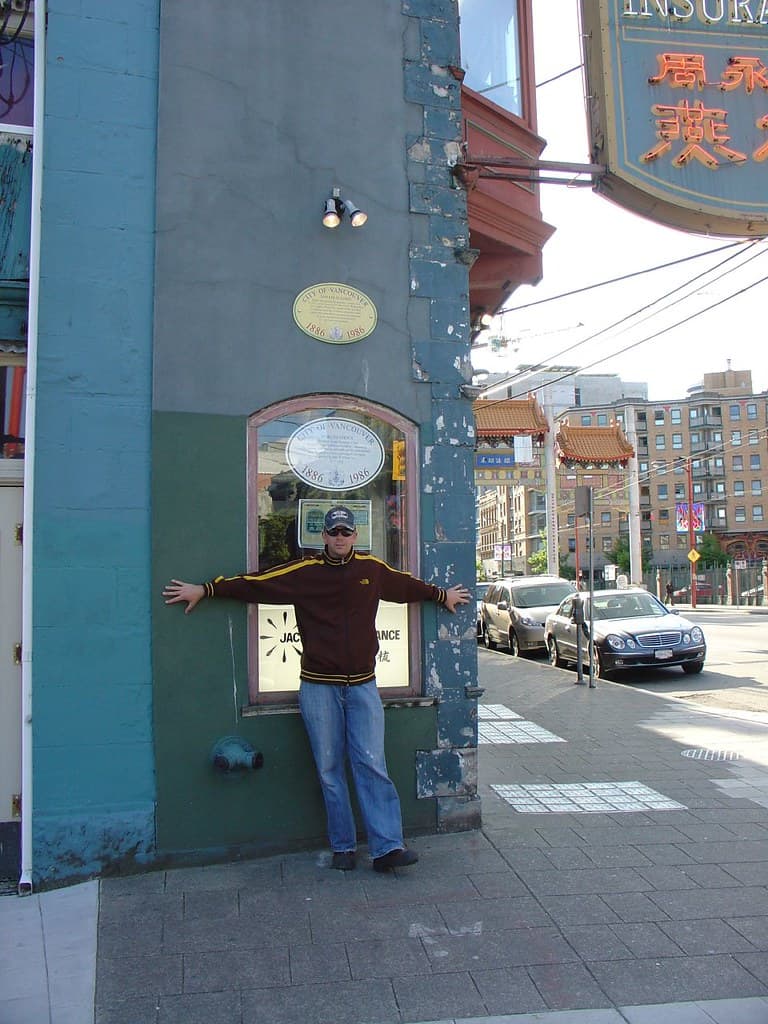 Above: The world's skinniest office building.
The original property was bought by Chang Toy in 1902, when it was a standard sized lot.
However, the government decided to widen a neighbouring road in 1912, cutting into his land. After they refused to properly compensate Chang, he built a two-story building in protest.
The structure is still used as an office space, and holds historical significance for playing a key role in the development and heritage conservation of Vancouver's Chinatown.
SINGEL 166, NETHERLANDS

NARROWEST POINT 1.8 METRES
The narrowest house in Amsterdam - a city which has more than its fair share of slender buildings - is this famous canal building. Popular with tourists, it even boasts its own LEGO set.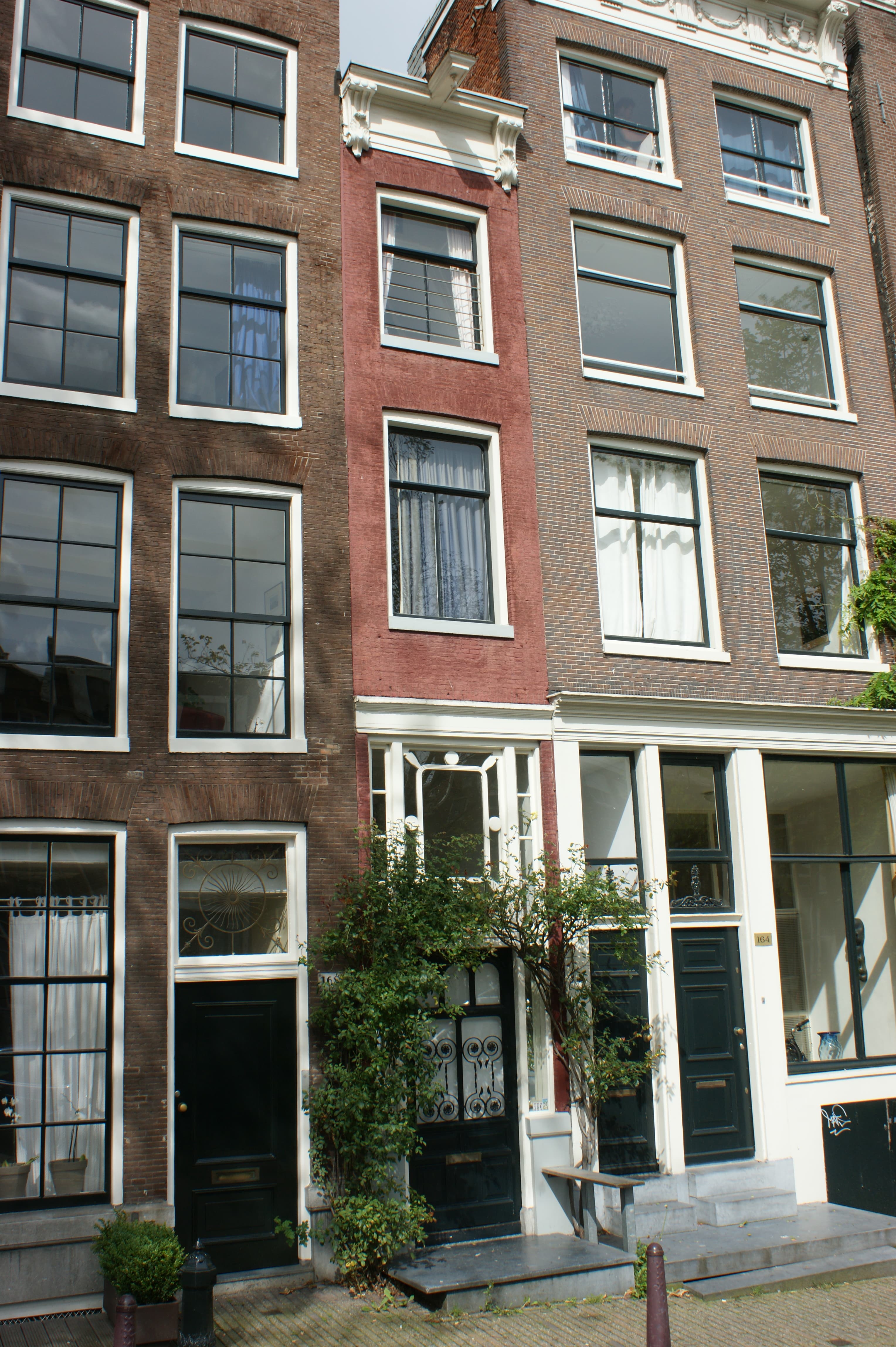 Above: Barely as wide it's front door, this is the narrowest house in Amsterdam.
The property is the result of creative tax avoidance, as houses used to be taxed on how wide they were and how much of the canal street they took up.
While in Amsterdam, we should also give an honourable mention to Singel 7, which is also said to be the narrowest house in the city, measuring 1.05 metres across its front facade. However, this structure opens up to a "roomy" 3 metres at its far end.
THE CHURCH OF SAINT MARTIN, CROATIA
NARROWEST POINT 1.64 METRES
Croatia's Church of Saint Martin is thought to be the narrowest church in the world.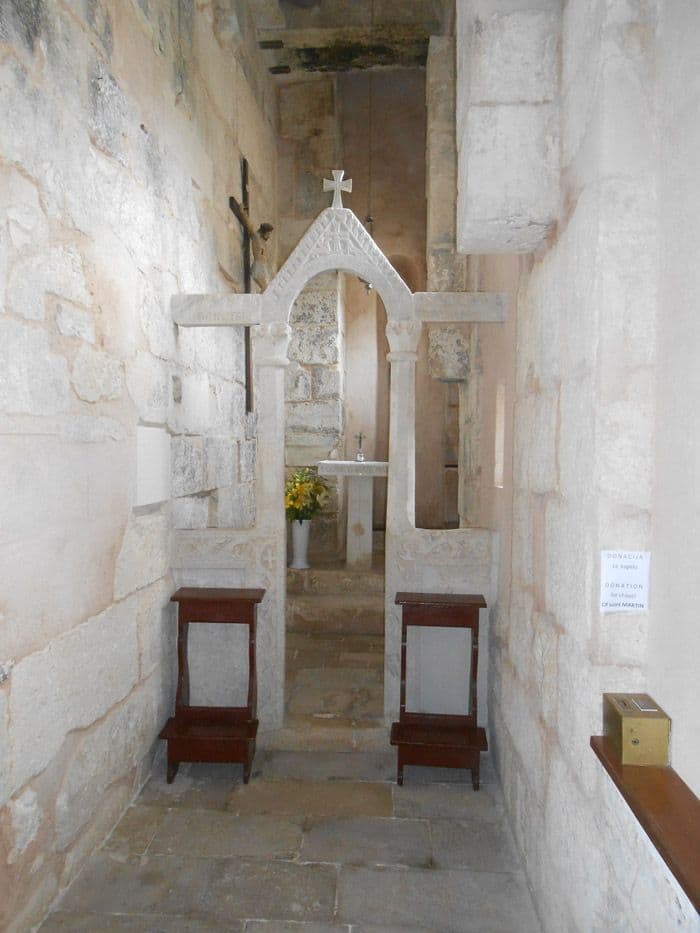 Above: Croatia's super skinny church (image courtesy of Total Croatia News).
At just 1.64 metres wide and 10 metres long, it used to be a passage for watchmen who would secure the entrance to the Diocletian Palace.
At the beginning of the 9th century it was turned into a Christian church and consecrated to Saint Martin. It has since become a much-visited tourist attraction.
KERET HOUSE, POLAND
NARROWEST POINT 92CM
Finally, the title of the world's thinnest building belongs to the Keret House in Warsaw, it is an astonishing 92 centimetres wide at its narrowest point - and just 1.22 metres across at its widest.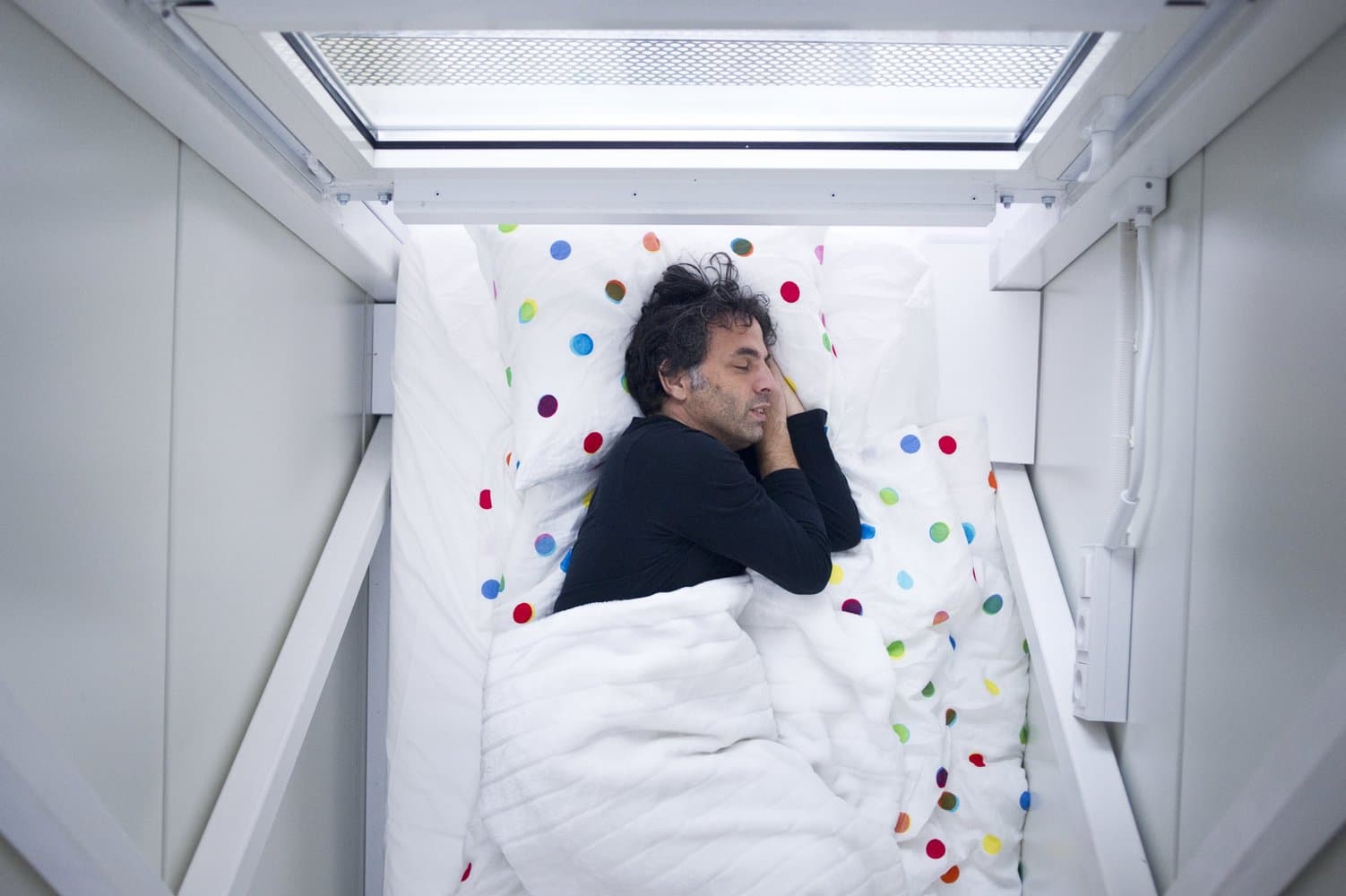 Above: The narrowest building in the world (image courtesy of Poland Modern Art Foundation).
This house was originally created as a seemingly impossible artistic concept, presented at the WolaArt Festival in 2009 by Polish architect Jakub Szczesny.
Completed in 2012, the building is meant to respond both to the past and present of Warsaw. The city's post-war history saw temporary and random development that resulted in a chaotic urban landscape.
The Keret House is designed to fill the space between two disparate buildings. It restores existence to an otherwise unused part of the city by providing a fully functional living space.
The house now serves indefinitely as a temporary home for travelling writers.
SPREUERHOFSTRASSE, GERMANY
NARROWEST POINT 31CM
While not a building, this street in Reutlingen, Germany, is certainly worth squeezing in.
Constructed in 1727 after a great fire, Spreuerhofstraße was later commissioned as a public street in 1820.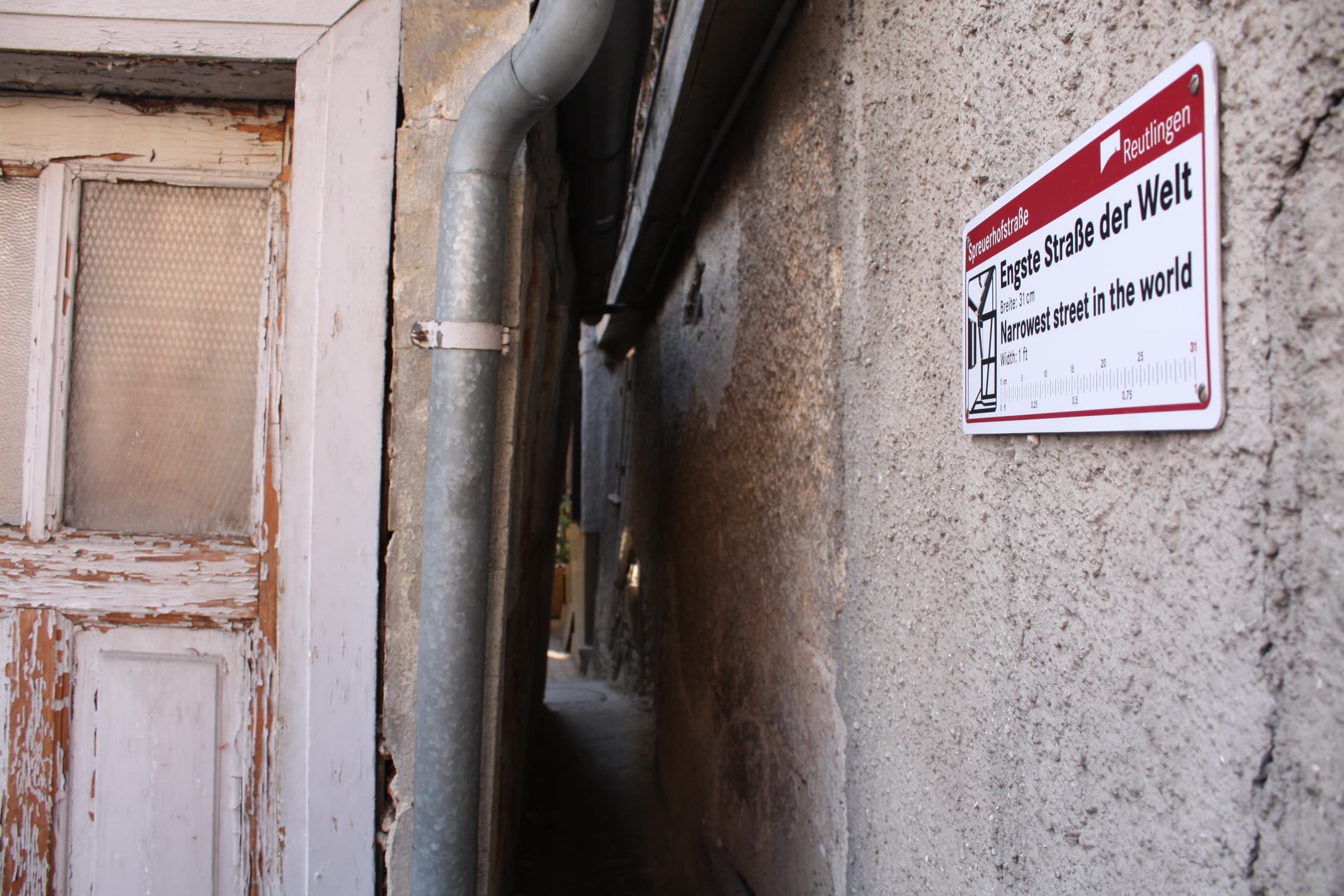 Above: The narrowest street in the world (image courtesy of Kathrin Gaisser).
Measuring just 31 centimetres across, this incredibly narrow space attracts hundreds of visitors every year - although it is advised that no one actually travels down it due to the risk of becoming stuck.
This video was made possible by Trading 212, the trading app that democratises the financial markets by letting anyone invest in thousands of real stocks and ETFs totally free. No commission. No fees. No Limits. To get a free share worth up to £100 click here.
We welcome you sharing our content to inspire others, but please be nice and play by our rules.
Comments
---